A Scenic Adventure from Quito to Otavalo and Ibarra: Unveiling the Hidden Gems
Written in Collaboration with Carmen Tobar and Marco Carpio.
Photography: Kjell Anders Pettersen, Cristina Pettersen Carpio
Hey there, fellow adventurers! If you're planning a road trip from Quito to Otavalo and Ibarra, get ready for an incredible journey through Ecuador's enchanting countryside. Buckle up, roll down your windows, and let's hit the road as we uncover the best attractions and experiences along the way taken from our own experience doing this road trip a myriad of times.
From stunning natural wonders to delightful culinary delights, this trip has it all!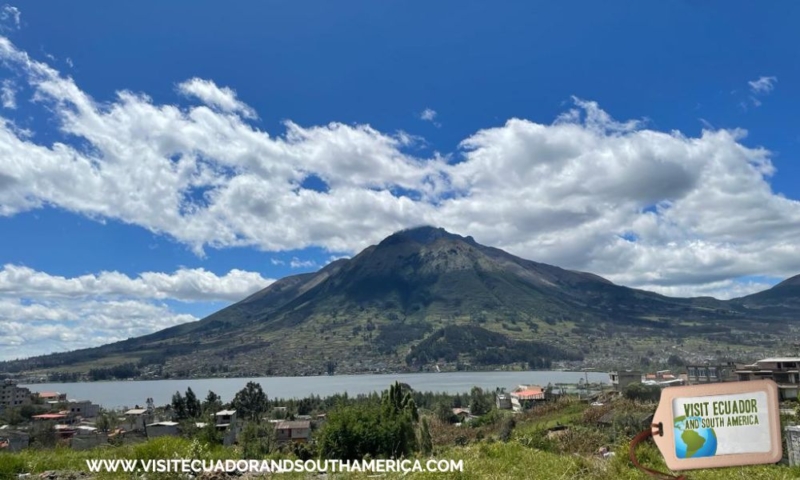 Its spellbinding landscapes filled with mountains and colorful fields, are now perhaps engraved in my memory, and it is something we continue to encourage our friends and family visiting to enjoy during their visit to the country. 
Remember to enjoy some of the highlights along the way! Here are some ideas for what to see, do and eat along the way that will help you enjoy a memorable trip from Quito to Otavalo
How long does it take?
The distance between Quito to Otavalo is 59.3 km, which takes approximately 2 hours by car/bus.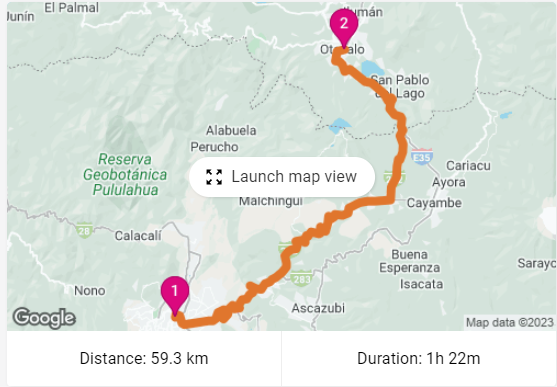 Car
Here you can find the route that we are recommending or you can use Waze or Google Maps, making sure to add Cayambe as your first stop along the way.
Bus 
There is a direct bus departing from Quito Terminal Carcelén and arriving at Otavalo. Services depart every five minutes and operate every day. The journey takes approximately 1h 22m and costs $2 – $11
You can book a tour
If you would rather avoid the traffic, and parking and would rather save some time, we recommend booking a tour.
"…guided group travel means having a tour manager who genuinely cares about you and your vacation."
Here are some recommended tours for you:
From Quito: Otavalo, Cotacachi & Cuicocha Full-Day Tour
Otavalo and Imbabura Sightseeing Tour from Quito
If you are in South America, I would love to see your pictures.
About the trip
Depart from Quito:
The city has two bus terminals, one located North (Carcelen ) and one South (Quitumbe). From there, several bus companies offer comfortable transportation to different destinations in the country.
The road trip begins in the capital city, Quito, with an altitude of  2800 m.s.n.m. and along a paved highway. During the journey, you will cross several autochthonous groups of the highlands, each with its traditions and clothing.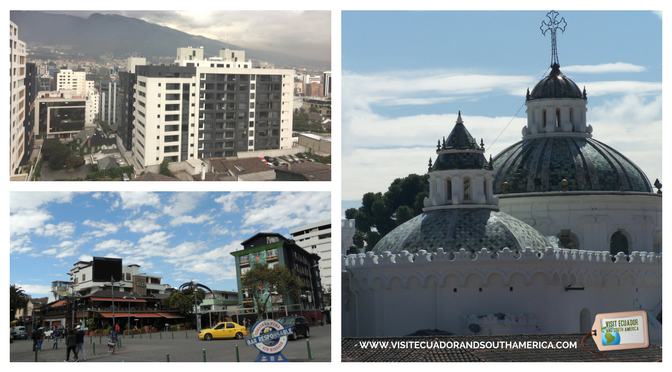 Stops along the road trip from Quito to Otavalo
1.- Quito – First World Heritage Site
Start by spending a day at the historical center of Quito, admiring the colonial churches, sculptures, and paintings. Quito is the capital city of Ecuador, with approx. 3 million inhabitants.
The city is located in a valley formed from the many layers of ashes that resulted in over 60 m of sediment from the volcanoes surrounding the city.
Learn more about the best things to do in Quito here.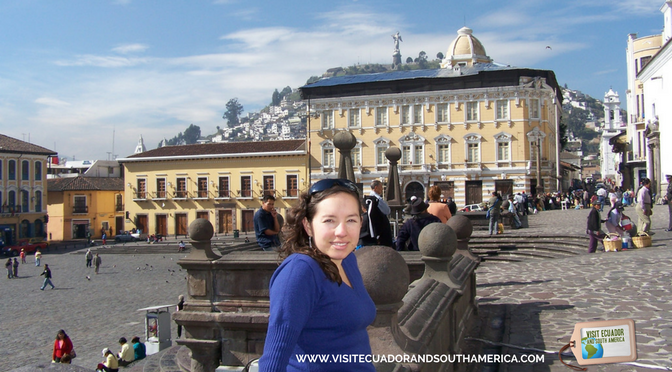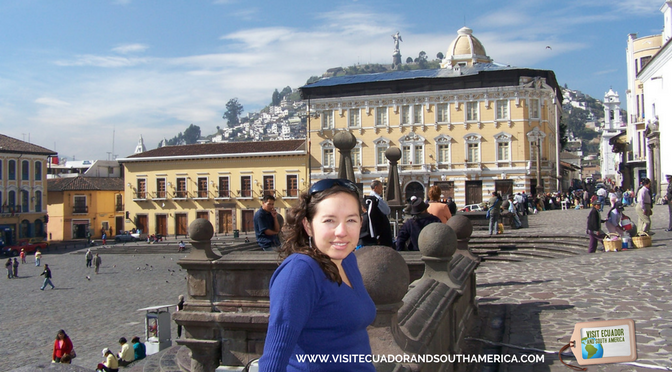 Where to eat in Quito?
The casual ambiance that Café Mosaico offers allows its visitors to enjoy breathtaking vistas of colonial Quito.  I love this place!
What to eat
Check our gastronomy option on the menu, to discover many of the traditional dishes, street food, and fruit available in Ecuador, to delight your palate with the flavors of the country. Include locro, empanadas, and llapingachos to your list of food to taste.
For ideas for accommodation and other activities while in Quito: Here are some suggestions.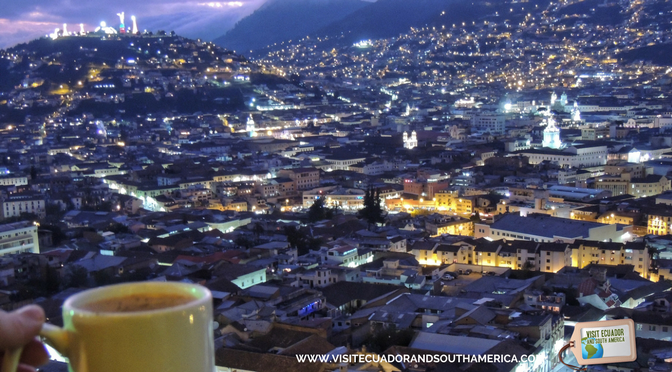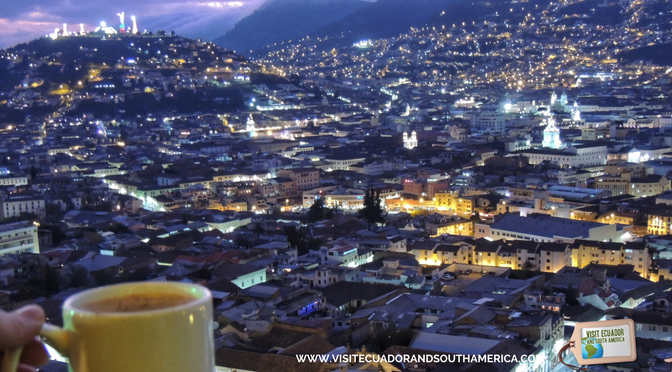 Take a look at some of the main activities you can enjoy in the city and surroundings while you are in Quito.
Why choose Quito to live, and study Spanish?
Where to stay in Quito
We often have friends, family, and also work-related visitors coming to Quito; together with my family, we have our top recommendations here:
Hacienda Jimenita is the place to escape to nature, relax and connect with history near Quito Airport. We tell you all about our visit to this enchanting hacienda and book your stay. 
Hotel Las Cuevas Terra Lodge to spend the perfect getaway in a cave hotel near Quito. You can read all about our unique experience here and book your stay. 
Hotel Finlandia has a great location in the modern part of Quito, near the main shopping centers and Parque La Carolina. It offers good food, fair prices, free Wi-Fi, and comfortable rooms and the staff is helpful and friendly.
Hotel Vieja Cuba This is a cozy small hotel with comfortable rooms and friendly and helpful staff. The hotel offers a fresh-made breakfast consisting of eggs, granola, toast, ham, cheese, yogurt, and tea or coffee. The location is also great, not far from Plaza Foch, within walking distance, you have one of the nicest areas for locals and tourists alike. Minutes away from shops, restaurants, pubs, bars, and more.
and if you want to go camping but without abandoning some comfort, you can go Glamping at Urkuwayku Organic Farm in Ilalo, it connects you with Nature and is located near Quito.
1 – Enjoy Lago San Pablo Views
As you leave Quito, the towering presence of Cayambe, an active stratovolcano, will capture your attention. Make a stop at Miralago to admire a wonderful view of Lago San Pablo. This is the perfect lookout point to snap some photos. Enjoy your snack while relishing the spectacular vistas over Lago San Pablo.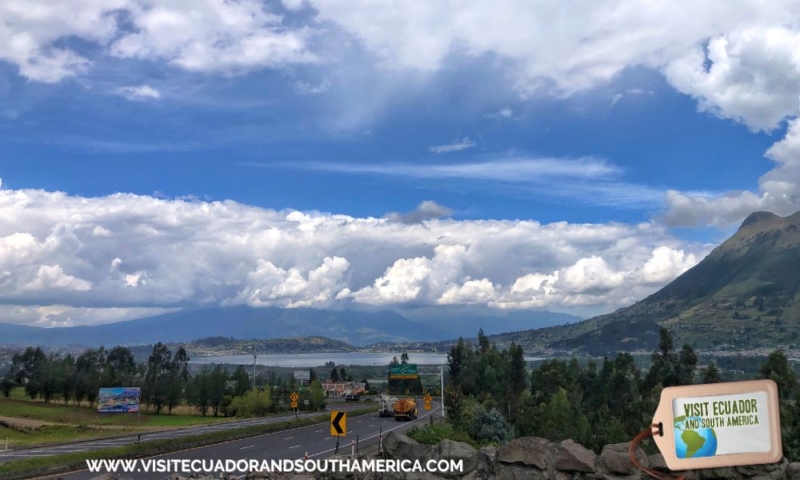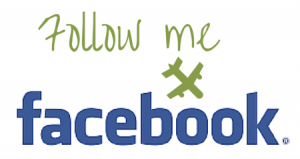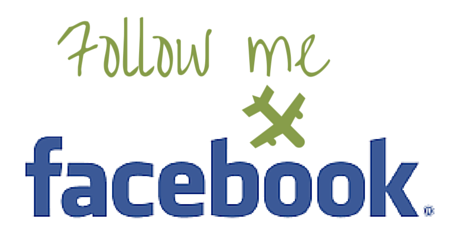 2 – Delight your palate with Bizcochos
Just outside Cayambe, you'll come across a wide range of restaurants offering a feast for your taste buds and eyes. Indulge in the renowned local treat called "bizcochos," mouthwatering biscuits that are perfect for pairing with queso de hoja cheese or hot chocolate.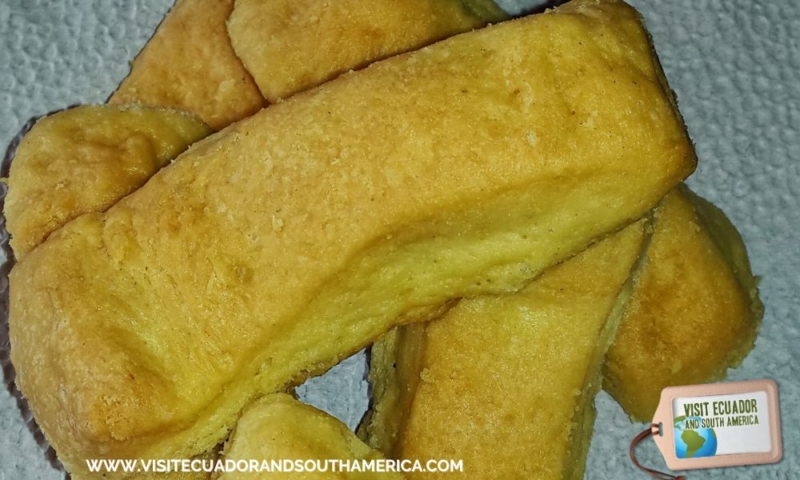 Learn all about bizcochos in our blog post.
3 – Encounter the Serenity of Peguche Waterfall
Continue your journey to the charming town of Otavalo and make a stop at the enchanting Peguche Waterfall. Immerse yourself in the soothing sounds of cascading waters and take a leisurely stroll through the surrounding forest. This hidden gem will leave you feeling refreshed and rejuvenated.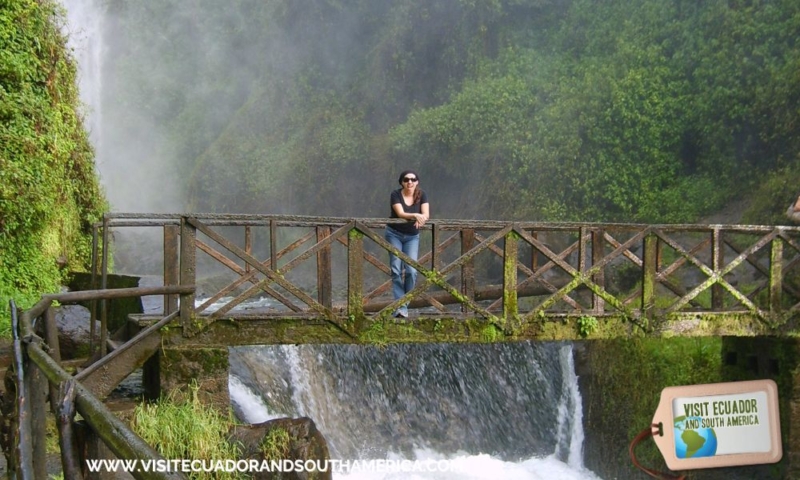 Learn all about Peguche in our blog post.
4 – Immerse Yourself in the Vibrant Otavalo Market
Prepare to be dazzled by the world-famous Otavalo market. Here, you'll discover a treasure trove of handmade crafts, vibrant textiles, and traditional artistry. Interact with the friendly locals, negotiate a good price, and take home unique souvenirs to commemorate your journey. We also recommend that you try some local treats and fresh fruits while exploring!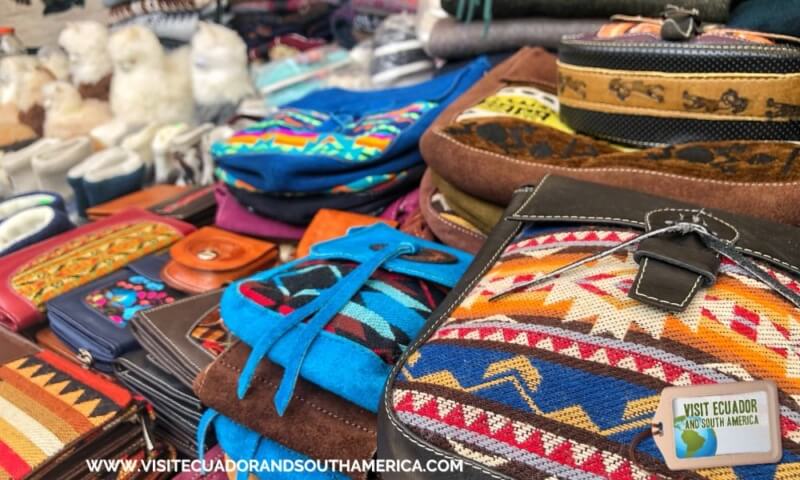 Learn all about this impressive outdoor market, in our blog post.
You can visit Parque Condor, a great place to enjoy nature, and also to help teach and raise awareness about the importance of environmental conservation.
5 – Explore the Mystical Cuicocha Lake
As you leave Otavalo, venture towards the captivating Cuicocha Lake, nestled within a volcanic crater. Take a boat tour across its deep blue waters, marvel at the two picturesque islands, and learn about the legends surrounding this mystical place. The serene ambiance and awe-inspiring natural beauty will leave you spellbound.
6 – Discover the Charms of Ibarra
Your road trip wouldn't be complete without a visit to the city of Ibarra. Immerse yourself in its colonial architecture, stroll through its vibrant plazas, and savor the local flavors at one of its cozy restaurants. Make sure to try the traditional "helados de paila" (handmade ice cream) for a delightful treat that will cool you down.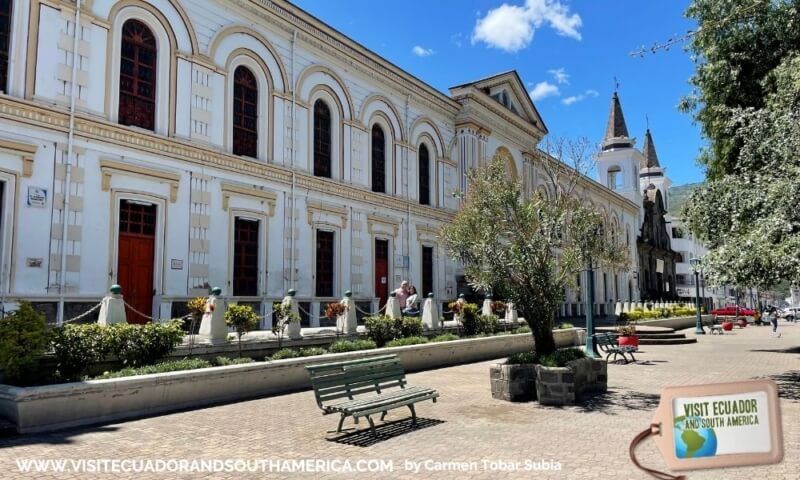 If the time allows, visit the charming village of San Antonio de Ibarra,  filled with artists working on woodcarving, furniture, and other crafts.
For additional things to do in Imbabura, make sure to read this article.  For more things to do in Imbabura, visit our blog posts.
The road trip from Quito to Otavalo and Ibarra is a journey filled with breathtaking landscapes, cultural riches, and culinary delights. Pack your sense of adventure and get ready to create unforgettable memories along this captivating route. Happy travels!
Remember, the journey is just as important as the destination. So take your time, enjoy the views, and immerse yourself in the local charm.
Where to stay
Near Otavalo
Enjoy a relaxing weekend near Otavalo, surrounded by imposing mountains and picturesque valleys at the luxurious historic Hosteria Hacienda Pinsaqui 
Read our full blog post here. 
In Otavalo
Set in Otavalo, Hotel Otavalo is a 5-star hotel and offers accommodation with private parking, in a perfect spot in Otavalo.
Near Ibarra
Hotel Medina del Lago is ideal if what you are looking for is a hotel with a spa, ideally located and with comfortable rooms.
Hacienda Hosteria Chorlavi is a renovated historical country estate, boasting an outdoor swimming pool, a sauna room, and Turkish bath facilities near the city of Ibarra.
What to bring
To fully enjoy your stay:
Sunglasses, sunblock, and a hat; remember that the equatorial sun is intense since you will be outdoors for long periods.
Warm or wool clothes, because it can get cold, especially at night if it is rainy season.
Bringing a reusable water bottle can help nature and the environment while you stay hydrated; there is bottled water in the kitchen.
Dress in layers as you will quickly get warm during the walks and when the sun is out, and remember that the weather can be pretty unpredictable. The temperature drops somewhat when the clouds block the sun.
If you found this page helpful, I would appreciate it if you would pin, share or tweet it on any social media platforms you use! Every little bit will help fund our travels and continue to bring great content to our site!
Planning a trip soon?  Comment below or send me an email. I can help you with more tips to save money or plan your trip.
PIN IT FOR LATER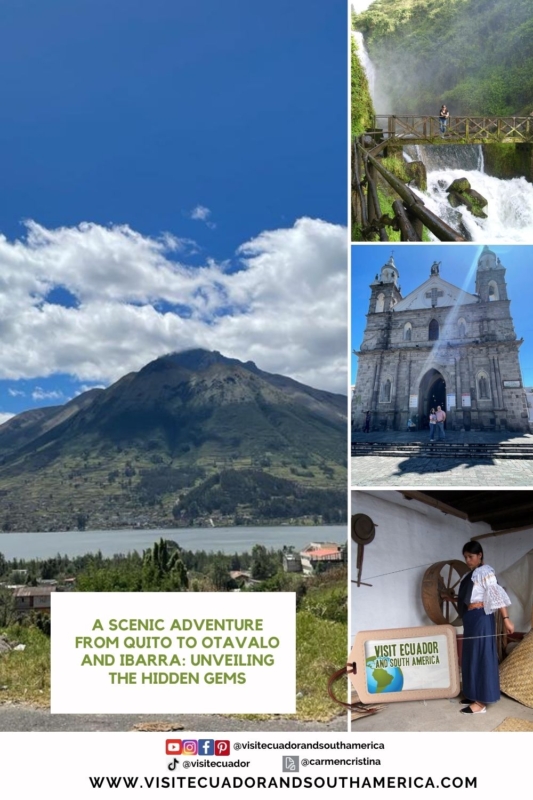 If you want more in-depth information and also a guide that you can bring along during your trip, I recommend the travel guide Lonely Planet Ecuador & the Galapagos Islands
.
This is an excellent source of information and tips, maps, and all you need if you plan on visiting Ecuador. I like the option of having a hard copy version where I can take notes and have them at hand.
Don't just dream it. Make it happen. Plan your South American trip with a local!
Take a look at this list of travel resources to plan your trip and travel in South America.
Daydreaming about your trip to South America? Order here your Free Ebook. I share with you some valuable tips & resources for a memorable trip!
I invite you to follow me on Facebook, Twitter, Pinterest, and Instagram. In addition, you can subscribe on YouTube.
You can also send an email to get help planning your trip: info(at) visitecuadorandsouthamerica(dot)com.
Save
Save
Save
Save
Save
Save
Save
Save
Save
Save
Save
Save
Save
Save
Save
Save