The Galapágos Islands
The Galápagos Islands won the award for Leading Green Destination in South America in the World Travel Awards (WTA) 2012, considered the Oscars of tourism.
In 1979 the Galapágos Islands were declared a World Heritage Site by the United Nations Educational, Scientific and Cultural Organization (UNESCO). The Galápagos Islands were nominated for major international prize next to Bahia (Brazil), Buenos Aires (Argentina) , Lima (Peru), Machu Picchu (Peru), Santiago (Chile), Saõ Paulo (Brazil).
The archipelago of the Galápagos Islands is one of the most amazing places on earth. The islands are a living laboratory of animal species that do not exist anywhere else on the planet.
These amazing Islands are located 1000 km away from the Ecuadorian coastline and it is the most visited destination in Ecuador. These islands are known and promoted due to the fact that it was here that Charles Darwin developed his famous theory of evolution. Each island has something very special to see, and it is possible to stay on land or go onboard an expedition vessel or yacht in order to explore them more in-depth. There is so much to learn about this unique place. A great book that comprises the natural history of the plants and animals found in the Galápagos Islands as well as tourist sites to visit that you could get is Galapagos: A Natural History.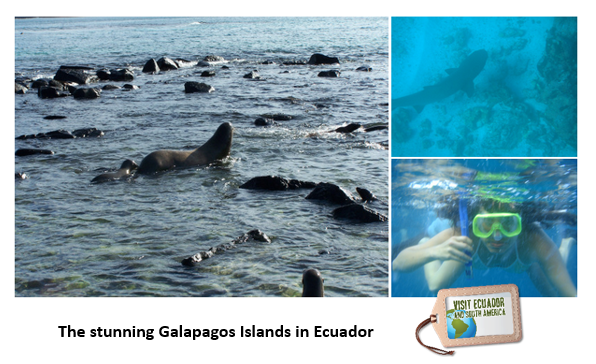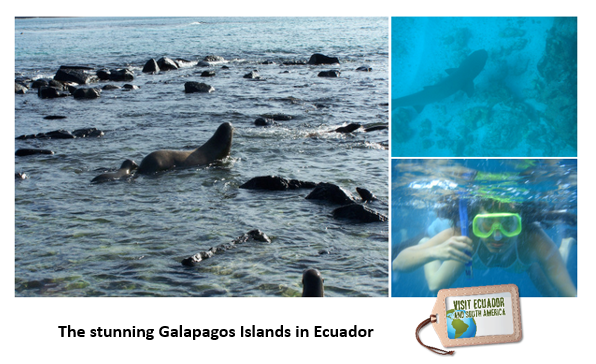 One of the most amazing places on earth, the Galápagos islands have been nominated for the new seven wonders of nature because they offer the most extraordinary introduction to some of the planet's most unique and bizarre wildlife.
The marine reserve features on the list of the seven best places in the world to snorkel and scuba dive. During such trips, visitors can swim with whales, stingrays, manta rays, swordfish, marine turtles, sea lions, hammerhead sharks, whale sharks, and other impressive species.
Don´t just dream it, make it happen. Plan your South American trip with a local!
Join Our Newsletter! Get inspiration for your trip to SouthAmerica!
Like Visit Ecuador and South America on Facebook, follow the blog on Twitter and Instagram, and subscribe on YouTube or send us an email to get more information or help planning your trip: