Hacienda las Cuevas
Discover Hacienda Las Cuevas, the 5-star cave hotel near Quito that opened its doors in January 2018.
Since this is the only cave hotel in the country, we just had to book a room and share all about our experience with you here. It is a must for travelers who, like us, love to enjoy new and memorable places. 
Something important to note if you want to visit this unique Hacienda is that advance reservations are required.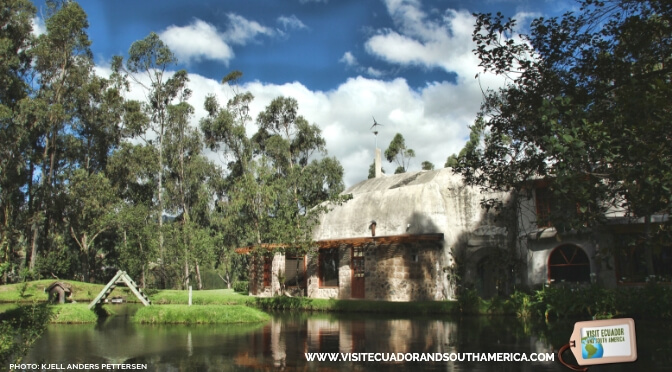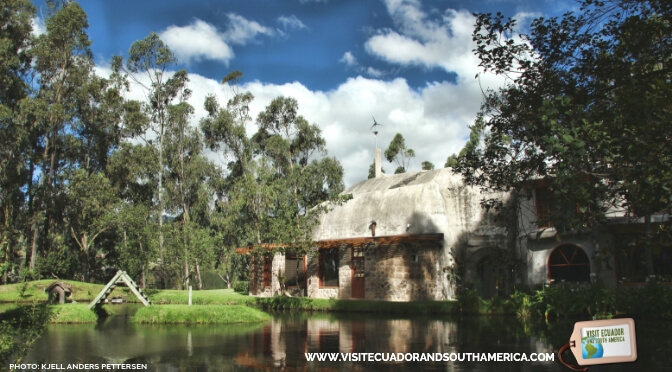 This was our first time spending the night in a hotel where you can find yourself up to 12 meters below the mountain surface.
We had, without a doubt, an unforgettable experience!
We loved sleeping in our cave room, which is built so that even claustrophobes can sleep with ease. The following day we explored this unique Hacienda, which is surrounded by breathtaking nature, offering many of the activities that I remember I enjoyed at my grandparents' Hacienda here in Ecuador. 
Our aim is to share with you our magical experience at Hacienda Las Cuevas so that you, too, can start planning your visit.
About Quito 
Quito is the capital of Ecuador and offers visitors a wide range of activities and places to see. The most important one is the Historic center of Quito, attracting visitors from all over the world who get to immerse themselves in the charm of plazas, churches, and museums in the streets of downtown Quito.
Learn more about all the things you can do while in Quito by visiting Visit Ecuador and South America's page with the top things to do in the country's capital city. 
About Hacienda Las Cuevas
German Explorer Alexander von Humboldt named the impressive drive along the route filled with mountains and snow-capped volcanoes the "Avenue of the Volcanoes¨. This is one of the highlights for many travelers who come to Ecuador. I will share all about Hacienda las Cuevas, a unique hotel located such that it allows you to take in the impressive Avenue of the volcanoes, with the Antisana on the back and gorgeous vistas of the Andes Cordillera.

Set in the Andes Cordillera and surrounded by what looks like a patchwork quilt of colorful fields lies Hacienda Las Cuevas Terra Lodge.
I will keep it short when telling you about the history of this fantastic place because no matter how much I write here, nothing compares to visiting the place yourself and experience the thrill we felt. Putting it into words is not an easy task.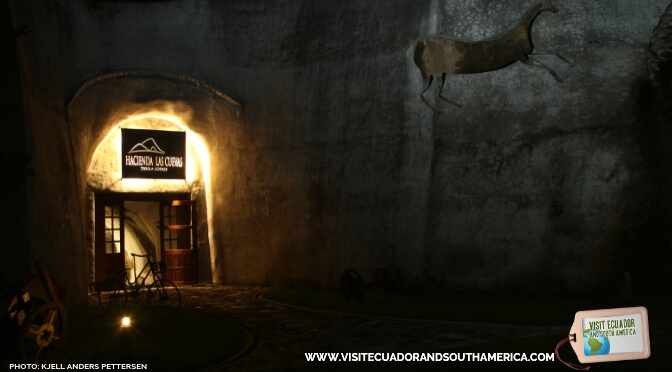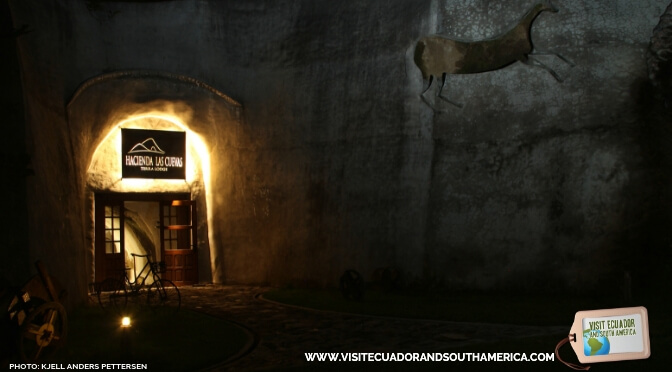 A new and unique experience near Quito.
A 60-minute drive from Quito or a 20-minute drive from the airport brings you to the rugged road that leads to a place that is unique and filled with activities that transport you closer to nature and to life at a hacienda.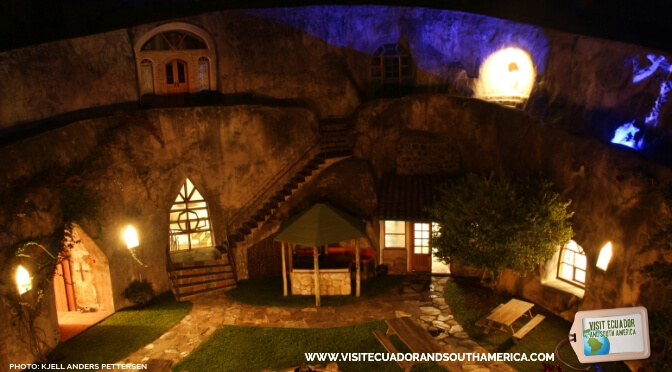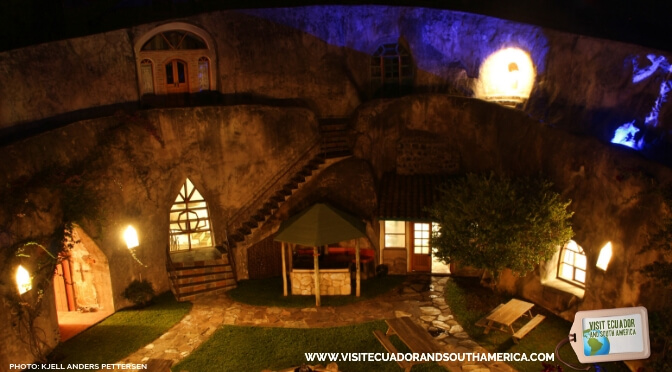 When the Hacienda was built or rather carved out of the mountain, this inner circle was constructed to capture the natural light in the center of the building.
Nowadays, it serves as a cozy common area, perfect for soaking in the equatorial sun rays.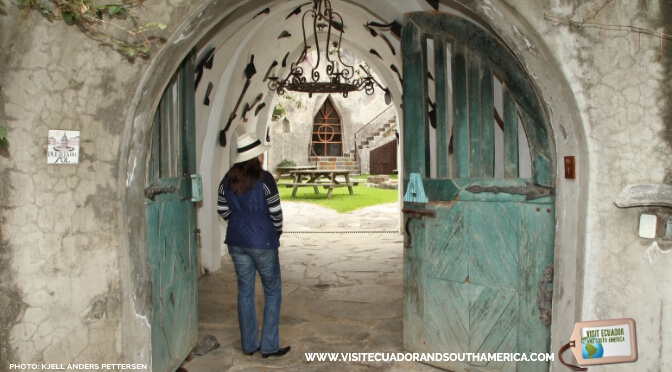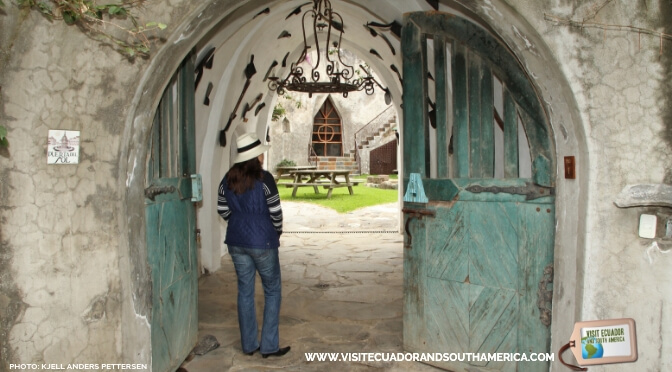 Living the country life
Hacienda las Cuevas is the best place to live country life near Quito.

You spend the night in a hotel that is situated in what was once the ¨Casa de hacienda¨, the main house of the Hacienda. A house carved into the mountain with all main caves connecting through a more giant tunnel forming a circle.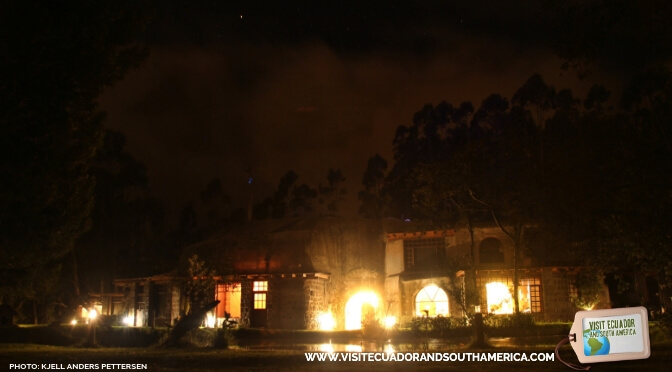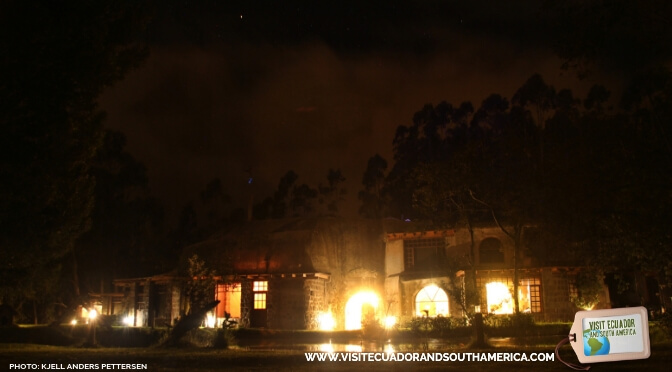 This is the work of a genius and visionary. I can say that. 
Just as Michelangelo envisioned the now world-famous David statue from what for most people was only a rock, Alvaro Bustamante would, in the 1970s, carve out of a hillside what would turn into the home of his Hacienda.
Later, this house has been renovated into this unique cave hotel. 
Alvaro's nephew, who now owns the hotel, told us that his engineering uncle had 3 books filled with his own inventions and ideas, and to our great pleasure, some of the inventions are still there.  
The Rooms
Spending the night in our comfortable and spacious room carved out of the rock was one of the most enjoyable and different experiences of a lifetime. 
The rooms are well-lit, warm, and are built with all the safety measures. Know that it is very safe to spend the night 12 meters underground here.
These two are pictures of the spacious rooms, each one with private entrances and all of them with independent porches, some of which overlook the peaceful lagoon.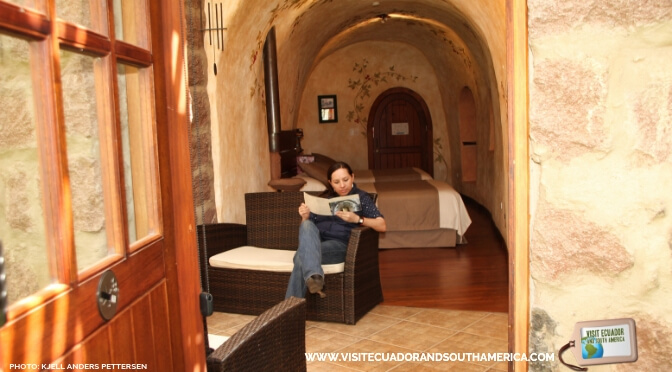 As for our spacious bathroom, it was warm, with plenty of sunlight, and beautifully decorated with branded bath amenities.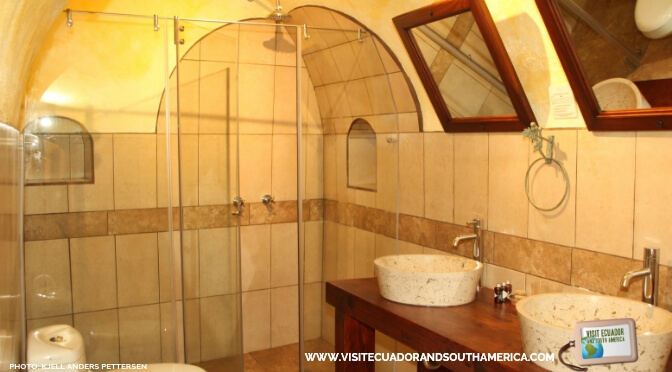 For us, it was a great plus to know that the Hacienda offers free parking close to the entrances, and free wi-fi.  
Breakfast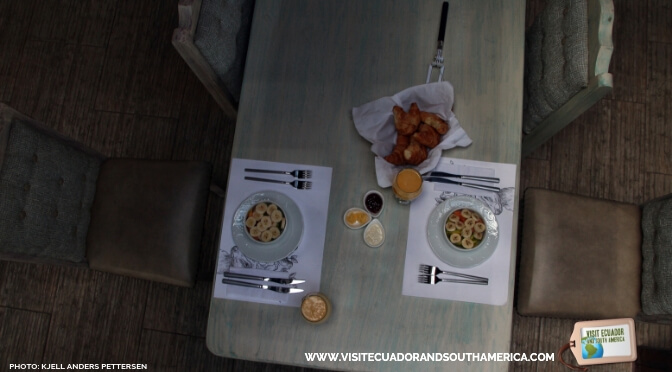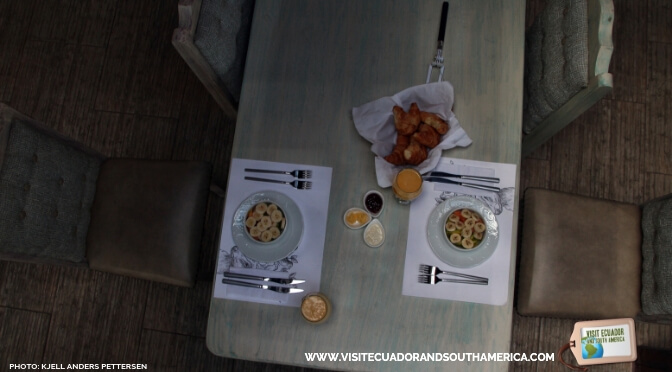 Our wonderful breakfast included fresh fruit and fruit juice, warm bread, coffee, eggs made to your taste, butter, and jam. We were seated in the restaurant which has a capacity of 40 people, a peaceful place peace surrounded by nature.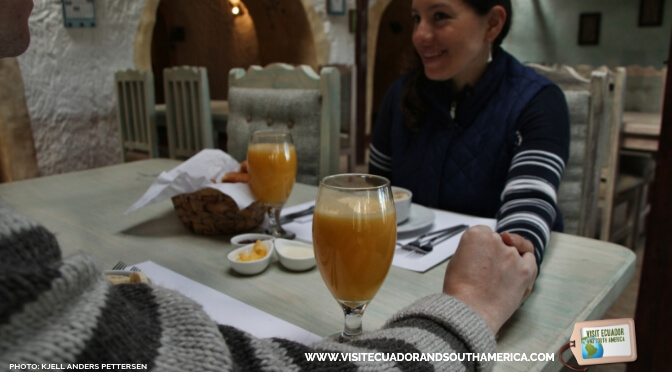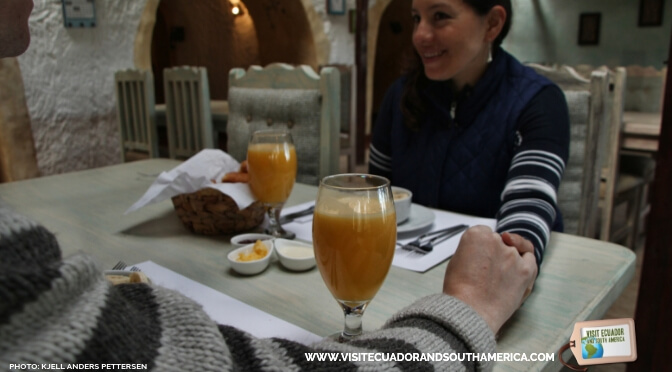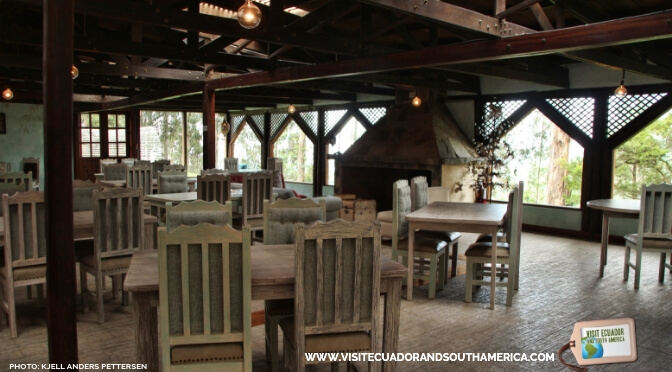 Time to unwind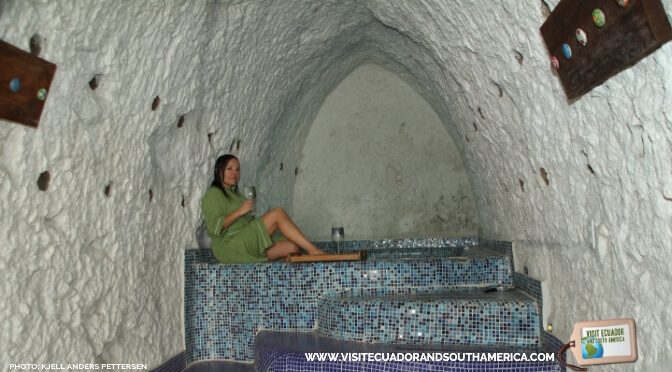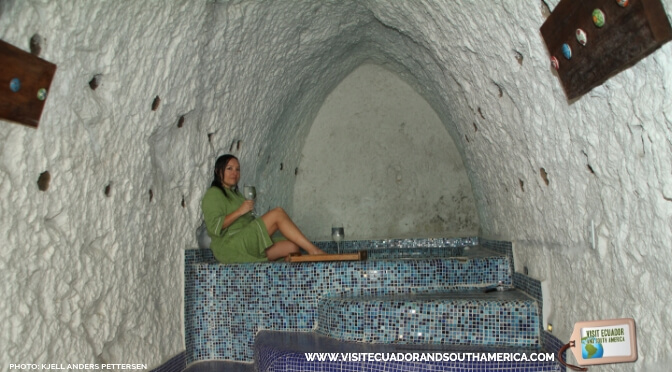 The hotel has an area for social activities, noise, and relaxation, including a ping-pong table and a jacuzzi.  
We decided to leave the jacuzzi for last.
Decorations
Throughout the hotel, you can admire charming details that are part of the decoration, such as birds, flowers, and deer inspired by the flora and fauna around the Hacienda. 
We also caught a glimpse of the meeting room, a cave offering the perfect space to connect, to work, and for business meetings.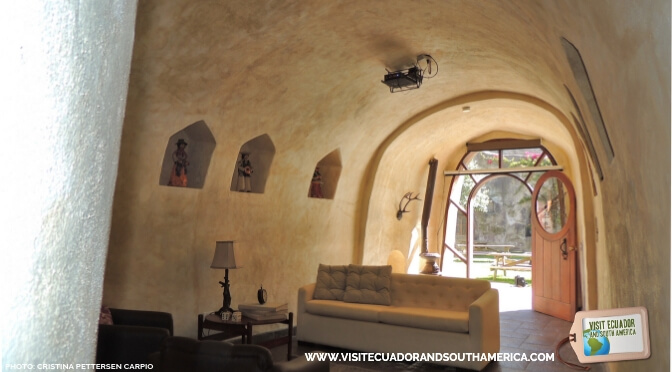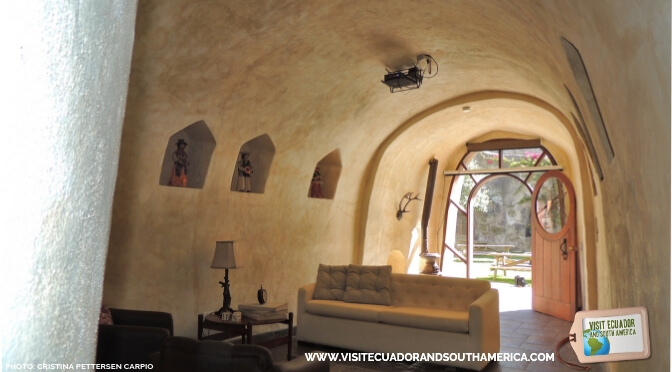 One of the caves has a cozy sitting area and an excellent selection of books.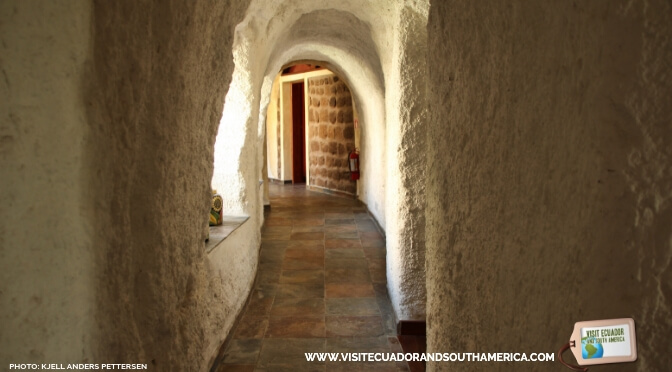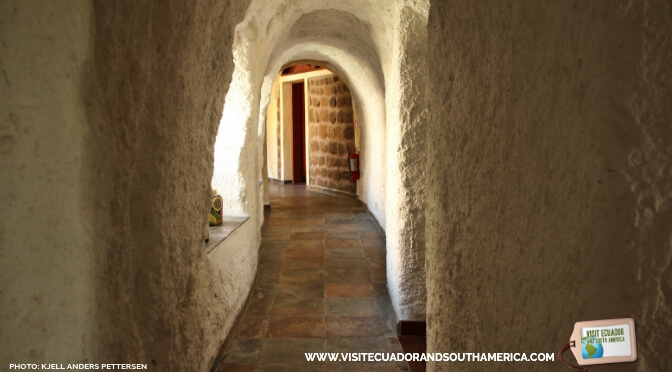 We loved wandering through the caves and exploring the different areas inside this hotel.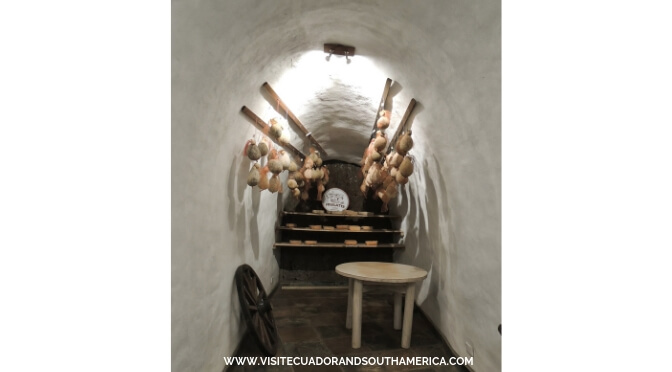 In the picture above you see one of the caves that has been used as a place to store and mature Italian-type cheese.
Other caves include a chapel and a bar. 
Talk about a place that offers wonderful experiences to its guests!
How to get there
The Hacienda lies just off the highway on the way to Papallacta, around km 4. From there you follow a narrow dirt road for approximately 20 minutes. 
Here is the link to the address and the map. But remember, you have to make a reservation first.
The road leading to the hotel is a narrow dirt road so be sure your car can handle some rough terrain. It's a fun ride though! 
Activities in Hacienda las Cuevas
Awe-inspiring landscapes are also a part of the experience. The location of the Hacienda Las Cuevas with the Antisana in the back and the Cotopaxi in the front together with the Andes is genuinely incredible.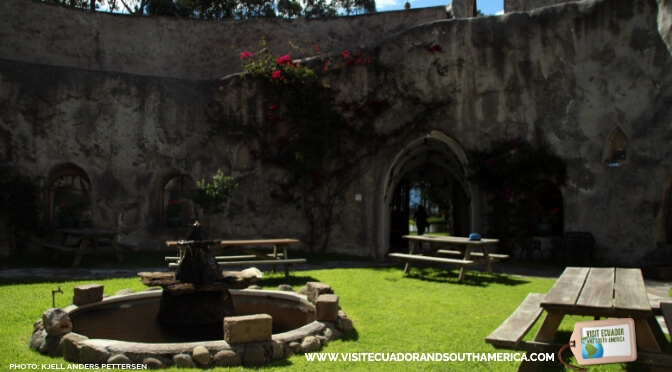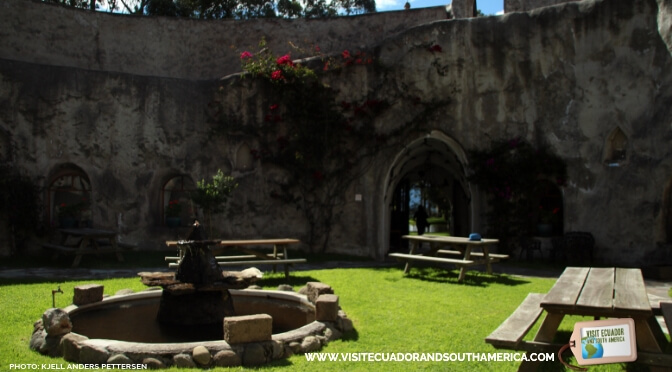 Our activity
Once you book your accommodation (remember reservation only) you can, as a guest at Hacienda Las Cuevas, choose between several activities.
Your booking includes one of them.
I love that many of the activities allow you to get a good feel of the Hacienda life, such as milking, cheese making, and harvesting.    
And…  
for those who love the outdoors, activities include hiking along the trails inside the Hacienda, fishing, horse riding, a visit to a rose plantation and they have more activities on the drawing board!
The activity we chose was the 3-hour hike that included crossing fields of oatmeal, narrow paths, fields of crops and animals, a natural cave, and two waterfalls with pure, refreshing water.
We would describe the hike as not easy, nor on flat terrain, so come prepared with good hiking/trekking shoes. We had fun and did some exercise on this hike!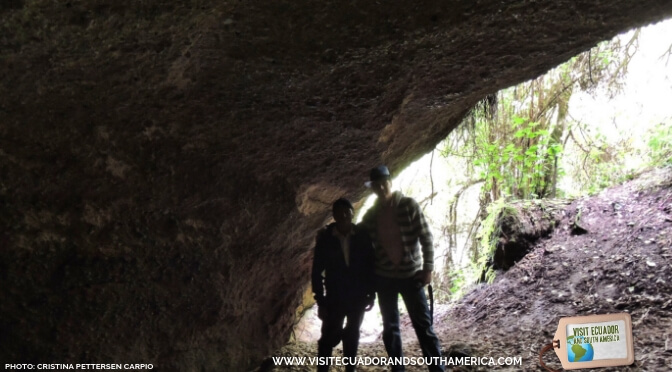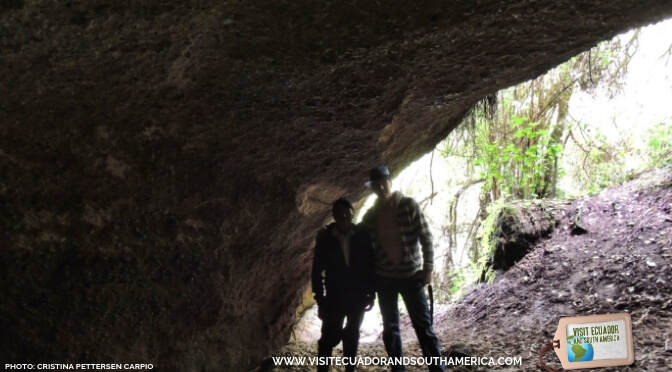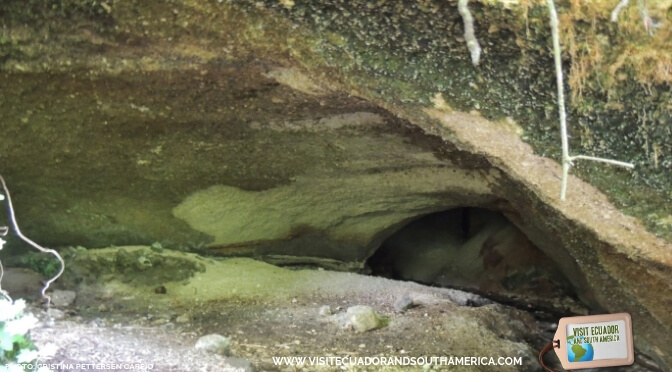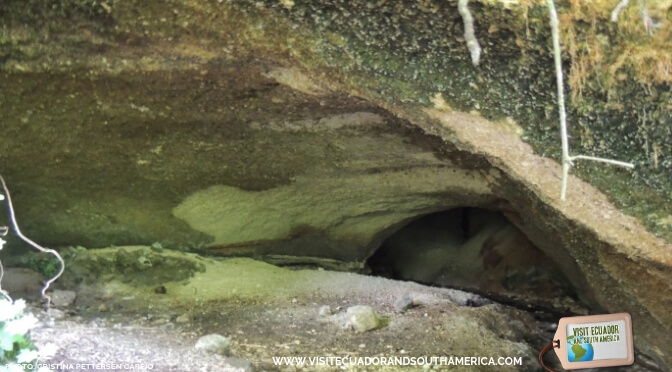 What to bring
To fully enjoy your stay:
Make sure to book before you go, to do so click here. 
Bring hiking or tennis shoes if you want to go on the hikes and explore the Hacienda.
Bring a bathing suit for the jacuzzi  
Bring sunglasses, sunblock, and a hat if you are planning on staying outdoors for long periods. 
Important – The road leading to the hotel is a narrow dirt road so be sure your car can handle some rough terrain. It's a fun ride though!
Conclusion:
The weekend at Hacienda las Cuevas was the perfect mix of adventure, thrill, and relaxation. We can highly recommend booking your stay at the unique high-altitude Hacienda Las Cuevas.

Book your memorable experience ahead of time at the 5-Star cave hotel Hacienda Las Cuevas near Quito here. In addition to the thrill of living in a hotel made inside a cave, there are many activities that suit all ages and tastes and the views are amazing.
Take a look at other activities you can enjoy in the city and surroundings while you are in Quito.
Why choose Quito to live, and study Spanish?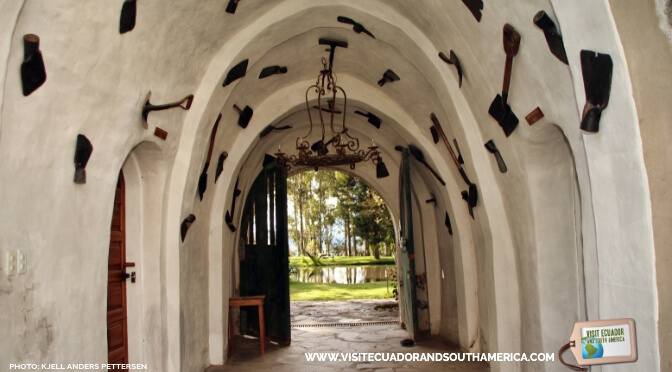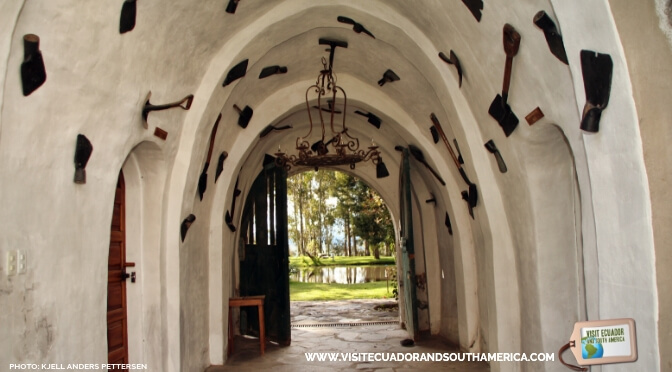 We had a replenishing night of sleep and an unforgettable experience and would not hesitate to recommend Hacienda Las Cuevas.
Editors Disclosure: I was a guest of Hacienda Las Cuevas. As always, all opinions expressed here are entirely my own and based on my personal experience.
If you found this page helpful, I would appreciate it if you would pin, share or tweet it on any social media platforms you use! Every little bit will help fund our travels and continue to bring great content to our site!
Planning a trip soon?  Comment below or send me an email, I can help you plan your trip.
PIN IT FOR LATER
If you want more in-depth information and also a guide that you can bring along during your trip, I recommend the travel guide Lonely Planet Ecuador & the Galapagos Islands.
This is a great source of information and tips, maps, and all you need if you plan on visiting Ecuador. I like the option of having a hard copy version where I can take notes and have them at hand.
Don't just dream it. Make it happen. Plan your South American trip with a local!
Take a look at this list of travel resources to plan your trip and travel in South America.
Daydreaming about your trip to South America? Order here your Free Ebook. I share with you some useful tips & resources for a memorable trip!
I invite you to follow me on Facebook, Twitter, Pinterest, and Instagram. In addition, you can subscribe on YouTube.
You can also send an email to get help planning your trip: info(at) visitecuadorandsouthamerica(dot)com