Otavalo, vibrant open-air market in the Andes – Ecuador

A perfect day trip departing from Quito includes a visit to the charming town of Otavalo. It´s one of the nicest open-air markets in South America, where the friendly indigenous inhabitants called Otavalos offer diverse handicrafts.
For me, every trip to this city nestled in the heart of the Andes, 2 hours north of Quito, provides me with a myriad of opportunities to take some pictures of the stunning colorful landscapes of the people, traditions, and nature along the Andes Cordillera.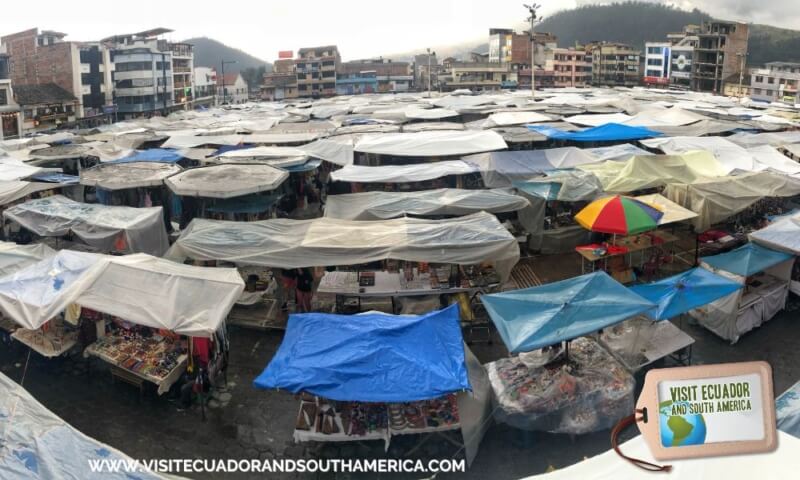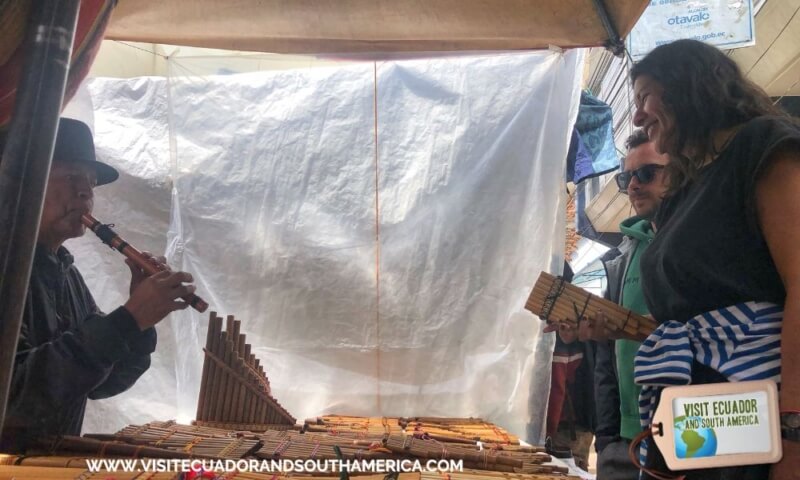 Where to stay
Start your trip by booking a night´s stay at one of the lovely haciendas outside Otavalo, like the charming colonial manor house Hacienda Pinsaquí  I love this charming quiet hideaway located 5km from town, offering history, spacious rooms, and excellent service. Another hacienda full of history is Hacienda Guachala.
Another option is to join Airbnb for free!  In addition to renting local, unique accommodation you can get $38 off your first adventure if you join here before November.
You can find some other places to stay in Otavalo or o if you want to make this a day trip from Quito, here are some options of places to stay in Quito.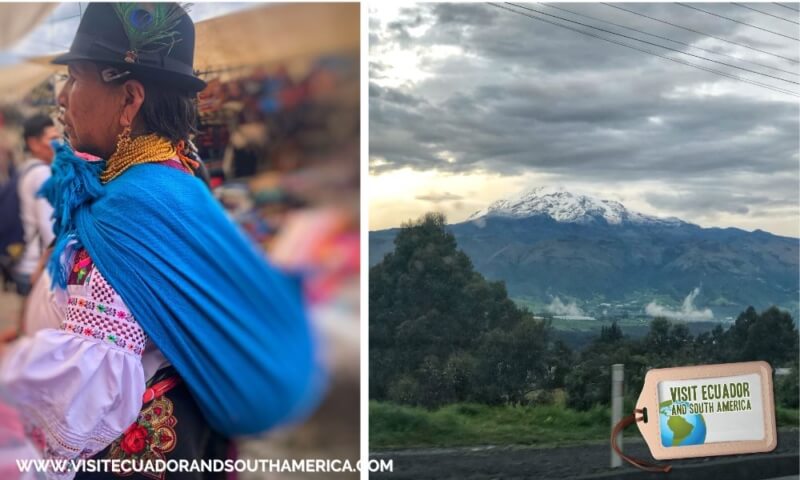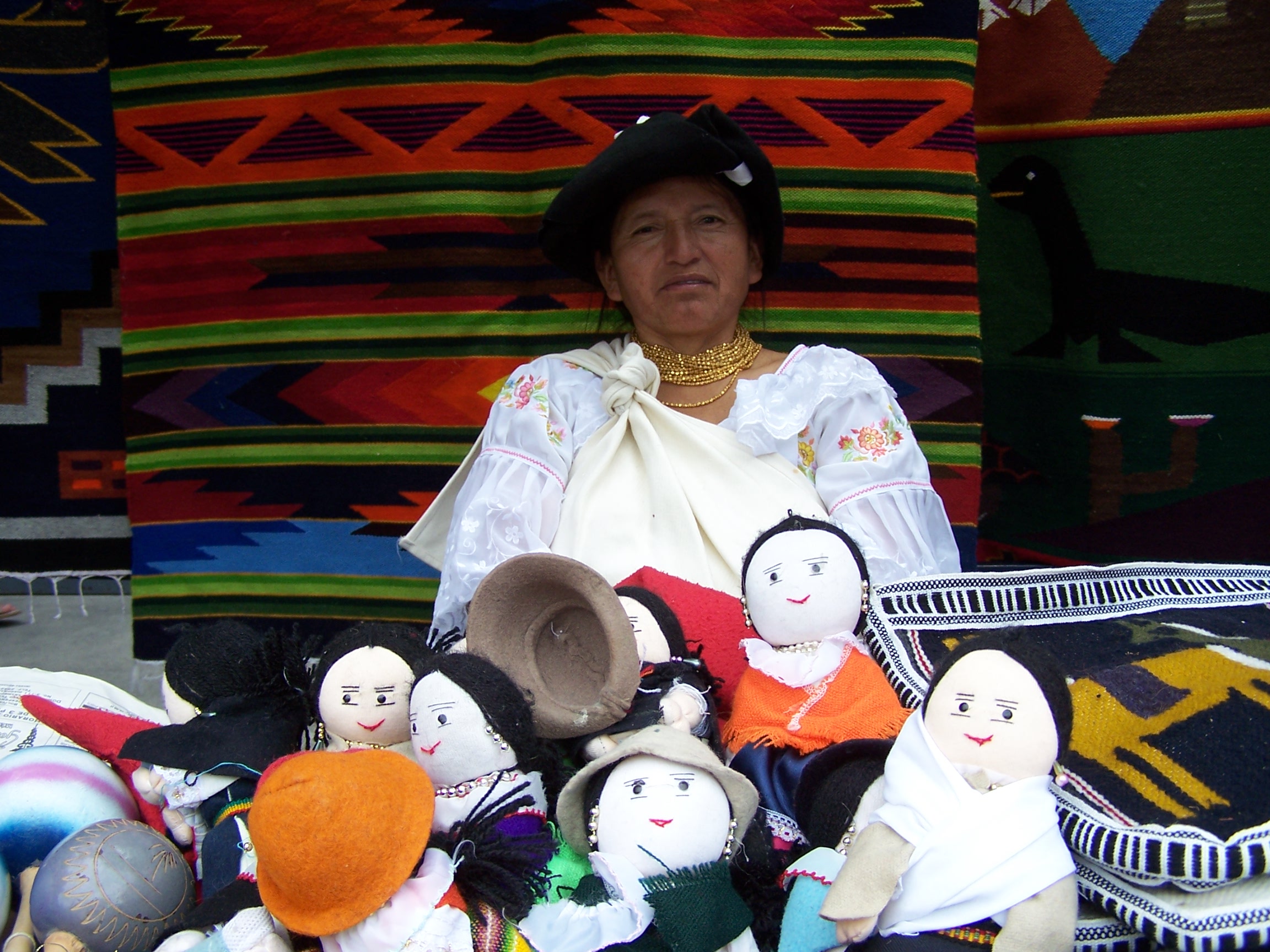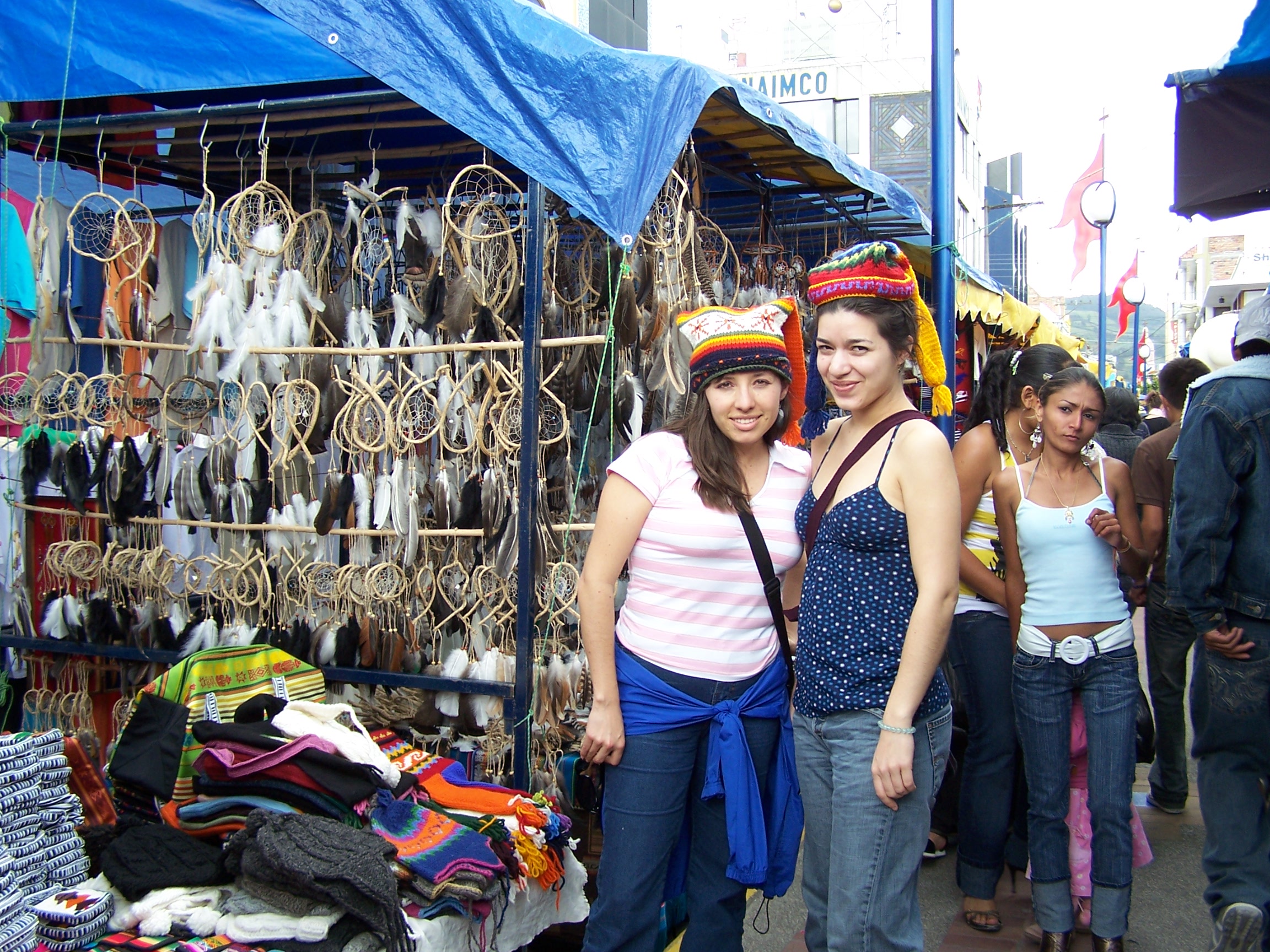 Book a tour
A day tour to Otavalo is a wonderful way to get the most out not only of Otavalo but also of the area and avoid the hassle and stress of planning transportation and logistics. Here are some tour options for you.
About Otavalo
This town with approx. 90.000 inhabitants is located in the heart of the Andes and offers a great opportunity to learn about the traditions of this indigenous group.
The two-hour drive North from Quito, will allow you to admire the gorgeous landscapes of the Highlands.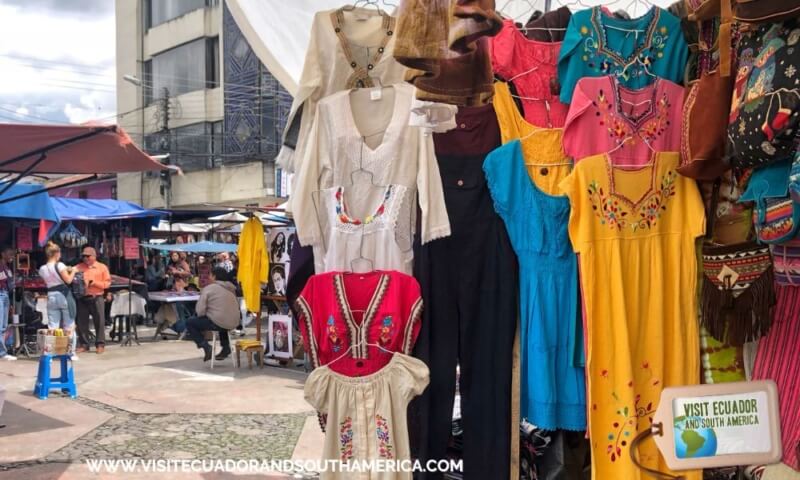 Plaza de Ponchos
Once you arrive in the town, you should head down to the main attraction, La Plaza de Ponchos. This is a nice open-air market in the middle of the square with over 90 stands run by Otavalos (indigenous group from Otavalo), as well as mestizos. Here you will be greeted by this vibrant atmosphere, where vendors and tourists negotiate the best prices for a wide range of colorful handicrafts, textiles, tapestries, jewelry, and accessories.  Several friendly vendors will offer you their products and you will find that some of them might even speak your language. (Most do speak English).
Stroll along the passageways to find out all the different items you can buy. Just make sure that you do not pay the first price you are offered, and take time to visit several vendors to compare items.
You can even find a small market offering fresh produce.
Otavalos are not only talented craftsmen, but they are also wise men of trade and since products do not have a fixed price, they will try to get you to pay a bit more than you probably should. Just get into the bargaining game, ask for a price and offer at least 30% less, and leave if they do not agree with what you offer. You will see that they will soon be going after you with the item. Despite the need to bargain, you will notice that prices are quite low here, so shopping is going to be an enjoyable experience.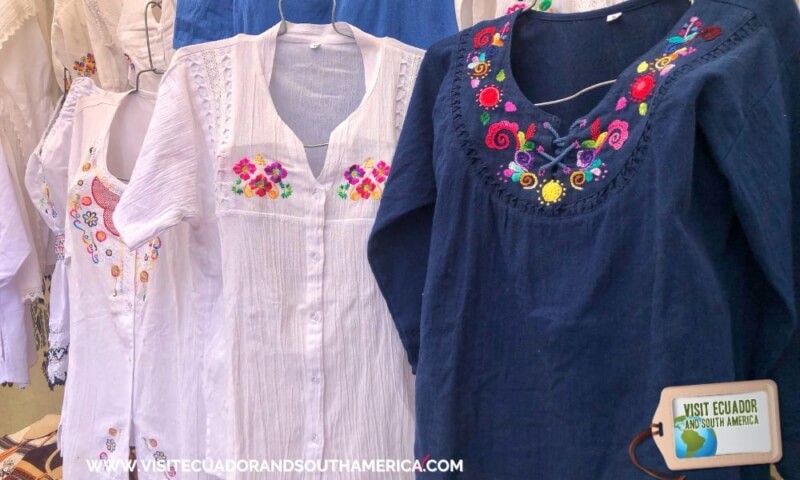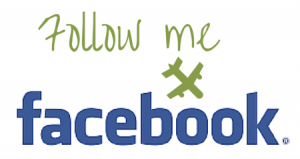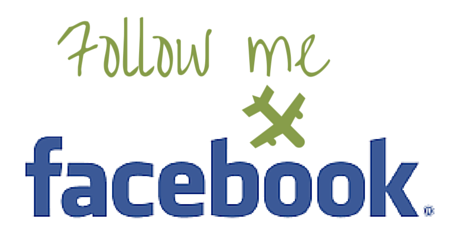 Traditional costumes
The Otavalos belong to one of the main groups of indigenous people in the highlands of Ecuador and one of their characteristics is that they have been careful about preserving their traditional costume consisting of blue ponchos and white trousers for men, and long dark skirts with a faja (woven belt), worn together with beautifully embroidered blouses.  Both men and women wear alpargatas (open sandals)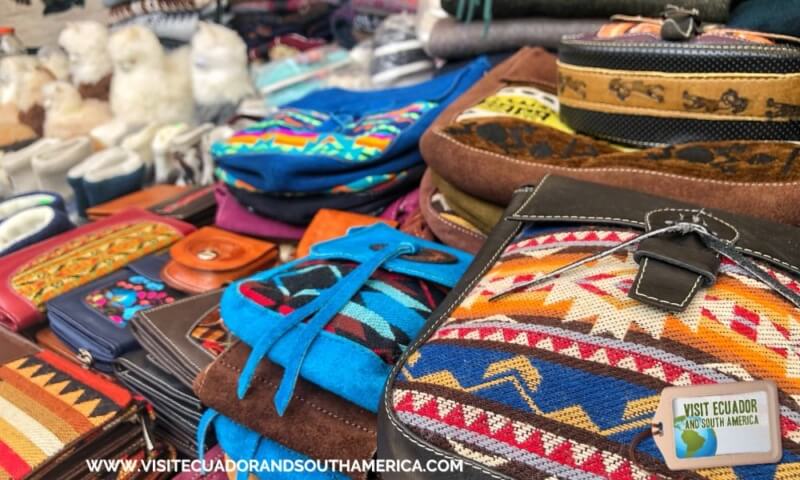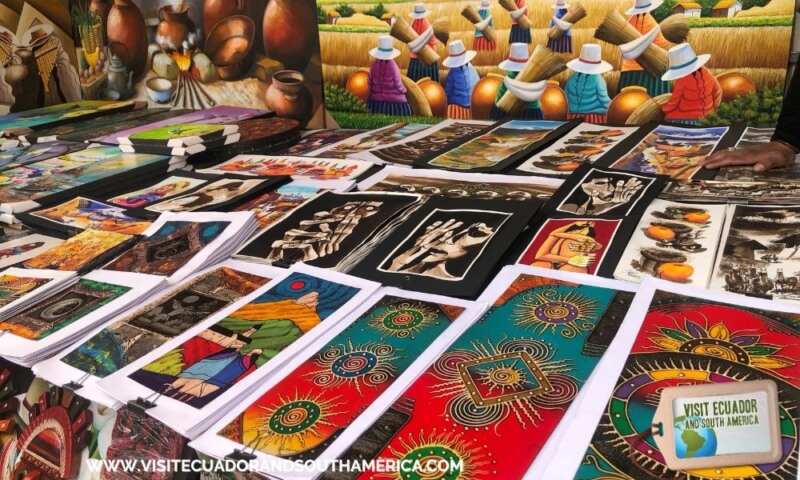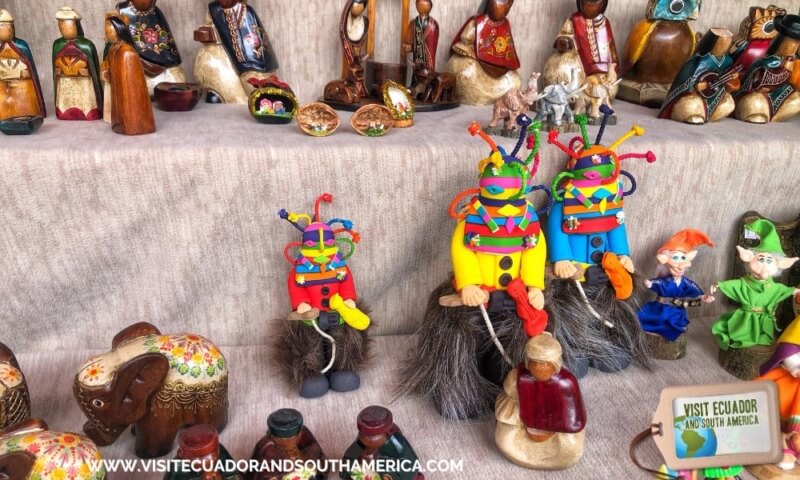 What to do near Otavalo
If you have more than a day in the city, then hire a registered cab to bring you to the amazing Peguche waterfall, a short walk through a fragrant Eucalyptus forest will bring you to this captivating waterfall, admire beautiful handcrafts at the open-air market of Otavalo, or visit Parque Condor in Otavalo and learn about environmental conservation. You can also visit Zuleta and learn about its traditional embroidery.
You can also enjoy the activities that include some art and lots of nature in other places in Imbabura.
Where to stay
After spending a relaxing weekend at the charming Hosteria Hacienda Pinsaqui we want to make sure that you know about this option for accommodation while you visit Ibarra.
Spend the night in the charming city of Ibarra, at the Hacienda Chorlavi a renovated historical country estate known by locals and tourists alike.
If you are looking for a place offering rural accommodation in a charming farmhouse overlooking the mountains in Chachimbiro,  then Hosteria San Francisco is the option for you.
What to bring
To fully enjoy your stay:
Sunglasses, sunblock, and a hat; remember that the equatorial sun is intense since you will be outdoors for long periods.
Warm or wool clothes, because it can get cold, especially at night if it is rainy season.
Bringing a reusable water bottle can help nature and the environment while you stay hydrated; there is bottled water in the kitchen.
Dress in layers as you will quickly get warm during the walks and when the sun is out, and remember that the weather can be pretty unpredictable. The temperature drops somewhat when the clouds block the sun.
Have you been to Otavalo? What kind of souvenirs did you get?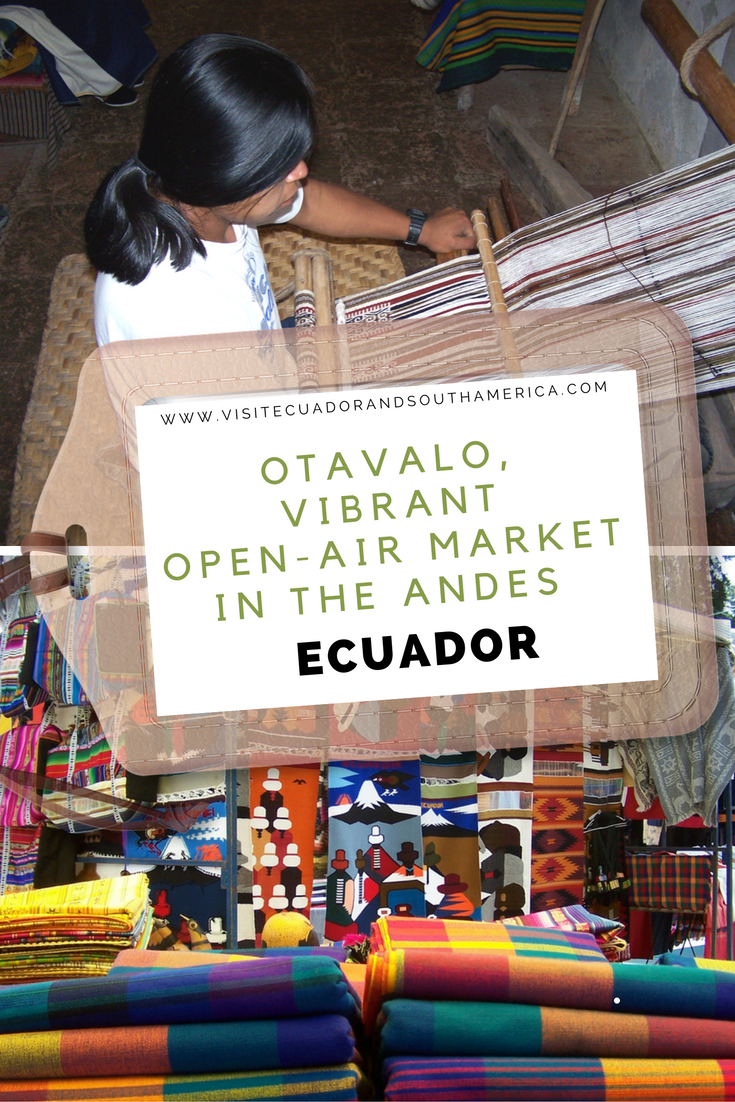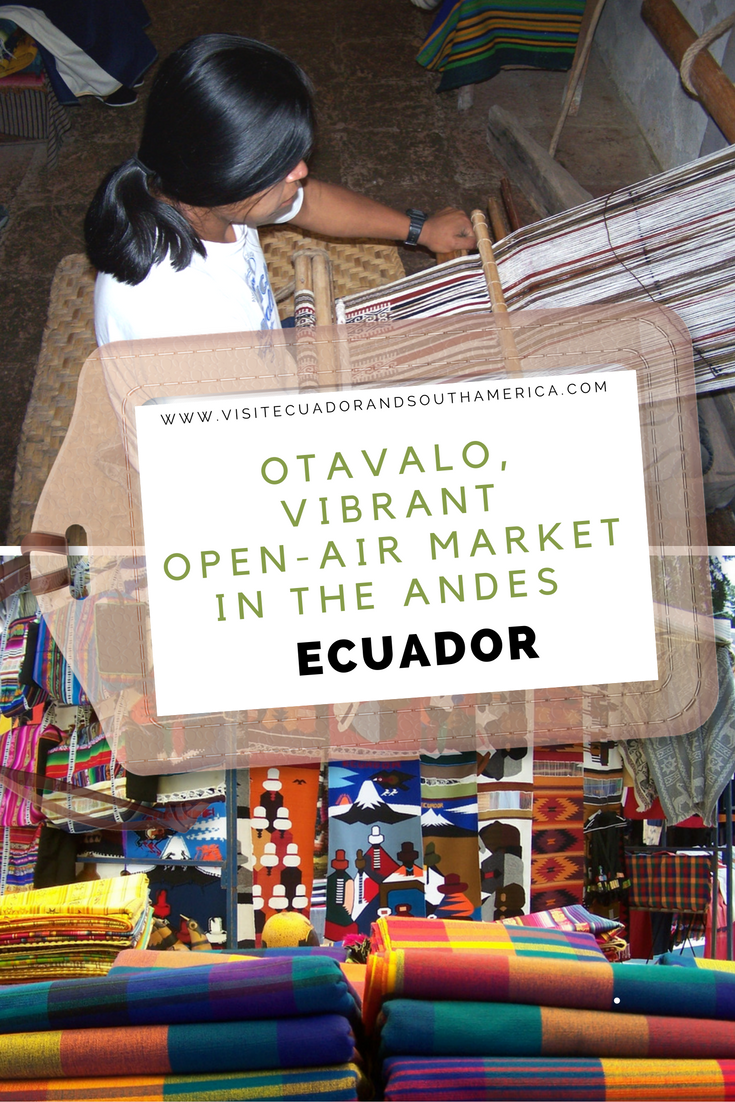 If you want more in-depth information and also a guide that you can bring along during your trip, I recommend the travel guide Lonely Planet Ecuador & the Galapagos Islands.
This is a great source of information and tips, maps and all you need if you plan on visiting Ecuador. I personally like the option of having a hard copy version where I can take notes and have at hand.
Don´t just dream it, make it happen. Plan your South American trip with a local!
Take a look at this list of travel resources to plan your trip and travel in South America.
Day dreaming about your trip to South America? Order here your Free Ebook, I share with you some useful tips & resources for a memorable trip!
I invite you to follow me on Facebook, Twitter, Pinterest, and Instagram. In addition, you can subscribe on YouTube.
You can also send an email to get help planning your trip: info(at) visitecuadorandsouthamerica(dot)com
Save
Save
Save
Save
Save
Save
Save
Save