The first time I heard about Airbnb was through my work with digital marketing and I had not really met many people who had used such services before then. Airbnb is a platform that allows private home owners to list their properties online for short period rentals. The fact is that Airbnb has disrupted the hospitality industry and is now available worldwide as an excellent choice when it comes to finding accommodation.
It was not until 2012, when we decided to try a similar service to Airbnb in Paris, that I realized the advantages it has.
Guest at Airbnb
I will share with you a great offer! You can register for free here to get USD 37 credit as a guest! You will discover unique places to stay and meet locals in South America and the world!
What I love about using Airbnb to find accommodation
Being a guest through Airbnb when you are travelling abroad alone or in a group can have a lot of pros:
You get to meet some locals. Sometimes you just see them briefly, other times you can share a room in their same home. It all depends on what you choose, there are plenty of possibilities.
You can feel like being at home.
You see photos and clear descriptions of the place so that you are able to choose according to taste and budget.
You can message the host(s) and read guest reviews in order to know them better and know what to expect.
You can search by housing type, by location, by price and other categories.
You also have the option of specifying extra amenities (free parking, access to pool area, towels, hairdryer etc.)

What I don´t like so much
If you need to cancel your reservation after confirming a booking, you do get a full refund (depending on the refund criteria), but Airbnb keeps a service fee (which is displayed during the booking process. However, should the host need to cancel your booking you will receive a full refund including the service fee.
Host at Airbnb
Click this link to earn an extra USD 100 for hosting on Airbnb
Be a host

I had been living in a 3 bedroom 2 floor house together with my husband in the hopes of having visitors more often. In 2013 I met a couple of persons who were desperately in need of an affordable place to stay. There was a big event taking place that day and accommodation prices were sky high, most hotels were fully booked weeks ahead and few private rooms were available.
Thinking of the extra space I had at home, people in real need to find a place to stay due to availability and budget we decided to offer our extra bedroom downstairs. Guests could then have the whole ground floor to themselves, including a bedroom with a comfortable sofa, a living room with a sofa and an additional sofa bed, which was ideal for individuals, couples, families and groups traveling to our area, and a separate bathroom. We accommodated Airbnb guests 15 times in a couple of years and loved the experience.
How to get your place ready
Description
First of all, you start by describing the area, the room or space you offer and any amenities (these are easily available as check-boxes in the admin panel). You can also provide translations of all your written information.
Pictures
Then you´ll have to get some good quality shots of the room(s) you offer, and preferably some of the surrounding area, that are appealing and at the same time reflect what the guests can expect upon arrival. The better the shots, the more inquiries you will get. Posting a couple of angles from each room is a good tip, thereby showcasing your offer better. Also, make sure there is enough light in the rooms, either natural or artificial, without exaggerating.
Price & Calendar
When it comes to choosing the price this is completely up to you. You might want to take a look at what your "competitors" with similar type of accommodation are charging.
Then you get to choose if you want to have the place for rental every day, just during the weekends or maybe you are going on holidays and don´t want the place listed. You can also choose separate pricings per day, week or month, or even separate weekend or periodic prices. In addition you can add a cleaning fee and extra fees per person over 1 or 2.
Door locks and keys
Each host has their own way of letting you into the apartment/room and giving you access. Some prefer to meet their guests in person, others have family or friends who show you the place. We always met our guests in person, gave them a quick tour of the space they had access to. They borrowed a separate key for the apartment and we agreed on a place they could leave it if they left when we were not at home.
Amenities and furniture
We always offered soap/shampoo, towels, clean linen and free wifi as part of the basic amenities in our place, in addition to free parking just outside the entrance.
With time we got a bigger sofa bed to use in the main bedroom. We then got hold of a simple closet to furnish the room that until then had just a night desk, a bed, and some simple decoration. From feedback we got from our guests we learned that it would be a good idea to have a kettle, tea, coffee and mugs available downstairs so that guests could enjoy a warm drink whenever they wanted in case they wanted to have some privacy from us who were upstairs.
Keep the place clean and things in order as this will be part of the review you will get from your guests. A positive review will do wonders for your business, but a negative one can damage your reputation decreasing inquiries. Avoid promising things in your listing that you cannot actually offer each and every time. And make sure your photos are honest and true.
If you have an extra room, apartment or any space that can fit a nice bed, you can click here and earn an extra USD 100 for hosting on Airbnb
What I gained from the experience?
Being a host through Airbnb when you have a free room or space to rent can bring some great rewards.

It was great having an extra income
An otherwise empty room was being used
We met some very interesting people from lots of different countries
We shared travel experiences with like-minded people
Practice other languages
Get great tips about their home country/city for future trips
Airbnb pays directly to your bank account, via paypal or international money wire
You get to choose both prices and availability
Furthermore, we even ended up getting to know one of my neighbors through a friend of hers who was a guest at our place. She is now a really good friend of ours.
In conclusion, you can help tourists or business people who do not have the budget for a hotel, who would rather meet the locals and prefer staying at a place that makes them feel at home.
Become an Airbnb host by clicking this link to earn an extra USD 100 for your first hosting experience. It is a really nice way to meet new people, share travel experiences and have an extra income!
Do you have any questions regarding being a host or a guest that you want to ask me?
Thank you for reading!
Cristina 


Pin it for later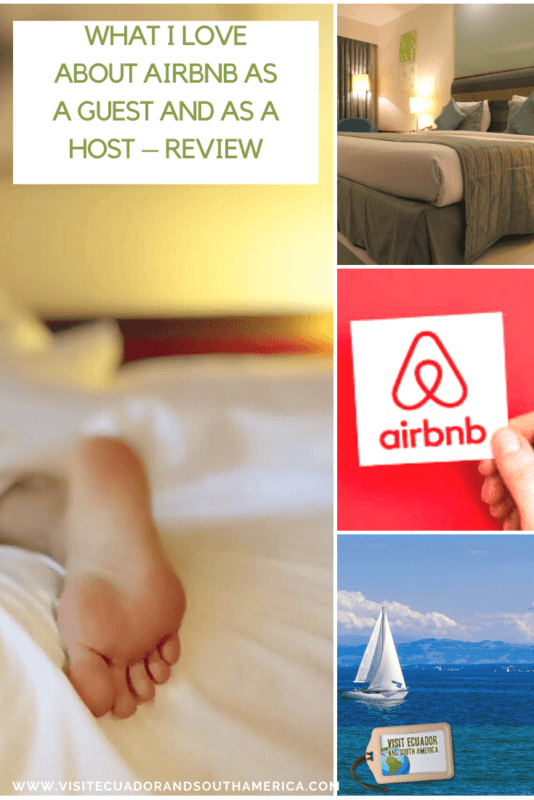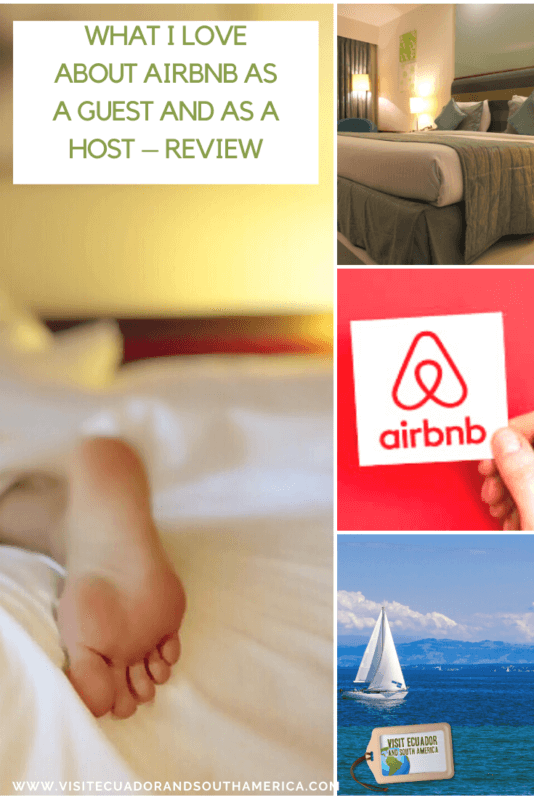 Like Visit Ecuador and South America on Facebook, follow the blog on Twitter, Pinterest and Instagram, and subscribe on YouTube. Send us an email to get more information or help planning your trip: info(at) visitecuadorandsouthamerica(dot)com
FREE EBOOK:
I have written an Ebook to help you plan your memorable trip to South America.
How to decide the best places to visit in South America, where to stay and what to bring?
Download here your Free Ebook: Travel to South America, highlighting Ecuador and the Galápagos Islands.
ACCOMMODATION
Lately I have grown fonder of AirBnB. I have written a full review, so find out What I love about AirBnB as a guest and as a host plus some good tips.
Be sure to claim this offer! Click here to get USD 38 credit or discount, as a guest! If you have an extra room, apartment or any space that can fit a nice bed, you can click this link and earn an extra USD 100 for hosting on Airbnb)
TRAVEL RESOURCES
Take a look at this list of travel resources to plan your trip and travel in South America.