Glamping at Urkuwayku organic farm in Ilalo connects you with nature near Quito.
Are you looking for the perfect place to enjoy Glamping near Quito?
Would you like to visit a family-run organic farm and connect with nature?
This article shares our experience at the most amazing organic farm with elevated camping at Ilalo. In addition, it allowed us to collaborate on a project that has turned a dry and eroded piece of land into a fertile oasis.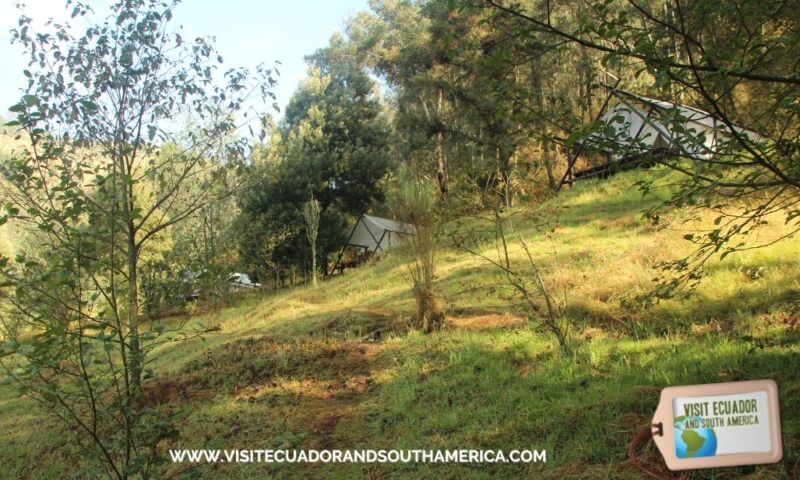 About Ilalo
Ilalo is located about 25 minutes from the center of Quito, which makes it easy to get to, and a popular destination for hikers and nature lovers. While some of Quito's volcanoes are still active, Ilaló has been long-extinct. Some of the additional reasons people visit Ilalo include visiting thermal pools and hot springs, and today, we suggest spending the weekend at Urkuwayku Glamping.
About Urkuwayku Glamping
Urkuwayku offers small-scale family farm getaways in glamping-style accommodation near Quito.
Granja Urkuwayku is situated high up in Ilaló, at 2,700 meters (8,900 ft) in the village of La Merced.
After about an hour's drive from Quito, you arrive at this farm off the beaten path.
Urkuwayku Glamping
is a family-run farm that allows visitors to enjoy the back-to-nature feel and spend the night glamping. In addition, we are being a partner, supporting a project that focuses on healthier, sustainable living.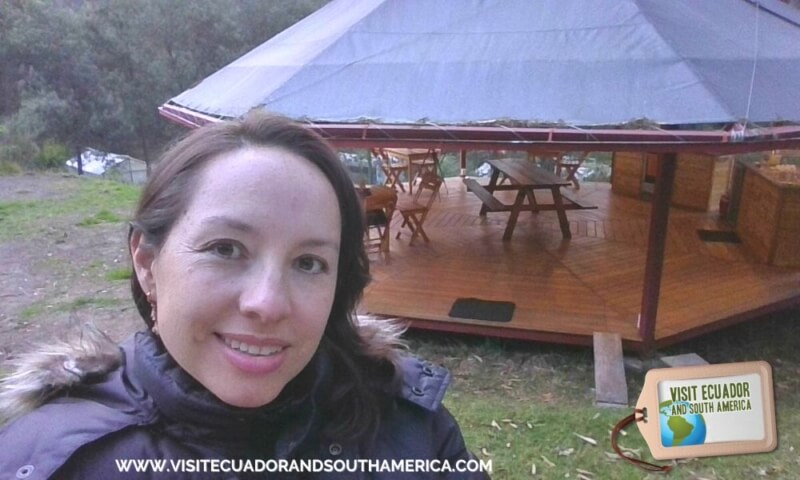 ACCOMMODATION
Glamping at Urkuwayku
has three well-spaced safari tents, each providing a spacious couples hideaway, and if needed, two additional single mattresses can be added, making them a great option also for families.
Each tent is furnished with a comfortable queen-size bed and a wood-burning fireplace to fulfil your heating requirements.
We were given bedding, blankets, and towels, so the only thing you need to bring is shampoo and any additional toiletry.
The tents have no electricity, which adds to the charm of the experience. You do get two battery-driven lanterns, which work both as desk lamps and for walking outside at night.
We enjoyed a magical show at night! When you turn off the lights, and you take a peek outside the tent windows, you can listen to nature's peaceful soundtrack, enjoy the starry night sky, and watch fireflies put on a light show.
We recommend you light the fireplace, bring some extra layers of clothing for the night, and enjoy a cup of tea or read outside in the comfortable chairs out on the terrace during the day or stargaze at night.
Although the tents have no electricity, the kitchen and bathrooms have several electrical outlets and the kitchen area has free wifi, so I was able to work there during office hours these two days.
Glamping at Urkuwayku – tents









THE KITCHEN
Urkuwayku has a modern open-air kitchen that you can use to prepare your meals.
It is equipped with all the necessary appliances, a stove, and small fridge.
Breakfast is included, and we just loved all the different fresh locally grown produce that we were served, including sweet organic tomatoes, farm-fresh yogurt, and fresh organic eggs from the hens. Some of the fruit is prepared for you in small glass bowls but the rest is up to you to prepare however you prefer it.
If you plan on staying a few days, bring snacks and food for your dinner and/or lunch; there is a small fridge shared between the two (soon three) tents. We opted to also bring a cooler box to keep food that did not need to be frozen or refrigerated.
Kitchen at Urkuwayku Ilalo







This is the bathroom area, located near the tents. There are sinks outside, and each tent has a private toilet and shower with hot water.
Bathrooms at Urkuwayku Ilalo




SUSTAINABILITY AND ORGANIC PRODUCE
This is a project full of passion, commitment, and love that started in 1999.
Back then, Steven and his wife Myriam bought the land where Urkuwayku lies. You can see the before picture showing the area at the bottom of the Ilalo, completely arid or degraded, and the after pic next to it.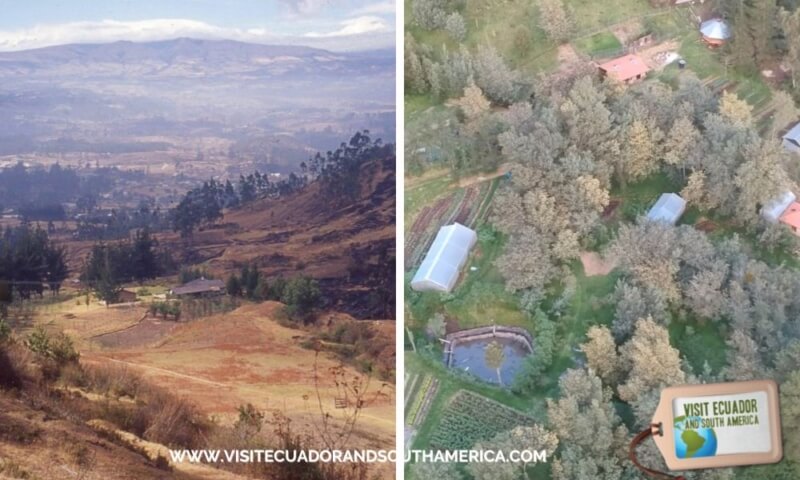 What Steven and Myriam did next is known as regenerative agriculture.
What is regenerative agriculture? "Regenerative Agriculture" describes farming and grazing practices that, among other benefits, reverse climate change by rebuilding soil organic matter and restoring degraded soil biodiversity – resulting in both carbon drawdown and improving the water cycle.
This land was not apt for agriculture; it was starting to become a desert, known as cangagua or cemented ash which raised the challenge for the couple how to transform infertile soil into healthy soil capable of producing high-quality, nutrient-dense food while simultaneously improving the land, rather than degrading it.
The solution? They started by collecting rainwater that was used for watering crops and for personal use. Their next step was to raise guinea pigs, which allowed them to get organic and high-quality manure to start bringing nutrients to the land, and after 10 years, they discovered the importance of adding fungi; the important role that they play in the circle of life on the planet cannot be underestimated. This resulted in fields with over 50 crops, including European vegetables, Andean products, flowers, and honey.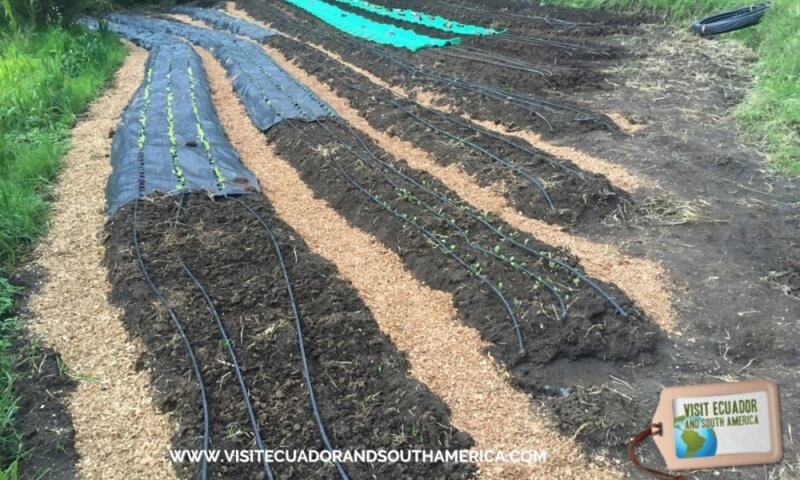 It is also inspiring to know that Steve and Myriam are active in Ecuador's lively agroecology and alternative food movements and have close ties with pioneering farmers, chefs, and food activists.
Here you can watch
Steve's TedEx Talk
, sharing his expertise around sustainable food systems and communities in Ecuador.
Organic farming at Urkuwayku Ilalo













PARTNERING WITH URKUWAYKYU + ORGANIC BASKETS
You can partner with Urkuwayku and support this project by subscribing to the baskets with organic produce delivered weekly in La Primavera (Cumbaya, Quito)
Every week they offer a basket of 10-12 fresh products from the farm. The basket includes a combination of Andean herbs, vegetables, grains, roots and tubers, and fruit.
This project is not only aimed at producing healthy food and helping the environment, but it also creates jobs for local communities around the Ilalo volcano.
With your basket, you not only receive fresh, healthy, and affordable food, you also invest in a healthy environment. You can order a basket here if you are near Quito:
https://urkuwayku.com
Products made with organic honey.
You can also find products made with organic honey from the farm by the brand Api Real at Mercado Artesanal in Av Amazonas in Quito.

ACTIVITIES
Guests have a full run of the farm as well as access to the surrounding volcano, the Ilalo.
Hundreds of kilometers of hiking and biking trails surround the farm, including hot springs that, when open, await just 3 km away (a 20-minute walk) in the village of La Merced.
We had options for hikes nearby and around but liked so much our tent and the immediate surroundings that we preferred to explore the farm, sit outside our tent, and enjoy a warm cup of tea while reading a good book.
Hike to Ilalo
From your tent, you can hike to the peak of the volcano (3,200 m or 10,500 ft above sea level) in about 2.5 hours or explore more than 100 kilometers of footpaths.
If you are planning on hiking to Ilalo, please note that parts of the trail are very uneven and can be slippery because of sand or mud. Try to hike when the weather is sunny or at least dry; bring hiking shoes and wear sunblock and a hat.
Activities at Urkuwayku Ilalo






Enjoy peace and nature in the countryside at Urkuwayku organic farm
As Norwegians, we enjoyed spending the night at Urkuwayku Glamping, surrounded by nature, and listening to the calming sounds of the drizzle outside.
How to get there
By Taxi 
Quito and the airport are equidistant from the Village of La Merced. The 35 km (20 miles) taxi trip between Quito and the airport to La Merced takes about 40 minutes and costs around USD 25.
By Bus 
The bus service between La Marin Terminal in Central Quito to La Merced takes about 1 hour and costs USD 0.75 (although it may not be running).
Direction by Car
Use WAZE or Google Maps to get there.
What to bring
During the day, the temperature climbs to 23C (75F), and at night it drops to a cool 7C (45F).
To fully enjoy your stay:
Sunglasses, sunblock, and a hat; remember that the equatorial sun is intense since you will be outdoors for long periods.
Warm or wool clothes, because it can get cold, especially at night if it is rainy season.
A rain jacket and perhaps a pair of rain pants and an additional pair of shoes.
Warm pajamas.
Bring a reusable water bottle can help nature and the environment while you stay hydrated; there is bottled water in the kitchen.
Dress in layers as you will quickly get warm during the walks and when the sun is out, and remember that the weather can be pretty unpredictable. The temperature drops somewhat when the clouds block the sun.
Your peaceful getaway
To book your peaceful getaway and enjoy elevated camping, you can click here.
Conclusion:
We loved spending the weekend at this place off the beaten path. It was perfect for us!
With a sustainable focus, a comfortable bed, a kitchen with all the essential appliances, and our private bathroom with shower, we had everything we needed to slow down and breathe fresh air on this 5 hectares Eco farm in Ilaló.
This organic farm allows you to experience hygge and peace, enjoy delicious organic food, and take a break from your daily routine.
We recommend Urkuwayku Glamping if you want to escape the routine or go on a romantic escapade.
You may be looking for other activities in the city and surroundings while you are in Quito.
Editors Disclosure: I was a guest of Urkuwayku Glamping. As always, all opinions expressed here are entirely my own and based on my personal experience.
If you enjoy the content, please consider liking, commenting, and subscribing. It's free, and it helps us.  Every little bit will help fund our travels and continue to bring great content to our site!
Planning a trip soon? Comment below or send me an email. I can help you plan your trip.
PIN IT FOR LATER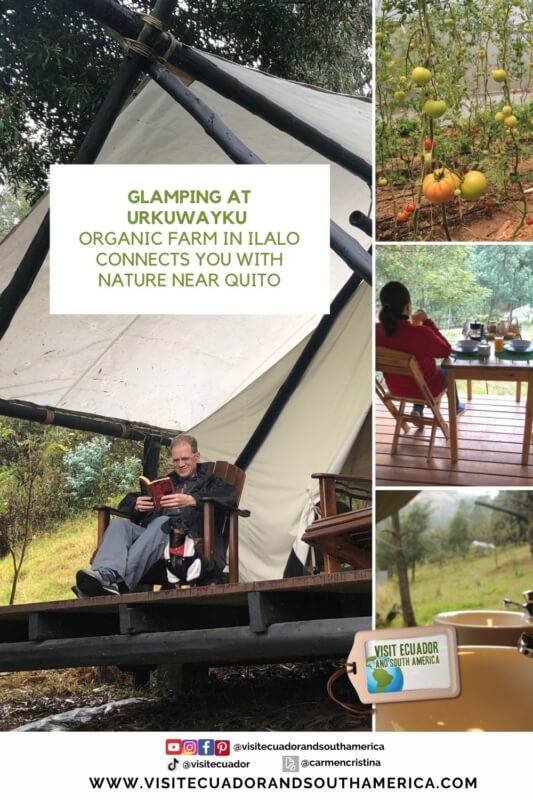 Don't just dream it. Make it happen. Plan your South American trip with a local!
Take a look at this list of travel resources to plan your trip and travel in South America. Are you daydreaming about your trip to South America? Order here your Free Ebook. I share some valuable tips & resources for a memorable trip! I invite you to follow me on Facebook, Twitter, Pinterest, and Instagram. Besides, you can subscribe on YouTube. You can also send an email to help plan your trip: info(at) visitecuadorandsouthamerica(dot)com.