Reasons to visit Parque Condor in Ecuador
One of my favorite places to visit on my way to Otavalo and Ibarra is Parque Cóndor.
This is not only a great place to enjoy some astounding postcard views, but also to help teach and raise awareness about the importance of environmental conservation.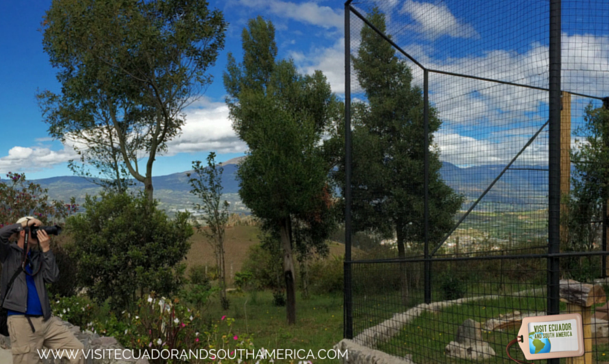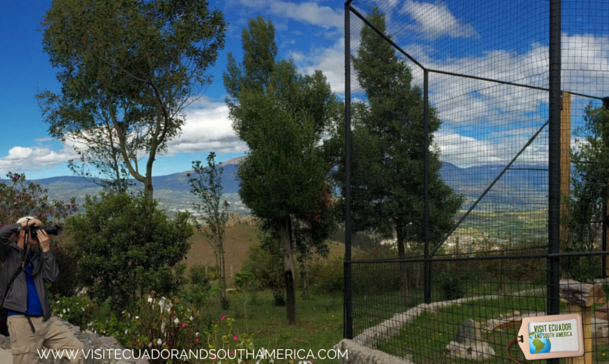 How to get there
If you do not have a car, the easiest way to get there from the city of Otavalo is to take a taxi. The park is located 5 minutes away from Otavalo, on the hill called Pucará Curyloma, at 2 800 msnm.
If you have a car drive the Panamericana highway, and near the gas station in Otavalo, take the street Piedrahita through a paved road that brings you straight to the park.
What to bring:
Bring a hat, sunscreen, a jacket, and comfortable shoes.
Where to stay
You can start your trip by booking a night´s stay at one of the lovely haciendas outside Otavalo, like the charming colonial manor house Hacienda Pinsaquí.  I love this charming quiet hideaway located 5km from town, offering history, spacious rooms, and excellent service. Another hacienda full of history is Hacienda Guachala.
You can find some other great places to stay in Otavalo or if you want to make this a day trip from Quito, here are some great places to stay in Quito.
Another great option is to rent homes from local hosts via AirBnb. In addition to renting local unique accommodation, and feeling more at home, you can get $38 off your first adventure if you join for free here before November.
About Parque Condor
Parque Condor is located on top of the Pukara alto hill, providing an amazing 360-degree panoramic view over the Imbabura & Cotacachi volcanoes, the town of Cotacachi, and Cuicocha crater. It is a non-profit wildlife refuge for owls and raptors, including the endangered condor.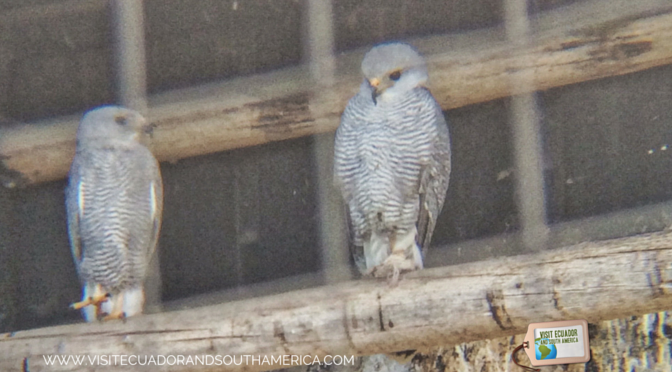 The main aim of the foundation founded and sponsored by the Dutch Embassy, the German Center for predatory birds, and several Ecuadorian organizations is to take care and rescue predatory birds such as eagles, hawks, owls, and condors.
In addition, the aim of Parque Condor is to create awareness about the environment. Their work is extremely important as means to help environmental conservation.
If you are in Ecuador I would love to see your pictures.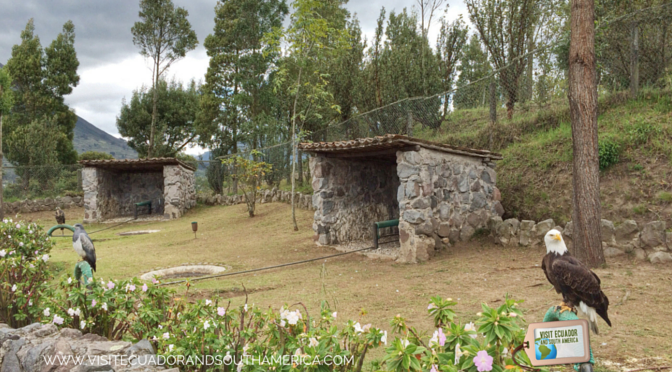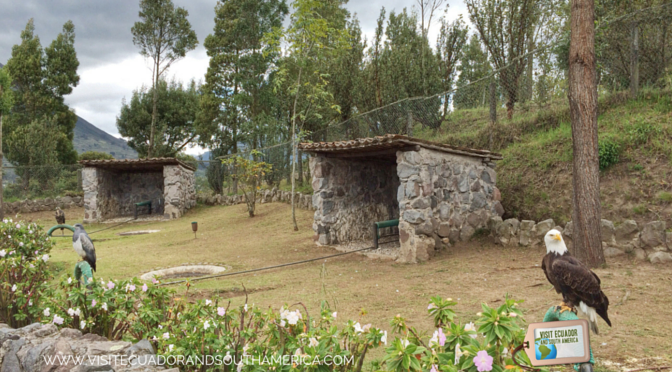 It is important to note that none of the birds in the park are captured; they are collected injured birds that are kept to help heal.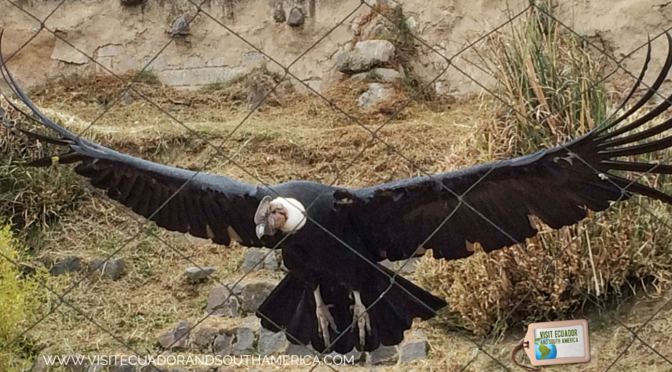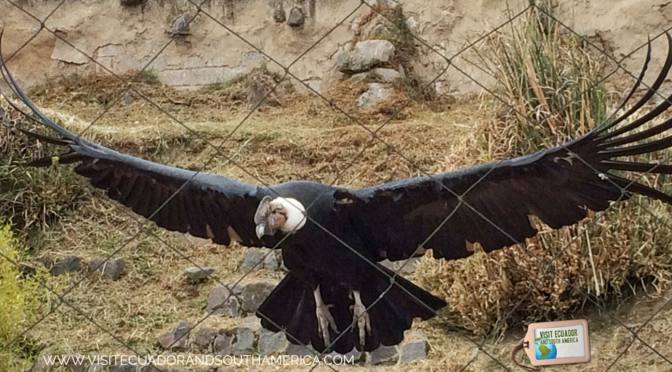 Due to the effect of media and movies, birds are and also have been erroneously considered as dangerous.  So, here visitors get to know more about them. Thus, learning that they are not to be feared contrary to common belief.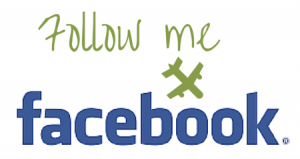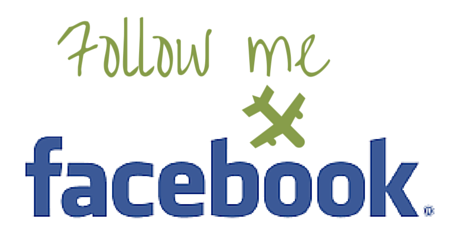 Furthermore, one of the best features of Parque Cóndor is the educational bird show that takes place at 11:30 am and 3:30 pm. Visitors will sit and get to learn more about the aim of the foundation while they get to admire free-flight demonstrations of birds, such as the American bald eagle and other small birds.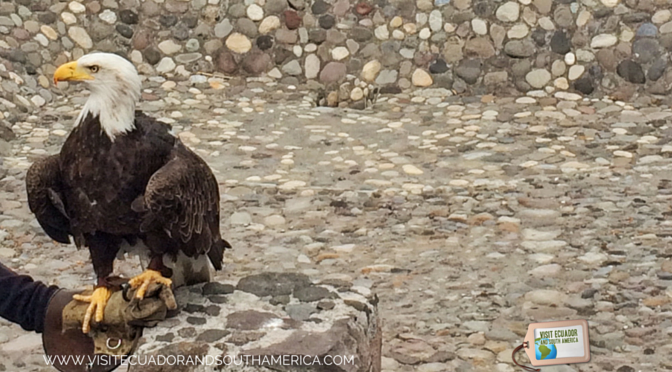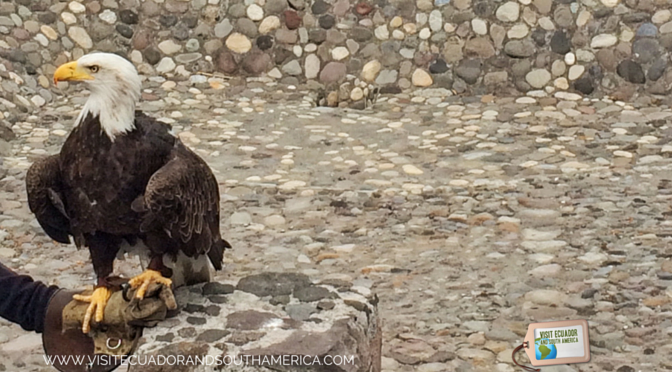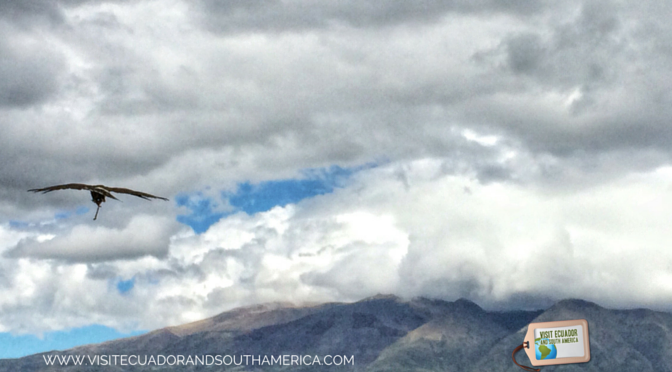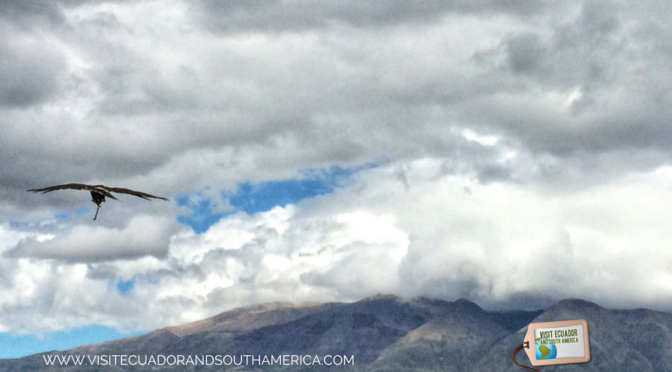 In addition to this, the Parque Cóndor a small restaurant and a playground.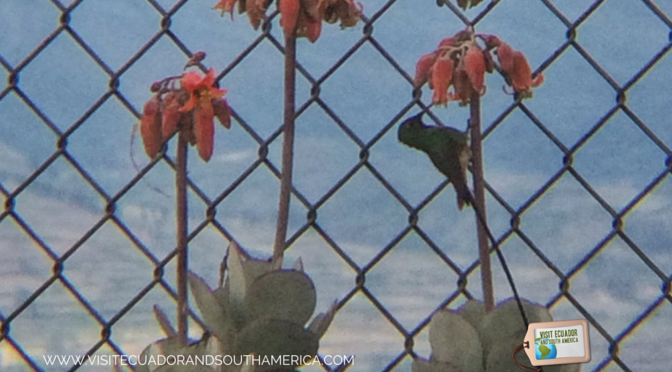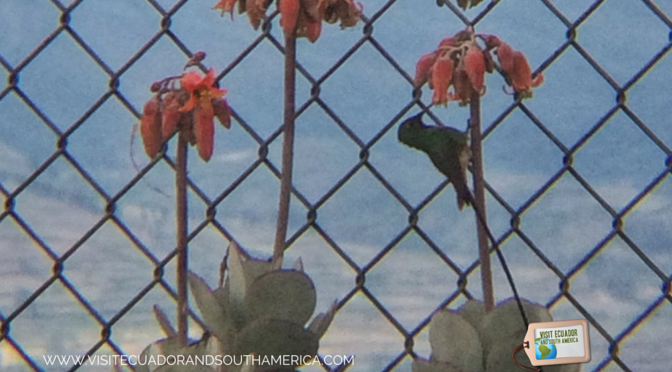 In conclusion, I can say that despite having been here twice already.  I always find Parque Condor a great place to spend some hours outdoors, learning about our role as human beings with the environment.  In addition, a visit to this place is very rewarding. There is an impressive amount of displays with live birds that are there for rehabilitation. Furthermore, you get a breathtaking view overlooking the valley and great photography opportunities.
For more information (in Spanish) visit the official website of Parque Condor, here
What to do near Parque el Condor
If you have more than a day in the city, then hire a registered cab to bring you to the amazing Peguche waterfall, a short walk through a fragrant Eucalyptus forest will bring you to this captivating waterfall, admire beautiful handcrafts at the open-air market of Otavalo.
There are many other things to do in the province of Imbabura, we share some of them.
Where to stay
After spending a relaxing weekend at the charming Hosteria Hacienda Pinsaqui we want to make sure that you know about this option for accommodation while you visit Ibarra.
Spend the night in the charming city of Ibarra, at the Hacienda Chorlavi a renovated historical country estate known by locals and tourists alike.
If you are looking for a place offering rural accommodation in a charming farmhouse overlooking the mountains in Chachimbiro,  then Hosteria San Francisco is the option for you.
What to bring
To fully enjoy your stay:
Sunglasses, sunblock, and a hat; remember that the equatorial sun is intense since you will be outdoors for long periods.
Warm or wool clothes, because it can get cold, especially at night if it is rainy season.
Bringing a reusable water bottle can help nature and the environment while you stay hydrated; there is bottled water in the kitchen.
Dress in layers as you will quickly get warm during the walks and when the sun is out, and remember that the weather can be pretty unpredictable. The temperature drops somewhat when the clouds block the sun.
PIN IT FOR LATER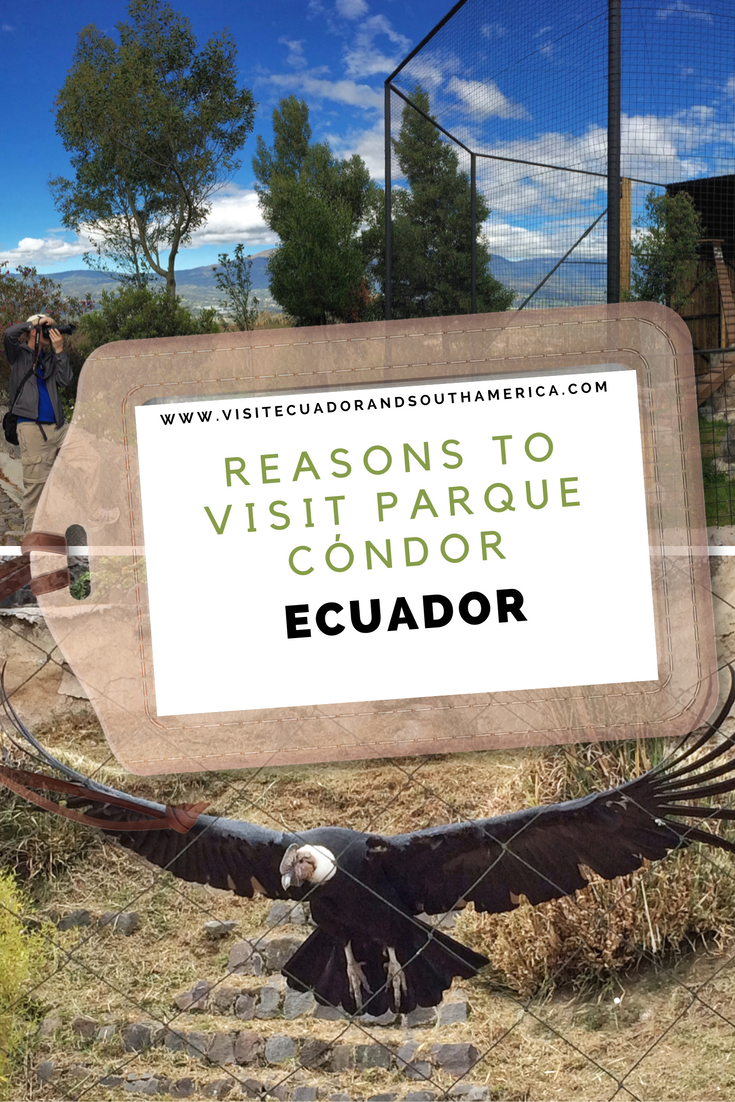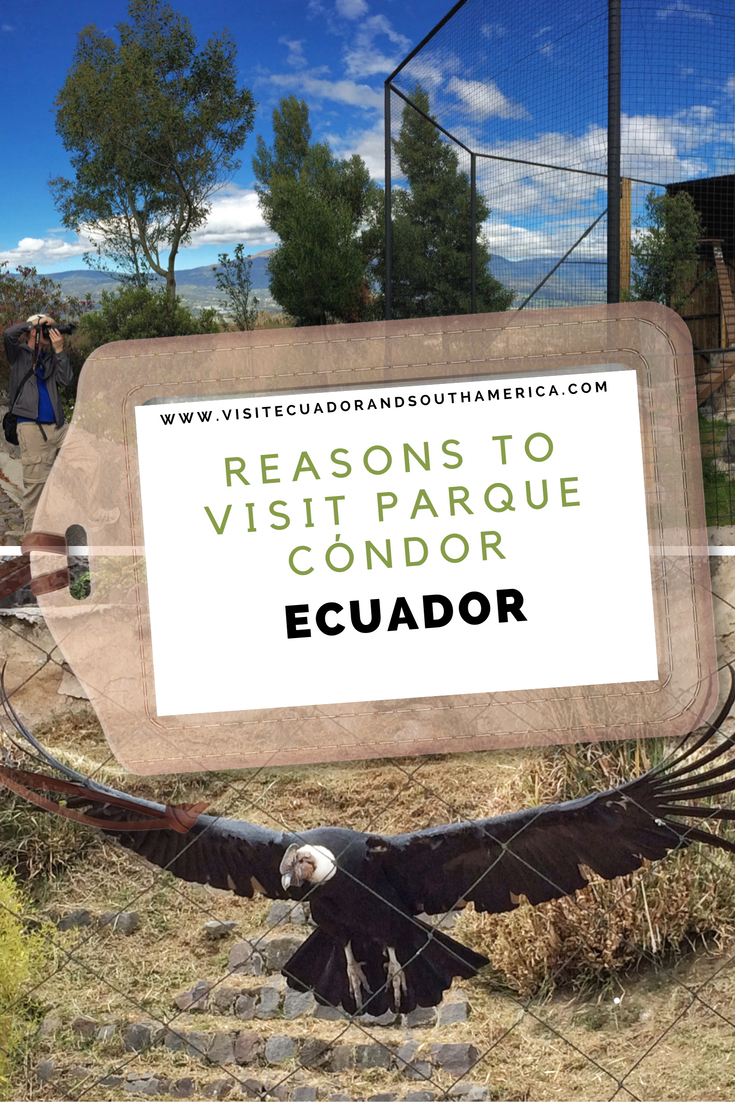 Don´t just dream it, make it happen. Plan your South American trip with a local!
Take a look at this list of travel resources to plan your trip and travel in South America.
Day dreaming about your trip to South America? Order here your Free Ebook, I share with you some useful tips & resources for a memorable trip!
I invite you to follow me on Facebook, Twitter, Pinterest and Instagram. In addition you can subscribe on YouTube. You can also send me an email to get more information or help planning your trip: info(at) visitecuadorandsouthamerica(dot)com
Save
Save
Save
Save
Save
Save
Save
Save
Save
Save
Save
Save
Save
Save
Save