The fact is that I love languages! I studied at a bilingual school where I learnt English to a native Speaker level. At age 15 I decided to study French at the Alliance Francaise and got the DELF and DALF Diplomas 15 years ago. At that point I decided to study Italian, finishing all levels of Italian available I have tried to practice both languages as often as possible in order not to forget them. I have now found Polly Lingual which is a great tool to help me practice what I had learnt and also to keep improving the language, no matter where I am!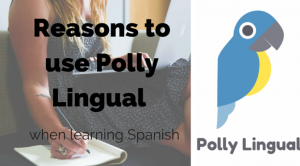 Polly Lingual is a great platform for me because it uses ludic learning as part of their learning methods! What better way to learn a language than having fun with it? Furthermore, its features are personalized so that they adapt to my specific needs and when talking to an Ambassador or Live tutor I can use it on my mobile phone via their App!
Which languages can you learn
Polly Lingual has 13 languages to choose from: Spanish, Portuguese, Italian, German, French, English, Hebrew, Arabic, Russian, Chinese, Japanese, Korean and Dutch.
You get access to beginner lessons in all 13 languages to start with, then if you decide to pay for the Polly Passport you will get unlimited access to all features and levels in all 13 languages.
In addition, the program will personalize the experience and add features according to your needs!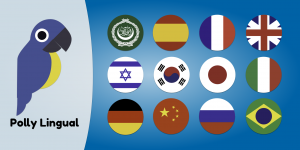 Special features:
These are the ludic features which I mentioned that I really enjoy in Polly Lingual: Alphabet soup, Memorama, Whack-a-word and Hangman, ideal to make learning more fun!
Ambassador program
This is another great option that Polly Lingual includes. On one hand, you can experience talking with a native speaker in a virtual classroom, who can assist you and help you improve or practice a language. If you want to practice Spanish and speak like a local you can book a class with me here, or with any other Polly Ambassador.
On the other hand, if you are a teacher or love languages and think that you can help people learn your Native Language or one of other languages, you can become an Ambassador, help others and earn money.
Mobile App
There is something really great about this platform, you do not need to be on your computer in order to get a virtual lesson. Polly Lingual – Pangaea Learning App is available in the Google Play and App Stores, to download it in the App store click here.
In conclusion, I like so much using Polly Lingual as a tool to learn Italian and to help others learn my mother tongue Spanish, that I want to give you the opportunity to win one Polly Passport that gives you complete access to all premium lessons, for all 13 languages and courses, plus other advanced features.
How to enter the giveaway
You need to use the form below to:
Subscribe to the Monthly Newsletter
You can double your chances of winning by:
Following Visit Ecuador and South America on Facebook
Retweeting about the giveaway
Every time you do one of these actions you confirm one more entry to the October Giveaway!
Remember that all of the actions mentioned above should be done directly in the widget below by September 15th 2016!
[RF_CONTEST contest='2530′]
Good luck!
I will announce the name of the lucky winner of a Polly Passport by  October 1st.

Save


Save
Save
Save
Save
Save
Save
Save
Save
Save