Hacienda Jimenita: escape to nature, relax, and connect with history near Quito airport
This is the place we chose to immerse ourselves in the hacienda lifestyle, it is a wildlife reserve and a sanctuary for birds. Hacienda Jimenita is the perfect place to start or end your trip to Ecuador due to the proximity to the airport.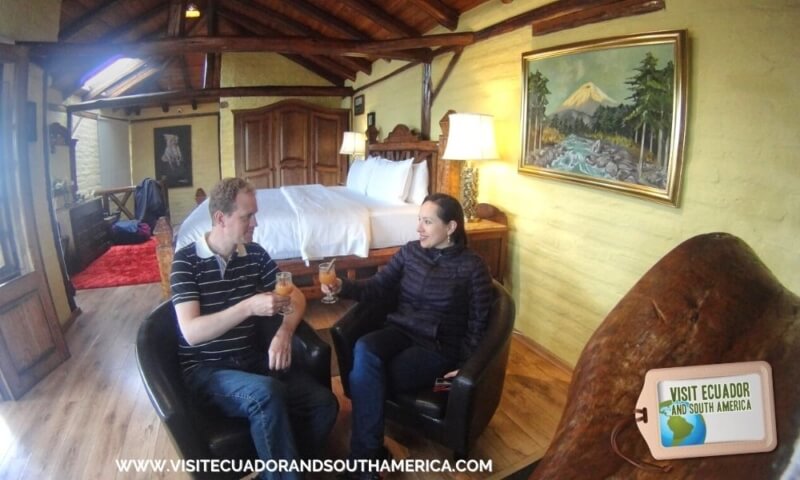 About Quito and Pifo
Quito is the capital of Ecuador and offers visitors a wide range of activities and places to see. The most important one is the Historic center of Quito, attracting visitors from all over the world who get to immerse themselves in the charm of plazas, churches, and museums in the streets of downtown Quito.
Learn more about all the things you can do while in Quito by visiting Visit Ecuador and South America's page with the top things to do in the country's capital city. 
Hacienda Jimenita is located 20 mins away from Quito airport, so if you want to enjoy birding, relax by the pool, eat delicious food, and have the hacienda experience, this is the place for you.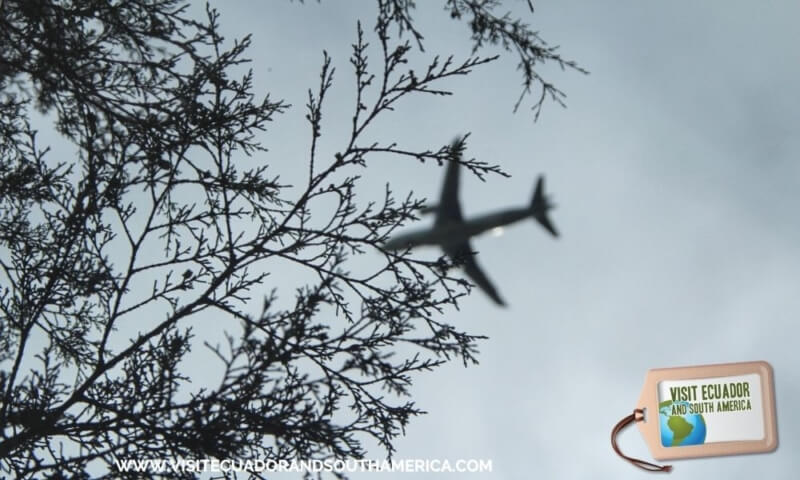 This charming hacienda is located in Pifo, 13 miles / 20 km from Quito. Pifo is a region in the Pichincha province with an elevation of 2600 meters.
About Hacienda Jimenita
The wooden gate with a bell at the entrance, a glass of the traditional Ecuadorian beverage canelazo, and a warm smile upon arrival, made us feel the hacienda lifestyle and welcome.
Well-tended gardens, great trails, and beautiful landscapes make up some of the charms of Hacienda Jimenita.
A 20-minute drive from Quito airport brings you to this healing, recharging ecological reserve named after the wife of the couple that owns the hacienda.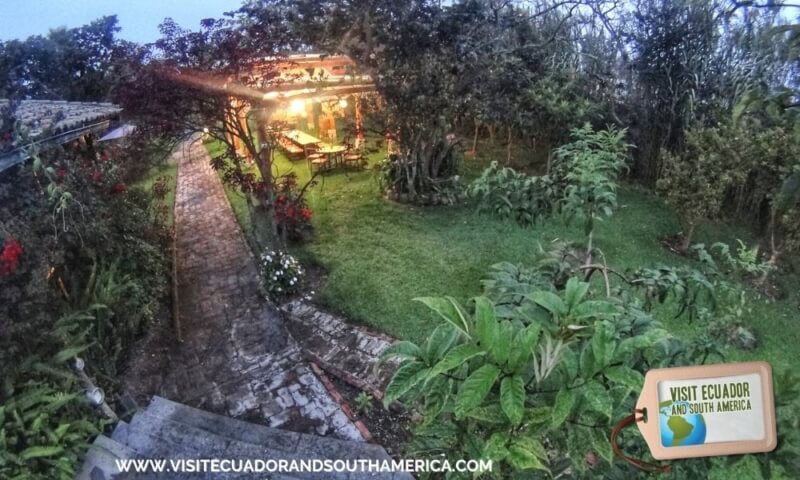 A serene country retreat

A hidden nature gem

A tranquil restful oasis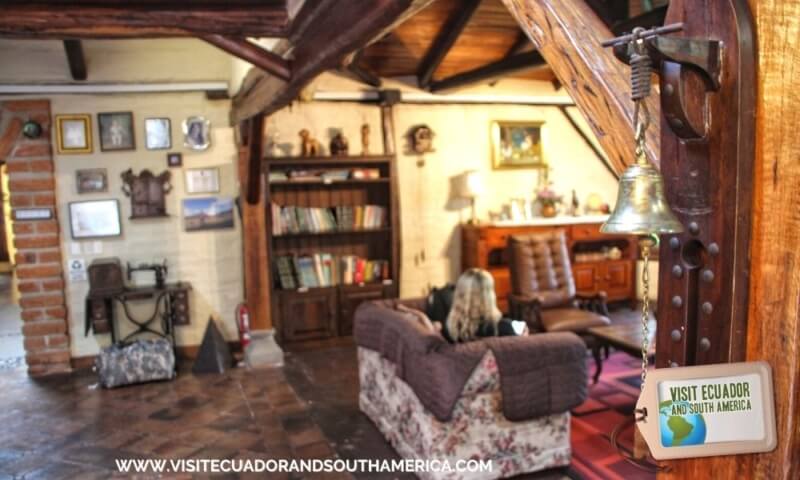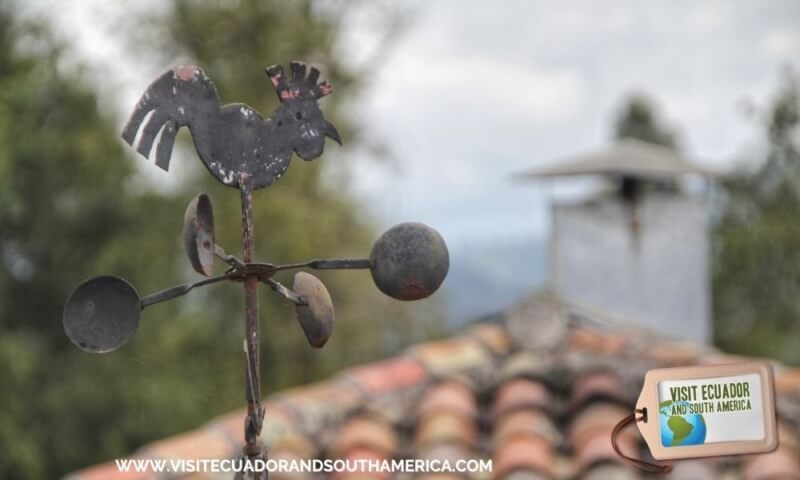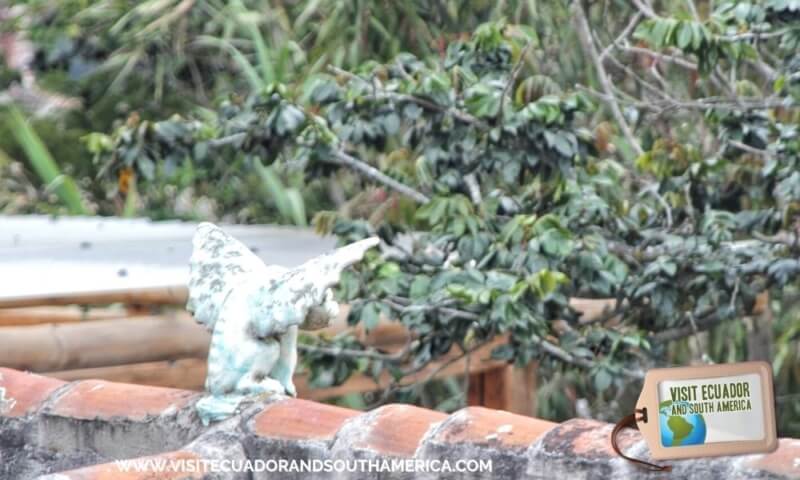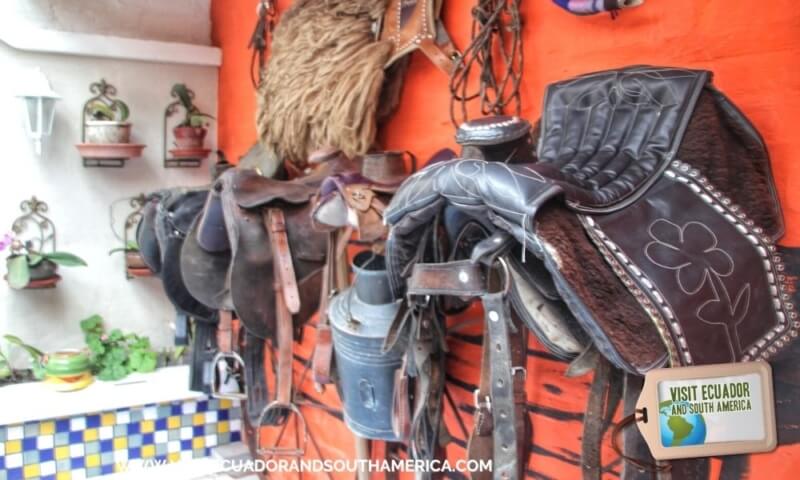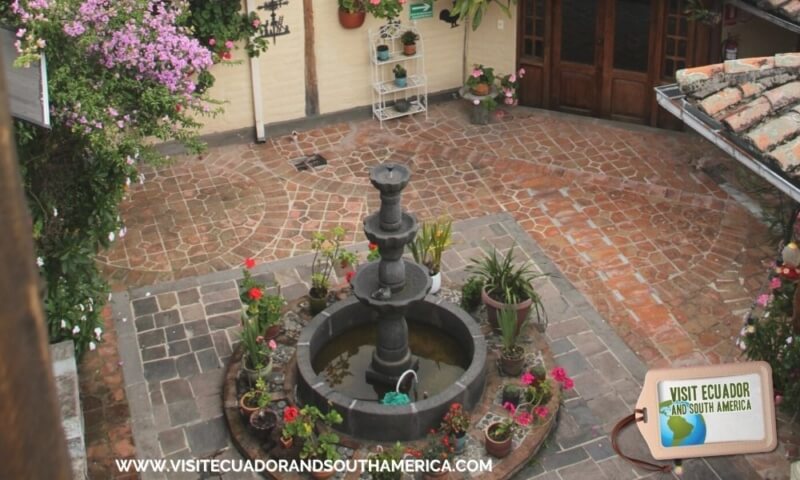 Birding and living the country life
The 6 am birding tour is a feast for the eyes, with lush green trails and dozens of breathtaking bird species, including six stunning species of humming birds.
With the sun shining through the trees, we walked the trails of the 23-acre hacienda, while listening to dozens of birds singing beautiful tunes. Along the trails you can also encounter some docile llamas, you can also ask the staff for some snacks for the llamas, a fun experience for children and children at heart.
The number of bird species spotted onsite is 95, which makes Hacienda Jimenita the closest and best place to enjoy birdwatching near Quito.
This is a tour that you can book after arriving or beforehand.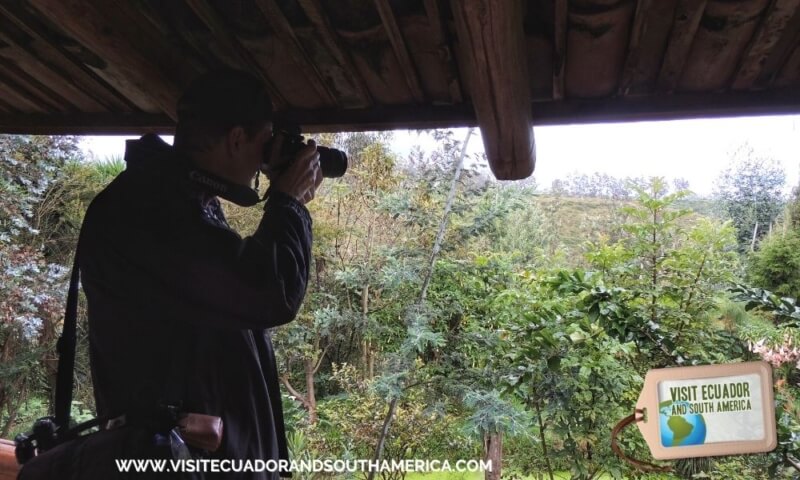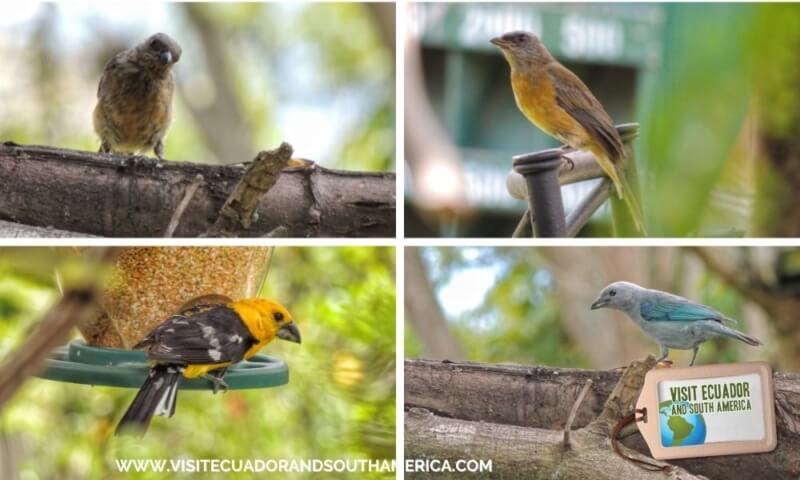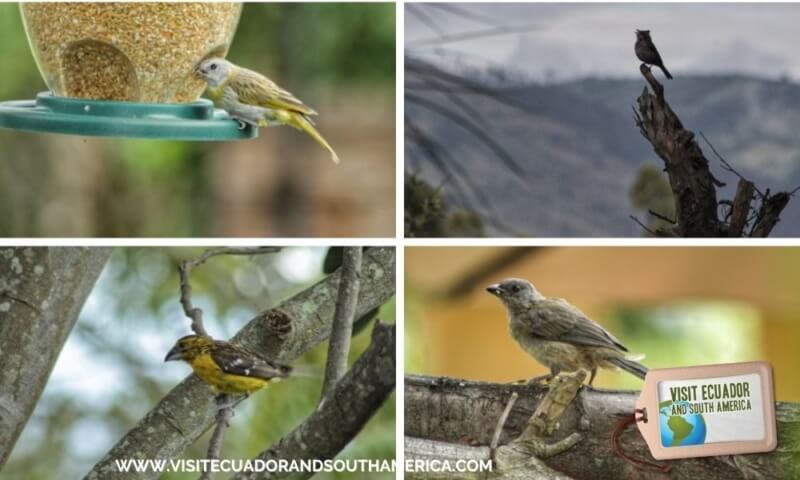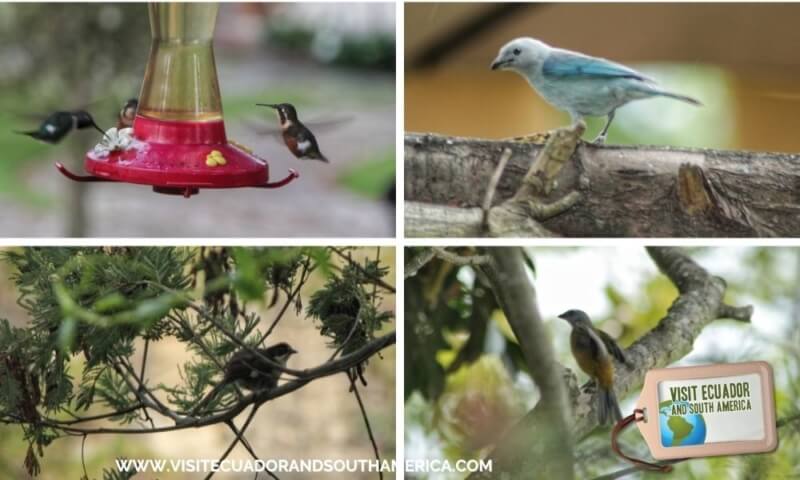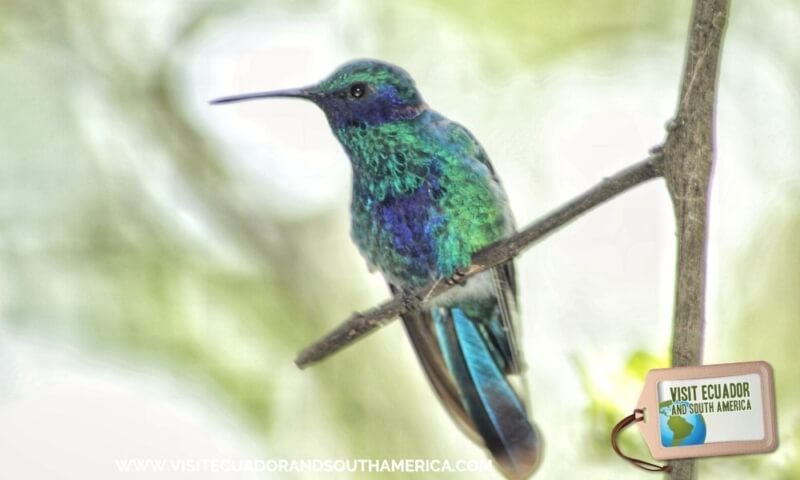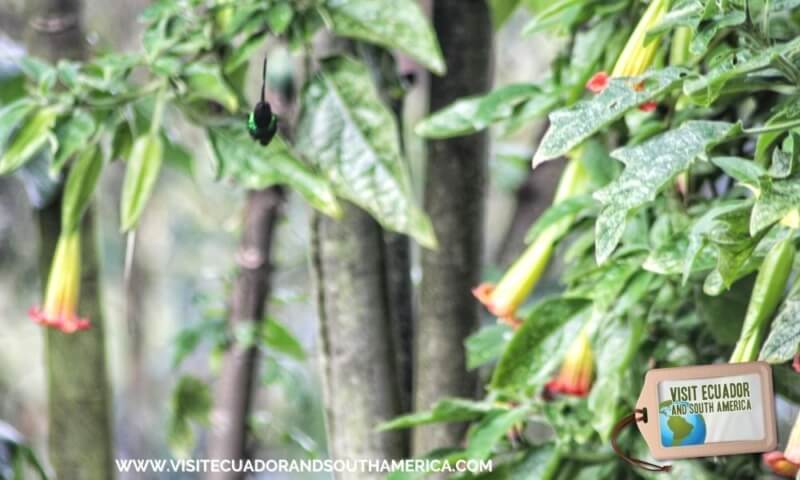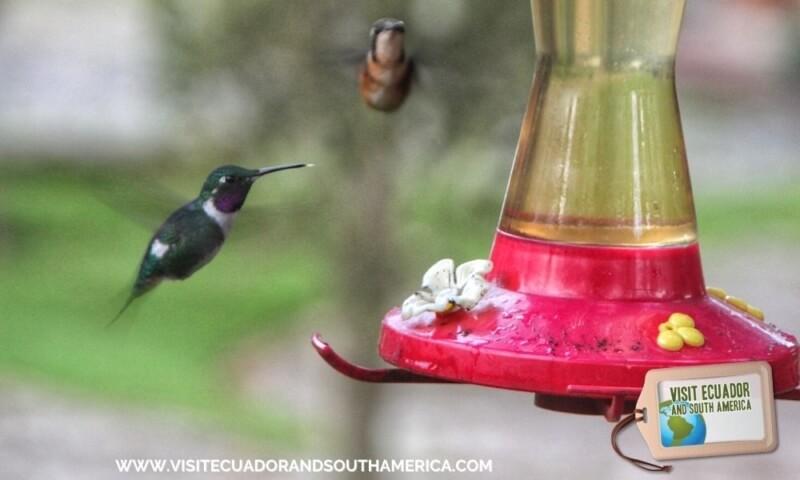 The Rooms
We enjoyed a good night's sleep in our King size comfy bed.
The 13 rooms in the hacienda are spacious and feature different family antiques, a hot shower with luxurious toiletries, a comfortable bed, and in our case a balcony where we could sit and enjoy sweeping views of the historic patio, filled with colorful hummingbirds dancing happily around the flowers surrounding the central fountain.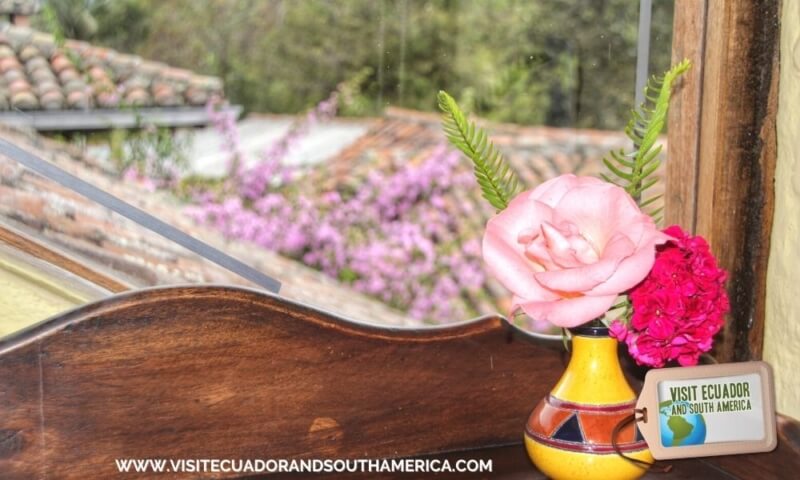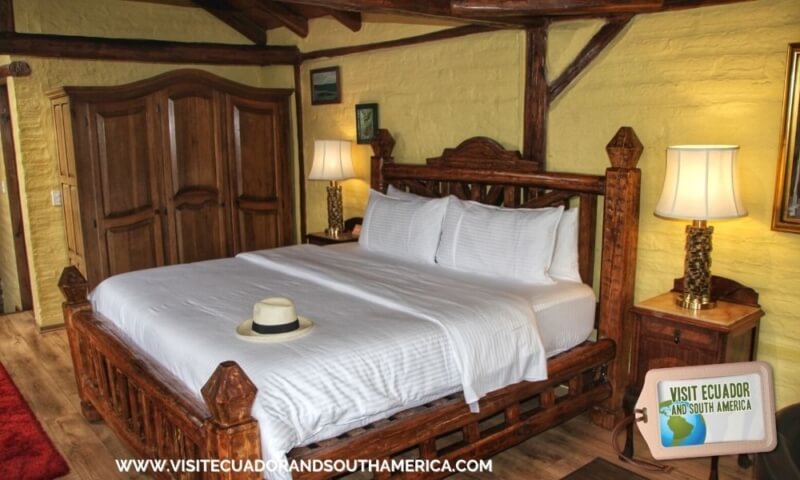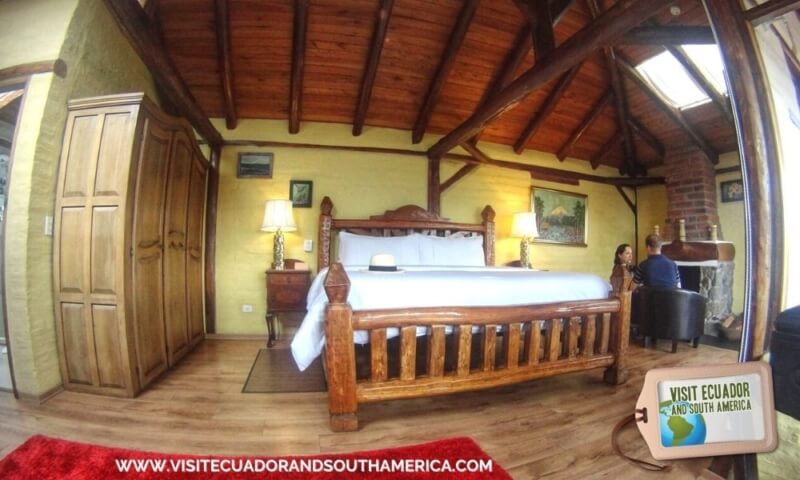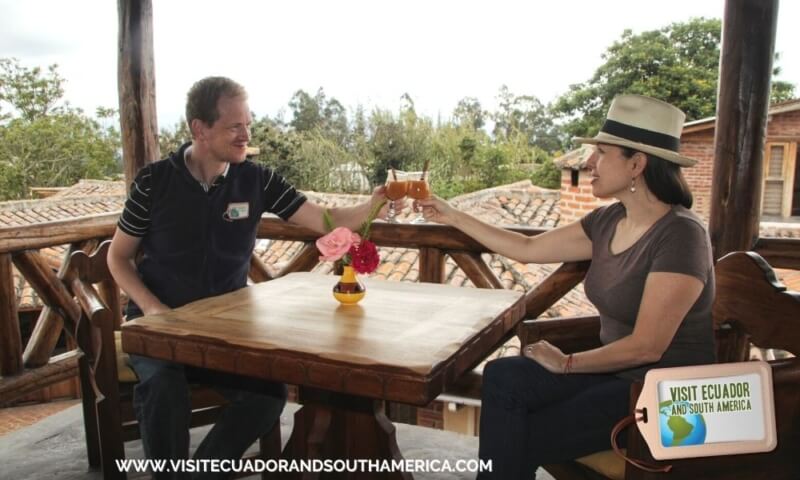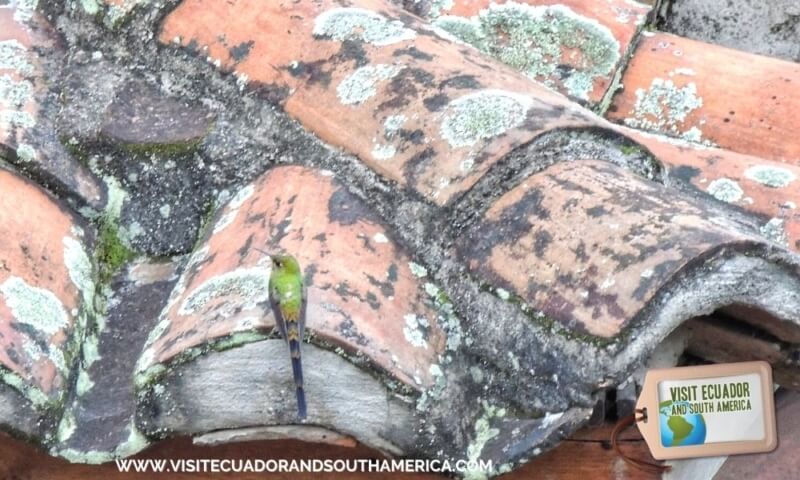 At night you can sit and enjoy a warm cup of coffee or tea, and listen to the crackling wood by the fireplace.
The bathroom was modern and decorated with sustainable, branded bath amenities. Although it took a bit of time for the water to warm up, once it was hot, we could enjoy refreshing and invigorating showers.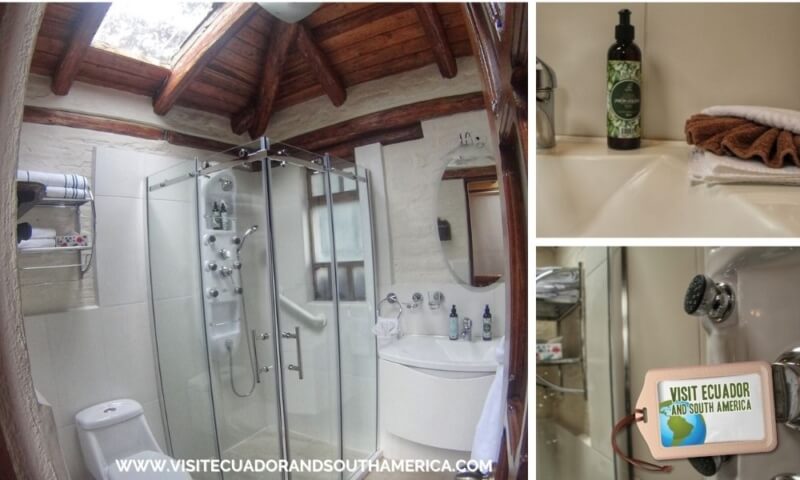 For us, it was a great plus to know that the Hacienda offers free parking close to the entrance, and free wi-fi.
There is a comfortable residence available for rent, perfect for families or groups who want to enjoy the hacienda life.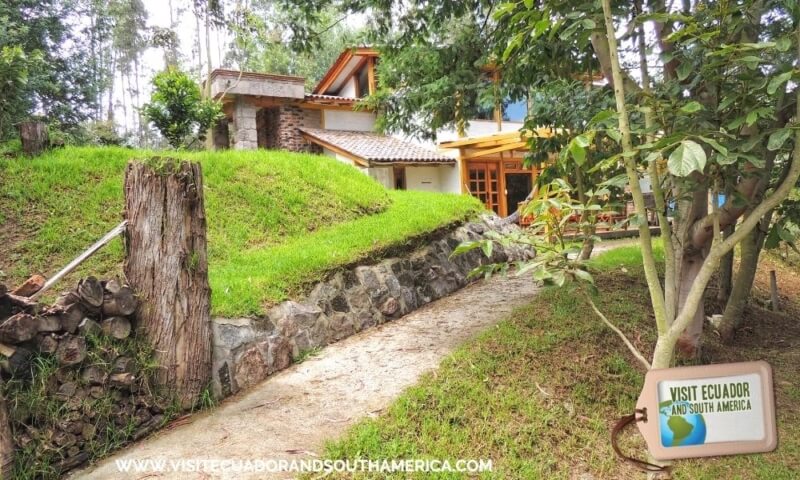 Breakfast
Imagine being able to enjoy your breakfast al fresco, with the sun warming you while hummingbirds and other birds are serenading you with their melodies.
Our breakfast included fresh fruit, warm bread, eggs, jams, a glass of fresh juice, and coffee or tea. The presentation made it almost too exquisite to eat.
I was very happy to know that they had a delicious plate of granola with natural yogurt and fruit available as a gluten-free option.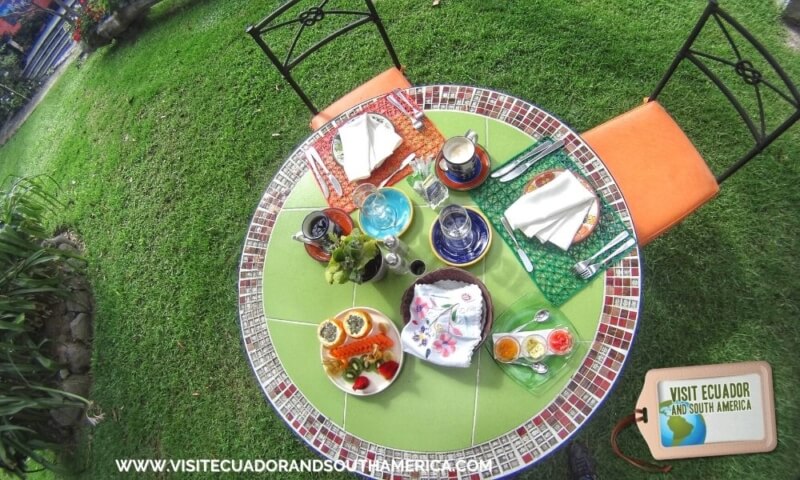 During our two days at Hacienda Jimenita, the staff made us feel very welcome and at home.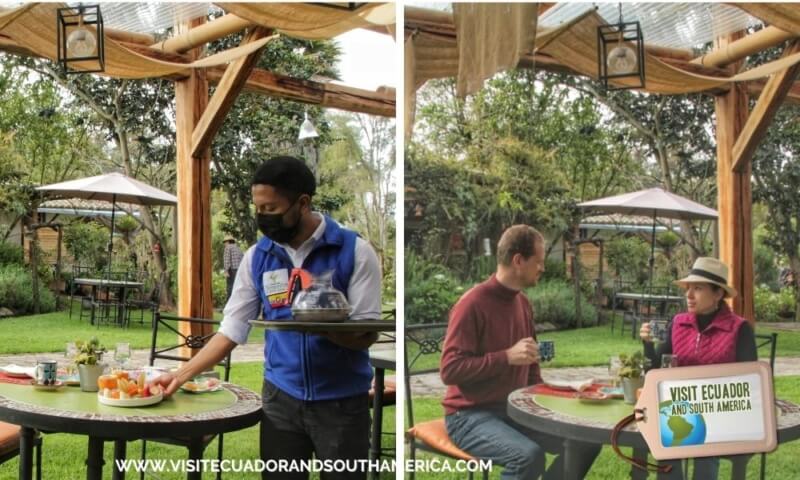 Dinner and lunch
A dynamic kitchen with a chef open to new ideas and ways to include local Andean ingredients into mouthwatering foods, together with remarkable settings result in a delightful gastronomic experience.
Hacienda Jimenita can also accommodate events such as birthday celebrations and weddings, and they even have a small chapel on the property.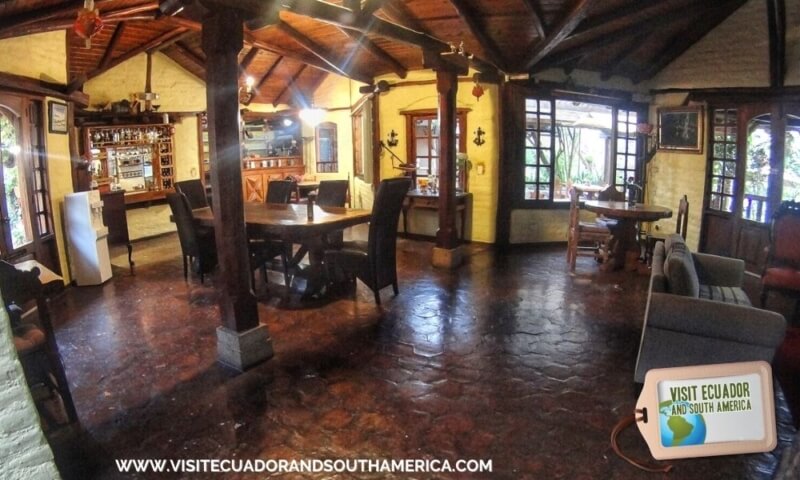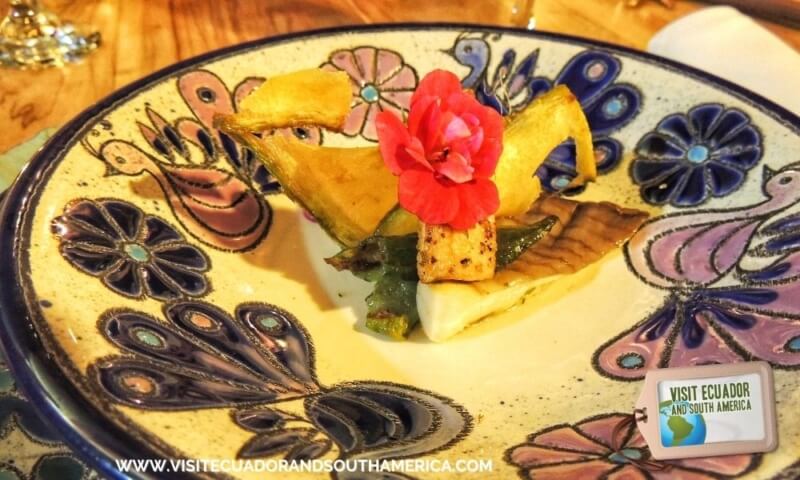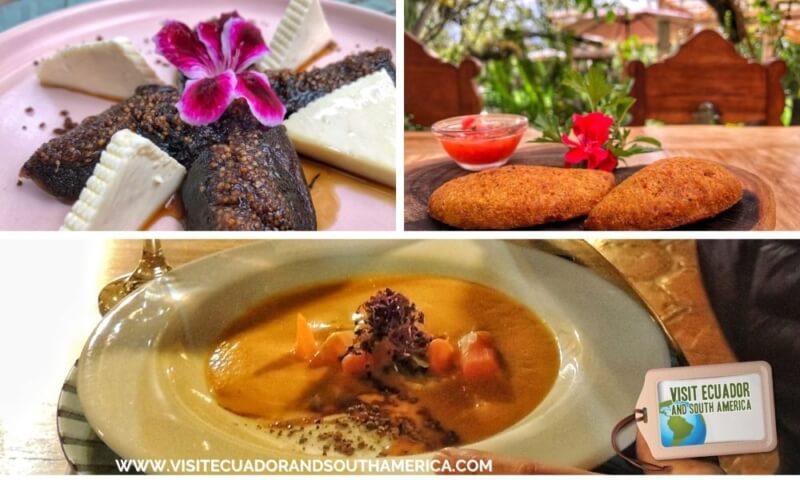 From breakfast to dinner, each meal was memorable.
For dinner I ordered a carrot cream soup, which was served with cacao from the Amazon rainforest, a creation by the chef of the hacienda. Kjell ordered chicken. Both dishes were very tasty, making our tastebuds sing with joy.
The chef explained to us that most of the produce is sourced locally, and preferably grown on the hacienda. With an emphasis on organic food, unique products from the Andes, and culinary traditions of our ancestors they include produce such as camote, cereza andina, and ocas.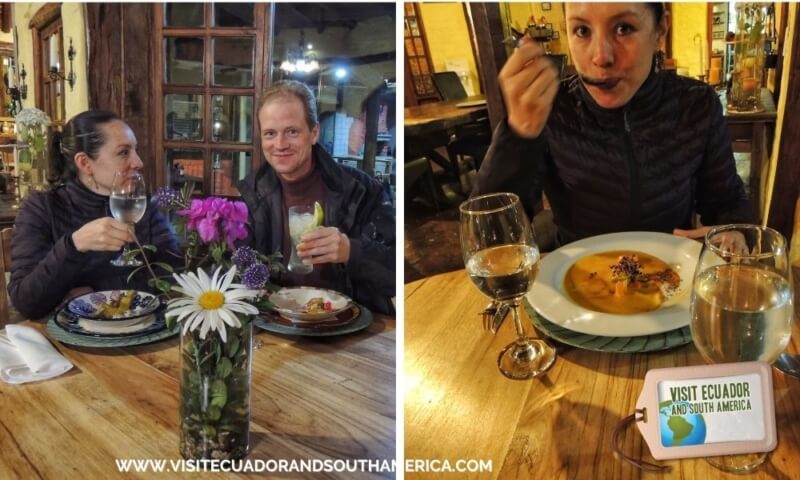 Time to unwind
For us, one of the highlights was having the opportunity to relax in the jacuzzi, and just sit and enjoy the now, away from the hustle and bustle of the city.
The pool area with a jacuzzi, exercise equipment, and lounge area, was perfect to take time to pause and find some much-needed inner calm.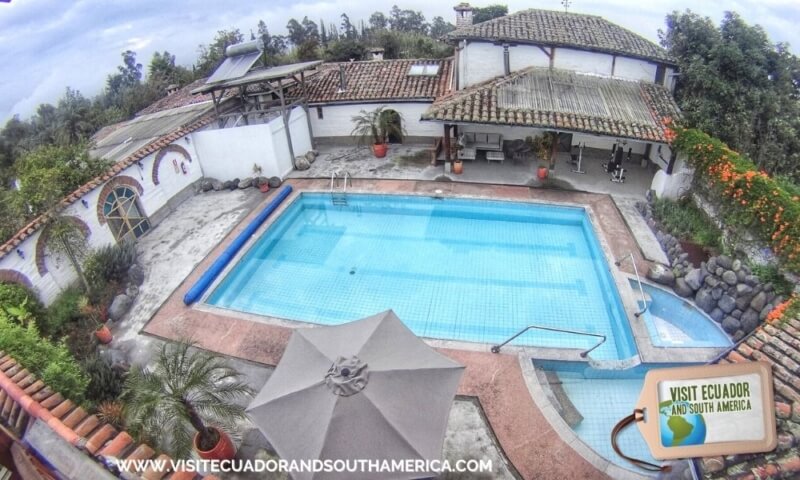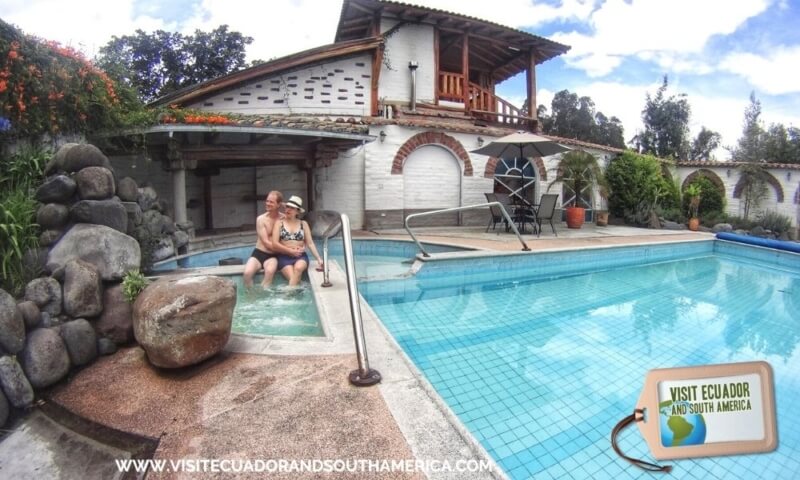 We decided to leave the jacuzzi for the last day, get some vitamin D, and take time to just be.
Sustainability
Many family generations have lived here, as is traditional in some haciendas in the Andes, and preserving this ecological reserve with its endangered flora and fauna is paramount.
The love for nature, and the planet inspired the owners of Hacienda Jimenita to have preservation at its core.
How to get there
The roads are paved and bring you almost to the door of the hacienda. If you want to be close to the airport, give yourself a day or two to fully enjoy what the Hacienda has to offer in terms of relaxation, history, and nature.
Activities in Hacienda Jimenita
There are several experiences, activities, and tours that you can book beforehand and enjoy the hacienda and the area fully.
Some of the activities are cooking classes, birdwatching, historic and natural trails, local wine tasting and other outdoor activities.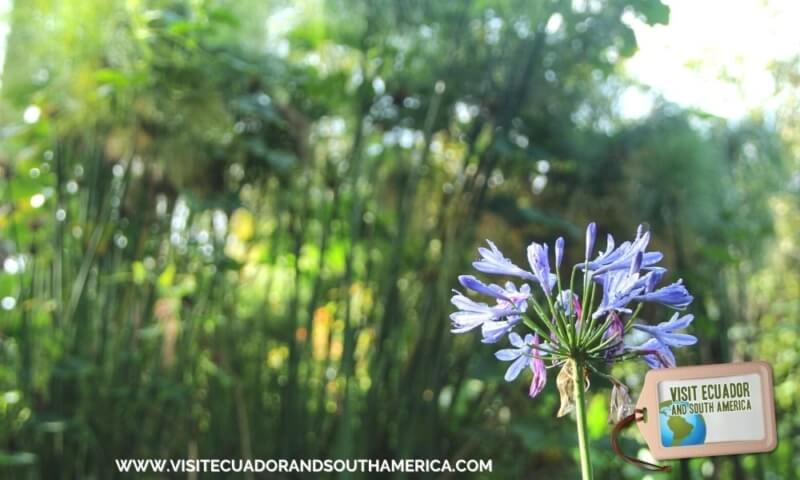 Our activities
Once you book your accommodation (remember to make your reservation ahead of time) at Hacienda Jimenita.
Trails
Around the Hacienda you can find the hiking trains with easy walks, perfect to take in the vistas at your own tempo,
As you wander through this ecological reserve with green trails you will find some spots overlooking the beautiful, lush green canyon
We would describe the trails as easy in not uneven terrain, but having walking shoes is important so you can easily walk on them. We got to some vantage points along the trails that had some awe-inspiring vistas, here is one of them: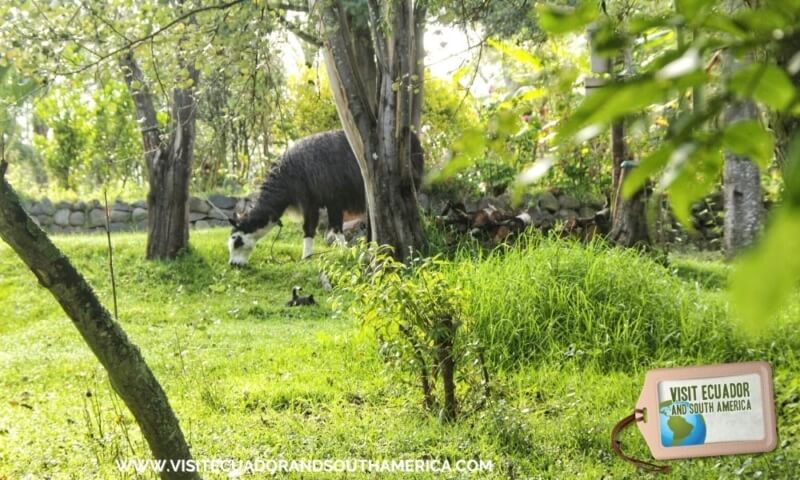 Wayku Swing
After our hike through easy terrain, taking in all the beautiful natural surroundings, we arrived at the Wayku swing. A place that is perfect to disconnect, and where you get to swing while taking in the Chiche's river gorge, the Pichincha mountain, and the city of Quito.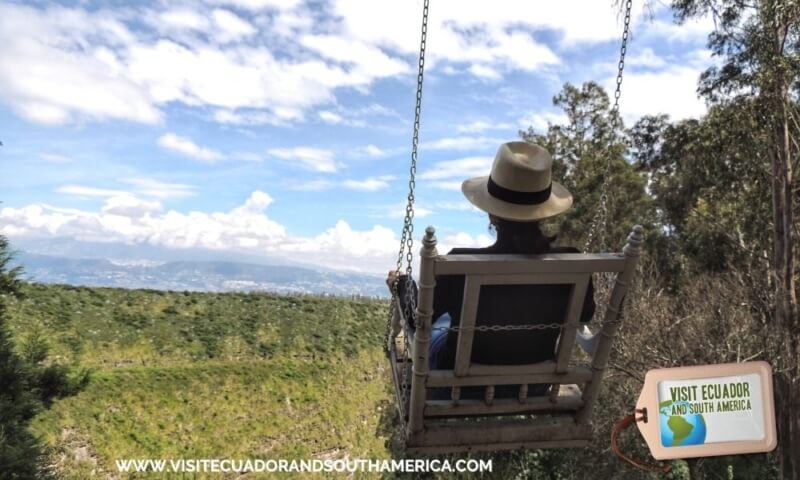 Saving the best for last…
A unique experience!
During this historic night tour, we were able to witness the legacy of the Quitus culture in the area of Pifo. This is an experience filled with history, where we could experience life 400 yrs ago while traversing this pre-Inca tunnel.
At some point we were 28 m deep and as we closed our eyes, we invited all our other senses to connect to the moment.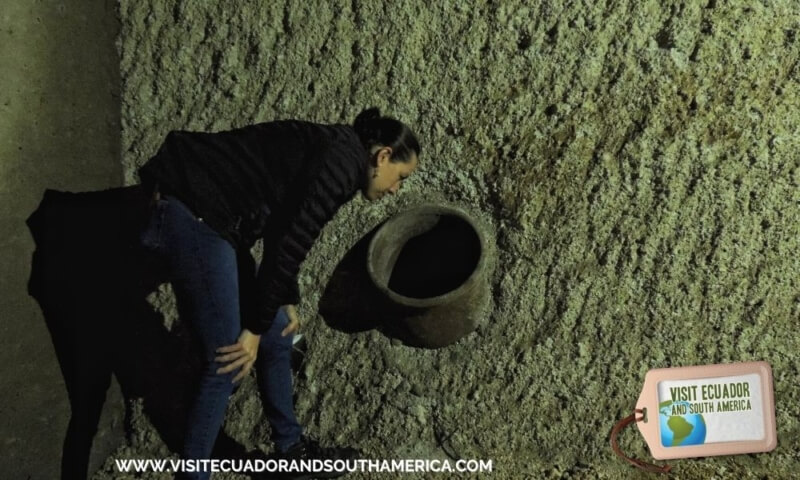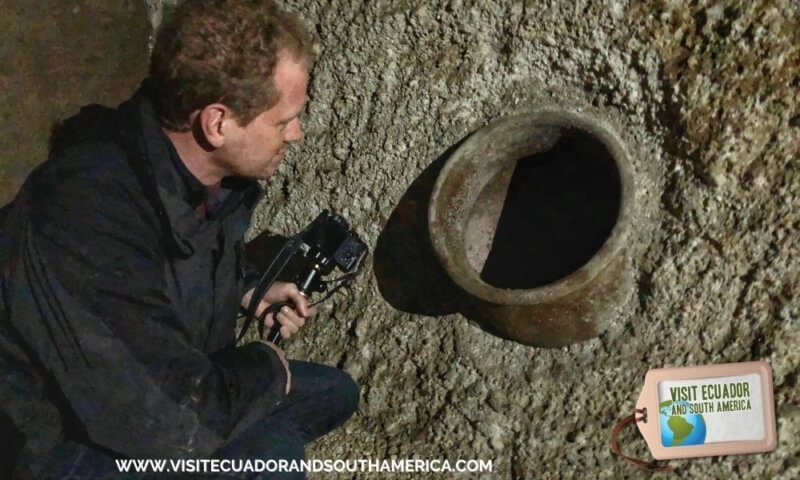 We were mesmerized by some of the remnants of this lost civilization both along the tunnel and also in one of the rooms of the hacienda, where they have them for display.
There is more to this archeological site, part of the Archeological and Cultural Heritage of Quito's Metropolitan district, and we highly recommend that you experience it!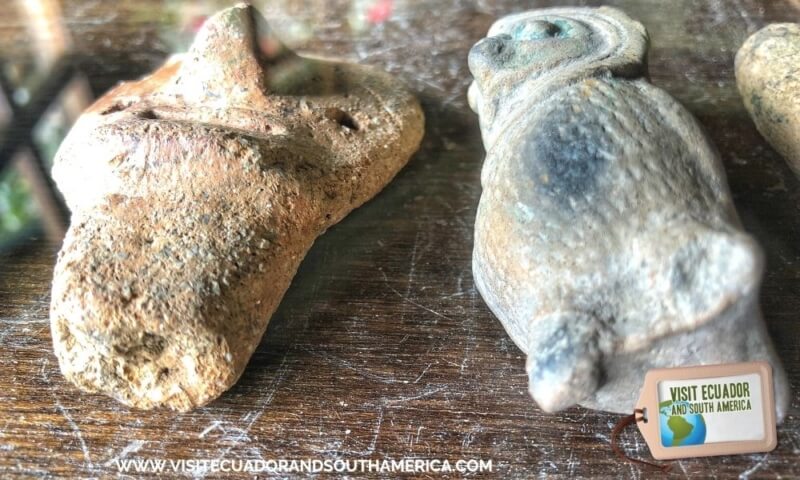 What to bring
To fully enjoy your stay:
Make sure to book before you go, to do so click here.
Bring hiking or tennis shoes if you want to go on the hikes and explore the Hacienda.
Bring a bathing suit for the jacuzzi and the pool.
Bring sunglasses, sunblock, and a hat if you are planning on staying outdoors for long periods.
Conclusion:
Whether you have five days or only one, if you are on your way to or from Quito airport, Hacienda Jimenita is the place where you can enjoy a relaxing vibe, taste scrumptious food and enjoy birdwatching.
This hacienda is a hidden treasure filled with activities and perfect to take a pause and relax.
Here you can find out more and book your stay at Hacienda Jimenita.
Take a look at other activities you can enjoy in the city and surroundings while you are in Quito.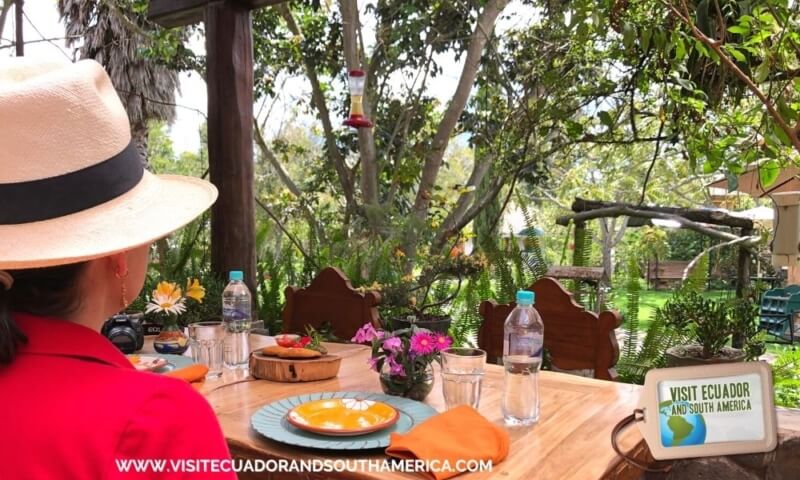 We had a replenishing night of sleep and an unforgettable experience and would not hesitate to recommend Hacienda Jimenita.
Editors Disclosure: I was a guest of Hacienda Jimenita. As always, all opinions expressed here are entirely my own and based on my personal experience.
If you found this page helpful, I would appreciate it if you would pin, share or tweet it on any social media platforms you use! Every little bit will help fund our travels and continue to bring great content to our site!
Planning a trip soon?  Comment below or send me an email, so I can help you plan your trip.
PIN IT FOR LATER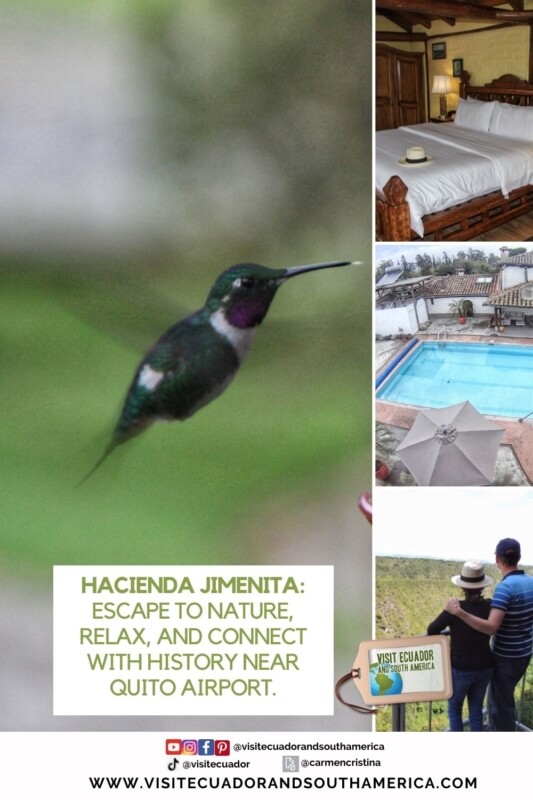 If you want more in-depth information and also a guide that you can bring along during your trip, I recommend the travel guide Lonely Planet Ecuador & the Galapagos Islands.
This is a great source of information and tips, maps, and all you need if you plan on visiting Ecuador. I like the option of having a hard copy version where I can take notes and have them at hand.
Don't just dream it. Make it happen. Plan your South American trip with a local!
Take a look at this list of travel resources to plan your trip and travel in South America.
Daydreaming about your trip to South America? Order here your Free Ebook. I share with you some useful tips & resources for a memorable trip!
I invite you to follow me on Facebook, Twitter, Pinterest, and Instagram. In addition, you can subscribe on YouTube.
You can also send an email to get help planning your trip: info(at) visitecuadorandsouthamerica(dot)com