Top 5 Things to do in Iquitos, Peru
by guest blogger: Christina Louise – singlemumtravels.com
Whilst backpacking around Peru with my 4-year-old son Joshua we spent 2 weeks in the Amazon Rainforest in and around Iquitos City in the Northern region of Peru known as the Province of Loreto.
If you are in Perú I would love to see your pictures.
For anyone travelling to Peru I urge you to visit Iquitos famed for the Amazonian rubber boom back in 1879 and access to the mighty Amazon River.
5) Iquitos Zoo
Iquitos Zoo was an eye-opening experience, one that I remember clearly, I saw animals I would never have seen or experienced in the way I had at Iquitos Zoo, based just outside the city of Iquitos.
You could tell the locals treated the zoo like one of those great days out that you envisioned as a child, a grand day out with the family, surrounded by animals of every kind, anacondas, macaws, howler monkeys, pink Amazonian dolphins, anteaters and leopards.
4) Manatee Rescue Center
The Manatee rescue center was a brilliant highlight of travelling through Northern Peru. We had the most amazing opportunity to get close to rescued manatees and bottle feed them milk. They were all babies that had been abandoned during the floods the previous year when the banks of the Amazon River had literally flooded the surrounding jungle. We were able to stroke them and learn what fascinating animals they are.
3) San Pedro Lodge
San Pedro Lodge is a very popular spot for tourists to stay at during their visit to Iquitos, just 40 minutes away from the city by motorized canoe. It gave a very realistic feel as to what staying in a jungle lodge really meant, no hot water or luxuries of the western world were present. We slept in a very basic lodge surrounded by the sounds of the jungle at night.
2) Samiria Eco Lodge
Samiria Eco Lodge was the true opposite of San Pedro, we had hot water, a bathtub and air conditioning, but only for several hours of the day, by night this amazing multi million-dollar eco lodge was in complete darkness.
Under a billion stars and lightening storms in the distance I would lay at night floating in the swimming pool contemplating the beauty of the world and the journey I was pursuing as a single mum. By morning the mighty Amazon River was on my doorstep.
1) Pacaya Samiria National Reserve
Nothing drew me to Northern Peru more than the opportunity to visit the Pacaya Samiria National Reserve; it was one of those moments where we really got close and personal with nature. Seeing the animals of the rainforest in their natural, protected virgin rainforest habitat was more than breathtaking. It was out of this world!.
Furthermore, we saw squirrel monkeys with babies on their back.  They saw us and put on a show swinging through the tree canopy.  We enjoyed swimming in the Amazon river amongst the pink Amazonian River dolphins, bird watching, spotting three-toes sloths and piranha fishing.
In sum, if you want to experience true Peru, you should visit Northern Peru's Loreto Province and enjoy all of what it has to offer!
You can find more about our guest blogger Christina Louise on her blog singlemumtravels.com  Find her on Twitter, Facebook, or Instagram
What to eat
Other dishes you may want to taste while you visit Peru are the causa rellena, or causa acevichada, chicha morada, aji de gallina, papa a la huancaina, and for dessert order some suspiro limeno. 
Where to go
Here are insider tips on what to do in Lima, you can also visit Machu Picchu, top hikes, Iquitos, the island of the Uros,  Taquile Island, and the top restaurants in the gastronomical capital Lima. Or you may also enjoy a road trip from Machala to Tumbes. 
PIN IT FOR LATER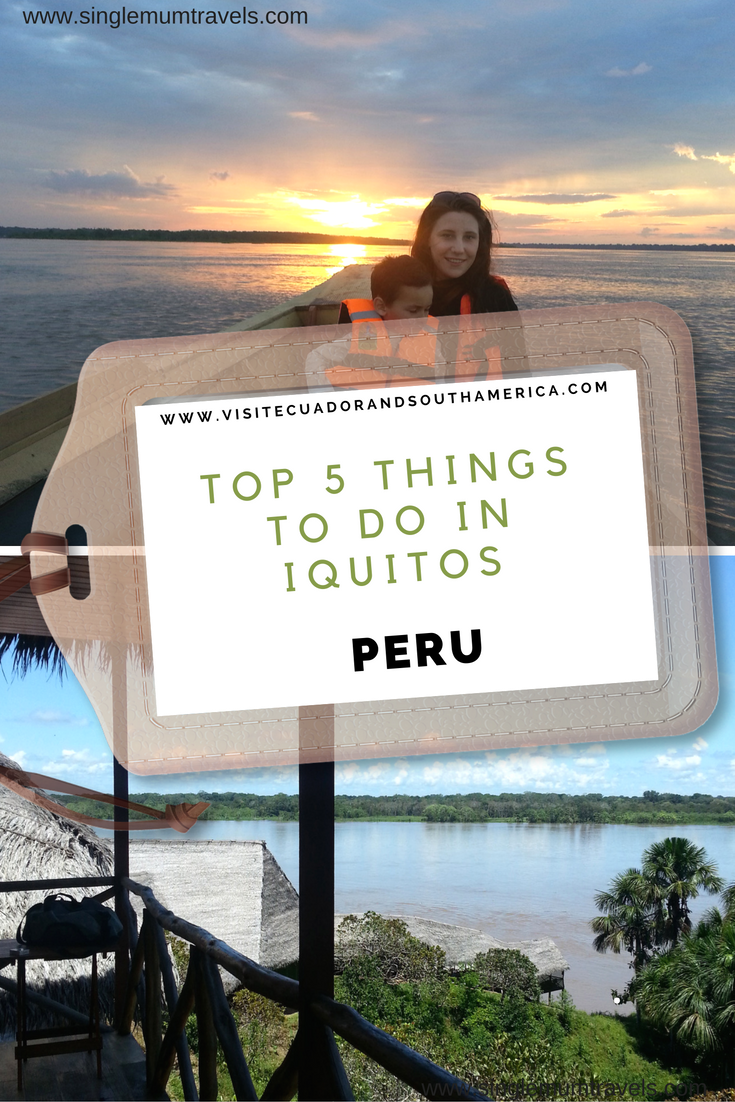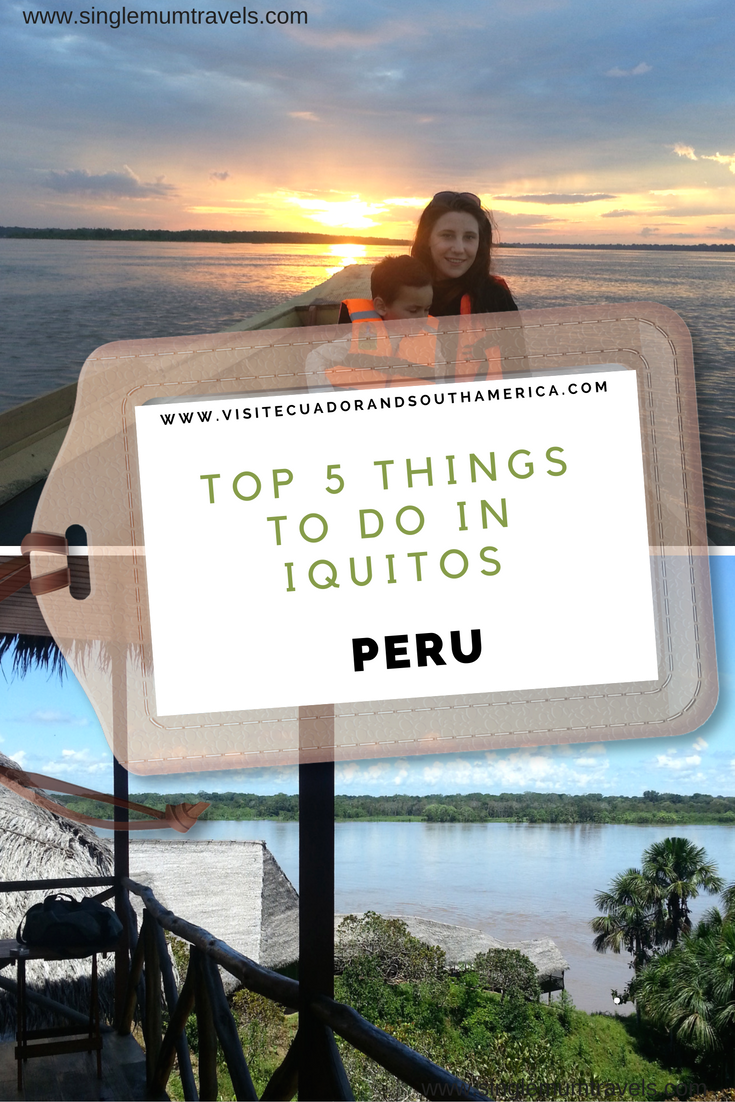 Don´t just dream it, make it happen. Plan your South American trip with a local!
Take a look at this list of travel resources to plan your trip and travel in South America.
Day dreaming about your trip to South America? Order here your Free Ebook, I share with you some useful tips & resources for a memorable trip!
Finally, I would like to invite you to follow me on Facebook, Twitter, Pinterest and Instagram.
In addition, you can subscribe on YouTube.  Or, send email to get help planning your trip: info(at) visitecuadorandsouthamerica(dot)com
Save
Save
Save
Save