Crossing borders Ecuador – Peru, roadtrip from Machala to Tumbes
Just a few weeks ago I visited the city of Machala for the first time. I know, I have travelled throughout my country, but there are still some remote places that I have to see. My goal with this blogpost is to give you inspiration and tips, so that you can plan a memorable roadtrip from Machala to Tumbes.
Since we were going already to Machala, we decided to continue along the coastline of Peru that consists of a variety of ecosystems, such as estuaries and mangrove swamps, all the way down to the popular beach of Zorritos in Peru.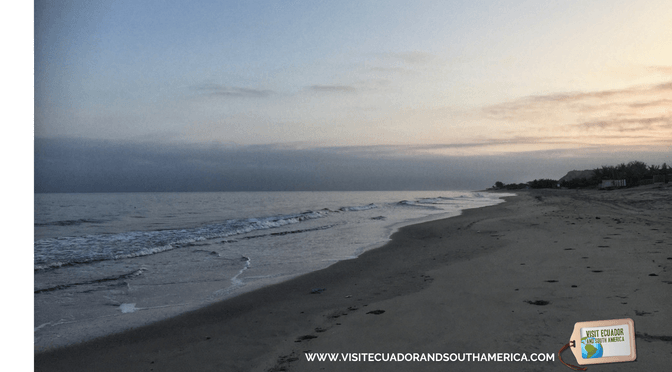 Algouth my parents had been there before but for me it was a first.
I enjoyed this roadtrip a lot and know there may be many travellers out there who could use some of these tips.
How long does it take?
By car
If you drive from Machala to Tumbes, that is a distance of 97 km, which ideally should take 1h30. But now there is a large movement of people and they have changed the rules a bit accross the border, so it will take at least an hour more. I have to warn you about this part.
Stops along the way
Machala

Have you by any chance bought bananas and you read the label and they come from Ecuador? I lived several years in Norway and found Ecuadorian bananas, then found them in France and during a summer working in California.
Ecuador is the 3rd largest exporter of bananas and Machala is recognized internationally as the Banana Capita of the world!
As we drove from Machala to the border I could almost only see miles and miles of banana trees!
Machala is one of Ecuador´s most important ports and a city with a large commercial and financial movement.
The city has grown a lot, according to my parents who have been there before and has a very modern area offering all sorts of products and services, including shopping malls.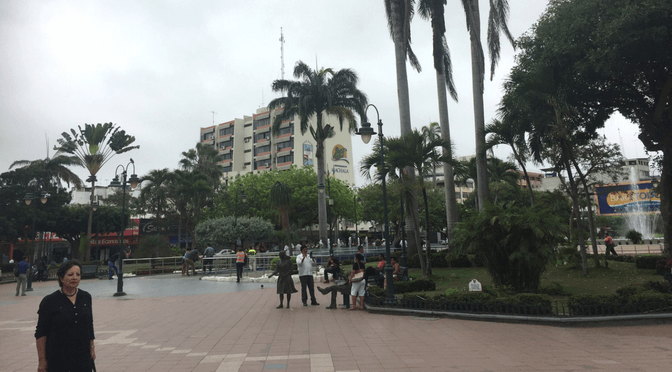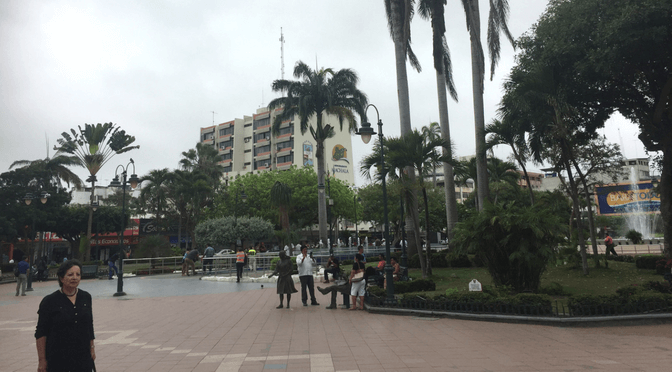 There are not many attractions per se, but this is a great stop for fuel and food (the other fuel).
Visit the downtown area and mainly the main square with its park, offering visitors a nice view highlighted by the Cathedral.  Surrounding the park you can admire imposing buildings that show a dynamic city.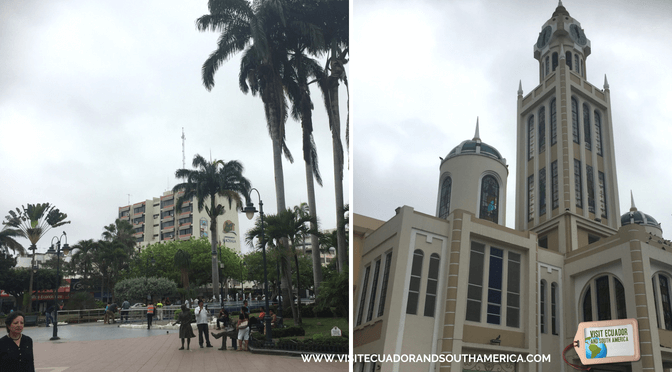 For us, the end of the trip to Machala included a visit to Puerto Bolivar, drive here if you are heading North to admire a beautiful blue church, and a street long filled with seafood restaurants serving some very tasty fresh shrimp dishes. We chose to eat at a restaurant accross the church.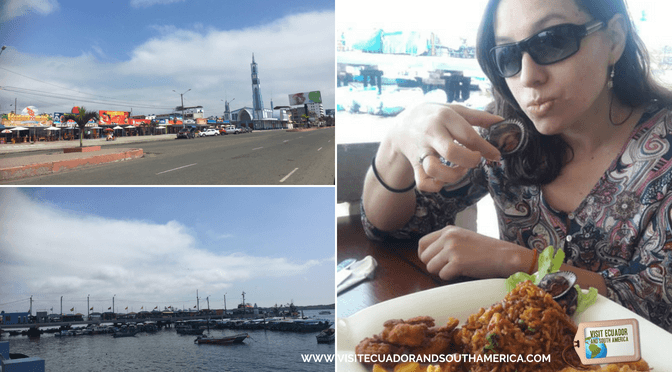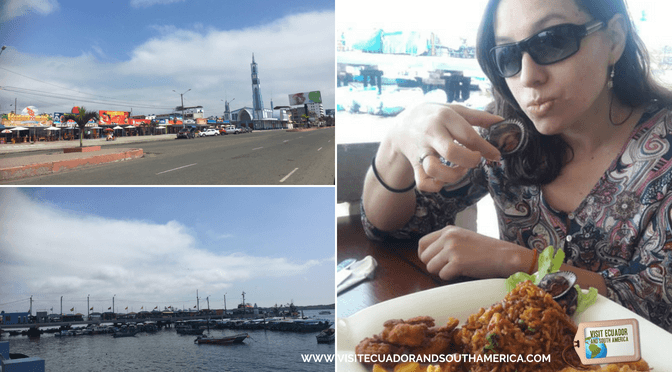 If you are there an additional day, visit the island of Jambeli or The Isla del Amor, here you can rent a canoe and paddle around the mangrove swamps on your own or take a motorized boat tour of the harbor.
Crossing the border
I have to warn you that the process takes more time than before, because there are larger groups of people moving from Venezuela nowadays. You get to stop before and after, each time declaring your exit or entrance to and from each country. Bring some water and something to read while you wait in line, or find the booth from the ministry of tourism to get some information about Tumbes.
Puerto Pizarro
Puerto Pizarro is a picturesque small town close to the border. And the perfect starting point to visit Tumbes Mangals National Sanctuary.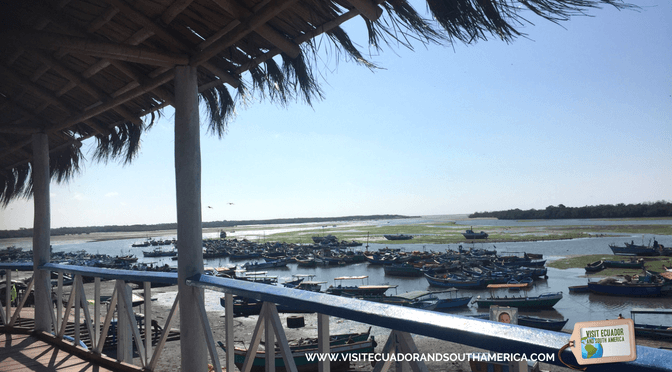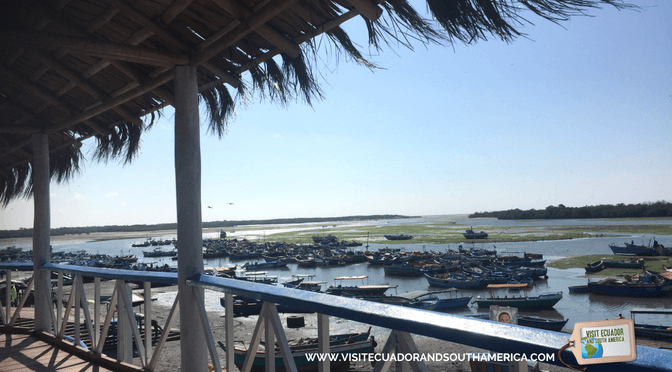 Start by visiting the oceanfront for a gorgeous view.
From there you can take a boat tour to visit the nearby islands and the abundant birdlife in the area. There are up to 200 different migrating species visiting Puerto Pizarro and surrounding areas.  Another popular tour is to visit the crocodile sanctuary where you can see Peru's only crocodiles being nursed back from near extinction.
Tumbes
Tumbes is a city in northwestern Peru, on the banks of the Tumbes River. It is the capital of the Tumbes Region.
Main attractions in Tumbes include:
Main plaza – This is the biggest square and you will find comfortable benches all around to rest and take in the city atmosphere.  Take a look at the  mosaic-covered acoustic shell on the opposite side of the churc of San Nicolas, nown as "The Meeting of Two Worlds"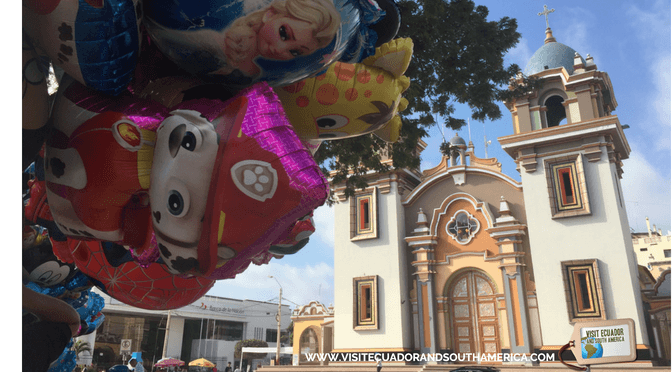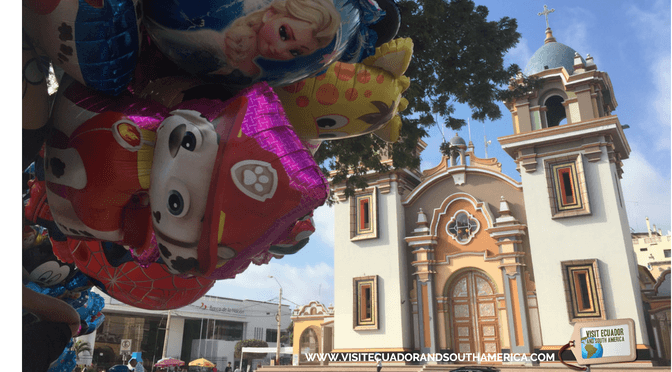 Mother Church of San Nicolás de Tolentino – This Baroque church in Tumbes dates back to the 17th century and was built by Augustinian priests.

"La Concordia Peruana – Ecuatoriana" Pedestrian Area – A nice and calm pedestrian street to the right of the Church, representing the confraternity between Ecuador and Peru.
Los Libertadores Pedestrian Area – This is the most active area in the city. Stroll along these streets if you are interested in shopping or eating.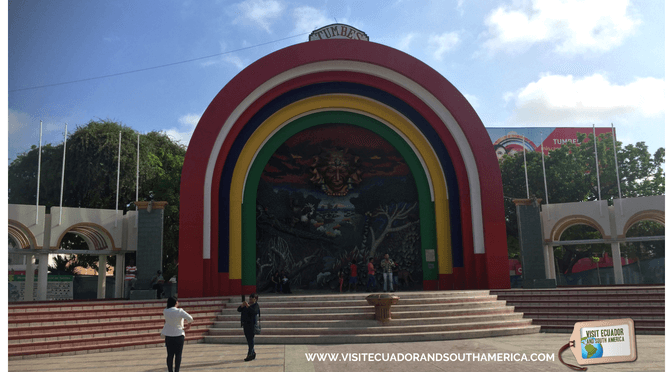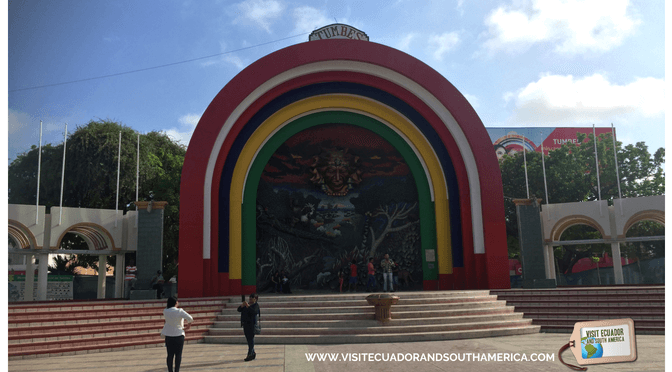 Zorritos
This is a scenic beach located 27 km from Tumbes, approximately 30 minutes by car.
The water is warm and the sunrises are awe-inspiring.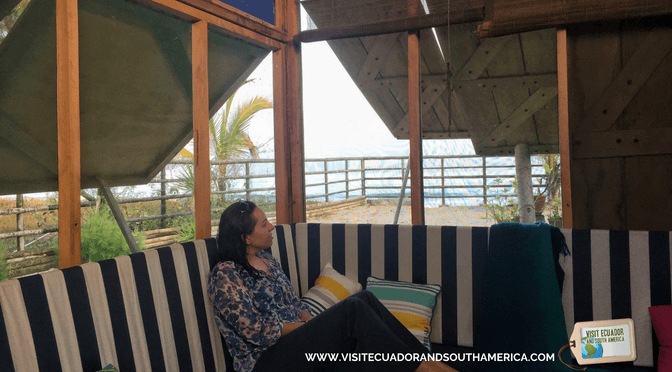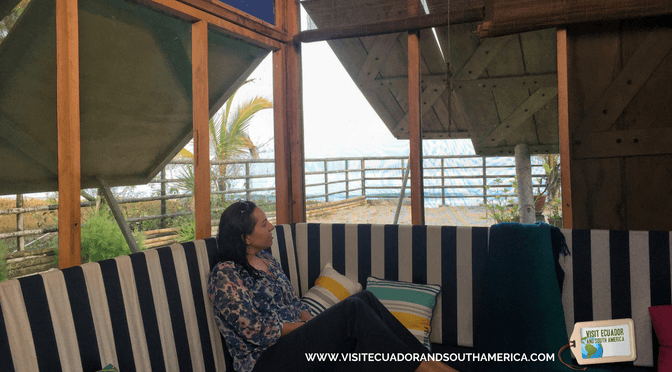 Zorritos is a hotspot for those who enjoy water sports, surfing and fishing.
If you are in South America I would love to see your pictures.
What to eat
These cities and towns are all located along the sea, guaranteeing a big assortment of fresh seafood. Most dishes are prepared with fish and shrimp, but there are also many made with oysters.
Oysters are found a lot in this area and used in tasty dishes, that I would recommend you taste.
They are: Oyster cebiche and rice with oysters.
Here are other dishes you should try: cebiche de pescado (fish cebiche), causa de plátano, parihuela, chicharron de pescado.
Other dishes you may want to taste while you visit Peru are the causa rellena, or causa acevichada, chicha morada, aji de gallina, and for dessert order some suspiro limeno. 
Where to go
Here are insider tips on what to do in Lima, you can also visit Machu Picchu, top hikes, Iquitos, the island of the Uros,  Taquile Island, and the top restaurants in the gastronomical capital Lima. Or you may also enjoy a road trip from Machala to Tumbes. 
Where to stay
Hotels
If you prefer staying at a hotel, my personal recommendation when it comes to location, service and comfort is Casa Andina in Tumbes.
Airbnb
If you are new to Airbnb, I will give you $40 credit! How? Register here and then click here to see the spacious and lovely Casa Azul in Zorritos where I stayed, I loved and you will too!
Weather and clothing
The weather in this area (Machala to Zorritos) is rather warm, you can expect an average of 21C to 32C year round. Think tropical weather, sunny days and maybe windy nights for when it comes to choosing your clothing.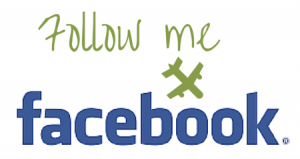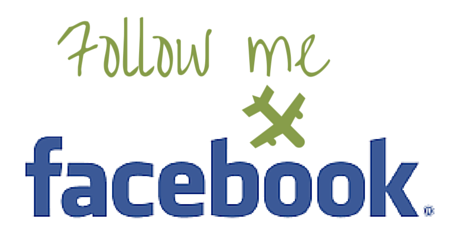 Conclusion:
Plan your roadtrip from Ecuador to Peru with time, so that you get to enjoy the beautiful scenery along the coastline and can taste some of the delicious Peruvian and Ecuadorian cuisine.
If you found this page helpful, I would appreciate it if you would pin, share or tweet it on any social media platforms you use! Every little bit will help fund our travels and continue to bring great content to our site!
PIN IT FOR LATER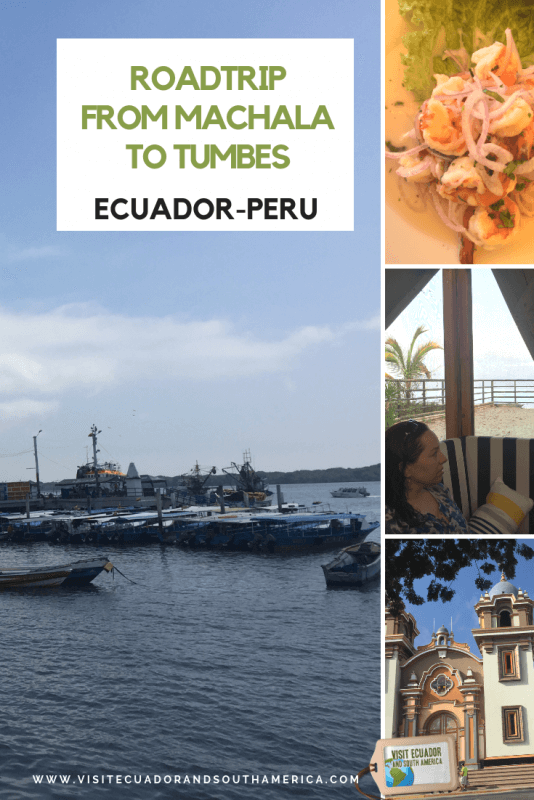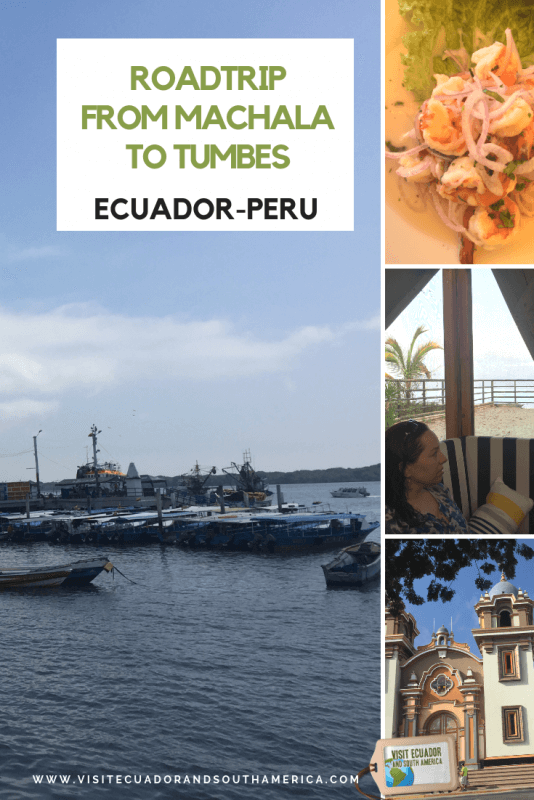 If you want more in-depth information and also a guide that you can bring along during your trip, I recommend the travel guide Lonely Planet Ecuador & the Galapagos Islands
.
This is a great source of information and tips, maps and all you need if you plan on visiting Ecuador. I personally like the option of having a hard copy version where I can take notes and have at hand.
Don´t just dream it, make it happen. Plan your South American trip with a local!
Take a look at this list of travel resources to plan your trip and travel in South America.
Day dreaming about your trip to South America? Order here your Free Ebook, I share with you some useful tips & resources for a memorable trip!
I invite you to follow me on Facebook, Twitter, Pinterest and Instagram. In addition you can subscribe on YouTube.
You can also send an email to get help planning your trip: info(at) visitecuadorandsouthamerica(dot)com