Exploring the Delightful Colombian Ceviche de Chicharrón: Origins and Where to Try It
This year we finally embarked on an in-depth trip to explore some of the best locations and taste some of the most delicious traditional food in Colombia.
Nestled amidst the lush landscapes and vibrant cultures of Colombia, there exists a culinary gem that delights the taste buds and showcases the country's rich flavors like no other. Colombian Ceviche de Chicharrón, with its fusion of crispy pork skin and zesty, citrusy marvels, is a culinary adventure waiting to be discovered. This became one of my favorite Colombian dishes for sure.
In this blog post, we will share all about the origins and preparation of Ceviche de Chicharrón, and guide you to the best places to savor this Colombian delight, both in Bogota and throughout the country. Get ready to embark on a gastronomic journey through the heart of Colombia.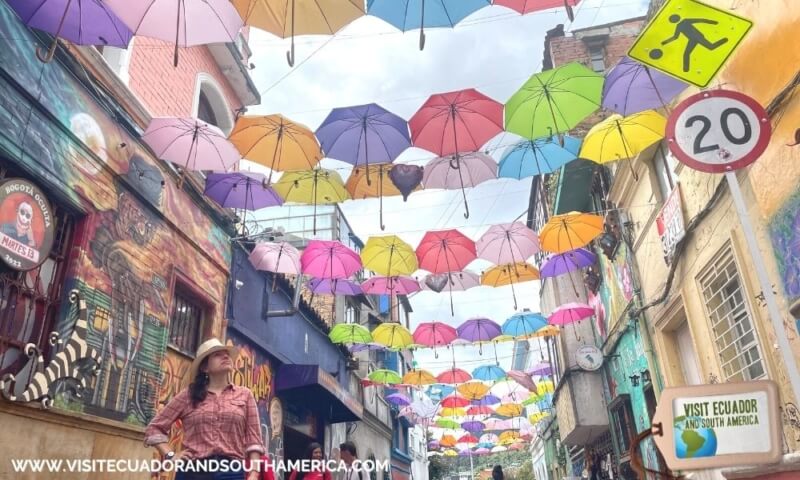 Ceviche de Chicharrón: A Delectable Colombian Delight
Ceviche de Chicharrón is a tantalizing Colombian dish that fuses crispy, golden pork skin with the vibrant flavors of lime, onion, cilantro, and peppers. This innovative twist on the traditional ceviche is accompanied by creamy avocado and crunchy fried green plantains. It's a refreshing yet hearty alternative to the more common seafood-based ceviche we savor during the summer.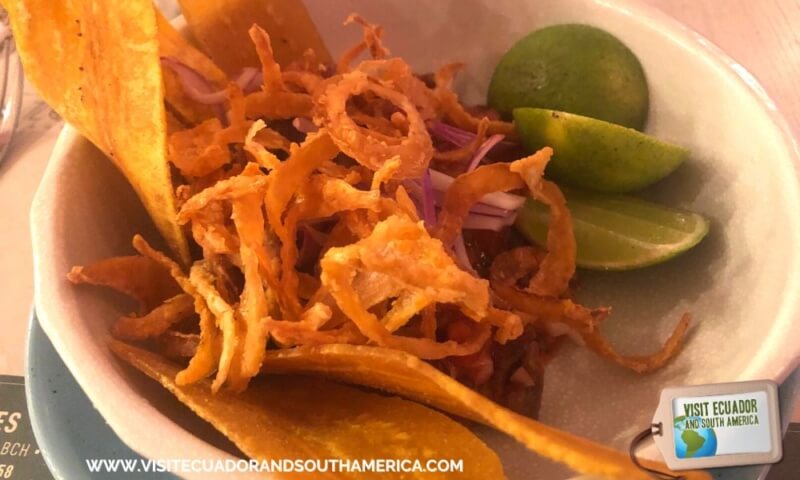 Origins of Ceviche de Chicharrón
Colombian Ceviche de Chicharrón is a unique dish that hails from the Andean region of Colombia and is a significant component of the renowned "Bandeja Paisa." While it's undeniably delicious, it's worth noting that if you're counting calories, Ceviche de Chicharrón might not be an everyday indulgence. However, it's an essential part of the Tumba Paisa, a traditional Colombian platter.
If you are in South America, I would love to see your pictures.
How It's Made
Ceviche de Chicharrón begins with pork skin fried to perfection, resulting in irresistibly crunchy chicharrón. The crispy delight is then marinated with the zing of fresh lime, the piquancy of onions and peppers, and the refreshing aroma of cilantro. Avocado and fried green plantains are added to create a tantalizing harmony of textures and flavors. The fusion of fresh ingredients perfectly complements the citrusy zest of the dish.
Preparation
Want to try to prepare Colombian Ceviche de Chicharrón at home? Try out this recipe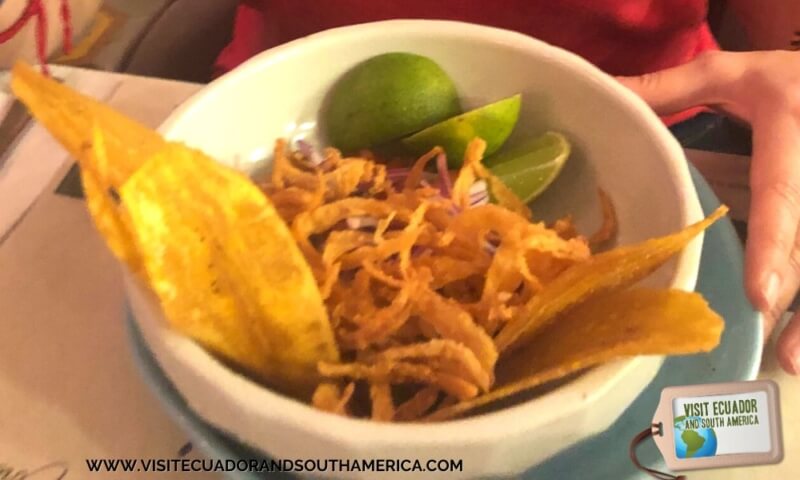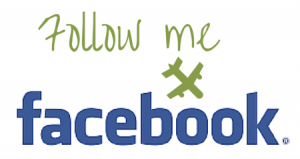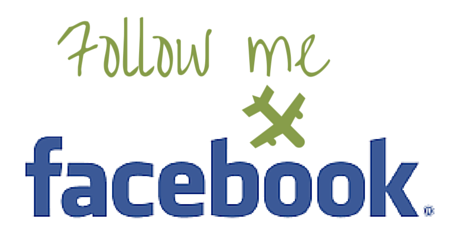 Your Guide to Bogota
If you want to get ready for your trip, here is our complete guide to 3 days in Bogota
Where to Savor Ceviche de Chicharrón in Bogota and Colombia
If you're eager to sample this unique culinary experience, Bogota is the place to be. Head to La Puerta Falsa, an iconic restaurant where you can savor authentic Ceviche de Chicharrón. Alternatively, explore the local eateries and street food stalls scattered throughout Colombia to discover this delightful dish.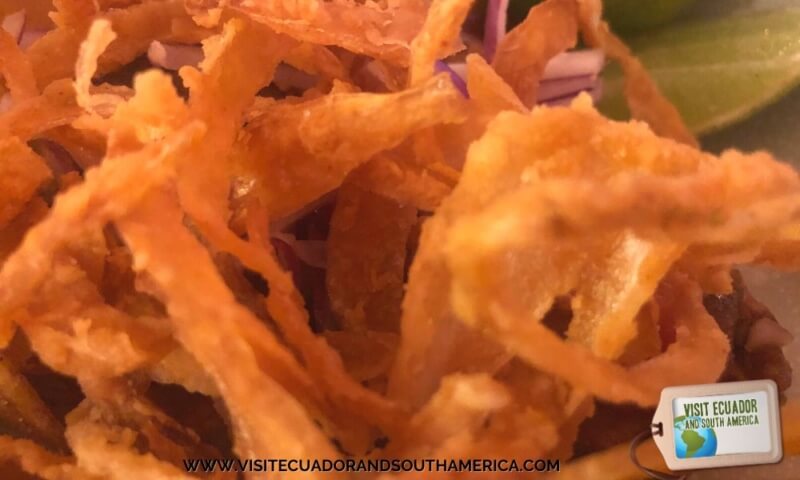 Conclusion
Whether you're exploring the charming avenues of Bogotá, or any other place in Colombia, this treat is for you.
Colombian Ceviche de Chicharrón, with its delicious blend of flavors and textures, stands as a testament to the country's culinary creativity. From its roots in the Andean region to its fusion of fresh ingredients and citrusy zest, it has earned its place as a must-try dish for anyone exploring Colombian cuisine. If you enjoy chicharron, make sure to taste this ceviche.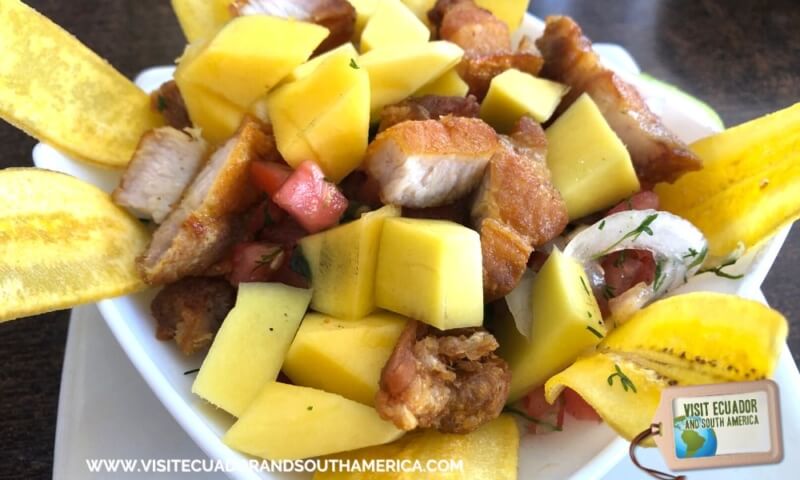 ¡Buen provecho!
Colombian food offers a splendid array of flavors, make sure to also include changua, buñuelos, ajiaco, arepas, bandeja paisa and arroz atollado to your list of food to taste.
In Ecuador, you have a wide array of delicious food, so just to name a few, make sure to taste quimbolitos, dulce de higos, quesadillas, locro, ceviche, cazuela, and llapingachos.
Some posts on this site contain affiliate links, meaning if you book or buy something through one of these links, I may earn a small commission (at no extra cost to you!).
Have you tried ceviche de chicharron? Leave your comment below!
If you enjoy the content, please consider liking, commenting, and subscribing. It's free, and it helps us.  Every little bit will help fund our travels and continue to bring great content to our site!
Planning a trip soon? Comment below or send me an email. I can help you plan your trip.
PIN IT FOR LATER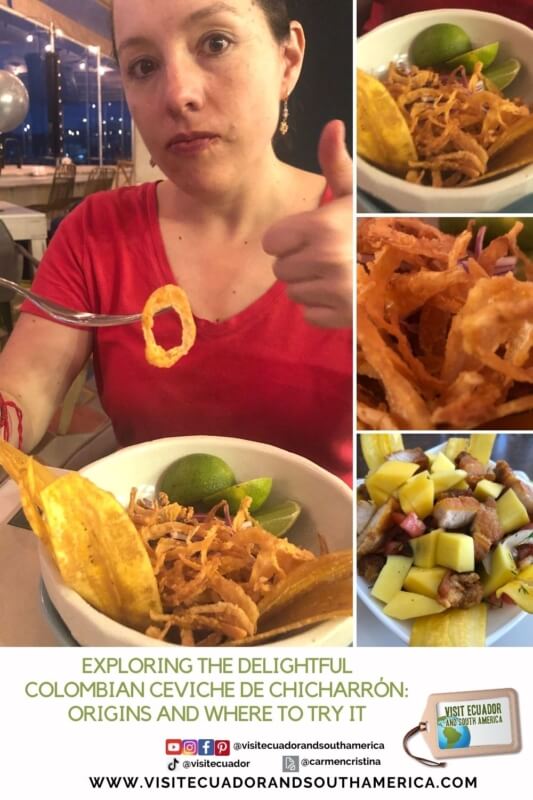 Want to Learn to make some of these dishes and many more? Gran Cocina Latina: The Food of Latin America, This book comprises 500 well-written recipes from all Spanish-speaking countries in Latin America, providing great information and recipes of the exciting food you can prepare at home. At the same time, you plan your visit to South America.
Don´t just dream it. Make it happen. Plan your South American trip with a local!
Take a look at this list of travel resources to plan your trip and travel in South America.
Daydreaming about your trip to South America? I share with you some useful tips & resources for a memorable trip! Order your Free Ebook.
I invite you to follow me on Facebook, Twitter, Pinterest, and Instagram. In addition, you can subscribe on YouTube. You can also send me an email to get more information or help planning your trip: info(at) visitecuadorandsouthamerica(dot)com.