Exploring the authentic Colombian Changua Breakfast soup in Bogota
This year we finally embarked on an in-depth trip to explore some of the best locations and taste some of the most delicious traditional food in Colombia.
Colombia is a land of diverse and rich culinary traditions, where every bite tells a story of heritage and flavor. As avid travel bloggers and food enthusiasts, we have been on a mission to uncover the hidden gems of Colombian cuisine. Our latest gastronomic adventure takes us to the heart of Bogota, where we explore a morning ritual that's as heartwarming as it is delicious – Changua, a Colombian breakfast soup.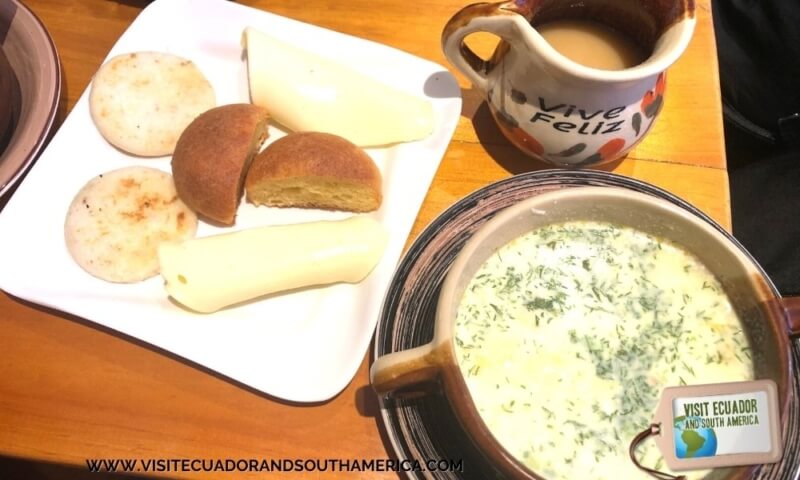 The Origins of Changua: A Hearty Breakfast Tradition
Changua, a true Colombian culinary gem, has deep historical roots. This traditional breakfast dish has been a staple in Bogota and surrounding regions for generations. It's a testament to the country's diverse food culture, blending Indigenous, Spanish, and African influences into a single, comforting bowl.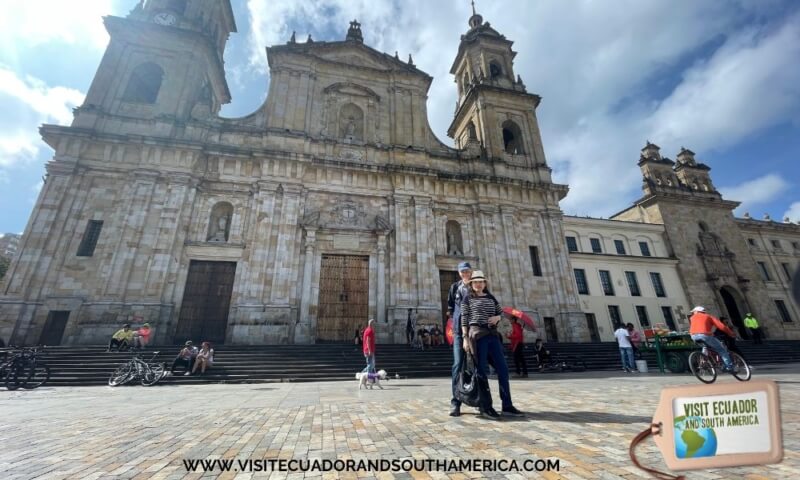 How Changua Is Made: A Nourishing Start to the Day
This Changua Bogotana recipe is the perfect breakfast on a cold morning. It's a light, filling, and comforting soup made with milk, eggs, scallions, and cilantro. The classic version of this dish combines milk and water, although modern recipes often incorporate chicken stock or bouillon, adding an extra layer of flavor to the mix. The star ingredients of Changua include soaked bread (some options of bread added to the soup include: almojabanas, pan de yuca, and arepas), stretchy cheese, and a runny egg yolk, creating a dish that's deeply lovable and heartwarming.
How to prepare changua at home
Want to try to prepare the Colombian Changua Breakfast soup at home? Here is your guide to making changua at home.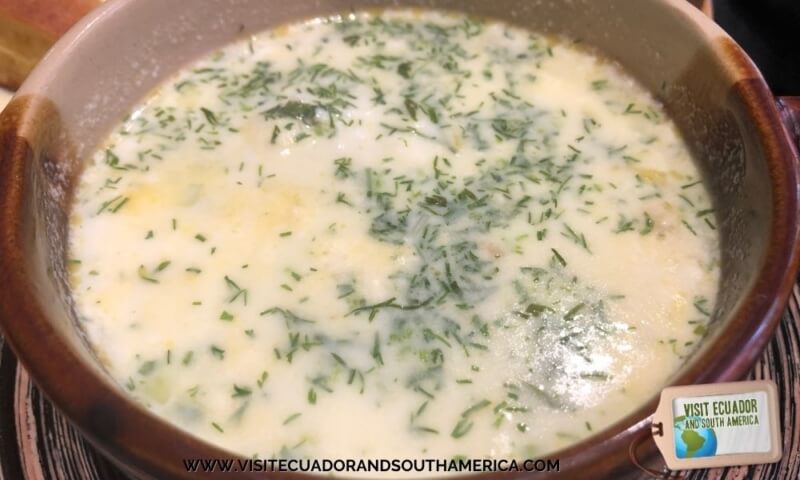 If you are in South America, I would love to see your pictures.
Where to Savor the authentic Colombian Changua Breakfast soup in Bogota: A Foodie's Paradise
When in Bogota, you're in for a delightful culinary experience. The city's vibrant food scene is a fusion of traditional and modern cuisine, making it the perfect place to sample some authentic Colombian Changua Breakfast soup in Bogota. You can find this breakfast soup in various local eateries, particularly in charming traditional markets like Paloquemao and Usaquén. For an authentic Bogota experience, try Changua at local restaurants or cafes, where it's often served alongside arepas and Colombian coffee.
In our case, we found a small restaurant that was able to serve us some the authentic Colombian Changua Breakfast soup in Bogota, at lunch time. The restaurant was tucked in a corner, going down some stairs in the plaza Chorro de Quevedo, in Candelaria area, in case you are looking for this soup while you are there.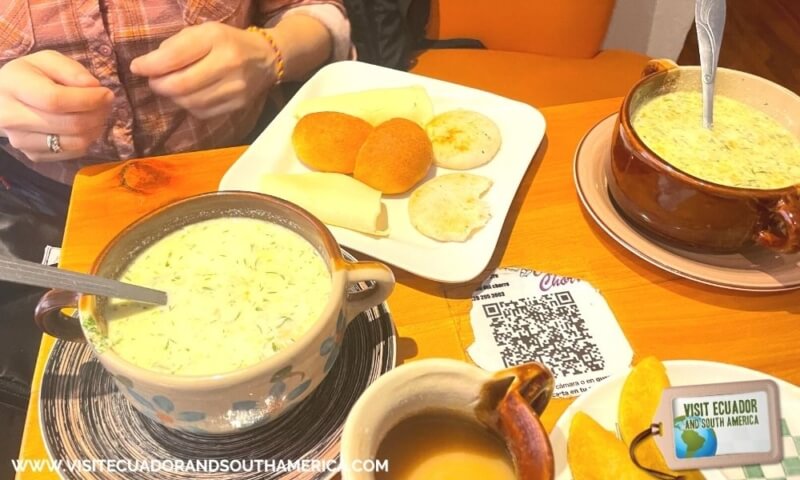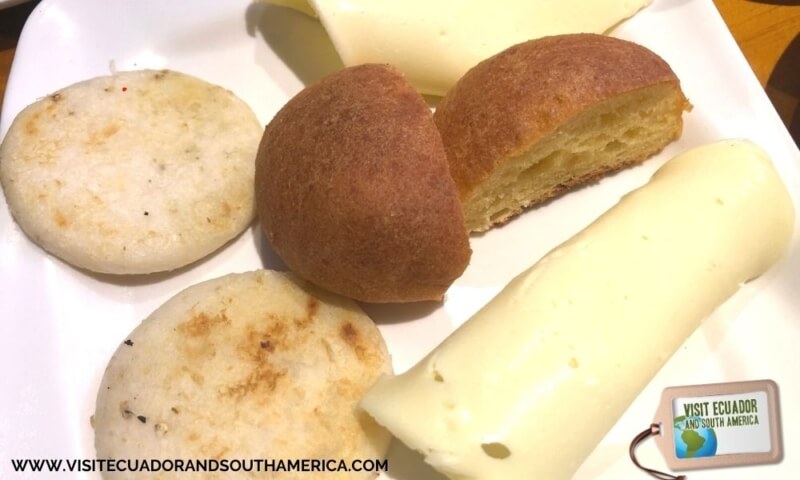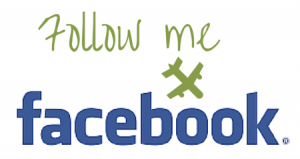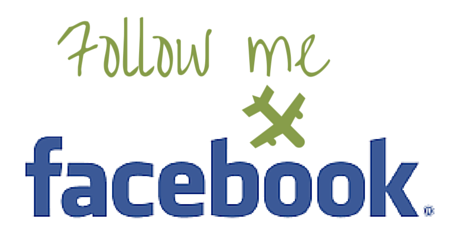 Bogota: A Travel Destination for Foodies and Adventurers
Bogota, the capital city of Colombia, is a must-visit destination for travelers seeking a blend of history, culture, and culinary delight. Nestled high in the Andes, Bogota's rich heritage is evident in its architecture, museums, and, of course, its diverse food offerings. While exploring the city's cobblestone streets and vibrant neighborhoods, don't forget to savor the local flavors and immerse yourself in the unique Colombian food culture.

Conclusion
In conclusion, the authentic Colombian Changua is more than just a breakfast soup; it's a journey through the heart of Colombian cuisine. So, when you find yourself in Bogota, don't miss the opportunity to savor this delightful dish. It's a taste of tradition, history, and warmth – a culinary experience that will stay with you long after you leave the bustling streets of Bogota. Join us on this culinary adventure and discover the diverse and delicious world of Colombian food.
Colombian food offers a splendid array of flavors, make sure to also include changua, buñuelos, ajiaco, arepas, bandeja paisa and arroz atollado to your list of food to taste.
If you have any more questions or need further information about this delightful Colombian breakfast soup or your travel plans to Bogota, feel free to reach out. We'd love to assist you on your culinary journey.
¡Buen provecho!
Some posts on this site contain affiliate links, meaning if you book or buy something through one of these links, I may earn a small commission (at no extra cost to you!).
Have you tried changua? Leave your comment below!
If you enjoy the content, please consider liking, commenting, and subscribing. It's free, and it helps us.  Every little bit will help fund our travels and continue to bring great content to our site!
Planning a trip soon? Comment below or send me an email. I can help you plan your trip.
PIN IT FOR LATER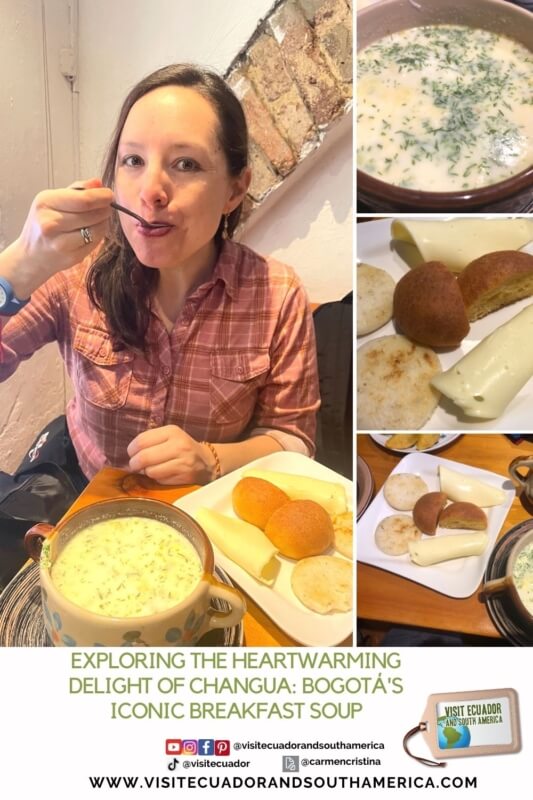 Want to Learn to make some of these dishes and many more? Gran Cocina Latina: The Food of Latin America, This book comprises 500 well-written recipes from all Spanish-speaking countries in Latin America, providing great information and recipes of the exciting food you can prepare at home.
At the same time, you plan your visit to South America.
Don´t just dream it. Make it happen. Plan your South American trip with a local!
Take a look at this list of travel resources to plan your trip and travel in South America.
Daydreaming about your trip to South America? I share with you some useful tips & resources for a memorable trip! Order your Free Ebook.
I invite you to follow me on Facebook, Twitter, Pinterest, and Instagram. In addition, you can subscribe on YouTube. You can also send me an email to get more information or help planning your trip: info(at) visitecuadorandsouthamerica(dot)com.