Exploring the Flavors of Colombian Food: Arroz Atollado
This year we finally embarked on an in-depth trip to explore some of the best locations and taste some of the delicious traditional food that Colombia has to offer.
Colombia, a country renowned for its rich cultural heritage, vibrant landscapes, and warm hospitality, is also a hidden gem for food enthusiasts. One of the most enticing dishes that encapsulate the country's culinary magic is the delectable "arroz atollado." This traditional rice dish hails from the city of Cali, Colombia, and the surrounding Valle del Cauca department. Brimming with an array of mouthwatering ingredients, arroz atollado is a symphony of flavors, a true delight for the taste buds.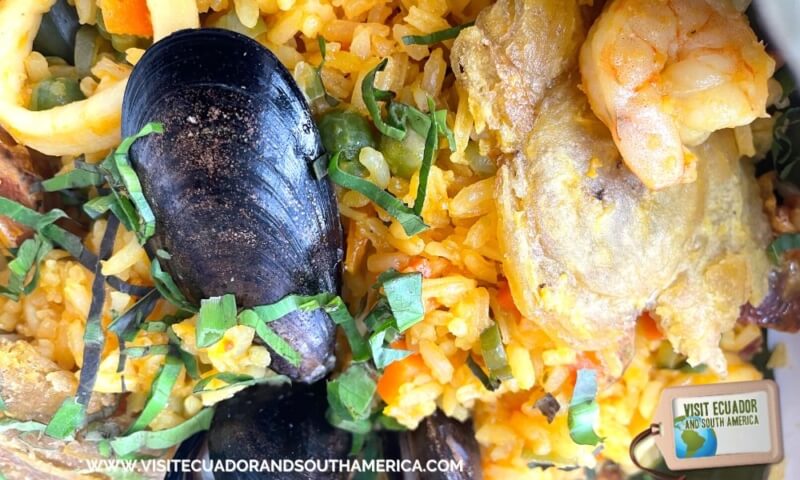 About Bogotá
Beyond its culinary delights, Bogotá is a vibrant city with a rich history and a flourishing arts scene. Visitors can explore the city's numerous museums, and historical sites, providing a deep insight into Colombian culture and heritage. A must-visit attraction in Bogotá is Monserrate, a majestic mountain that overlooks the city. A cable car or a funicular ride will take you to the top, where you can relish breathtaking views of the sprawling city below. If you like some adrenaline and have no problems with heights, then the funicular option is ideal for you.
Monserrate is a significant pilgrimage site for both locals and tourists, with a beautiful church perched at its summit. The tranquil ambiance (especially if you walk through the path behind the restaurants and the church), and panoramic vistas from Monserrate make it an ideal spot to enjoy the sunset or simply take in the immensity of the city of Bogotá.
And why not, if you are there by lunchtime you may want to try some ajiaco or some arroz atollado at one of the restaurants located at the top of Monserrate.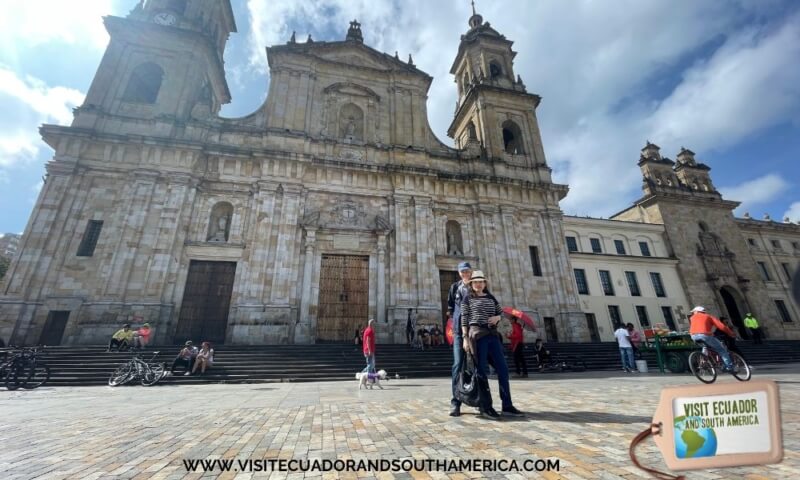 The Origins of Arroz Atollado
Arroz atollado has a fascinating history, rooted in the Pacific region of Colombia. The dish was born out of a beautiful fusion of indigenous, African, and Spanish culinary influences. The Pacific coast's abundant seafood, along with the flavorsome herbs and spices used by local indigenous communities, make arroz atollado a true representation of Colombia's diverse gastronomy.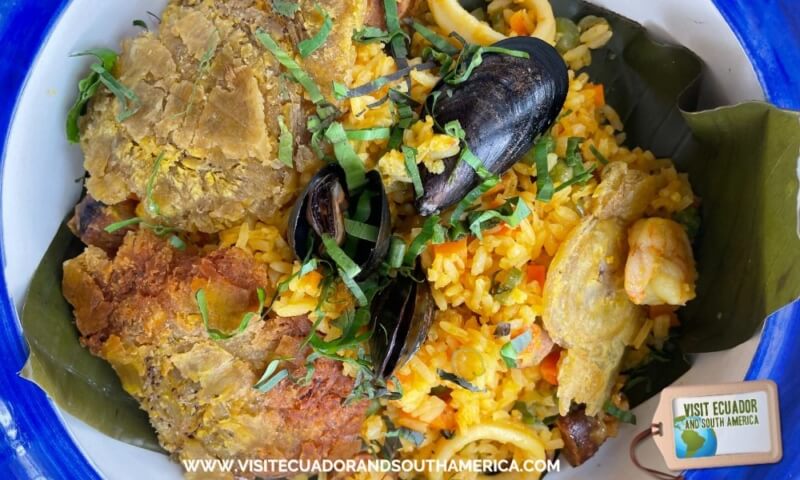 If you are in South America, I would love to see your pictures.
How Arroz Atollado is Made
This flavorful rice dish is prepared by combining shrimp, mussels, calamari, pork sausage, and a medley of vegetables with rice. The secret lies in the aromatic herbs and spices that infuse the dish with unique scents and flavors. As the ingredients slowly cook together, the rice absorbs all the delicious essences, resulting in a heavenly and wholesome dish that reflects the heart and soul of Colombia's culinary heritage.
If you want to make arroz atollado at home, here is a good recipe.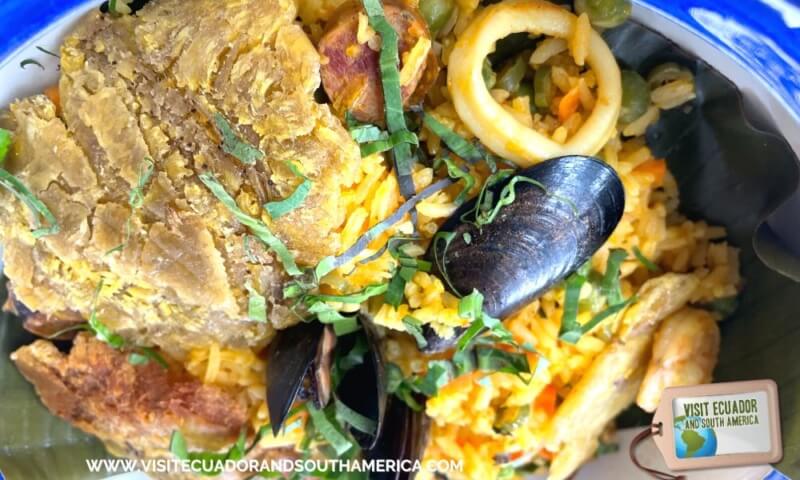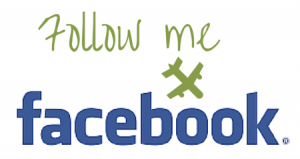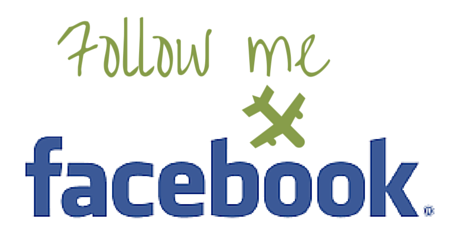 Where to Try Arroz Atollado
To savor the authentic flavors of arroz atollado, one must venture to the heart of Cali or explore the charming towns surrounding the Valle del Cauca department. Local eateries, family-run restaurants, and street vendors often serve this beloved dish, giving travelers a taste of genuine Colombian hospitality. In our case, we could taste it in one of the restaurants located in Monserrate in Bogotá.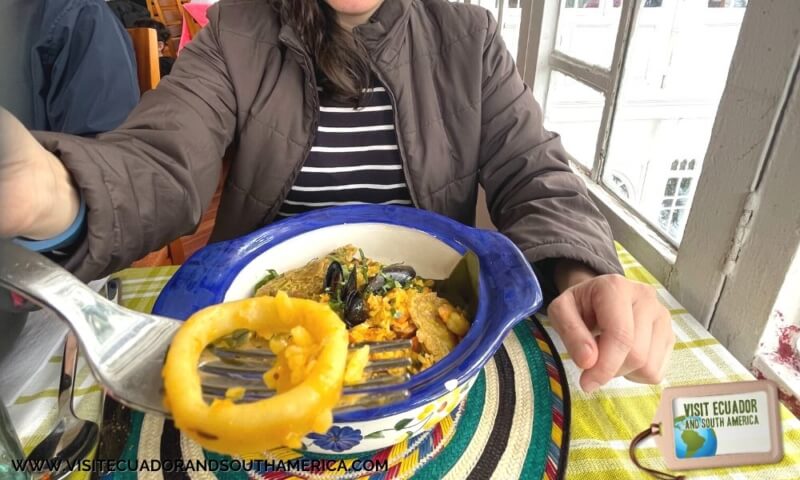 Conclusion
In conclusion, the delightful Colombian cuisine showcases a myriad of flavors, and arroz atollado stands tall as a true representative of the country's culinary heritage. Its origins in the Pacific region, the artful combination of ingredients, and the infusion of local herbs make it a must-try dish for any food enthusiast. Embrace the warmth of Colombian hospitality and immerse yourself in the enchanting tapestry of this beautiful country. We will soon be presenting more of the delicious dishes that you can taste while exploring Colombia.
Colombian food offers a splendid array of flavors, make sure to also include changua, buñuelos, ajiaco, arepas, bandeja paisa and arroz atollado to your list of food to taste.
Some posts on this site contain affiliate links, meaning if you book or buy something through one of these links, I may earn a small commission (at no extra cost to you!).
Have you tried arroz atollado? Leave your comment below!
If you enjoy the content, please consider liking, commenting, and subscribing. It's free, and it helps us.  Every little bit will help fund our travels and continue to bring great content to our site!
Planning a trip soon? Comment below or send me an email. I can help you plan your trip.
PIN IT FOR LATER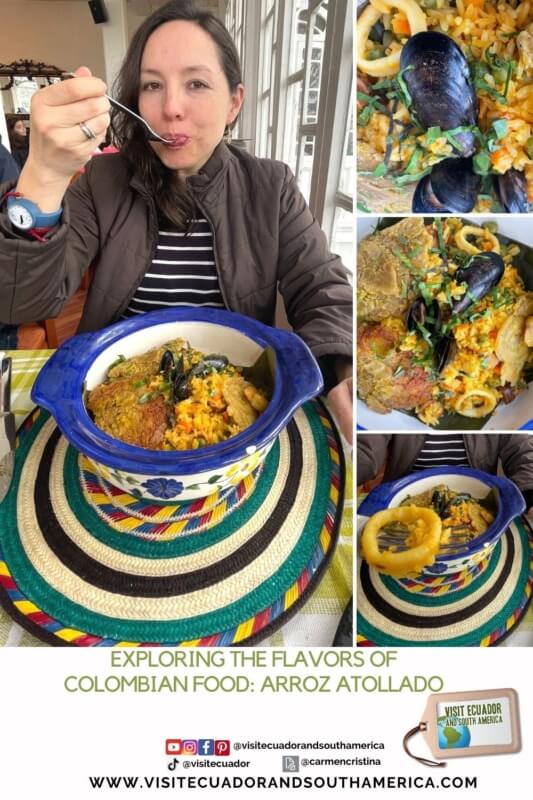 Want to Learn to make some of these dishes and many more? Gran Cocina Latina: The Food of Latin America, This book comprises 500 well-written recipes from all Spanish-speaking countries in Latin America, providing great information and recipes of the exciting food you can prepare at home. At the same time, you plan your visit to South America.
Don´t just dream it. Make it happen. Plan your South American trip with a local!
Take a look at this list of travel resources to plan your trip and travel in South America.
Daydreaming about your trip to South America? I share with you some useful tips & resources for a memorable trip! Order here your Free Ebook.
I invite you to follow me on Facebook, Twitter, Pinterest, and Instagram. In addition, you can subscribe on YouTube. You can also send me an email to get more information or help planning your trip: info(at) visitecuadorandsouthamerica(dot)com.