Where to Find Authentic Cholado in Bogota and Colombia
This year we finally embarked on an in-depth trip to explore some of the best locations and taste some of the most delicious traditional food in Colombia.
When exploring the diverse culinary landscape of Colombia, one delectable treat stands out – cholado. It was my sister who was at the time living in Colombia, who made sure we tried this delicious delight!
This cherished Colombian delicacy, also known as Raspao, has its roots in Jamundí, Valle del Cauca, and is available year-round, making it an irresistible delight for visitors. Whether you're experiencing the festive spirit during the Petronio Álvarez or the Cali Fair or simply enjoying a regular day in Bogota, cholado is a must-try.
But cholado is more than just a delicious frozen dessert; it's a means of livelihood for many Colombian families. In this blog post, we will delve into the history, preparation, and where to find authentic cholado in Bogota and Colombia.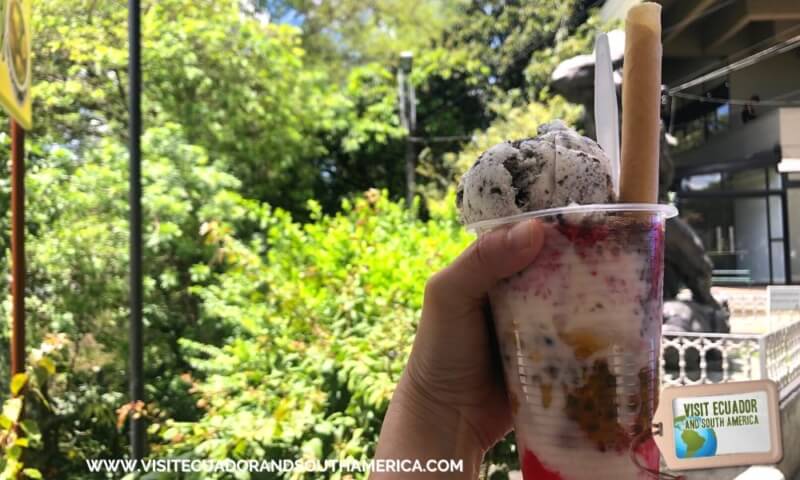 Origins and History
The name "cholado" itself is a beautiful fusion of two words – 'cholos' and 'helado.' 'Cholos' pays homage to Colombia's indigenous and mestizo population, while 'helado' refers to ice cream, which perfectly encapsulates the frosty allure of this treat. Legend has it that cholado was originally concocted as a remedy for hangovers, which speaks to its rejuvenating and refreshing qualities.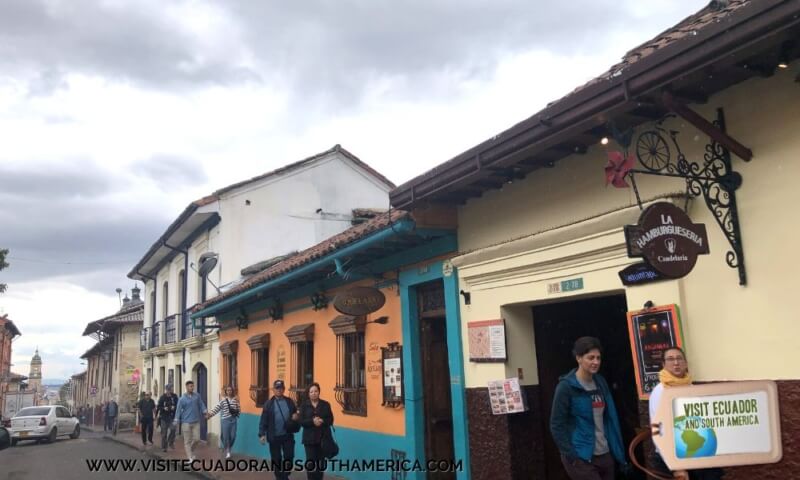 Cholado: A Culinary Delight
Cholado is a delightful blend of crushed or shaved ice, an array of chopped fruits, sweetened condensed milk, and fruit syrup. Traditionally, it's served with a crispy wafer cookie, but variations can include whipped cream and even shredded cheese for an extra layer of flavor.
The fruits used in cholado are as diverse as Colombia itself. Expect to savor a delightful combination of banana, apple, kiwi, strawberry, papaya, pineapple, mango, and soursop. While fresh fruit is the classic choice, canned fruits can also be used to create this exquisite dessert with remarkable success.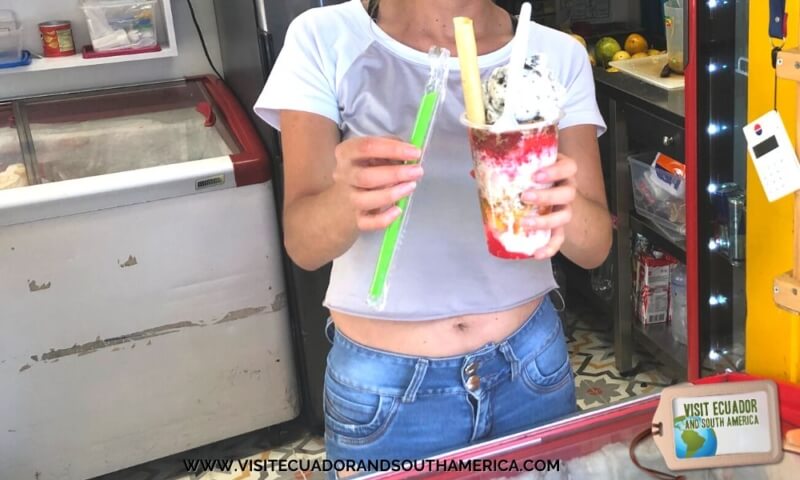 Preparation
Want to try to prepare cholado at home? Try out this recipe
If you are in South America, I would love to see your pictures.
Now, let's turn our attention to the main focus of this blog post –
Where to Find Authentic Cholado in Bogota and Colombia:
Cholado Hotspots in Bogota
Bogota, Colombia's capital, is a haven for cholado enthusiasts. Here are some noteworthy places where you can indulge in authentic cholado:
La Candelaria: This historic district in Bogota is a cholado haven. Stroll through its charming streets to discover numerous street vendors and quaint shops offering cholado in all its glory.
El Chapinero: If you're seeking a modern twist on cholado, this trendy neighborhood is the place to be. Here, you'll find inventive variations and quirky toppings to satisfy your cravings.
Exploring Cholado Across Colombia
Beyond Bogota, cholado is widely available throughout Colombia. Whether you're sipping the refreshing treat in the salsa-filled streets of Cali, the sun-soaked beaches of Cartagena, or the picturesque landscapes of Medellin, you'll encounter cholado vendors eager to cool you down with their delightful creations.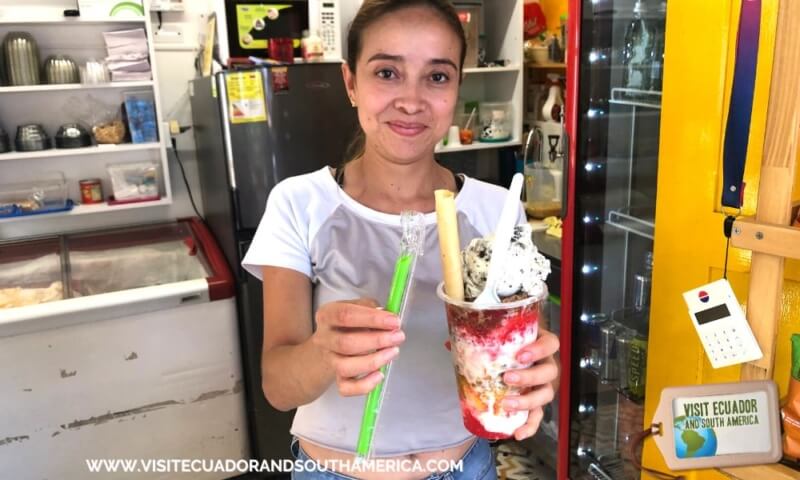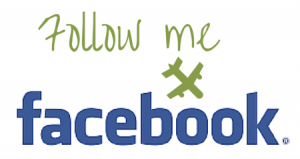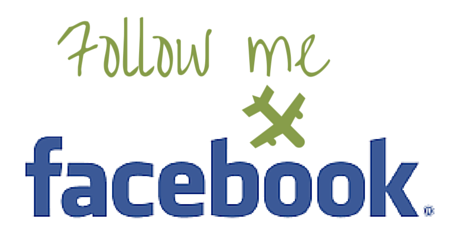 Conclusion
Whether you're exploring the charming avenues of Bogotá, or any other place in Colombia, this treat is for you.
In conclusion, authentic cholado in Bogota and Colombia is more than a frozen dessert; it's a cultural icon, a family business, and a flavorful journey through Colombia's diverse fruits and traditions. If you're looking to find and savor this delightful delight, you now have the inside scoop on the best places to experience authentic cholado in Bogota and throughout Colombia.
¡Buen provecho!
Colombian food offers a splendid array of flavors, make sure to also include changua, buñuelos, ajiaco, arepas, bandeja paisa and arroz atollado to your list of food to taste.
In Ecuador, you have a wide array of delicious food, so just to name a few, make sure to taste quimbolitos, dulce de higos, quesadillas, locro, ceviche, cazuela and llapingachos.
Some posts on this site contain affiliate links, meaning if you book or buy something through one of these links, I may earn a small commission (at no extra cost to you!).
Have you tried cholado? Leave your comment below!
If you enjoy the content, please consider liking, commenting, and subscribing. It's free, and it helps us.  Every little bit will help fund our travels and continue to bring great content to our site!
Planning a trip soon? Comment below or send me an email. I can help you plan your trip.
PIN IT FOR LATER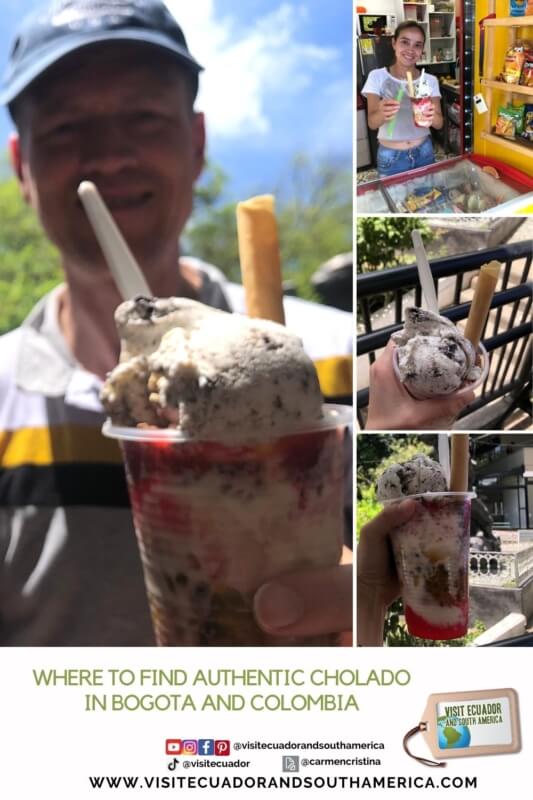 Want to Learn to make some of these dishes and many more? Gran Cocina Latina: The Food of Latin America, This book comprises 500 well-written recipes from all Spanish-speaking countries in Latin America, providing great information and recipes of the exciting food you can prepare at home. At the same time, you plan your visit to South America.
Don´t just dream it. Make it happen. Plan your South American trip with a local!
Take a look at this list of travel resources to plan your trip and travel in South America.
Daydreaming about your trip to South America? I share with you some useful tips & resources for a memorable trip! Order your Free Ebook.
I invite you to follow me on Facebook, Twitter, Pinterest, and Instagram. In addition, you can subscribe on YouTube. You can also send me an email to get more information or help planning your trip: info(at) visitecuadorandsouthamerica(dot)com.