Reasons to Visit the Choco Andino
Since the beginning of 2020, we have tried to spend some days each month in the area known as the Choco Andino. This is an area filled with lush vegetation, breathtaking diversity of habitats, and warm weather.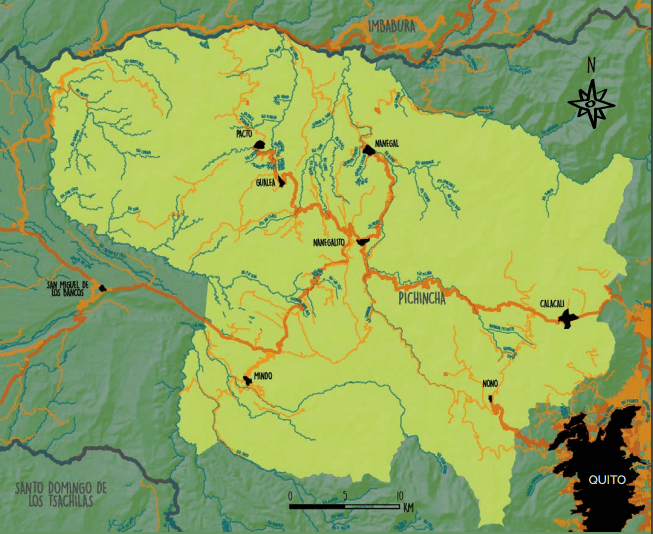 We will share here some of the main reasons to visit this region.
Why visit the Choco Andino
UNESCO Man and the Biosphere Program, together with the approval of 195 countries, declared the Chocó Andino as part of the World Network of Biosphere Reserves on July 25th, 2018.
The Chocó Andino is the only zone in Latin America out of 24 zones to be part of the World Network of Biosphere Reserves. The reserve covers an area of 286,000 hectares in the northwest of Pichincha province, just 45 minutes from Quito. It extends over nine parishes within three municipal areas (Quito Metropolitan District, San Miguel de los Bancos, and Pedro Vicente Maldonado).
Andean Chocó is the seventh largest Biosphere Reserve in the country, and by being environmentally aware during your visit, you support the efforts to preserve nature and the well-being of the communities and local businesses.
1.
The ancient Sun Culture in Tulipe
The Chocó Andino region has several archeological remains, such as the ones found in Tulipe. So far, over 600 remains have been found in the area, mainly from the Yumbo, Inca, and other pre-Inca cultures.
At the Tulipe museum, you can get information about the yumbo culture, visit ceremonial centers, and get immersed in the history and culture of the Choco Andino.
2.

Adventure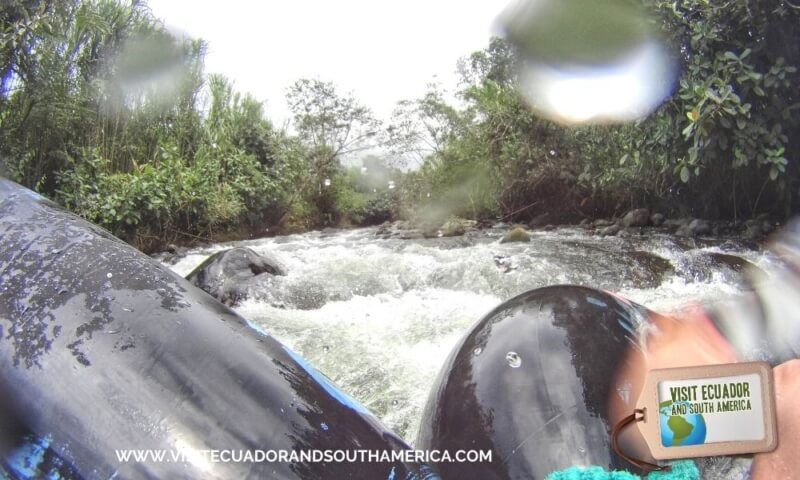 This area is ideal for adventure and educational tourism while allowing you to admire the formidable fauna and flora of the region.
Pahuma Reserve
The Pahuma is a cloud forest of 375 hectares and boasts over 300 orchid species and Andean toucans.
(Andigena laminirostris). This reserve is located an hour from Quito and offers visitors several trails through incredible forests, breathtaking waterfalls, and a stunning view over the Andes.
This is an excellent place for all who want to visit waterfalls, love orchids, want to spend the night camping, or do some rappelling.
Yanacocha reserve
This unique forest extends over an ancient pre-Inca irrigation system, offering hikes in easy terrain and great opportunities for birdwatching and canopy.
In addition, Choco Andino is a region where water abounds; it is everywhere. With rivers, waterfalls, and streams, this is a great place to enjoy swimming in clean, cool water and tubing and rafting.
3.
Birdwatching in Mindo
Changes in elevation in this area make it a hotspot for birdwatching. It is possible to spot beautiful colorful birds all over the Choco Andino. Species include tanagers, hummingbirds, toucans, spinetails, antpittas, flycatchers, owls, raptors, and more.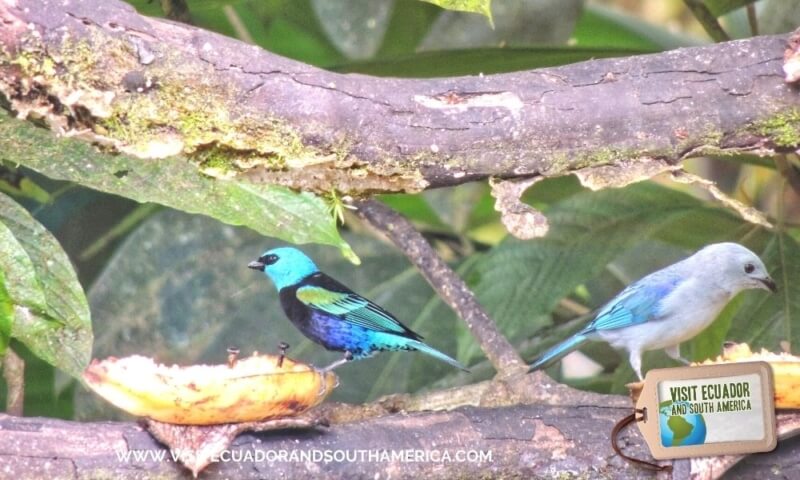 With a total of 640 species,  67 of which are endemic, there is no doubt as to why birdwatchers from all over the world come to visit this area,
We have visited some great places for birdwatching that offer accommodation in Mindo. If birdwatching and sustainability are at the top of your list, we can highly recommend spending the weekend at  Casa Divina. 
If you want to enjoy breakfast with a fantastic view and relax by the pool, consider staying at Terrabambu. 
4.
The Magnificent Scenery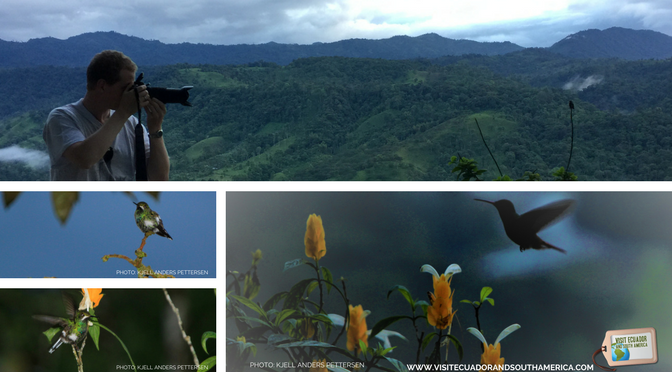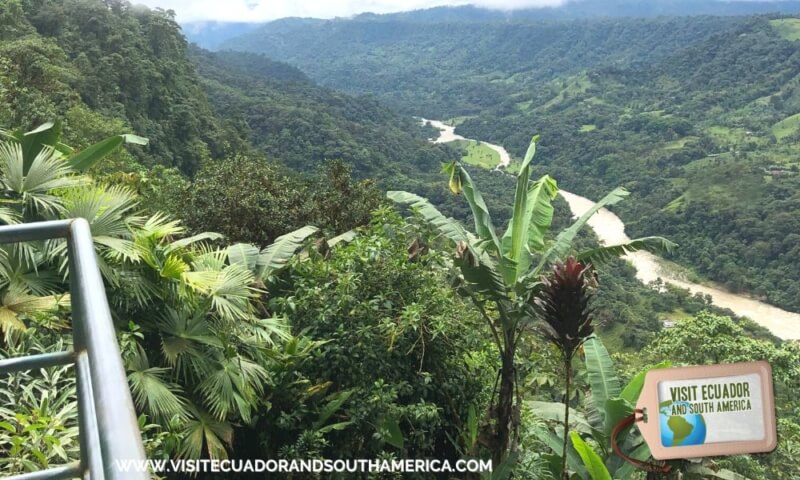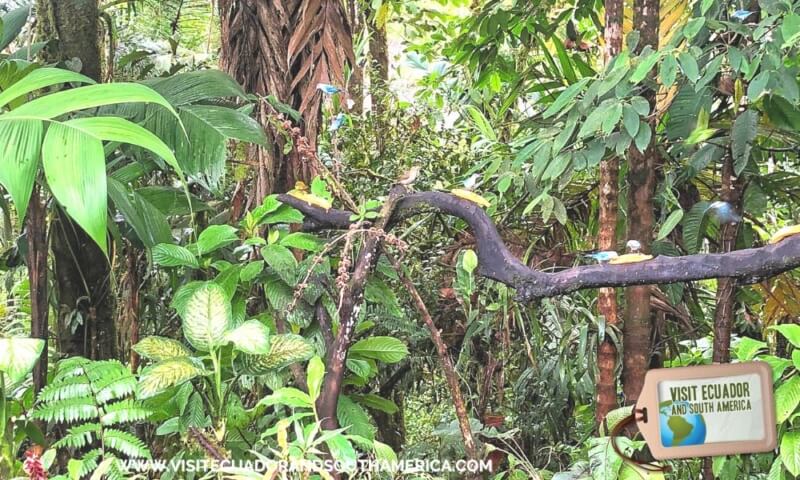 Some restaurants and cafes along the road offer tasty Ecuadorian food and the opportunity to admire the impressive landscapes of the region.
One of them is Mirador del Rio Blanco, en Los Bancos, offering breathtaking scenery.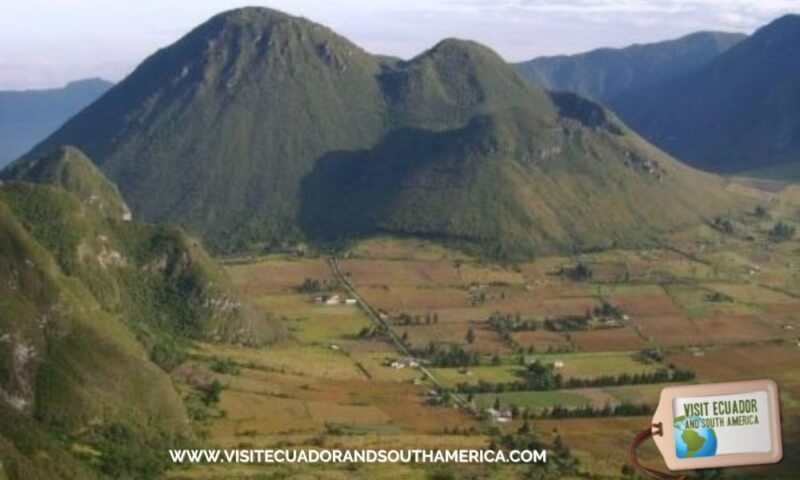 The Pululahua Geobotanical Reserve, located within the Andean Chocó, is one of the few craters in the world where people live due to the fertile land that makes it possible to practice agriculture.
5.
Peace of Mind in Nono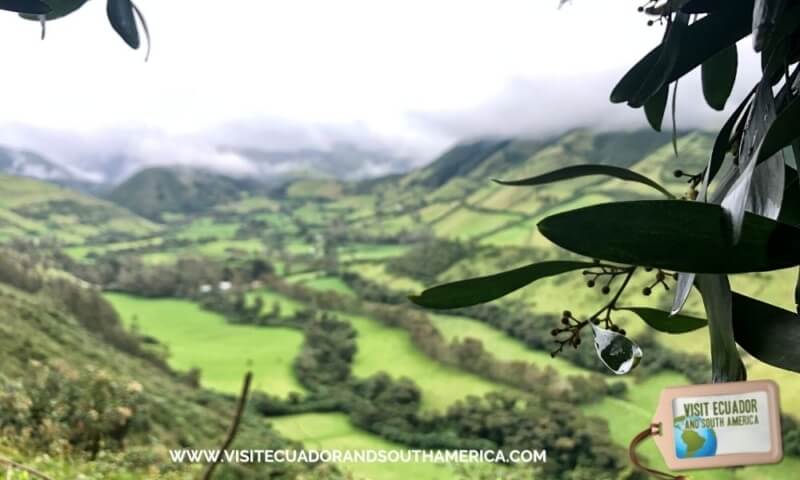 Some studies show that being in nature reduces anger, fear, and stress and increases pleasant feelings.
Choco Andino is the perfect place for nature lovers wanting to get off the beaten path and enjoy the benefits of being one with nature.
Here is a place that we can recommend visiting, offering comfortable accommodation, delicious food, and an opportunity to relax in Nono.
6.
Flora and Fauna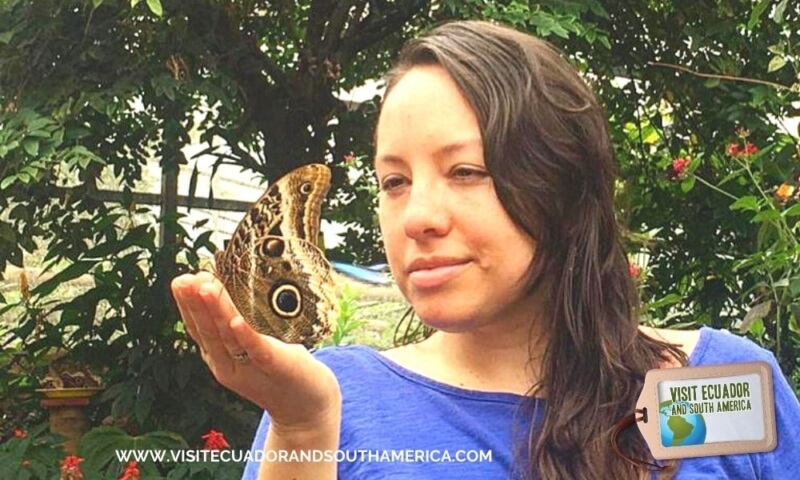 Featuring 286 thousand hectares, 12 types of forests with 3,200 varieties of plants, 140 species of amphibians, and 270 mammals, the Choco Andino is the place to connect and enjoy nature.
One activity that connects you with the flora and fauna while you are in Mindo is to visit a butterfly farm and enjoy watching them fly and showcase their colorful wings.
7.
Cacao, chocolate, and more…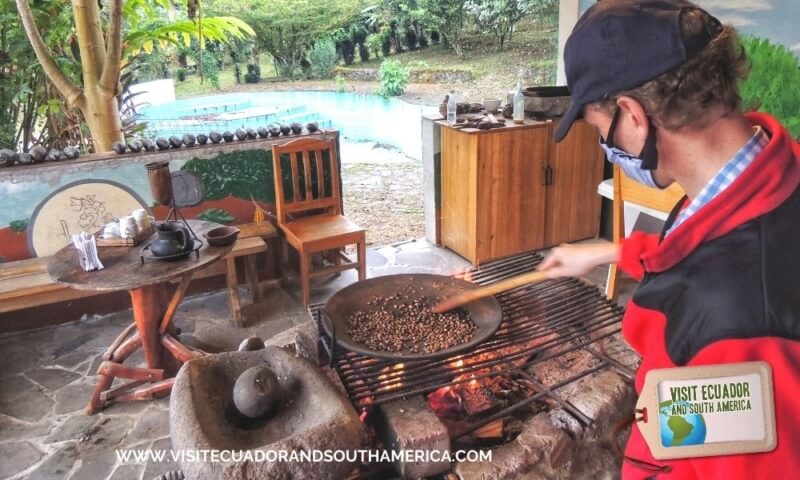 Family farming is the most common economic activity,  and many organic products come from this area, including fruits, vegetables, sugar cane, and tubers. It is also worth mentioning that many of them are exported, including coffee, chocolate, dehydrated fruit, mushrooms, cane-made spirit, and others.
An activity that we enjoyed immensely that provides insight into the coffee history in Ecuador and the importance of its economy is by taking a Coffee tour.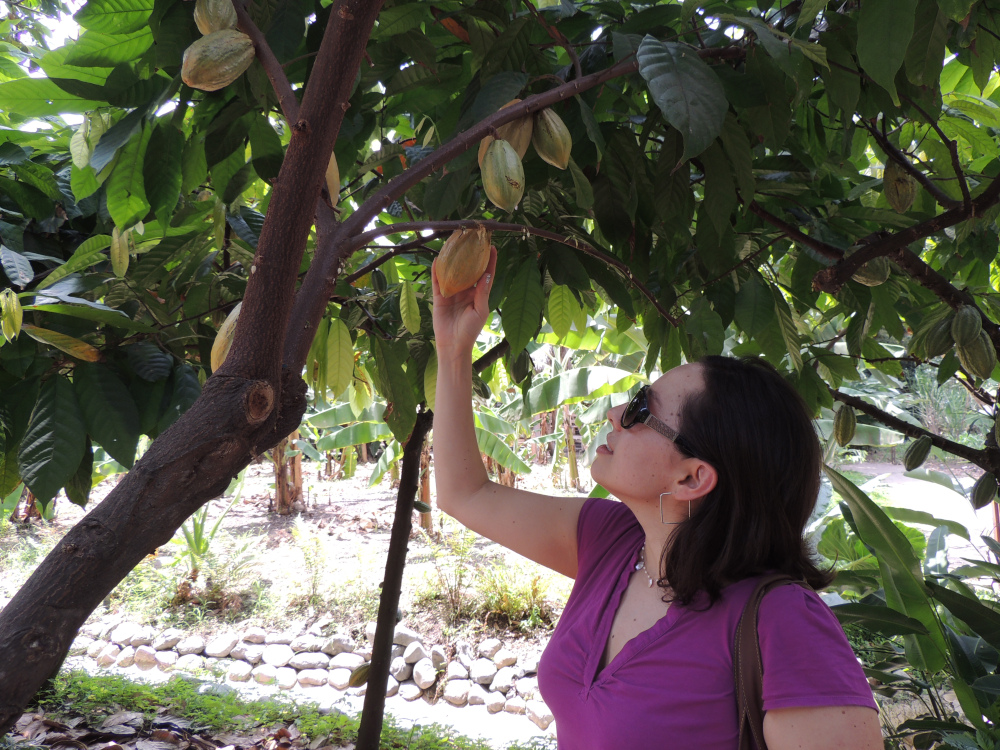 If you love chocolate, you can enjoy a tour around a farm, learn about the production of chocolate and taste different types of chocolates. Mindo is the place to book a Chocolate tour and discover the world of chocolate, from the bean to the bar.
The archeologist Francisco Valdez discovered our Ecuadorian chocolate's origins, making it more ancient than the Mexican cacao. Learn more about it here.
The history of chocolate is tied to Ecuador, and it was born in Ecuador. You can watch this video with all details about the discovery made by Francisco Valdez.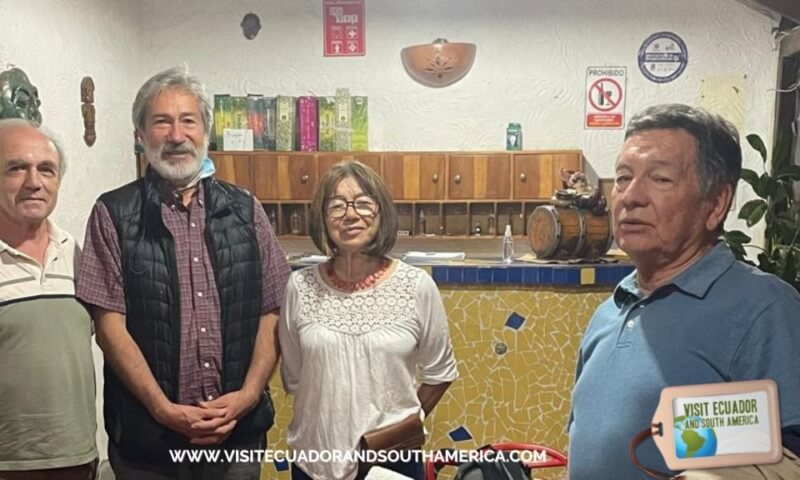 Where to stay:
Here are some of our favorite options
Where to stay in Mindo
Hosteria Terrabambu Lodge: this is an amazing place to relax and enjoy the natural surroundings in Mindo. We share our experience during our stay.
Casa Divina Lodge is the place to stay to enjoy biodiversity and birdwatching in Mindo at its best. Read all about this magical place.
How to get to Mindo
Book a tour:
You can book an organized tour, we recommend this full-day guided tour. 
If you want to spend the day birdwatching or exploring the waterfalls in Mindo, you can find some tour options to choose from here.
By car:
From Quito, you pass the park with the Equator monument, Mitad del Mundo, continuing on the main road to Esmeraldas for about 70 km. The exit to Mindo is on the left and is clearly marked by signs. You can also book a car with driver to take you all the way.
By bus 
In order to get to Mindo, you need to go to Ofelia station north of Quito. You can reach the station by taking the Metrobus (blue line).
The journey from Quito to Mindo takes about 2h-2h30 and costs 3.1$ per person.
Other activities in Mindo:
and reasons to visit the Choco Andino. 
What to bring
In case of rain, it is recommended to bring a waterproof jacket or poncho.
Bring good walking shoes, as not all the trails are flat.
Most importantly, make sure to bring insect repellent and sunblock.
And if you love taking pictures or making videos, bring a waterproof case for your smartphone or your GoPro/Sony Action cam with a battery.
From adventure tourism to chocolate tours, when you visit the Choco Andino region and are environmentally aware, you support the efforts to preserve nature and the well-being of the communities and local businesses.
Let us know which of these 7 reasons is your favorite to visit Choco Andino in Ecuador.
Pin it for later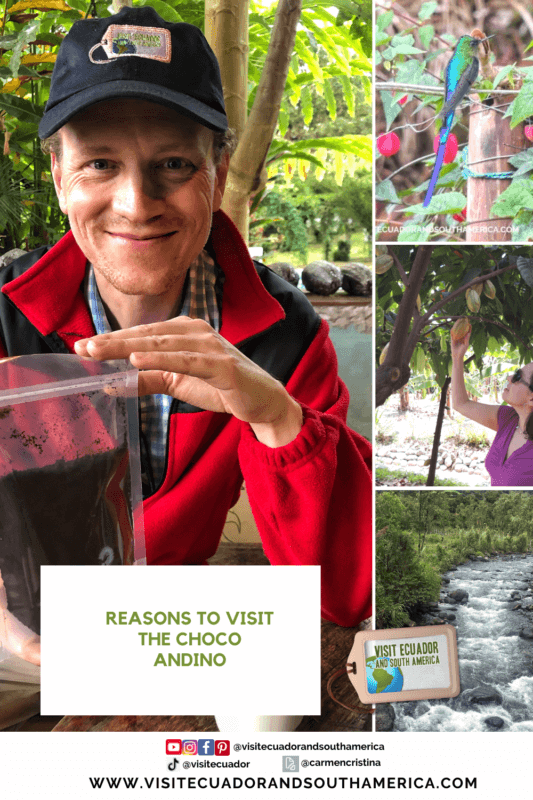 Don´t just dream it. Make it happen. Plan your South American trip with a local!
Look at this list of travel resources to plan your trip and travel in South America.
Daydreaming about your trip to South America? I share with you some useful tips & resources for a memorable trip! Order here your Free Ebook.
I invite you to follow me on Facebook, Twitter, Pinterest, and Instagram. In addition, you can subscribe on YouTube. You can also send me an email to get more information or help planning your trip: info(at) visitecuadorandsouthamerica(dot)com.