Things to do in Mindo: Coffee Tour

I remember being amazed by the amount of coffee Norwegians drank every day during the 7 years that we lived in Norway. After all, I was coming from a country that produces coffee in South America. What was not a surprise then was finding out that Norway is one of the 3 countries in the world with the highest consumption of coffee per capita. If you are wondering what are the other 2, they are Finland and Iceland.
About Ecuador
Ecuador is a small, yet very diverse country located in the Andes cordillera, with Colombia and Peru as its neighbors. The country has 4 amazing regions that offer a wide range of experiences to visitors from abroad as well as for local ones. One thing that makes Ecuador a great country to visit is that due to its small size, in just a few days you could be climbing one of the highest volcanoes in the world and then be spotting some of the amazing flora in the amazon rainforest.
This month, after several months of isolation, we decided to take a few days off and go on a short trip.  It was also a perfect way to do something different for my birthday and enjoy time outside of the city.
About Mindo
Located northwest from Quito, Mindo is nestled in what is known as the cloud forest, in the area known as the chocó Andino. This is an area offering activities for those who like to have an adrenaline rush, as well as for those looking to have a relaxing time immersed in nature.
Learn about the things to do in Mindo by visiting Visit Ecuador and South America's top 5 things to do in Mindo article.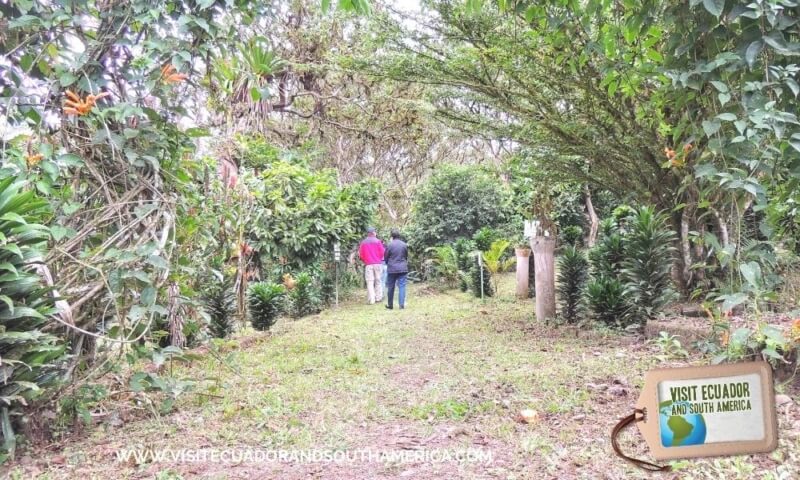 Ecuador and Coffee
We have had coffee as one of our main exports and products since 1860. The fact is that coffee makes up 10% of our exports and we are among the 15 countries in the world that grows and exports both Arabica and Robusta coffee.
Now, about the coffee tour. During this tour you will not only learn about the origins of this drink full of flavor, you will also see how coffee grows, is processed and you will get to enjoy a warm cup of coffee.
   
Facts about Coffee
Coffee is the world's favorite hot drink
Coffee boosts brainpower
Coffee increases blood pressure
Coffee makes your immune system stronger
The Coffee Tour
Our guide greeted us and guided us through the coffee plantation where we got to not only admire different plants of the area but also to see a coffee plant.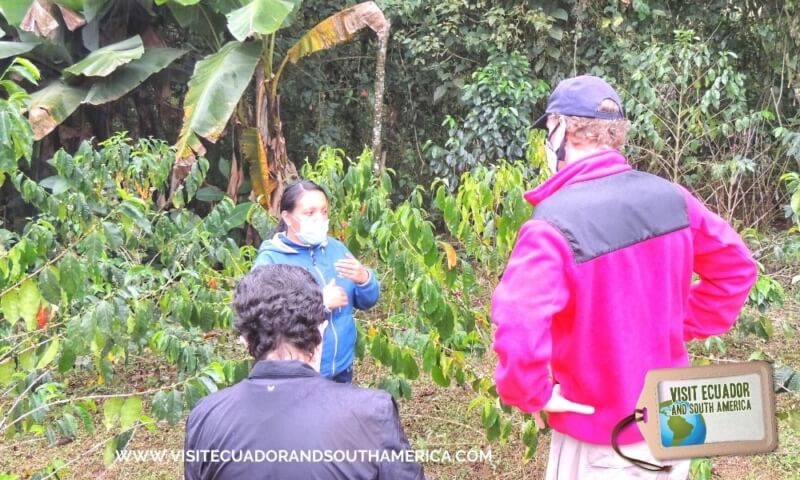 When we got to the plantation, we were able to find some of the coffee cherries ready to harvest.
The coffee variety that we found is arabica coffee. Interesting fact: you can distinguish the variety of coffee based on the shape of the bean; circular: Robusta, oblong: Arabica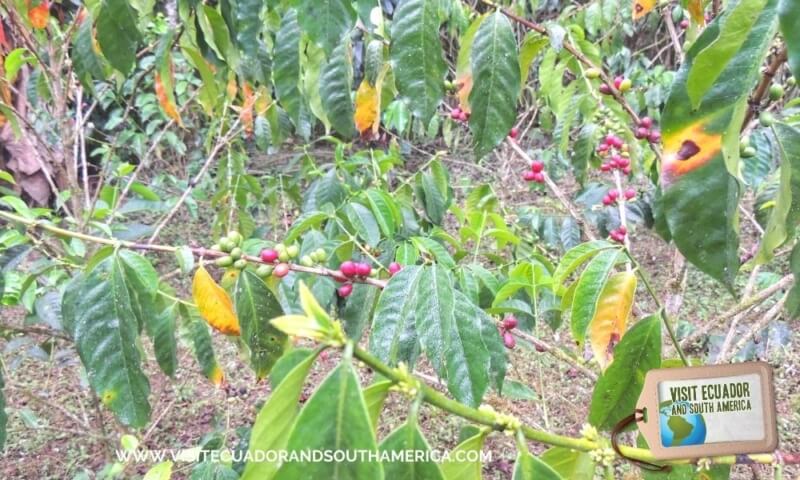 The fruit is called the coffee cherry and to our amazement, when you open it you can eat the flesh. It is actually kind of sweet!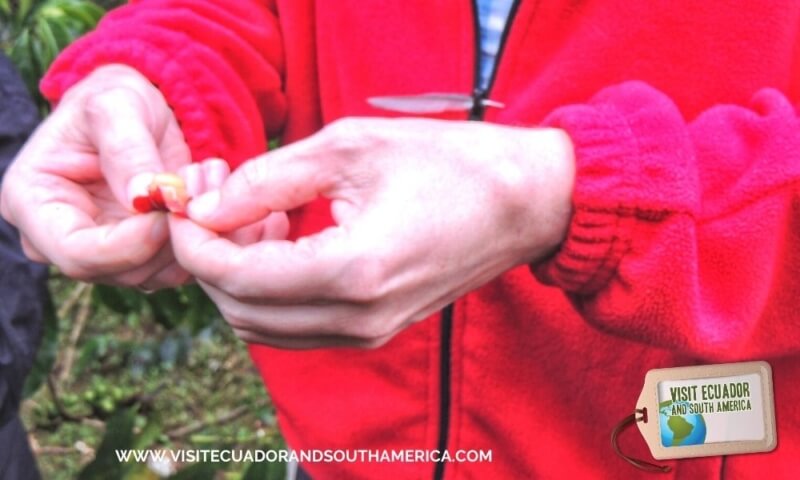 Once the cherries that are ripe are picked, the next step is to process them in order to avoid them getting spoiled.  During this step the cherries are spread out on huge surfaces to sun dry.
Coffee will then be dried until there is an 11% moisture of the cherries.
The next step is to remove the dried husk of the dry cherries.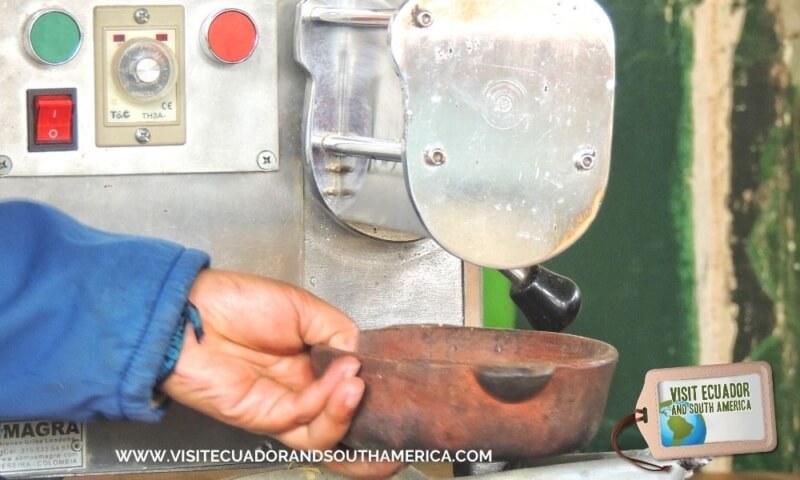 Roasting comes next.
"When the beans reach an internal temperature of about 400 degrees Fahrenheit, they begin to turn brown and the caffeol, a fragrant oil locked inside the beans, begins to emerge. This process called pyrolysis is at the heart of roasting — it produces the flavor and aroma of the coffee we drink"  https://www.ncausa.org/About-Coffee/10-Steps-from-Seed-to-Cup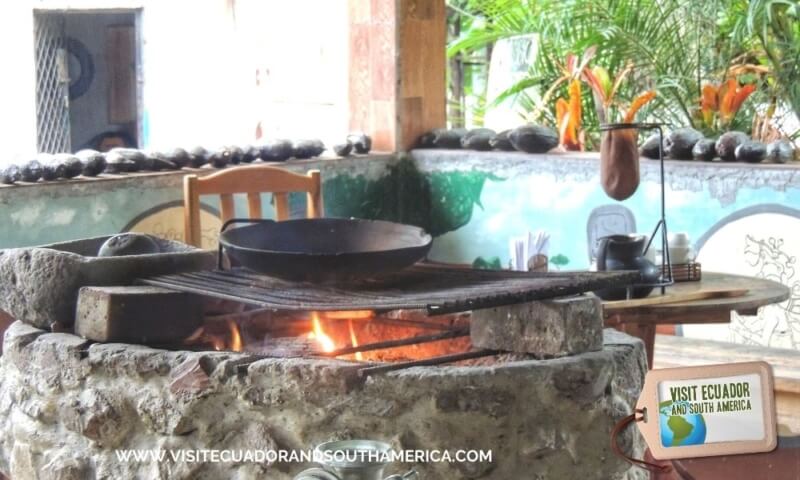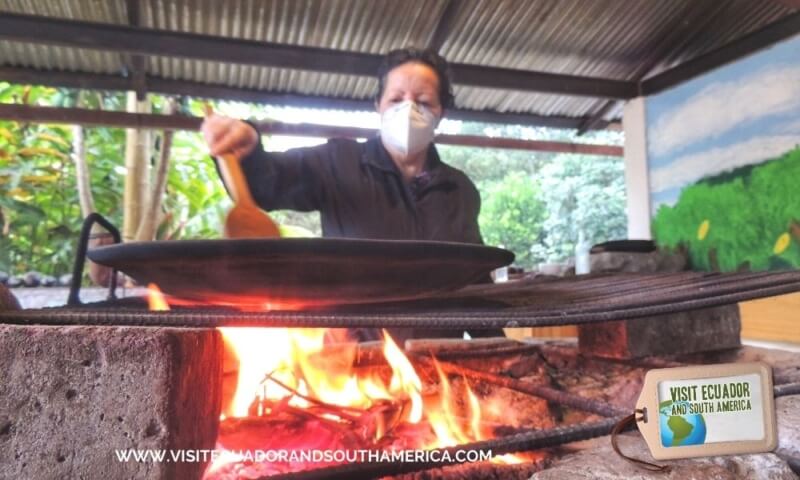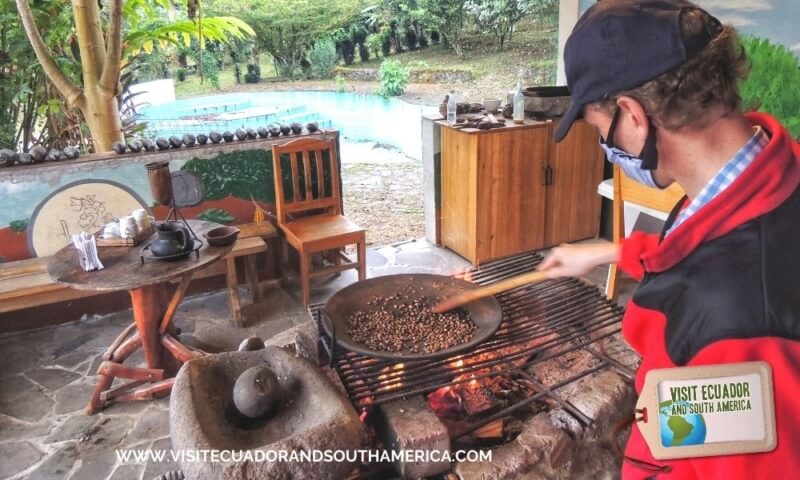 If you are in South America I would love to see your pictures.
Next
Grinding the coffee to get the flavor from coffee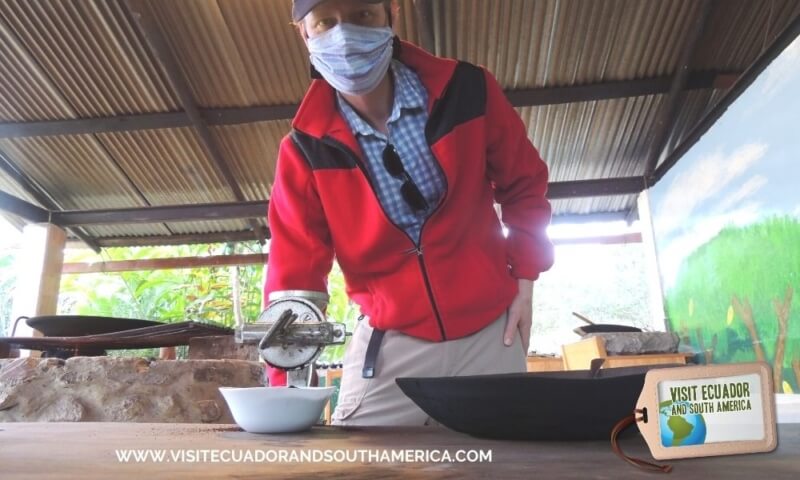 Brewing the coffee while enjoying the aroma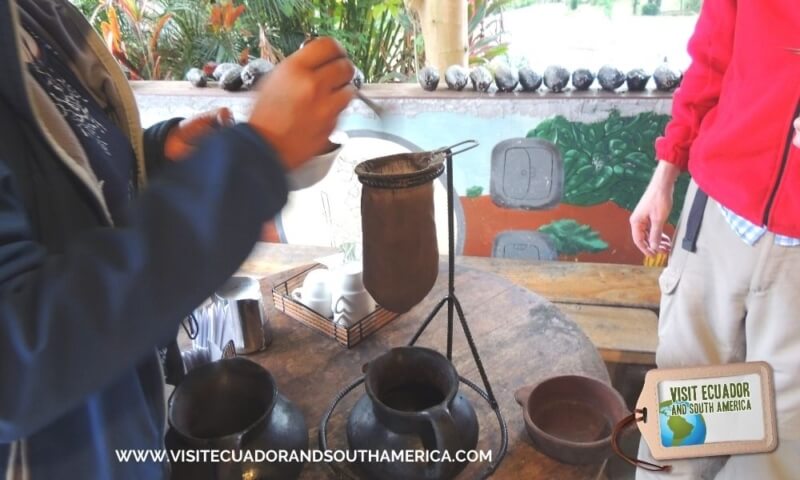 The final step
And, at the end, we had a great cup of arabica coffee!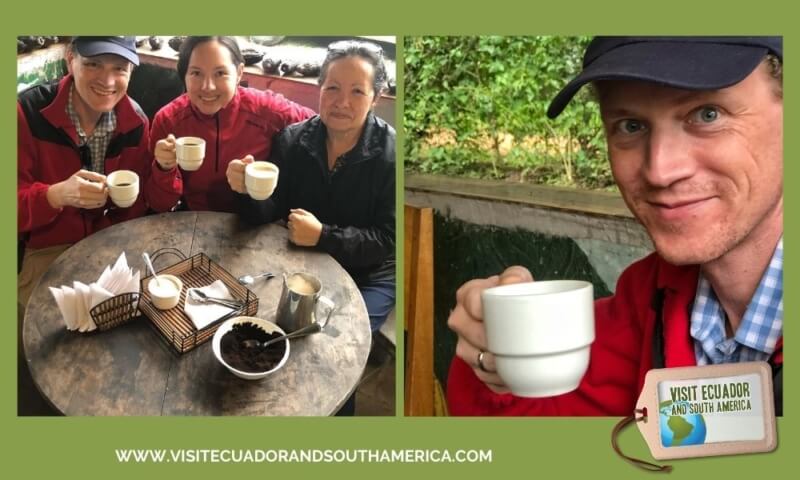 Watch this video for more details and information about this tour and if you decide to book it, let us know we can help you with this and any details for your trip!
Other activities in Mindo:
and reasons to visit the Choco Andino. 
How to get to Mindo
Book a tour:
You can book an organized tour, we recommend this full day guided tour. 
By car:
From Quito, you pass the park with the Equator monument, Mitad del Mundo, continuing on the main road to Esmeraldas for about 70 km. The exit to Mindo is on the left and is clearly marked by signs. You can also book a car with driver to take you all the way.
By bus 
In order to get to Mindo, you need to go to Ofelia station north of Quito. You can reach the station by taking the Metrobus (blue line).
The journey from Quito to Mindo takes about 2h-2h30 and costs 3.1$ per person.
Where to stay
Hosteria Terrabambu Lodge: this is an amazing place to relax and enjoy the natural surroundings in Mindo. We share our experience during our stay.
Casa Divina Lodge is the place to stay to enjoy biodiversity and birdwatching in Mindo at its best. Read all about this magical place.
What to bring
In case of rain, it is recommended to bring a waterproof jacket or poncho.
Bring good walking shoes, as not all the trails are flat.
Most importantly, make sure to bring insect repellent and sunblock.
And if you love taking pictures or making videos, bring a waterproof case for your smartphone or your GoPro/Sony Action cam with a battery.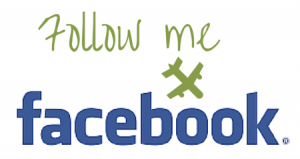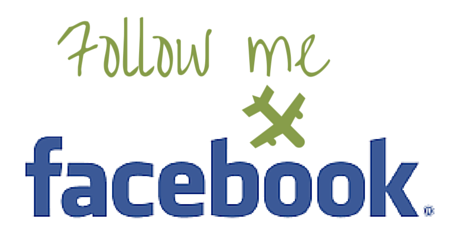 This is one of the new additions to the wide range of activities available for tourists visiting Ecuador.

Our advice is to always book your tour ahead of time, in this case, it is a tour that requires you to book ahead of time.
PS: We will be happy to help you plan and book your tours and accommodation, just send us an email.
If you found this page helpful, I would appreciate it if you would pin, share or tweet it on any social media platforms you use! Every little bit will help fund our travels and continue to bring great content to our site!
PIN IT FOR LATER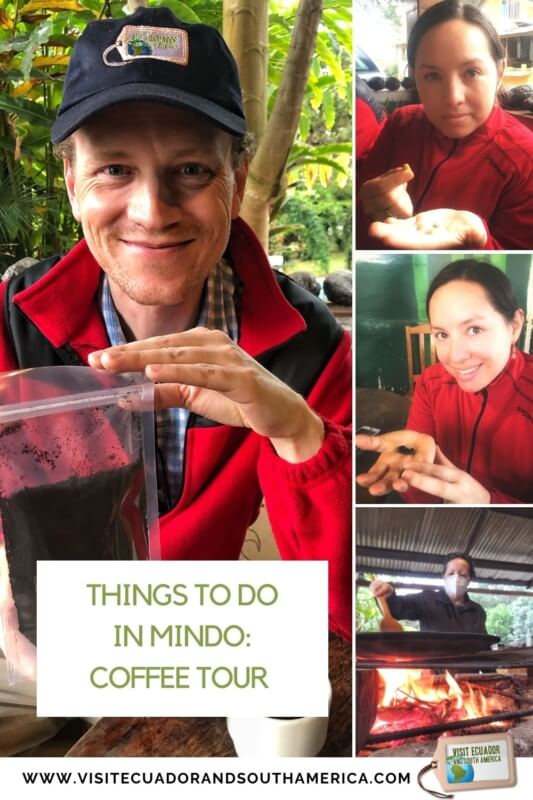 If you want more in-depth information and also a guide that you can bring along during your trip, I recommend the travel guide Lonely Planet Ecuador & the Galapagos Islands
.
This is a great source of information and tips, maps, and all you need if you plan on visiting Ecuador. I personally like the option of having a hard copy version where I can take notes and have them at hand.
Don´t just dream it, make it happen. Plan your South American trip with a local!
Take a look at this list of travel resources to plan your trip and travel in South America.
Daydreaming about your trip to South America? Order here your Free Ebook, I share with you some useful tips & resources for a memorable trip!
I invite you to follow me on Facebook, Twitter, Pinterest, and Instagram. In addition, you can subscribe on YouTube.
You can also send an email to get help planning your trip: info(at) visitecuadorandsouthamerica(dot)com