Estancia de la Campiña: the perfect getaway near Quito for nature and food lovers.
Are you looking for the perfect place to get away from the hustle and bustle of the city and enjoy country life?
In this article, we share all about our stay at a most comfortable farmhouse in the charming town of Nono.
About Nono
Originated in 1720, San Miguel de Nono was founded by Spanish colonists looking for excellent opportunities to farm. Nowadays, it is one of the oldest counties in Quito and it is also a place with nature abound, where you can breathe fresh air and feel peace.
Due to its location, a mere 18 kilometers outside of Quito in the Chocó region, this valley has winds and mist produced by the humidity of the surrounding forests. It has an average temperature of 57 to 60 degrees Fahrenheit.
For Quiteños, Nono is a destination that offers experiences near nature and fabulous food, so if you have the opportunity, make sure to plan a trip to Nono.
Looking for ways to celebrate carnival near Quito? Then you will enjoy our article where we share all about Celebrating Carnival in Nono, Ecuador.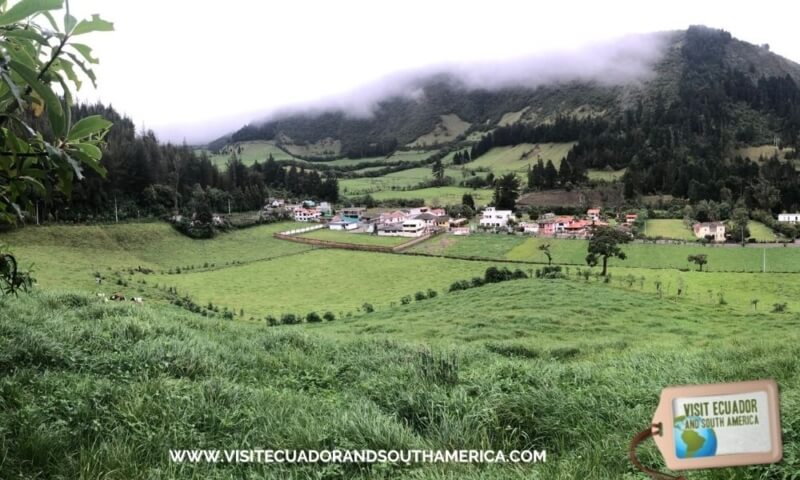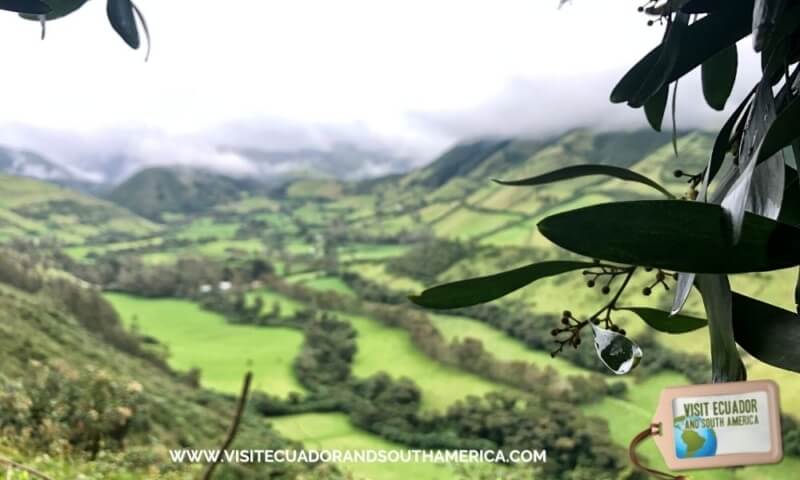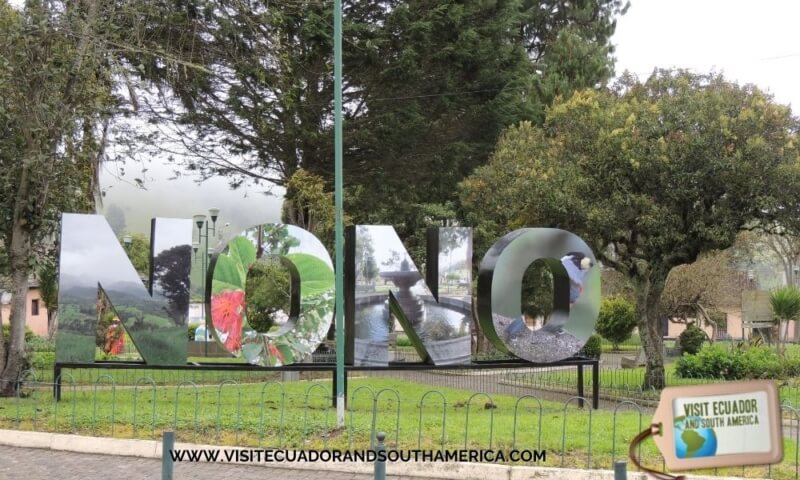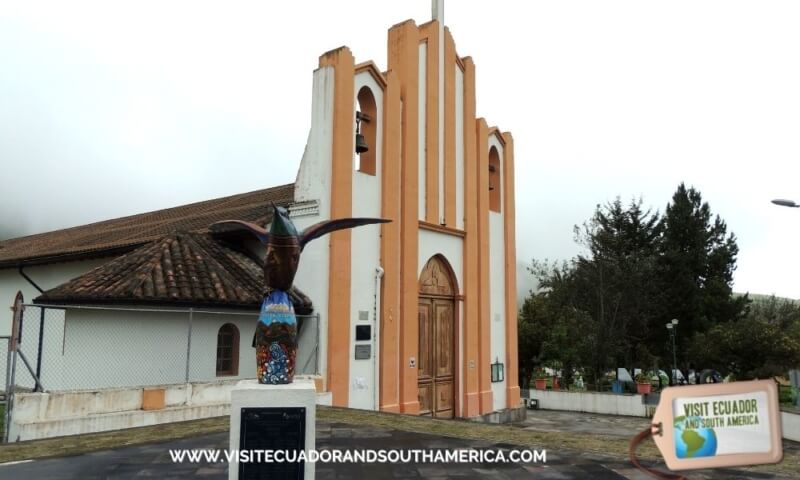 Besides the charming city plaza, surrounded by trees giving shade to visitors, you can also admire the quaint small chapel and stop to take in the calmness of the place.
Another recommendation is to go through the main road and smaller streets to take in the beautiful tiny houses that have been painted in different colors.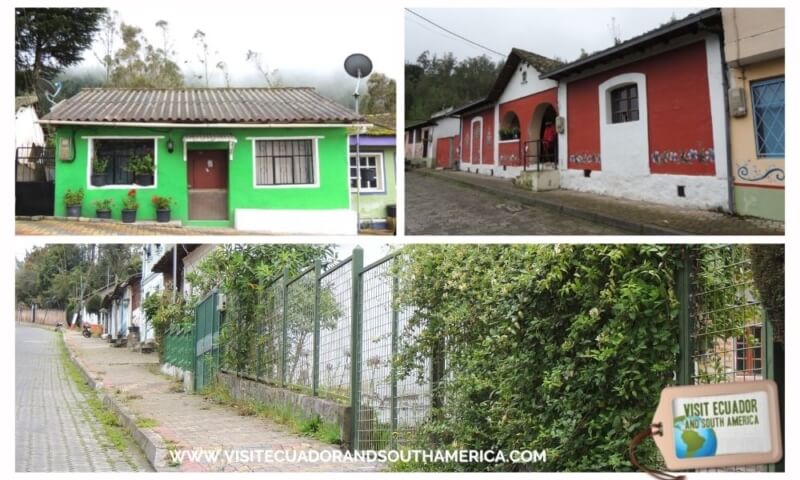 A romantic getaway at Estancia de la Campiña
Are you looking for the most memorable experience or romantic getaway near Quito?
We want to share all about our getaway at the cozy Estancia de la Campiña. in Nono.
What is an Estancia? An Estancia is a type of Spanish-colonial property that includes original buildings and acres of pasture and farmland located in the countryside.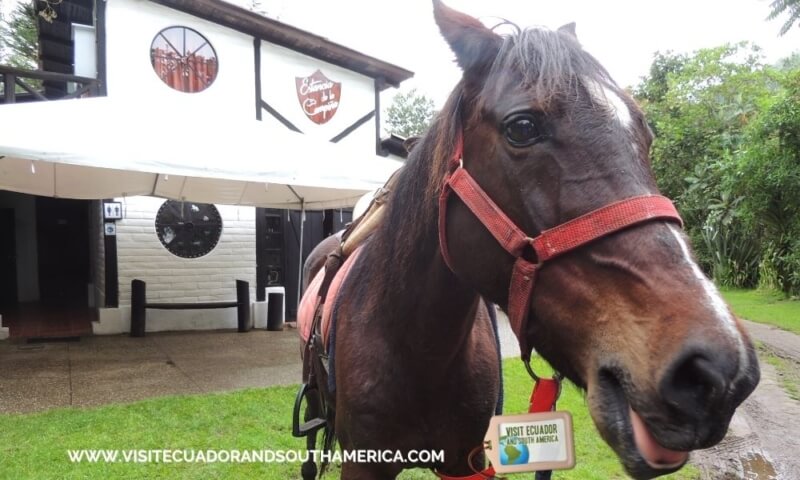 Peace and calm 
Peace and calm are two of the positive emotions you can experience as you come in contact with nature at Estancia de la Campiña.
To complete the experience in the restaurant, the chef serves dishes that contain and are inspired by ingredients from the area. They aim to have as many organic components as those they harvest from their garden.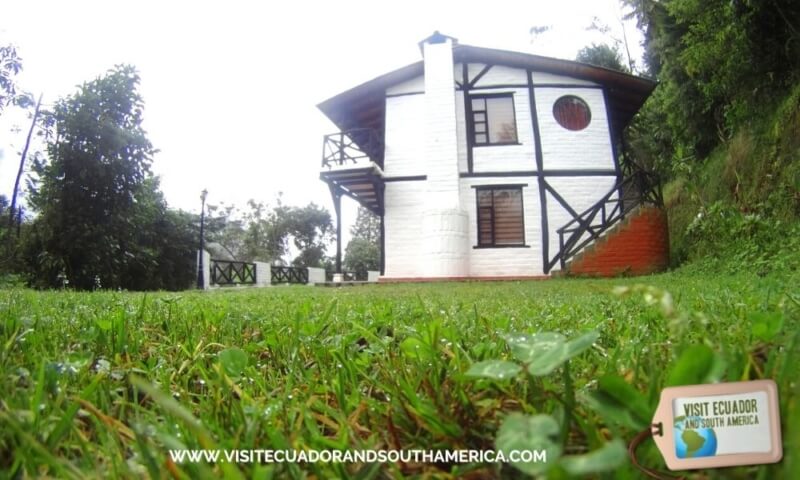 Comfort
Here we found a place that brought us back to being in a Norwegian cabin, with the cozy rooms, peaceful ambiance, and nature in the countryside.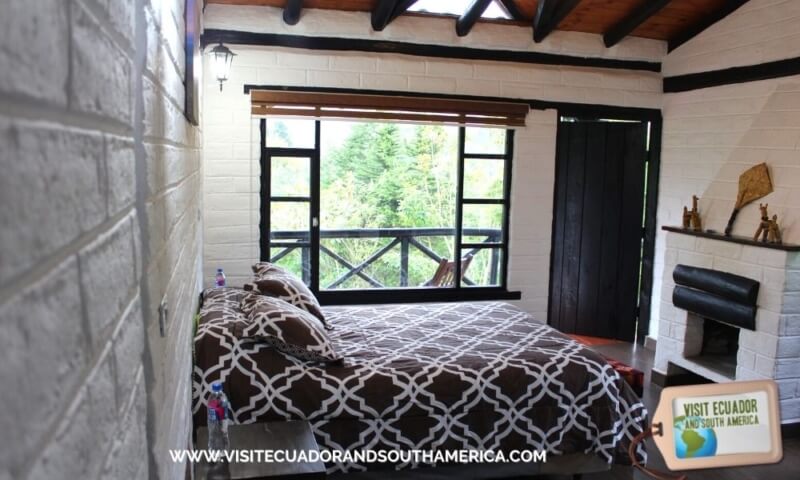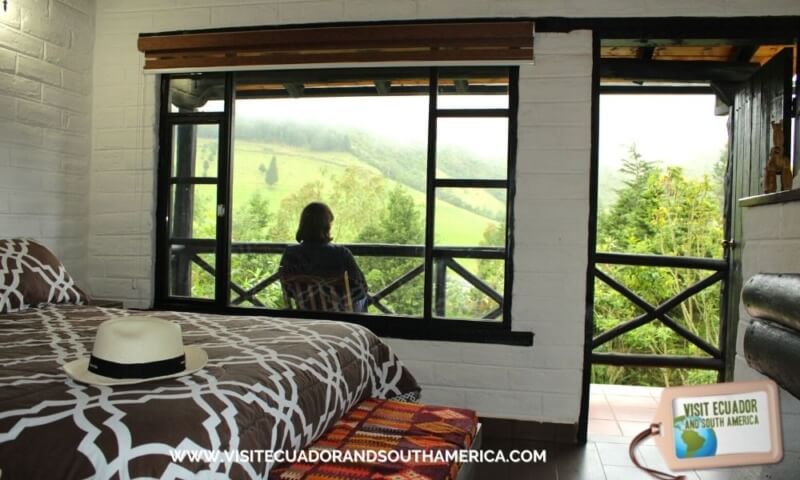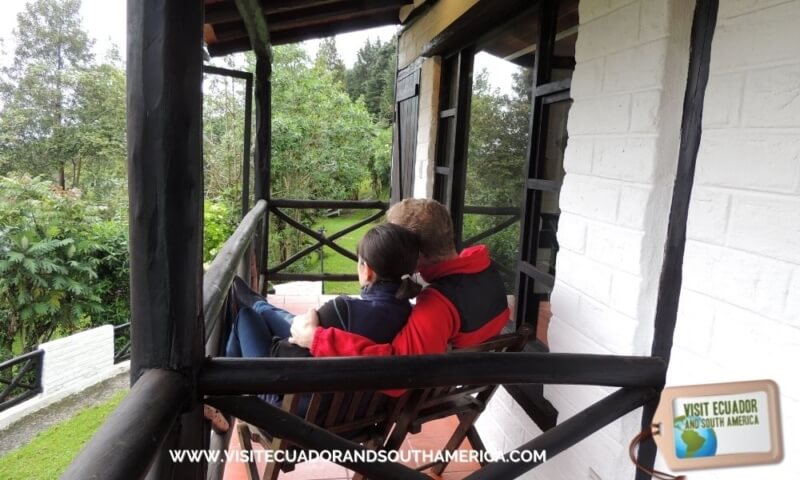 Hygge
As Norwegians, we enjoyed the cabin lifestyle that we could experience at Estancia de la Campiña.
We experienced all the hygge vibes at night in this modern cabin, sitting in front of the fireplace,  savoring a glass of excellent red wine while enjoying the calming sounds of the drizzle outside.
The term "hygge" stems from the old Norse word "hugge" which means to comfort, to calm, to enjoy, and is used for relaxed and friendly circumstances, especially together with friends and family.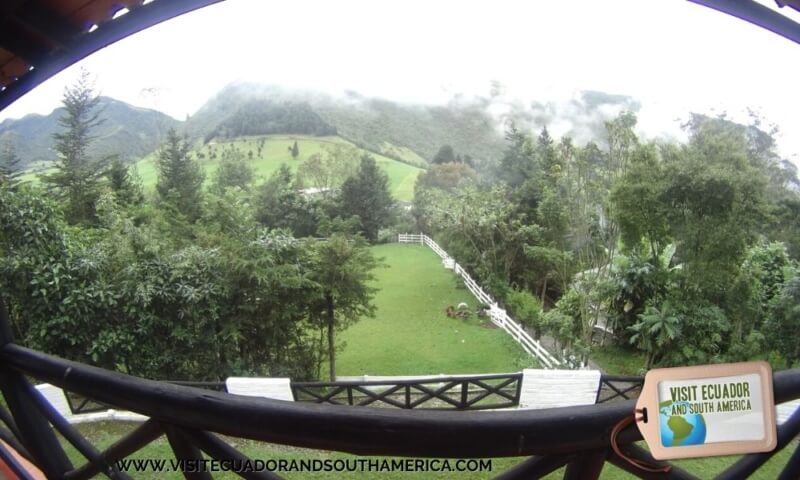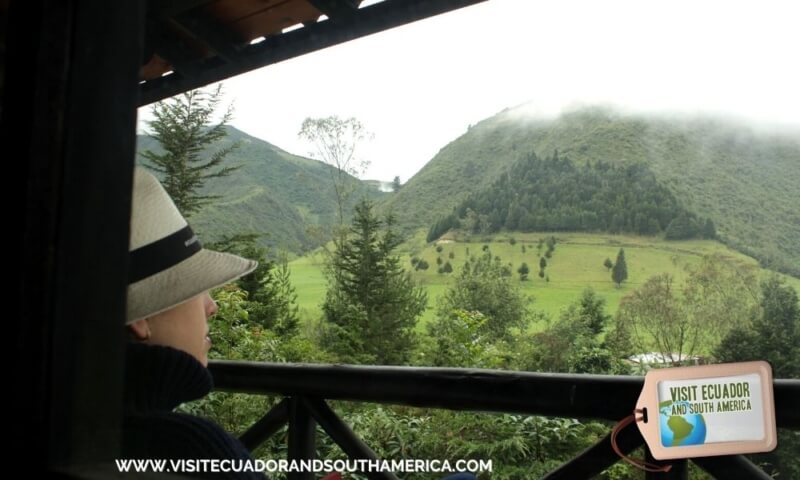 The Romantic Package
A romantic, cozy, and peaceful place to get away from the hustle and bustle of the city. We were enjoying a special night with their Romantic Getaway Package that includes comfortable accommodation (camping or room), delicious barbecue, tasty hot chocolate, firewood, a bottle of wine, and a copious breakfast with local ingredients.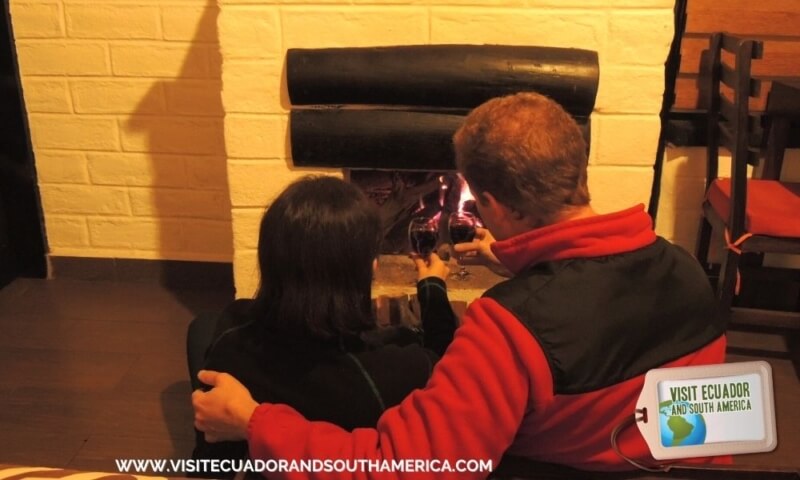 What more makes this a hygge experience? We got to sleep to the calming sound of the crackling fire and woke up to the melodies of a wide range of chirping birds. Estancia de la Campiña is located in the opposite direction of the main streets of Nono so you will not hear any passing traffic.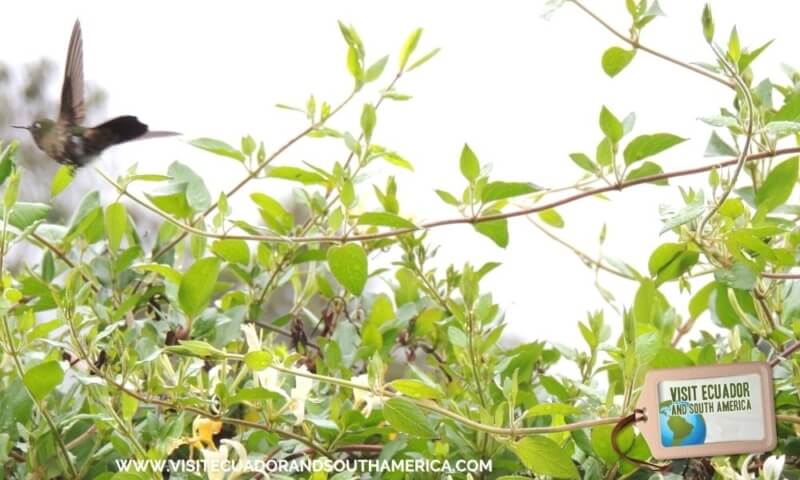 Delicious food
We were glad to discover the place for food and nature lovers in Nono, where you can breathe fresh air and savor the best-grilled cuts.
We want to highlight that most ingredients come from their garden or local farms, including fresh cheese and milk.
A visit to the countryside is not complete unless you enjoy some delicious and hearty locro soup.
There was a bit of light rain when we arrived, so having a warm bowl of locro made with local ingredients was perfect.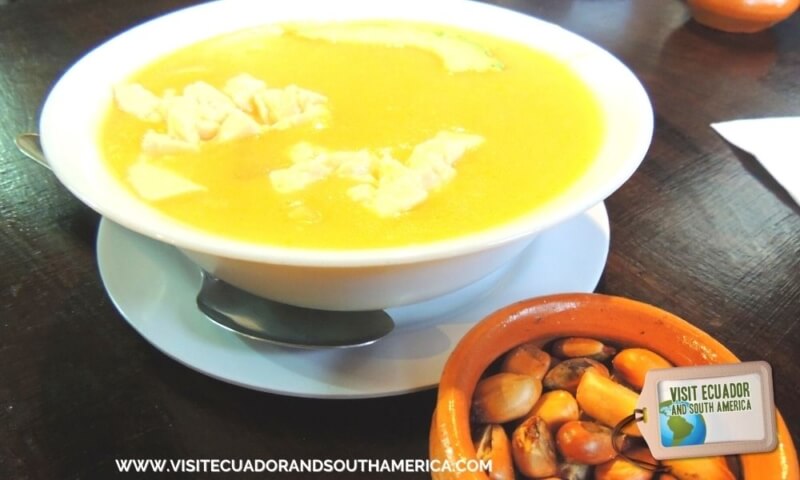 The quality of the food was outstanding! We loved the juicy chicken with thyme and the one with bbq sauce, and the ribeye steak was tender and delicious.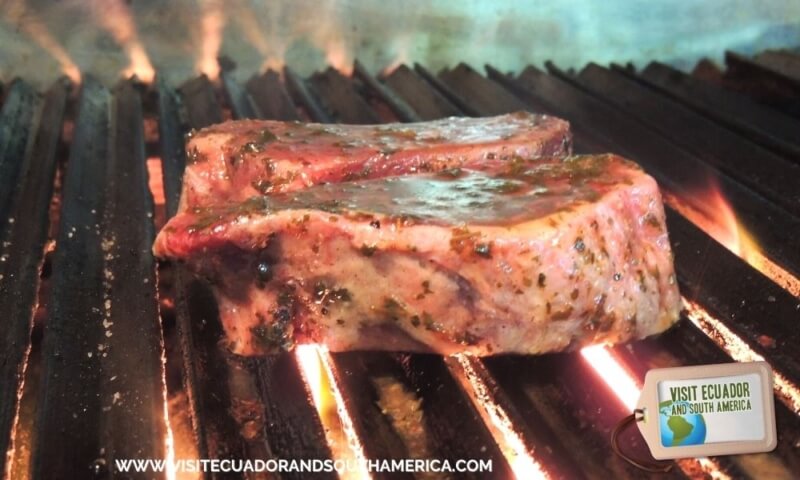 If you are looking for a place that offers good portions of some of the food of the highlands region during your visit, make sure to plan your visit and book ahead of time.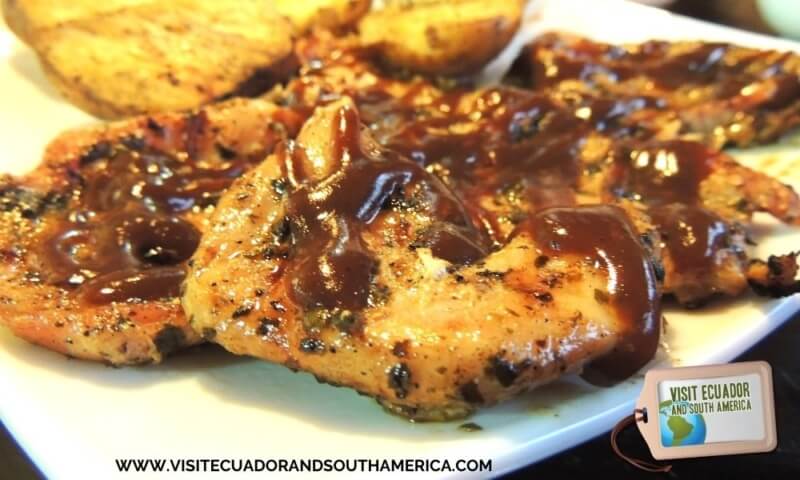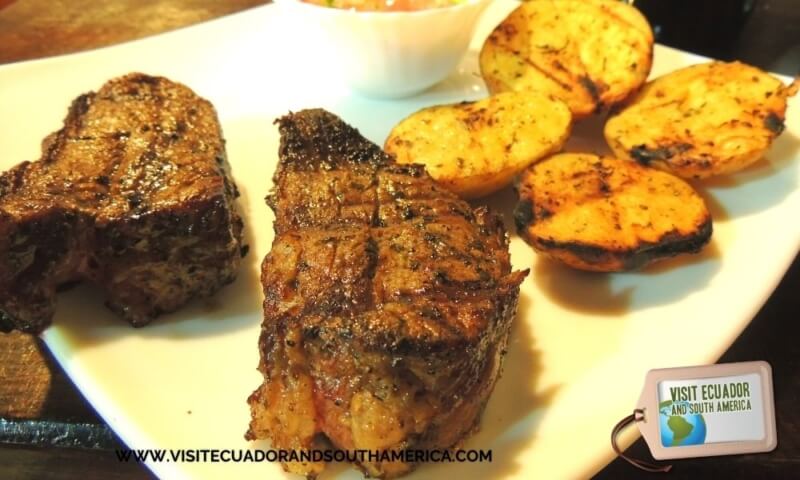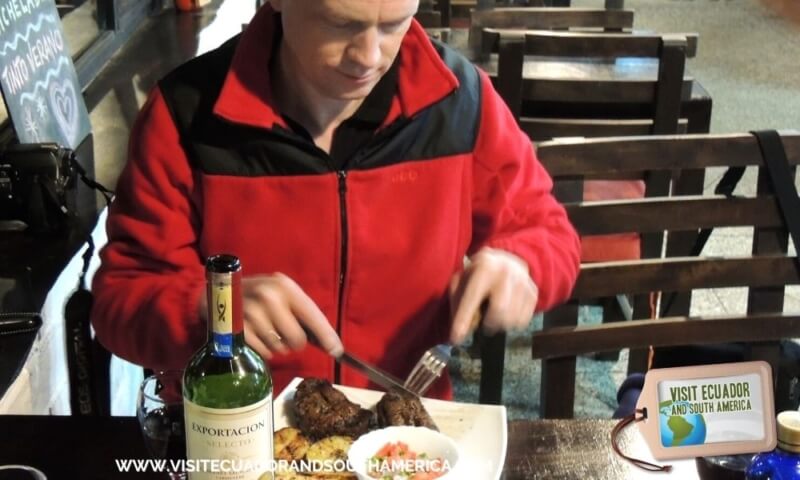 The dessert options were perfect, including international options and traditional Ecuadorian desserts.
We enjoyed tasting the wide variety of options, including higos con queso – figs with cheese – and hot cocoa with queso fresco – fresh cheese.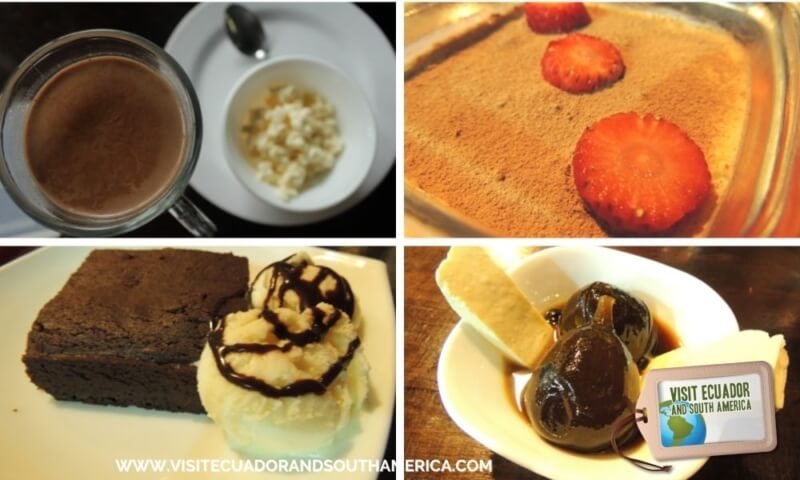 The cowboy experience 
Horses are an essential part of a family farm, and at Estancia de la Campiña you have the possibility of interacting with them by brushing or feeding them, or practicing horse riding.
Get the cowboy therapy by taking in the landscapes and fresh air on horseback if time allows it.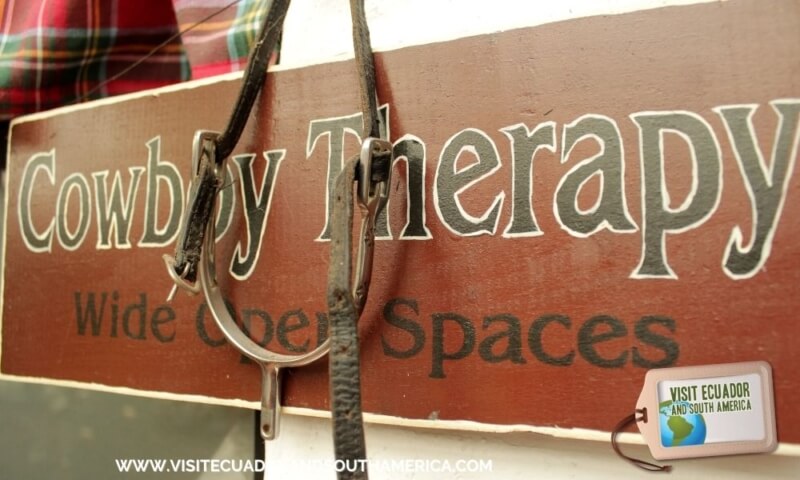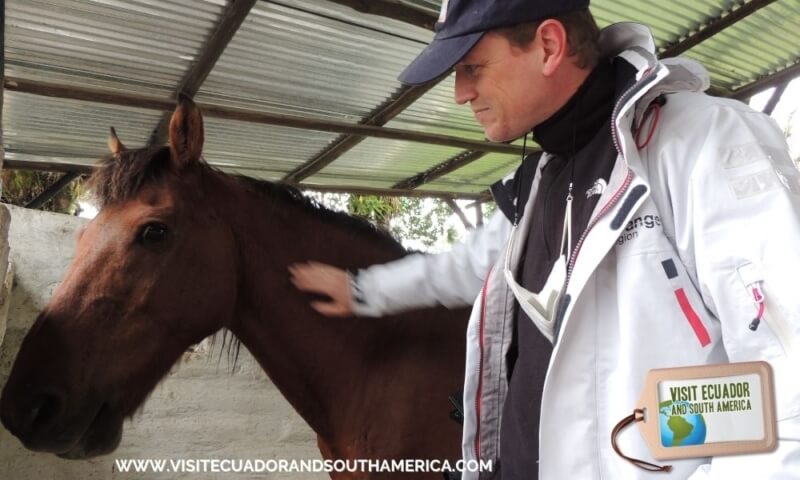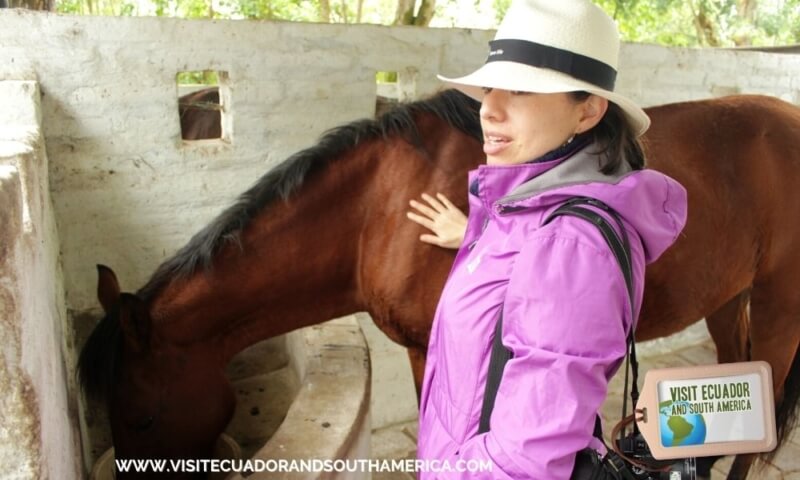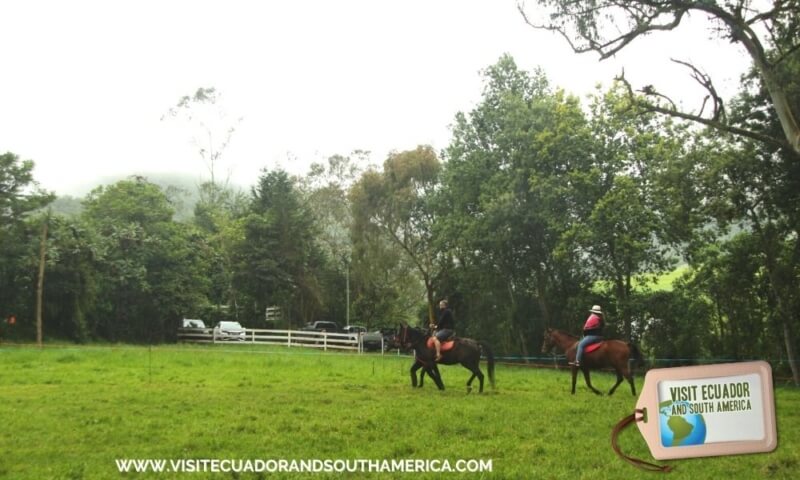 Good service
We have to highlight the service at Estancia de la Campiña. The staff was very friendly and helpful, and ready to prepare the food we needed, start our fireplace, and answer any questions we had.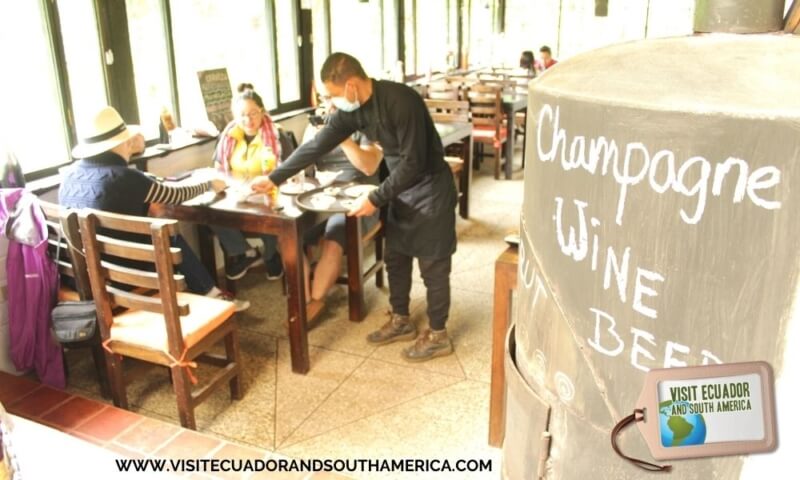 Activities
A short walk through the ecological trail will bring you to a vantage point and a natural cave—both perfect options to connect with nature.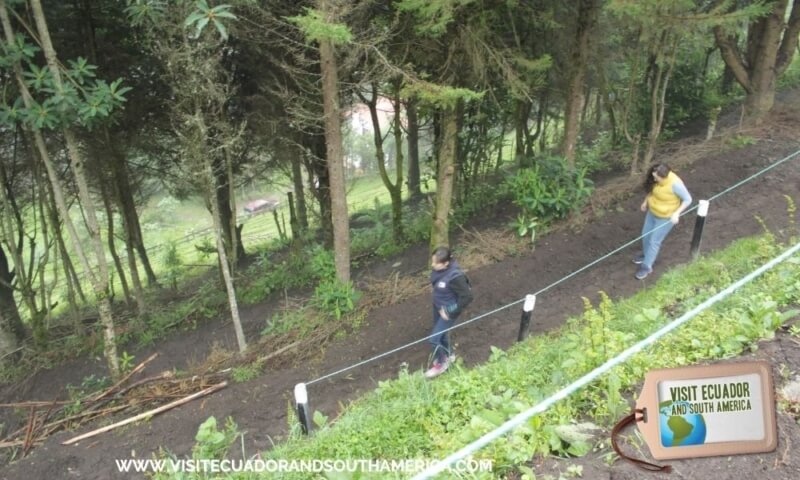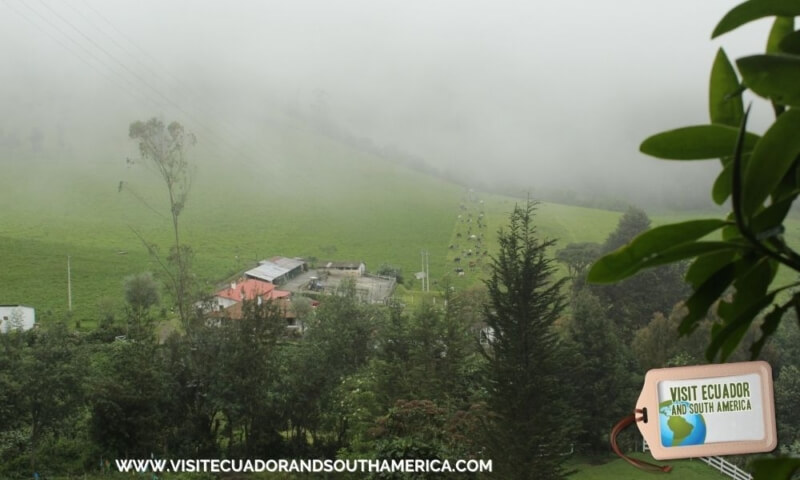 How to get there
Direction by Car, use WAZE and look for Nono, Quito, Ecuador. There are signs guiding you to Estancia de la Campiña, and it is easy to find.
Direction by Public Transportation Go to the La Ofelia bus station in Quito and look for companies heading to Nono.
What to bring
To fully enjoy your stay:
Sunglasses, sunblock, and a hat; remember that the equatorial sun is intense since you will be outdoors for long periods.
Warm or woolen clothes, because it can get cold, especially at night if it is rainy season.
A rain jacket and perhaps a pair of rain pants and an additional pair of shoes.
Warm pajamas.
If you can, a water bottle can help nature and the environment while you stay hydrated.
Dress in layers as you will quickly get warm during the walks, and when the sun is out, the weather can get hot.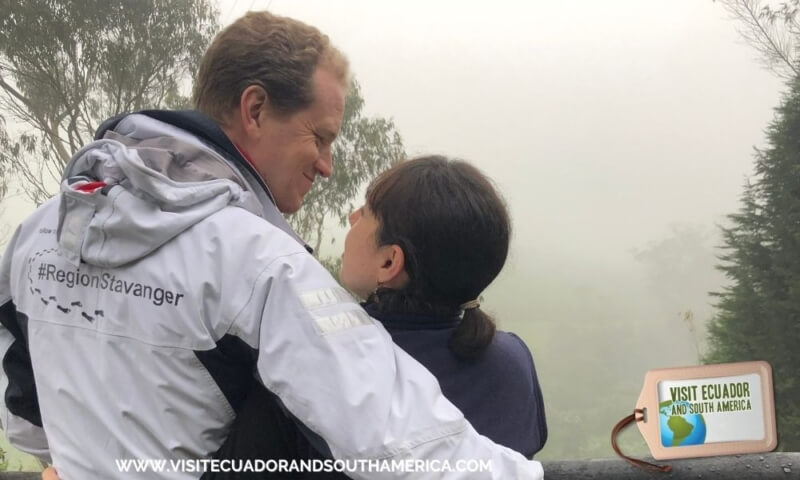 Conclusion:
Whether you want to escape the hustle and bustle of the city and take a break from your daily routine or want to immerse yourself in an experience that will bring hygge to your heart and peace to your mind, we can highly recommend this Estancia in Nono.
We can also highly recommend Estancia de la Campiña if you want to escape the routine or go on a romantic escapade. This rural farmhouse is the place to experience hygge, enjoy delicious food with local ingredients and go horse riding or hiking.
Editors Disclosure: I was a guest of Estancia de la Campiña. As always, all opinions expressed here are entirely my own and based on my personal experience.
If you found this page helpful, I would appreciate it if you would pin, share or tweet it on any social media platforms you use! Every little bit will help fund our travels and continue to bring great content to our site!
Planning a trip soon? Comment below or send me an email. I can help you plan your trip.
PIN IT FOR LATER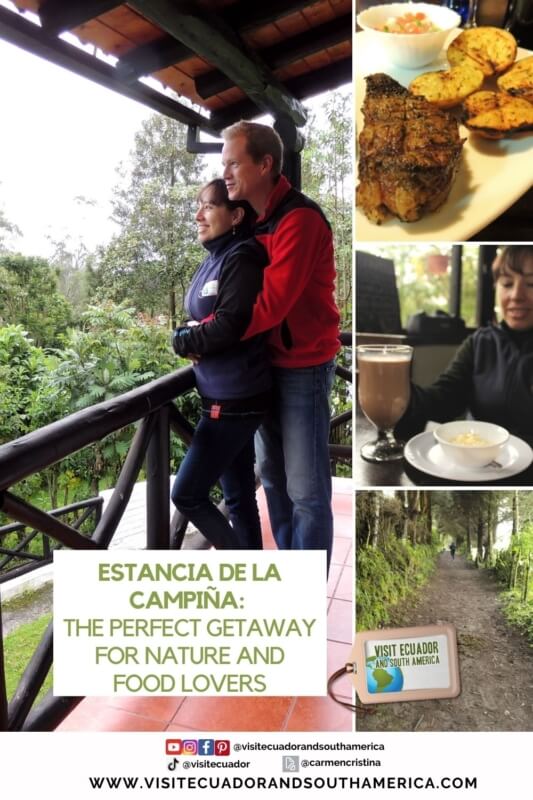 Don´t just dream it. Make it happen. Plan your South American trip with a local!
Take a look at this list of travel resources to plan your trip and travel in South America. Are you daydreaming about your trip to South America? Order here your Free Ebook. I share some valuable tips & resources for a memorable trip! I invite you to follow me on Facebook, Twitter, Pinterest, and Instagram. Besides, you can subscribe on YouTube. You can also send an email to help plan your trip: info(at) visitecuadorandsouthamerica(dot)com.