Hosteria Terrabambu Lodge: An amazing place to relax and enjoy natural surroundings in Mindo.
Adrenaline sports, nature, and birdwatching are some of the activities that seduce visitors to the town of Mindo year-round.
Nestled in the heart of the cloud forest, only 2.5 hours away from Quito, Mindo is a popular getaway for us quiteños.  The perfect spot to recharge, connect with nature, and explore the Mindo-Nambillo Cloud Forest.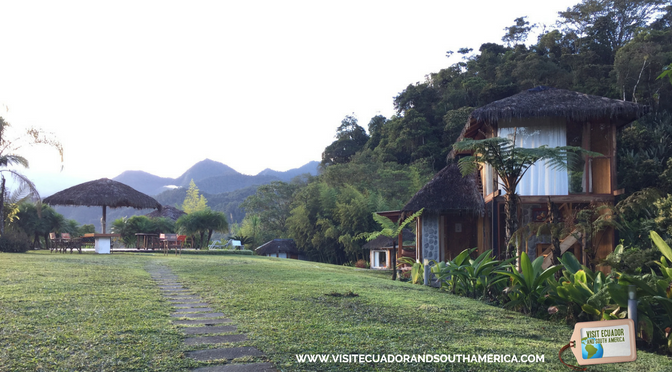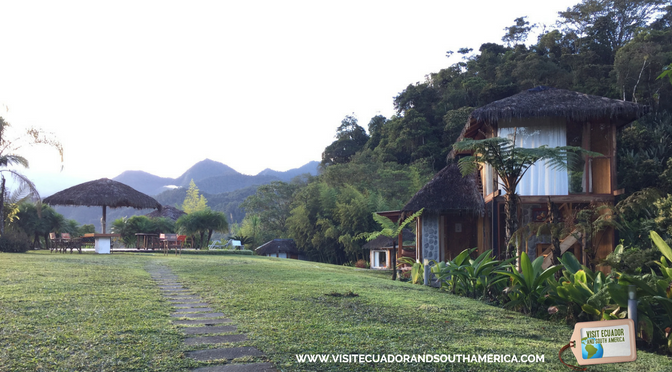 About Terrabambu
Terrabambu is perched in the hillside of Mindo, providing space for a pool area with views of the unspoiled cloud forest.
The Lodge has 5 modern cabins with 2 floors or more, beautifully decorated. Each one of them with a bedroom and a full bathroom.
There is ample space around each cabin, which is ideal for those who treasure privacy and seclusion in their vacation. 
At Terrabambu I was able to combine, the joy provided by the natural surroundings and the fun activities in the lodge.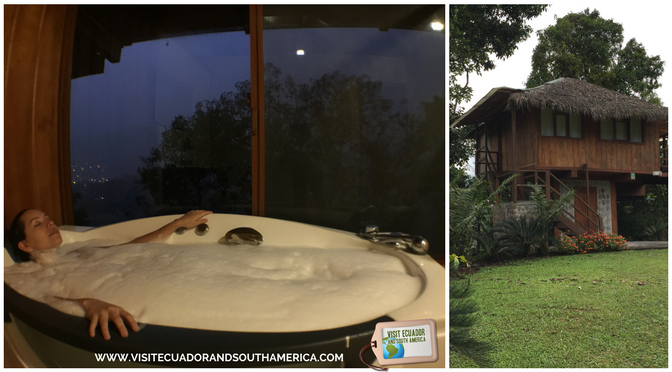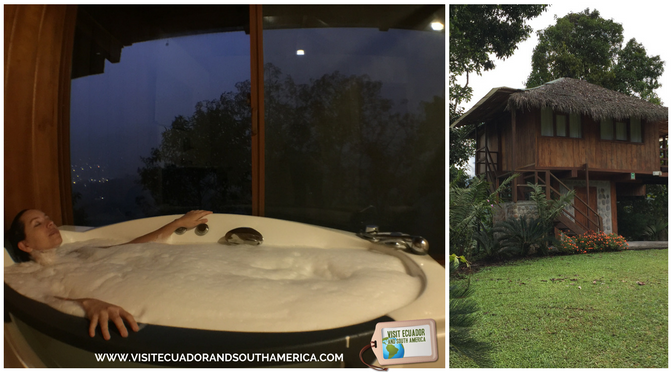 The Cabins
This restaurant and lodge with its gorgeous location succeeds to create a relaxing and magical ambiance. The cabins are built in harmony with the surroundings, with comfortable, big spacious rooms, jacuzzi, private bathrooms on each floor, and cable TV.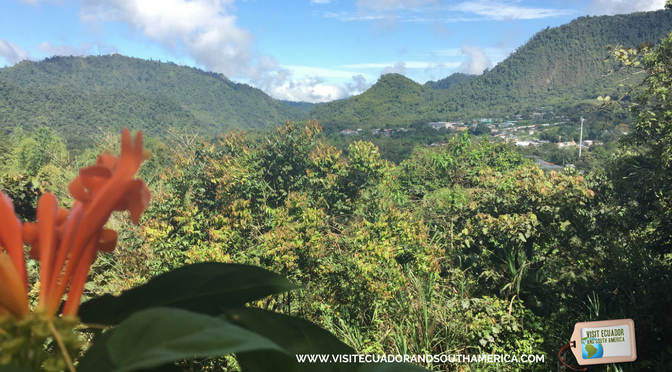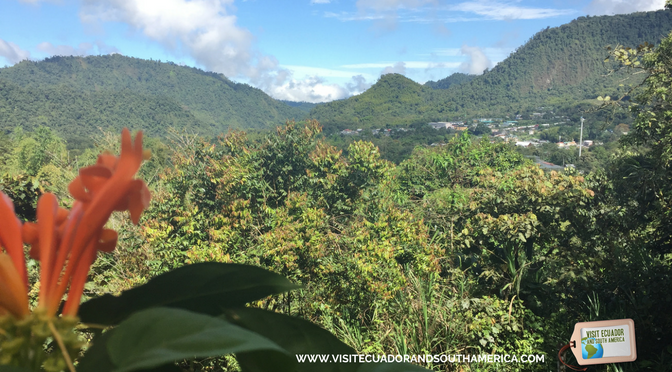 Location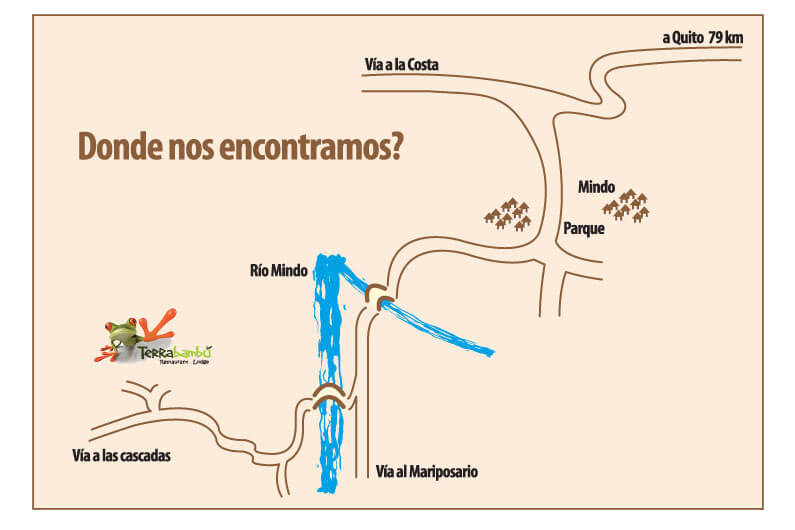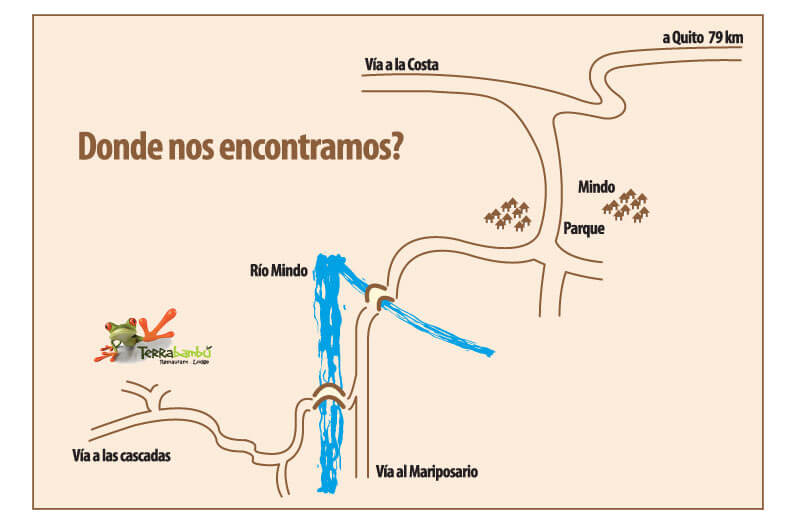 Terrabambu is located in a beautiful area, just 15 minutes from the main entrance to Mindo.  Google Maps can assist you to find the address if needed.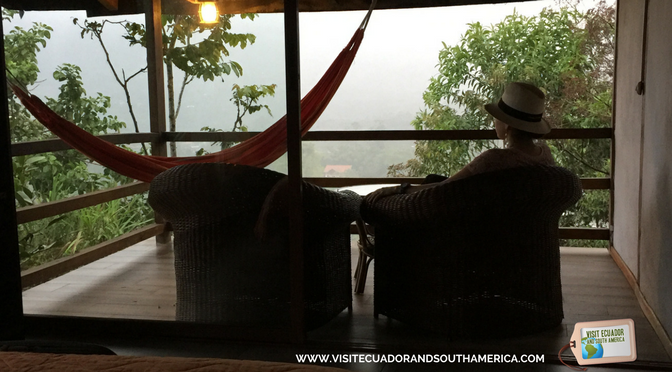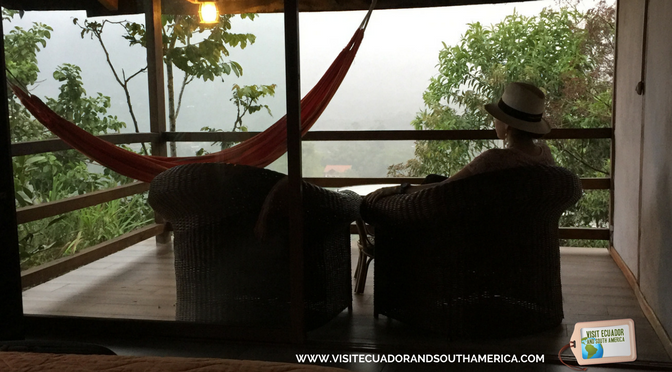 On my first day I loved taking in the views while resting in the hammock on the balcony on the top floor of our cabin.
throughout our stay at  Terrabambu Lodge, I was highly satisfied with the warm and professional service offered by the staff.
For our road trip, it was wonderful that the hotel offers free parking among other amenities.
OUTDOORS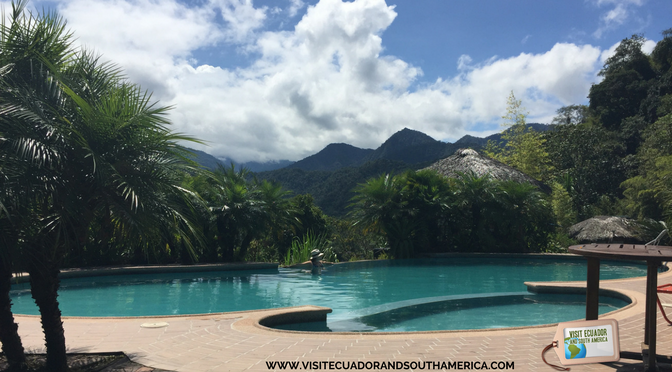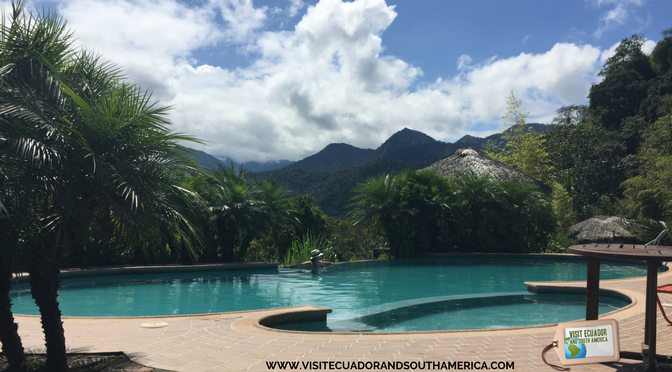 During my second day at Terrabambu, I decided to go in the pool and as I am basking in the equatorial sun I get to enjoy some colorful visitors, chirping and enhancing the already beautiful scenery.
The pool is located as a focal point for the cabins on that side of the lodge and visitors can enjoy beautiful views of the cloud forest from the pool area.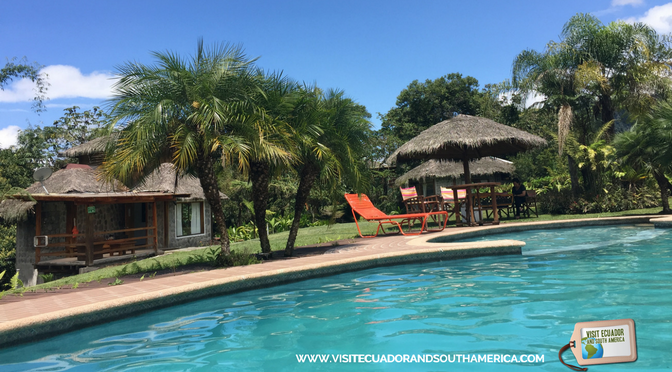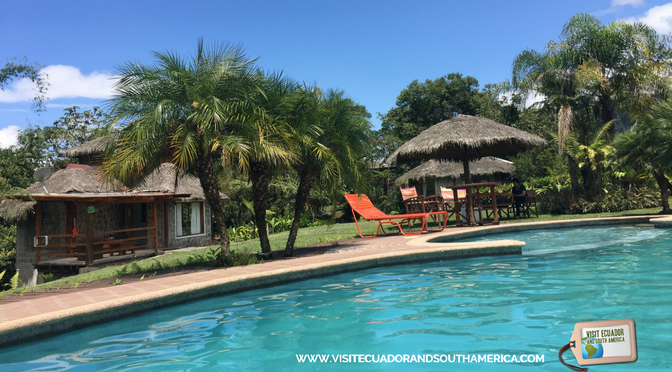 If you are in South America I would love to see your pictures.
CANOPY, GAMES
Another great feature of Terrabambu Lodge is the wide range of activities they offer in situ. Including canopy, ping-pong, birdwatching, pool, and the swimming pool.

The restaurant

It was great to find the ample breakfast room warm and well-lit by the sun rays. Once guests set foot in the sitting area outside the restaurant they get to marvel at the scenic views of the valley of Mindo and the cloud forest below.
Breakfast is included, it has fruit, yogurt, bread, eggs, juice, and coffee.
Enjoying dinner on the second day we had wonderful opportunities for a close encounter with some of the 156 species of birds spotted in Mindo.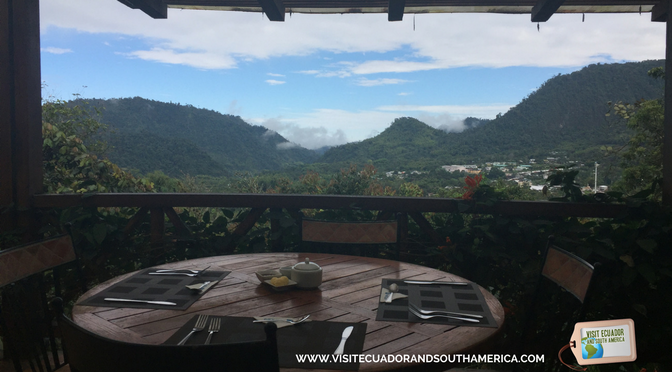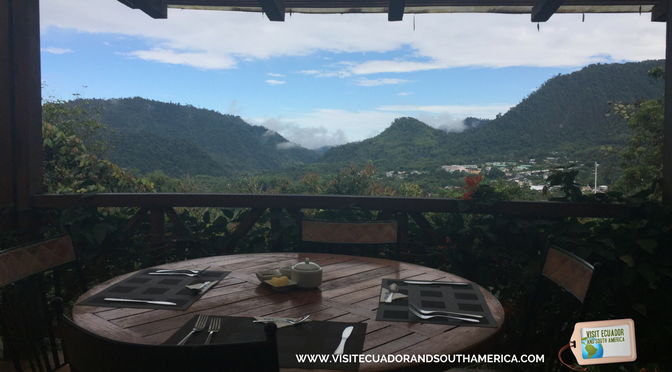 I was able to capture on video a bit of the birdwatching experience at the Lodge. I loved admiring the colorful vibrant plumage of toucans from a near distance.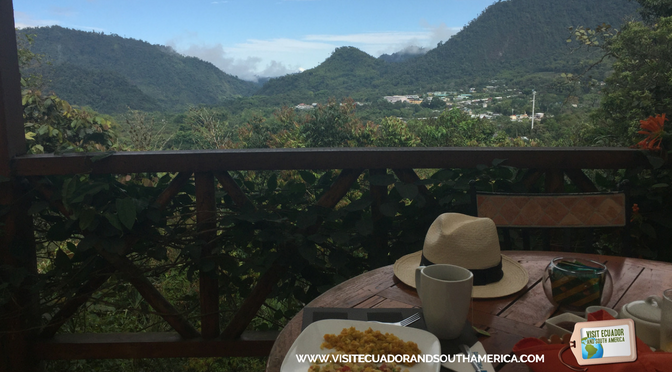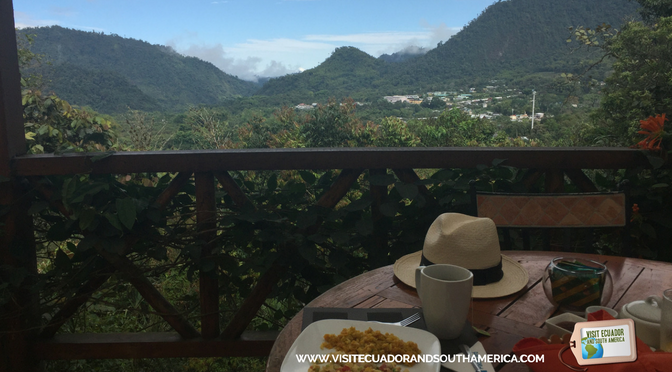 Activities nearby:
You can ask at the front desk or read here other activities to enjoy in Mindo.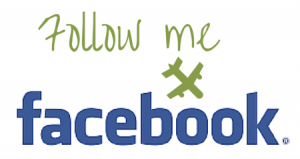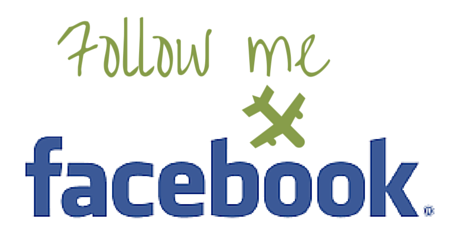 Conclusion:
I loved the careful and tasteful planning behind this lodge.  Each detail designed to provide guests with awe-inspiring vistas, and having the heated pool as the prime focus.

I have enjoyed the amenities offered by Terrabambu, from the free wi-fi to the complimentary breakfast overlooking the valley of Mindo, perfect for birdwatching.  The service provided is warm and friendly and all cabins are spacious, comfortable, and provide lovely views.

I can highly recommend booking your stay here. Hosteria Terrabambu Lodge for me is the perfect place to enjoy a weekend getaway and recharge, near Quito.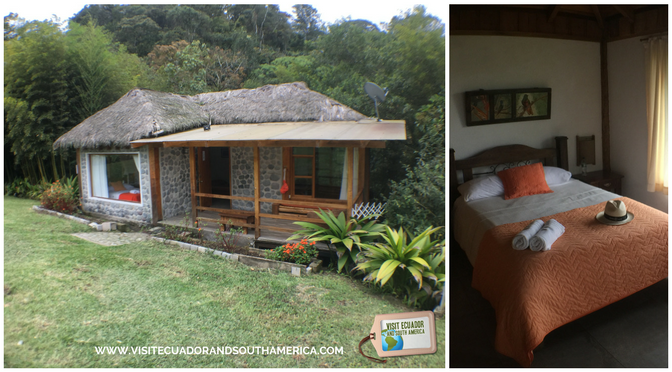 Imagine soaking in the equatorial sunshine, birds chirping while venturing to the pool area while you lay on a bench by the pool. This is what Terrabambu provides its guests.
To book your stay, visit: Terrabambu Mindo. Why not also book your ride to Mindo?
Editors Disclosure: I was a guest at Hosteria Terrabambu Lodge. As always, all opinions expressed here are entirely my own and based on my personal experience.
If you found this page helpful, I would appreciate it if you would pin, share or tweet it on any social media platforms you use! Every little bit will help fund our travels and continue to bring great content to our site!
Planning a trip soon?  Comment below or send me an email, I can help you with more tips to save money or to plan your trip.
PIN IT FOR LATER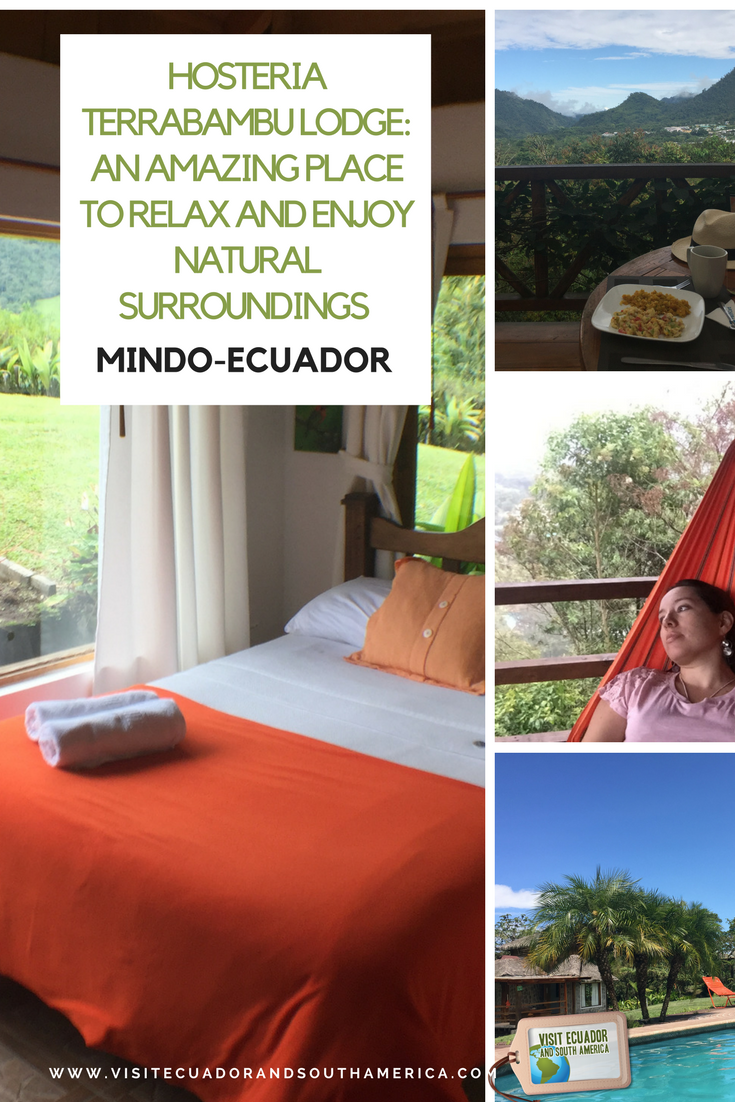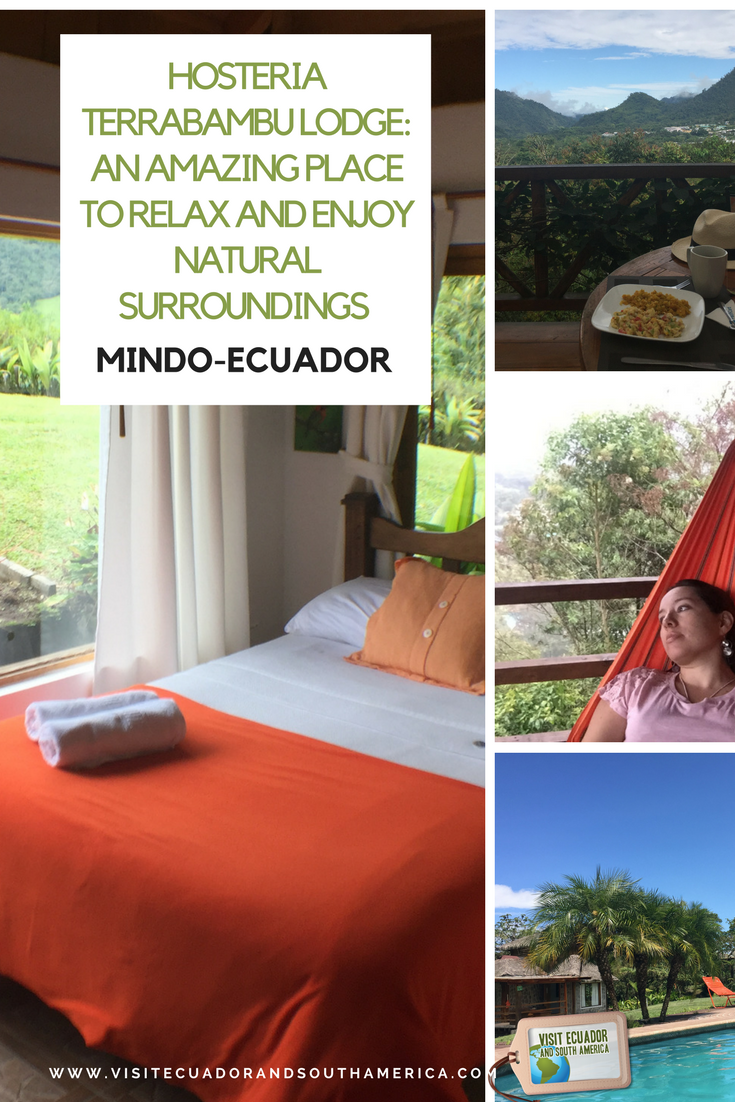 If you want more in-depth information and also a guide that you can bring along during your trip, I recommend the travel guide Lonely Planet Ecuador & the Galapagos Islands
.
This is a great source of information and tips, maps, and all you need if you plan on visiting Ecuador. I personally like the option of having a hard copy version where I can take notes and have them at hand.
Don´t just dream it, make it happen. Plan your South American trip with a local!
Take a look at this list of travel resources to plan your trip and travel in South America.
Daydreaming about your trip to South America? Order here your Free Ebook, I share with you some useful tips & resources for a memorable trip!
I invite you to follow me on Facebook, Twitter, Pinterest, and Instagram. In addition, you can subscribe on YouTube.
You can also send an email to get help planning your trip: info(at) visitecuadorandsouthamerica(dot)com