Cacao fruit and the source of chocolate: Ecuador
Cacao was born in Ecuador, with the first records dating back to over 5,000 years ago.
The fact is that at first, it was believed that the Aztecs, Mayans, and Toltecs were the first to start consuming cacao. But, according to recent scientific findings, cacao consumption was a common practice more than 5,000 thousand years ago in the Ecuadorian Amazon Region.
Ecuador is now known worldwide as a source of Fine Aroma Cacao.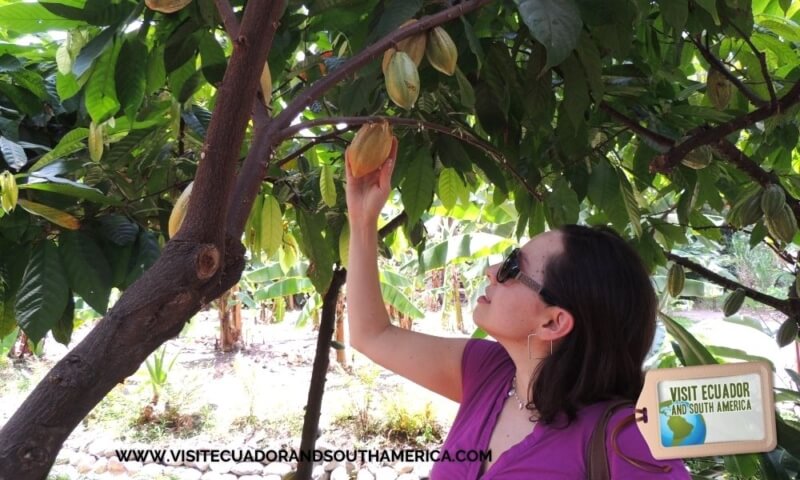 The above picture shows what chocolate looks like as it grows and ripens on the tree, that is the cacao pod.
About Cacao
When the cacao pod is ripe, it is cut from the tree and opened to reveal the fleshy fruit inside. You find rows of seeds, as you can see in the picture below.

Cacao pods
The pod is the fruit of the cacao tree,  is between 4 and 12 inches long, and inside them is the raw product used to make chocolate and cocoa in its many forms. The color as shown in the picture below can vary, and go from yellow to orange to purple.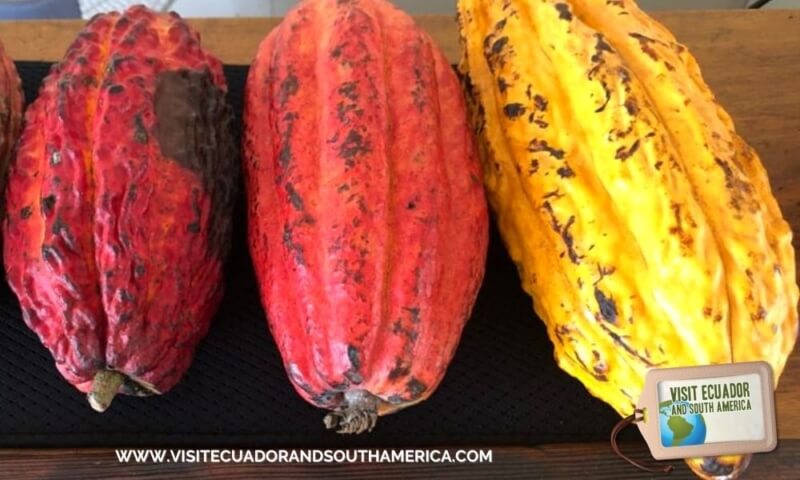 If you are in South America, I would love to see your pictures.
What it tastes like
Each pod has between 20 and 40 seeds, covered in white flesh with a fresh, juicy, sweet-sour, and slightly acid flavor to them.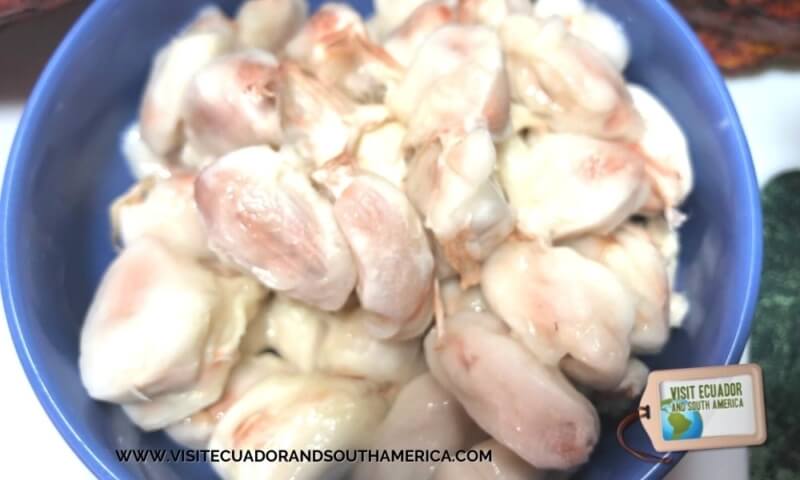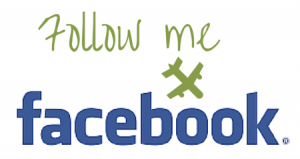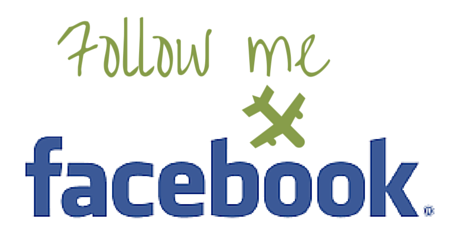 How and where to eat it
Finding cacao pods ready, that you can eat is not easy, but it could be easier to find them if you go on a chocolate tour or travel to the Coastal region, where you find small stalls with a wide variety of fruits for sale.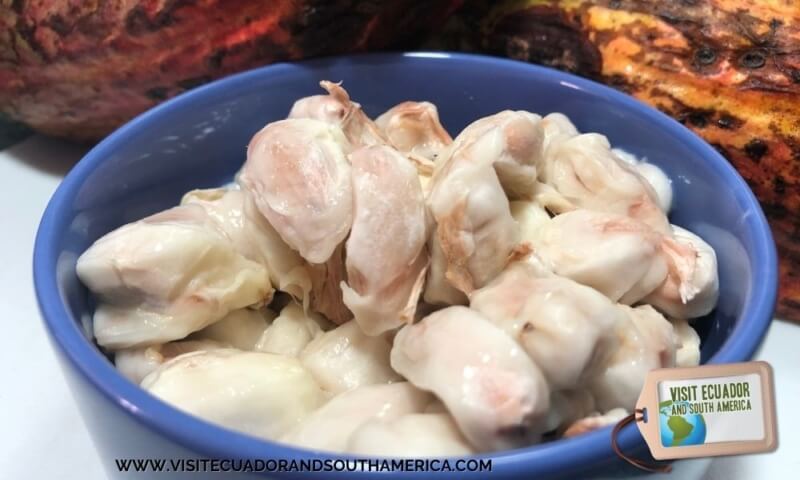 In Ecuador
If you want to buy amazing Ecuadorian chocolate bars, you can do so in stores, the supermarket, and even the airport. But in order to have a complete experience, we recommend you visit these stores, where you get more than chocolate. Republica del cacao boutique, Kallari Chocolate Cafe.
Online
If you would like to order some tasty Ecuadorian chocolate bars, you can do it here: https://amzn.to/32yQquD.
Use this link to order some chocolate from one of the best brands of Ecuadorian chocolate, Pacari. 
Pacari has won International Chocolate Awards for their organic premium Ecuadorian chocolate, and it includes blueberries!
Cacao to chocolate
The part of the cacao plant that is used to make chocolate is the seed. You can find dark, 55%; and milk chocolate, 77% cacao, and bars with different flavors and ingredients.
If you want to learn more about the process, visit. https://www.tavernierchocolates.com/chocolate-source-ecuador/
Cacao to cacao nibs
Once the beans are roasted, the kernel inside is what is known as cacao nibs. We personally love adding cacao nibs to our cereal to add a dose of antioxidants and crunchiness to our food.
Cacao to cacao tea
Once the cacao beans are roasted, the peel that remains is used to make cacao tea.
Have you tasted cacao fruit before? Let me know here!
If you found this post inspiring and helpful, We would appreciate it if you would pin, share or tweet this page on any social media platforms you use!
Every little bit will help us fund our travels to continue bringing great content to our site.
PIN IT FOR LATER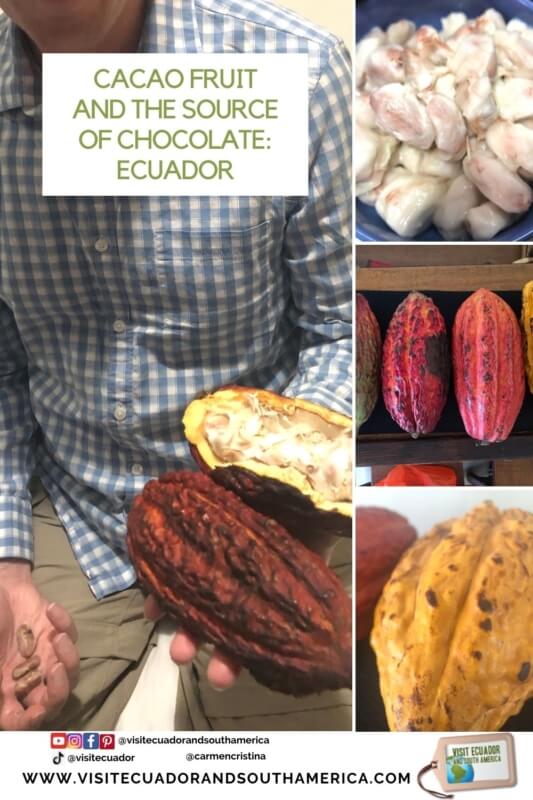 Want to Learn to make some of these dishes and many more? This book: Gran Cocina Latina: The Food of Latin America, comprises 500 well-written recipes from all Spanish-speaking countries in Latin America, providing great information and recipes of the exciting food you can prepare at home. At the same time, you plan your visit to South America.
Don´t just dream it. Make it happen. Plan your South American trip with a local!
Take a look at this list of travel resources to plan your trip and travel in South America.
Daydreaming about your trip to South America? Order here your Free Ebook. I share with you some useful tips & resources for a memorable trip!
I invite you to follow me on Facebook, Twitter, Pinterest, and Instagram. In addition, you can subscribe on YouTube. You can also send me an email to get more information or help planning your trip: info(at) visitecuadorandsouthamerica(dot)com.