Best things to do in Cuenca Ecuador on foot
Hey there, fellow travelers! If you're wondering what are the best things to do in Cuenca Ecuador on foot, we have you covered.
Growing up I would visit at least once a year my grandparents in Cuenca, and their house was located in downtown Cuenca, with the iconic gems a short walk away.
This is why today I want to share with you how easy and rewarding it is to explore this part of the city on foot and what to see.
If your schedule allows it try to embark on a memorable road trip from Quito to Cuenca, so you can enjoy all the landscapes and attractions along the Andes region.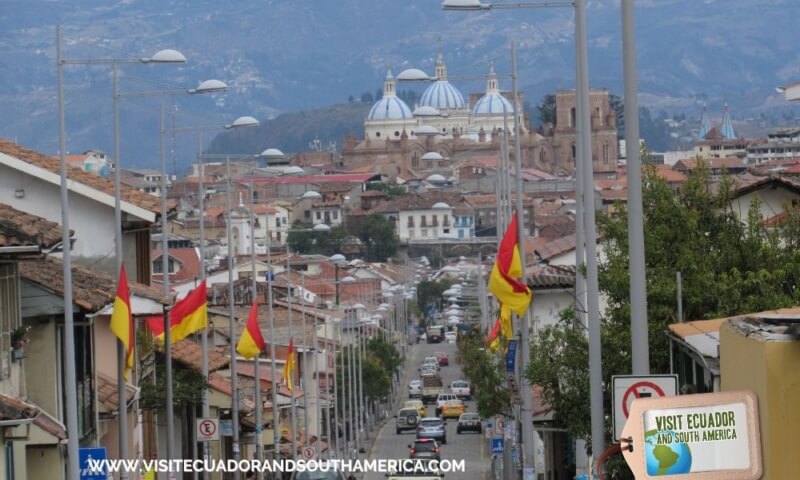 Welcome to the enchanting city of Cuenca, Ecuador. Nestled amidst the breathtaking Andean mountains, Cuenca has been declared a World Heritage Site by UNESCO and it offers a perfect blend of historical charm and modern attractions. Lace-up your walking shoes because we're about to embark on a memorable two-day adventure, exploring the best things this vibrant city has to offer on foot.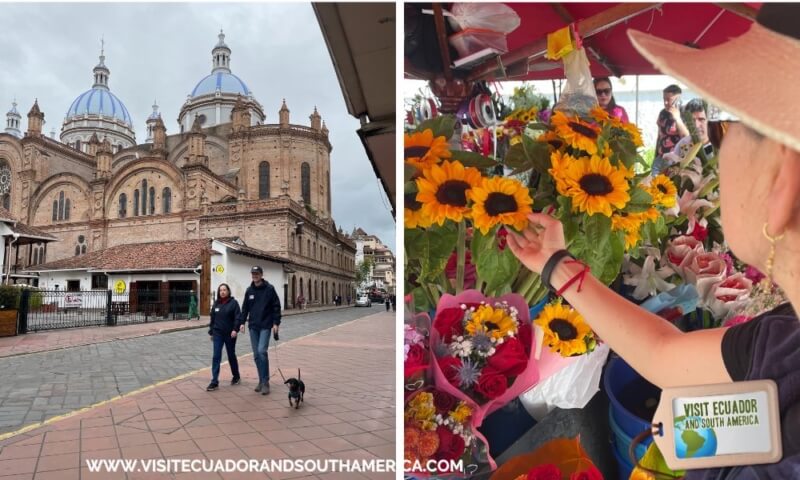 Day 1: Immersing in Cultural Delights
Morning: Start your day with a hearty breakfast at your hotel and head straight to the heart of the city, Parque Calderon. This central square where many locals gather to take take in the sun and chat, is surrounded by magnificent colonial buildings, including the impressive Catedral de la Inmaculada Concepción. Take a moment to appreciate the architecture and soak in the atmosphere. If possible go inside the Cathedral to admire its wonderful glass windows and the artworks that decorate its interior, making it an architectural and religious landmark. Next to the cathedral, you will find the Plaza de las Flores, a lively market full of colorful flowers which is worth visiting.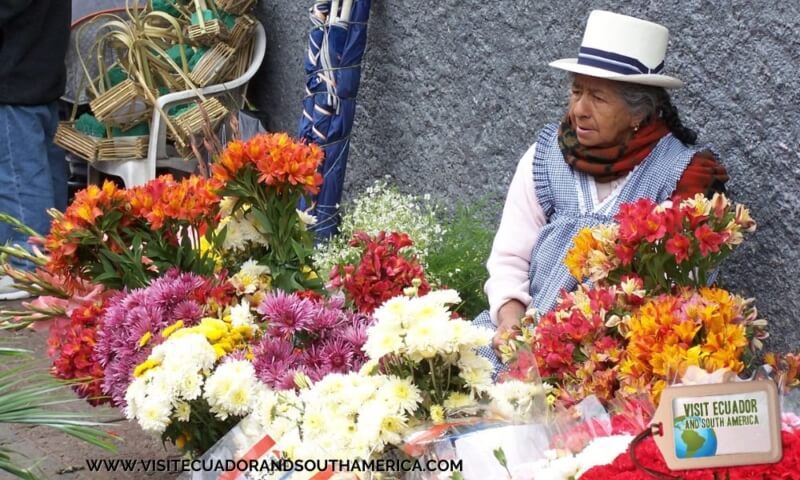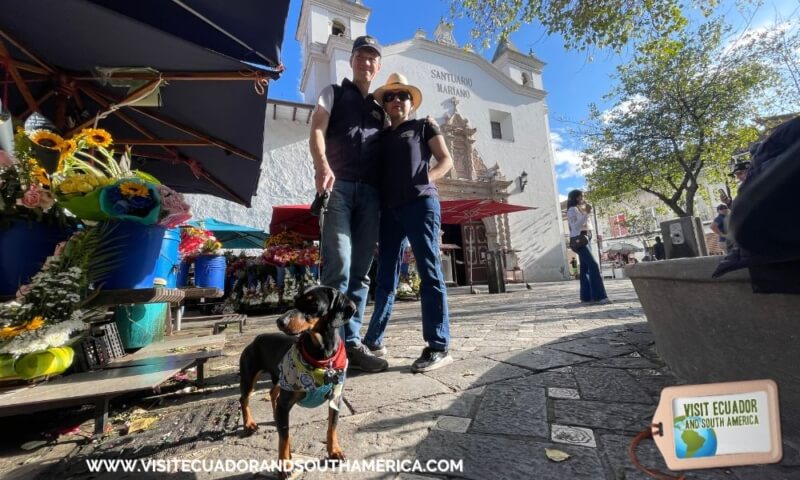 Next to the Cathedral, you find the Seminario San Luis, which is an enchanting place with nice coffee shops and restaurants facing the courtyard. Don't miss the cathedrals tour which runs out of the tourism office, located on the side of the Park.
Next, make your way to the nearby Museo de las Conceptas. This fascinating museum offers a glimpse into the history and art of Cuenca through its extensive collection of religious artifacts and artwork.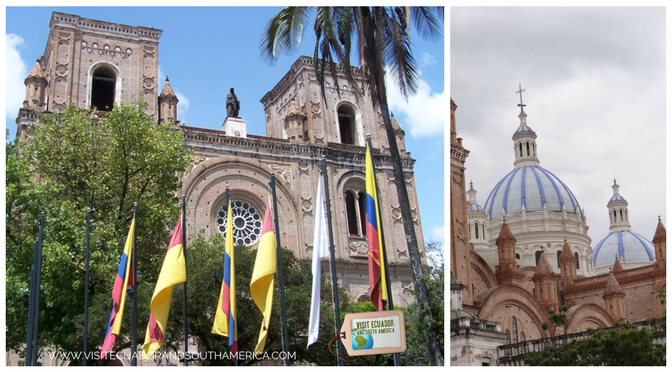 Afternoon: Take a leisurely stroll along the cozy Plazoleta la Merced, on your way to charming Calle Larga which is a bustling street lined with cafes, shops, and art galleries. You'll find yourself immersed in the local culture, with street musicians and artists showcasing their talents. Stop by the Museo de Arte Moderno to admire contemporary works by Ecuadorian artists.
For lunch, visit Raymipampa to savor traditional dishes like locro de papas (potato soup) or empanadas, or if you want to have a tasty almuerzo or a delicious brunch, head to Cafe del Parque in Calle Benigno Malo. This is a beautiful cafe with friendly staff and a broad menu that will satisfy your hunger.
For dessert, head to Madame, a restaurant (and cocktails bar) with extreme attention to detail in everything, from dishes presentation to interior decor and also offering outstanding views over the plaza. This is the place to indulge your taste buds. Don't miss their mouthwatering desserts.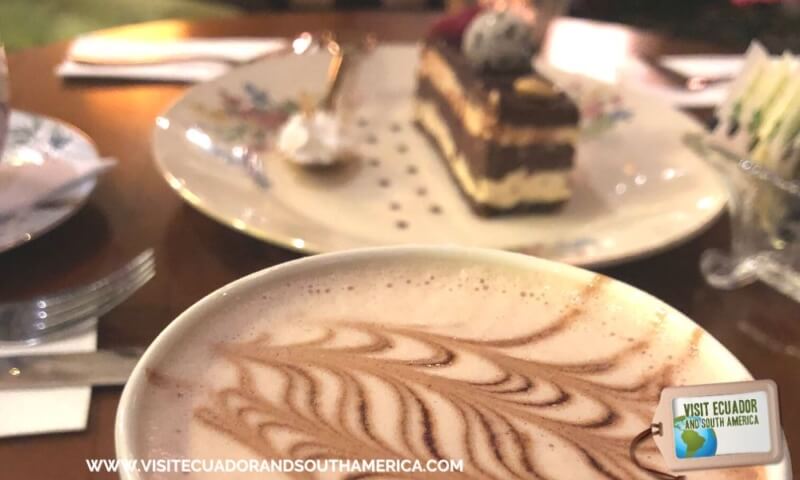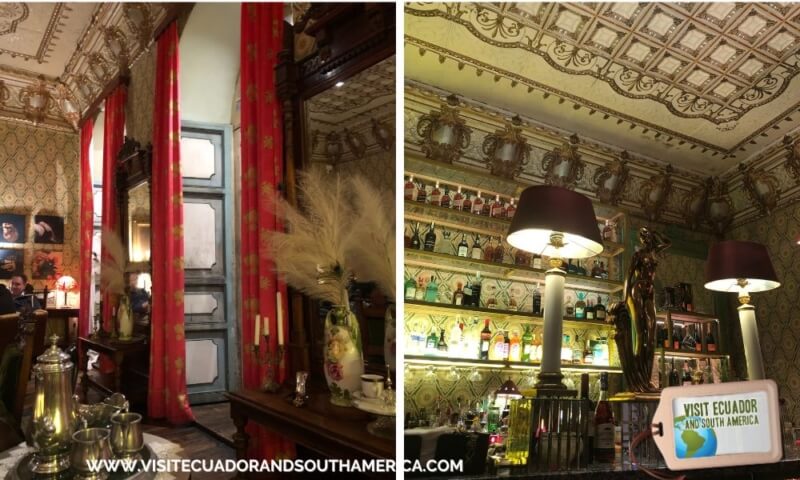 For a late dessert or a treat, head to Helados de la Tienda, a delightful ice cream shop known for its unique flavors. Treat yourself to some of the local favorites like mora (blackberry) or amor gitano. Or visit Tutto Freddo, which has ice creams, shakes, and other desserts made with lots of cream, chocolate, and sugar. Get ready to get a sugar rush!
Evening: As the sun begins to set, make your way to San Sebastian Square, a vibrant hub of local life. Join the locals for a game of chess, eat some Belgian waffles and German food, or enjoy the live music performances that sometimes take place here. Take a moment to explore the nearby San Sebastian Church, known for its beautiful blue-domed towers.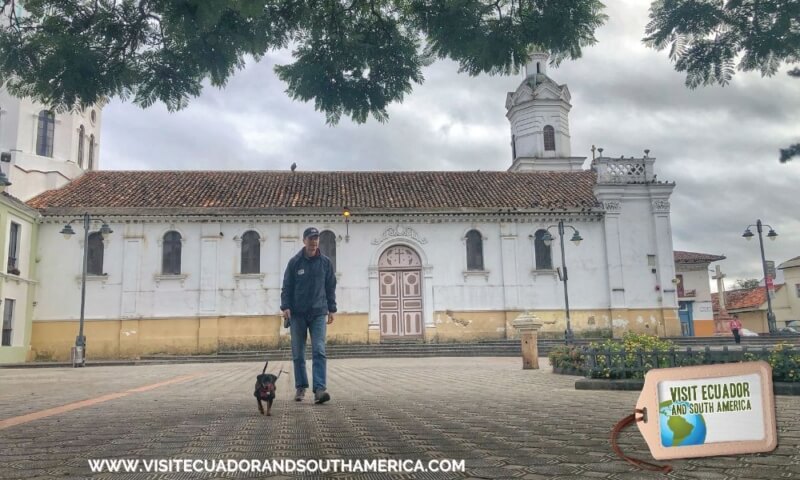 Day 2: Exploring Nature and Heritage
Morning: Start your day with a visit to the Museo Pumapungo, located within the grounds of an ancient Inca archaeological site. Explore the museum's exhibits to learn about the region's rich history and cultural heritage. Don't miss the beautiful gardens and the view to the river.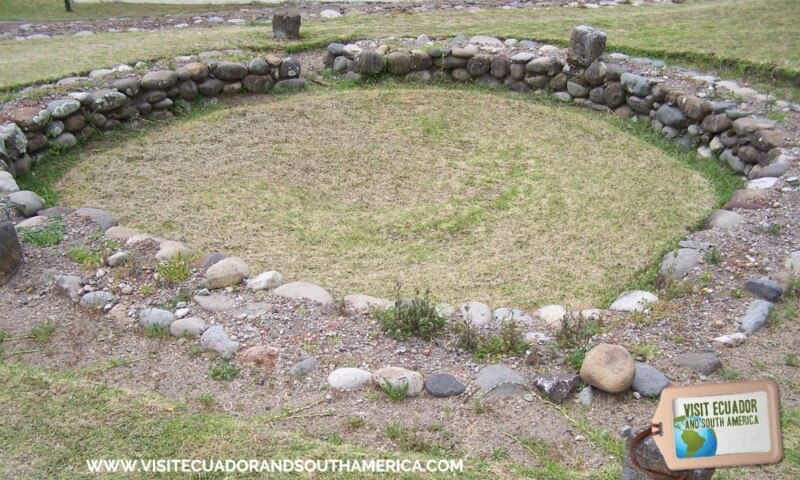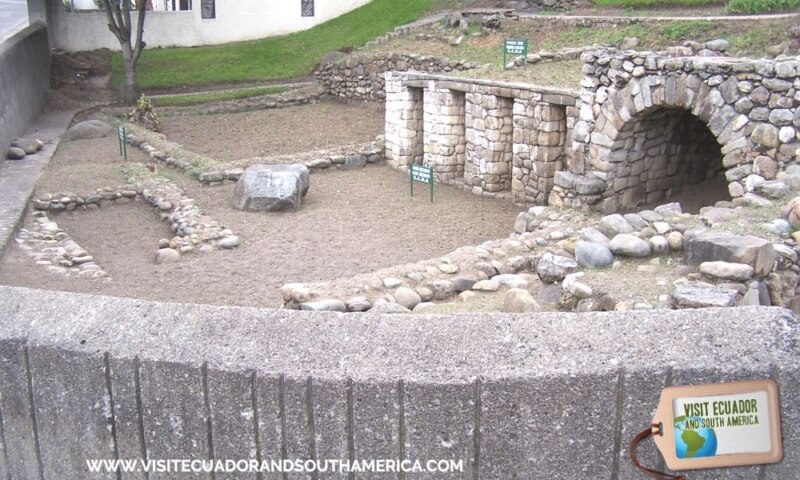 Afterward, take a taxi or even better the, hop on hop off the bus to the Mirador de Turi, to take in the impressive panoramic vistas of Cuenca's red-tiled roofs and the surrounding mountains. Capture some memorable photographs to commemorate your visit. And if you want a pet-friendly place with tasty food and a breathtaking view over the city, visit Hell's.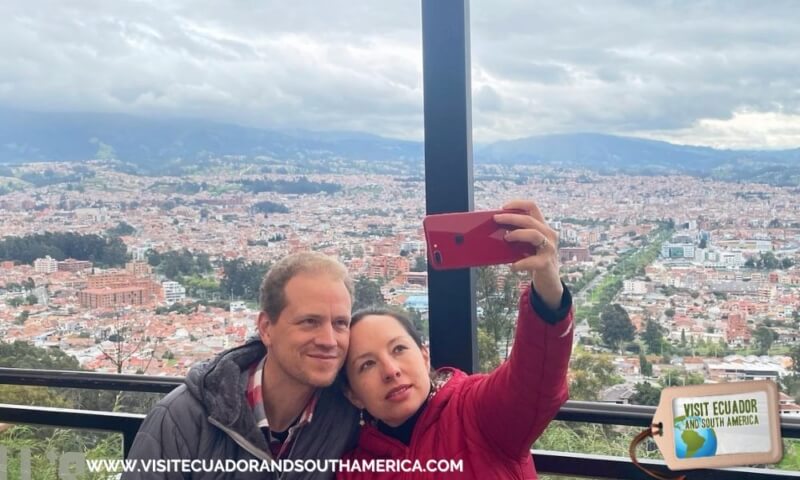 Afternoon:
Plan a) Enjoy a delightful meal at Cafe Negroni, and take in the spellbinding vistas over the Cathedral and Parque Calderon.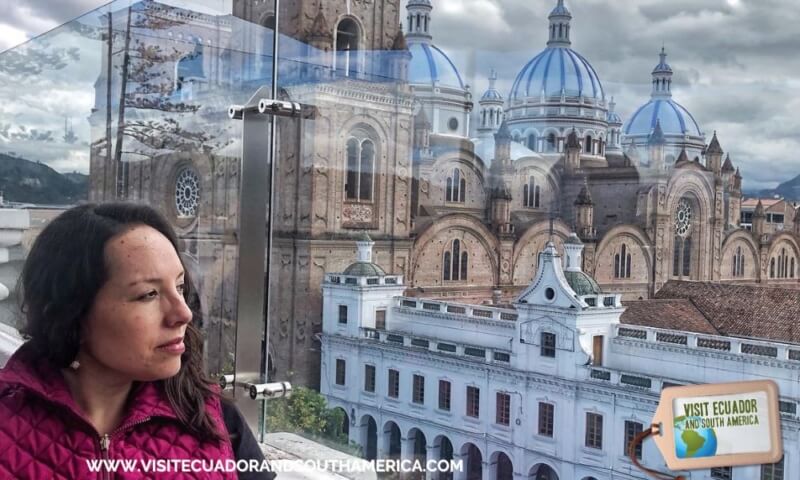 Plan b) Satisfy your hunger with a delicious lunch at a local Mercado (market). Sample traditional Ecuadorian street food like llapingachos (potato pancakes), tortillas de maiz, or empanadas. Engage with friendly vendors and soak in the lively atmosphere.
Continue your journey to the El Barranco neighborhood, if you want to enjoy a cup of coffee and take in the view of the modern part of the city, visit Casa del Barranco. This area is known for its picturesque cobblestone streets and colorful houses. Walk down the Escalinatas and then along the Tomebamba River, crossing the Puente Roto bridge, which offers fantastic views of the city's architecture.
Evening: Conclude your trip by immersing yourself in Cuenca's thriving art scene. Visit the Casa de la Mujer, an art gallery dedicated to showcasing the work of local female artists. Discover unique sculptures, paintings, and crafts that embody the spirit of Cuenca's creative community. Or, learn about the authentic straw hats, known as Panama Hats at Museo del Sombrero.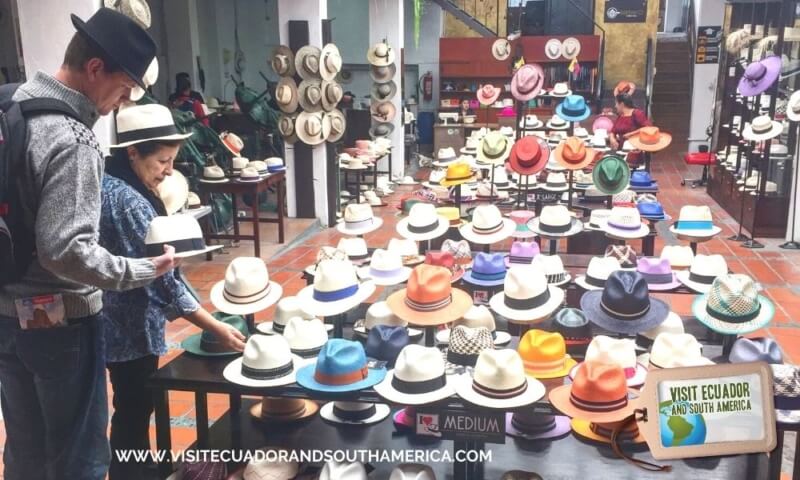 For your final dinner, choose from the many quaint restaurants along the Rio Tomebamba. Indulge in Ecuadorian specialties like cuy asado (roast guinea pig) or encebollado (a delicious fish soup). Raise a toast to the wonderful memories you've created during your time in Cuenca.
If you want some activities and places to visit that are pet friendly in Cuenca, we have you covered.
If you want to book some additional tours, here are the best tours for you.
You can make the most of your visit to Cuenca with a day trip to three important artisan villages of Ecuador, including Chordeleg and Gualaceo.
Where to stay in Cuenca
Downtown Cuenca – Looking for a hotel boutique decorated in colonial style, in the historical part of town? NASS Casa del Aguila located only four blocks away from the main square is the place for you.
On your way to Cajas National Park  – If you are looking for a place to escape the hustle and bustle of the city, Molino del Puente is the place for you! The mills transport you to Europe, and at the same time get you to feel the imposing Andes with its mountains and landscapes.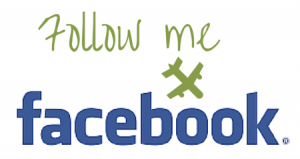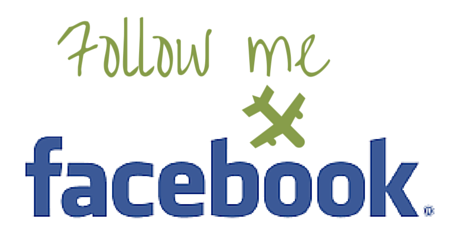 Additional: Cajas National Park – Embark on an unforgettable day trip to Cajas National Park, a nature lover's paradise. Hike through the rolling hills, pristine lakes, and unique high-altitude ecosystems. Keep an eye out for the elusive Andean condors soaring above, and don't forget to pack a picnic to enjoy amidst the stunning scenery. If you want to you can book a tour with Expediciones Apullacta, ours was epic.
Conclusion
As you bid farewell to this charming city, take a moment to take in all the wonderful experiences you've had while exploring the best things to do in Cuenca Ecuador. Whether it was wandering the historic streets, savoring delicious cuisine, or immersing yourself in the vibrant local culture, Cuenca will undoubtedly leave a lasting impression on your heart.
Book a tour
You can book a tour to enjoy more attractions in the same amount of time. It will ease communication barriers and avoid the hassles of planning and logistics in the city. (If you want our help booking the tour, please send us a message: info(at) visitecuadorandsouthamerica(dot)com as we have a good friend with tons of experience who we are sure will help gladly plan your memorable trip. )
Have you considered retiring in Cuenca? Read this.
Packing list
Sunglasses, sunblock, and a hat; remember that the equatorial sun is intense since you will be outdoors for long periods.
Warm or wool clothes, because it can get cold, especially at night if it is rainy season. Dress in layers, the day may be sunny and then turn a bit chilly later in the afternoon.
Wear comfortable walking shoes.
Bring binoculars to admire the wildlife in Cajas National Park.
Bring a reusable water bottle can help nature and the environment while you stay hydrated; there is bottled water in the kitchen.
Dress in layers as you will quickly get warm during the walks and when the sun is out, and remember that the weather can be pretty unpredictable. The temperature drops somewhat when the clouds block the sun.
If you enjoy the content, please consider liking, commenting, and subscribing. It's free, and it helps us.  Every little bit will help fund our travels and continue to bring great content to our site!
Planning a trip soon? Comment below or send me an email. I can help you plan your trip.
PIN IT FOR LATER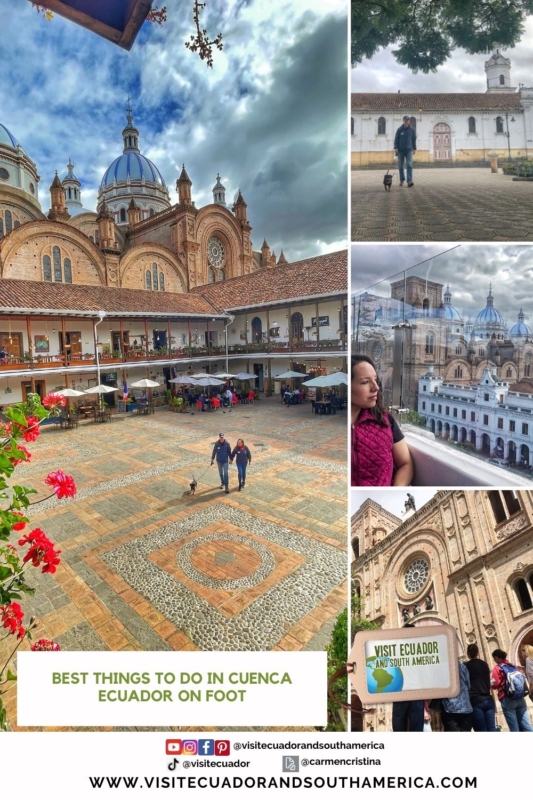 Don't just dream it. Make it happen. Plan your South American trip with a local!
Take a look at this list of travel resources to plan your trip and travel in South America. Are you daydreaming about your trip to South America? Order here your Free Ebook. I share some valuable tips & resources for a memorable trip! I invite you to follow me on Facebook, Twitter, Pinterest, and Instagram. Besides, you can subscribe on YouTube. You can also send an email to help plan your trip: info(at) visitecuadorandsouthamerica(dot)com.