Ecuadorian Street Food: Tortillas de maiz
Due to its location, the country has bountiful seafood, fruits, and vegetables, making eating an important part of the experience tourists get when visiting.
There is no doubt that gastronomy is an important element of culture.
While some street food can be found in every city or region, others are unique to specific cities.
Today we want to share one of the traditional street foods, and one you must try, tortilla de maiz.
About tortilla de maiz
Some of the street food is made with corn which is a staple part of the diet for many indigenous communities in the country's highlands.
Tortillas de maiz are a mixture of corn flour or ground corn, salt, sugar, egg, butter, lard, and yeast, toasted over firewood.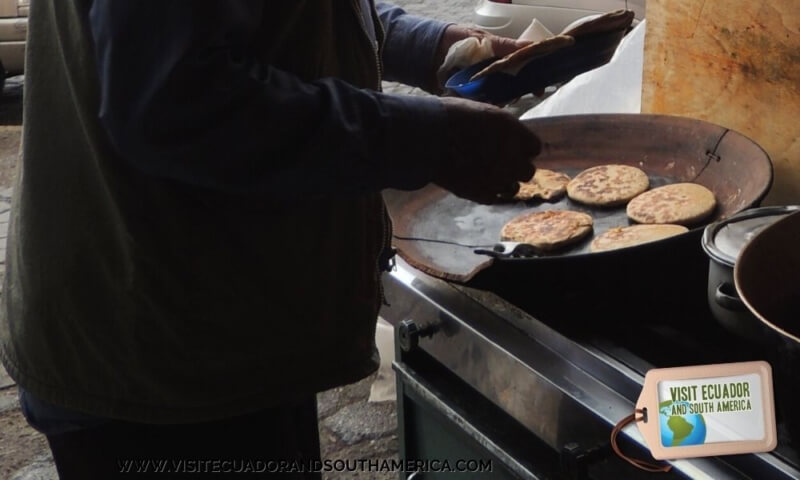 Part of the delicious flavor of tortillas de maiz comes from toasting them on a clay pot over firewood without adding oil.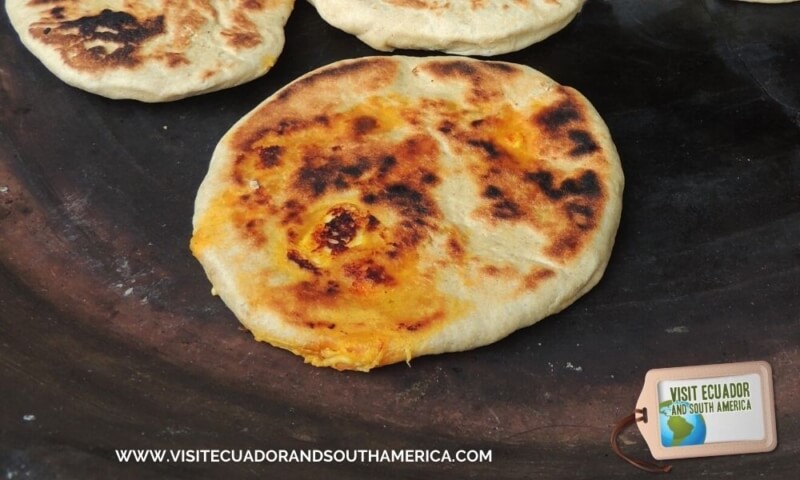 If you are in South America, I would love to see your pictures.
What it tastes like
Tortillas de maiz taste a bit like bread but more like pita bread with a distinct corn flavor.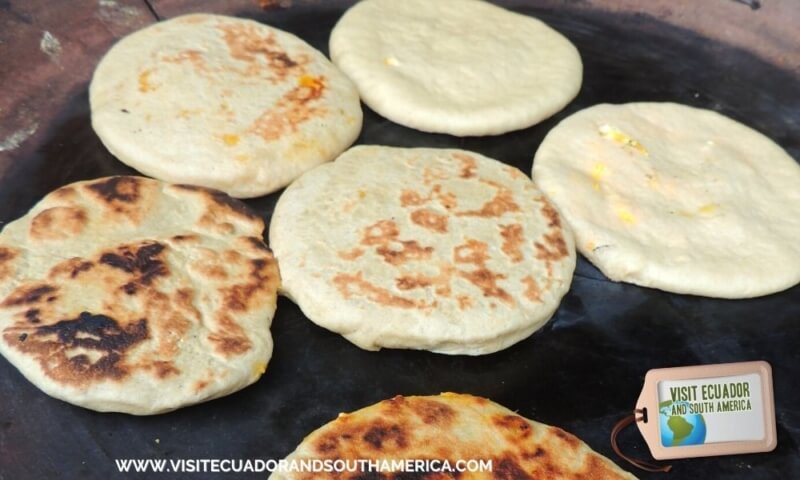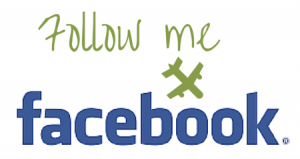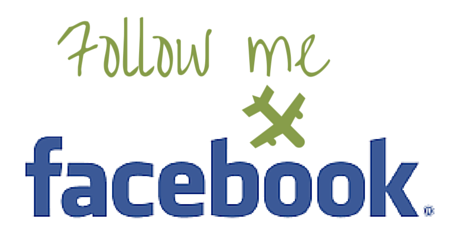 How and where to eat tortillas de maiz
The best way to eat corn tortillas is together with a nice cup of coffee or cocoa, and even with dulce de leche on top or a slice of cheese.
These corn flour tortillas can be found in most parts of the country, especially in Ecuador's highlands.
If you want to try these tortillas, you can buy them at local fairs, bus stops, local markets, and popular tourist destinations.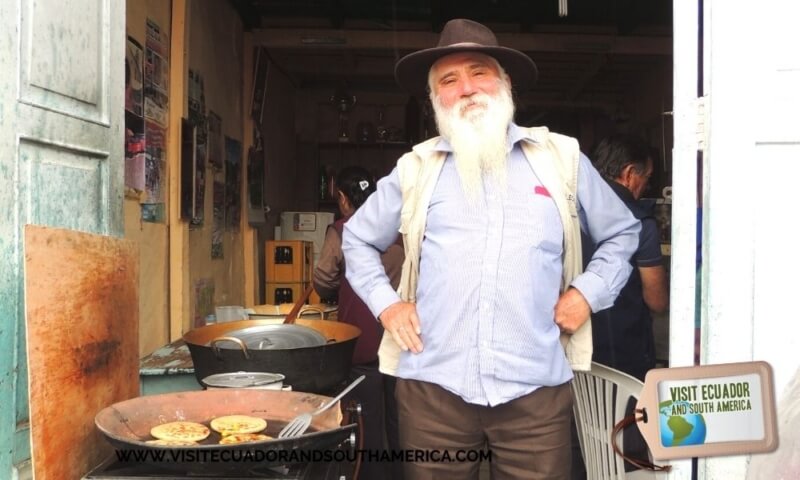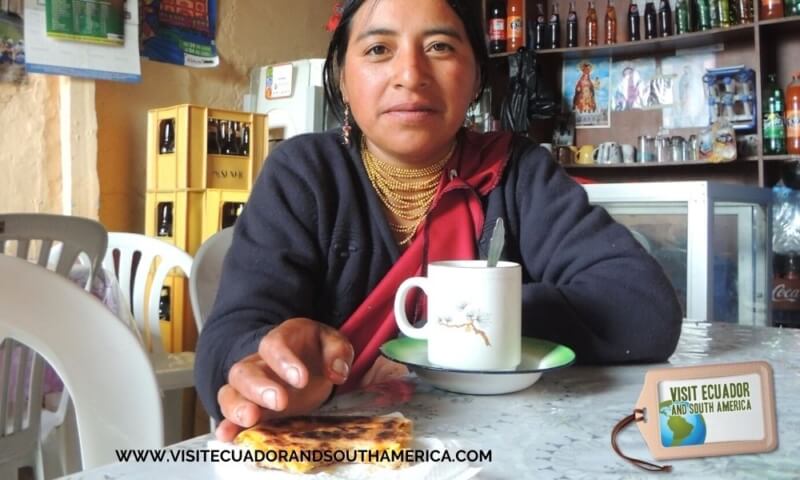 This recipe has been passed along through several generations and is now considered a gastronomic heritage.
While writing this blog post we found out that they are known as arepas in Venezuela and Colombia, while in Ecuador, they are tortillas.
Some posts on this site contain affiliate links, meaning if you book or buy something through one of these links, I may earn a small commission (at no extra cost to you!).
Have you tasted tortilla de maiz? Leave your comment below!
If you found this post inspiring and helpful, We would appreciate it if you would pin, share or tweet this page on any social media platforms you use!
Every little bit will help us fund our travels to continue bringing great content to our site.
PIN IT FOR LATER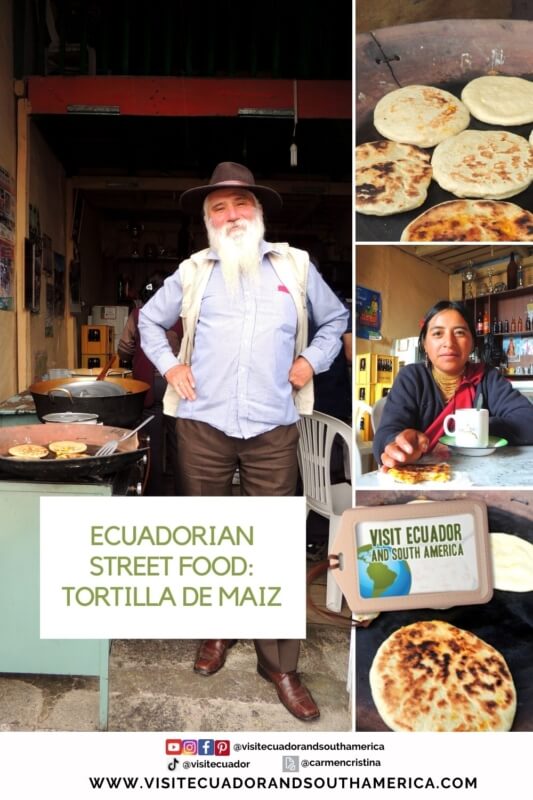 Want to Learn to make some of these dishes and many more? This book: Gran Cocina Latina: The Food of Latin America, comprises 500 well-written recipes from all Spanish-speaking countries in Latin America, providing great information and recipes of the exciting food you can prepare at home. At the same time, you plan your visit to South America.
Don´t just dream it. Make it happen. Plan your South American trip with a local!
Take a look at this list of travel resources to plan your trip and travel in South America.
Daydreaming about your trip to South America? I share with you some useful tips & resources for a memorable trip! Order here your Free Ebook.
I invite you to follow me on Facebook, Twitter, Pinterest, and Instagram. In addition, you can subscribe on YouTube. You can also send me an email to get more information or help planning your trip: info(at) visitecuadorandsouthamerica(dot)com.