The elegant Ecuadorian straw hats or Panama hats
Our traditional toquilla straw hats
Despite the often misleading name, the famous Panama hats or fedora hats are originally from Ecuador and are an icon of the country.
In other words, these hats have always been made in Ecuador (Chordeleg and Sigsig, near Cuenca in Azuay and Montecristi in Manabi) and then exported and sold worldwide.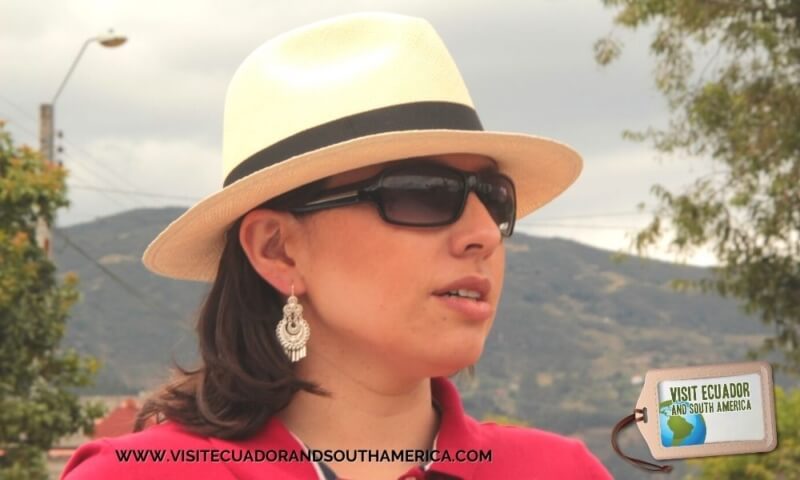 Learn about the must-have artisanal souvenirs from Ecuador by visiting Visit Ecuador and South America's What to buy in Ecuador article.
The name
The history of these hats dates back to Pre-columbian times, according to evidence.  The hats are made from a light straw material ideal for sun protection, therefore the name. Moreover, according to legend, the toquilla straw hat was exported to Panama when the canal was under construction, and from that time forward, they started being called "Panama hats."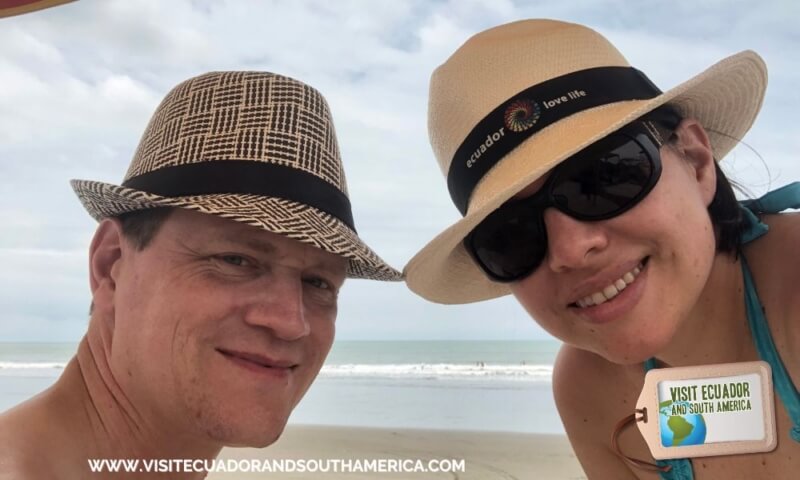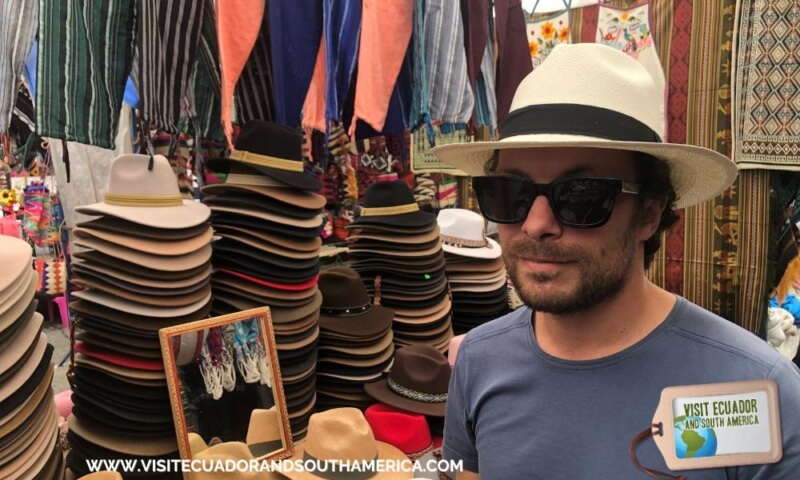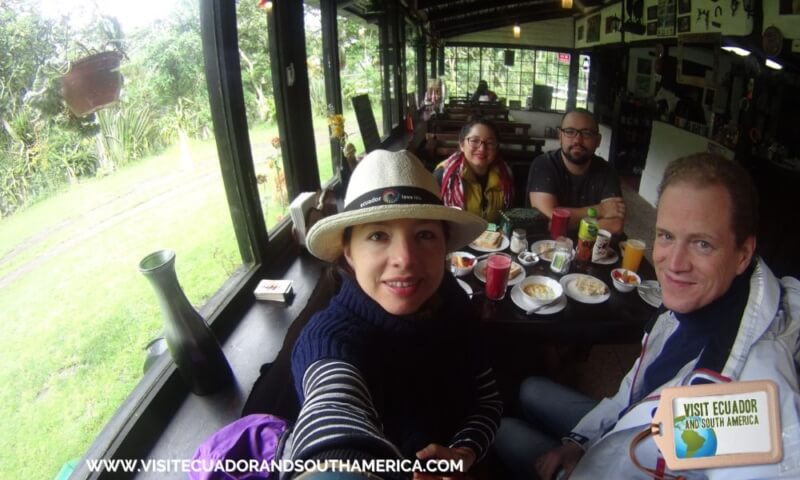 Manufacturing
Straw hats are made with Carludovica palmata, a plant native to Ecuador, and this technique has been passed along for several generations.
First of all, artisans collect the raw material(carludovica palmata) that is mainly found in the country's Coastal region.
Then artisans cut the stems, divide them, and clean them.  After this, they boil the threads, and the last step is to let the threads dry.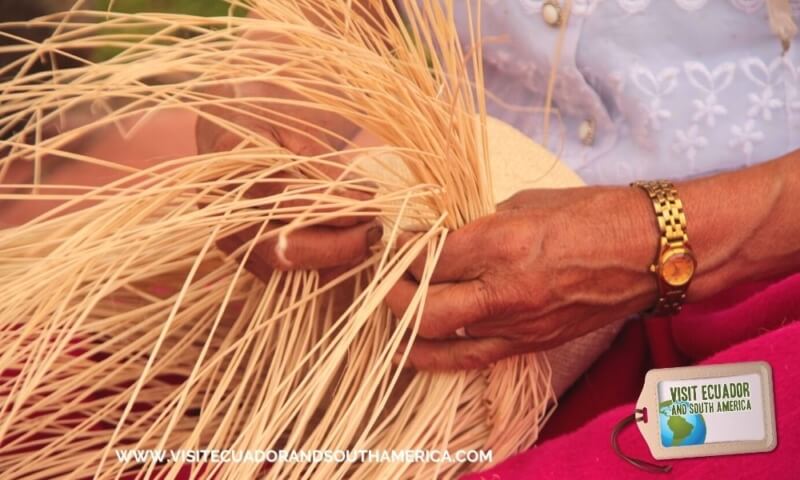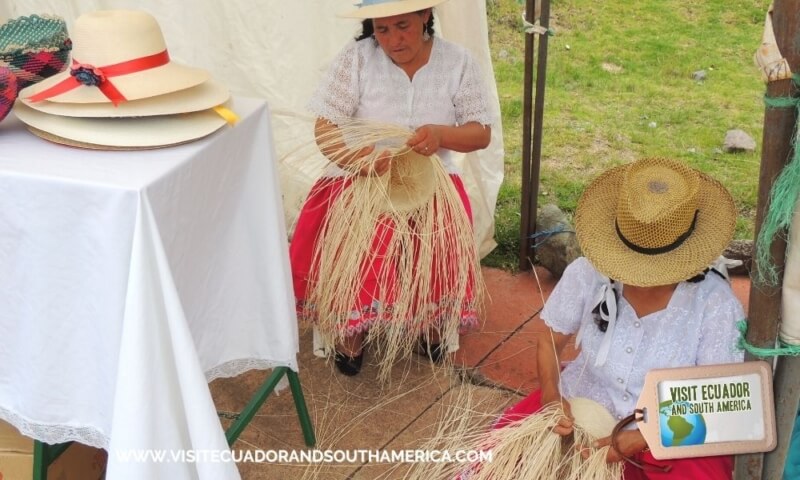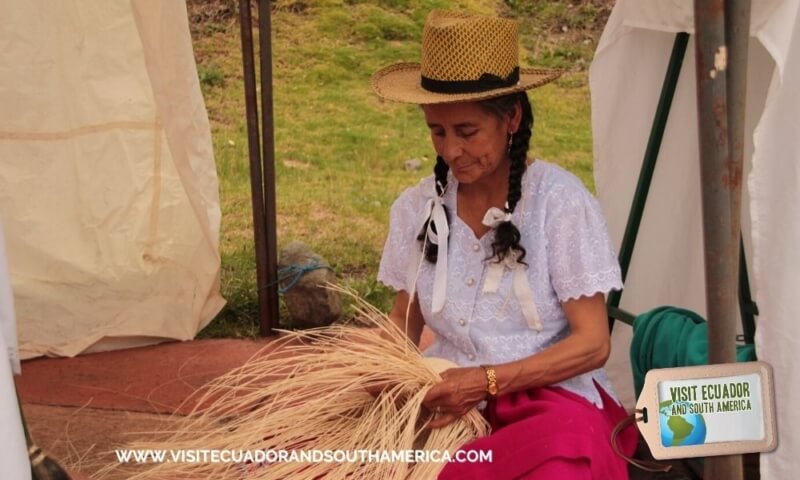 The weaving process takes around one week for each hat, and the time depends on the thickness desired and the quality of the hat.
That is, the thinner the threads and weaving, the better the quality.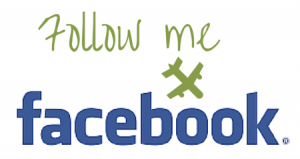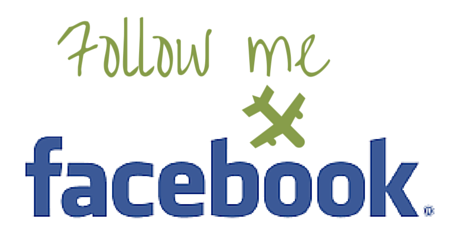 Where can you get a Panama or Straw Hat?
Visit a workshop in Cuenca.
If you are in Cuenca, you can visit some of the straw hat or Panama hat factories and get an elegant souvenir from Ecuador!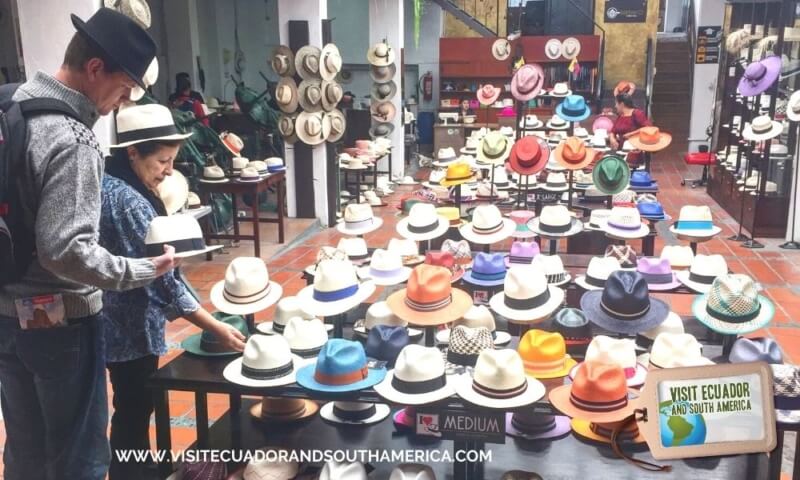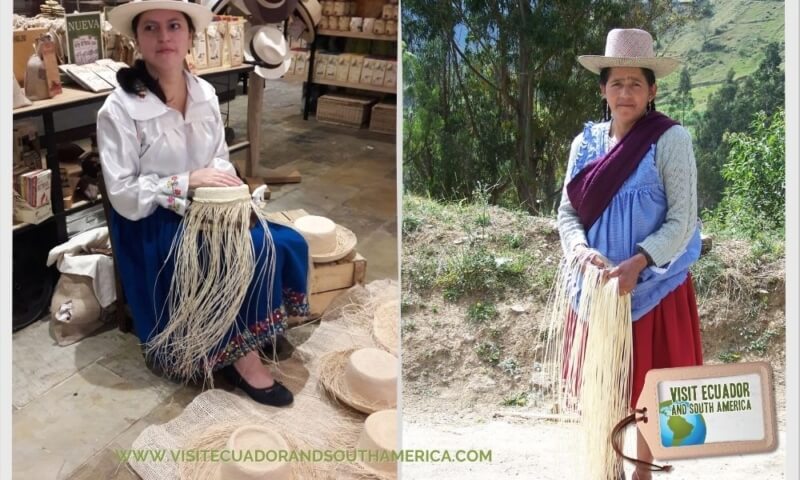 The hat design that I personally recommend is Homero Ortega. The company produces and has over 40 years of experience exporting to 32 countries on five continents.  Moreover, during your visit, you will see the whole manufacturing process and learn more about these traditional Ecuadorian hats.
Besides, you will be able to buy a genuine Panama hat, including a certificate of authenticity.
Where: Hermano Miguel 6-84 y Presidente Córdova
Price: Free entrance
Online
There are different fedora models and prices available online. Beware, there are fake or cheap copies made from rice that will be ruined at once.
If you want the real original Ecuadorian Fedora hats, I give you two great options below.
If you are looking for the authentic Classic Fedora Straw Panama Hat
The Genuine HAVANA Retro Panama Straw Hat Classic Ultrafine.
Other great options
Genuine Ecuadorian Rolling Panama Hat by Homero Ortega.
Original Panama Hat – Classic Fedora – Black Band – Toquilla Straw – Handwoven in Ecuador 
The "True" Panama Hat Handwoven in Ecuador, Fedora Style, Natural or White Color, Grade 2, Manufactured Since 1975.
Best place to retire
Furthermore, one of the best places to retire in the world is Cuenca. So, if you are planning on retiring, consider this colonial charming city in beautiful South America. Besides, to get more information about the city, I recommend reading Cuenca: 101 Questions Answered.
Conclusion:
When in Ecuador, make sure to get a beautiful handwoven straw hat. It is not only an icon of Ecuador but also its technique an Intangible Cultural Heritage of Humanity. 
PIN IT FOR LATER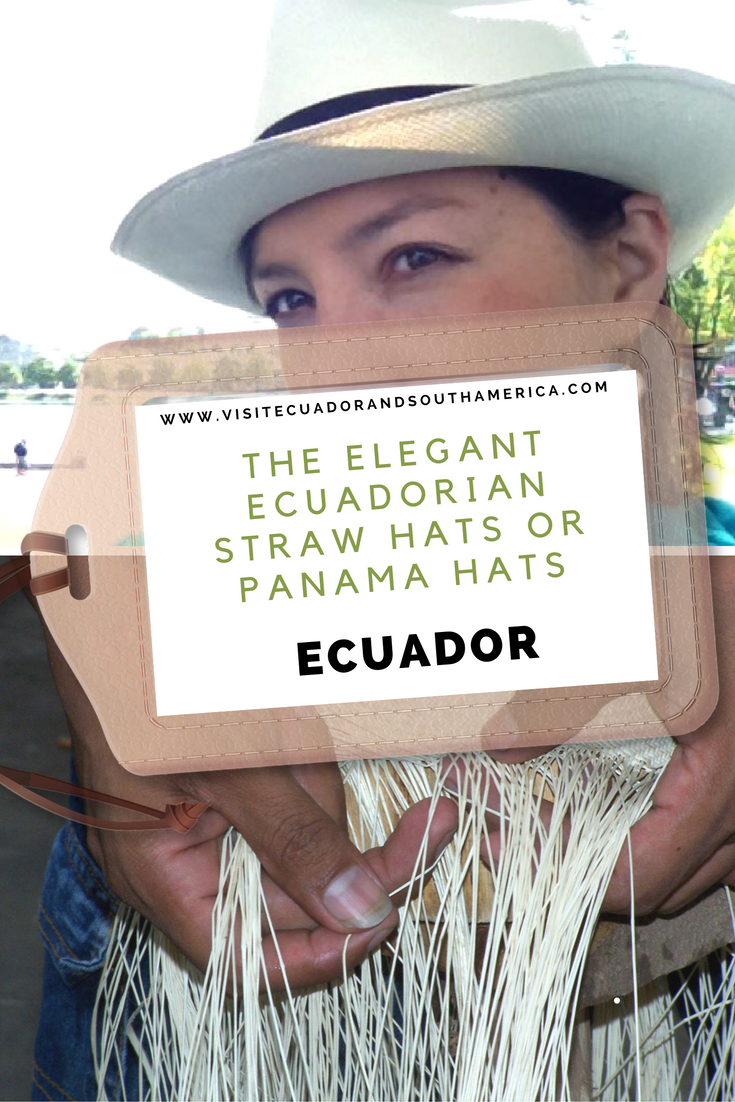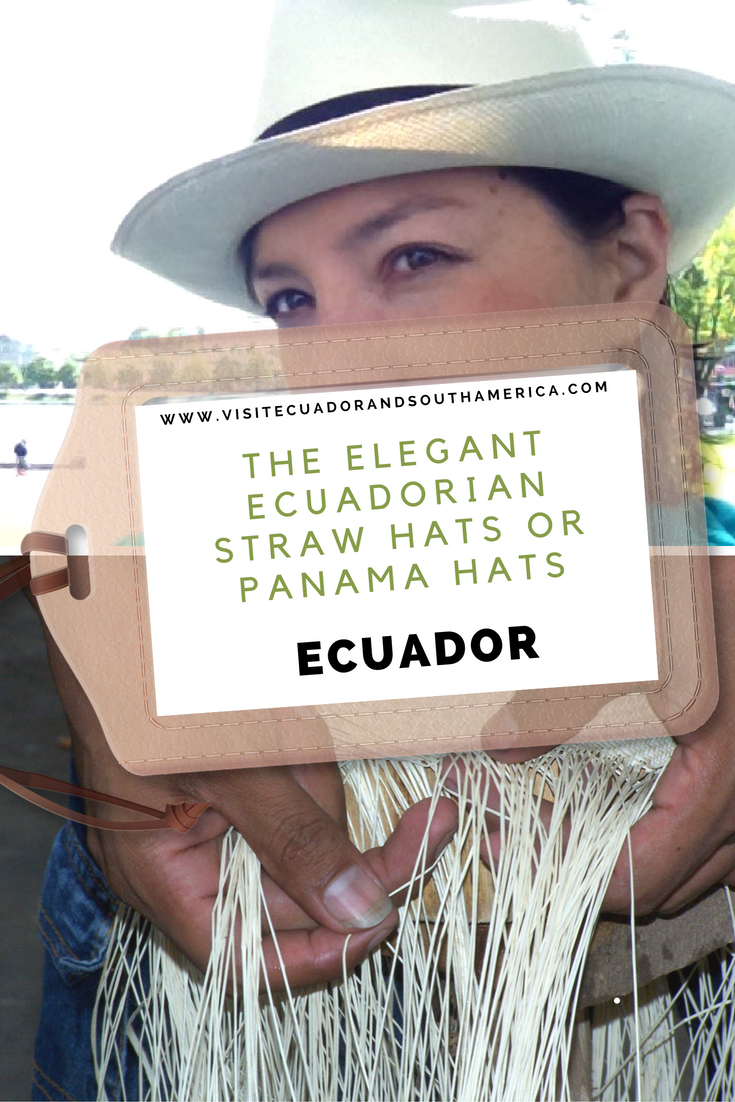 If you want more in-depth information and a guide that you can bring along during your trip, I recommend the travel guide Lonely Planet Ecuador & the Galapagos Islands.
This is a great source of information and tips, maps, and all you need if you plan on visiting Ecuador. I personally like the option of having a hard copy version where I can take notes and have them at hand.
Don´t just dream it. Make it happen. Plan your South American trip with a local!
Take a look at this list of travel resources to plan your trip and travel in South America.
Daydreaming about your trip to South America? Order here your Free Ebook. I share with you some useful tips & resources for a memorable trip!
Finally, I would like to invite you to follow me on Facebook, Twitter, Pinterest, and Instagram. Besides, you can subscribe to YouTube.
Send email to get help planning your trip: info(at) visitecuadorandsouthamerica(dot)com.
Save
Save
Save
Save
Save
Save
Save