The best way to get a close encounter with five endemic species of the Galapagos Islands.
The Galápagos Islands are 
located in the Pacific Ocean, approximately 1,000 km from the continent. The group of 19 islands are part of
Ecuador
. 
These islands are often referred to as Charles Darwin´s laboratory of evolution.  The reason: It was here that this famous naturalist developed his Theory of Evolution by natural selection.
In fact, many tourists visit  the Islands, following Charles Darwin´s Footprints.
 Getting there
Book your airplane ticket in advance in order to get the best rates. The best prices are to be found in the route Quito (UIO), Ecuador and Baltra Airport (GPS) in the Galapagos.
I personally recommend using Expedia to save some bucks.
Now, without further ado, the best way to get a close encounter with five endemic species of the Galápagos Islands.
Book a tour
Booking a tour to the Galapagos Islands, will ease communication barriers, allow you to gain inside knowledge, and avoid the hassles of planning and logistics.  You will be sure about where you are going and what you are doing, seeing and learning.  Here are some great options for you.

Share your pictures with our community, tag #VisitSAmerica
The endemic species you can encounter
Giant Tortoises 
Actually the first endemic animal that the English naturalist, Charles Darwin spotted, was the Giant tortoise.
So, I recommend that while in Santa Cruz island you take a bus ride to the highlands of Santa Cruz. Here you will find an area full of green pastures located in the cloud forest. Perfect to watch giant tortoises wild. Also, to walk through tunnels formed by rivers of red-hot lava.
Galapagos penguins
I guess this is one of the most amazing species that you can encounter on your visit to these islands.
Most people just expect to find penguins living in cold weather.  It is amazing to believe that pengins could live in the warm weather of Galapagos, near the equator. They range amongst the smallest penguins in the world. They are also rather small, not measuring more than 53 cm.
A cute fact is that once a female penguin and a male penguin get together,  they form pair bonds for life.  Galapagos penguins are found mainly in Fernandina and Isabela islands. Book a cruise that include in their itineraries a stop on one of these islands.
Waved albatross

These are the largest of the seabirds species. Also, the only ones
 located in the tropics.
If you want to see them you would have to plan your trip based on their mating season. This is the only time of the year when they come to land and this occurs only in one of the islands, Española. Hence, the best time of the year to visit the Islands is from March to January.
Their breeding process takes up to 9 months.  If you plan on booking a cruise around the main islands in these months, them you will be able to spot them.
Flightless cormorant
These are also some pretty uncommon birds.  The fact is that you can only find them in two islands: Fernandina and Isabela. So, consider booking a cruise that includes a stop on one of these islands.
Another fact that is even more special is that they are the only one of the species that have lost their ability to fly. Due to the fact that these species used to live and evolved in islands without predators, they stopped needing to fly.
Sea lions  
Another great activity that you will hardly forget, includes booking a day tour to one of the close smaller islands, La Loberia. Here you can snorkel with friendly sea lions.
Fortunately these species, (Zalophus wollebaeki), only found on the Galápagos Islands are easily spotted in most islands.
In brief, you can  enjoy snorkeling, biking, diving and kayaking in the Islands.  All fun active ways for you to experience a close encounter with these five endemic species of the  Islands.
Add snorkelling to your list of activities, you enjoy some breathtaking underwater photos like these.

Conclusion
In sum, the islands bring great opportunities for tourists to enjoy some close encounters with endemic species.  I have not mentioned all of them, so be ready to experience even more wonderful flora and fauna during your visit.
Have you included a visit to the Galápagos Islands to your bucket list?
Comment below or send me an email, I can help you with more tips.
PIN IT FOR LATER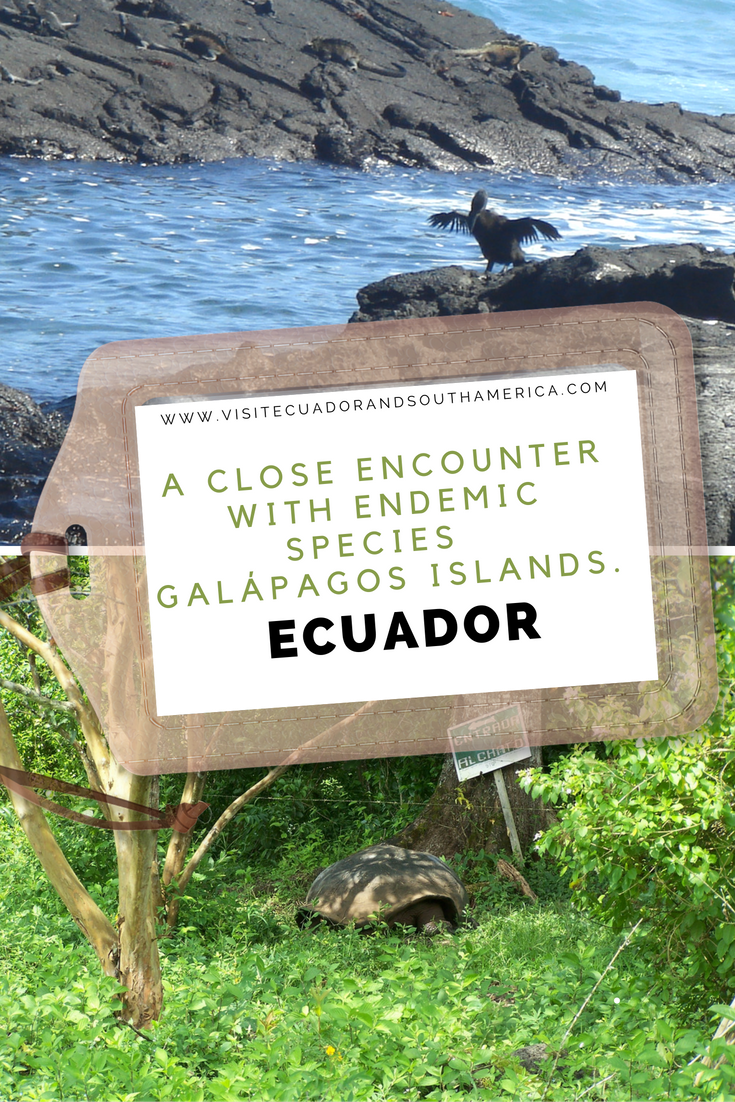 If you want more in-depth information and also a guide that you can bring along during your trip, I recommend the travel guide Lonely Planet Ecuador & the Galapagos Islands
.
It is a great source of information and tips, maps and all you need if you plan on visiting Ecuador. I personally like the option of having a hard copy version where I can take notes and have at hand.
Don´t just dream it, make it happen. Plan your South American trip with a local!
Take a look at this list of travel resources to plan your trip and travel in South America.
Day dreaming about your trip to South America? Order here your Free Ebook, I share with you some useful tips & resources for a memorable trip!
Finally, I would like to invite you to follow me on Facebook, Twitter, Pinterest and Instagram. In addition, you can subscribe on YouTube.
Send me an email for help planning your trip: info(at) visitecuadorandsouthamerica(dot)com
Save
Save
Save
Save
Save