Chontacuro a delicacy from the Amazon Rainforest, Ecuador
Ecuadorian food is very varied due to the country's four diverse regions, the equatorial line, and the Andes cordillera.
This is why you can easily have a trip solely focused on gastronomy through the country.
Or eat something different for each meal!
Amazing, right?
Now, we intend to make you appreciate and thoroughly learn about any destination in Ecuador. You have to taste the food as it is a big part of our culture.
Here we will share all about one of the most traditional and, at the same time, exotic delicacies in Ecuador: chontacuro.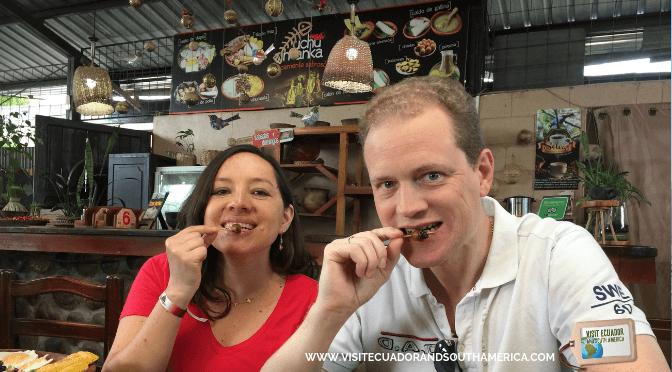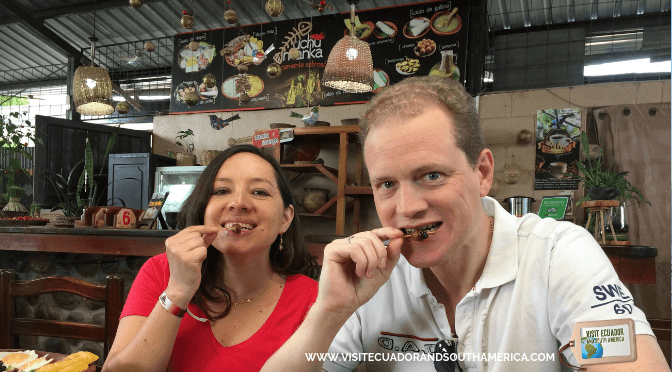 In this region, the indigenous people create dishes rich in flavors and native ingredients, so when you visit Pastaza or Napo provinces in Ecuador, food must embrace the experience fully.
We have tasted chontacuro and would love for you to taste this delicacy.
After all, keeping an open mind makes traveling fun and is important for our growth.
Learn more about all the traditional food in Ecuador by visiting Visit Ecuador and South America´s gastronomy pages. 
You can already book transportation to Puyo in the Pastaza region or to Tena in the Napo region.
If you are in South America, I would love to see your pictures.
What is chontacuro, and how is it prepared
Chontacuro is a worm that lives in the palm of chonta and more trees in the Amazon rainforest.
It can be served roasted or steamed, or as we had them recently, fried.
These are the two most common ways to cook chontacuro and that we have eaten and enjoyed them.
We will let you know the third one a bit later here.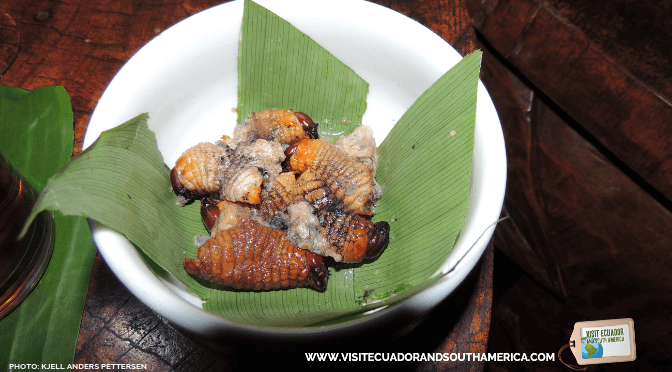 What it tastes like
The truth is that we tasted chontacuro in Napo for the first time, and it was steamed (pictured above), which made the texture of the worm more obvious and required some mindset work on my part. Luckily I am also a life coach, so I did let go of fear and ate it. On the other hand, my husband was ready to eat his chontacuro. Good job!
But then, this month, we were in Pastaza and had the opportunity to try chontacuro fried.
Did we like it?
Yes, we liked the taste more than steamed. It was almost like having chicharron or fried pork skin.
It was tasty!!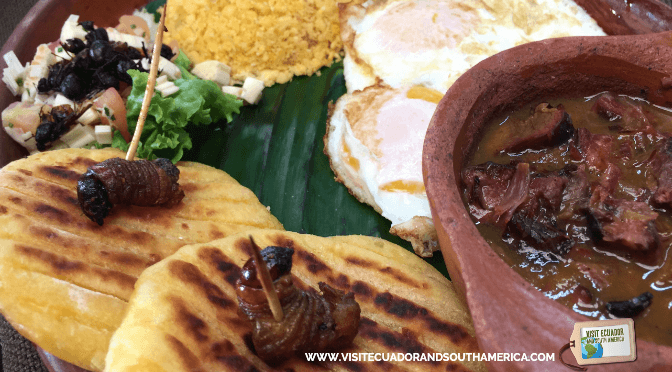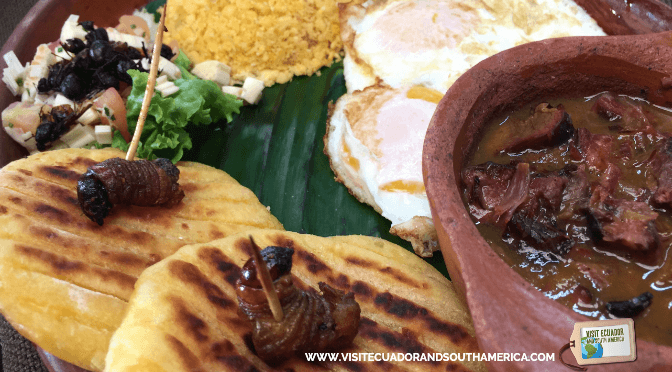 How and where to eat chontacuro
In Ecuador, you will normally find chontacuro in the Amazon rainforest, and it will be fried or steamed and ready to eat. Most of the time, it is served alone.
Get your mind ready for this adventure and let your senses enjoy something new that will provide a tremendous gastronomic experience you can only have while visiting the Amazon Rainforest of Ecuador.
I mentioned a third option: getting them raw or alive at the open-air market Los platanos in Puyo. If you are daring, you can try that option as well!
Only one of our colleagues during this press trip dared to eat chontacuro raw!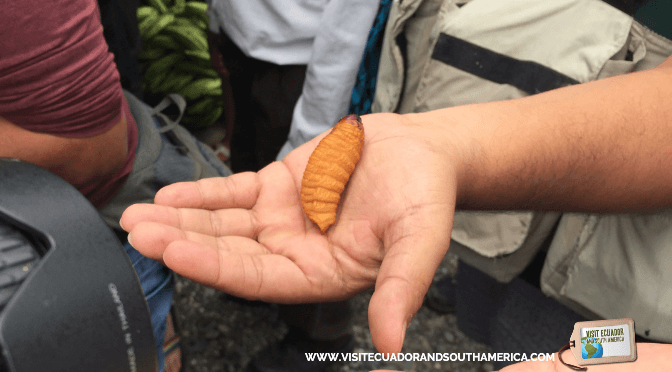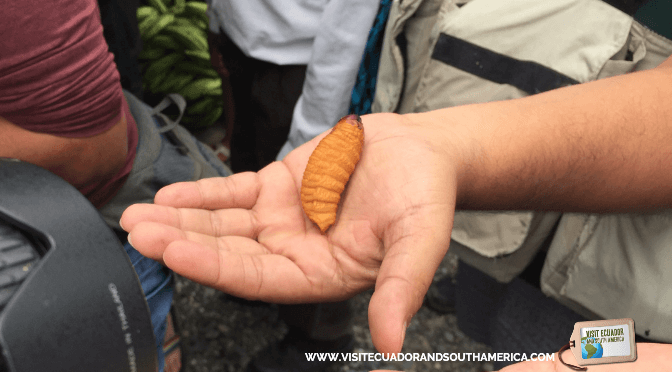 Where to eat it in Pastaza
We had the opportunity to visit an excellent restaurant in the city of Puyo offering tasty traditional dishes from the Amazon Rainforest or Amazon jungle, including maito, ants, and fried chontacuro.
I can highly recommend visiting the restaurant Uchu Manka Puyo! I leave you their Facebook page where you find their address and contact information. Here you find the food you must eat while you visit Pastaza! >> www.facebook.com/uchumankapuyo
Have you tasted other exciting dishes while visiting the Amazon Rainforest or during your visit to Uchu Manka in Puyo? Let me know here!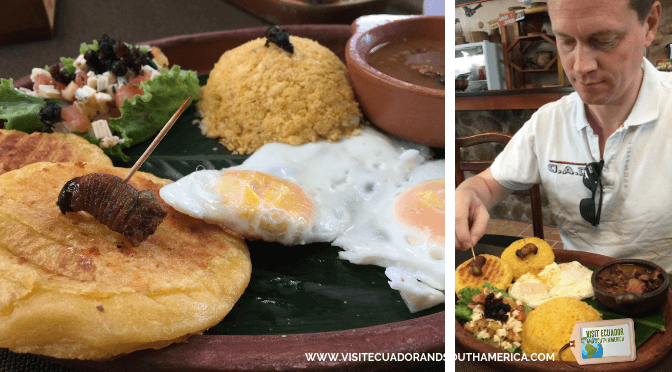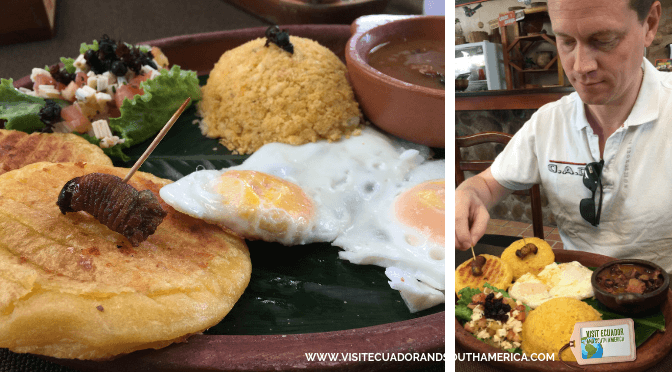 If you found this post inspiring and helpful, We would appreciate it if you would pin, share or tweet this page on any social media platforms you use!
Every little bit will help us fund our travels to continue bringing great content to our site.
PIN IT FOR LATER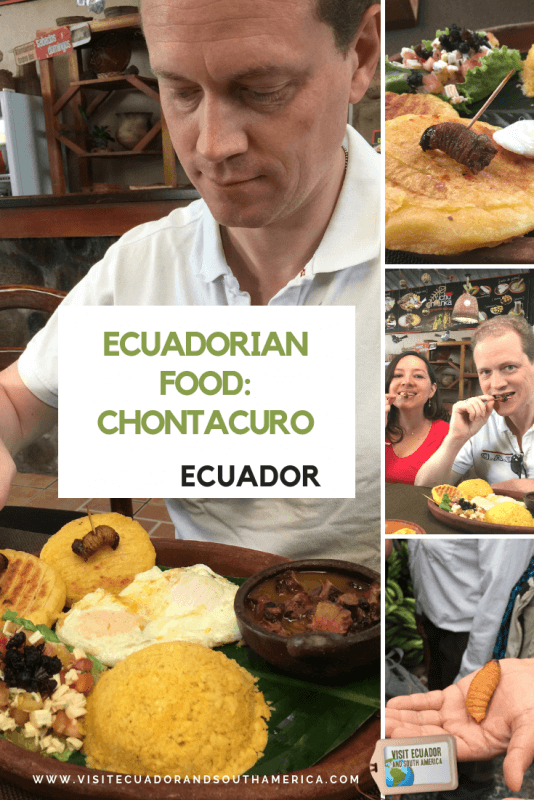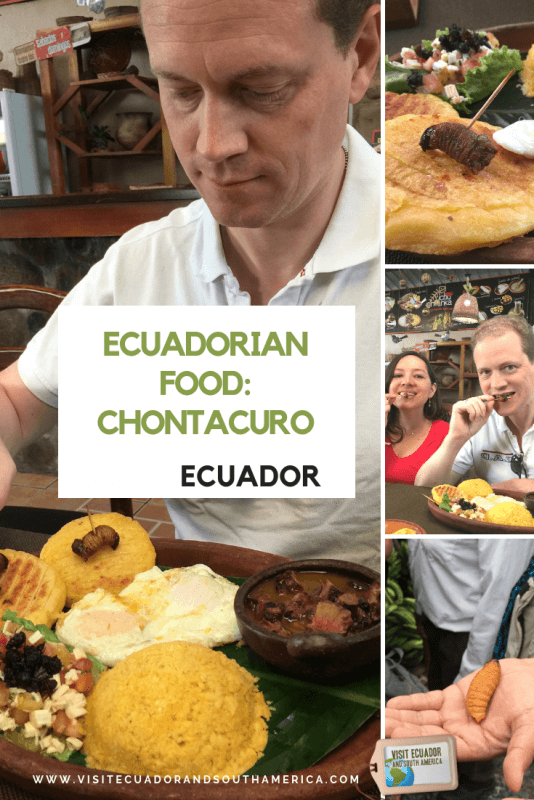 Want to Learn to make some of these dishes and many more? Gran Cocina Latina: The Food of Latin America, This book comprises 500 well-written recipes from all Spanish-speaking countries in Latin America, providing great information and recipes of the exciting food you can prepare at home. At the same time, you plan your visit to South America.
Don´t just dream it. Make it happen. Plan your South American trip with a local!
Take a look at this list of travel resources to plan your trip and travel in South America.
Daydreaming about your trip to South America? Order here your Free Ebook. I share with you some valuable tips & resources for a memorable trip!
I invite you to follow me on Facebook, Twitter, Pinterest, and Instagram. In addition, you can subscribe on YouTube. You can also send me an email to get more information or help planning your trip: info(at) visitecuadorandsouthamerica(dot)com.