Christmas traditions in Ecuador – South America
Ecuador is situated at the northwest part of South America.  Due to its location at the equator, the country has little variation in daylight hours during the year. Hence allowing Ecuadorians to enjoy perfect spring-like weather year-round.
Due to the warm weather in the country, there are many celebrations and happenings that take place outdoors during the Christmas season. Christmas traditions in Ecuador include parades, dances, and firework displays.
Now, if you are still looking for the best Christmas gifts, we have some suggestions for you here.
Hereby, I am going to name some of the most known and commonly practiced Christmas traditions  in Ecuador.
If you are in South America I would love to see your pictures.
First of all we have novenas every December.
What is Novena
In Ecuador, the Christmas season starts with a tradition called "novena" the 15th of December. The name "novena" refers to the 9 days of preparation for the birth of Jesus Christ. Furthermore, it is time for families, neighbors or groups of friends to gather, each night in a different house,  to pray, sing carols and eat together.
At the same time traditional Christmas carols can be heard in shopping centers, schools, restaurants and other large venues, denoting the start of the season.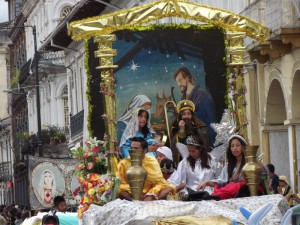 Another traditional celebration is El pase del Niño
What is El pase del Niño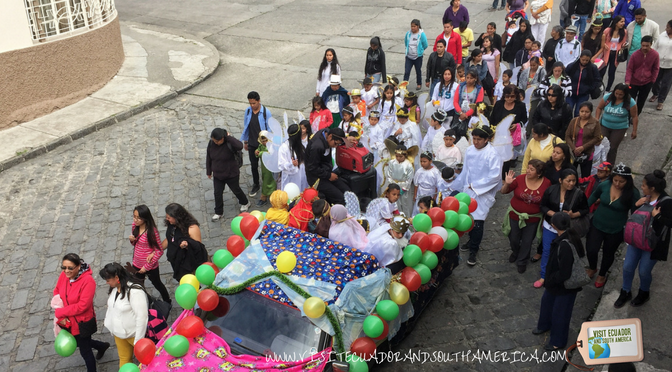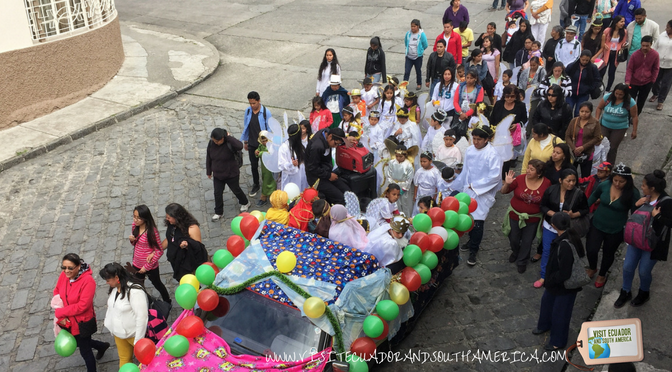 Since most of the country's inhabitants are Catholic, traditions are linked to religion and are dedicated to celebrating the birth of Jesus Christ.
Traditions such as "el Pase del Niño" can be experienced in the colonial city of Cuenca in the South of Ecuador.  Some of them are unique to the country.
"El pase del Niño" is a colorful procession depicting the journey of Mary and Joseph to the town of Bethlehem where musicians lead carriages and trucks along main streets.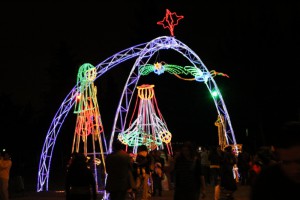 Other great tradition that ads more charm to the already festive Christmas season are Nativities
What are Nativities
I have seldom not found a nativity decorating the living room of a friend's or family's house during Christmas.
Most Ecuadorian homes it is also quite common to find nativities which are a visual representations or collections of figures depicting the birth of Christ, a tradition so deep in the culture of Ecuadorians that during Christmas there are nativity contests and even a large nativity located on one of the main lookout points of the capital city, Quito, making it an important and easily spotted part of the city skyline.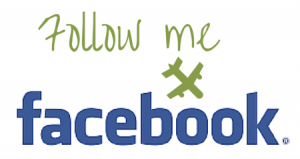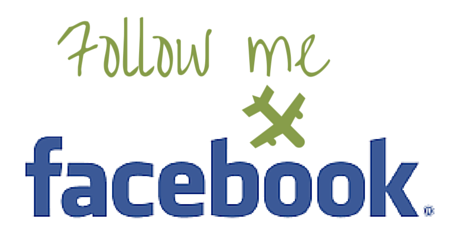 Nativities for decoration on the other hand is something to be found in many places around the world, I recommend that you take a look at this book gathering nearly one hundred nativities from all over the world – Nativities of the World.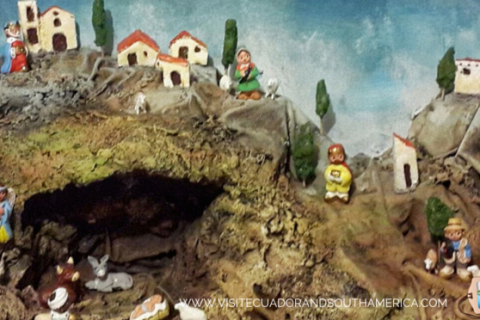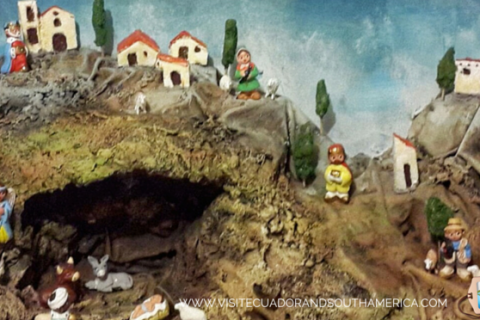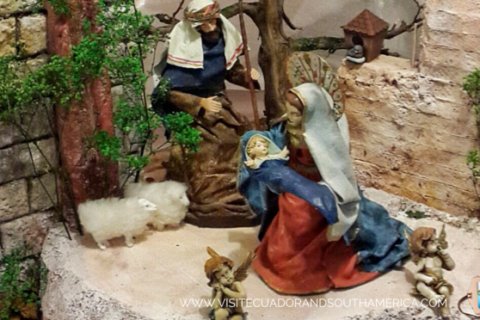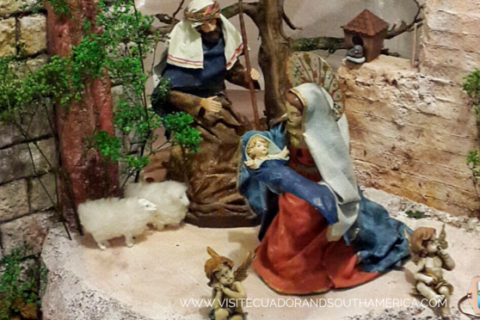 Misa de gallo
This tradition includes us attending to  "misa de gallo", or midnight mass, on the 24th of December. This takes place after we  savor the delicious traditional dinner.
For us Christmas dinner includes stuffed turkey or chicken, raisins, rice or potatoes, salads and wine.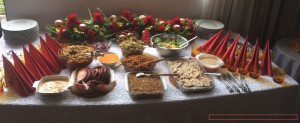 Is there some tradition in your country similar to ours? Tell me all about it! I love learning about other cultures around the world!
PIN IT FOR LATER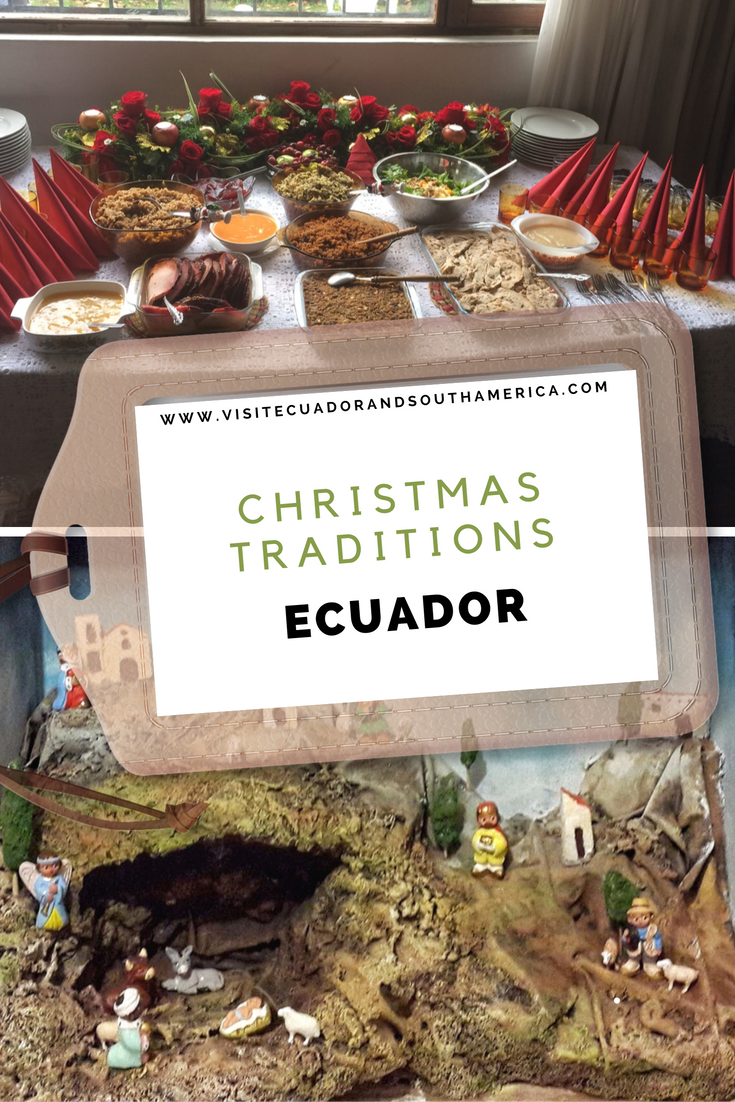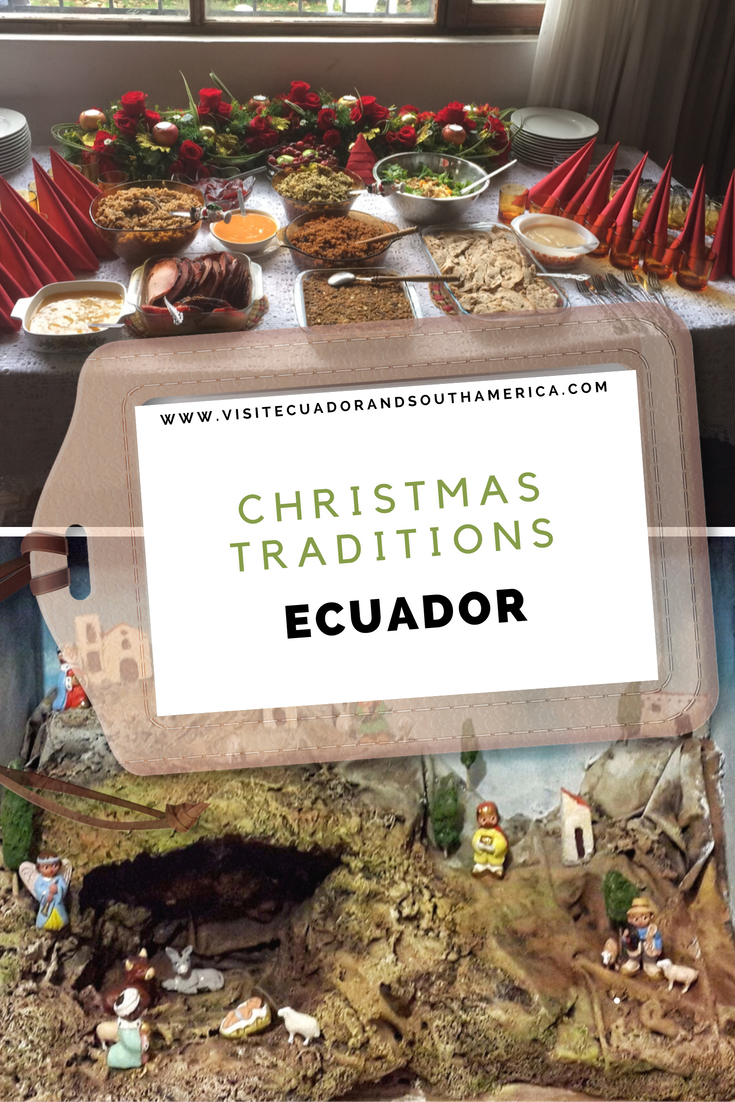 If you want more in-depth information and also a guide that you can bring along during your trip, I recommend the travel guide Lonely Planet Ecuador & the Galapagos Islands
.
It is a great source of information and tips, maps and all you need if you plan on visiting Ecuador.
Don´t just dream it, make it happen. Plan your South American trip with a local!
Take a look at this list of travel resources to plan your trip and travel in South America.
Day dreaming about your trip to South America? Order here your Free Ebook, I share with you some useful tips & resources for a memorable trip!
I invite you to follow me on Facebook, Twitter, Pinterest and Instagram. In addition you can subscribe on YouTube.
You can also send an email to get help planning your trip: info(at) visitecuadorandsouthamerica(dot)com
Save
Save
Save
Save
Save
Save
Save