Community based tourism at Yasuni Kichwa Ecolodge
If you are in South America, then you defintely should add a visit to the Amazon Jungle to your schedule!
I had visited Napo Wildlife center in the Ecuadorian Amazon rainforest back in 2006, a lodge also managed by the Kichwa Anangu community and which together with the
Yasuni Kichwa Ecolodge
is known as community based tourism. This time it was not a trip related to work, but rather a family trip and I chose for us the
Yasuni Kichwa Ecolodge
Why Yasuní Kichwa Ecolodge
The community runs all operation and all profits immediately benefit the development this local indigenous tribe descending from the incas.
How to get there
Our journey to Yasuní, located in the Amazon jungle starts at Coca. You can get to Coca by car or by air.(Flight Quito/Coca/Quito) The city of Coca is often known as the oil capital of Ecuador and is the place where all tours to the different lodges starts.
We got on board a motorized modern canoe and travelled for 2,5 hours along the wide Napo river, an affluent of the Amazonas river until we arrived to Yasuni Kichwa Ecolodge
Sustainability
Upon arrival, on our motorized canoe we receive a water bottle. The community is aware of ecology, so we get a water full of water with our lunch box and we are to refill the water, thus avoiding unnecessary  plastic waste with additional bottles that will pollute the region and the planet.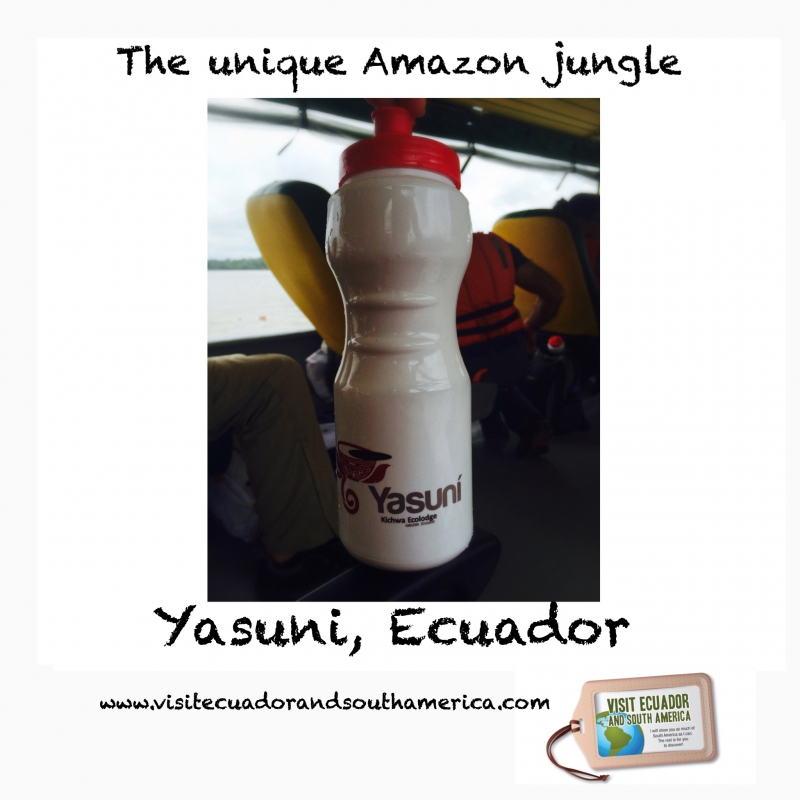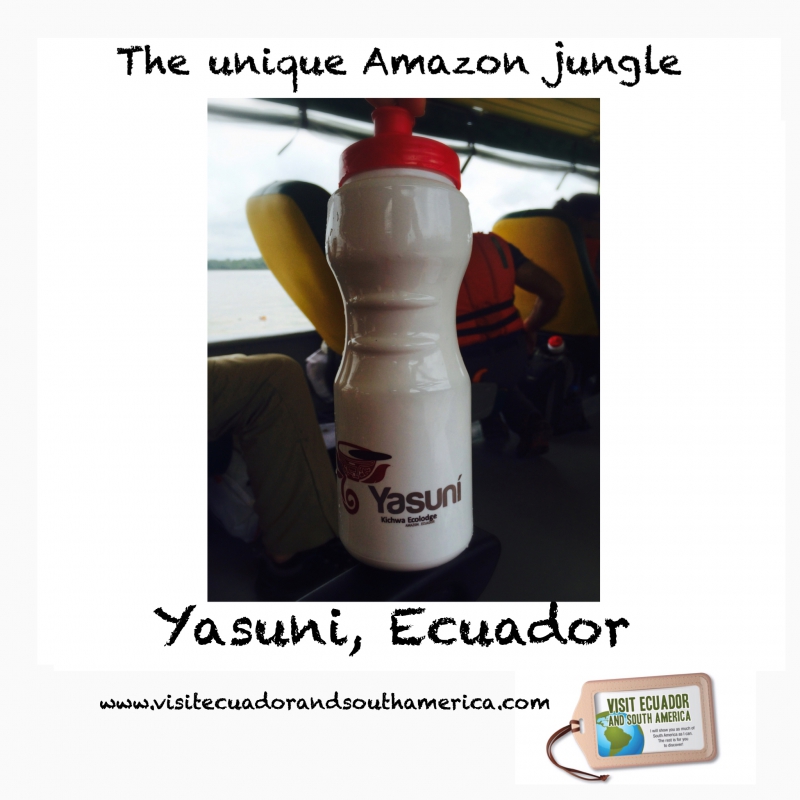 Service
Two hours later our local guide Rene guides us to the main restaurant and meeting room.  We are requested to follow their tradition of walking barefoot, so we leave our shoes at the entrance of the common room  and are greeted with guayusa: a traditional sweet, sour beverage from the Amazon jungle.
In addition, there is wi-fi available which will have an additional price. This is a magnificent opportunity to go in a digital detox, unplug from modernity and immerse in the experience.
Activities
DAY 1 –
 While we walk the sound of heavy rain falling from the canopy meets us, we then get our rain ponchos out and continue.
Some of the plants we find along the way include:
Chonta pambil caminante, tree that changes its bark 6 times a year, Ceibo, Palma real which is the material for roofs, Ceibo for cotton, balsa, among others.
The community members are allowed to use only an area for crops and harvesting.
DAY 2
Day 2 of our trip, we wake up early to heavy rain, eat breakfast and have to wait for longer than planned for the rain to stop. At 9 we board the canoe to visit the parrot clay lick but unfortunately due the weather we miss their visit to eat the clay.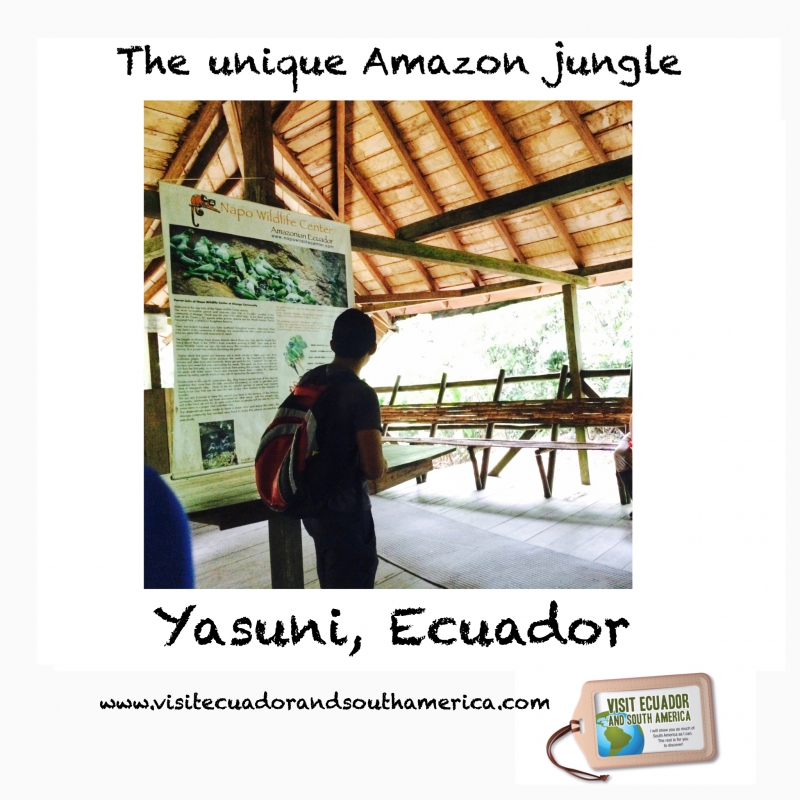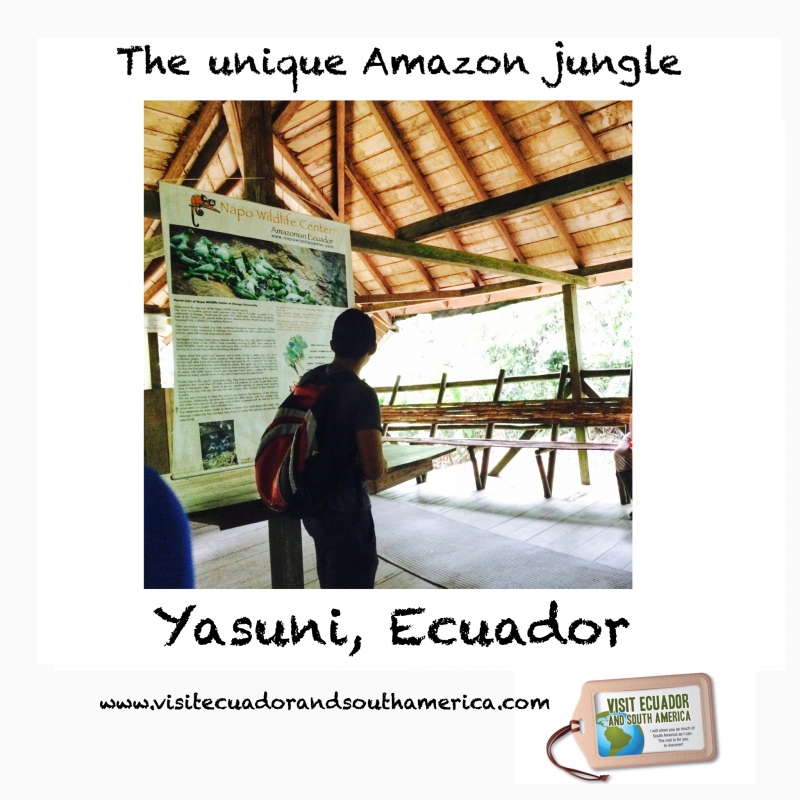 We do manage to visit the parrot licks at the Añangu community later on.
Parrots and macaws eat a wide variety of seeds and nuts from rainforest plants.
To prevent animals from eating these nutrients plants add toxins to the seeds and by eating specific kinds of clay macaws and parrots neutralize these toxins.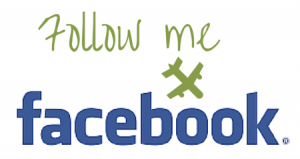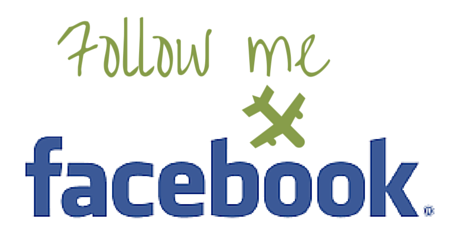 Next to it we find the cultural center of the Kichwa Añangu community.
The moment we arrive, they greet us according to ancestral tradition. Which in past included using a flute made with bones of animals and tuning some melodies.
The first song is for the clay licks and the guide explains that the ladies wake up early in order to greet guests. When the second song started we joined the dance. So we decided to partake on the experience by joining, while the lyrics in Kichwa honoured the Añangu river.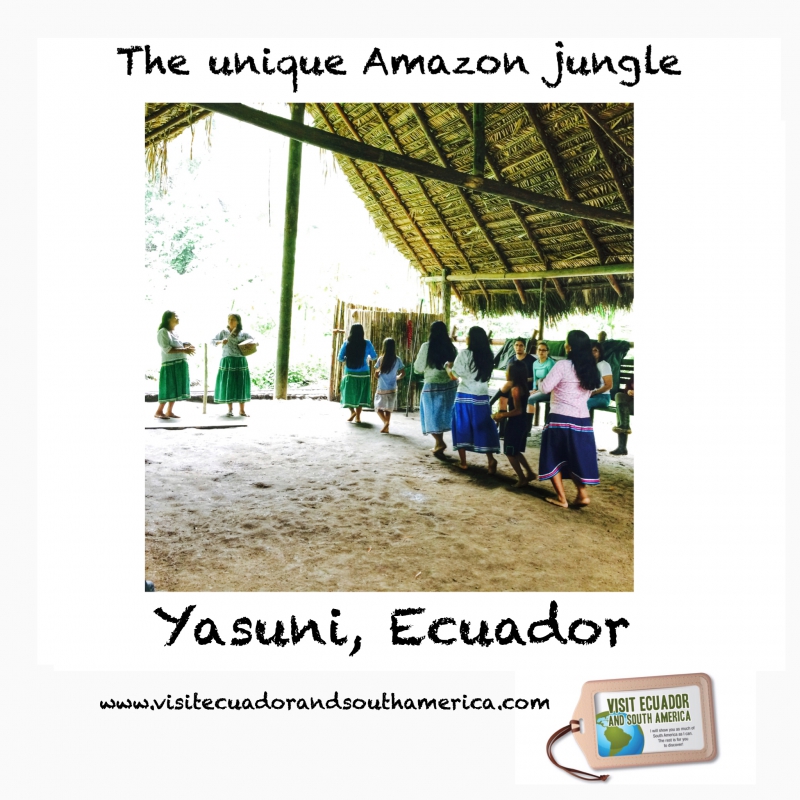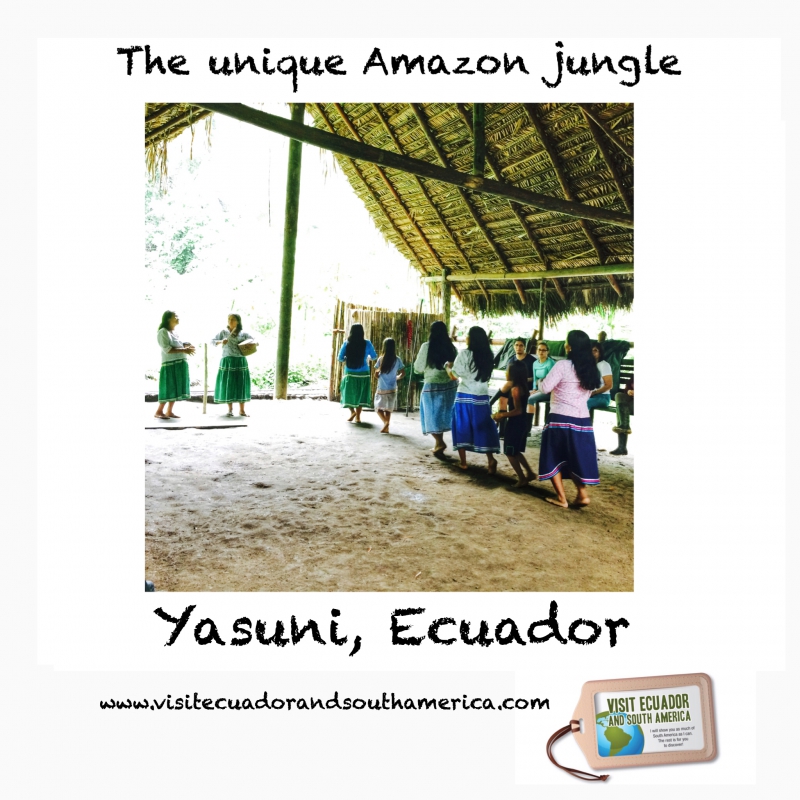 Shamans and bad energies…
We get also information regarding the yachag o shaman, the member of the community with the power to cleanse good or bad energies given the power the forest has bestowed upon him.  Shamans and the kichwas drink tobacco to cleanse from bad energies, this is a tradition. together with that of placing hot sauce, Aji in the eyes, they say in order to face Jaguars.
Guayusa
While the fire is on warming the room and pots,  the lady from the house places other fresh food on a mantaca. This is a shelf made from material easily found in the jungle, aimed at helping preserve the food cool or dry.
As part of the experience, we get to drink two traditional drinks: chicha and guayusa. Guayusa, is a beverage that cleanses, gives energy, purifies and that according to our guide will avoid snakes from biting as the energy level is high.
In the afternoon we get on board a smaller canoe to explore the rio negro. The vegetation gets thicker and we spot trees, bushes, of all kinds and sizes giving us shade and providing home to reptiles, birds such as oatzin, toucans, monkeys and other species.
On our ride we also spot insects such as butterflies, under our canoe plenty piranhas and we even spot a caiman resting on the side.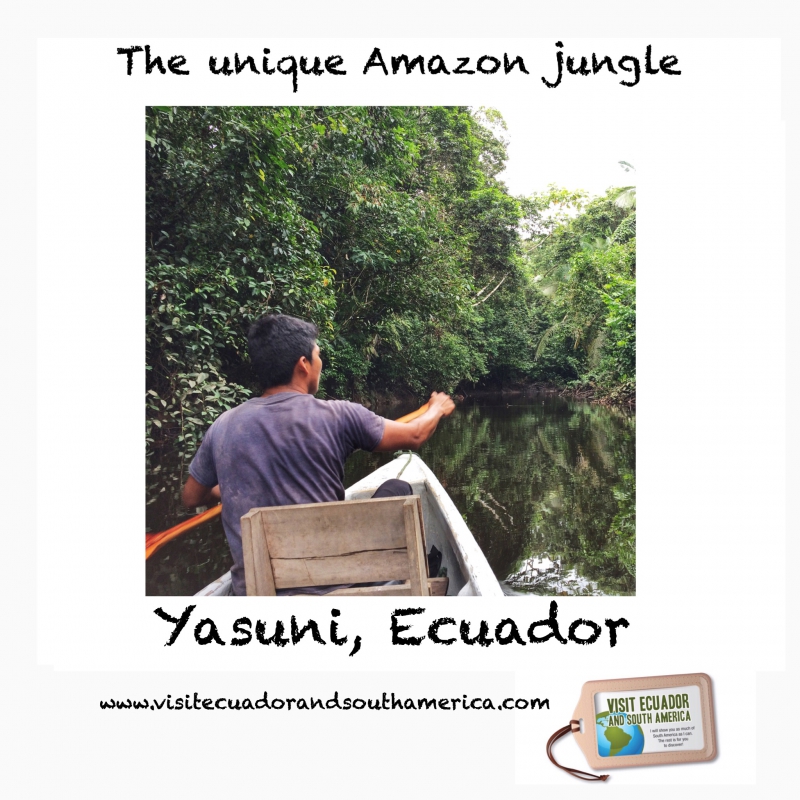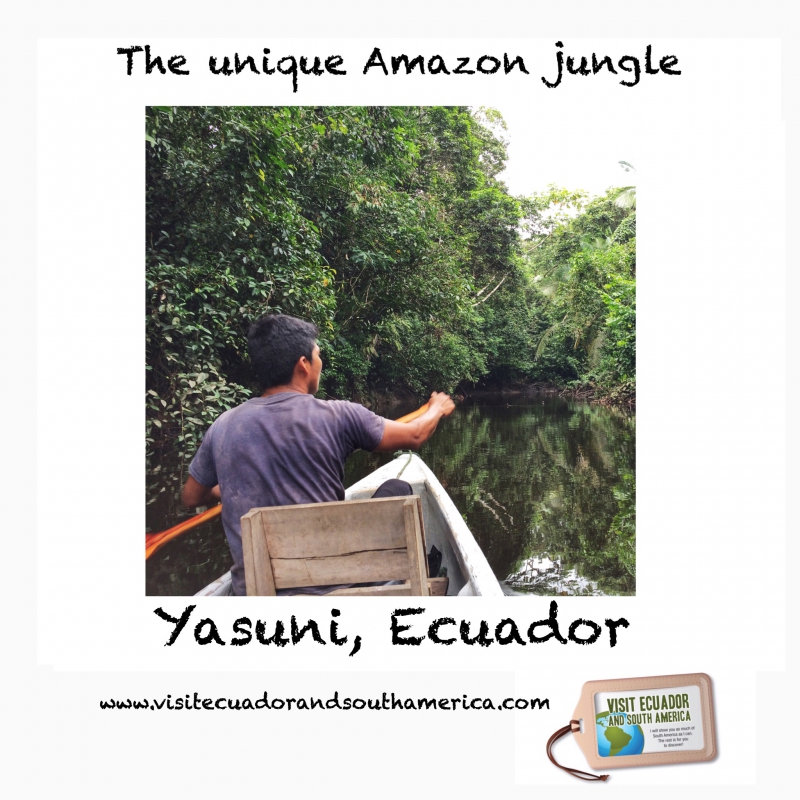 At dinner we are happy from a full day exploring the area,  and all along admiring incredible biodiversity.  We are ready to enjoy the buffet that includes a traditional dish from the Amazon jungle: fish maito with yuca, rice, salad, with peanut sauce. As every day we get fresh natural fruit juice and some cold guayusa.
What to bring
– A camera and binoculars
If you have a SLR camera with you that day and would like to take plenty of photos from all angles and avoid it from getting wet,  get a Professional Rain Cover for Large DSLR Cameras  or you risk it getting your camera damaged. 
– Sunscreen, Insect repellent, light pants, t-shirts, long sleeves for night hikes, couple of shorts, flash Light with enough batteries for 4 or 5 days, cap, sunglasses, plastic bags big enough for your back pack, sandals (flip flops or water shoes), water bottle, small first aid kit.
Book your stay at Yasuni Kichwa Ecolodge
, to collaborate in the development of the community, and to enjoy a hotspot for biodiversity in the Amazon rainforest.
Trip Advisor Rating: #1 of 6 Specialty Lodging in Orellana Province
Disclosure: I was the guest of Yasuni Kichwa Ecolodge, however, all opinions expressed here are entirely my own and based on my personal experience.
Planning a trip there soon?  Comment below or send me an email, I can help you with more tips.
PIN IT FOR LATER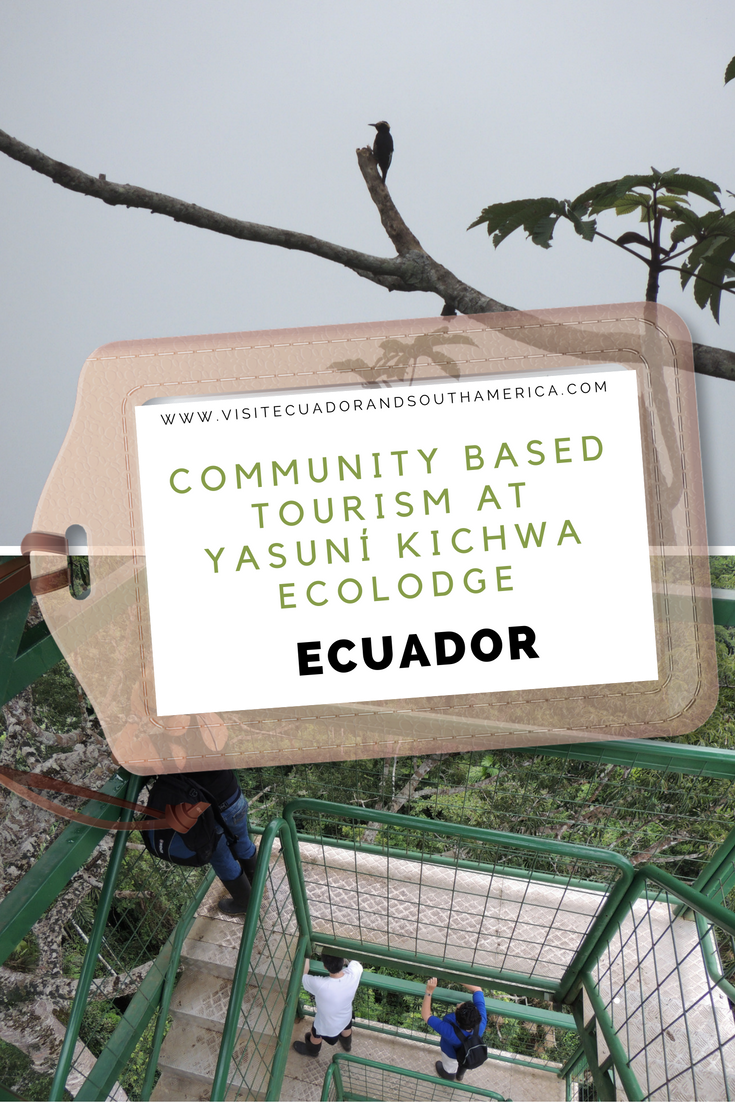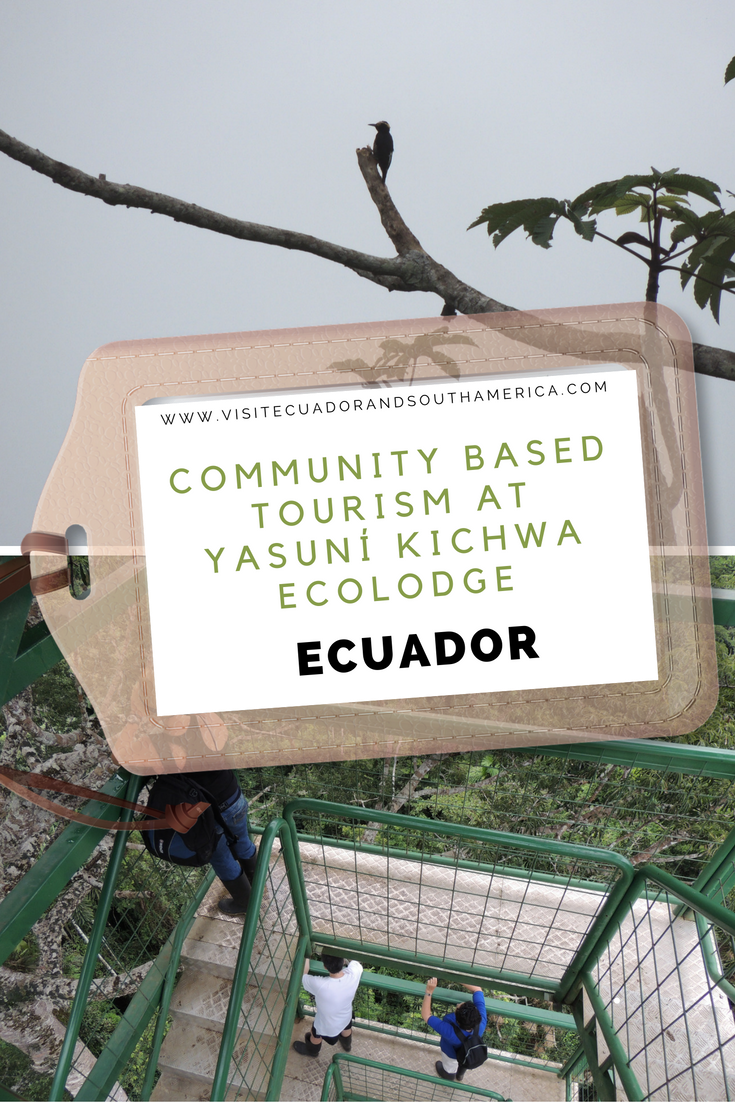 If you want more in-depth information and also a guide that you can bring along during your trip, I recommend the travel guide Lonely Planet Ecuador & the Galapagos Islands
.
This is a great source of information and tips, maps and all you need if you plan on visiting Ecuador. I personally like the option of having a hard copy version where I can take notes and have at hand.
Don´t just dream it, make it happen. Plan your South American trip with a local!
Take a look at this list of travel resources to plan your trip and travel in South America.
Day dreaming about your trip to South America? Order here your Free Ebook, I share with you some useful tips & resources for a memorable trip!
I invite you to follow me on Facebook, Twitter, Pinterest and Instagram. In addition you can subscribe on YouTube.
You can also send an email to get help planning your trip: info(at) visitecuadorandsouthamerica(dot)com
Save
Save
Save
Save
Save