Tradiciones navideñas en Ecuador – América del Sur
Ecuador está situado en la parte noroeste de América del Sur. Debido a su ubicación en la lìnea ecuatorial, el país tiene poca variación en las horas de luz durante el año. De ahí que los ecuatorianos disfruten de un clima primaveral perfecto durante todo el año.
Debido al clima cálido en el país, hay muchas celebraciones y eventos que tienen lugar al aire libre durante la temporada navideña. Las tradiciones navideñas en Ecuador incluyen desfiles, bailes y fuegos artificiales.
A continuación, voy a nombrar algunas de las tradiciones navideñas más conocidas y practicadas en Ecuador.
En primer lugar tenemos novenas cada diciembre.
¿Qué es Novena?
En Ecuador, la temporada navideña comienza con una tradición llamada "novena" el 16 de diciembre. El nombre "novena" se refiere a los 9 días de preparación para el nacimiento de Jesucristo. Además, es la época en que las familias, vecinos o grupos de amigos se reúnen cada noche en una casa diferente, para rezar, cantar villancicos y comer juntos.
Al mismo tiempo, se pueden escuchar villancicos tradicionales en centros comerciales, escuelas, restaurantes y otros lugares grandes, lo que indica el comienzo de la temporada.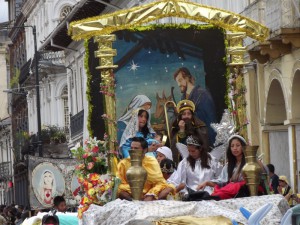 Another traditional celebration is El pase del Niño
What is El pase del Niño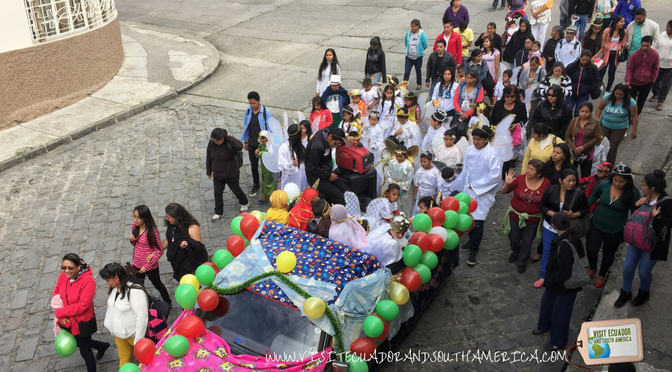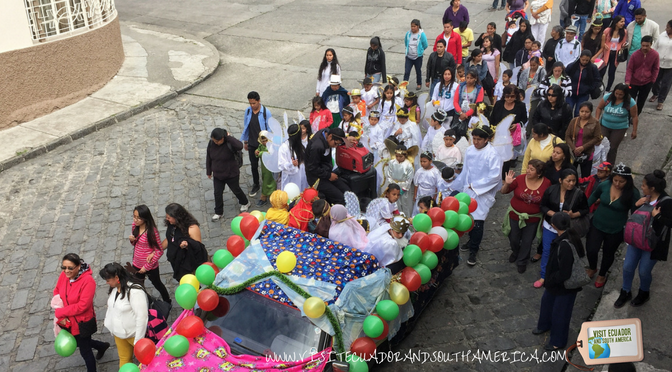 Como la mayoría de los habitantes del país son católicos, las tradiciones están vinculadas a la religión y se dedican a celebrar el nacimiento de Jesucristo.
Tradiciones como "el Pase del Niño" se pueden experimentar en la ciudad colonial de Cuenca, en el sur de Ecuador. Algunos de ellos son exclusivos del país.
"El pase del Niño" es una colorida procesión que representa el viaje de María y José a la ciudad de Belén, donde los músicos conducen carruajes y camiones por las calles principales.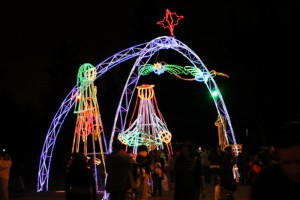 Otra gran tradición que da más encanto a la ya festiva temporada navideña son los Nacimientos.
¿Qué son los Nacimientos?
Es raro no encontrar un nacimiento que decore la sala de la casa de un amigo o familiar durante la Navidad.
En la mayoría de los hogares ecuatorianos también es bastante común encontrar nacimientos que son representaciones visuales o colecciones de figuras del naciimiento de Cristo, una tradición tan profunda en la cultura de los ecuatorianos que durante la Navidad hay concursos de nacimientos e incluso un gran nacimiento ubicado en uno de los principales miradores de la ciudad capital, Quito, por lo que es una parte importante y fácil de ver  en el horizonte de la ciudad.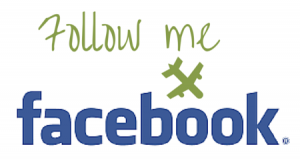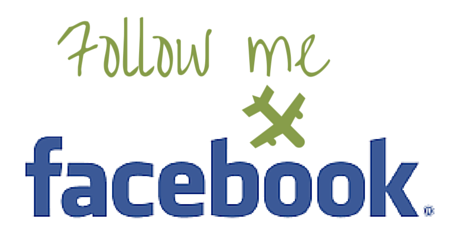 Los nacimientos para decoración, por otro lado, se encuentran en muchos lugares del mundo, le recomiendo que eche un vistazo a este libro que reúne a casi cien nacimientos de todo el mundo:  Nativities of the World.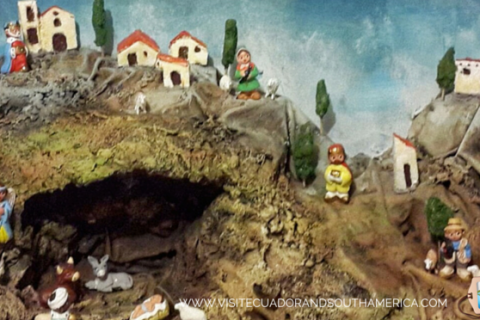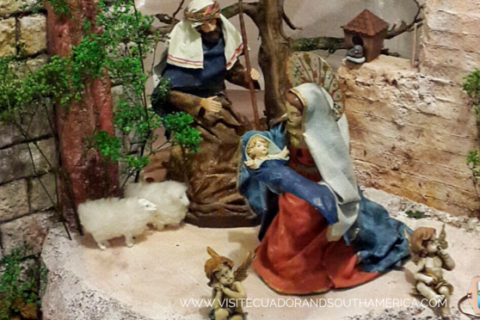 Misa de gallo
Esta tradición incluye asistir a la "misa de gallo", o misa de medianoche, el 24 de diciembre. Esto ocurre después de saborear la deliciosa cena tradicional.
Para nosotros la cena de Navidad incluye pavo o gallina rellena, pasas, arroz o papas, ensaladas y vino.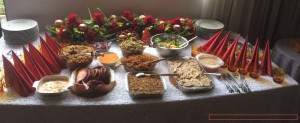 ¿Hay alguna tradición en su país similar a la nuestra? ¡Cuéntame todo sobre eso! ¡Amo aprender sobre otras culturas alrededor del mundo!
¿Estas planeando un viaje pronto? Comenta a continuación o mira estas opciones de tours a continuación.
GUARDALO EN PINTEREST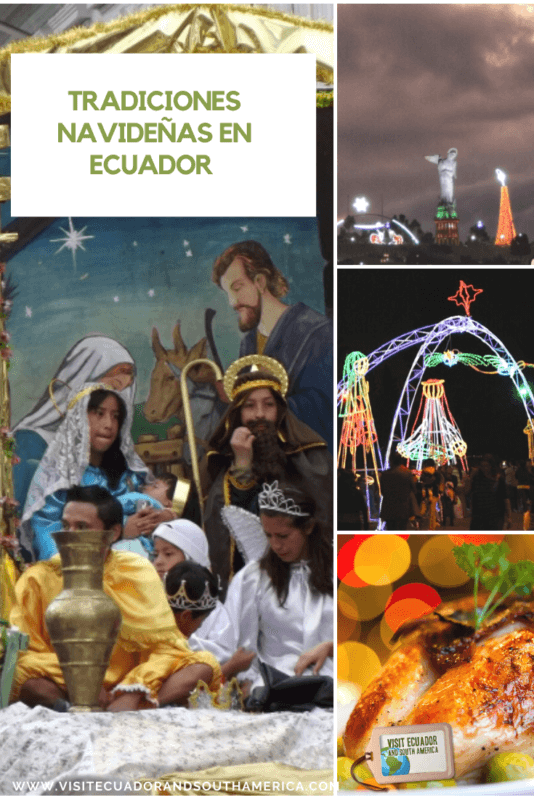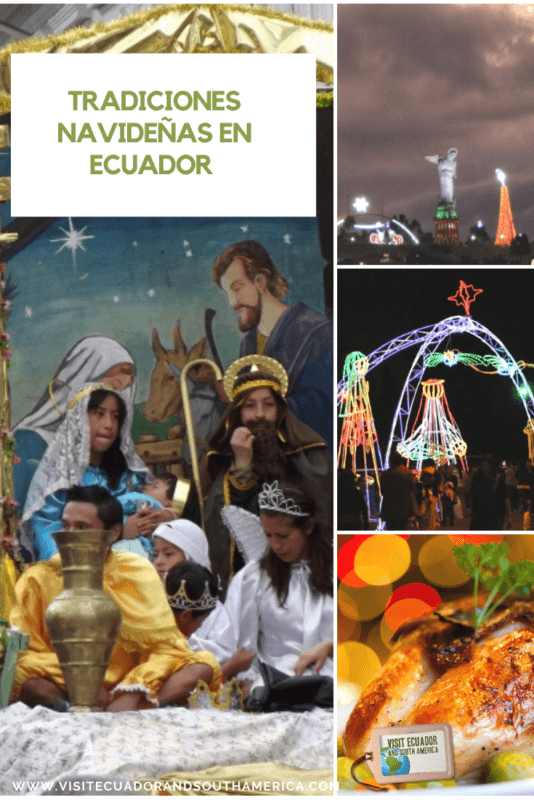 Si deseas información más detallada y también una guía que puedas llevar durante su viaje, te recomiendo la guía de viaje Lonely Planet Ecuador & the Galapagos Islands
.
Es una gran fuente de información y consejos, mapas y todo lo que necesita si planea visitar Ecuador.
No solo lo sueñes, haz que suceda. ¡Planifica tu viaje sudamericano con un local!
Echa un vistazo a esta lista de recursos de viaje para planificar tu viaje y viajar en América del Sur.
¿Estás soñando con tu viaje a Sudamérica? Ordena aquí tu libro electrónico gratuito, ¡comparto con ustedes algunos consejos y recursos útiles para un viaje memorable!
Les invito a seguirme en Facebook, Twitter, Pinterest e Instagram.. Además puedes suscribirte en YouTube..
También puedes enviar un correo electrónico para obtener ayuda al planificar tu viaje: info (arroba) visitecuadorandsouthamerica (punto) com