Things to do in Quito: Guapulo Park
If you are looking for new places to visit while in Quito, Guapulo Park, located a short taxi drive outside of the city, is a place to consider.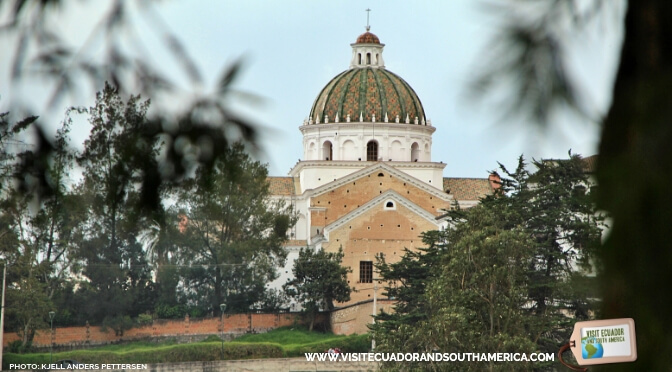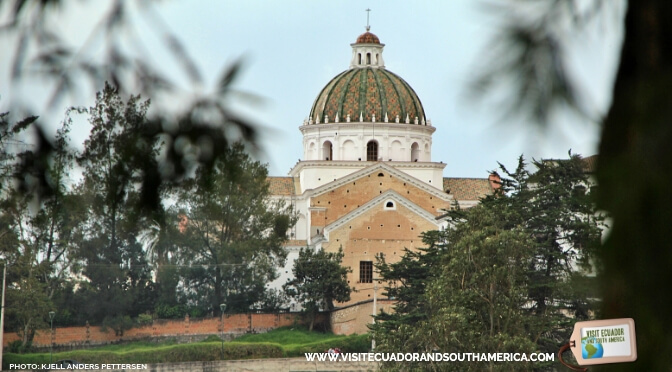 The fact is that we are always looking for new places to explore in Quito and the country.
We love finding places that allow us to breathe fresh air and enjoy the diversity in flora and fauna in Ecuador.
Learn more about all the things you can do while in Quito by visiting Visit Ecuador and South America's page with the top things to do in the country's capital city.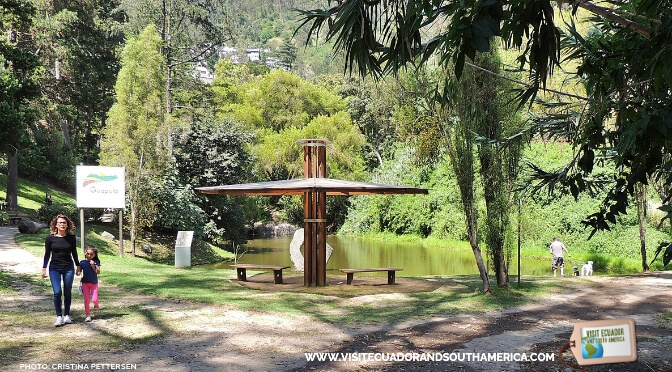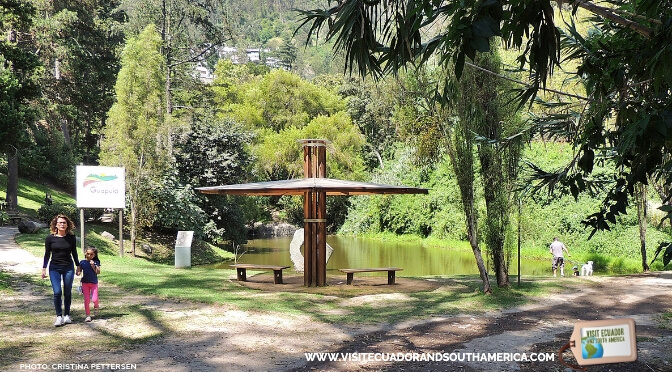 When my sister told us about this Park, we decided we had to go explore it.
About Guapulo Park

Guapulo Park (Parque Guapulo) is located 15 minutes from the city of Quito or 10 minutes from the valley of Cumbaya. A park with beautiful green areas, 100-year-old heritage trees, trails, and activities that suit all ages, including walking, playing, birdwatching, and relaxing.
The Park was a Hacienda built by the owner of what was Banco Popular, Nicolás Landes. Due to a banking crisis, the bank disappeared, and the owner fled the country.
The land was seized by the government and is now open to the public as Guapulo Park.
The Hacienda
One of the unique features of this Park is its beautiful hacienda house. Nowadays, it is the perfect venue for events.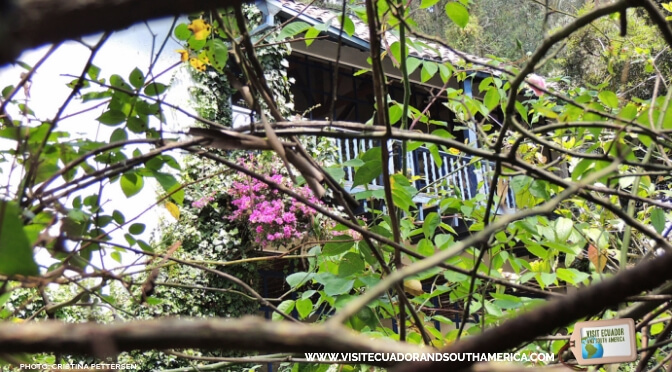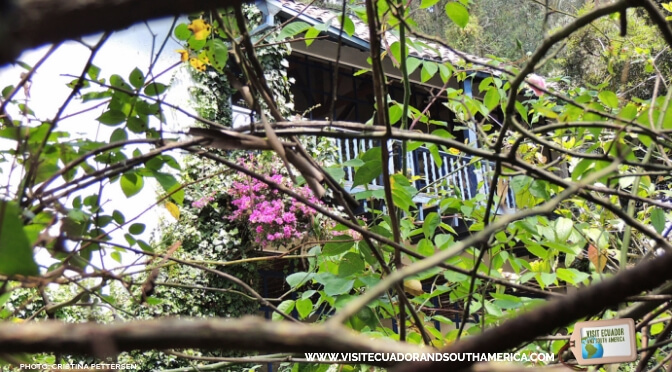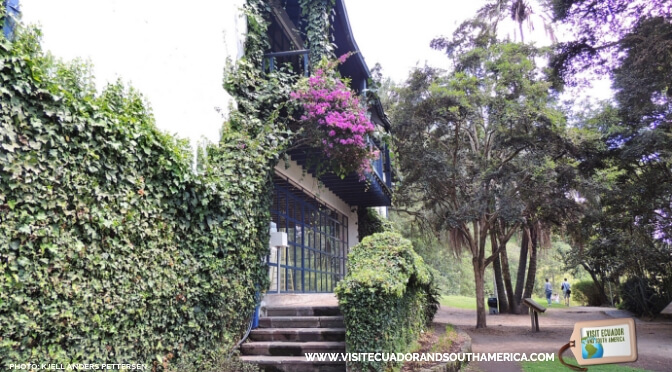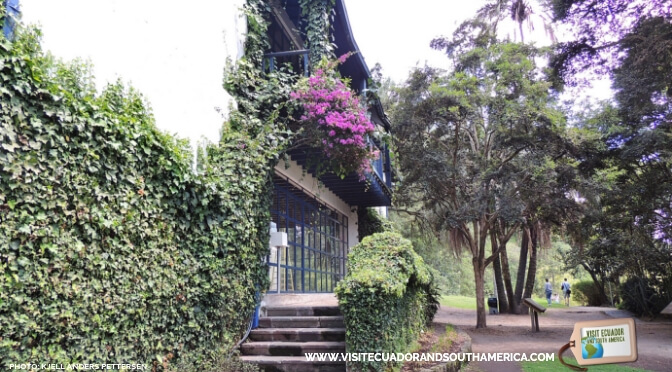 If you are driving from Cumbaya to Quito, you find one of the two parking lots on the right side after the bridge over the Machangara river.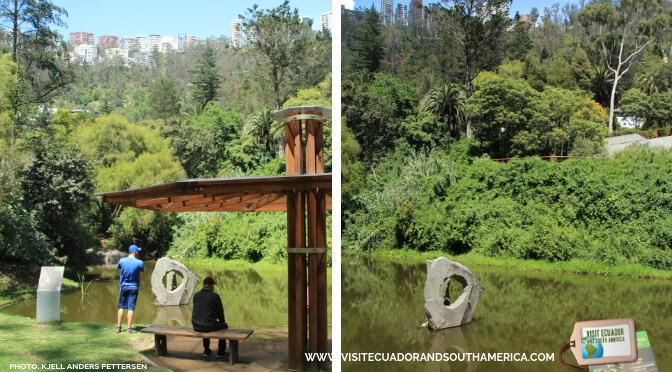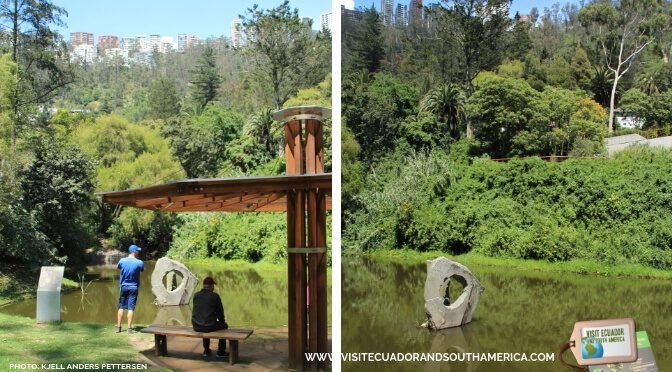 A short walk brings you to a small lake, a beautiful place to take in the view, to relax, to rest.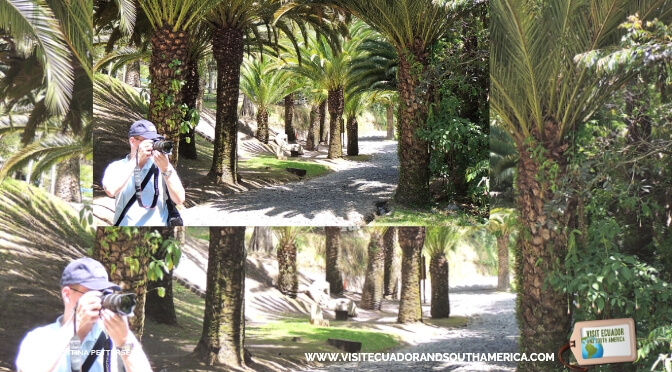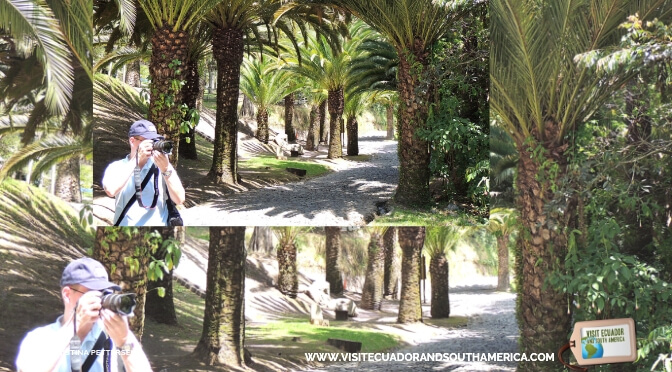 Important information
There is no admission fee, and the Park is open from 08:00 to 17:00.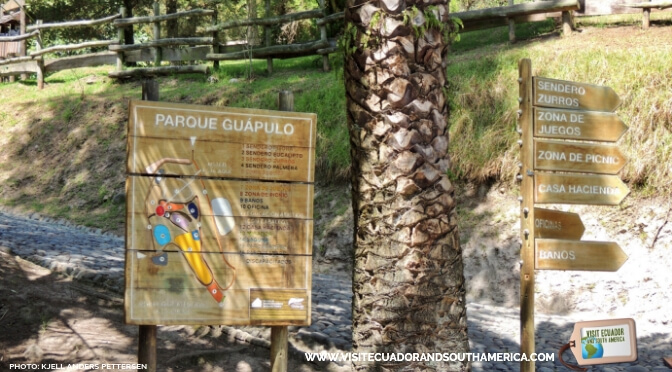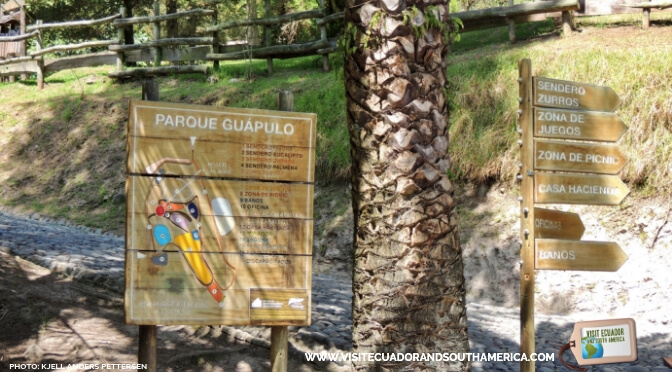 Signs show the four trails around the Park, the picnic area, and the hacienda house.
The trails
Inside the 19 hectares, there are four different trails and many green areas perfect for walking. There are some flat and some steep hiking trails, so it is something to consider when you choose the trails. If you have not been some days in the city, remember that Quito is located at 2800 m or 9,200 feet of altitude, so take it slowly.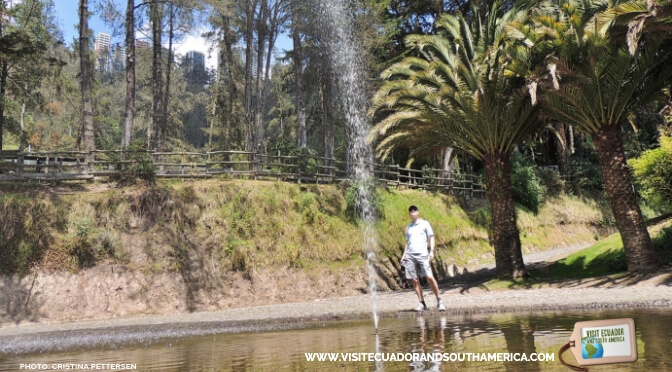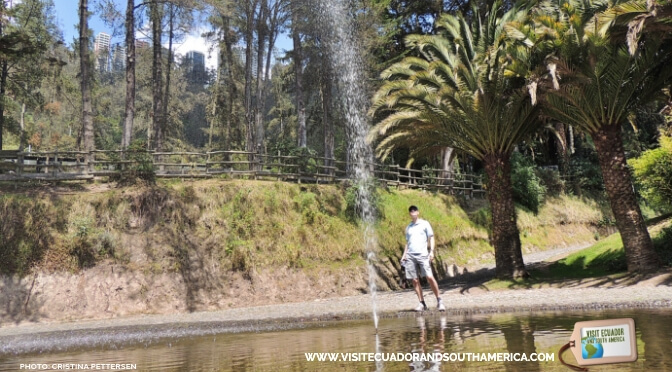 Activities for all ages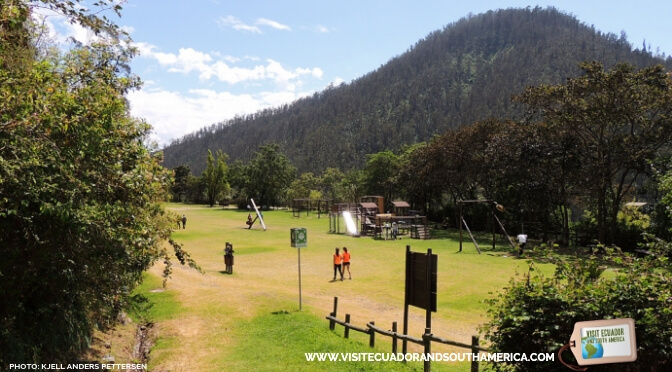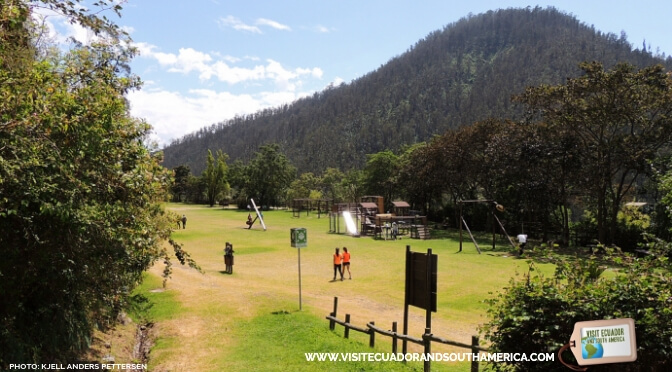 Equine-Assisted Therapy
The Foundation "A Caballo Vamos" works with over 1.000 kids with special needs.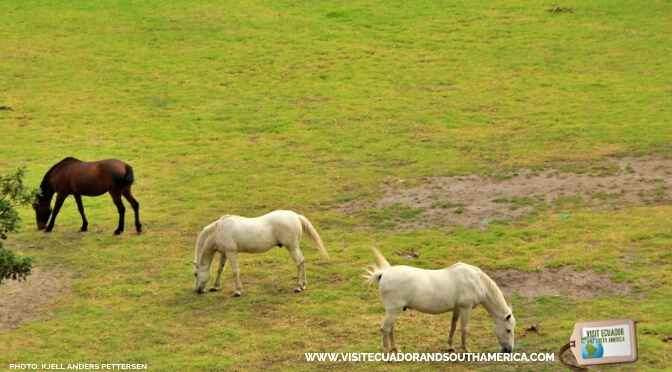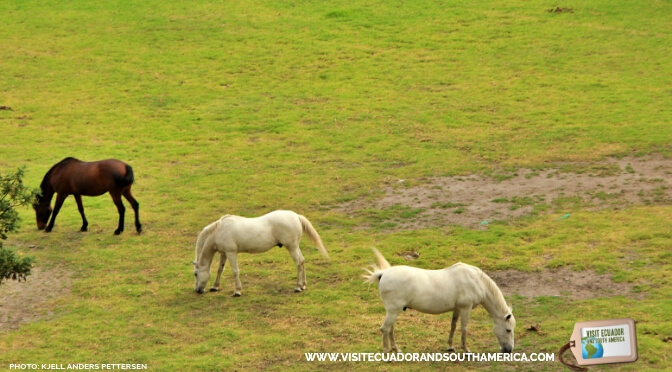 Playgrounds for kids
Fun playgrounds made mostly with wooden structures, including a zip-line, perfect for kids of all ages.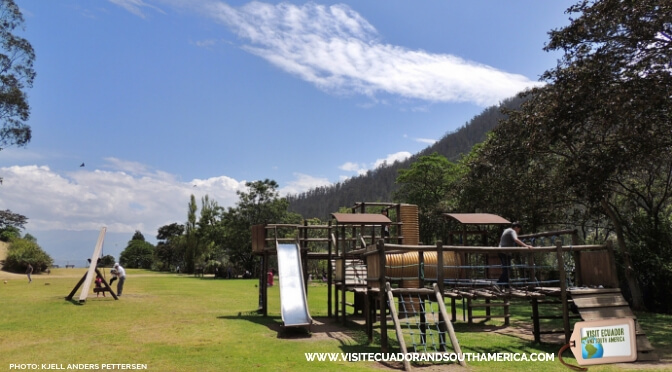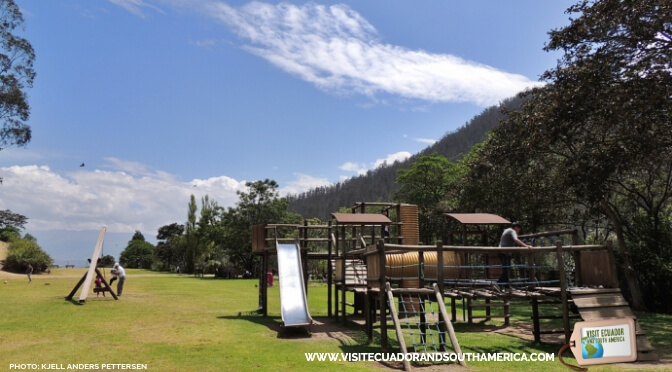 One of the vistas the Park offers is the one of the Church of Guapulo and also of Avenue Gonzalez Suarez with its many high-rises.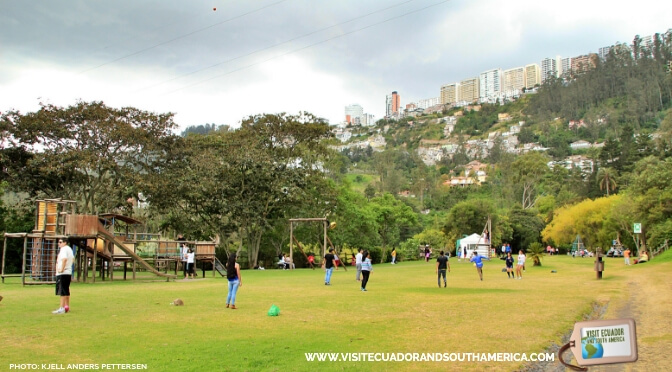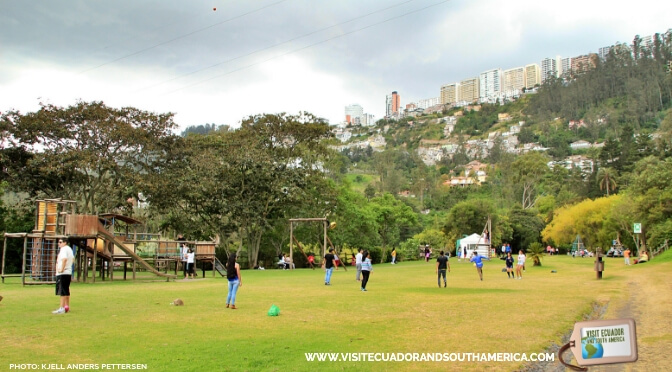 Camping and a Kiosk with food
There is also a camping area and a kiosk with some snacks, ice cream, and beverages.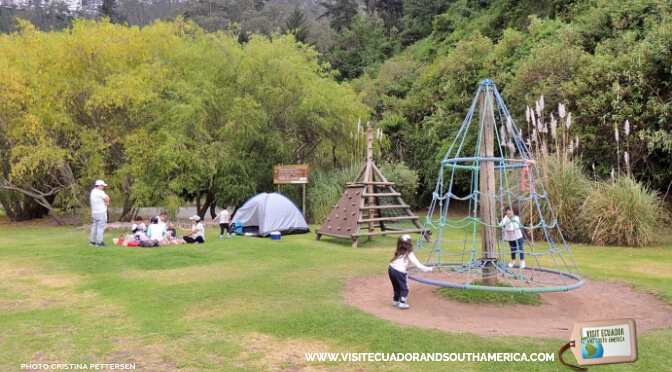 Camping area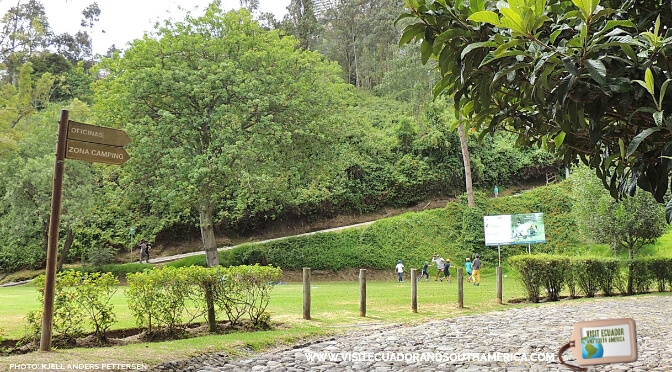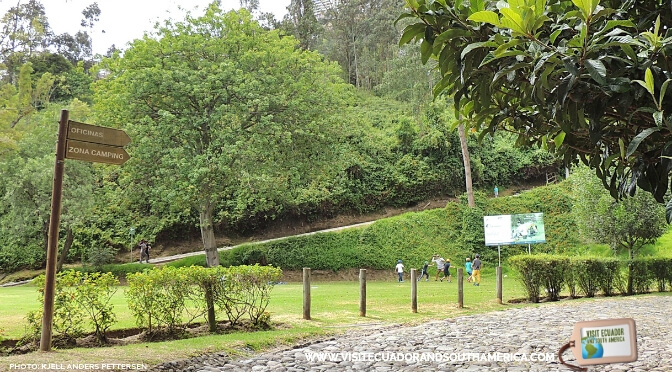 Birdwatching
Their promotional material mentions three bird species. We saw four, including hummingbirds and pigeons.
The lookout point
At the opposite side of the playground area, you find a lookout point with benches overlooking the valley of Cumbaya.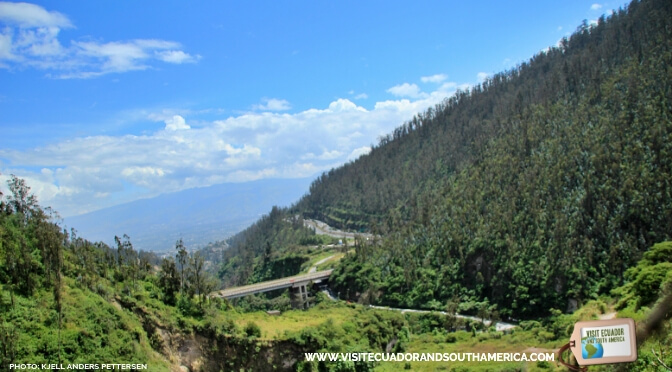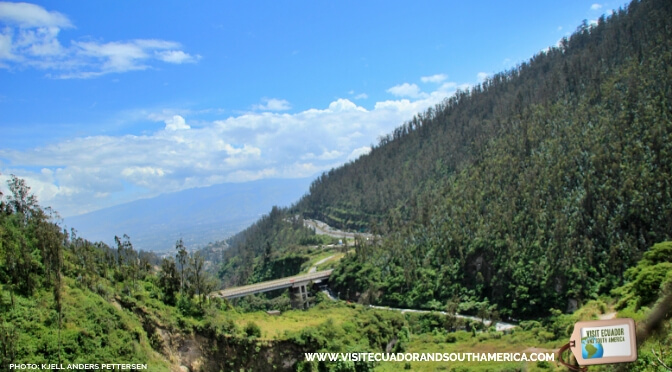 How to get there
There are two entrances to the Park: one driving from Cumbaya down to Guapulo, the other down from Floresta in Quito descending Camino de Orellana.
If you are in South America, I would love to see your pictures.
What to bring
In case you have a rainy day it is recommended to bring a waterproof jacket or poncho.
Bring good walking shoes, as not all the trails are flat.
Most importantly, make sure to bring insect repellent and sunblock. Due to the vegetation and weather, there are areas where you may find some hungry mosquitoes.
Pet-friendly
You can bring pets, but make sure they are on a leash and bring a bag to clean up after them.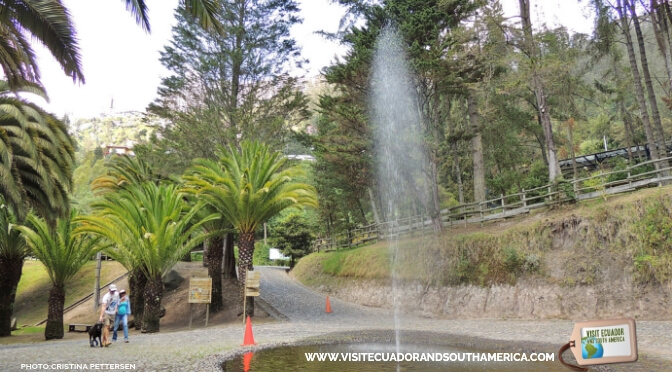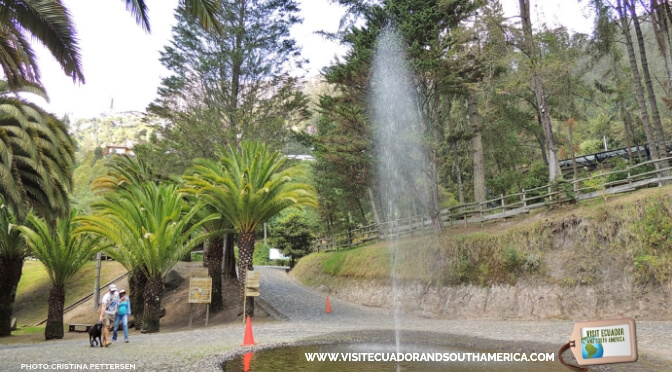 Take a look at other activities you can enjoy in the city and surroundings while you are in Quito.
Why choose Quito to live, and study Spanish?
Where to stay
We often have friends, family, and also work-related visitors coming to Quito; together with my family, we have our top recommendations here:
Hacienda Jimenita is the place to escape to nature, relax and connect with history near Quito Airport. We tell you all about our visit to this enchanting hacienda and book your stay. 
Hotel Las Cuevas Terra Lodge to spend the perfect getaway in a cave hotel near Quito. You can read all about our unique experience here and book your stay. 
Hotel Finlandia has a great location in the modern part of Quito, near the main shopping centers and Parque La Carolina. It offers good food, fair prices, free Wi-Fi, and comfortable rooms and the staff is helpful and friendly.
Hotel Vieja Cuba This is a cozy small hotel with comfortable rooms, and friendly and helpful staff. The hotel offers a fresh-made breakfast consisting of eggs, granola, toast, ham, cheese, yogurt, and tea or coffee. The location is also great, not far from Plaza Foch, within walking distance you have one of the nicest areas for locals and tourists alike. Minutes away from shops, restaurants, pubs, bars, and more.
and if you want to go camping but without abandoning some comfort, you can go Glamping at Urkuwayku Organic Farm in Ilalo, it connects you with Nature and is located near Quito.
What to eat
Check our gastronomy option on the menu, to discover many of the traditional dishes, street food and fruit available in Ecuador, to delight your palate with the flavors of the country.
Conclusion:
If you love nature, plan a trip to Guapulo Park.
If you found this page helpful, I would appreciate it if you would pin, share or tweet it on any social media platforms you use! Every little bit will help fund our travels and continue to bring great content to our site!
PIN IT FOR LATER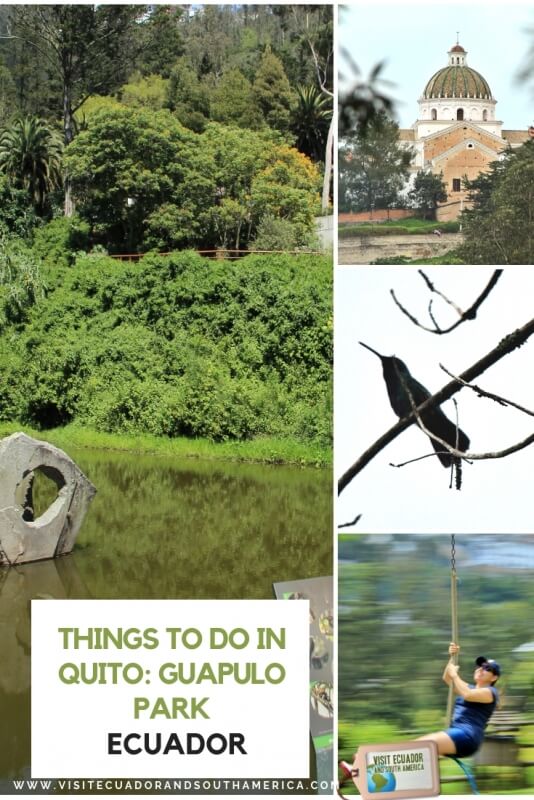 If you want more in-depth information and also a guide that you can bring along during your trip, I recommend the travel guide Lonely Planet Ecuador & the Galapagos Islands
.
This is an excellent source of information and tips, maps, and all you need if you plan on visiting Ecuador. I like the option of having a hard copy version where I can take notes and have them at hand.
Don't just dream it. Make it happen. Plan your South American trip with a local!
Take a look at this list of travel resources to plan your trip and travel in South America.
Daydreaming about your trip to South America? Order here your Free Ebook. I share with you some valuable tips & resources for a memorable trip!
I invite you to follow me on Facebook, Twitter, Pinterest, and Instagram. In addition, you can subscribe on YouTube.
You can also send an email to get help planning your trip: info(at) visitecuadorandsouthamerica(dot)com.