The best museums to visit in Quito, the capital of Ecuador
There is a wide range of quality museums to choose from in the capital city of the country.
As a matter of fact, you can find some of the best museums in South America in the capital city of Ecuador. I confess I have yet to visit some of the museums in this article.
Learn more about all the things you can do while in Quito by visiting Visit Ecuador and South America's page with the top things to do in the country's capital city. 
If you are a history buff or just want to know a bit more about the culture, history, and art of the country, here are some museums worth visiting:
•    Contemporary art Museum
You can find this museum in the northern part of the Basilica del Voto Nacional.
The museum has permanent and also temporary art exhibitions.
•    Casa del Alabado
The location of Casa del Alabado museum is just on the South of Plaza San Francisco.
This is a small museum that offers an imposing and also comprehensive collection of pre-colonial art.
You get to learn all about the different tribes that inhabited Ecuador before the time of the Inca.
•    City Museum (Museo de la ciudad)
The museum is located just east of the Plaza de Santo Domingo. ( Garcia Moreno Street, between Morales and Rocafuerte)The museum is open from Tuesday to Sunday,  09:30 – 17:30.
El Museo de la Ciudad is one of the most gorgeous restored historic buildings.
It offers information about the history of the city. Starting with indigenous groups, the arrival of the Inca civilization, to the Spanish colonization, and up to more modern times.
•    La Capilla del Hombre
Located in Calle Mariano Calvache E18-94 y Lorenzo Chávez, esq. ( Barrio Bellavista).
The museum showcases the work of the legendary Ecuadorian Artist Oswaldo Guayasamín.  Opening hours are from Tuesdays – Sundays from 10:00 – 17:00. (closed on Mondays and holidays).
•    Casa de Sucre Museum
This museum is dedicated to Mariscal Antonio José de Sucre's life, a hero of Ecuadorian independence.
Visit this museum to travel back in time.  This museum features the history of Quito and especially the times of the colony and independence.
If you are in South America, I would love to see your pictures.
• Ecuador's National Bank Museum
This museum belongs to the Banco Central del Ecuador.
The museum is located on Av. Patria between 6 de Diciembre and 12 de Octubre.
The museum has a great collection of items, including Indian and Inca artifacts, breathtaking intricate sculptures, among others.
•    Museum of Anthropology Colegio Mejia
This museum offers 17 rooms showcasing the 21 different ethnic groups in all the regions of Ecuador.
In addition, there is a special room dedicated to the fauna of Ecuador.

•    Natural History Museum Gustavo Orcés (MHNGO)
It is located in the Escuela Politécnica Nacional University.
The museum houses the oldest and most crucial pale-ontological collection of the country.
•    The Wax Museum
The museum is located in the historic center.
It houses some quality objects and also historical documents dating back to the Audiencia de Quito. (an administrative unit in the Spanish Empire)
•    The ecological and recreational museum Yaku
Ecuadorians refer to this museum as the water museum located in the western part of the city.
This is an interactive, hands-on museum that teaches about the importance to fight water pollution.  It is a great museum to raise awareness about the environment.
Here, you can learn valuable information on how to preserve water.
Outside Quito
Intiñan Solar Museum
It is located just 200m northeast of the Mitad del Mundo Monument.
It is a local private attraction, reportedly built to mark the Equatorial line.
This museum offers a variety of activities and also knowledge of Ecuadorian culture.
Tour guides will demonstrate tricks that are possible only on the Equator.
Due to the Coriolis effect, water will be flowing both counter-clockwise and clockwise down a drain.
In addition, there is balancing eggs on the head of a nail or weakening of muscles due to latitude.
Read more about Intinan Museum.
In conclusion, as you can see, the capital city of Ecuador boasts a wide range of museums for you to choose from.
I invite you to discover the wide range of museums throughout Quito.
Have you been to any of these museums?
PIN IT FOR LATER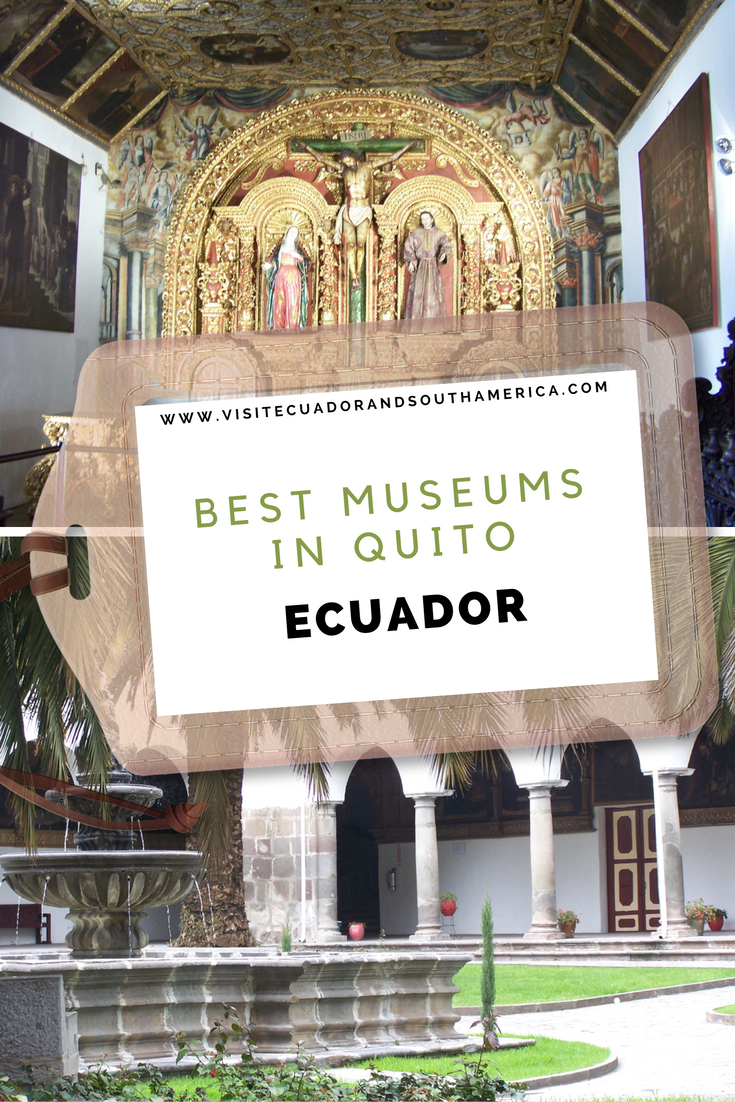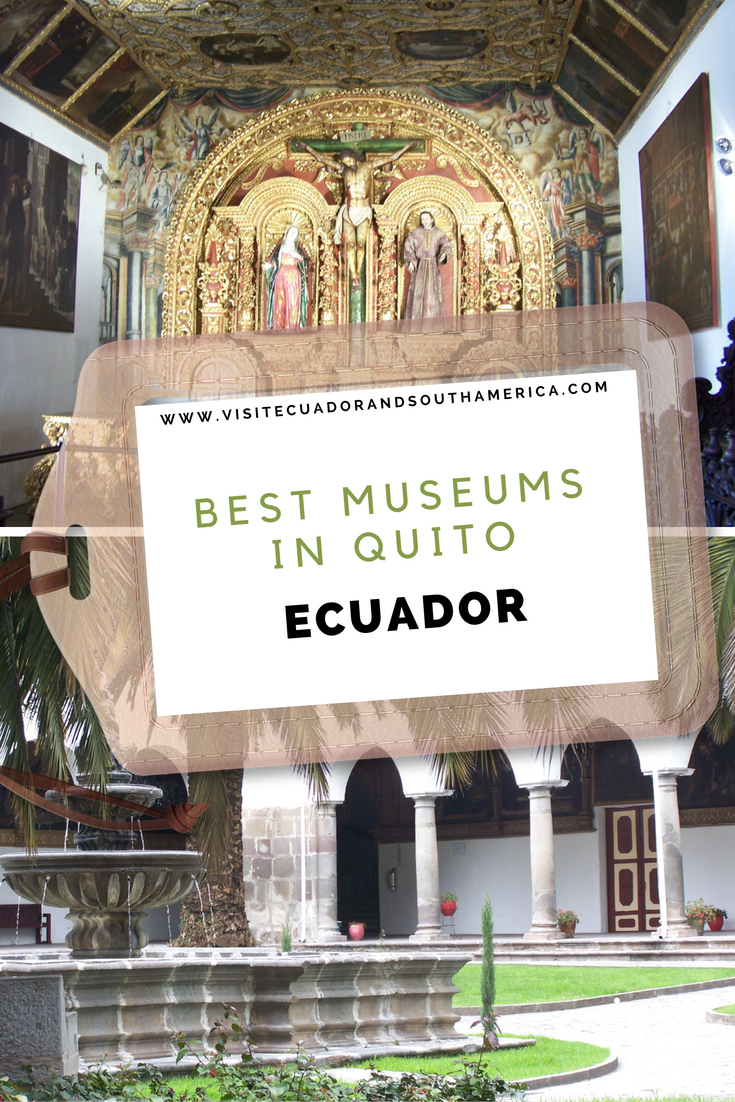 Don't just dream it. Make it happen. Plan your South American trip with a local!
Take a look at this list of travel resources to plan your trip and travel in South America.
Daydreaming about your trip to South America? Order here your Free Ebook. I share with you some valuable tips & resources for a memorable trip!
I invite you to follow me on Facebook, Twitter, Pinterest, and Instagram. In addition, you can subscribe on YouTube. You can also send me an email to get more information or help planning your trip: info(at) visitecuadorandsouthamerica(dot)com.
Save
Save