Maito: A dish not to be missed in the Ecuadorian Amazon Rainforest
Let me introduce you to one of the traditional, not to be missed dishes in the Ecuadorian Amazon Rainforest: maito.
The Amazon basin contains the largest number of freshwater fish species in the world — more than 5,600 species to be exact. This is the reason to find fish as one of the traditional dishes in this area.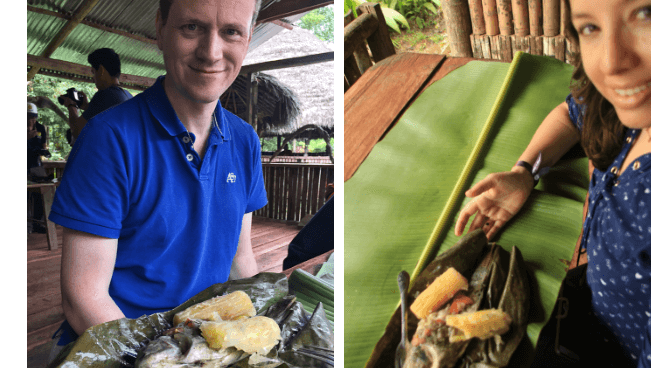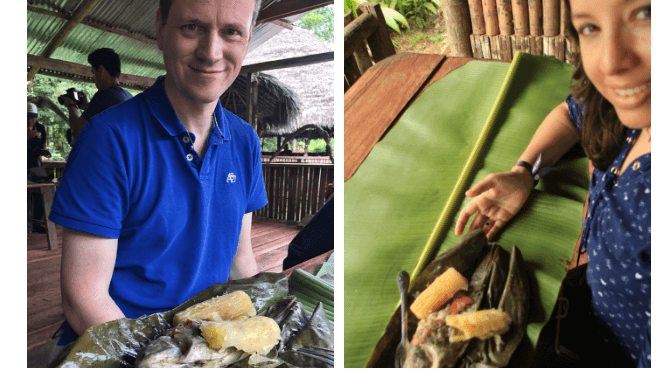 If you are in South America I would love to see your pictures.
What is it and how is it prepared
Maito is a traditional dish that has as main ingredient, fish and has strong Inca influences.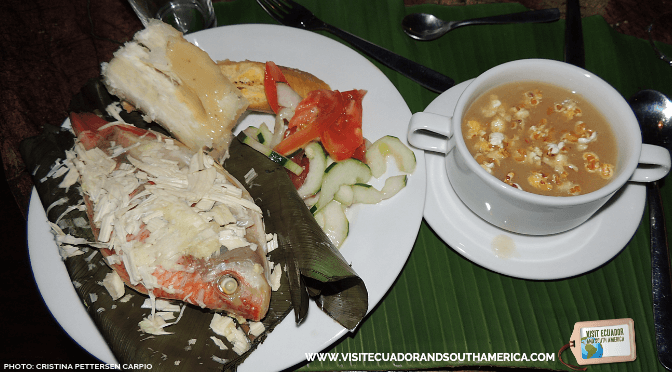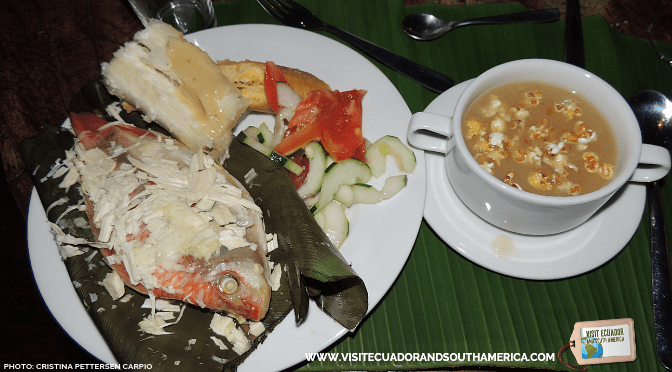 Maito is prepared cooking on a banana leaf, bijao, a tradition found in different parts of the Amazon.
After doing some research I found a recipe that suggests to to first place 5 leaves of bijao over the grill or fire to make them softer or more bendy.
After that the fish is tightly wrapped in bijao leaves, a technique that has been used in the past in the Amazon Rainforest during hunting and fishing days.
What it tastes like
In the past the fish flavor would come from the leaves. Nowadays we have tasted some tasty options, that are seasoned with salt, garlic and onion.  Both recipes, make that the juices and aromas of the ingredients give the unique flavour to this dish.  When you eat it, you can feel the white flesh of the fish melting in every bite.

Should you taste this dish?
Definitely! It is tasty and it is a must if you are in the Amazon Rainforest and like to fully embrace the experience.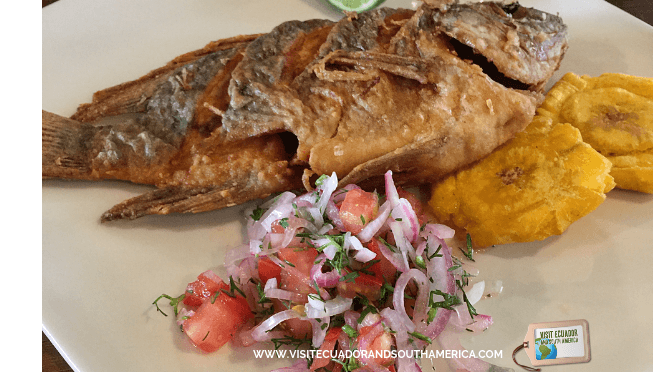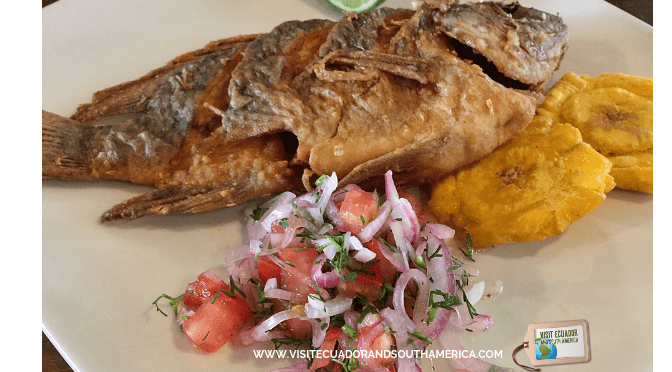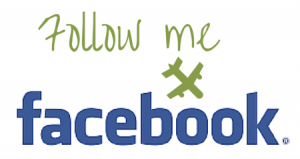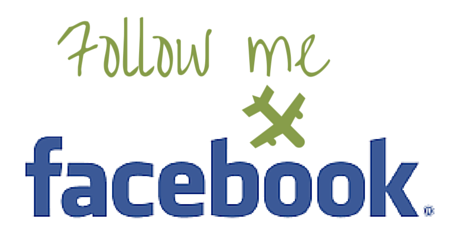 How to eat maito

This is a tasty dish served with products that are cultivated by the Chagramamas (women of the land) such as: yucca, plantain, chontacuro, potato, among others.  Most places will serve maito with a cold glass of guayusa (tea made from the leaves of a caffeinated Amazonian holly tree)
Where to eat it maito in Pastaza
We had the opportunity to visit two wonderful restaurants in the city of Puyo offering tasty traditional dishes from the region, including maito.
The first one offers a more modern twist on maito, fried and served with patacones. The restaurant is called Mokawa and is located in the city of Puyo. Here is their Facebook page with their address, opening hours and details. https://www.facebook.com/Mokawa
The second option worth visiting is restaurant Ushu Manka Puyo! I leave you their Facebook page where you find their address and contact information. www.facebook.com/uchumankapuyo
When you come to the Amazon you must ask for this special dish that will make you feel the magic of the jungle.
Have you tasted other exciting dishes while visiting the Amazon Rainforest? Let me know here!
PIN IT FOR LATER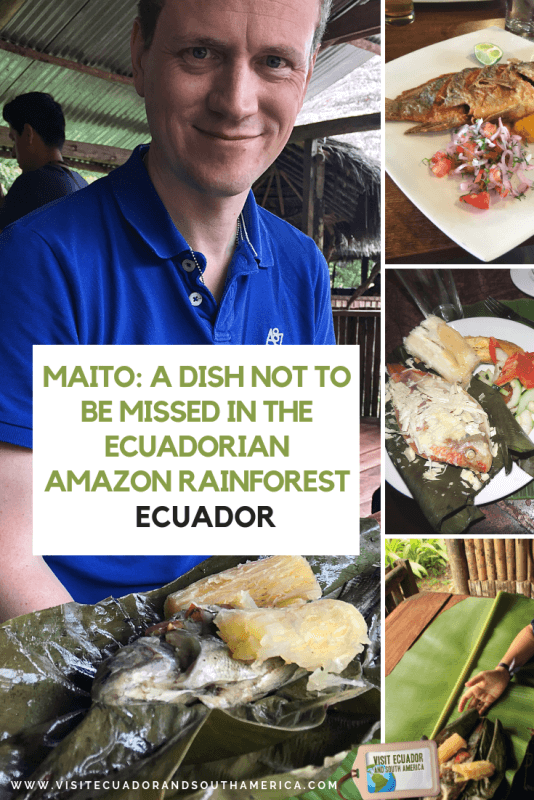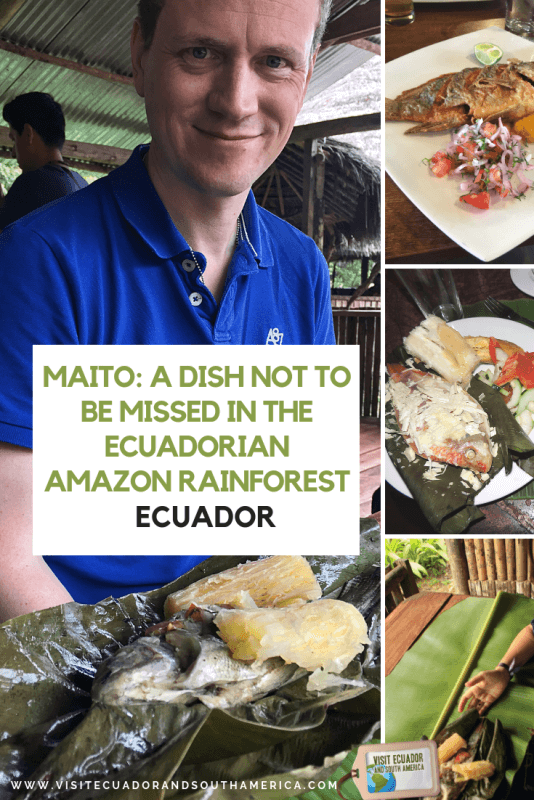 Want to Learn to make some of these dishes and many more? This book : Gran Cocina Latina: The Food of Latin America, comprises 500 well written recipes from all Spanish-speaking countries in Latin America, providing great information and recipes of the exciting food you can prepare at home while you plan your visit to South America.
Don´t just dream it, make it happen. Plan your South American trip with a local!
Take a look at this list of travel resources to plan your trip and travel in South America.
Day dreaming about your trip to South America? Order here your Free Ebook, I share with you some useful tips & resources for a memorable trip!
I invite you to follow me on Facebook, Twitter, Pinterest and Instagram. In addition you can subscribe on YouTube. You can also send me an email to get more information or help planning your trip: info(at) visitecuadorandsouthamerica(dot)com