La Lengua Spanish School: Best one-to-one Spanish lessons at flexible hours in Quito
If you are looking to learn some basic Spanish to get around during your stay in Ecuador, or you want to expand on your current knowledge of the language, La Lengua's language courses should be your first choice. They offer one-to-one classes which can be tailored to your liking and, best of all, your travel schedule.
Ecuador is one of the best places in Latin America to study Spanish and La Lengua has different locations to choose from.
About Quito
The main office of La Lengua is located in Quito.  Quito is Ecuador's capital city, and it enjoys a comfortable climate year-round between 13 and 24 C°. Ecuador's small size allows for easy and short travel from Quito, with most destinations requiring less than a day by bus.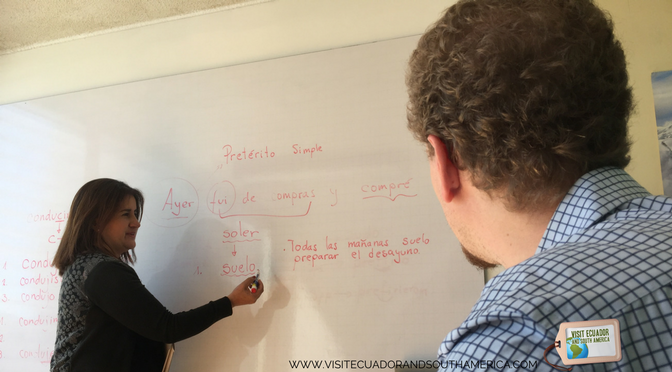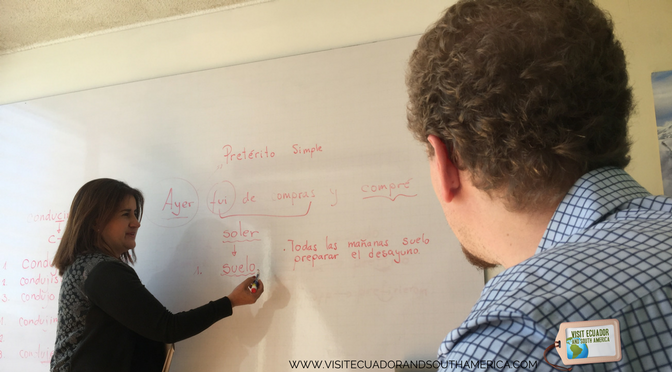 This December when we visited Ecuador, we had planned a lot of trips around the country. We needed a Spanish School that would allow my husband to study Spanish the days we were in the city and even take a few extra lessons online. So, when we found out about La Lengua Spanish School we decided it was the perfect Spanish School in Quito for us. My husband was extremely happy to be learning more Spanish with them.
I have asked him to describe his experience with the Spanish Classes, here is what he has to say:
The Spanish classes
"I have had a great time learning from Monica. She has a great way of explaining the grammar and the intricate world of Spanish conjugation, using simple games and stories about Ecuador and Quito."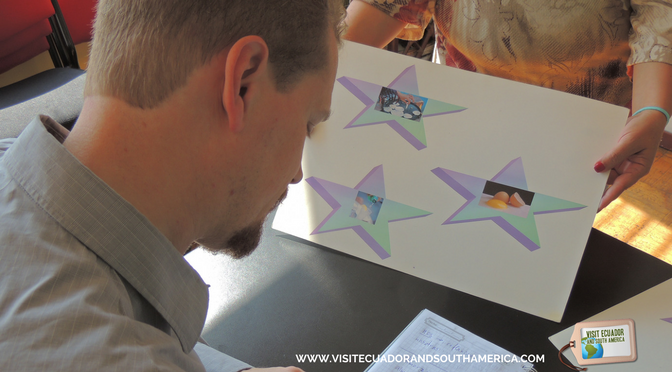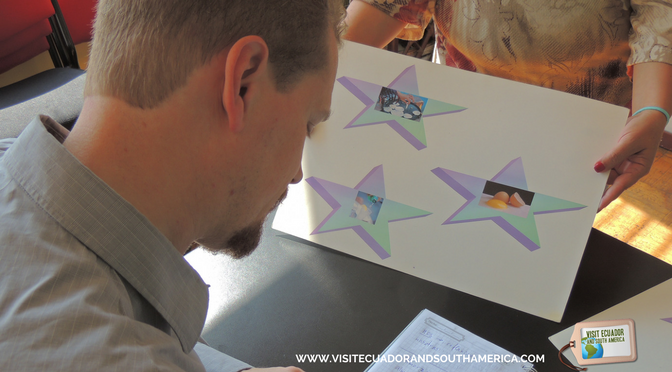 "Monica has practical and easy to understand examples of phrases for use in your everyday life in the city and in all the Spanish speaking areas you may encounter."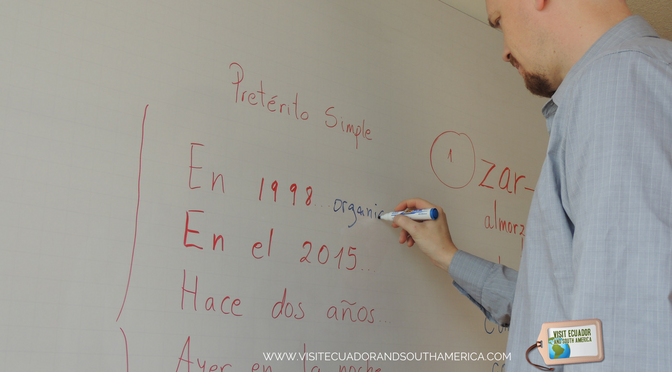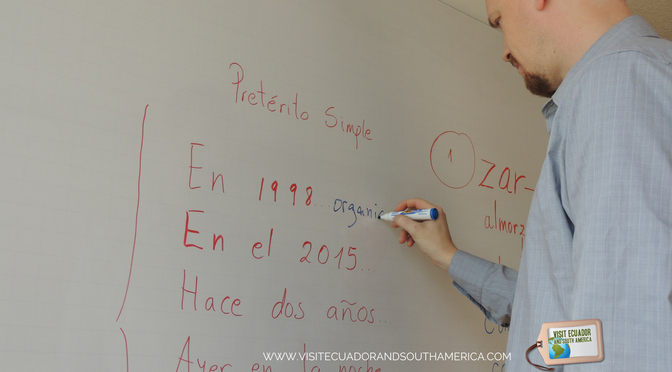 "I must admit that I was a bit apprehensive in the beginning, being one on one with a teacher, but my experience with Monica is that she is very encouraging and rewards your efforts with positive feedback. She also is very good at supplying your responses with examples from the history of Ecuador and Quito. So you will, in fact, both gain an understanding of the language and the history and culture of Ecuador."
The classes
Before a student starts his classes he has to take a test to find out his level of education and knowledge of Spanish if there is any. On the one hand, if a student has studied in Spain and wants to continue with the same program in order to get the DELE Diploma then texts from Spain would be used. On the other hand, if a student needs the language for work or to travel in Latin America, then the books "Lengua Viva" are ideal, as the dialogues, vocabulary and subjects are about Ecuador and Latin America.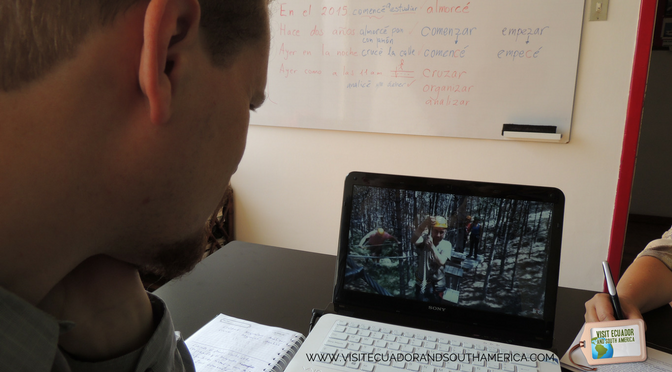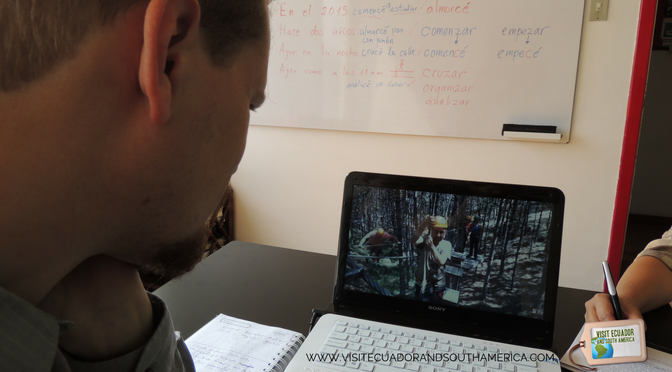 For the staff at La Lengua, the practice outside the classroom is as important as studying at the school. So, they also integrate games and real life practice into lessons. They have day trips to city markets to practice shopping vocabulary and museum visits to learn first hand about the culture of Ecuador and its people.
La Lengua makes sure students develop all the language skills: reading, writing, speaking and listening with their program.
Online classes
La Lengua Spanish School also offers Spanish classes online via Skype with native Ecuadorian teachers.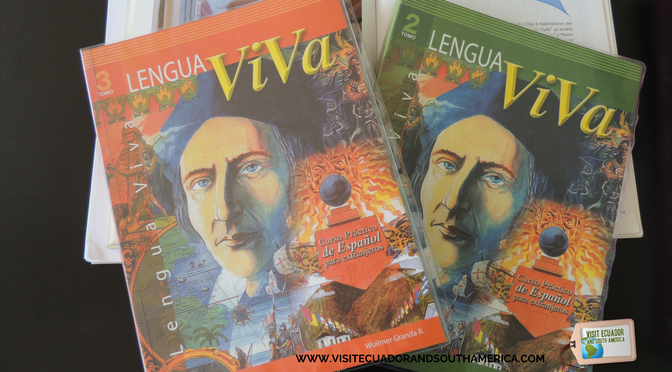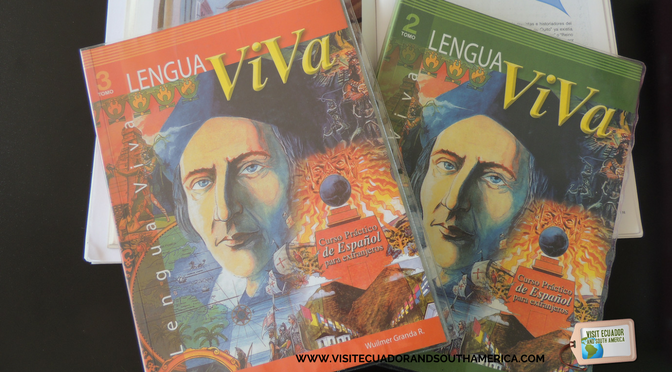 Volunteer work 
"In addition to the classes, La Lengua, offers students the opportunity to volunteer at a nearby refuge for families of underprivileged children from all over Ecuador who have gone through, or are currently going through, cancer treatment. The refuge is run by the director of La Lengua, Ligia, who has been a practicing therapist/counsellor for years. Volunteering at the refuge gives students the opportunity to interact with families and thereby rapidly expanding their knowledge of the Spanish language, as spoken by the inhabitants of Ecuador.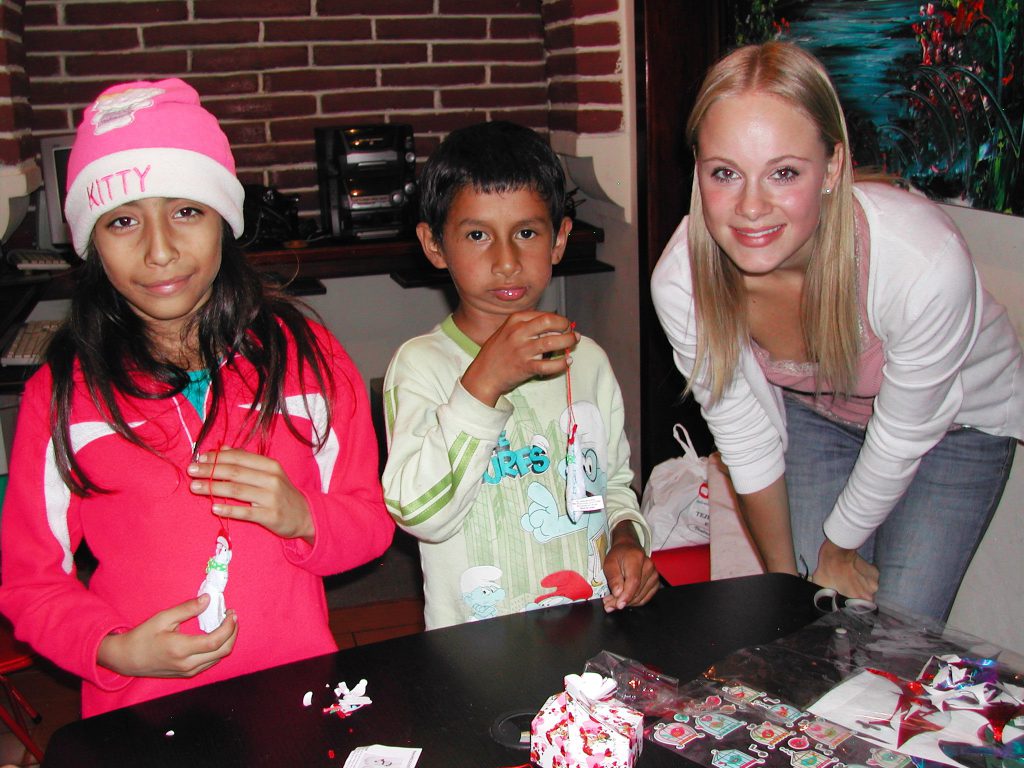 "I did not take the opportunity to volunteer because I was already staying with my in-laws at their home, so I cannot say how this experience would have been. But, I did get a chance to visit the refuge alongside with Ligia and Monica and met several children and families who seemed to be very happy to have a place to recuperate."
If you are in South America I would love to see your pictures.
"They are also able to offer language classes "on the go". In other words, the teacher will travel alongside you during parts of your trip and learn while traveling the country. When I was there, one of the teachers had just been to the Galapagos islands with some of her language students. True tailor-made language classes."
How great is that?
"Both my personal teacher, Monica, and the owner and director, Ligia are among the most wonderful and welcoming people you will meet on your journey. They are truly interested in you, and in helping you achieve your language goals".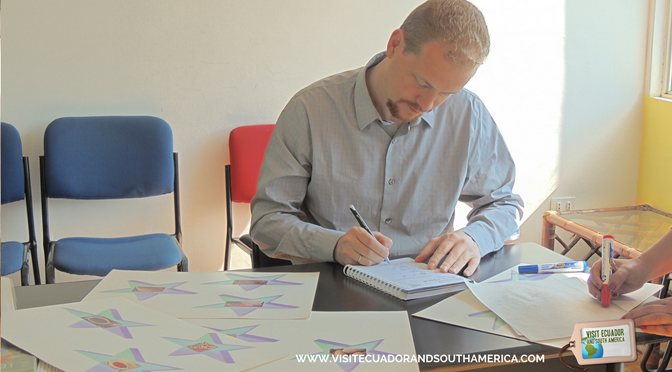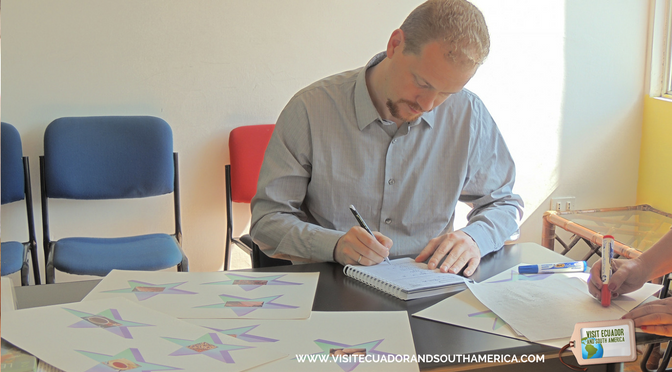 Another great addition to the fabulous service provided by La Lengua, is a City Place or City Tour.
Tim White works with La Lengua and took us on a guided city tour. A great tour aimed at helping new students get acquainted with the most vibrant area of the modern part of Quito.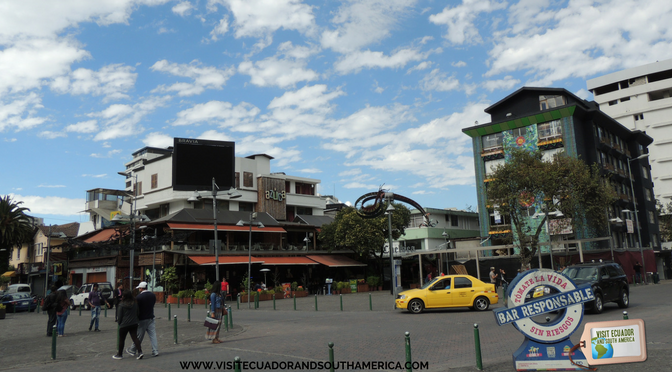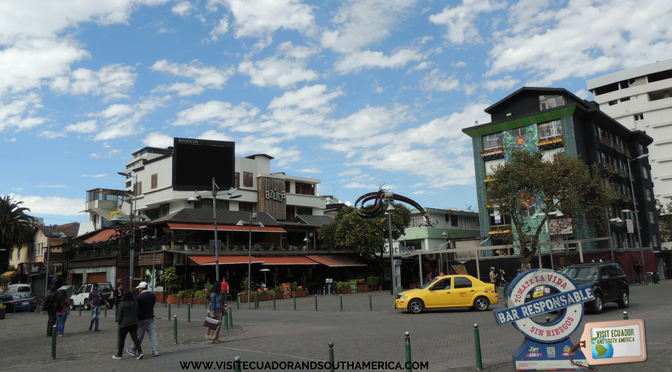 The aim of the city tour of Quito
"The aim of my tour of La Mariscal in Quito is to use the information I have learned for 4 years to give the tourists a view of the most popular sites in La Mariscal. The first part of the tour I show my new group some of the most popular restaurants and bars that the tourists have liked. I have learned this information from the many tourists I have met through foundation work and at social meeting places in Quito. Many tourists have shown an interest in the several vegetarian restaurants in the area. All tourists though are not the same and many like the local food and I have indicated some of these restaurants that have the best food and reputation."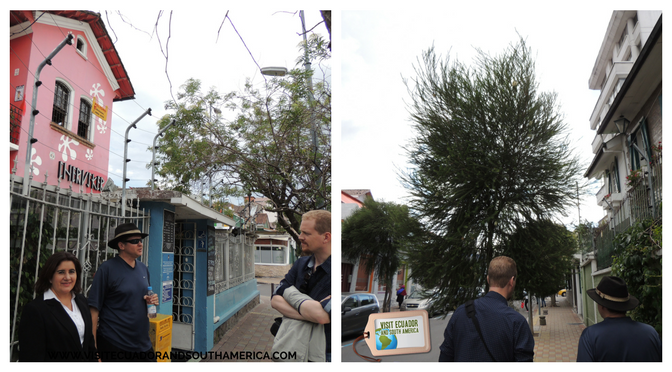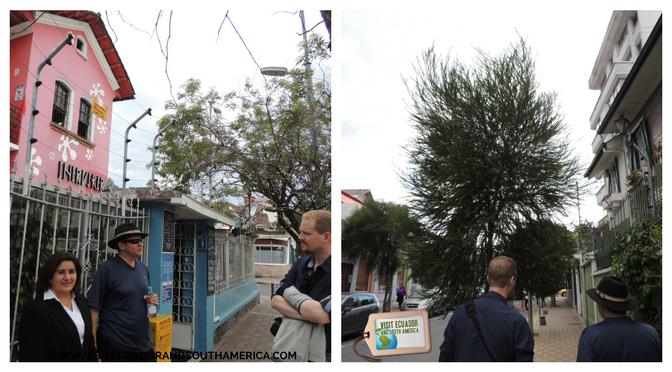 Nightlife in La Mariscal can be fun but where to go?
I point out on my tour some of the favorite nightspots that include good quality artisanal beer. One of the best features of Ecuador that can be found in La Mariscal is the handmade goods and art. When I take my group to these locations they are amazed at the quality and texture of the products.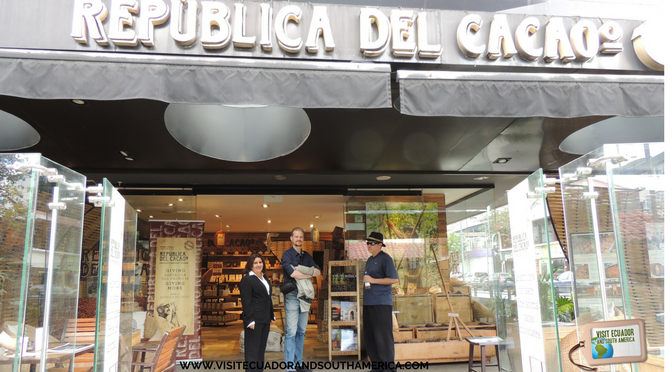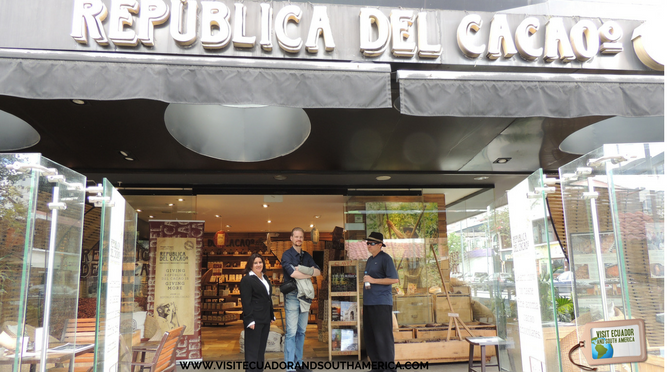 One really interesting part of the tour is visiting the large market. There people can sample the splendid variety of fruits and fruit juices; my favorite is the guanavana. Much of the traditional Ecuadorian cuisine is served for lunch here at the market ( there are 4 major food markets in Quito). Members of my group are often allowed to taste the food to see if they like it first.There is also a large quantity of herbs and beautiful flowers which Ecuador exports around the world. We often end the tour by tasting the chocolate in the chocolate shops (which Ecuador is famous for) and visiting one of the two used bookstores which many tourist come to and can find a used book or tour guide in their own language."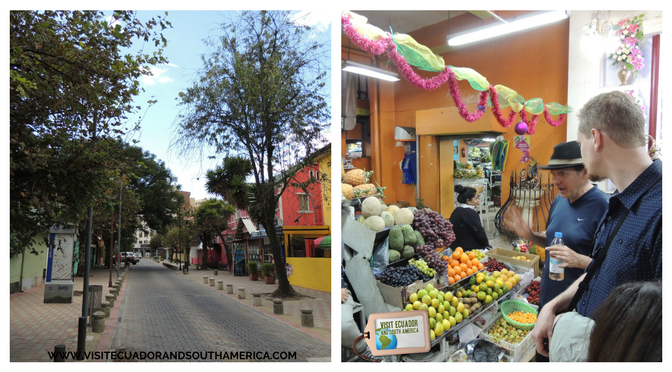 You can book this and similar tours with Tim, by contacting La Lengua:
Tim has provided us with some interesting facts that you should know if you are planning to Live, work & learn Spanish in one of the best places of South America, Quito.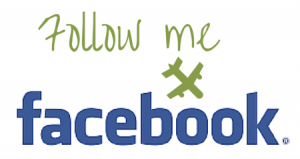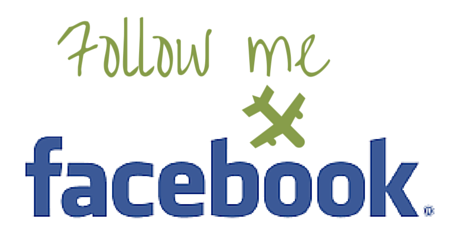 Conclusion:
Whether visitors are planning on learning or improving their Spanish while in Ecuador or to travel and get basic Spanish knowledge, La Lengua Spanish Tours and School is an excellent option.  Students get to learn or improve Spanish language skills, as well as to discover more about Ecuador in a very friendly and warm atmosphere in Quito.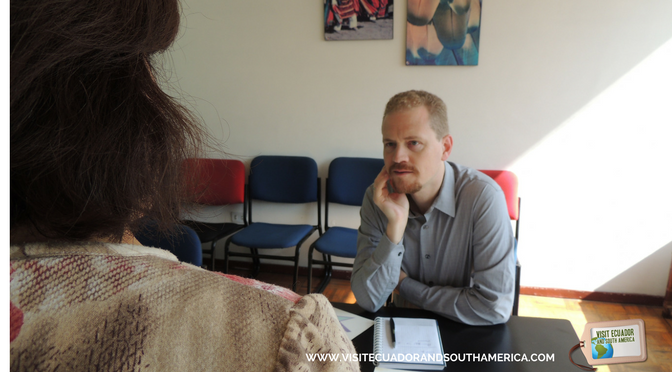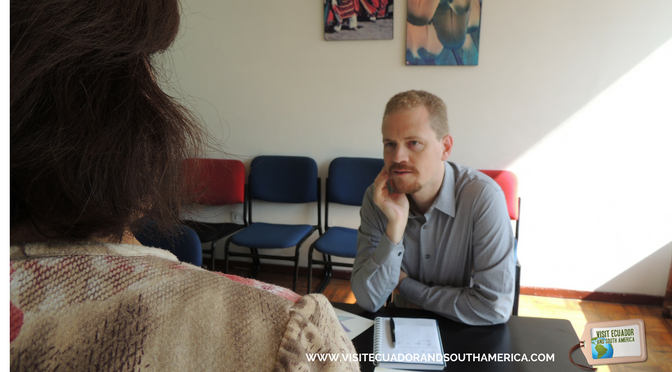 In addition to learning with extremely dedicated and friendly Spanish teachers, students are able to fit their lessons with their travel schedule.
Learn more about La Lengua Spanish School and Tours: www.la-lengua.com.  No matter your level of Spanish, I can highly recommend La Lengua Spanish School and Tours.
Where:
Av. Cristóbal Colón E6-12 and Rábida – Building "Ave Maria"
Between Juan León Mera and Reina Victoria
Take a look at some activities you can enjoy in the city and surroundings while you are in Quito.
Why choose Quito to live, and study Spanish?
Where to stay
We often have friends, family, and also work-related visitors coming to Quito; together with my family, we have our top recommendations here:
Hacienda Jimenita is the place to escape to nature, relax and connect with history near Quito Airport. We tell you all about our visit to this enchanting hacienda and book your stay. 
Hotel Las Cuevas Terra Lodge to spend the perfect getaway in a cave hotel near Quito. You can read all about our unique experience here and book your stay. 
Hotel Finlandia has a great location in the modern part of Quito, near the main shopping centers and Parque La Carolina. It offers good food, fair prices, free Wi-Fi, and comfortable rooms and the staff is helpful and friendly.
Hotel Vieja Cuba This is a cozy small hotel with comfortable rooms, and friendly and helpful staff. The hotel offers a fresh-made breakfast consisting of eggs, granola, toast, ham, cheese, yogurt, and tea or coffee. The location is also great, not far from Plaza Foch, within walking distance you have one of the nicest areas for locals and tourists alike. Minutes away from shops, restaurants, pubs, bars, and more.
and if you want to go camping but without abandoning some comfort, you can go Glamping at Urkuwayku Organic Farm in Ilalo, it connects you with Nature and is located near Quito.
What to eat
Check our gastronomy option on the menu, to discover many of the traditional dishes, street food, and fruit available in Ecuador, to delight your palate with the flavors of the country.
Editors Disclosure: My husband was a student As always, all opinions expressed here are entirely my own and based on my personal experience.
If you found this page helpful, I would appreciate it if you would pin, share or tweet it on any social media platforms you use! Every little bit will help fund our travels and continue to bring great content to our site!
Planning a trip soon?  Comment below or send me an email, I can help you with more tips to save money or to plan your trip.
PIN IT FOR LATER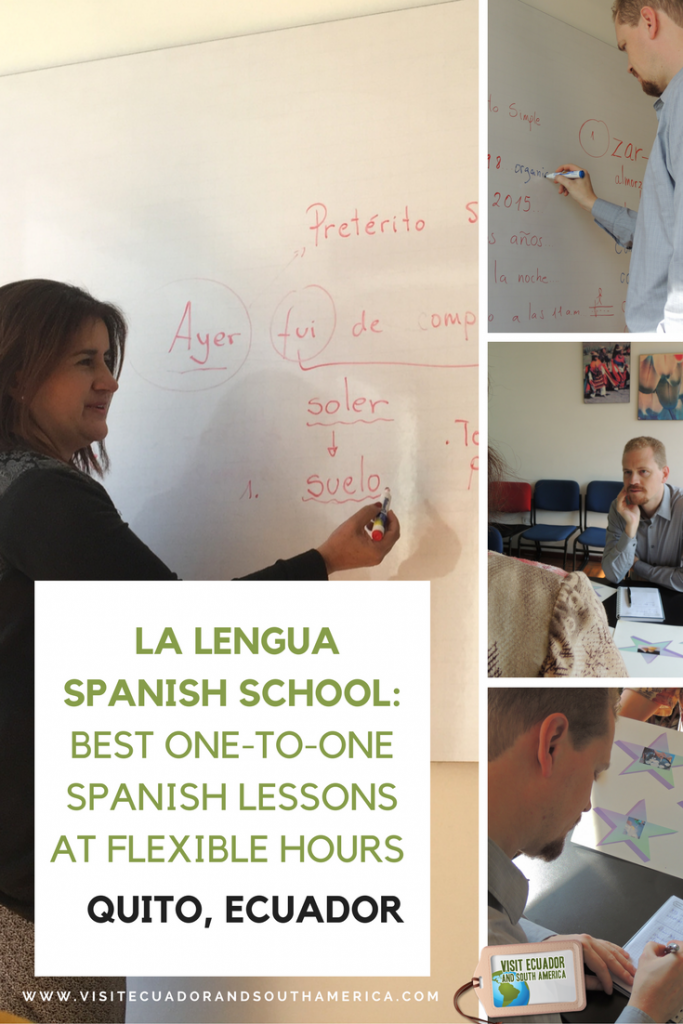 If you want more in-depth information and also a guide that you can bring along during your trip, I recommend the travel guide Lonely Planet Ecuador & the Galapagos Islands
.
This is a great source of information and tips, maps and all you need if you plan on visiting Ecuador. I personally like the option of having a hard copy version where I can take notes and have at hand.
Don´t just dream it, make it happen. Plan your South American trip with a local!
Take a look at this list of travel resources to plan your trip and travel in South America.
Day dreaming about your trip to South America? Order here your Free Ebook, I share with you some useful tips & resources for a memorable trip!
Finally, I would like to invite you to follow me on Facebook, Twitter, Pinterest and Instagram. In addition, you can subscribe on YouTube.
Send me an email for help planning your trip: info(at) visitecuadorandsouthamerica(dot)com