Irresistible Carnes de San Joaquin: Exploring Cuenca's Gastronomic Traditions
Cuenca, nestled in the picturesque highlands of Ecuador, is a haven for food enthusiasts seeking authentic culinary experiences. The city boasts a vibrant gastronomic scene, offering a myriad of delicious dishes to satisfy the taste buds of even the most discerning foodies. Among the highlights of Cuenca's culinary heritage are the Carnes de San Joaquin, a wide range of dishes made with meat that will tantalize your palate. Join us on a gastronomic journey as we delve into the origins, preparation, and where to find these delectable meat treats in San Joaquin, Cuenca, and beyond.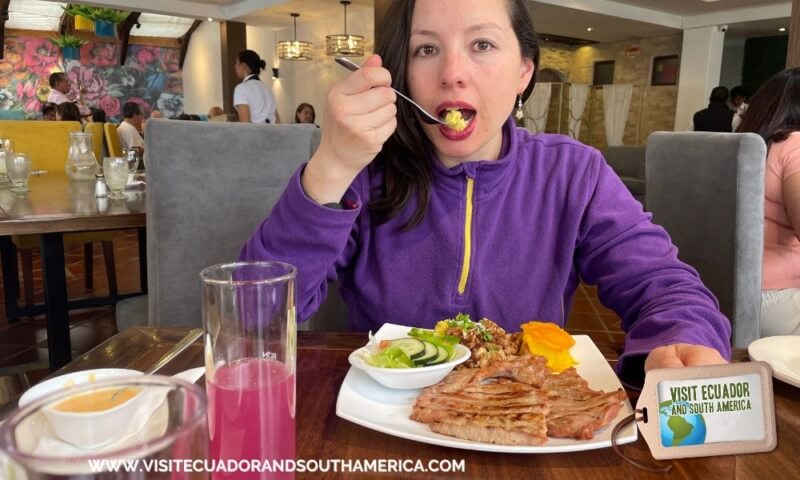 Cuenca: A Foodie's Paradise
Beyond Carnes de San Joaquin, Cuenca is a city that has much to offer to the food enthusiast. Its vibrant food markets, such as Mercado 9 de Octubre, are a feast for the senses, where you can explore an abundance of fresh produce, local delicacies, and traditional ingredients. Don't miss the chance to savor Ecuadorian classics like llapingachos (potato patties), mote pillo, and guinea pig (cuy), a unique delicacy in this part of the world.
As you stroll through the charming streets of Cuenca, you'll encounter a variety of quaint cafes, charming bistros, and fine dining establishments, each offering its own culinary delights. From traditional Ecuadorian cuisine to international fusion, the city's culinary scene is diverse and fascinating.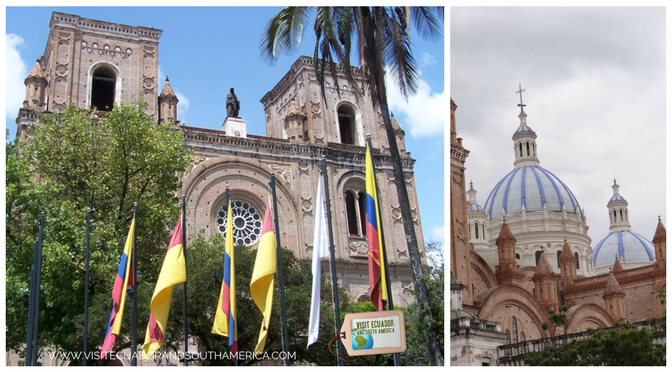 About San Joaquin
The gastronomy of this area in Cuenca is characterized by the preparation of dishes based on pork jerky, making fine cuts of meat to season with salt, onion, garlic, cilantro, parsley, and other seasonings, although it may vary according to the preparation of each restaurant. 
After it is rested and roasted, it is accompanied by a salad, llapingachos, mote pillo, or mote sucio. Over time, dishes such as papas con cuero, broad beans with cheese, tamales, chicken broth, choclo, and more dishes of local cuisine have been incorporated. These establishments maintain the tradition for more than three generations and, through gastronomy, have boosted the economy of the sector.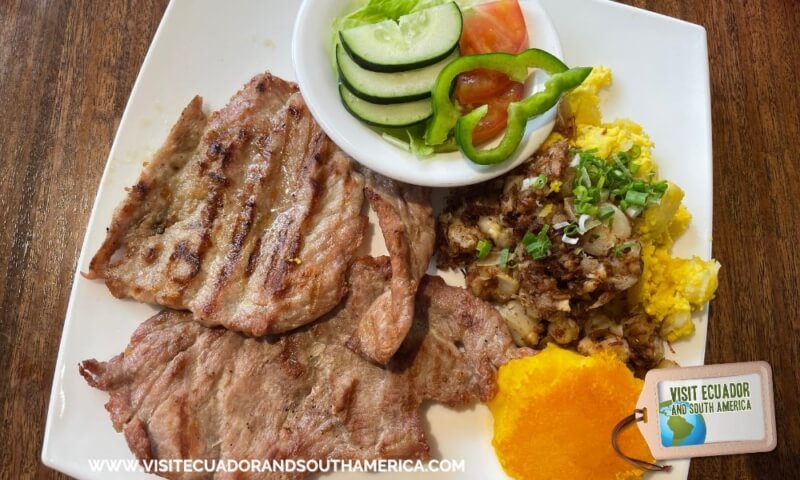 If you are in South America, I would love to see your pictures.
About Carnes de San Joaquin:
Carnes de San Joaquin is a renowned culinary specialty that has deep roots in the region. This traditional meat delight is made from the finest cuts of beef, meticulously selected for their tenderness and flavor. The meat is marinated in a secret blend of spices, which infuses it with a distinct and mouthwatering taste. The marinated meat is then slow-cooked to perfection, allowing the flavors to develop and the meat to become tender and succulent. The result is a delightful culinary masterpiece that embodies the essence of Cuenca's gastronomy.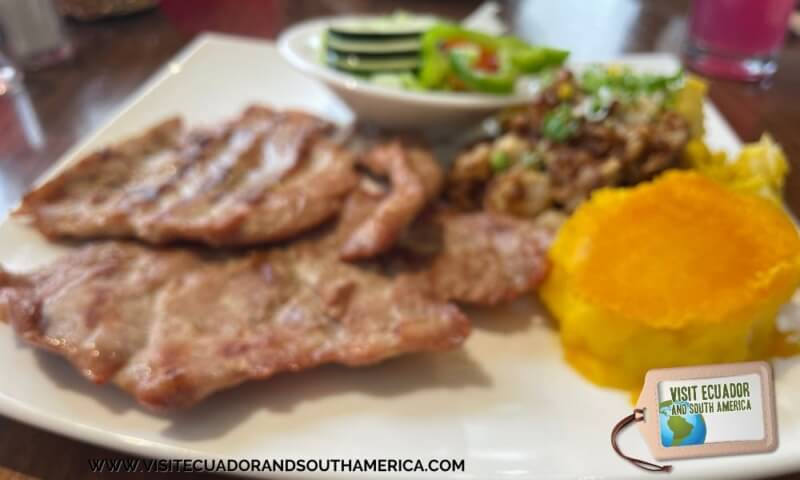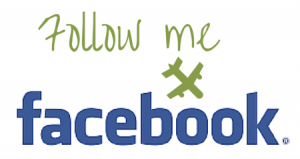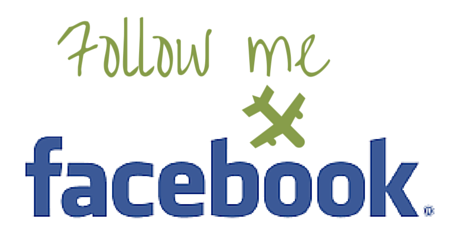 Where to Savor Carnes de San Joaquin:
When it comes to experiencing the authentic flavors of Carnes de San Joaquin, there are several establishments in San Joaquin and Cuenca that excel in preparing and serving this beloved delicacy. One such place is the iconic "Maria Asuncion", a cozy restaurant tucked away in the heart of San Joaquin. Here, you can indulge in a mouthwatering array of dishes, each crafted with passion and expertise.
Maria Asuncion is the restaurant my dad and family from Cuenca have been visiting for many years, they had excellent customer service, a big parking lot and their menu includes meats, mote pillo, mote sucio, tamales, papa con cuero, canelazo, and fritada among other scrumptious traditional dishes.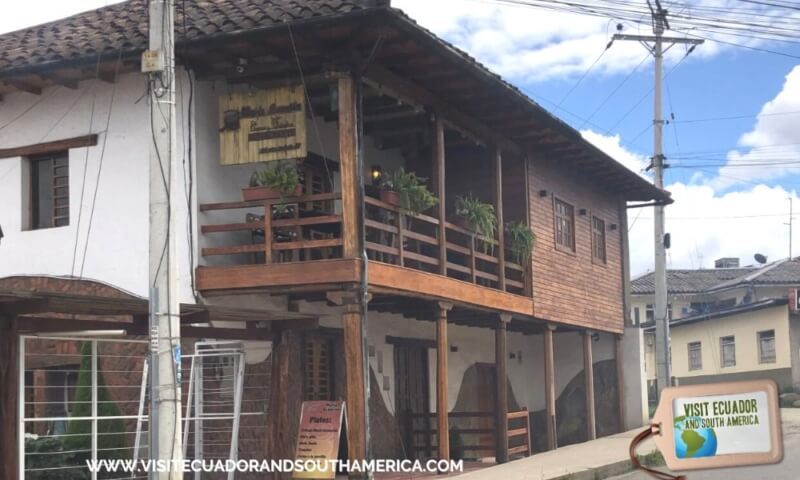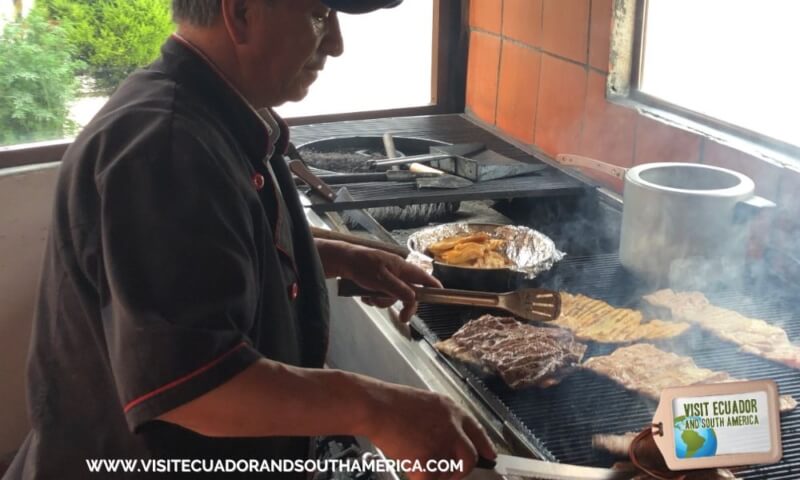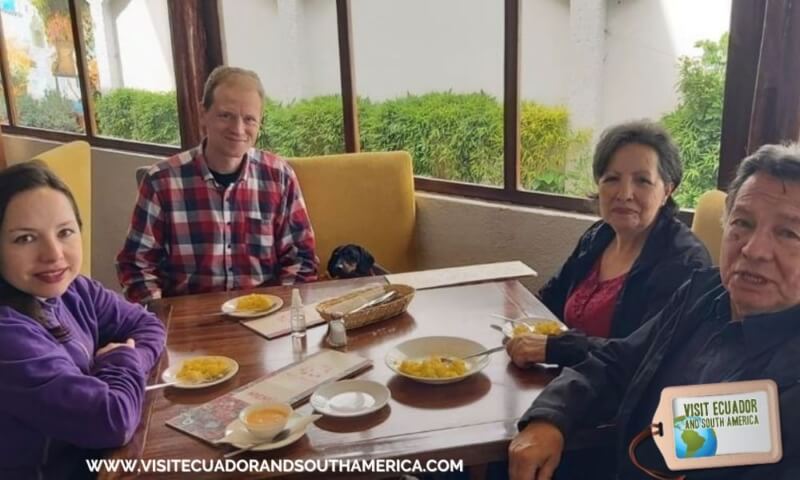 For those exploring Cuenca's culinary scene, "Maria Asuncion" is a must-visit. This restaurant offers a diverse menu that caters to all meat enthusiasts. From savory steaks to more flavorful stews, their dedication to quality and taste is evident in every dish.
We loved the fact that it is pet friendly and we could keep Jack next to us.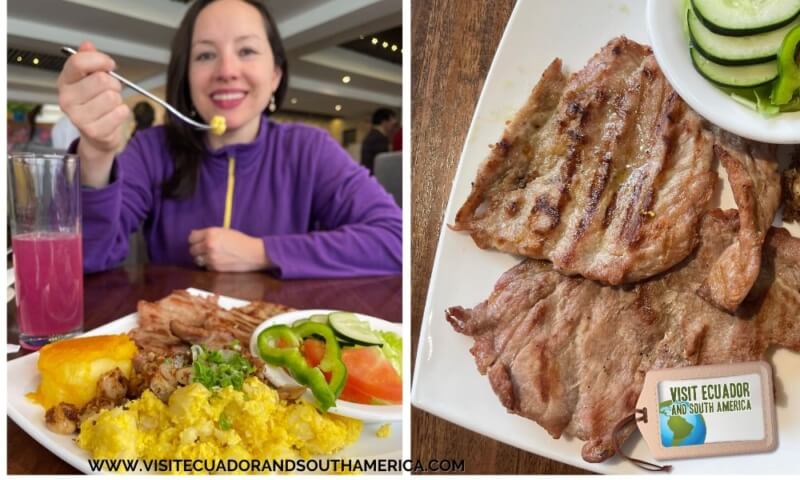 If you want to discover the culinary paradise of Cuenca, Ecuador, where authentic flavors and rich gastronomy await, make sure to indulge in the delicious carnes de San Joaquin.
Some posts on this site contain affiliate links, meaning if you book or buy something through one of these links, I may earn a small commission (at no extra cost to you!).
Have you tried any meat of the Carnes de San Joaquin? Leave your comment below!
If you enjoy the content, please consider liking, commenting, and subscribing. It's free, and it helps us.  Every little bit will help fund our travels and continue to bring great content to our site!
Planning a trip soon? Comment below or send me an email. I can help you plan your trip.
PIN IT FOR LATER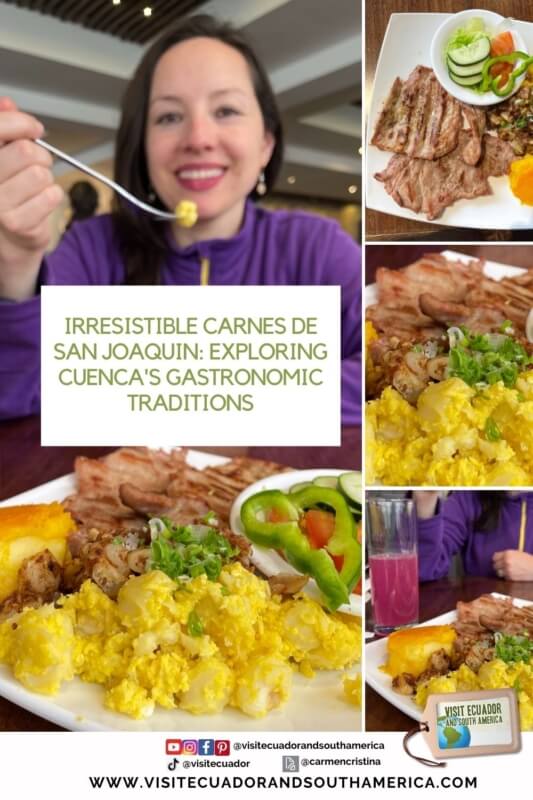 Want to Learn to make some of these dishes and many more? Gran Cocina Latina: The Food of Latin America, This book comprises 500 well-written recipes from all Spanish-speaking countries in Latin America, providing great information and recipes of the exciting food you can prepare at home. At the same time, you plan your visit to South America.
Don´t just dream it. Make it happen. Plan your South American trip with a local!
Take a look at this list of travel resources to plan your trip and travel in South America.
Daydreaming about your trip to South America? I share with you some useful tips & resources for a memorable trip! Order here your Free Ebook.
I invite you to follow me on Facebook, Twitter, Pinterest, and Instagram. In addition, you can subscribe on YouTube. You can also send me an email to get more information or help planning your trip: info(at) visitecuadorandsouthamerica(dot)com.