Explore the French Mediterranean: Top 5 Must-Visit Destinations
Welcome to the sun-kissed shores of the French Mediterranean, where we delve into the wonders of the French Mediterranean travel destinations.  Embark on a journey through the enchanting cities of Nice, Nîmes, Monaco, and Monte Carlo, promising a delightful fusion of culture, history, and breathtaking vistas. Join us as we explore these captivating destinations, indulge in culinary delights in Nice, and provide a handy packing list for your Mediterranean adventure.
When you set eyes on the French Mediterranean, you'll realize why it inspired impressionist artists with its charming streets and picturesque landscapes. Compared to Paris, the pace is more relaxed, and the food is simply "c'est Magnifique."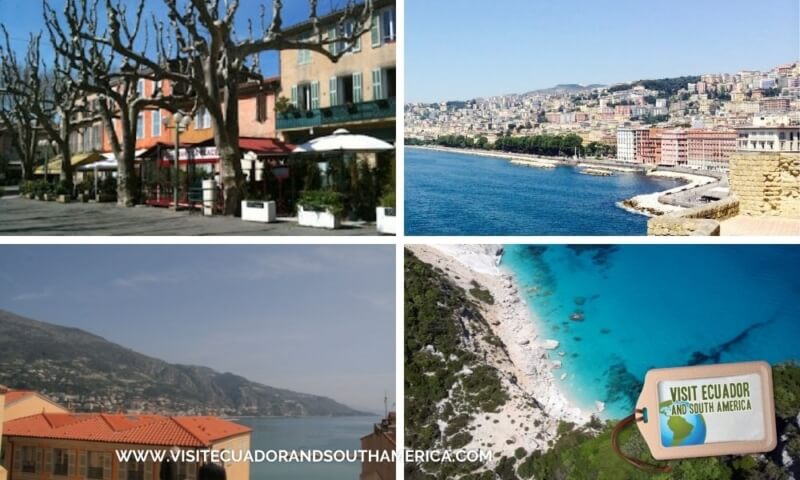 As you stroll around the quaint streets, you will be kindly greeted by the locals with a "Bonjour" and a warm smile. The streets are narrow; the houses are nice many have preserved their facades for centuries, just like being immersed in another era.
And the opportunities to sit under the sun and enjoy something to eat or drink abound.


Share your pictures with our community, and tag #VisitSAmerica.
Explore the French Mediterranean: Top 5 Must-Visit Destinations
These five destinations in the French Mediterranean offer a diverse range of experiences, from cultural immersion to luxurious indulgence and natural beauty, making them must-visit places for any traveler.
NICE – A Coastal Haven of Elegance and Flavors
Why Visit Nice:
Nice boasts a charming Old Town, Promenade des Anglais, and the stunning Marc Chagall National Museum. It's the gateway to the French Riviera, offering a blend of culture and natural beauty.
Nice, known as the "Queen of the French Riviera," exudes an irresistible charm with its azure waters, palm-fringed promenades, and vibrant Old Town. Stroll along the famous Promenade des Anglais, indulge in boutique shopping, and soak up the sun on the city's picturesque beaches.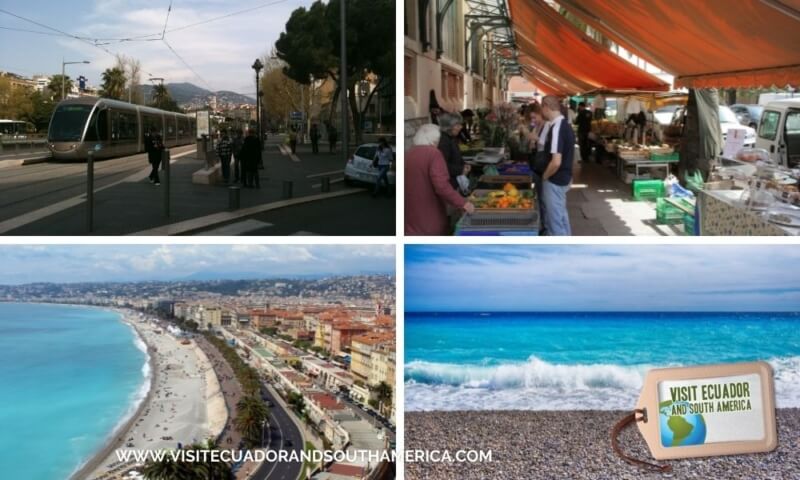 The Promenade des Anglais
Whether you are on a road trip or backpacking, make Nice your departing point as from my experience backpacking, most trains stop in Nice and would connect to other stations around and abroad.
Take a stroll or rent a bike to explore the Promenade des Anglais, a world-famous 7km promenade that runs from Castle Hill to Nice Airport. With my husband, we decided to wander along the most famous portion, from the old town of Nice to the Negresco Hotel.
Going to the beach in Nice
Another great activity in Nice that we enjoyed with my sister while waiting for a train connection is taking a nice sunbath to relax and recharge.  The only but could be that the beach doesn't have sand but small stones or pebbles, making it not so comfy for sleeping or sunbathing. Nevertheless, the landscapes are stunning and the weather is gorgeous.
Are you planning a city Break? I found this great website to find & Book tours in Nice.
Book a tour in Nice
Where to stay in Nice
Hotel Negresco: Situated on the famous Promenade des Anglais, Hotel Negresco is an iconic luxury hotel that combines Belle Époque elegance with modern amenities. With its lavish interiors, stunning sea views, and impeccable service, it offers an unforgettable stay in Nice. Learn more about Hotel Negresco.
Hotel La Perouse: Nestled on a hillside overlooking the Mediterranean Sea, Hotel La Perouse offers a tranquil escape just steps away from the bustling city center. This boutique hotel features stylish rooms, a rooftop terrace with panoramic views, and a serene garden, providing a peaceful oasis in the heart of Nice. Learn more about Hotel La Perouse.
NÎMES – Where Ancient Roman Heritage Shines
Why Visit Nimes
Nîmes is a city steeped in Roman history with its well-preserved ancient landmarks like the Arena of Nîmes and Maison Carrée. Discover a unique blend of historical richness and modern French culture.
Immerse yourself in history as you explore the captivating city of Nîmes. Marvel at the exceptionally preserved Roman structures, including the iconic Arena of Nîmes and the Maison Carrée. Take a leisurely stroll through the charming narrow streets, lined with quaint cafes and boutiques.
Nimes became a Roman colony more than two millennia ago, and the monuments built here in the 1st century can still be found and make Nimes known as the Rome of Southern France.
The main ones: La maison Carrée, Le pont du Garde and Les Arènes.
La Maison Carrée
This is the best-preserved Roman temple anywhere, and it is an exemplary piece of Vitruvian architecture.
The temple was dedicated to Gaius and Lucius Caesar, two grandsons of Emperor Augustus who died in their youth.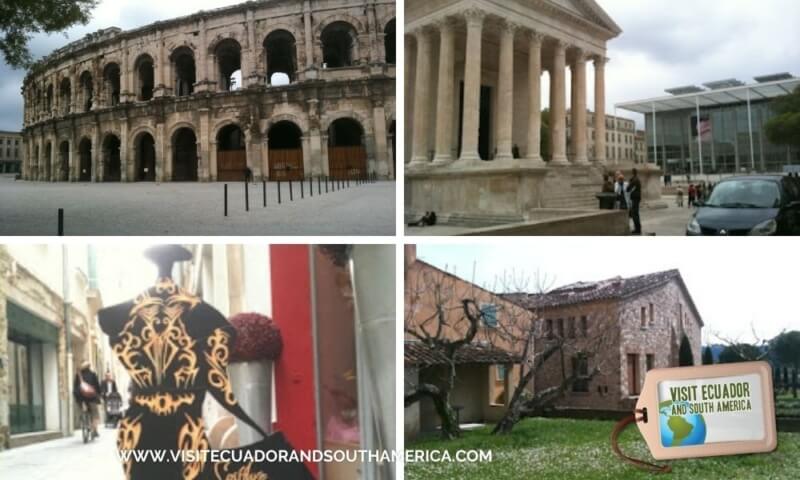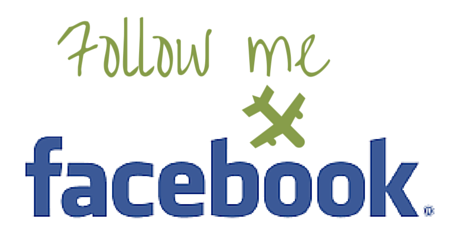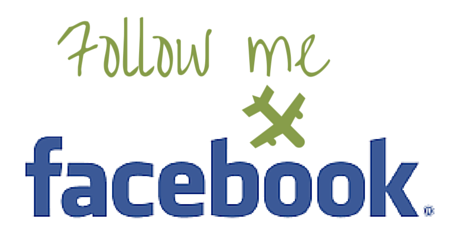 Les Arènes in Nimes
A tour of the arena allows you to admire the stairwells and galleries, taking you back in time to the Roman Empire. Les Arènes allowed 24,000 spectators to get in and out in a few minutes without risking crushes and is one of three large Roman arenas in the south of France.
Nimes is worth visiting for its attractive old town and its gardens.
My first memories and information about France, as well as of the Mediterranean lifestyle, came from my family in France. Long story short, years ago, my aunt met a French man in Ecuador, married, and moved to Nîmes. The family visited us in Ecuador very often, and we had a huge influence from them. My love for the country, culture, and language was highly influenced by them.
Book a tour in Nimes
Where to stay in Nimes
Hotel Imperator: Located near the Maison Carrée, Hotel Imperator reflects the grandeur of Nîmes' Roman heritage. This elegant hotel boasts beautifully decorated rooms, a charming courtyard, and a gourmet restaurant, providing a luxurious and historically rich experience. Learn more about Hotel Imperator.
Hotel des Tuileries: Situated in the heart of Nîmes, Hotel des Tuileries offers a blend of modern comfort and Provencal charm. With its cozy rooms, friendly atmosphere, and a central location close to attractions such as the Arena of Nîmes, it provides a convenient and cozy base for exploring the city. Learn more about Hotel des Tuileries.
Where to eat in Nimes
When it's time to indulge in a gastronomic experience, L'Ambroisie offers an exceptional menu showcasing the region's flavors. From traditional Provençal dishes to innovative creations, each bite is a celebration of local produce and culinary craftsmanship.
MONACO – A Playground of Glamour and Luxury
Why Visit Monaco:
Experience the glitz and glamour of Monaco, with its world-famous Casino de Monte-Carlo, luxury yachts in the harbor, and the serene Jardin Exotique. It's a playground for the rich and famous.
Venture into the glamorous world of Monaco, where luxury and sophistication blend seamlessly. Explore the opulent Prince's Palace, marvel at the magnificent yachts in the harbor, and try your luck at the famous Casino de Monte-Carlo.
The principality of Monaco, located on the French Riviera, has a rather small population: approximately 36.000 inhabitants. Most people, of course, know the country because of the Monte – Carlo casino, a must for people who enjoy gambling in beautiful surroundings.
Monaco, a sovereign city-state on the French Riviera, is known as a "Billionaires' Playground."
Are you planning a city Break? I found this great website to find & Book tours in Monaco.
With its lush vegetation and warm weather, this is a destination to visit in the Côte d'Azur.
Where to eat in Monaco
To satisfy your palate, Le Louis XV-Alain Ducasse at Hôtel de Paris is a culinary gem. This three-Michelin-starred restaurant offers a symphony of flavors through its refined Mediterranean cuisine. Indulge in dishes that showcase the finest seasonal ingredients, complemented by an extensive wine selection.
Book a tour in Monaco
Where to stay in Monaco
Hotel Hermitage Monte-Carlo: Overlooking the Mediterranean Sea, Hotel Hermitage Monte-Carlo is a luxury palace hotel renowned for its Belle Époque elegance and refined hospitality. With its opulent rooms, Michelin-starred restaurants, and breathtaking views, it offers a truly indulgent stay in Monaco. Learn more about Hotel Monte-Carlo
Fairmont Monte Carlo: Ideally located near the famous Casino de Monte-Carlo, the Fairmont Monte Carlo boasts modern luxury and sweeping views of the Mediterranean. With its spacious rooms, rooftop pool, and a variety of dining options, it provides a sophisticated and unforgettable experience in Monaco. Learn more about Fairmont Monte Carlo
Here are some activities we recommend for you while in Monaco.
MONTE-CARLO
Why Visit Monte-carlo:
Monte Carlo is synonymous with opulence, hosting the Grand Prix and housing extravagant hotels like the Hotel de Paris. Enjoy Michelin-starred dining and stunning Mediterranean views.
Explore the opulent Monte Carlo Casino, where elegance and luxury intertwine, or take a leisurely walk through the lush Jardin Exotique, offering panoramic views of the Mediterranean coastline.
Visit Monaco's wealthiest district and enjoy the awe-inspiring sea views from the terrace of Place du Casino.
Whether you are on a shopping spree or enjoy window shopping, stroll along Avenue de la Costa with its luxury boutiques and admire The Opera House.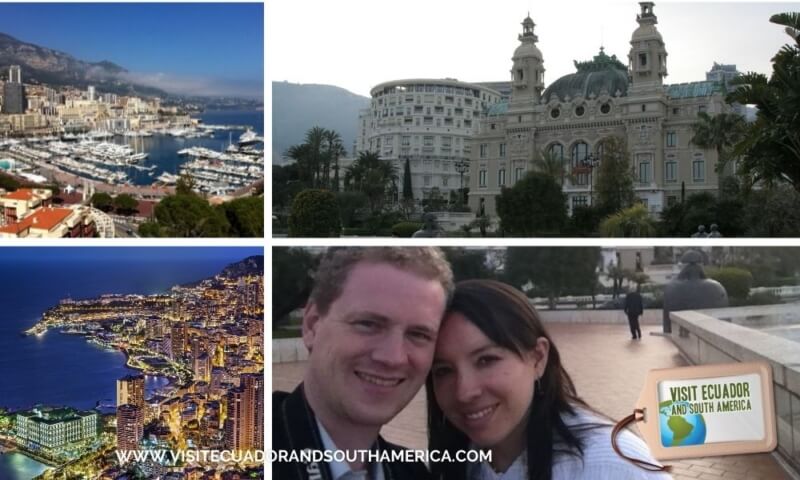 Where to Stay in Montecarlo
Hotel Hermitage Monte-Carlo: A Belle Époque gem featuring classic luxury and the iconic Crystal Bar. Book here
Hotel Metropole Monte-Carlo: A haven of sophistication with Michelin-starred dining and a stunning courtyard. Book here
Columbus Monte-Carlo: A chic and contemporary hotel, perfectly suited for a stylish getaway. Book here
Recommended tours
Check out this tour, visit the Verdon Gorge, and explore the villages of Castellane and Moustiers-Sainte-Marie, one of the most beautiful villages in France.  (Nice: Gorges of Verdon and Fields of Lavender Tour)
Check out this tour, and discover a boutique in Nice and create your own perfume during this workshop. Keep your creation and receive a diploma as a souvenir. (Nice: Perfume Creation Workshop)
If you would like to visit the French Riviera in one day. Discover the Côte d'Azur on this guided driving tour of the French Riviera. Visit the village of Èze, and explore Monaco, Monte Carlo, and Antibes. Book it here.
Find your perfect tour in Monaco
CASSIS:
Why Visit Cassis:
Cassis offers picturesque fishing harbors, Calanques National Park, and its famous white wine. Discover natural beauty, coastal hikes, and a serene atmosphere in this charming village.
Find your perfect tour in Cassis
Mediterranean gastronomy
Regarding French gastronomy, I can say that each meal is an event carefully prepared and thoroughly enjoyed.
No wonder the Mediterranean diet and lifestyle have such fame! With excellent wine, foie gras, cheeses, and crêpes, to name a few, make sure to enjoy some of the flavors of the French Mediterranean during your visit.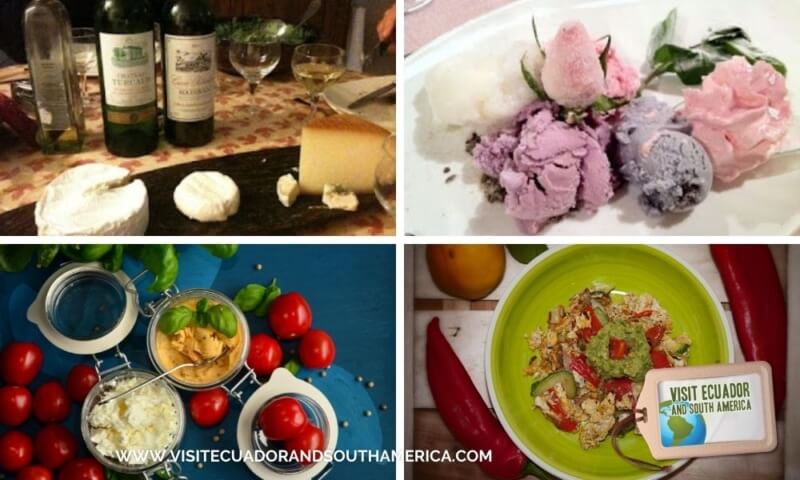 What to Bring to the French Mediterranean
Packing List:
Light and breathable clothing for the warm Mediterranean climate, including shorts, skirts, dresses, and T-shirts.
Comfortable walking shoes for exploring cobblestone streets and historic sites.
Swimwear and beach essentials for enjoying the sun and beaches in Nice.
Light jacket or sweater for cooler evenings.
Sunscreen, sunglasses, and a wide-brimmed hat to protect against the sun.
Elegant attire for dining at upscale restaurants in Nice and Monaco.
Travel adapter to charge your electronic devices.
Packing cubes can be a useful way to pack efficiently
Phrasebook or language translation app for basic French phrases.
Embrace the French Mediterranean's magic and create unforgettable memories in these exquisite destinations. From the charm of Nice to the history of Nîmes and the opulence of Monaco and Monte Carlo, there's no shortage of reasons to explore this Mediterranean paradise. Book your trip, savor the cuisine, and immerse yourself in the vibrant culture. Your journey to the French Mediterranean awaits.
From spellbinding landscapes to shopping areas, the French Mediterranean boasts a wide range of activities and is the perfect destination to create long-lasting memories. It is a place that brings many memories from my visits to my family living in Nimes.


Unveiling the beauty of the French Mediterranean travel destinations – your ultimate guide.
Pin it for later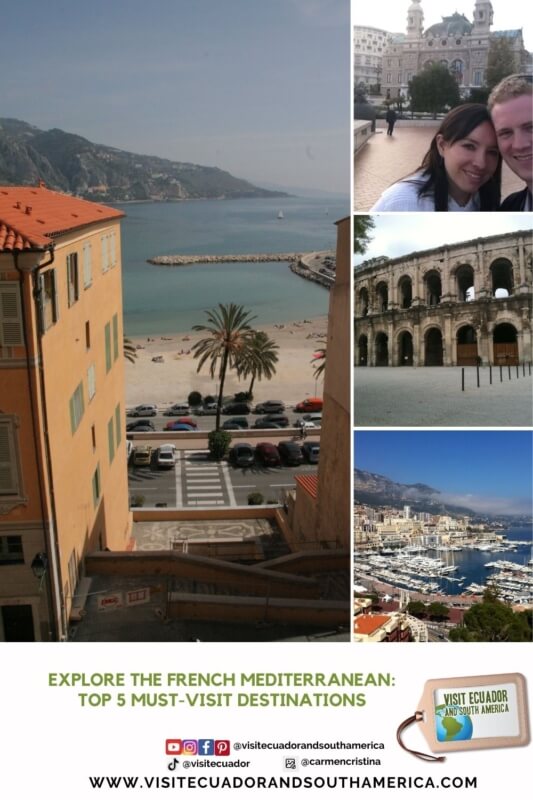 If you want more in-depth information and a guide that you can bring along during your trip, I recommend the Lonely Planet Province and Cote d'Azur travel guide. It is an excellent source of information maps and all you need if you plan on visiting La Province. I like the option of having a hard copy version where I can take notes and have them at hand.
Take a look at this list of travel resources to plan your trip and travel in the world.
Daydreaming about your trip to South America?
Order here your Free Ebook. I share with you some useful tips & resources for a memorable trip!
Finally, I would like to invite you to follow me on Facebook, Twitter, Pinterest, and Instagram. In addition, you can subscribe on YouTube.
Send me an email for help planning your trip: info(at) visitecuadorandsouthamerica(dot)com.