Feel just like at home at the eco-friendly Casa Verde Eco Guest House in Baños, Ecuador
We had the opportunity – after 10 years – to again visit the town of Baños, also called the Gateway to the Amazon Rainforest.
Here are some of the highlights of Baños, as well as details of this comfortable house, perfect for all who love the environment and want to feel as if at home while exploring the town.
About Baños
Due to the location, between the Andes and the Amazon and tropical weather ranging from 15 to 25 degrees all year round, the city is one of the major tourist destinations in the country.
Baños offers a great variety of activities, and there is something for everyone.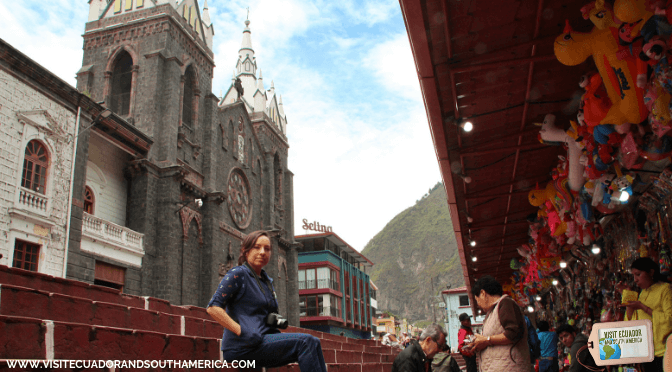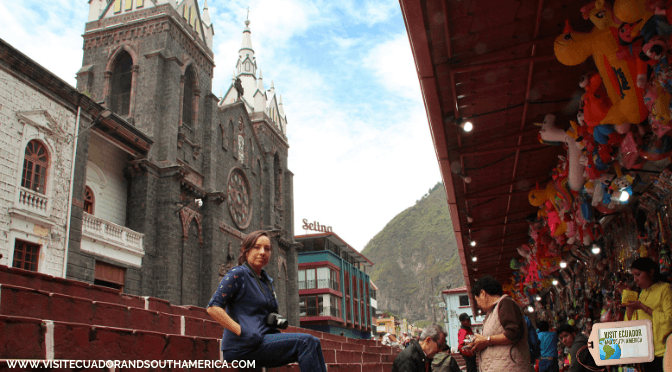 About Casa Verde Eco Guest House
Located close to the center of Baños (2.2km) as well as main activities, this house is ideal for all who love nature, comfort and good service. It is indeed a place to recharge, with the river in front and mountains surrounding you. The fact is that the warmth and care the proprietors show not only for its guests but also for the environment make this house one of the favorite accommodation options in Baños.
The Guest House has received positive reviews on Booking and Tripadvisor for several years.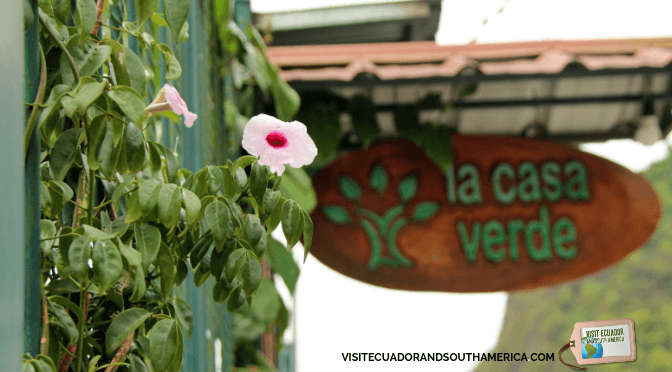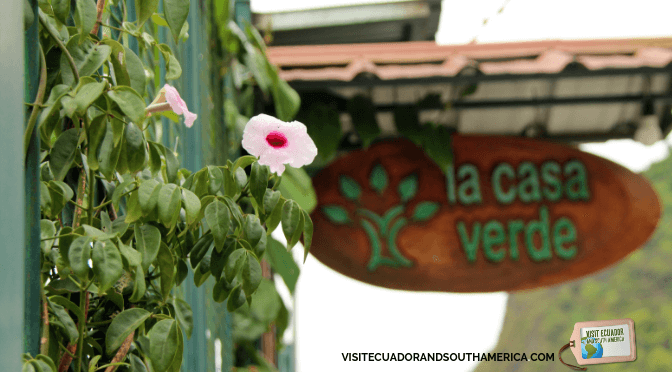 For us, having the opportunity to feel just like at home during our stay was extremely rewarding.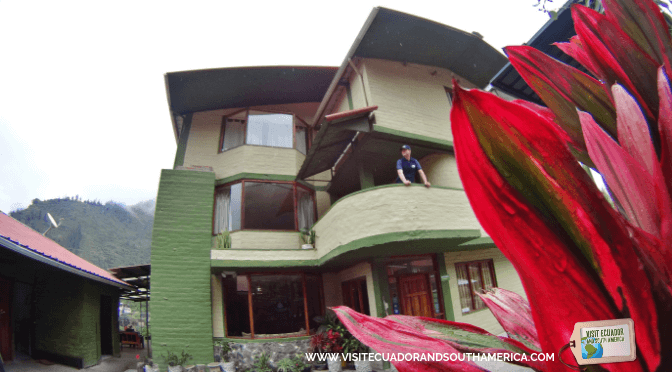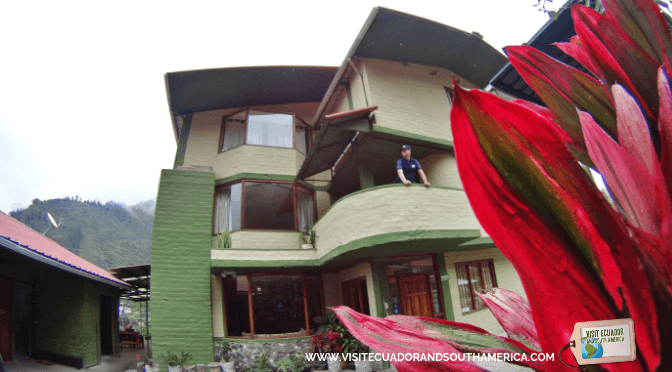 All areas are designed to allow plenty of natural light to come in, making us enjoy the indoors as well as taking in the views of the valley and river.
Customer service
Angy and Johan were beyond helpful during our stay. They are incredibly friendly hosts, making sure to help with whatever they can and provide tips and ways for us to enjoy in the hotel and in Baños.
Thank you, Johan, for your attention to detail and making us feel just like at home during our stay!
The Rooms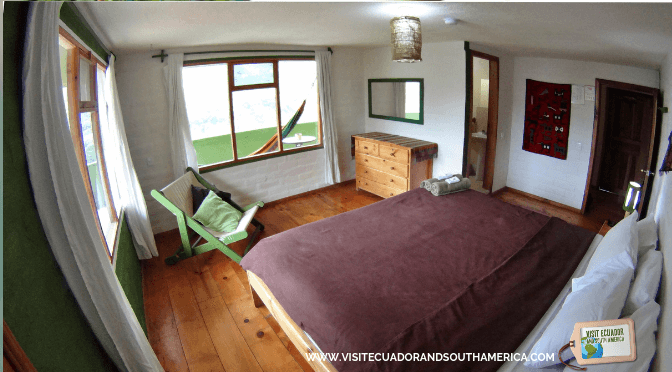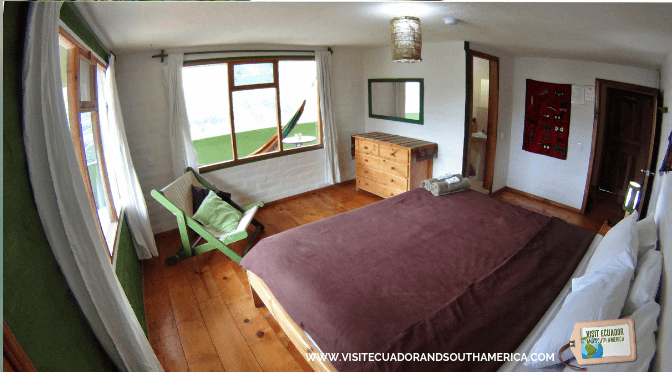 The rooms can be described as comfortable, spacious and clean, with big windows, and decorated with natural and local elements, incorporating the green theme. In addition, we had free wi-fi and a modern bathroom.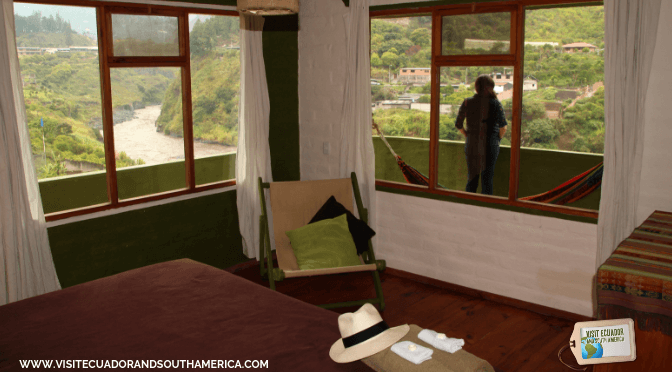 All rooms had views, some of them to the beautiful landscape that included the river below and the mountains in the background.
For us, it was a great plus to know that the hotel offers free private parking inside the property.
BREAKFAST
Starting each day with a filling continental breakfast, allowed us to fully enjoy the activities ahead.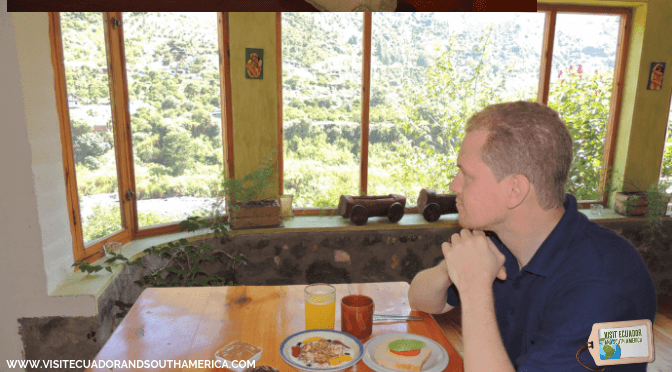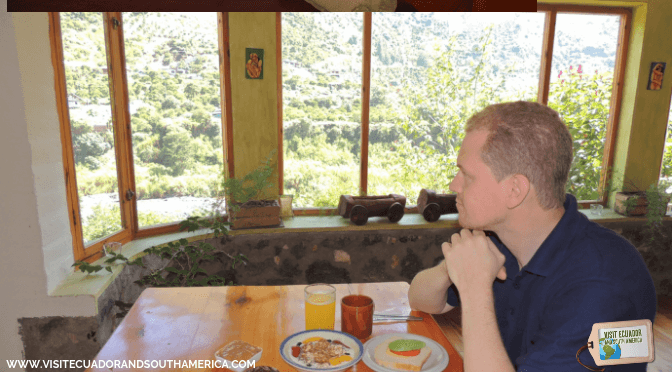 Our plentiful tasty buffet breakfast included some homemade and organic choices: eggs made to your taste, fresh fruit, fresh juice, yogurt, granola, fresh home-made bread, home-made jam, butter, cheese, avocado, tomato, coffee, tea, and milk.
We enjoyed all our breakfasts in a peaceful place overlooking the Pastaza river and nature.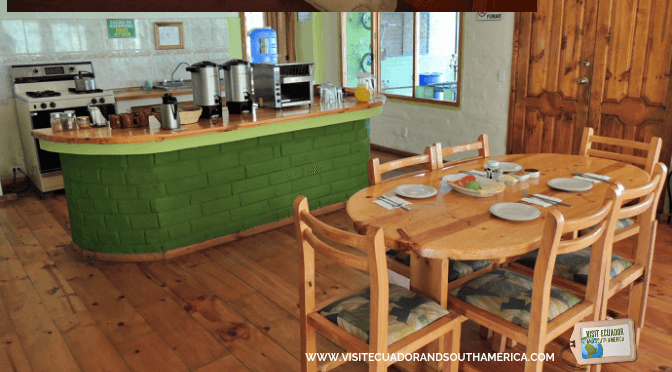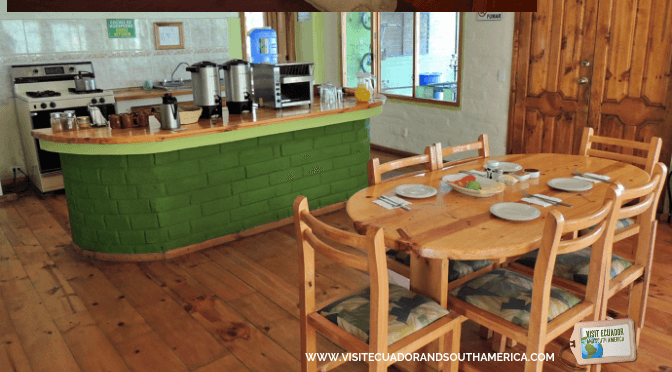 The kitchen is well equipped and guests are welcome to make use of everything, allowing them to feel just like at home.
In addition, there are free drinking water refills, as well as tea, milk, juice, which is always available for guests.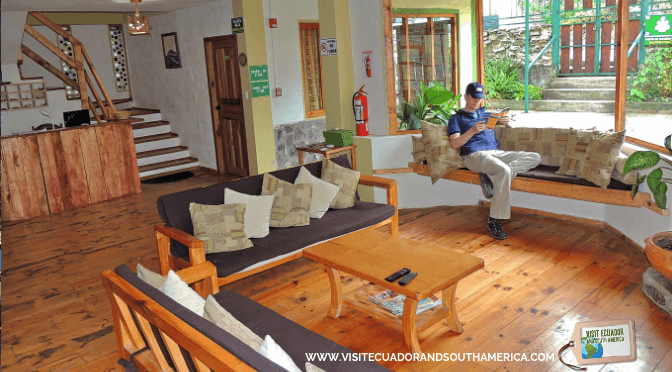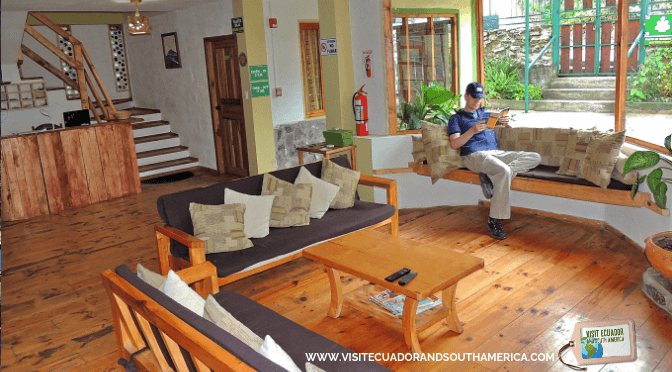 By the entrance, on the left side, you will find an area ideal to read or to mingle, offering an extensive DVD library (over 300 new and classic movies), as well as books, board games, and cards.
Activities at the guest house
Time to unwind
For those who are looking for a place to unwind and recharge, there are these comfy hammocks outside the rooms on the 2nd floor, perfect to read, to take a siesta or to take in the postcard view of the river with nature and birds below.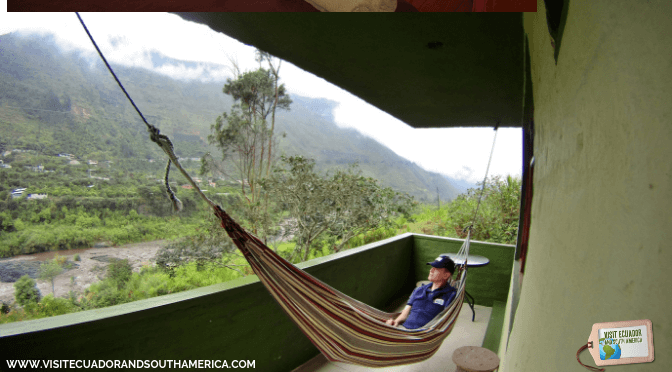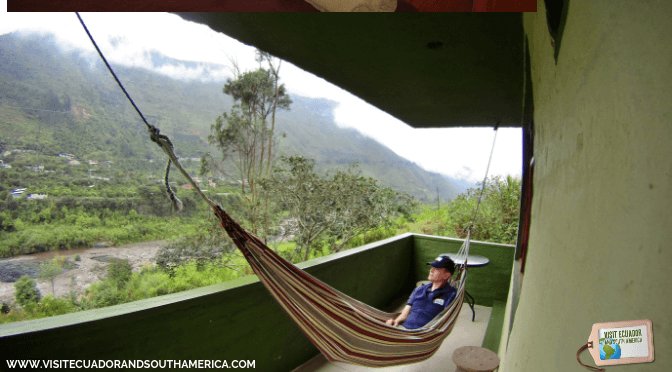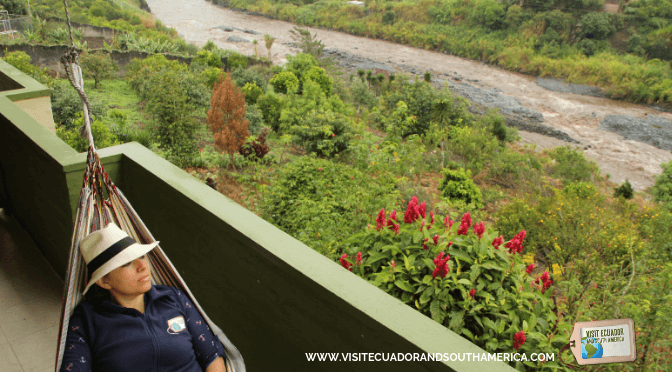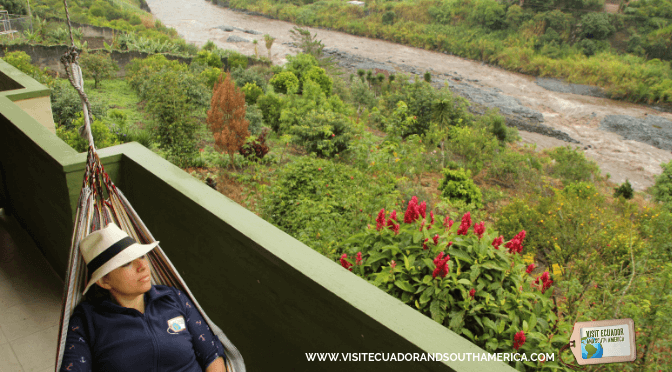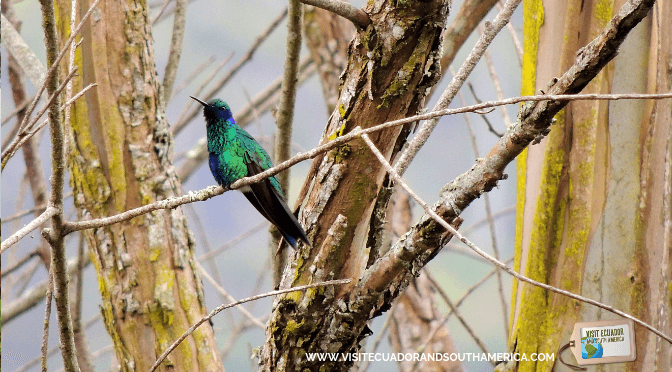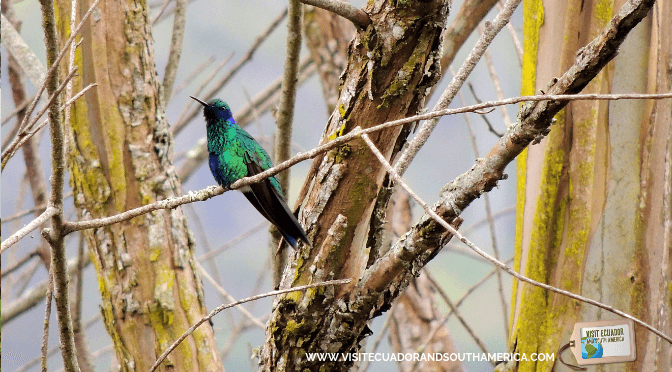 Part of the land has several crops and trees and for us, it was noteworthy to learn that the land has been chemical-free for at least 9 years and everything is grown using organic methods.
This hummingbird above was singing and accompanying us during our 3 days at Casa Verde and we were also glad to have some other birds and butterflies flying with their bright of colors in the gardens below.
Large communal deck with hammocks, tables, and chairs
A place to rest with hammocks, tables, and chairs is one of the main features of Casa Verde Eco Guest House, here we would rest and relax. We loved meditating here and for many guests this is the best place to practice yoga.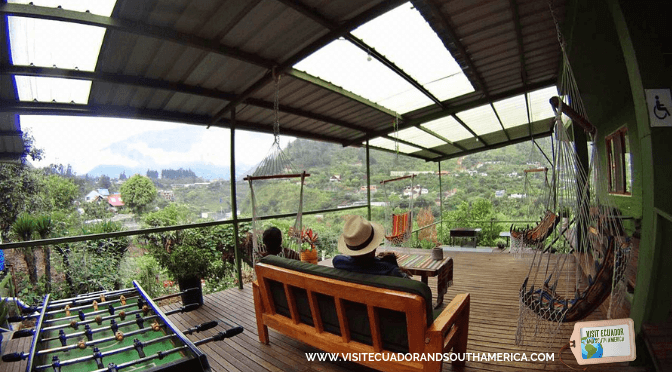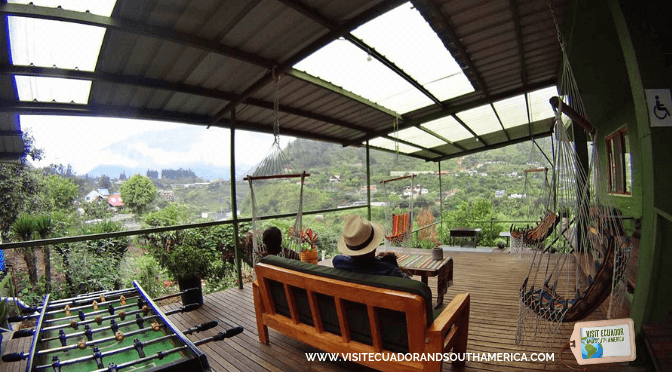 Casa Verde Eco Guest House is perfect for everyone who wants to take care of their wellbeing as well as the environment´s, featuring fruit trees (avocados, mandarins, bananas, lemons, and limes) with many others  (figs, oranges, plums, apples, and peaches).
Love nature and taking care of the environment?
Reduce, reuse and recycle
All through the house you will find decoration or parts of the actual house built with the use of sustainable practices and materials.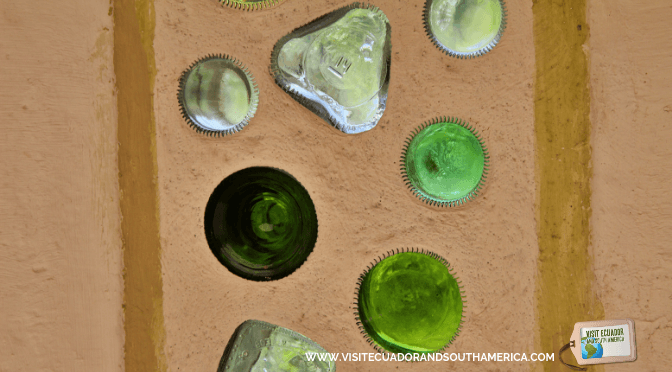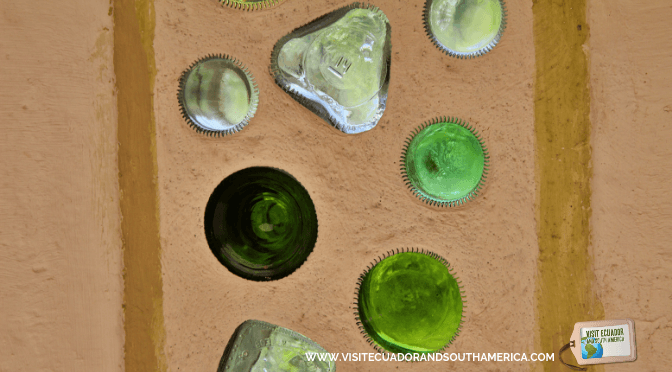 It is inspiring to know that they have been re-planting the native trees that were cut down many years ago to help regenerate the area.
We loved witnessing the effort that Casa Verde puts into helping and showing local people how to live sustainably.
The house is made mostly of sustainable Ecuadorean materials and they operate in a sustainable manner.
Soon
Angie, the manager, is in charge of a beautiful project, a machine that arrived the last day of our visit, aimed at making biodegradable plates out of banana leaves.
Activities in Baños
Baños is the mecca for all searching for adventure sports, as well as ways to recharge and nurture from within. I will share some of the main activities below. For more options, visit our previous blog post of things to do in Baños.
Lunch with a view
Café del Cielo, with a vantage point offering some awe-inspiring views of the town and the Llanganates National Park, including the Tungurahua volcano is our recommendation of a restaurant to visit while in Baños.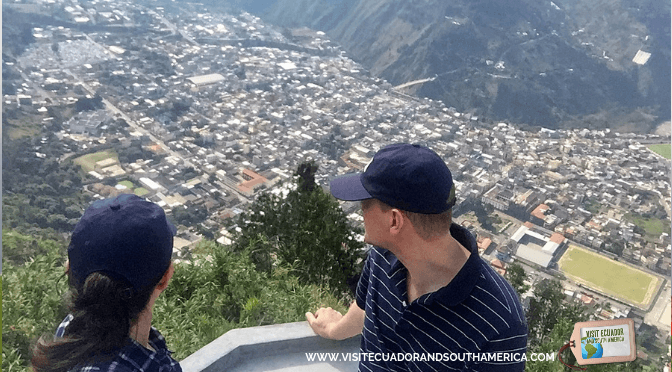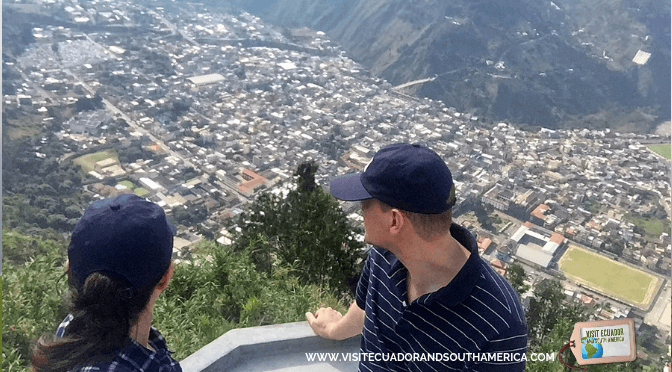 Hiking, biking and waterfall viewing
Pailon del Diablo is located 10 km from the city and from the parking lot it was an easy 20 min walk before we got to this mighty waterfall.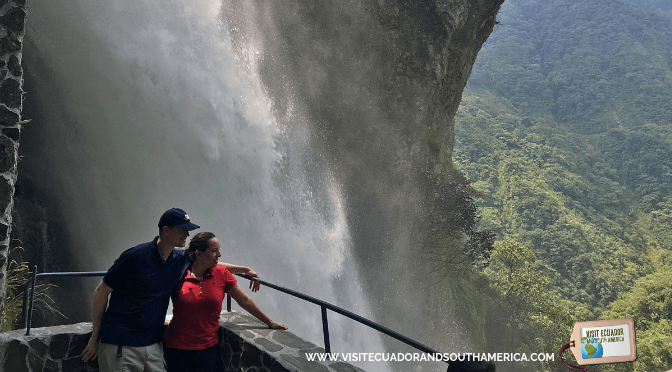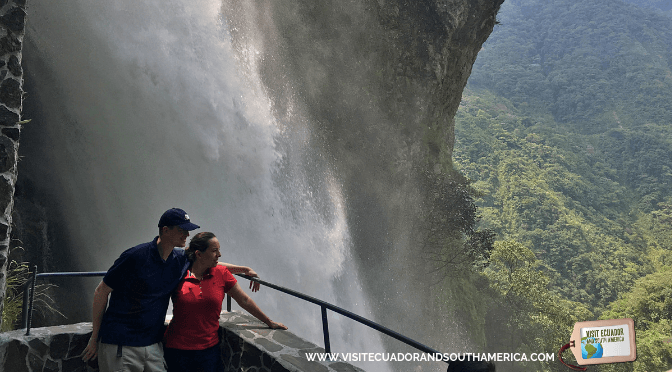 The path has been built to preserve and merge with the landscape, making sure that dozens of visitors reach the waterfall safely.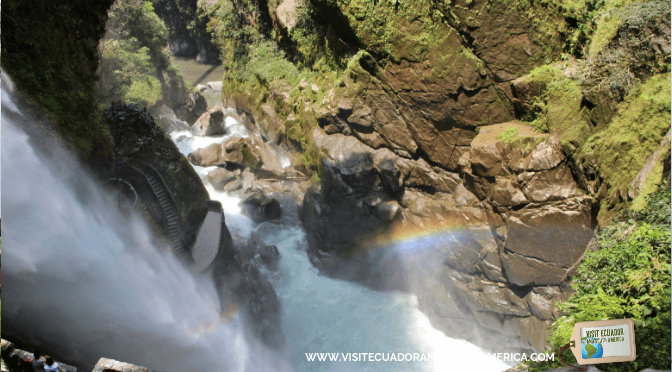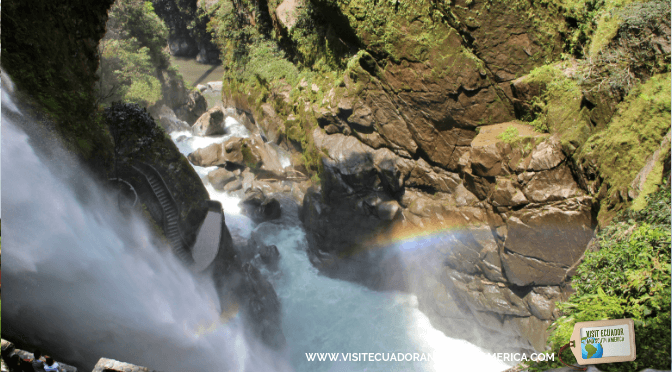 Find out about other waterfalls in Baños, here.
Adrenaline activities
Let's start by naming la Casa del Arbol,  a very popular place in Baños. If the weather is nice, and you are ready for a short walk uphill and doing a line to one of the 6 swings, aiming for the iconic pics you get from it, this is a place you should visit.
There are several activities available, for some there are lines, so if you have time you might want to visit La Casa del Arbol.
Otherwise, there are other places and activities you can book from downtown Baños that will have you on an adrenaline rush.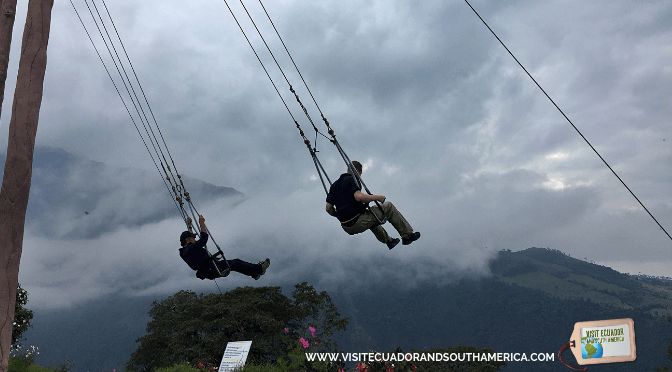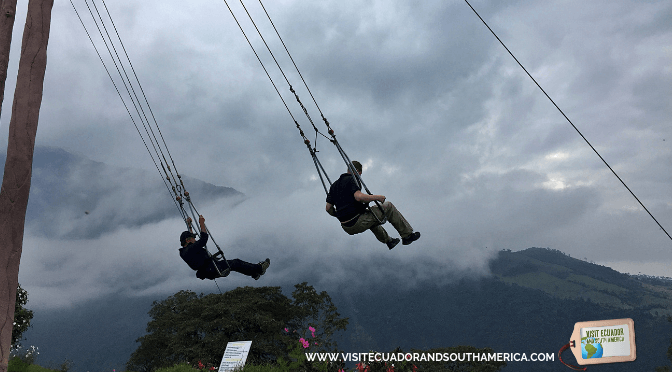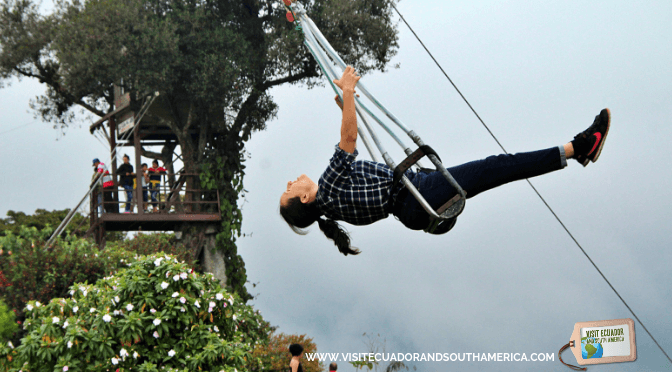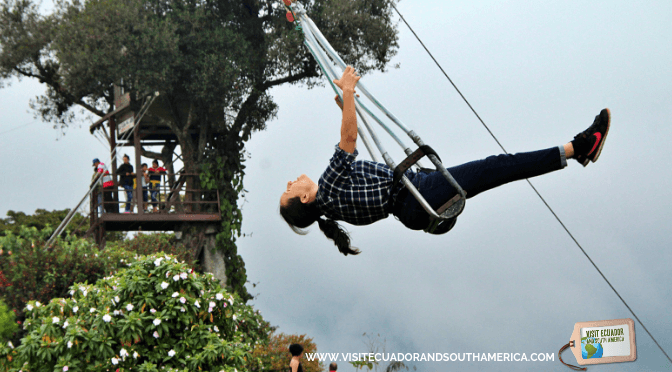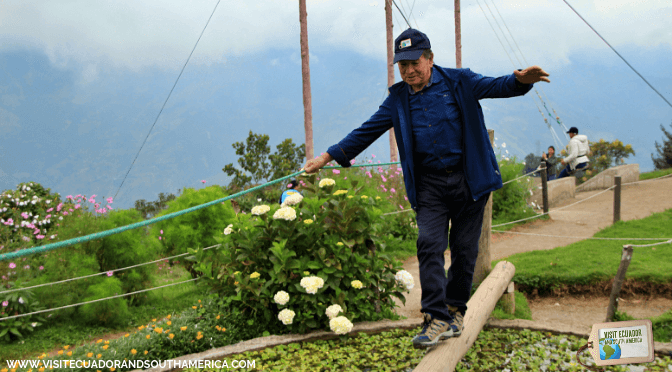 Spa and beauty treatments
Find out about the spa options available in Baños, here.
Thermal hot pools
Find out about some of the thermal hot pools and spas in Baños, here.
Activities by night
There are several activities to enjoy in the city by night. One of them is visiting the beautiful squares and enjoying a cup of coffee.

Dinner at Carpe Diem
This was a terrific recommendation by Johan at Casa Verde Eco Guest House. We had a wonderful meal, including a serenade by a local artist and a delicious calzone! The best calzone I have tasted.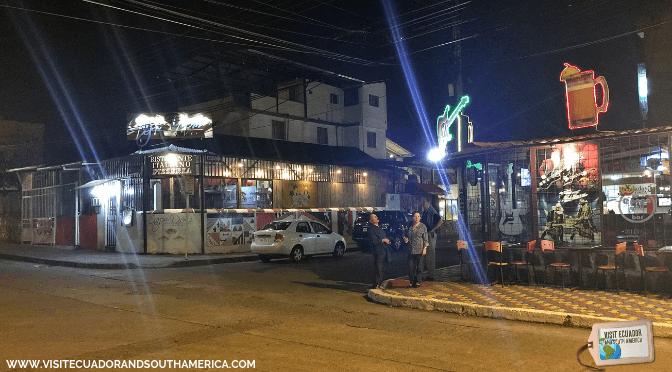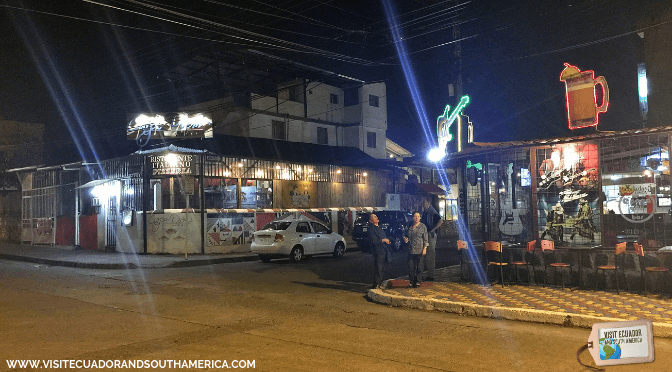 For dessert and coffee, we recommend visiting Bonkers café, a part of Hotel Sangay. A café inspired by Alice in Wonderland, offering an elegant and relaxed atmosphere. Including a menu inspired by the Lewis Caroll book, with fun and creative options.
During the daytime, visit Eloy Alfaro street, the place where locals and tourists meet. The street is also vibrant at night.
How to get there
A 4-hour drive from Quito will bring you to Casa Verde Eco Guest House.
What to bring
In order to fully enjoy your stay:
Make sure to book accommodation before you go, to do so click here.
Bring a couple of bathing suits for the thermal pools, and other water treatments in Baños.
Bring sunglasses, sunblock, and a hat if you are planning on staying outdoors for long periods of time, the equatorial sun is strong.
Conclusion:
Casa Verde Eco Guest House was a quiet refuge in the town of Baños in Ecuador for visitors who want to support places that care about preserving the environment and creating awareness in the community, whilst combining comfort with excellent customer service.
Casa Verde Eco Guest House is my top recommendation of eco-friendly places to stay in Baños, perfect to relax during the day, to enjoy a replenishing night of sleep at night and to wake up listening to the chirping of hummingbirds and the sounds of the river.
Editors Disclosure: I was a guest of Casa Verde Eco Guest House. As always, all opinions expressed here are entirely my own and based on my personal experience.
If you found this page helpful, I would appreciate it if you would pin, share or tweet it on any social media platforms you use! Every little bit will help fund our travels and continue to bring great content to our site!
Planning a trip soon?  Comment below or send me an email, I can help you plan your trip.
PIN IT FOR LATER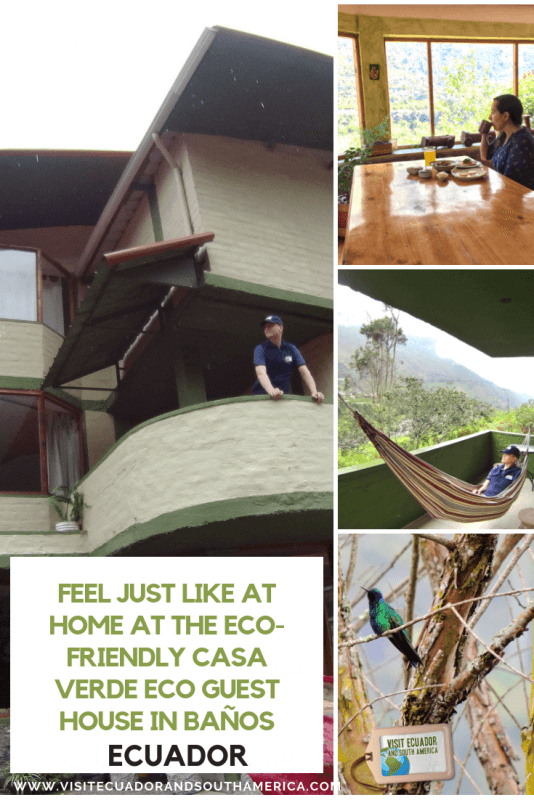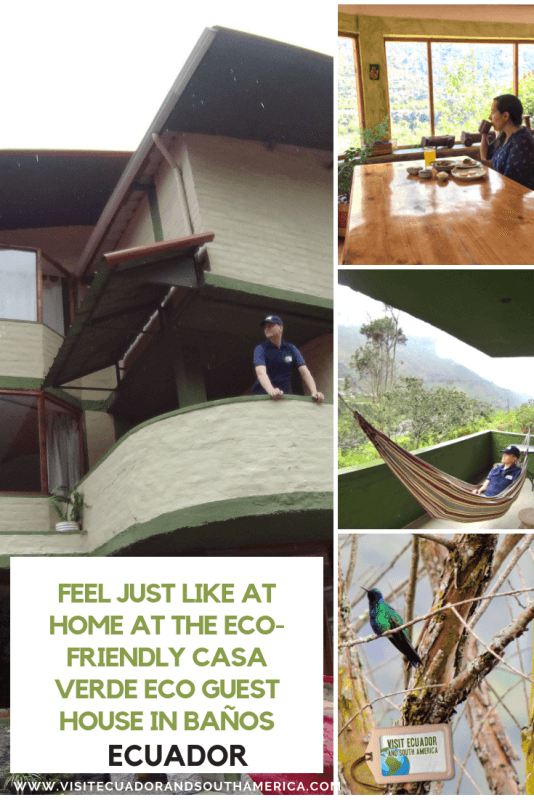 If you want more in-depth information and also a guide that you can bring along during your trip, I recommend the travel guide Lonely Planet Ecuador & the Galapagos Islands. This is a great source of information and tips, maps and all you need if you plan on visiting Ecuador. I personally like the option of having a hard copy version where I can take notes and have at hand.
Don´t just dream it, make it happen. Plan your South American trip with a local!
Take a look at this list of travel resources to plan your trip and travel in South America. Daydreaming about your trip to South America? Order here your Free Ebook, I share with you some useful tips & resources for a memorable trip! I invite you to follow me on Facebook, Twitter, Pinterest, and Instagram. In addition, you can subscribe on YouTube. You can also send an email to get help planning your trip: info(at) visitecuadorandsouthamerica(dot)com