Best things to do in Baños de Agua Santa Tungurahua, Ecuador
This city is one of my favorites, and it is located in the eastern part of Tungurahua province, in central Ecuador.
It is also called the Gateway to the Amazon Rainforest.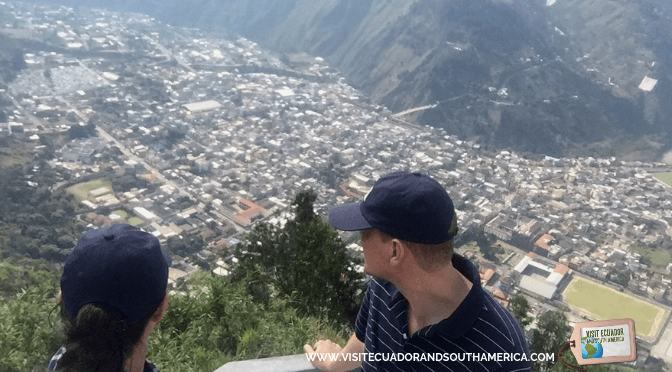 Due to its location this city has been one of the major touristic places of Tungurahua province. It has tropical weather and the temperature goes from 15 to 25 degrees all year round.
Baños offers a great variety of activities and the main attraction of the city is the nature that surrounds it.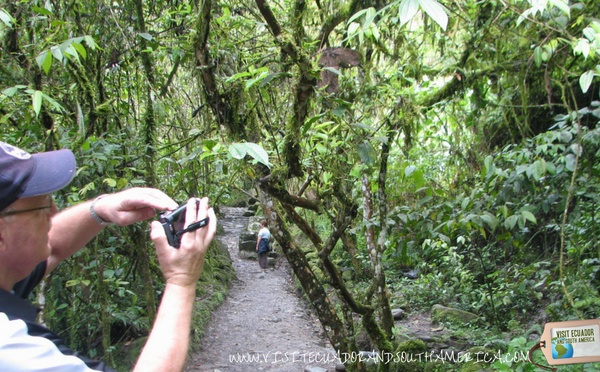 Baños de Agua Santa is a suitable place for practicing different kinds of adventure sports, such as, rafting, rock climbing, canyoning, bungee jumping, horseback riding, ecological walks. canopy, mountain biking and more.
It also has spas and hot springs with mineral and sulfurous waters that emerge from the Tungurahua volcano's entrails. In addition, you can enjoy more than 80 restaurants that offer national and international cuisine.
Book a tour
There are so many activities to enjoy in Baños de Agua Santa, that you might want to book a tour here in order to avoid the stress of planning, logistics and to save some time.
Adventure sports
Here are some of the many activities that you can enjoy doing while you are visiting this amazing city.
Rafting: this sport and recreational activity is carried out in the Pastaza river. It is done in 2 sections of the river depending the level of difficulty.
Canopy:  this activity you can practice in different places around the city. From 250 meters to 1000 meters of cables going through rivers and  forest.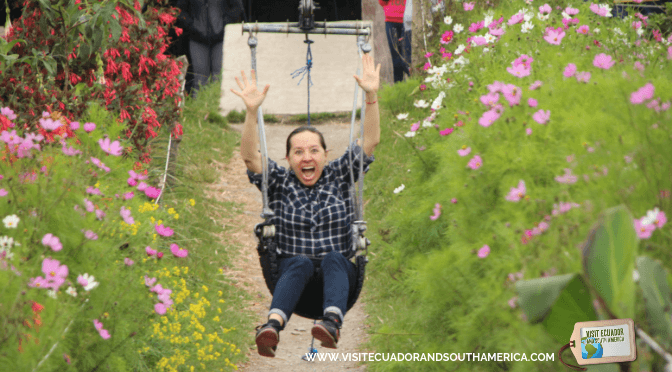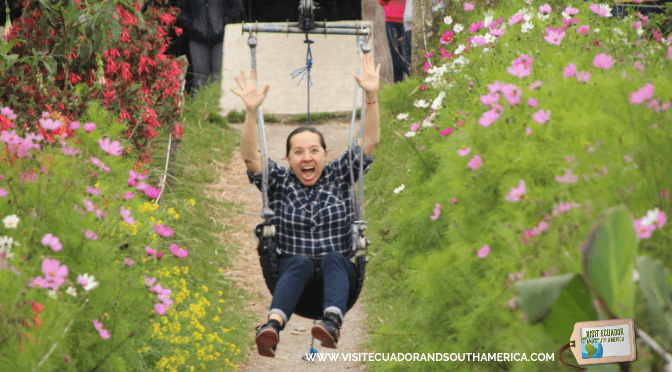 Canyoning: you can do this activity in the rivers' canyons or ravines. That allows you  to descend the cascade though out a tied rope. You can practice this activity in places such as Chamana, Rio Blanco and Cashaurco.
If you are in Ecuador I would love to see your pictures.
Climbing: requires a lot of strength and adrenaline. Because it includes heights of considerable danger. In Baños,  there is a very particular wall San Martín composed of volcanic rock.
Balance, adrenaline and more:
You find all this and more at the Casa del Arbol, a sort of theme park with canopy, balancing, pic nic areas and the famous swingin the middle of the world.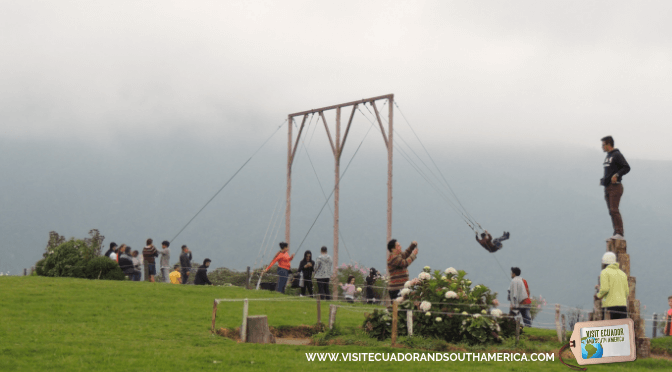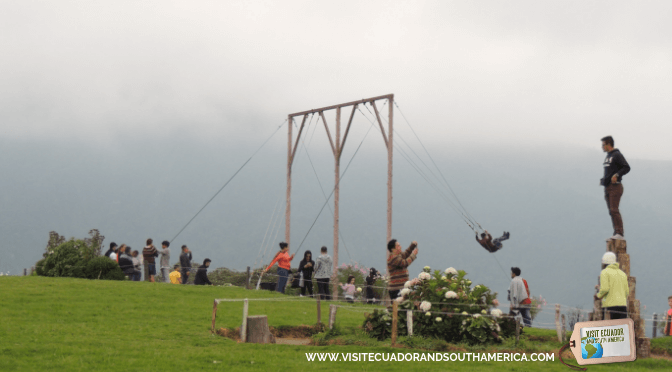 Thermal pools or hot springs.
You can find many places where you can relax and spend a wonderful time with your family and friends.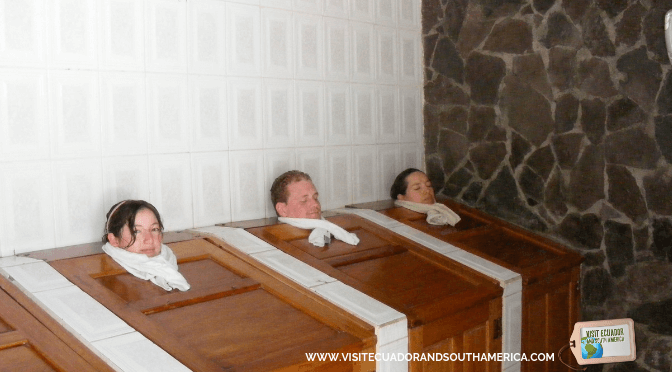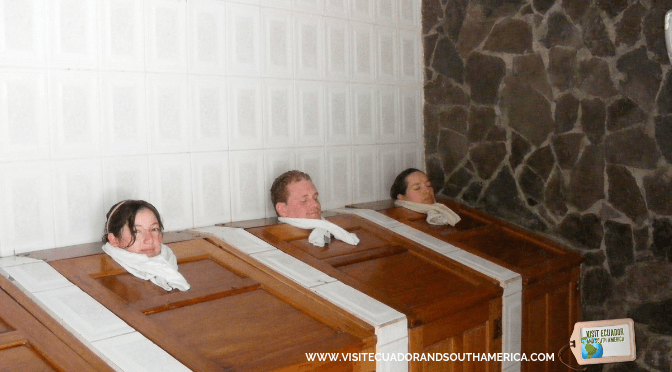 Here are some of the main hot springs that you can visit:
Santa Clara Spa: On the southeastern side of the city, between Velasco Ibarra and Rafael Vieira streets next to the Electricity Company.
The Pools of the Virgin: These pools of sulfates waters are at the foot of the waterfall Cabellera de la Virgen.  The location of this place is at the intersection of Luis A. Martínez and Montalvo streets, in the center of the city.
And one of my favorite places to enjoy is El Salado Thermal Waters. I always visit this place with my family and friends.
Las Piscinas El Salado offer swimming pools of thermal waters, its location is only 5 minutes from the area of Baños.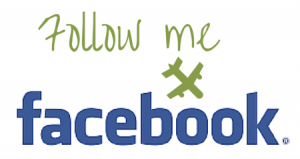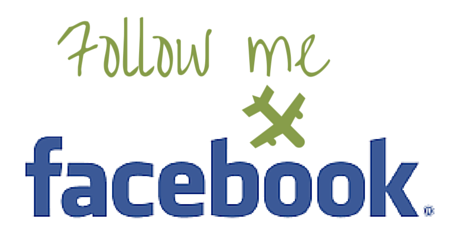 Waterfalls
The city  offers a great variety of waterfalls most of these are for practicing adventure sports and others offer a great view of landscape and nature.
While you are visiting the city you can enjoy the waterfalls route which goes from the western entrance to Baños to beyond Cashaurco, there are three different routes. The Route of the Orchids, Waterfalls and Guayabas.
I will mention the most common waterfalls.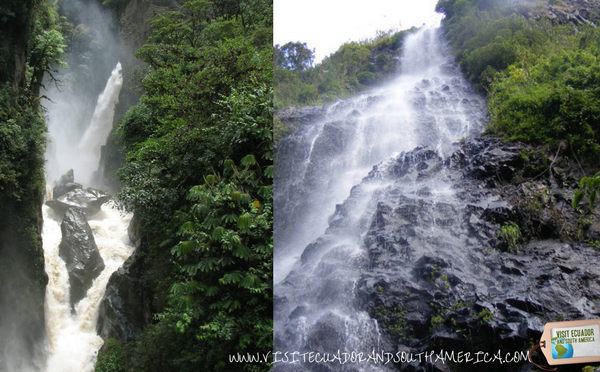 Agoyán:  Its location is approximately 7 km from the city of Baños and it is the highest waterfall of the Ecuadorian Andes.

The Bride's Mantle:  this waterfall flows into the Pastaza River.
Its name is due to the dimension that has and the white color that resembles it to the veil of a bride. It is approximately 40 meters high with a single drop.
Rio Verde Waterfall:  this waterfall is also known as Pailón del Diablo.
It is a popular tourist attraction for the flora that surrounds it and the rocks that divide the waterfall, is approximately 80 meters high, and 18 kilometers away from Baños.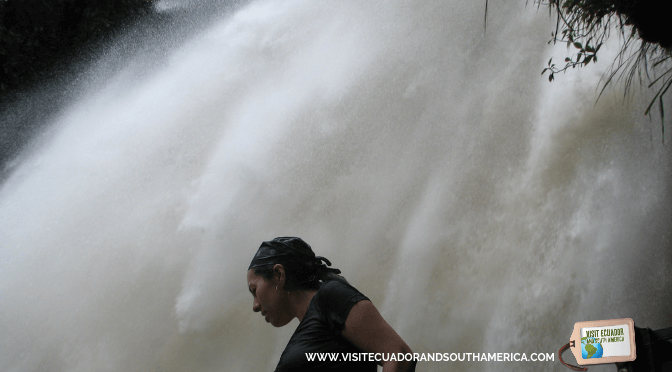 Other activities and attractions
One of the main attraction of the city is the Sanctuary of the Virgen de Agua Santa, it is the main church of the city and one of the main centers of Catholic pilgrimage of the country.
Inside the church you can enjoy a gallery which tell the stories of all the miracles that the Virgen de Agua Santa has done to its parishioners.
Other attraction that you can find in the city is the Tungurahua Volcano which has been active since 1999. The Tungurahua volcano is part of the Sangay National Park.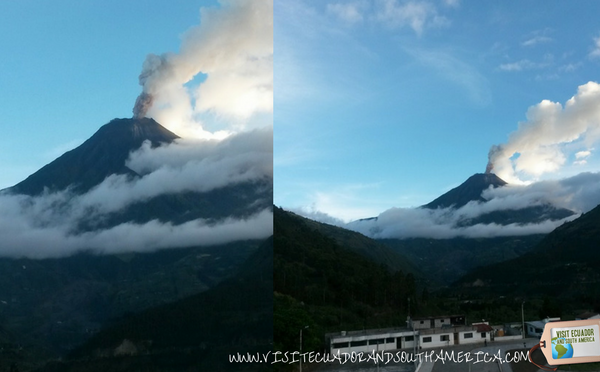 And for the people want to enjoy the night life the city offers approximately 25 bars, clubs and discos located along Eloy Alfaro Street between Ambato, Oriente and Eugenio Espejo.
At the end of your visit do not forget to buy some souvenirs and the traditional sweets of the city, one of my favorite sweets is the Melcocha made of sugar cane, also the juice and the small sugar cane bites.
Where to stay
If you are on your way from Quito to Baños Casa Quinta Clementina is a wonderful option.Nothing beats waking up refreshed, ready to enjoy the activities in Baños or for us, to continue our trip North.
I can personally recommend booking accommodation at Casa Quinta Clementina. Ideally located near Ambato.
If you want accommodation in Baños
I recommend booking accommodation at Luna Runtun Adventure Spa,  for a relaxing night, stunning views, great pool and a wonderful location in Baños.
The other top recommendation, one Cristina & Kjell recently visited is a guest house that is perfect for all who want to feel at home, enjoy a peaceful night of sleep and who want a place that has sustainability in their core. Here is where to book your stay at Casa Verde Eco Guest House
Video
In conclusion, I can say that this is one of my favorite places to visit because of the diversity of  activities that the city offer as well as the calmness that is felt through nature and its surroundings, making an unforgettable experience for those who visit this amazing town.
If you have the opportunity to be there and experience the activities that the city offers.
Tell us which one is your favorite.
PIN IT FOR LATER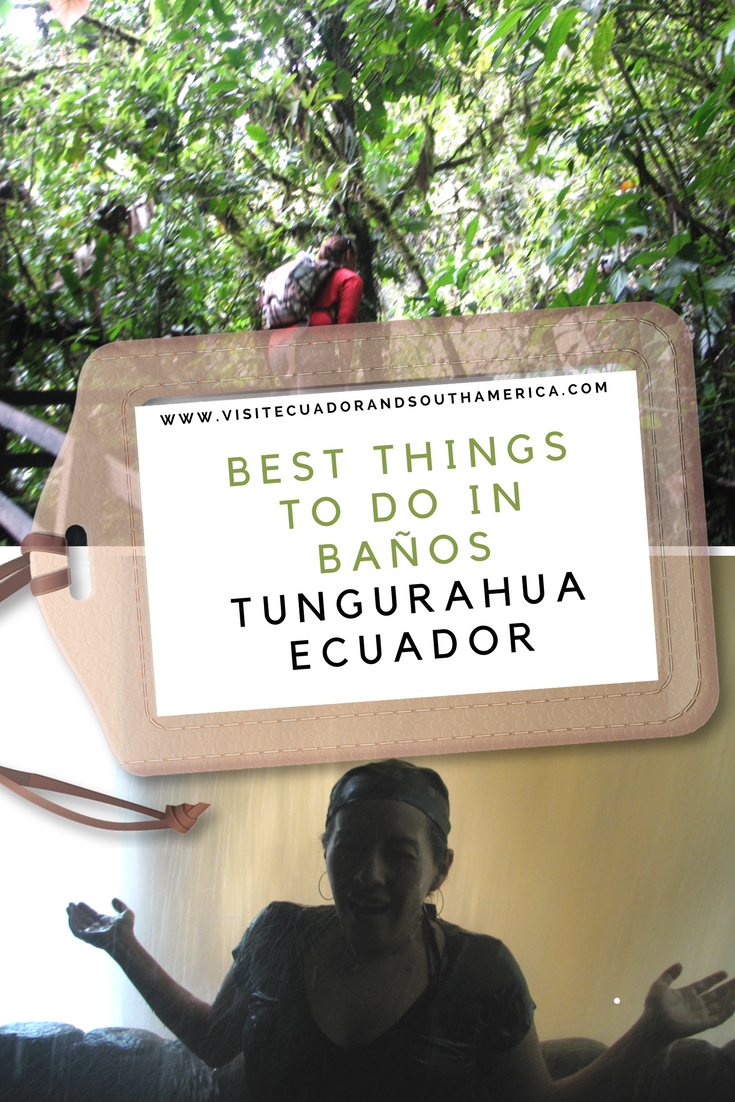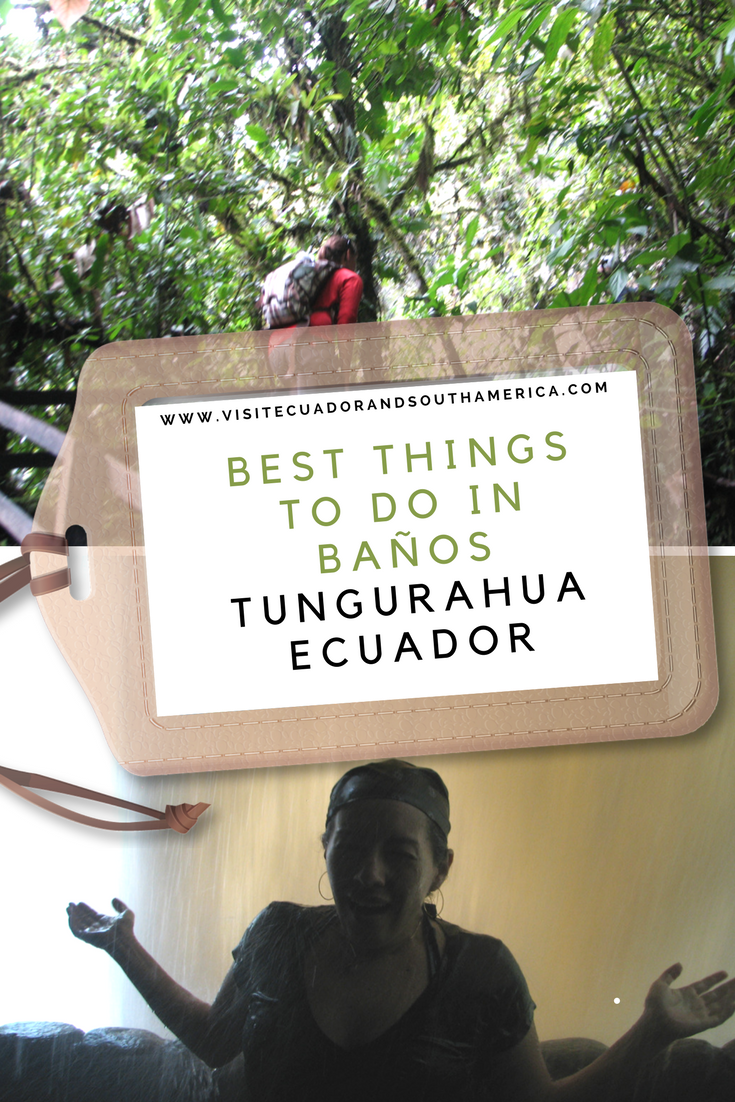 Don´t just dream it, make it happen. Plan your South American trip with a local!
Take a look at this list of travel resources to plan your trip and travel in South America.
Day dreaming about your trip to South America? Order here your Free Ebook, I share with you some useful tips & resources for a memorable trip!
I invite you to follow me on Facebook, Twitter, Pinterest and Instagram. In addition you can subscribe on YouTube. You can also send me an email to get more information or help planning your trip: info(at) visitecuadorandsouthamerica(dot)com