Kichwa Sacha Wasi: an Amazing Community Based Tourism experience in the Ecuadorian Amazon Rainforest

This is an experience not to miss whether you are in Pastaza or want to have a close encounter with one of the 14 ethnic groups of Ecuador during your trip. 
The Amazon Rainforest has inspired many.  Today I want to tell you a bit about German explorer and geographer, Alexander von Humboldt.
Before he went on his voyage of exploration, little information had been gathered o the geology, botany and indigenous people in South America. It was him who studied and documented the kinship rituals of the people of the Amazon basin and the connections between geography and culture.
Imagine now being able to witness such cultures yourself! That is our aim with this post. Invite you to have a deep experience that will transform your life in a positive and profound way.
Part of our amazing experience in Pastaza just some days ago included being able to spend a day in the community project Sacha Wasi.  This allowed us to learn about and get immersed in the traditions, culture, and habitat of the Kichwa indigenous group.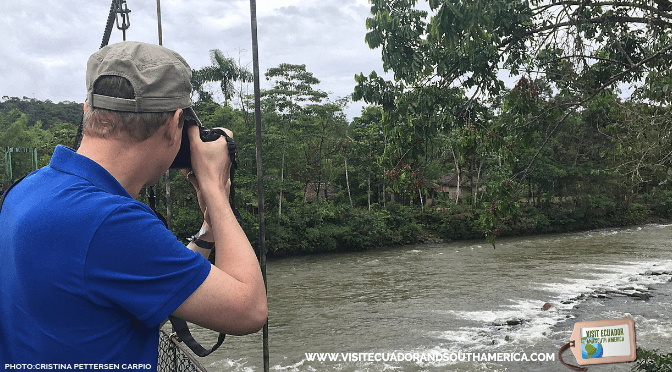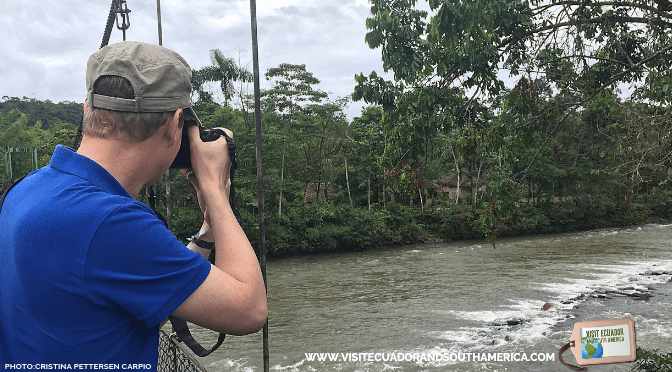 A bridge separates the community located by the riverside.
A bit about Pastaza
The slogan that so wonderfully defines this region, www.pastaza.travel is Adventure, Jungle, and Traditions.
Pastaza is also diversity.  The province houses a wide range of species of plants and animals, as it incorporates 40% of the Yasuní National Park, a Park that is home to one of the most biodiverse ecosystems in the world, with 600 species of birds, 200 species of mammals and 270 species of amphibians and reptiles.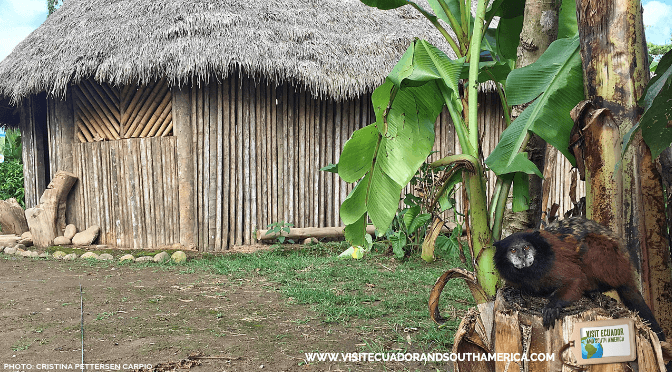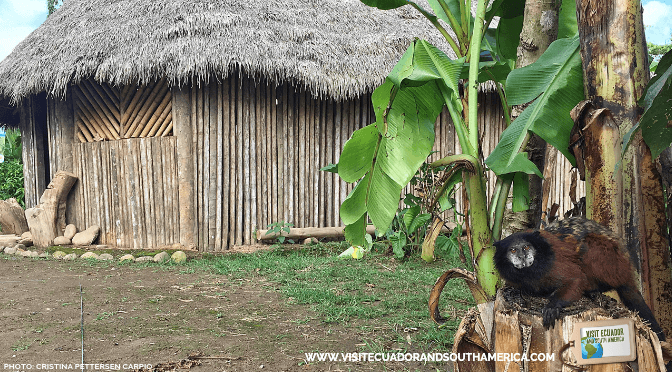 Here one of the cutest monkeys I have been able to see up close. It is the Amazon Rainforest Tamarin Monkey.
This monkey below is one of the most intelligent of all the Amazon rainforest monkeys.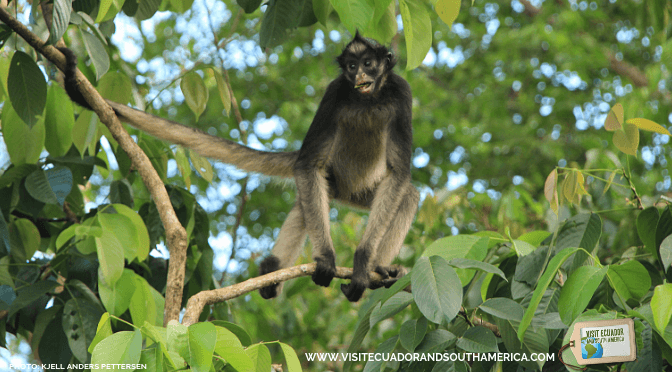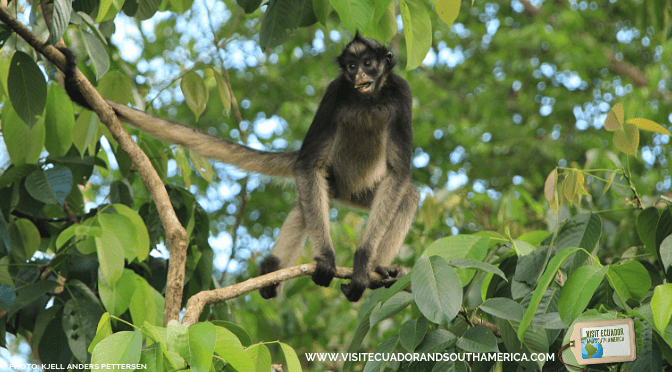 In addition, the province is home to 7 of the 14 ethnic groups in the country, one of which is the Kichwa ethnic group in charge of running this wonderful Community-Based Project.
About the Kichwa Sacha Wasi Community Tourism project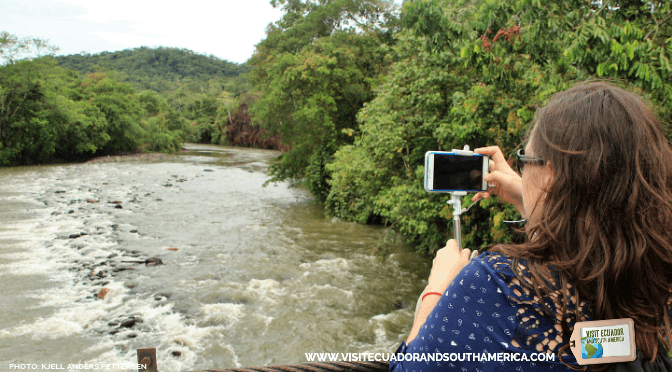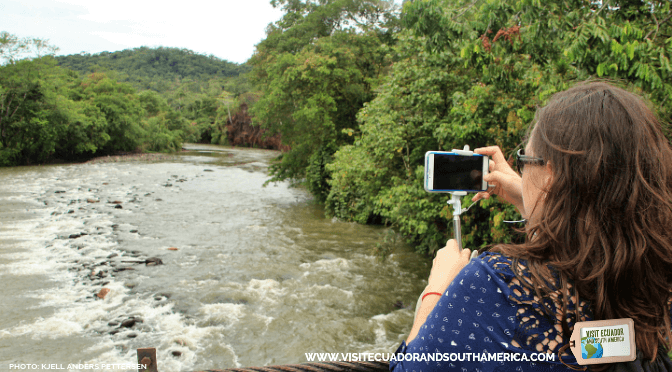 The location of the community project, 25 kilometers from the city of Puyo, and tucked deep in the Amazon Rainforest allows visitors to enjoy the abundant and diverse flora and fauna, as well as to interact and learn about this indigenous community.
By visiting Sacha Wasi you will not only live a profound experience, but you will also support this community in their aim to preserve their ancestral traditions, dances, music, clothing, and gastronomy. The Entrance Fee is $ 1,50 to $ 2.
For some, part of the experience includes living within the community, allowing them to have a deeper insight into their daily lives.
In fact, I had the opportunity to interview two visitors from the U.S. who were living in Sacha Wasi and you can listen to them telling in their own words all about their experience in the video at the end of this post.
Community-based tourism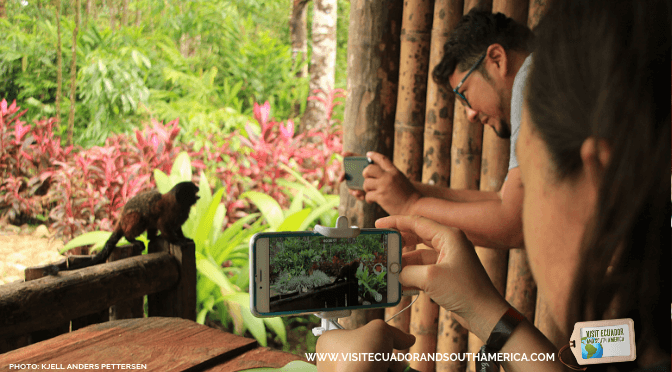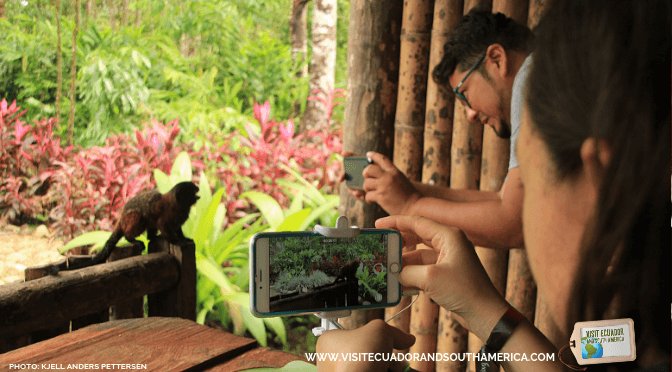 For the indigenous community, this project is based on the idea of sharing knowledge about their indigenous community as well as teaching visitors a respectful interaction with the environment. Their knowledge and appreciation of Mother nature (the Pachamama) and all the gifts that come from it, has taught them to live in harmony with nature.
We were able to see how they peacefully interact and cherish nature as a source of medicine, water, and food.
As a source of medicine: the Kichwa know about the healing powers of nature and practice the use of medicinal plants.
As a source of food: they plant and harvest products that are parts of their daily diet, such as yucca (manioc), coffee, banana, and cocoa.
Community Tourism is a form of enterprise that can be found in other indigenous communities in the Amazon Rainforest as well and has as its main aim to make new generations cherish, preserve and promote their culture and way of living. Your visit will create value both for you and for them.
Traditional Gastronomy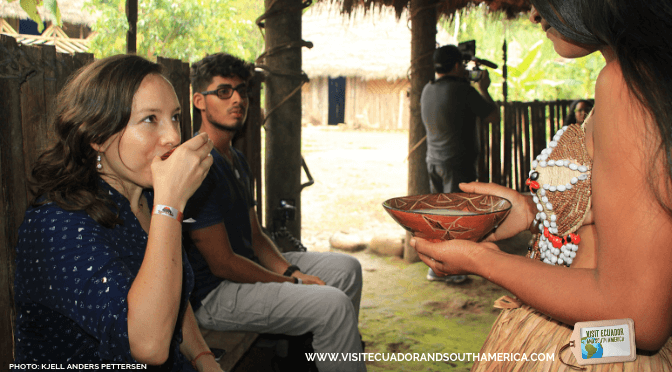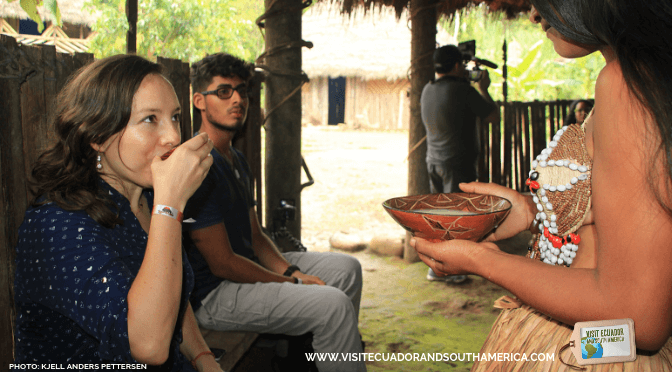 As we first entered, we were greeted with the traditional drink, called chicha. This fermented beverage is a staple for the Kichwa community and is made from chewed yucca.
(Recommendation, when offered chicha or other food that is part of their tradition, it is polite to taste it.)
Later on, we had a special dish traditional from the Amazon Rainforest called maito on top of banana leaves that were decorating our table as a long table runner.  Read about maito here: https://wp.me/p4zRuS-2jy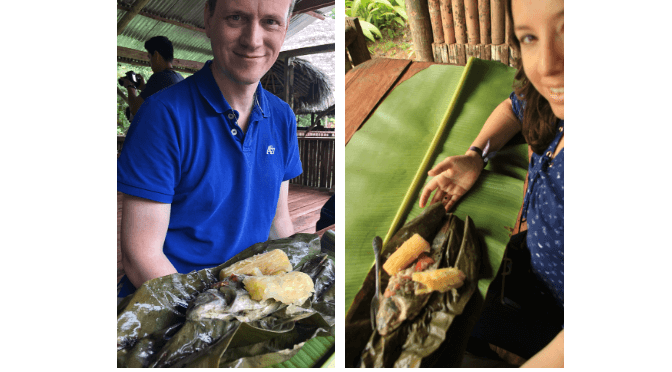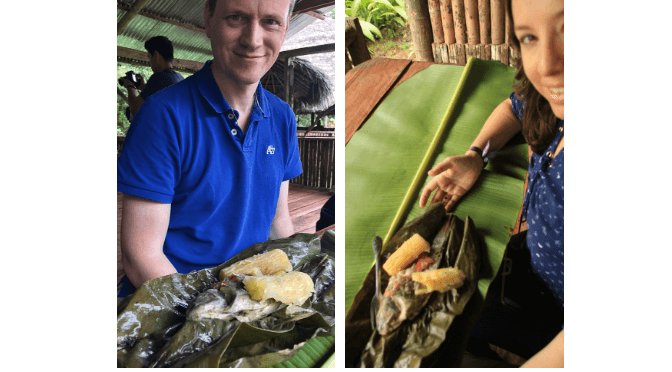 Ancestral traditions

The dresses of the ladies with their beautiful long hair are traditional costumes made from local plant products, such as seeds, palm fiber, and mate.
If you want to get some souvenirs to bring home a bit of the magical experience in Sacha Wasi, there is a small hut with handicrafts made from local plant products such as seeds and palm fiber, including jewelry, bowls, artifacts, and dream catchers.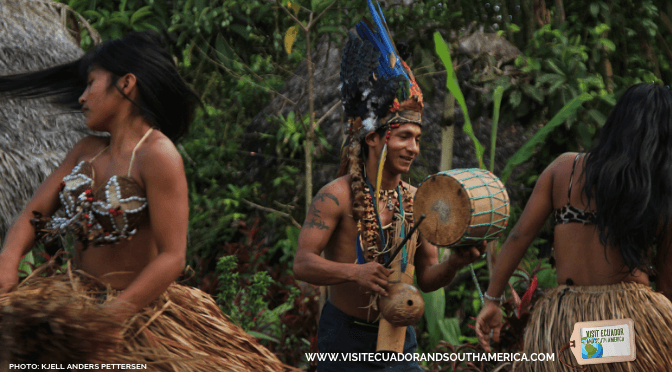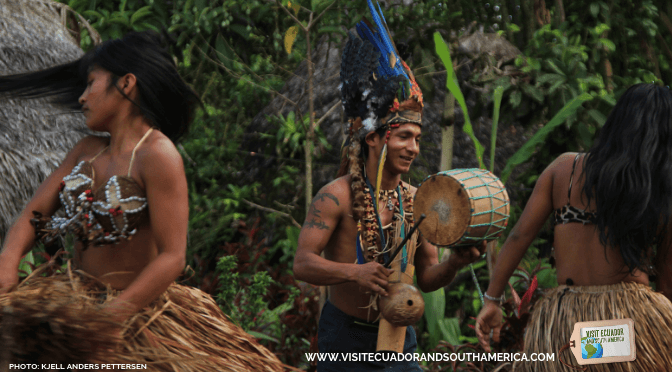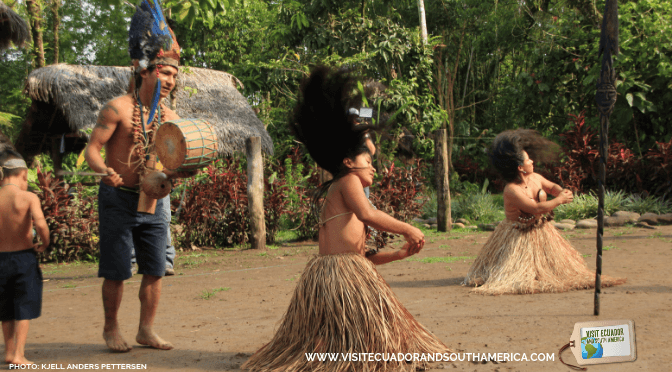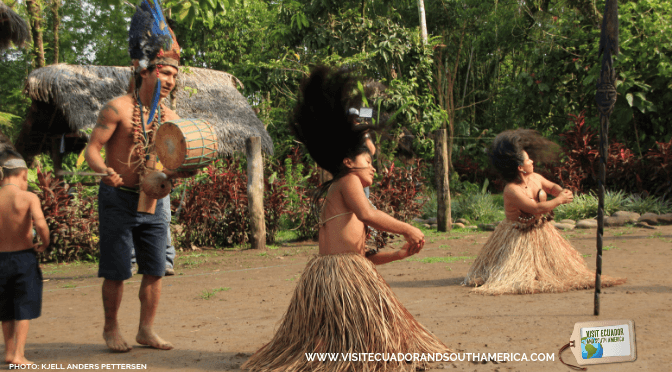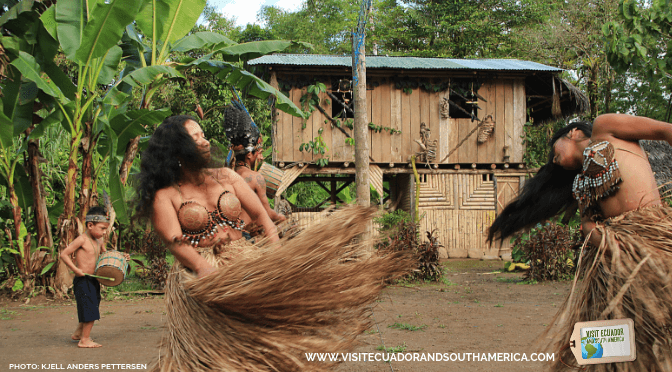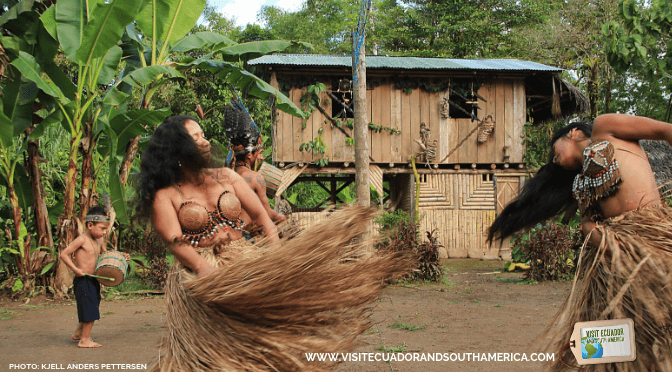 One of the highlights of our visit was a traditional dance, representing the power of man over woman. You can get a sneak peek of their traditional dance on the video at the end of this post.
Adventure
Another experience the community offers is to try your steady hand with the blowgun, one of their primary hunting tools.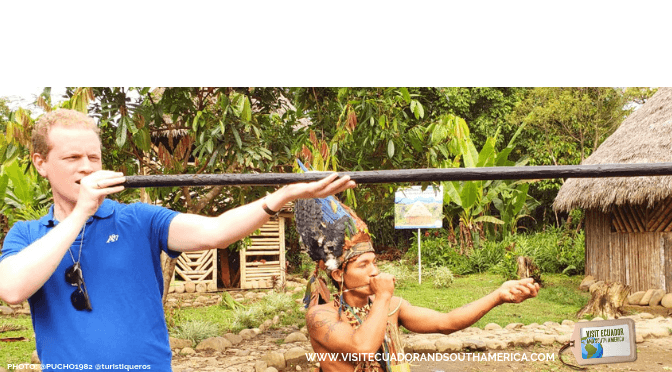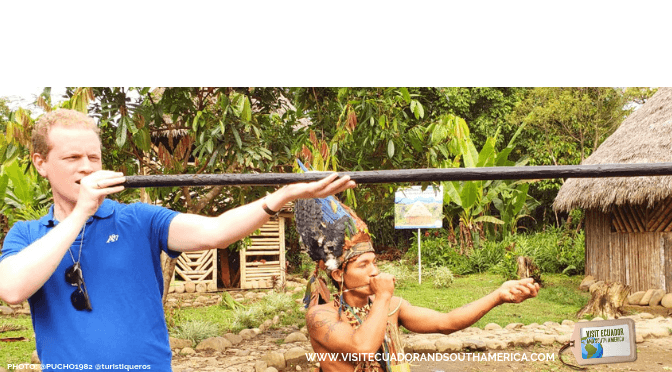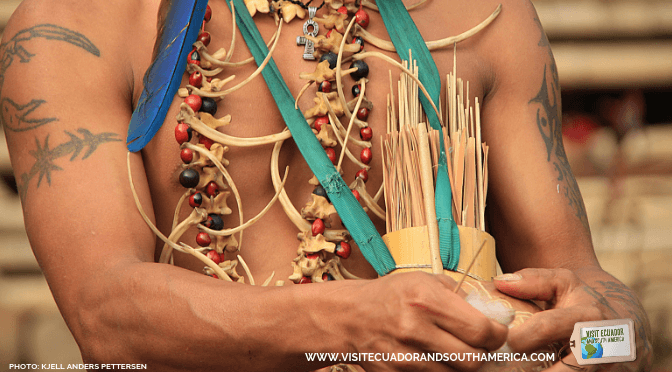 That is not all.
We kept having more opportunities to engage with the people of the Community.
Here one of the women is carefully face painting the symbols of the region with achiote.


How to get to Sacha Wasi
From Quito: take the main road from Quito via Ambato and Baños to Puyo (about 4 hours by car, 1 hour more by bus)

From Guayaquil: take the main road via Durán, Pallatanga, Riobamba, and Baños to Puyo (about 7 hours by car, 1 hour more by bus).
From Cuenca: take the main road via Guamote, Macas, and Alausí to Puyo.
Once in Puyo, Sacha Wasi is a beautiful community from the Ecuadorian Amazon.
They live near Puyo – Via a Pomona Km 9 –  You can access the community by bus or taxi from Puyo.
Then cross the bridge and follow the signs that you see in the picture below.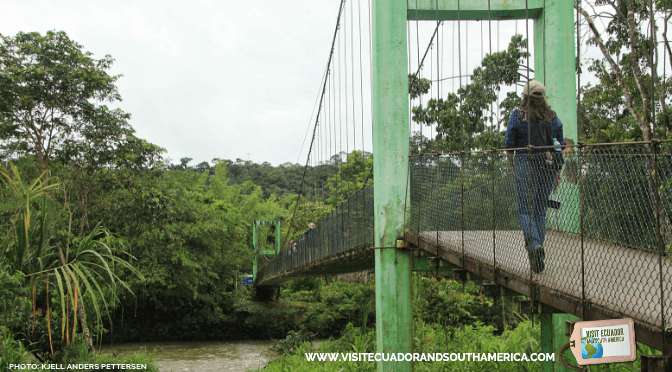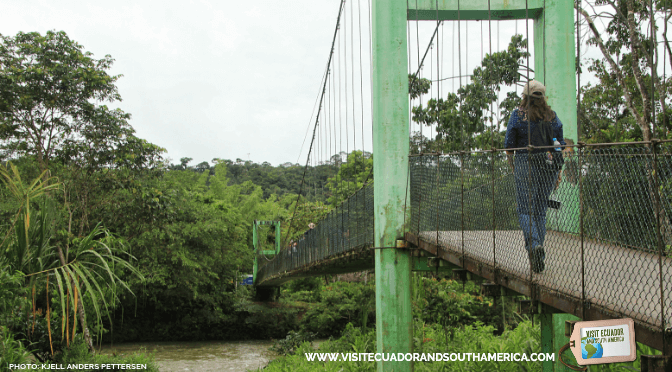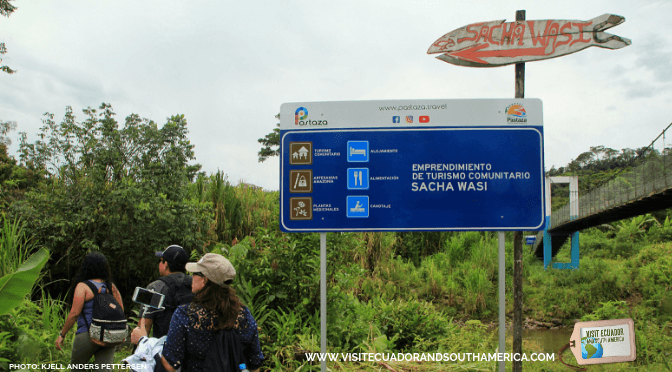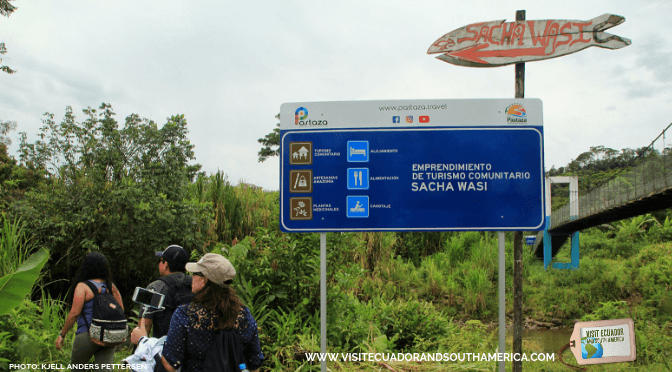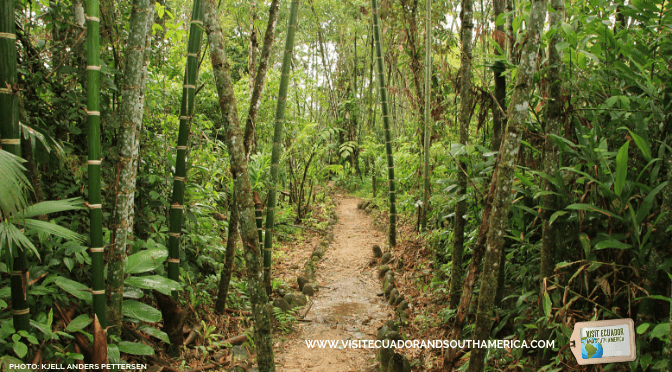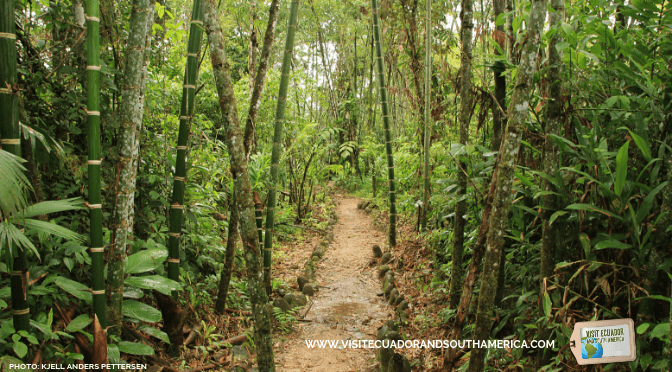 If you are in South America I would love to see your pictures.
What to bring to Sacha Wasi

The weather on the day we visited was warm and a bit humid, so we wore short-sleeved shirts and long pants.
Pastaza has a tropical climate with some rain now and then, as is expected in this area of the planet, and an average temperature of 26 degrees centigrade.
For us, having tennis shoes was enough but you might want to bring a rain jacket and hiking shoes in order to explore the area more in depth and in case you encounter one of the sudden rain showers. Bring also a rain poncho, a hat, an umbrella, insect repellent and sunscreen with SPF 30 or more. Remember we are on the equator and the sun is much stronger here.
Where to stay
As I mentioned earlier if you want to have the full in-depth, hands-on experience and if time allows, you can live with the Kichwa for a couple of nights.

In the video I have the testimonials of two tourists who chose this option, I recommend that you find out what they say about it.
Other accommodation options in Puyo
This is the perfect hotel in the city center. It is comfortable, has a wonderful restaurant and good service.
A hotel where its charm, comfortable rooms, and service stands out.
Bellandia Lodge
If on the other hand, you are looking for a remote place for your accommodation, this is our top choice for you.
Parts of the lodging is almost like taken out of a Tolkien movie, they look like cute hobbit houses or cabins burrowed in the ground.
Located in a secluded location in Pastaza, there are hammocks perfect to recharge, their waterfall and natural swimming pool are ideal to reconnect with nature and their location overlooking the Llanganates is optimal for birdwatching. Book here.
We have some more must-see and must-eat options for you in this video from our complete Pastaza experience, watch it here: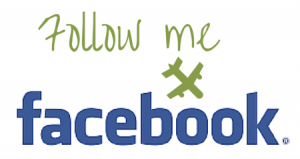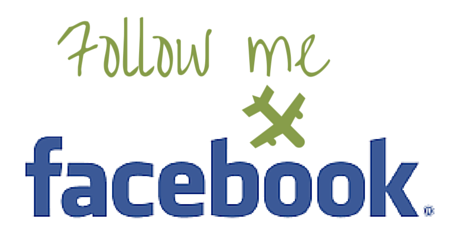 Conclusion:
A visit to the Kichwa Sacha Wasi Community Tourism project will give you an honest look into the area, it will allow you to fully immerse in traditions, gastronomy, and lifestyle of the Kichwa. It will also benefit the local community and the most important benefit goes to nature, it helps conserve natural resources and ancestral medicine.
If you found this page helpful, I would appreciate it if you would pin, share or tweet it on any social media platforms you use! Every little bit will help fund our travels and continue to bring great content to our site!
PIN IT FOR LATER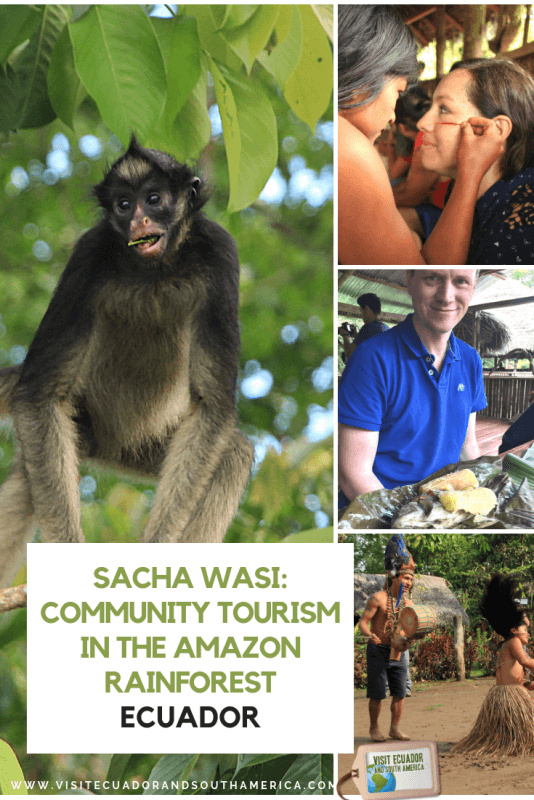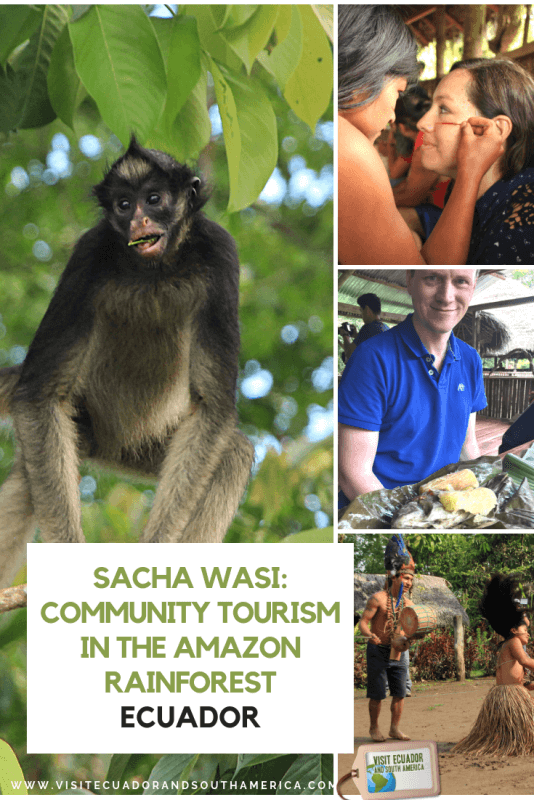 If you want more in-depth information and also a guide that you can bring along during your trip, I recommend the travel guide Lonely Planet Ecuador & the Galapagos Islands
.
This is a great source of information and tips, maps and all you need if you plan on visiting Ecuador.
I personally like the option of having a hard copy version where I can take notes and have at hand.
Don´t just dream it, make it happen. Plan your South American trip with a local!
Take a look at this list of travel resources to plan your trip and travel in South America.
Day dreaming about your trip to South America? Order here your Free Ebook, I share with you some useful tips & resources for a memorable trip!
I invite you to follow me on Facebook, Twitter, Pinterest and Instagram. In addition you can subscribe on YouTube.
You can also send an email to get help planning your trip: info(at) visitecuadorandsouthamerica(dot)com