A Culinary Adventure: Discovering the Tempting Chugchucaras of Latacunga
When it comes to embarking on an epic road trip from Quito to Cuenca or from Quito to the Cotopaxi volcano, in Ecuador, there's an important food stop that you simply can't miss—a rendezvous with the mouthwatering traditional dish known as Chugchucaras in the vibrant town of Latacunga.
Experience the taste of a culinary legacy that spans over 70 years with Chugchucaras, a traditional dish deeply rooted in history. Derived from the ancient Kichwa language, "chugchuna" translates to trembling, while "kara" signifies leather, embodying the essence of this unique gastronomic delight.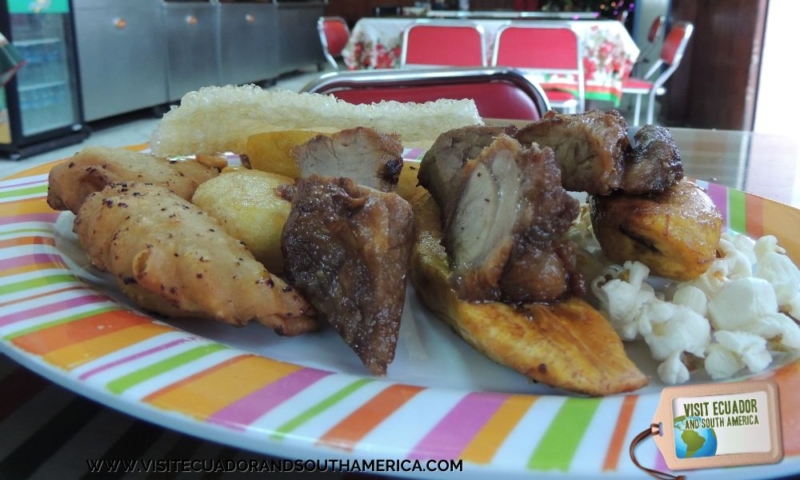 About
Within the realm of Ecuadorian cuisine, there is a dish that holds great significance in the charming town of Latacunga—it's none other than the beloved Chugchucaras. Derived from the Quechua language, the word "Chugchucara" translates to "trembling leather," but don't let the name fool you! This traditional dish is a delightful medley of flavors, consisting of ten components that include succulent pork, roasted corn, mote, and more.
Legend has it that this plate originated in the 1940s, serving as a hearty source of energy for laborious work. It's worth mentioning that Chugchucaras boasts a rich caloric intake, making it a fulfilling culinary experience.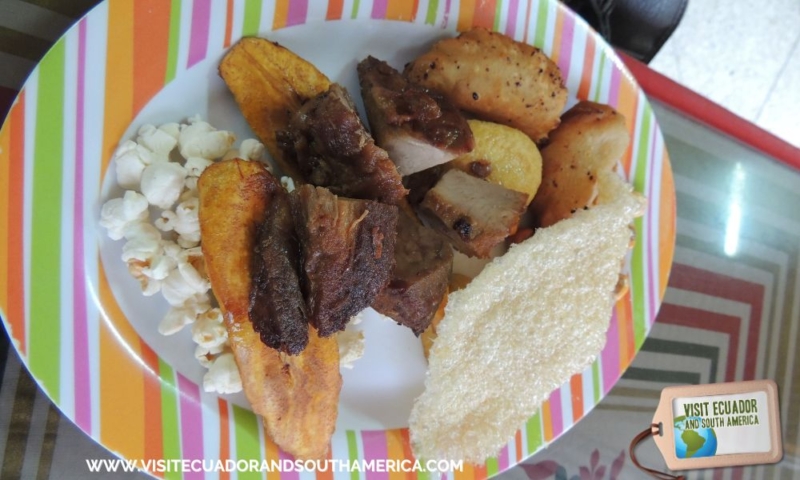 If you are in South America, I would love to see your pictures.
Nestled in the picturesque north central Andes region, surrounded by majestic volcanoes such as Cotopaxi and the enchanting Quilotoa lagoon, Chugchucaras reflects the natural splendor of its surroundings in every bite.
While there are several options to try Chugchucaras in Latacunga, one of the most renowned and representative establishments is Chugchucaras Rosita. Chugchucaras de la Rosita has been a pit stop for those driving along the highlands of Ecuador, including us.
This traditional eatery specializes in crafting this iconic dish and was started 48 years ago, by its owner Rosita Jimenez, who you can see in one of the pictures below.
If you want to taste some of the traditional food of Cotopaxi, make sure to visit this restaurant. This is a place and some flavors that you won't want to miss!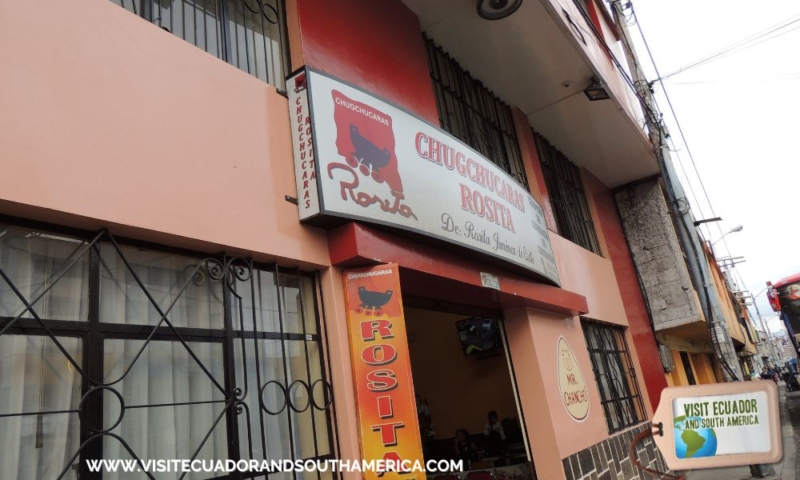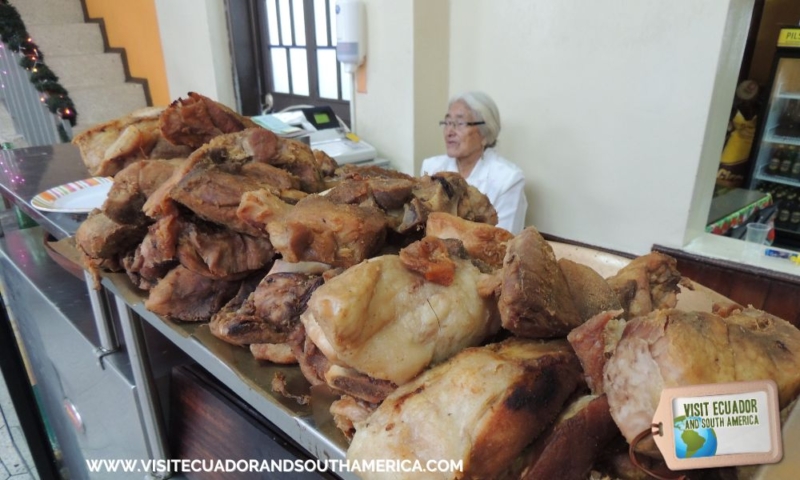 What is included in a plate of chugchucaras
The chugchucaras dish is made up of canguil(popcorn), tostado(toasted), mote, fried ripe plantain, French fries, empanadas, burst pork skin, fritada(fried pork), and mote con chicharrón.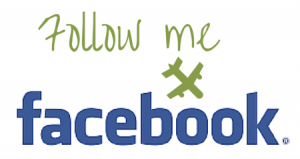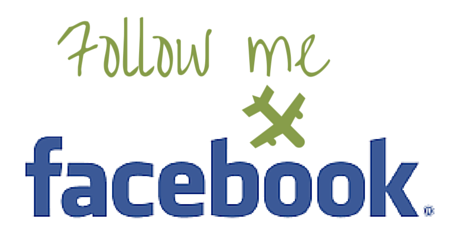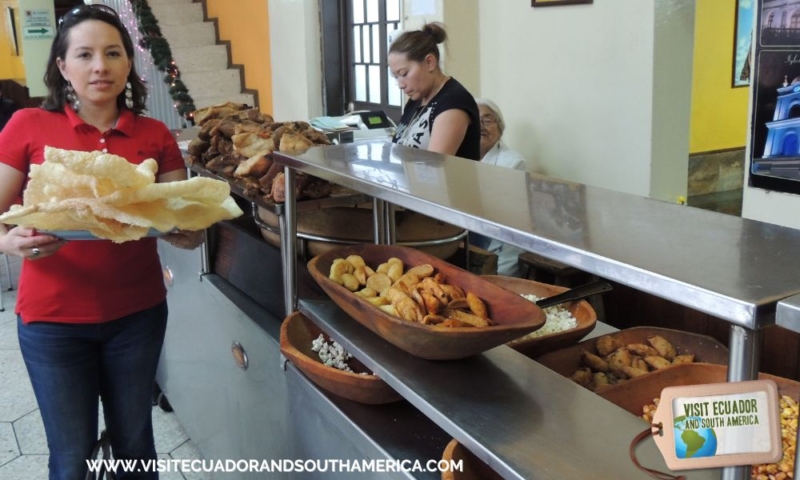 In conclusion, Chugchucaras stand as a testament to the rich history and Quechua heritage ingrained within Ecuadorian cuisine. This iconic dish, a harmonious blend of succulent pork, roasted corn, empanadas, and an array of mouthwatering components, encapsulates the flavors and traditions of Latacunga.
Now armed with the knowledge of this gastronomic treasure, it's time to embark on your own journey of taste and tradition. Let your taste buds rejoice as you indulge in this remarkable culinary creation. So, what are you waiting for? Take a leap into the world of Chugchucaras today and create unforgettable memories through the sheer joy of its flavors!
Some posts on this site contain affiliate links, meaning if you book or buy something through one of these links, I may earn a small commission (at no extra cost to you!).
Have you had chugchucaras? Leave your comment below!
If you enjoy the content, please consider liking, commenting, and subscribing. It's free, and it helps us.  Every little bit will help fund our travels and continue to bring great content to our site!
Planning a trip soon? Comment below or send me an email. I can help you plan your trip.
PIN IT FOR LATER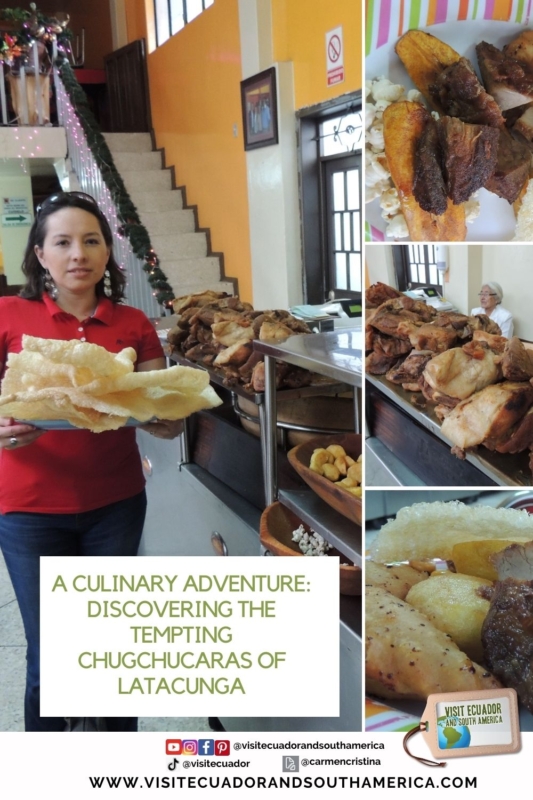 Want to Learn to make some of these dishes and many more? Gran Cocina Latina: The Food of Latin America, This book comprises 500 well-written recipes from all Spanish-speaking countries in Latin America, providing great information and recipes of the exciting food you can prepare at home. At the same time, you plan your visit to South America.
Don´t just dream it. Make it happen. Plan your South American trip with a local!
Take a look at this list of travel resources to plan your trip and travel in South America.
Daydreaming about your trip to South America? I share with you some useful tips & resources for a memorable trip! Order here your Free Ebook.
I invite you to follow me on Facebook, Twitter, Pinterest, and Instagram. In addition, you can subscribe on YouTube. You can also send me an email to get more information or help planning your trip: info(at) visitecuadorandsouthamerica(dot)com.