Top reasons to visit Manabi province in Ecuador
Manabi, located in the Coastal region of Ecuador, is one of the top tourist destinations in the country for locals and tourists.
First of all, due to its beautiful warm beaches. Manabi is an eldorado for beach lovers and water sport enthusiasts!
Furthermore, Manabi is a province full of natural wonders, great activities, towns, history, and breathtaking landscapes ready for you to explore.
7.- Spondylus Route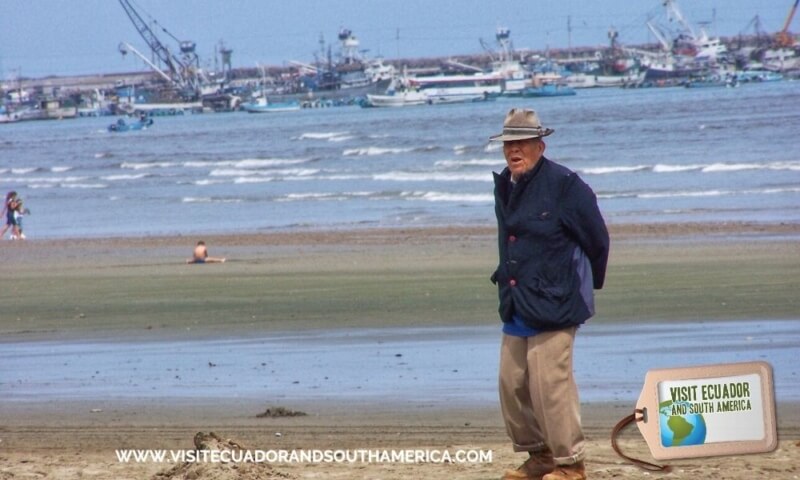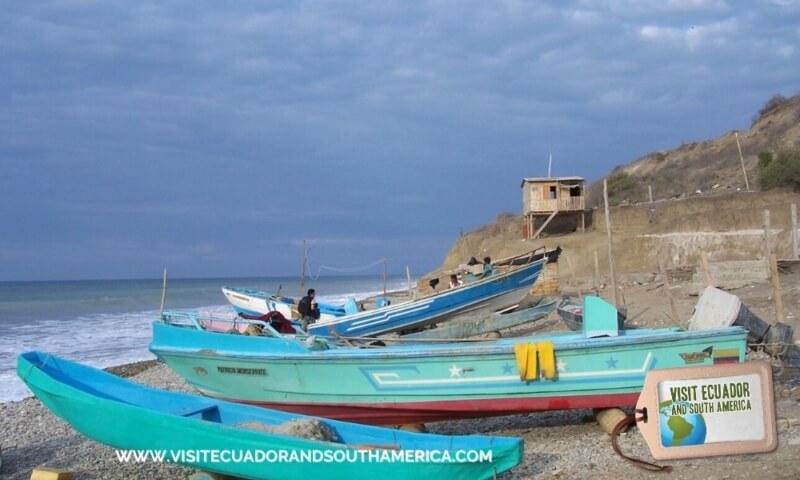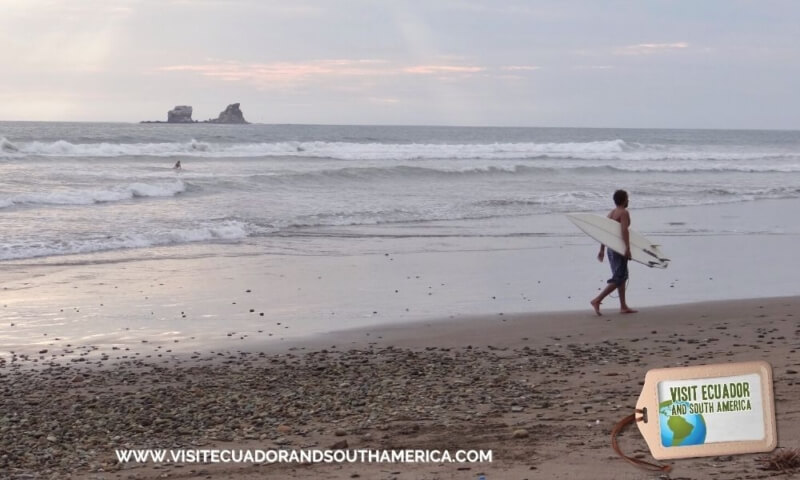 A highway that runs 850 Km along the whole Pacific Coast of Ecuador, including the Manabi province. The Spondylus route, also known as Ruta del Sol or The Sun Route,  highlights the spellbinding landscapes, breathtaking beaches, mouth-watering gastronomy, and friendly inhabitants of the province.
6.- Adventure tourism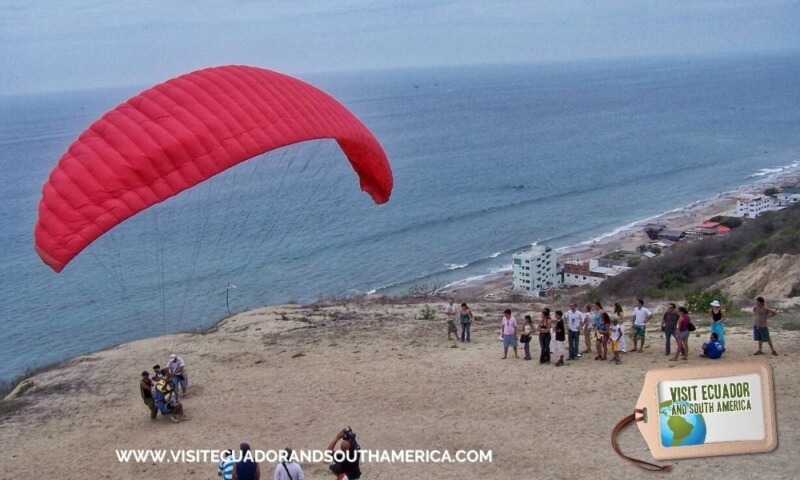 This province is a hotspot for adventure tourism and leisure tourism in Ecuador. You can take surfing lessons, enjoy snorkeling, scuba diving, whale watching, paragliding, and many other outdoor activities.
5.- History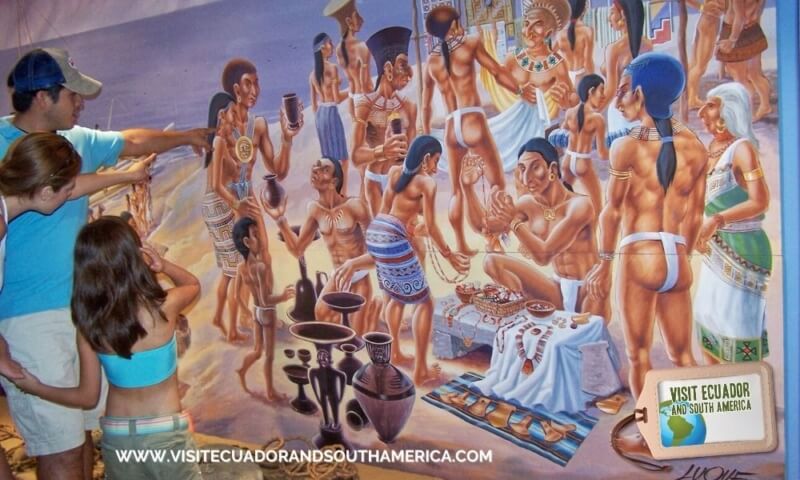 Include a visit to the Archeological museum in Manabi, Museo Arqueológico del Banco Central.  It provides information about the 7 different pre-hispanic civilizations in the area.  Besides,  you will get an insight into the history of the province. One of the exhibitions includes archeological fossils, remains of pottery, and other items.
Furthermore, an interesting fact is that the Jocay territory, which nowadays is the city of Manta, served as a trading center to the Inca and Manta indigenous groups.
4.- Ecological hikes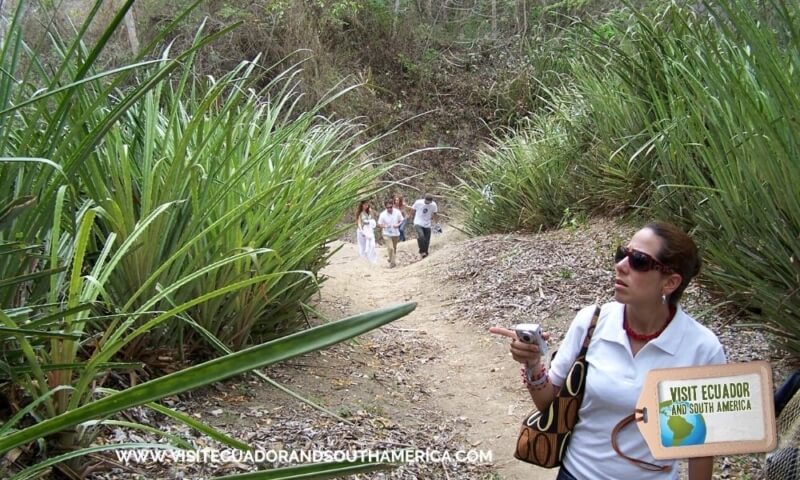 From Manta, you can opt to visit many attractions, including ecological hikes. A 30 minutes drive from the city will bring you to Pacoche Forest. The ecosystem of Pacoche boasts rich biodiversity, including squirrels, parrots, doves, deers, foxes, snakes, and several kinds of birds.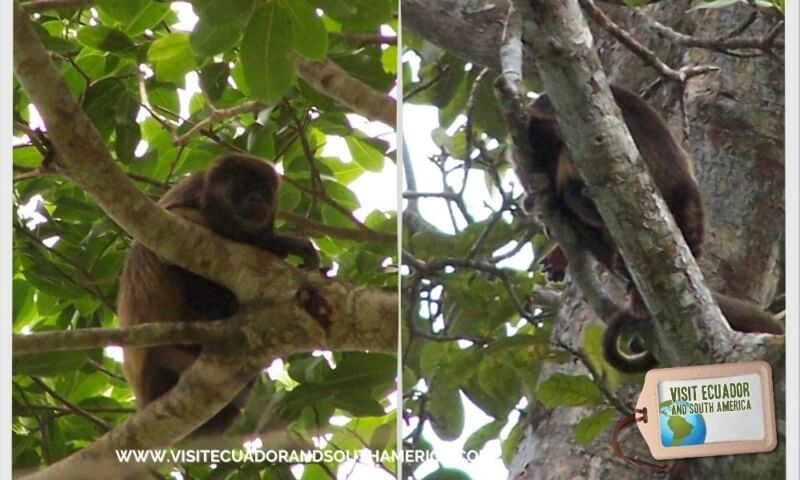 During our hike, we were able to encounter 10 species of howler monkeys.
3.- Mouth-watering gastronomy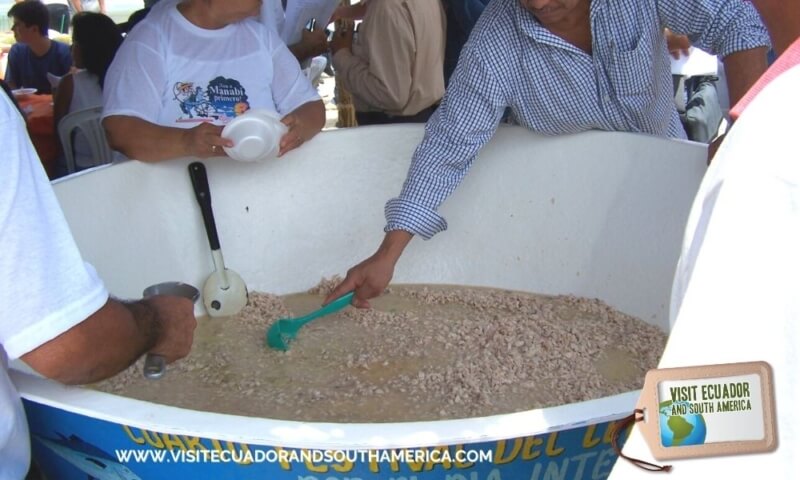 Local cuisine attracts lots of tourists to this province. There are two main ingredients of Manabi´s gastronomy: peanut and corn.
Some of the best food to taste in Manabi include corviche, biche, cazuela manaba, green plantain chips, ceviche, sal pietra, empanadas de verde, alfajores and hayacas.
2.- Breath-taking warm beaches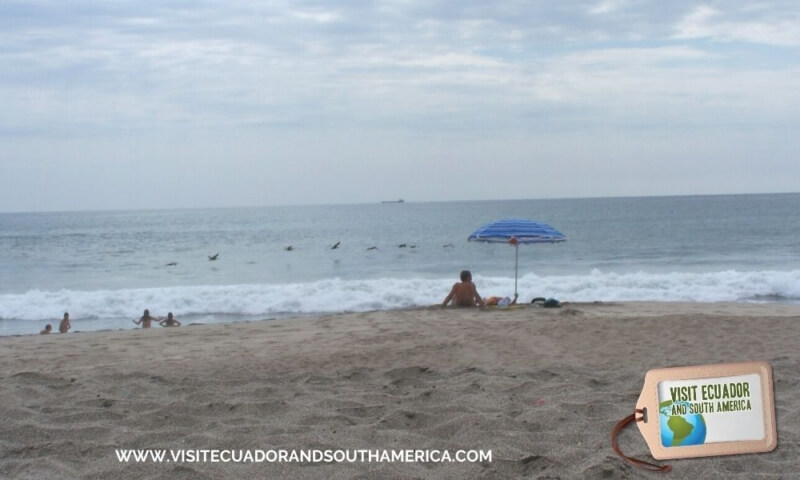 This is definitely one of the best features of this province. Relax or enjoy adventure activities by the sea. Some of the best beaches to visit are Piedra Larga, Ayampe, Los Frailes, Puerto Lopez, together with Playa Murciélago and Tarqui in the city of Manta.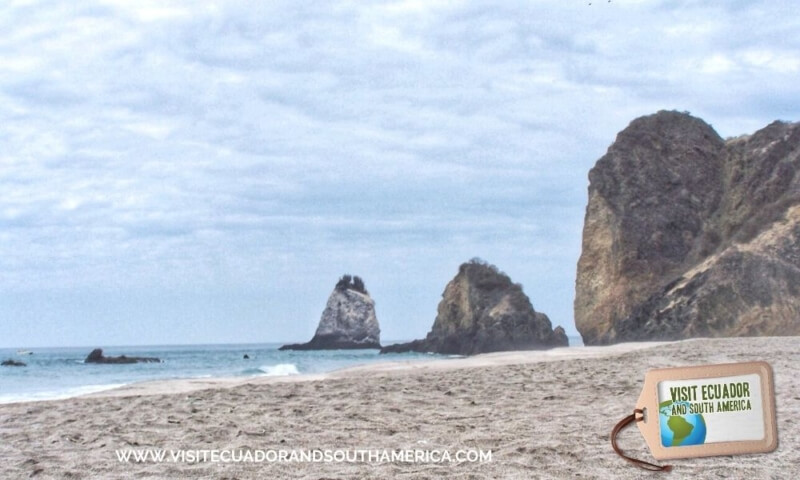 1 – To help with the recovering of the province 
In April 2016, Ecuador suffered one of the strongest earthquakes in the history of the country. A 7.8 quake on the Richter scale near Pedernales in the province of Manabí. Ecuadorians are hard workers who want to get back on their feet. So, the best way you can help with the recovering of the province is through tourism. You can help rebuild the affected areas by visiting the province. Know that this is an important source of income for Manabi.
Moreover, it is important to know that many areas are not affected by the earthquake. I will mention some of them in this article.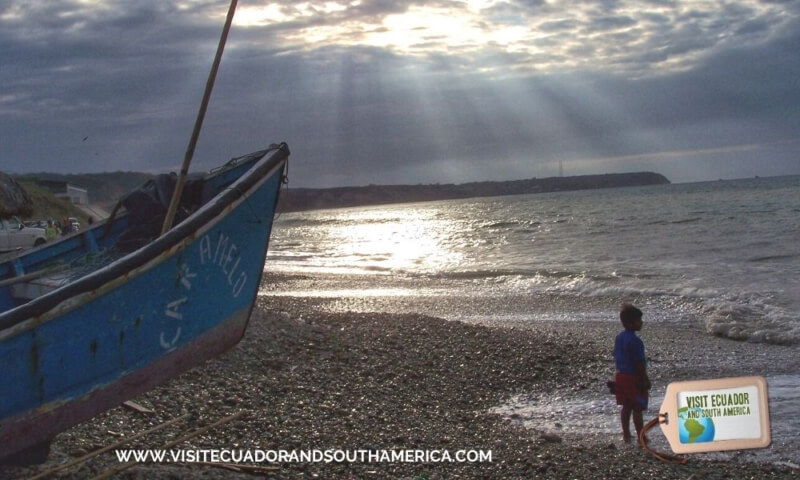 Other activities to enjoy in Manabi:
– Visit the "Panama hat" weavers in Montecristi to see the crafting of Montecristi hats, the genuine, high-quality hats. Read more about our "Panama hats."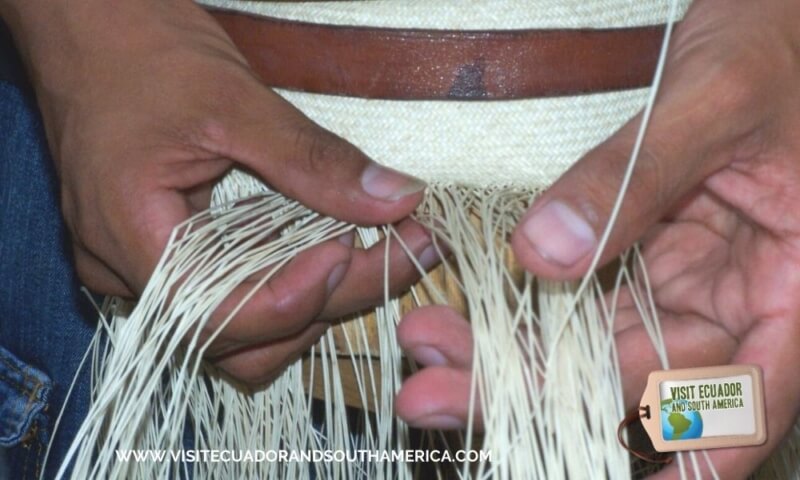 – Tour to Isla de la Plata. This island can be reached by boat and is part of Parque Nacional Machalilla. It offers wildlife similar to the one in the Galapagos Islands and is a less expensive option, hence its nickname "the poor man's Galapagos."
Where to stay
The city of Manta offers all ranges of accommodation, including hostels, B&B, and 5-star hotels. There are excellent options available on the main beaches in the province.

Together with my family we really enjoyed Hotel Cabañas Balandra, in Manta. It is ideally located near the beach "El Murcielago" in the city and not far from Crucita, Los Frailes, and Puerto Cayo. They have a lovely pool, gym, and sauna. Whether you are coming for leisure or business to Manta and Manabi, this is a great option.  Besides,  it is possible to ask for help to book day tours at the front desk. This hotel was not affected by the devastating earthquake.
Another great option is to rent homes from local hosts via Airbnb. Besides renting local unique accommodation and feeling more at home, you can get $38 off your first adventure if you join for free before November.

How to get there
The airport is operational, highways are now open, and the beaches are welcoming tourists. So you can book a flight, buy a bus ticket or rent a car and get ready to plan your memorable trip to Manabi.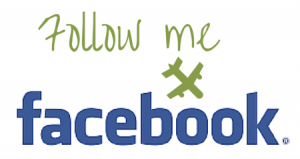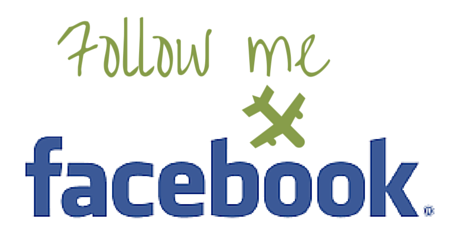 In conclusion, I can positively say that Manabi, with its warm beaches, scenic landscapes, generous people, mouth-watering food, and history, is a province you have to visit Ecuador.
So why not book your ride to Manta today?
PIN IT FOR LATER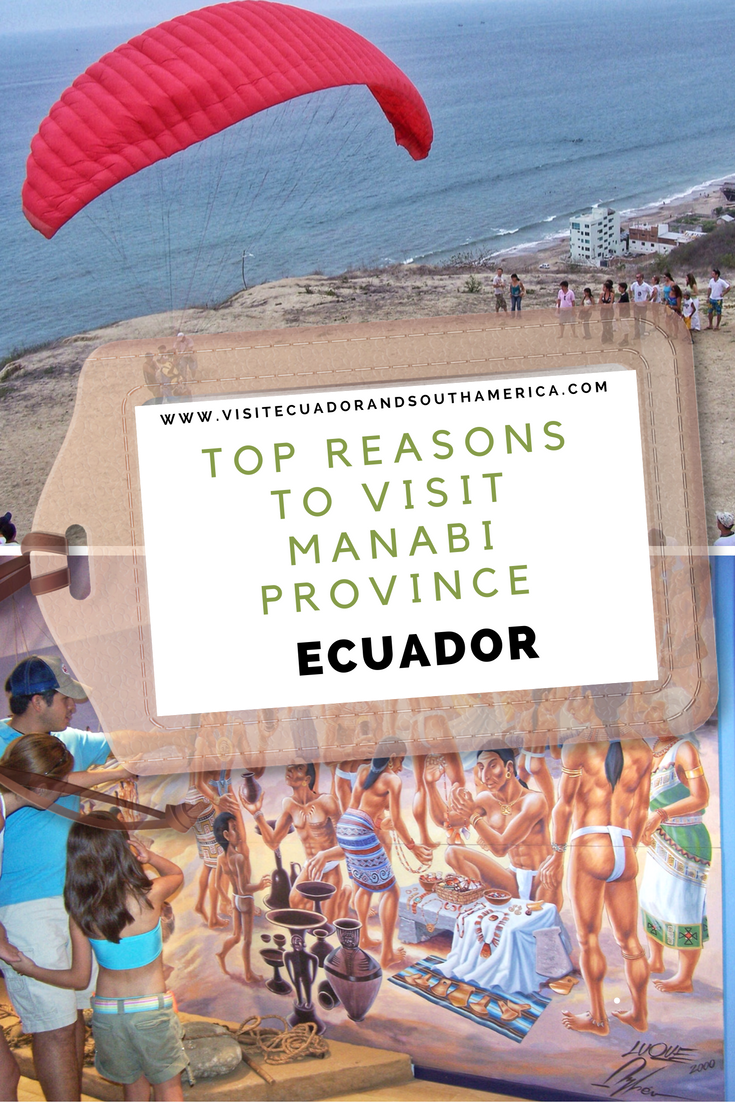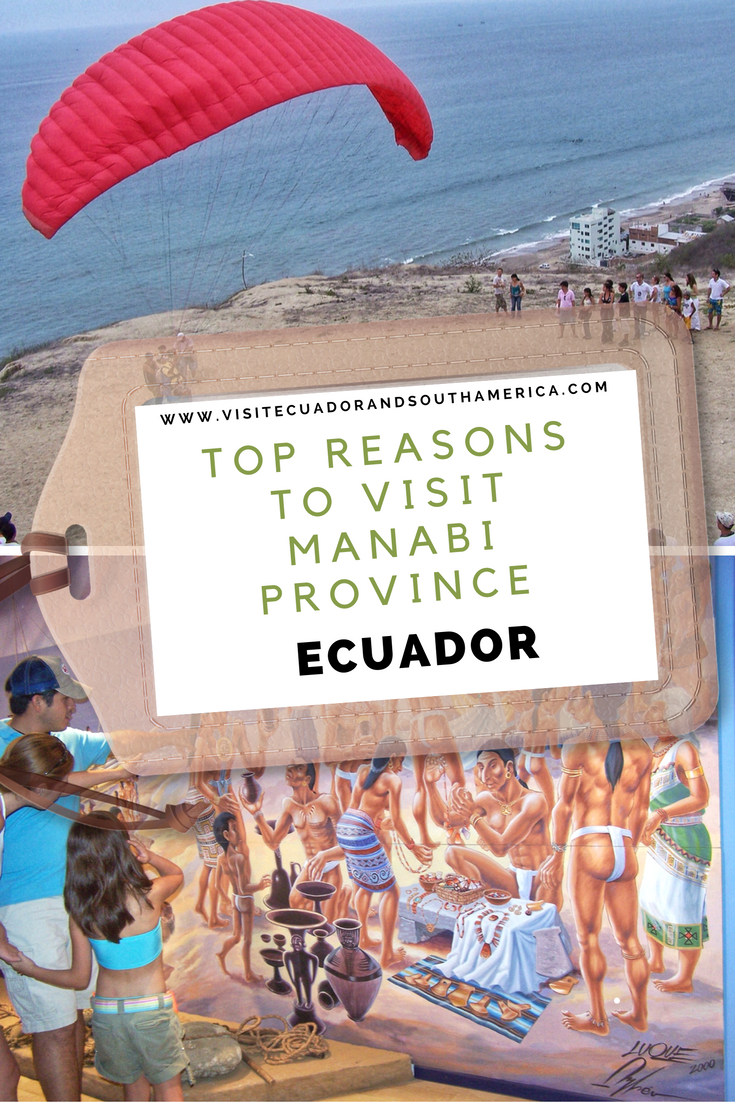 If you want more in-depth information and a guide that you can bring along during your trip, I recommend the travel guide Lonely Planet Ecuador & the Galapagos Islands.
This is a great source of information and tips, maps, and all you need if you plan on visiting Ecuador. I personally like the option of having a hard copy version where I can take notes and have them at hand.
Don´t just dream it. Make it happen. Plan your South American trip with a local!
Take a look at this list of travel resources to plan your trip and travel in South America.
Daydreaming about your trip to South America? Order here your Free Ebook. I share with you some useful tips & resources for a memorable trip!
Finally, I would like to invite you to follow me on Facebook, Twitter, Pinterest, and Instagram. Besides, you can subscribe to YouTube.
Send an email for help planning your trip: info(at) visitecuadorandsouthamerica(dot)com.
Save
Save
Save
Save
Save
Save
Save
Save
Save
Save
Save
Save
Save
Save
Save
Save
Save
Save