Ecuadorian food: Tigrillo de Zaruma an Intangible Cultural Heritage of Ecuador
The cuisine in the Coastal region of Ecuador is affected by its local ingredients. From green plantains to seafood, there is a plethora of dishes for you to taste and experience some of the flavors of this region.
Prepare your taste buds for a culinary adventure as we introduce you to the mouthwatering delight of Tigrillo de Zaruma. Hailing from the picturesque town of Zaruma in Ecuador, Tigrillo de Zaruma is a traditional dish that will transport you to a world of rich flavors and cultural heritage.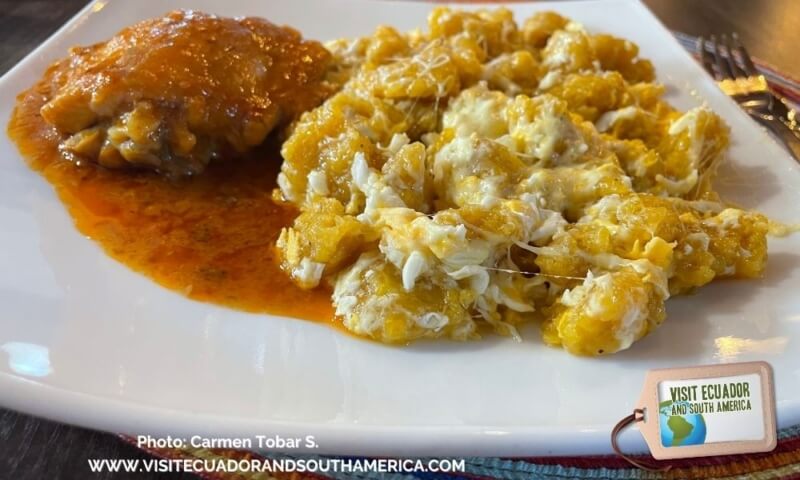 About Zaruma
Zaruma is a hidden gem in Ecuador that enchants visitors with its rich history, stunning architecture, natural beauty, and warm hospitality. It is a destination that invites exploration and promises an unforgettable experience for those seeking to immerse themselves in the country's cultural heritage. The city is also famous for its colonial-style architecture and is also a designated UNESCO World Heritage Site. It is well-known for the dish we are sharing today, called tigrillo, not to be confused with majado.
Zaruma is a hidden gem, a charming place to visit in Ecuador. Here are some of the highlights and ways to discover Zaruma.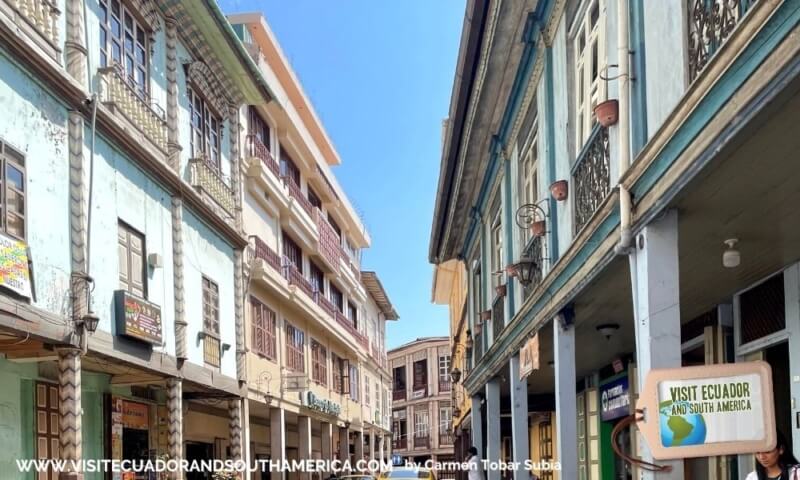 What is tigrillo de Zaruma
This dish is called tigrillo and is originally from the city of Zaruma in El Oro.
Tigrillo de Zaruma or tigrillo zarumeño, has been declared an Intangible Cultural Heritage of Ecuador, and it is believed that the original recipe for tigrillo de Zaruma, the one that has been awarded this recognition, includes plantain, eggs, cheese, and onion, served with fried eggs, cheeses and sometimes even chicharron.
At its core, tigrillo de Zaruma features mashed green plantains as the main ingredient. These plantains are cooked until soft and then mashed to create a creamy and slightly chunky texture. The plantains provide a mild, starchy base to the dish, similar to that of mashed potatoes.
Scrambled eggs are a key component of tigrillo de Zaruma, adding a rich and savory element to the dish. The eggs are often mixed with diced onions, tomatoes, and cilantro, enhancing the flavor profile with a touch of freshness and aromatic notes.
Cheese is another essential ingredient in tigrillo de Zaruma, typically sprinkled on top of the dish. The cheese melts slightly from the warmth of the other ingredients, creating a delightful cheesy layer that adds a creamy and slightly salty taste.
The dish is further enhanced with a medley of spices and seasonings. Some variations include adding aji amarillo (a yellow chili pepper) or aji criollo (a local chili pepper) to provide a subtle, yet pleasant, level of spiciness. Additional seasonings such as cumin, garlic, and salt add depth and complexity to the overall taste.
It is important to note that although it is a bit similar to majado,  there is a difference between these two dishes.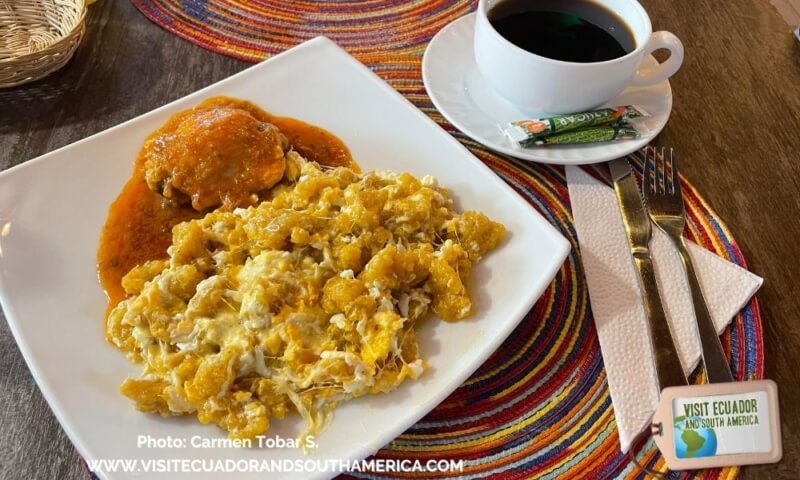 If you want to make tigrillo at home, the recipe is available here in Spanish. 
If you are in South America, I would love to see your pictures.
What it tastes like
Tigrillo is perfect for breakfast or lunch, and it offers a delicate balance between the sweetness of the plantains, the richness of the eggs and cheese, and the subtle heat of the spices.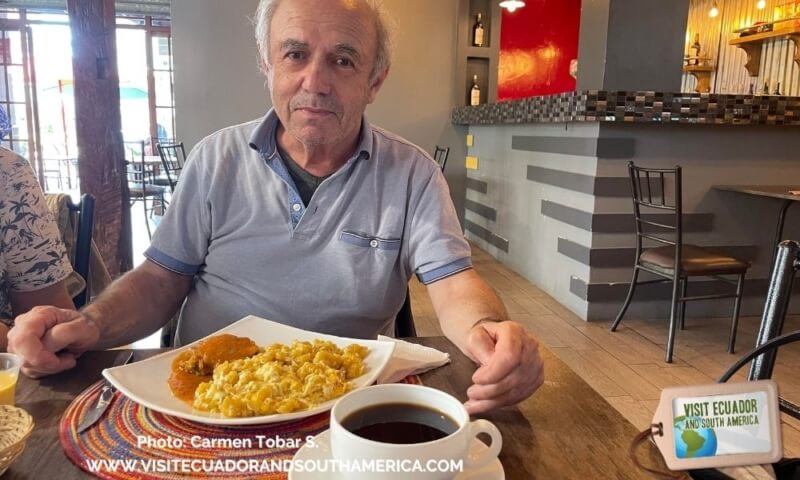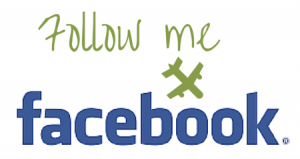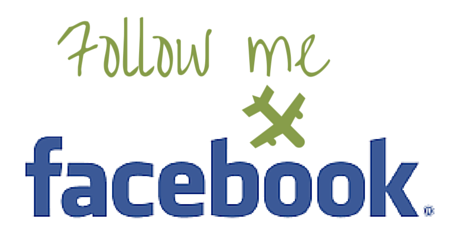 How and where to eat tigrillo de Zaruma
This nutritious and delicious savory dish is found in Zaruma,  Ecuador. and it is customary to enjoy it with a warm cup of coffee from Zaruma, one of the best coffees in the country.
Food is important for a traveler's experience, so we are sharing some of the dishes that will stay in your memory and bring a bit of Ecuador to your mind.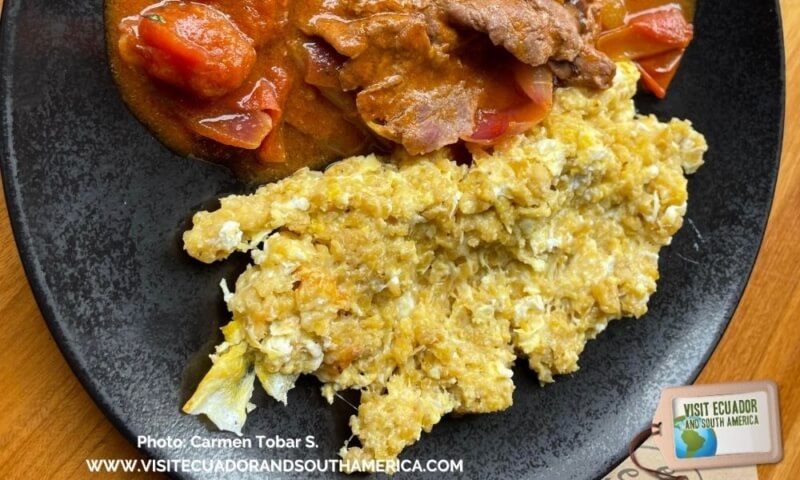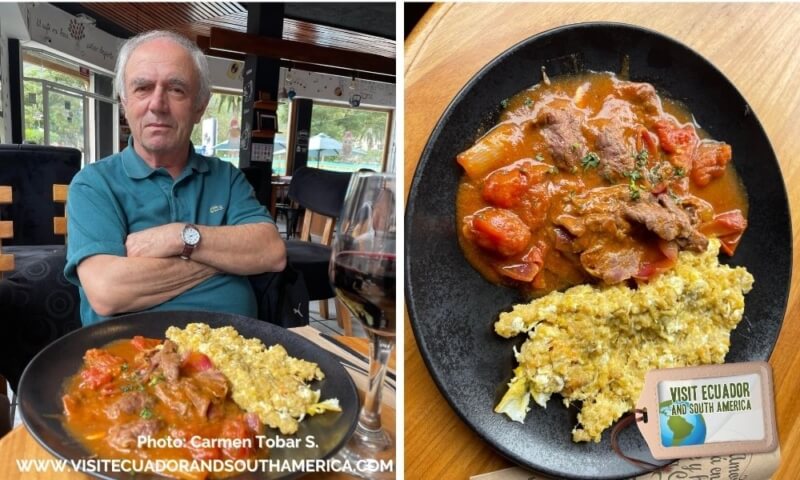 Overall, tigrillo de Zaruma is a unique and delicious dish that showcases the flavors of Ecuadorian cuisine. Its creamy texture, savory elements, and a well-rounded blend of ingredients make it a true culinary delight that leaves a lasting impression on food lovers.
Have you eaten tigrillo before? Did you like it?
Leave your comment below!
If you found this post inspiring and helpful, We would appreciate it if you would pin, share or tweet this page on any social media platforms you use!
Every little bit will help us fund our travels to continue bringing great content to our site.
PIN IT FOR LATER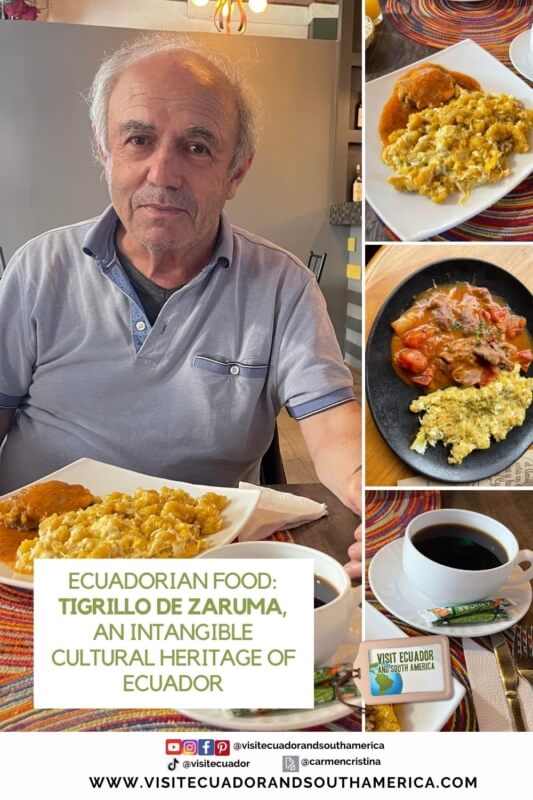 Want to Learn to make some tasty Latin American dishes? This book: Gran Cocina Latina: The Food of Latin America, comprises 500 well-written recipes from all Spanish-speaking countries in Latin America, providing great information and recipes of the exciting food you can prepare at home. At the same time, you plan your visit to South America.
Don´t just dream it. Make it happen. Plan your South American trip with a local!
Take a look at this list of travel resources to plan your trip and travel in South America.
Daydreaming about your trip to South America? I share with you some useful tips & resources for a memorable trip! Order here your Free Ebook.
I invite you to follow me on Facebook, Twitter, Pinterest, and Instagram. In addition, you can subscribe on YouTube. You can also send me an email to get more information or help planning your trip: info(at) visitecuadorandsouthamerica(dot)com.