The three places you absolutely must visit in Colombia – South America
by guest blogger: Claudia Tavani
Colombia is a fascinating country, so huge that it may take one several months to actually visit it properly.
There are so many different places to explore, and an incredible variety of environments: from the Caribbean North, to the glaciars of the Andes, to the Tatacoa desert, the cloud forest and the Amazon, and much more. Not to mention the many pretty colonial cities.
I spent a month in Colombia, and all I left with is a basic understanding of this incredible country, knowing that I would have to go again to explore more of it.
Nevertheless, I think I have nailed some of the most interesting places to visit. So, here are my top three places to visit in Colombia.
Cartagena
Rightly considered the most beautiful city in the country, Cartagena is a very romantic city with a wonderful Caribbean feel.
It is well connected to the rest of the country via buses and flights, and it is packed with lovely restaurants, boutique hotels, budget hostels and great nightlife.
It is an incredibly hot city, so you may well need to take it easy there and relax during the hottest hours of the day, like the locals do: grab a chair and sit outside the door, in one of the tiny alleys that the Spaniards built in a way that would let the lovely marine breeze circulate to cool it down.
The old walled town, with the districts of El Centro and San Diego, has many beautiful squares, churches, cobbled alleys, museums and other places of interest.
However, I really liked Getsemaní, which used to be packed with brothels in the past. Getsemaní is currently one of the coolest areas of town, with lots of street art and nightlife.
Cartagena is a great starting point for a boat tour of the Islas del Rosario, a lovely archipelago with crystal clear waters where you can snorkel as well as relax on the lovely beaches, such as Playa Blanca.
It is also a great honeymoon destination.
Here are some great options of places to stay in Cartagena.
Actually, did you know that the New York Times recently named Colombia the region's next affordable hotspot and called Cartagena "Latin America's Hippest Secret. I recommend that you get this guide: The Rough Guide to Colombia
Here you find lots of great content to  this amazing destination and all that you can see and do in Colombia.
San Gil
This is the place to be for adventures seekers, the Colombian capital of extreme sports. I spent one week in San Gil , and each one was packed with incredible hikes, rafting, mountain biking, torrentismo (rappelling down a waterfall), caving, paragliding, horse riding. If you are not as hyperactive as I am, you may just opt to go for a swim at Pozo Azul natural pools, or to visit the nearby waterfalls of Cascadas de Juan Curi.
The city of San Gil is small, but it is pleasant and has an authentic Colombian feel. There is a lovely food market. The best thing to do after sunset is to grab a drink and sit in the main square, to spot the locals having a chat, children chasing a ball, and just relax.
Eje Cafetero
To me, the Eje Cafetero (the coffee region) is the most spectacular place to visit in Colombia. This is where you can visit one of the many coffee fincas in the country and experience the full process of coffee production, from picking to toasting and, most importantly, to tasting.
Salento is the best place to start visiting the Eje Cafetero, and is a very pretty little town, with colourful colonial buildings, a main street packed with artesania shops, relaxing bars, a lovely chilled atmosphere and incredible surroundings of hills and forests.
Not far from Salento, the breathtaking Valle de Cocora is amazing to hike. Just imagine a lush tropical valley, surrounded by high peaks and cloud forest, and cows quietly chewing on the green green grass.
But, instead of pine trees, you will see 70 meters tall wax palm trees! Hiking the valley is fun, provided that you rent a pair of wellies: the region is so wet and rainy that you will have to fight your way through the mud to get to the beautiful hummingbird reserve at the top.
You can find more of our guest blogger Claudia Tavani on her blog: www.myadventuresacrosstheworld.com
Follow her on Facebook: or find her on Twitter @Claudioula
PIN IT FOR LATER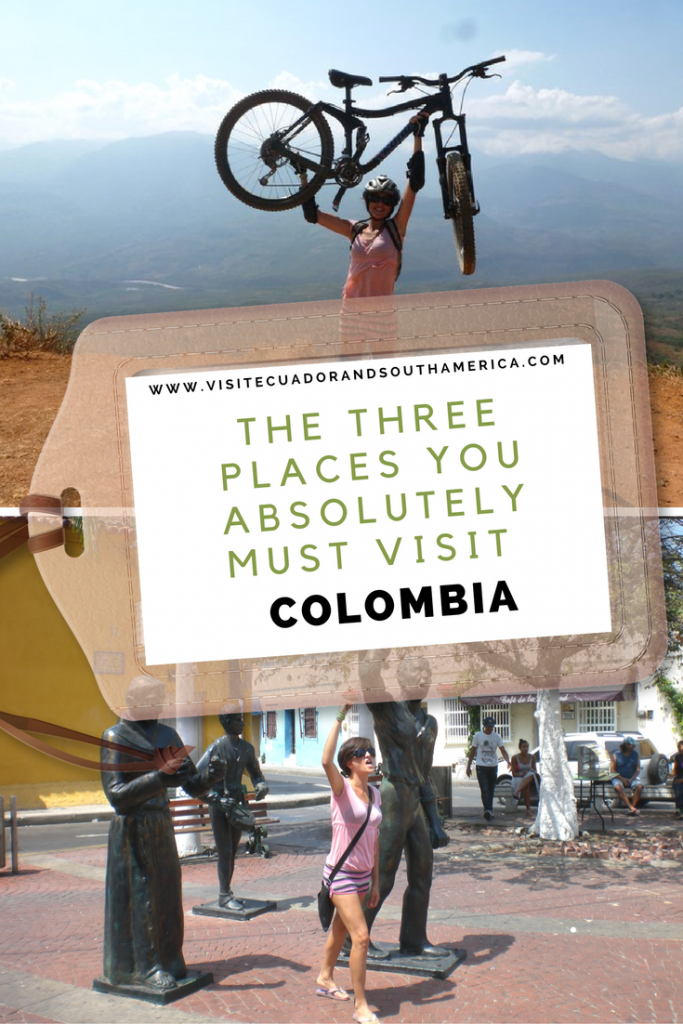 If you need additional and in-depth information from a reliable, well-written travel guide that you can carry around,  without the need of wireless internet  This is the guide I would recommend that you read: The Rough Guide to Colombia
Lots of great suggestions regarding main attractions to visit, tips, maps and more in this amazing South American country. 
Don´t just dream it, make it happen. Plan your South American trip with a local!
Take a look at this list of travel resources to plan your trip and travel in South America.
Day dreaming about your trip to South America? Order here your Free Ebook, I share with you some useful tips & resources for a memorable trip!
I invite you to follow me on Facebook, Twitter, Pinterest and Instagram. In addition you can subscribe on YouTube.
You can also send an email to get help planning your trip: info(at) visitecuadorandsouthamerica(dot)com
Save
Save