March means Carnival celebrations in Ecuador, and for us, it meant traveling along the two-lane paved road to the small town of Nono, Northwest from Quito.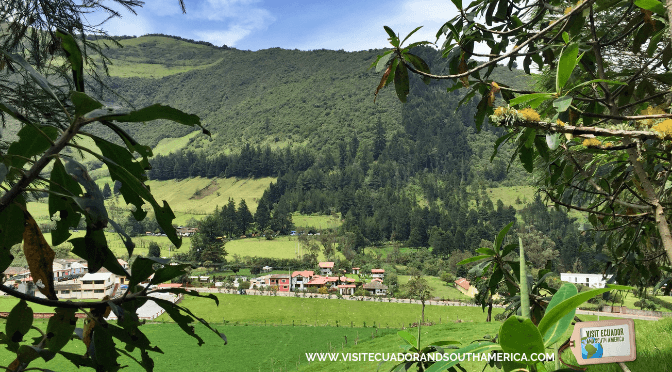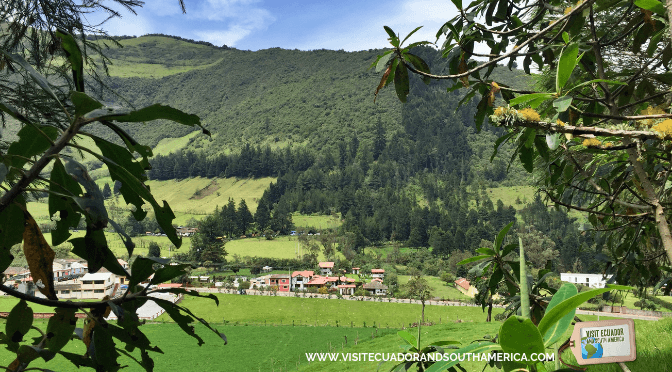 About Nono
Located a short 18 km from Quito, Nono is a small farmers town located in a valley, with stunning landscapes that made us think of some of the areas in Norway and Switzerland, with small farms, mountains in the background and green valleys covered with grass.
The town is visited by Quiteños on the weekends, some are searching for adventure, others for some peace and for others it is all about horseback riding, eating traditional food while taking in the picturesque scenery.
But, I have to confess, despite having traveled extensively through my country this was the first time I visited Nono and went together with mom and husband.
We all loved walking through the main street filled with small cozy houses painted in bright colors and beautifully decorated sidewalks.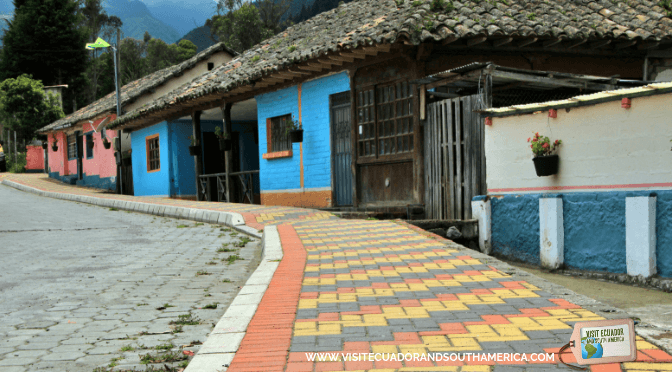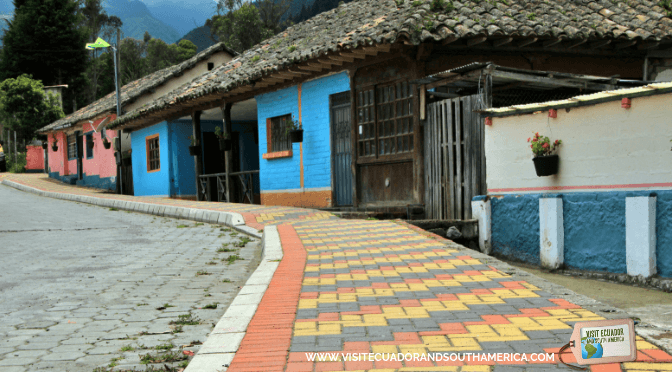 Celebrating Carnival in Nono
Our trip was mainly to join the celebration of Carnival in Nono, the perfect celebration to learn about the culture and the traditions in the area.
During the whole day, Carnival was celebrated with different events, games, culture, handicrafts, and gastronomy.
9 – 11 Parade along the main street
11 – 13 Paseo del Chagra
14 -18 Bullfight and Gastronomical fair
20 – 00 Carnival night with a local orchestra
Parade
We arrived at the end of the parade to admire a long line of groups of dance, bands, devils, zamarros and other important characters of parades in Ecuador making the main street colorful and festive.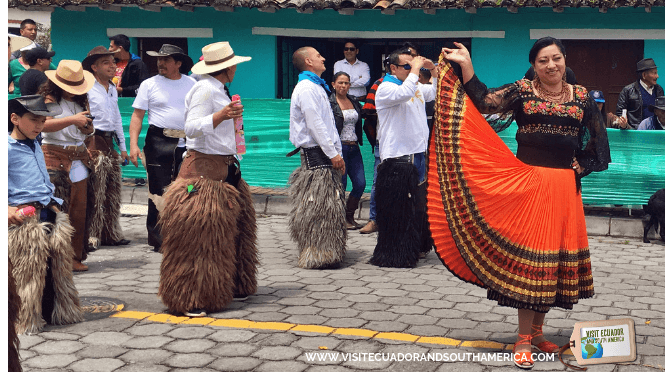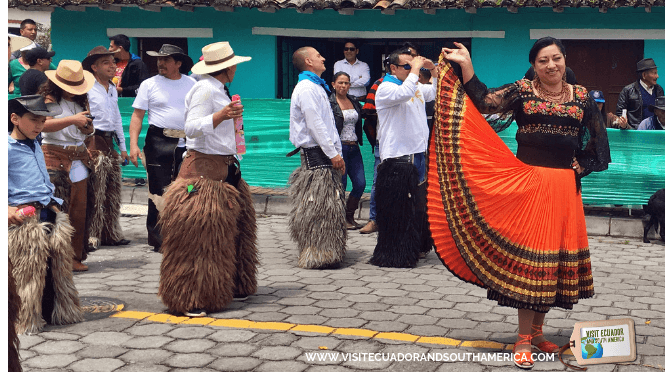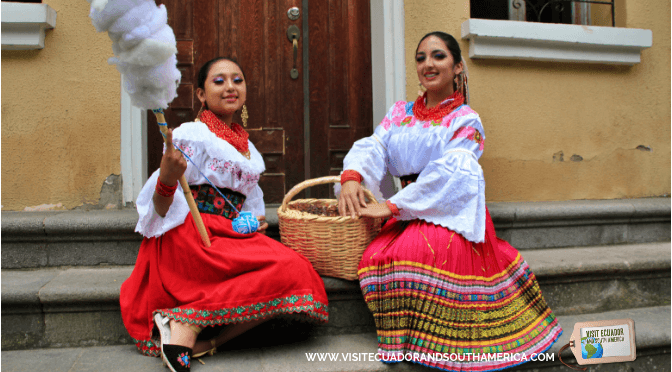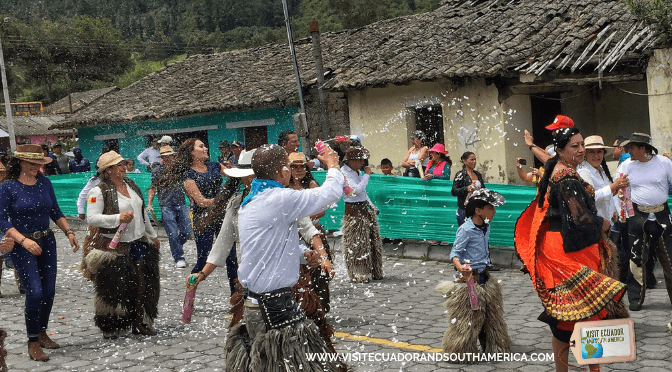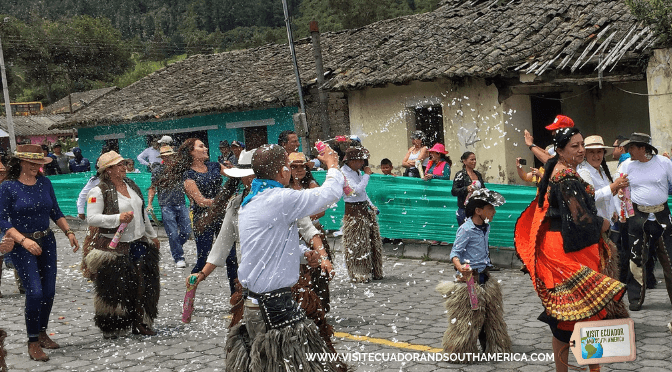 Paseo del Chagra
We luckily were able to see all of the Paseo del Chagra.
The chagra which is the main character during this portion of the celebration, is an Andean character connected to raising cattle and working with the land.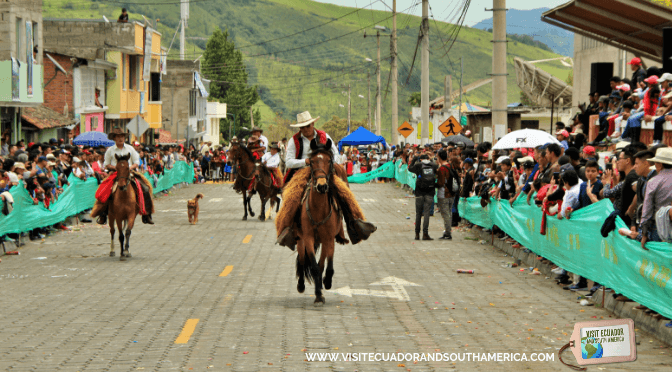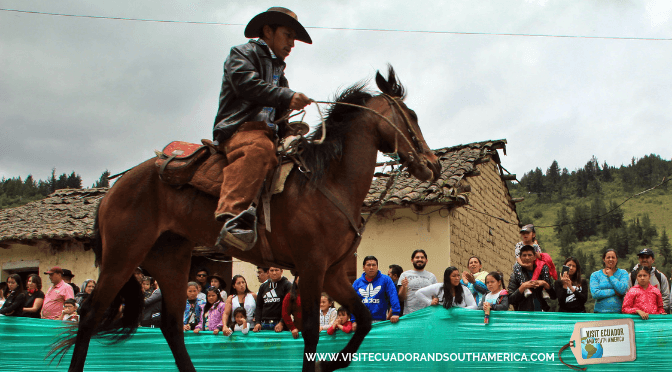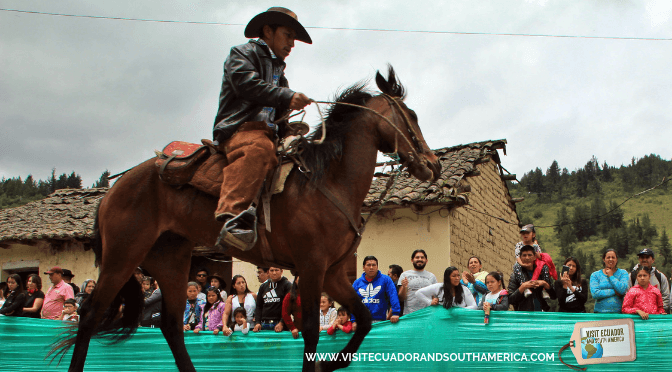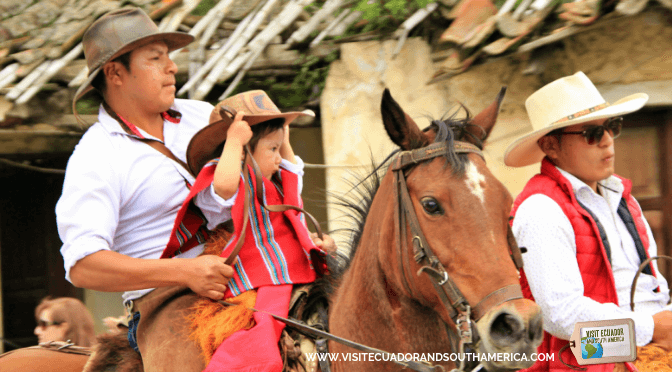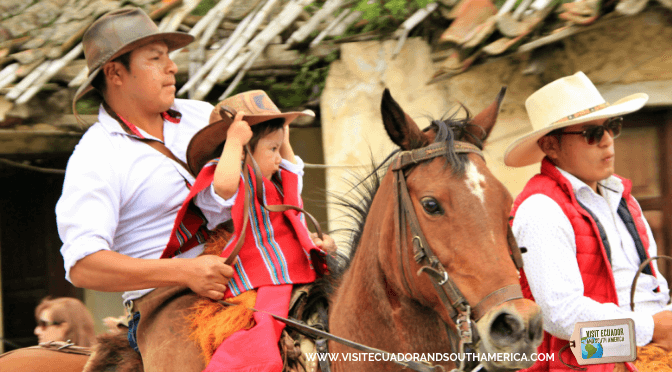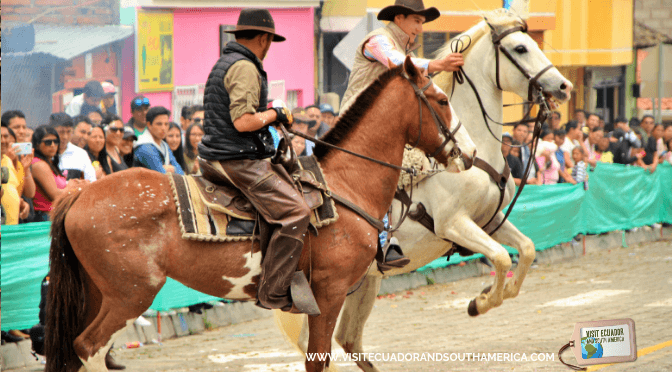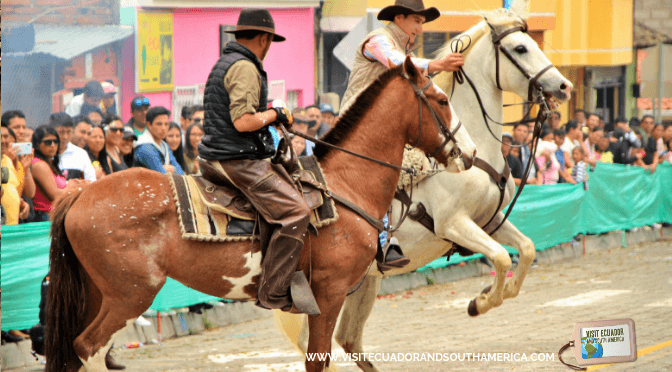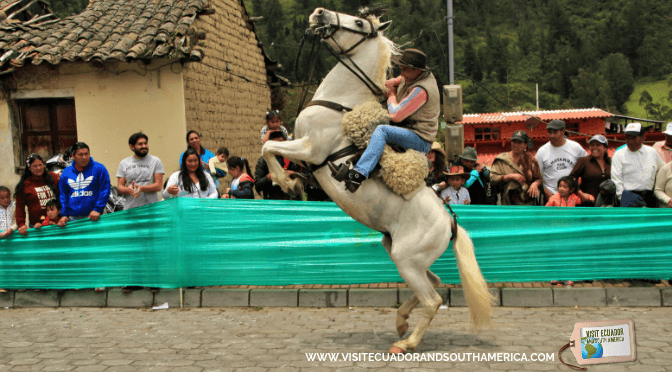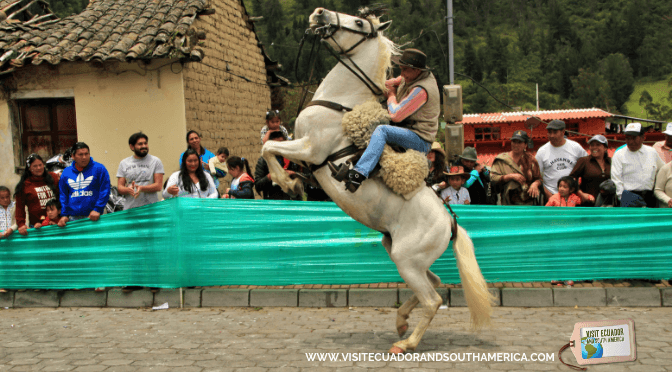 Carnival
There is a tradition that takes place all over the country during Carnival. It is the time of the year when people throw carioca, a colored foam at each other. 
Of course, if you are walking the streets or in this case, attending a parade, it is very likely you will be covered in foam.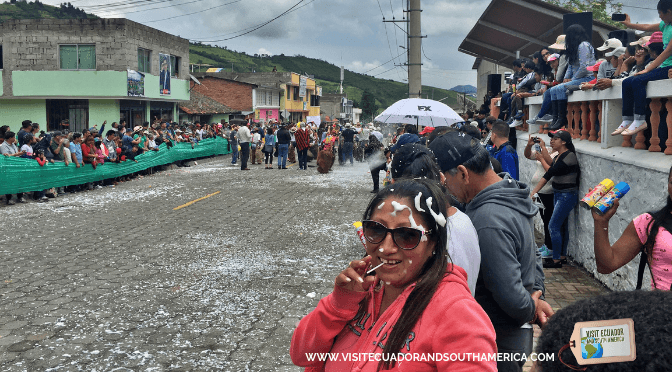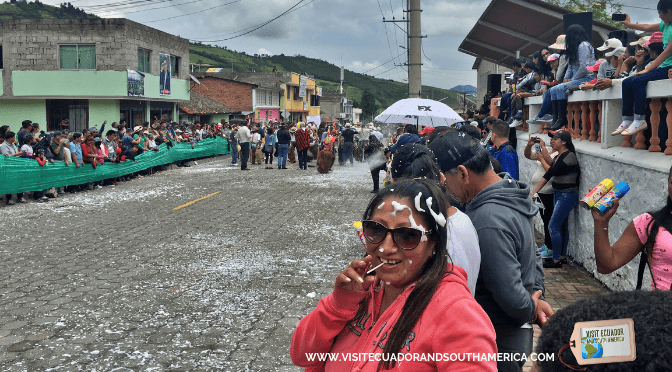 Food and gastronomy
Another important part of the celebration was the food. In addition to the gastronomic fair, there were restaurants and small stands serving traditional food, such as pristiños, figs with fresh cheese and pineapple with ice cream.
How to get there
Drive to the Roundabout of El Condado, and take the third exit to Av. Antonio José de Sucre, then right to Machala street until you arrive to a road to Nono on the right.
Activities in the town and nearby

Hummingbird reserve at Yanacocha. Mindo is a great place for birdwatching, and the reserve located on the way to Nono is a perfect place to enjoy this activity.
The first waterfall is located 10 minutes before arriving at the town, once you arrive you will walk about 15 minutes one way to arrive at this waterfall. It opens only on weekends.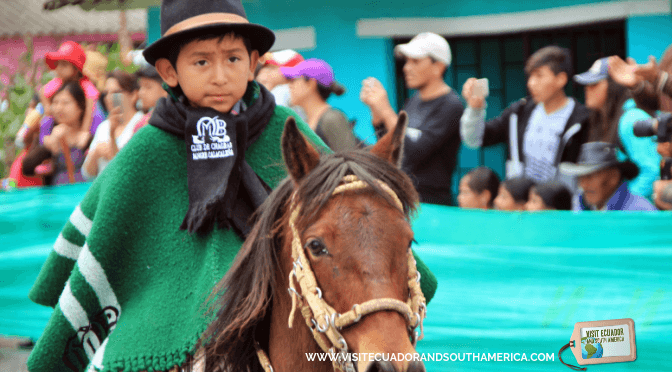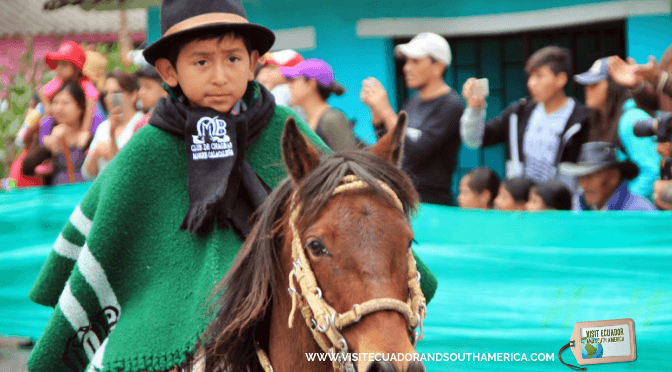 What to bring
In order to fully enjoy your stay:
Bring a plastic bag to save all the trash there during your drive, hike or activities and help keep our beautiful world clean.
Bring sunglasses, sunblock, and a hat if you are planning on staying outdoors for long periods of time, the equatorial sun is strong. I would also recommend bringing insect repellent for the evenings (although, we did not see any insects roaming around the lights in this place).
Conclusion:
We had a wonderful time in Nono and loved not only the fun Carnival Celebrations, but also the charming houses and peaceful atmosphere.
If you found this page helpful, I would appreciate it if you would pin, share or tweet it on any social media platforms you use! Every little bit will help fund our travels and continue to bring great content to our site!
Planning a trip soon? 
Comment below or send me an email, I can help you plan your trip.
PIN IT FOR LATER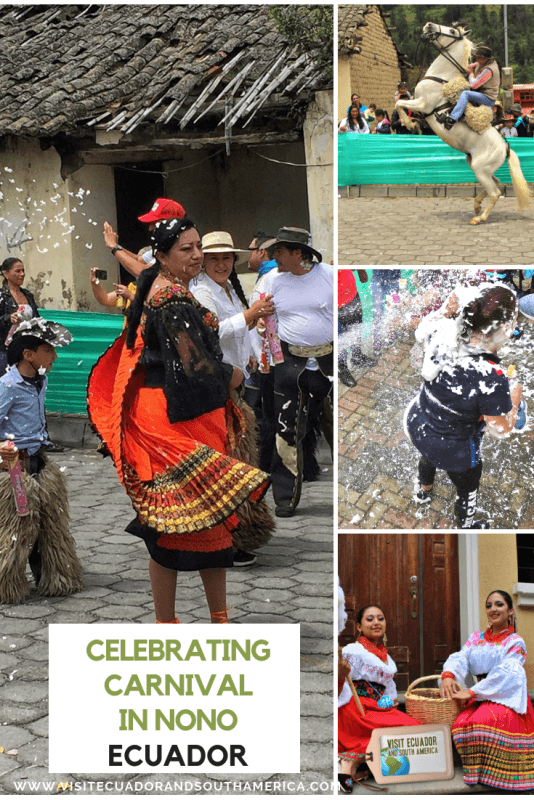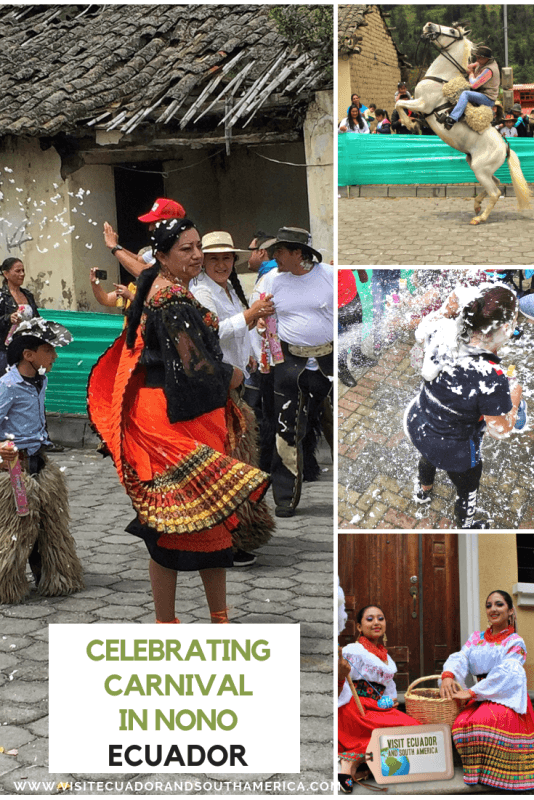 If you want more in-depth information and also a guide that you can bring along during your trip, I recommend the travel guide Lonely Planet Ecuador & the Galapagos Islands. This is a great source of information and tips, maps and all you need if you plan on visiting Ecuador. I personally like the option of having a hard copy version where I can take notes and have at hand.
Don´t just dream it, make it happen. Plan your South American trip with a local!
Take a look at this list of travel resources to plan your trip and travel in South America. Daydreaming about your trip to South America? Order here your Free Ebook, I share with you some useful tips & resources for a memorable trip! I invite you to follow me on Facebook, Twitter, Pinterest, and Instagram. In addition, you can subscribe on YouTube. You can also send an email to get help planning your trip: info(at) visitecuadorandsouthamerica(dot)com