Ecuadorian Street Food: Delight your palate with Tortillas de Choclo from Gualaceo
Hey there, fellow food enthusiasts and world travelers! Today, we want to tantalize your taste buds with a virtual culinary journey to the enchanting town of Gualaceo, tucked away in the picturesque valleys of Azuay in the highlands of Ecuador.
Ecuador is a country with many different regions and appetizing flavors that will delight your palate, and Gualaceo offers a culinary treasure that is sure to make your taste buds dance with joy: the iconic tortillas de choclo.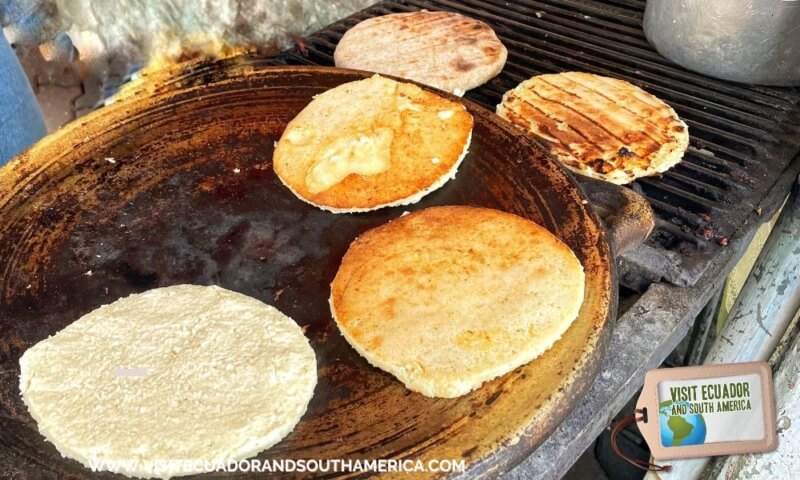 About Gualaceo
During our road trips from the bustling city of Quito to the picturesque town of Cuenca, we try to take some time to explore the small and picturesque towns near Cuenca, one of them being Gualaceo.
When in Gualaceo, in the Azuay province, make sure to visit the iconic Mercado Central, which offers a unique opportunity to immerse yourself in the cultural tapestry of Gualaceo, as you interact with friendly vendors and savor the authentic tastes of Ecuadorian street food, including tasting the rosero (drink), eating some hornado, a tasty piece of cuy, or the traditional tortillas.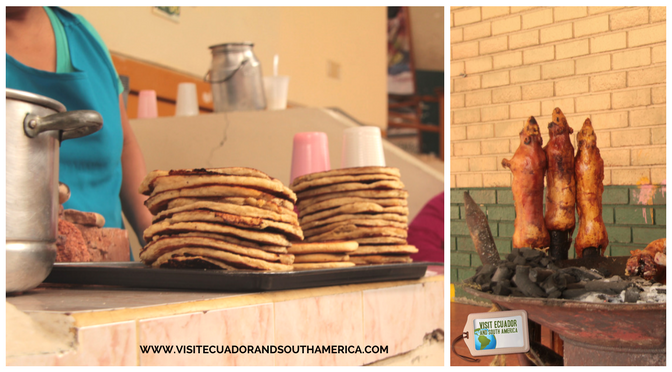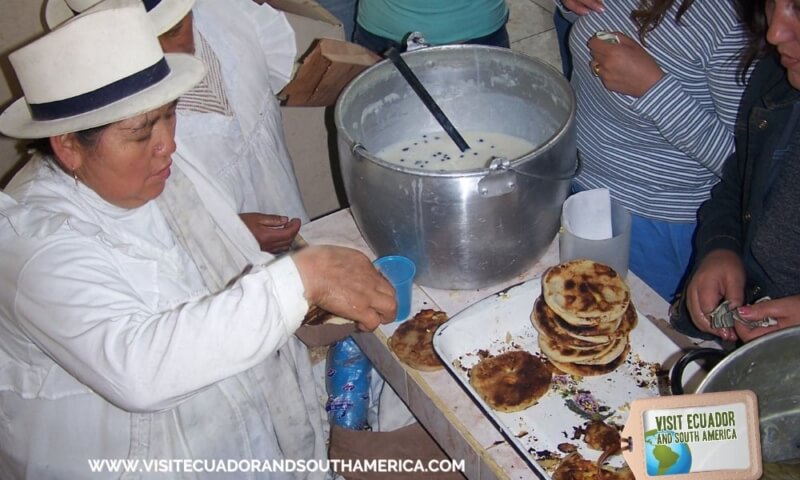 Steeped in history and cherished by locals and visitors alike, tortillas de choclo have become an essential part of the culinary fabric of Gualaceo. These savory delights are traditional corn tortillas, made from a special variety of corn known as "choclo," which is native to the Andean region.
The history of tortillas de choclo dates back centuries, originating from the indigenous communities who have inhabited these lands for generations. Passed down through the ages, the art of making tortillas de choclo has evolved into a cherished tradition, capturing the essence of Gualaceo's rich cultural heritage.
If you are in South America, I would love to see your pictures.
How are tortillas de choclo made
The process of crafting tortillas de choclo is a labor of love. The first step involves carefully selecting the ripest choclo corn, known for its sweet and creamy flavor. The corn kernels are then ground into a fine paste, creating a smooth and silky dough. This dough is skillfully shaped into small patties and cooked on a hot griddle until they acquire a golden-brown hue, resulting in a crispy exterior that gives way to a tender and flavorful center.
Imagine sinking your teeth into a warm tortilla de choclo, topped with a generous helping of melted cheese and accompanied by a vibrant salsa made from locally sourced ingredients. The combination of flavors is simply extraordinary, a symphony of sweet corn, savory cheese, and zesty condiments that will transport your taste buds to culinary heaven.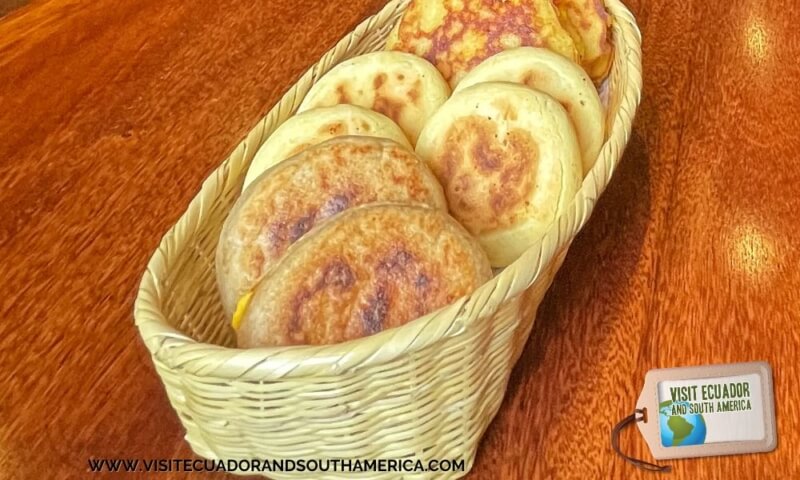 Where to get the best tortillas de choclo and other tortillas
When in Gualaceo, make sure to visit the iconic Mercado Central that opens already at 8am, and experience a vibrant market where you can sample an authentic array of local flavors, including tortillas de choclo.
The town is teeming with small food stalls and local eateries, where the tantalizing aroma of freshly cooked tortillas wafts through the air. These humble establishments, often run by passionate locals, serve these traditional delicacies with an array of mouthwatering accompaniments.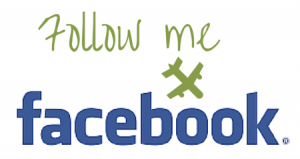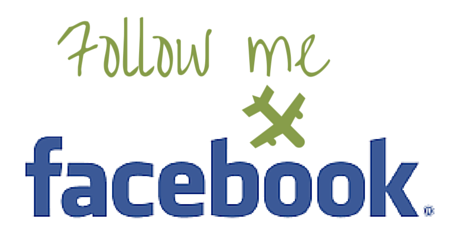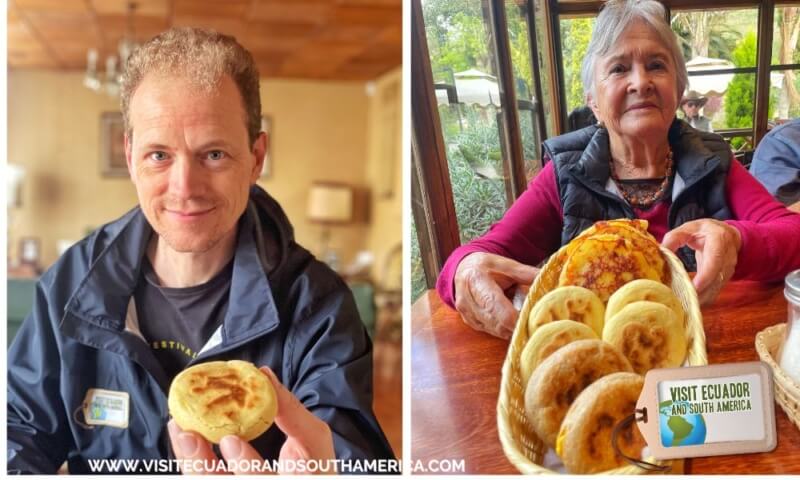 In conclusion, tortillas de choclo de Gualaceo represent more than just a delicious street food; they are a window into the rich history and vibrant culture of this charming town. From their humble origins to their exquisite preparation, every aspect of tortillas de choclo tells a story of tradition, passion, and the love for food.
So, if you find yourself wandering the streets of Gualaceo, don't miss the chance to indulge in the tantalizing flavors of these delightful corn tortillas. Let the culinary delights of Gualaceo awaken your senses and leave an indelible mark on your taste buds.
Happy feasting!
Some posts on this site contain affiliate links, meaning if you book or buy something through one of these links, I may earn a small commission (at no extra cost to you!).
Have you tried tortillas de choclo? Leave your comment below!
If you enjoy the content, please consider liking, commenting, and subscribing. It's free, and it helps us.  Every little bit will help fund our travels and continue to bring great content to our site!
Planning a trip soon? Comment below or send me an email. I can help you plan your trip.
PIN IT FOR LATER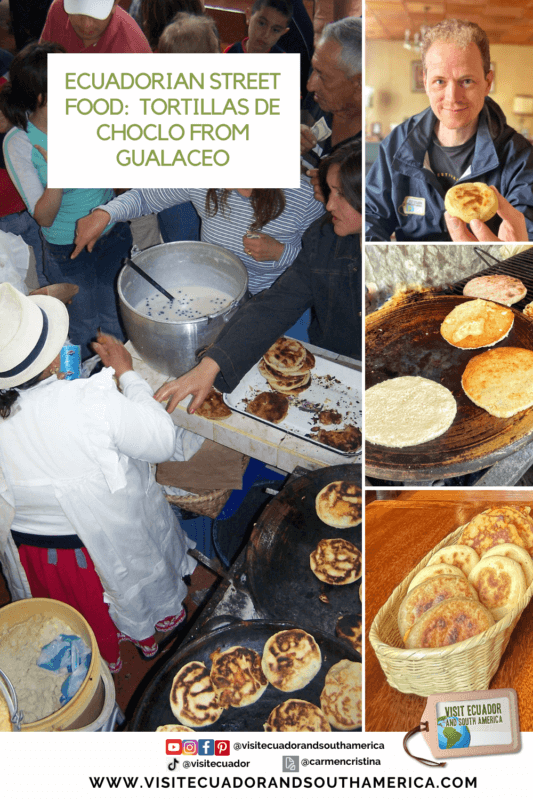 Want to Learn to make some of these dishes and many more? Gran Cocina Latina: The Food of Latin America, This book comprises 500 well-written recipes from all Spanish-speaking countries in Latin America, providing great information and recipes of the exciting food you can prepare at home. At the same time, you plan your visit to South America.
Don´t just dream it. Make it happen. Plan your South American trip with a local!
Take a look at this list of travel resources to plan your trip and travel in South America.
Daydreaming about your trip to South America? I share with you some useful tips & resources for a memorable trip! Order here your Free Ebook.
I invite you to follow me on Facebook, Twitter, Pinterest, and Instagram. In addition, you can subscribe on YouTube. You can also send me an email to get more information or help planning your trip: info(at) visitecuadorandsouthamerica(dot)com.