Ecuadorian fruit: banana
Ecuador is one of the top banana producers in the world. The country's location in the middle of the world,  with tropical weather and dramatic changes in altitude, makes it ideal for fruit tasting.
When you visit some of our local markets, you will discover fruit that you've never seen or heard of before. In this case, you have probably seen some Ecuadorian bananas back home. In my case, I have found Ecuadorian bananas in Norway, France, and California.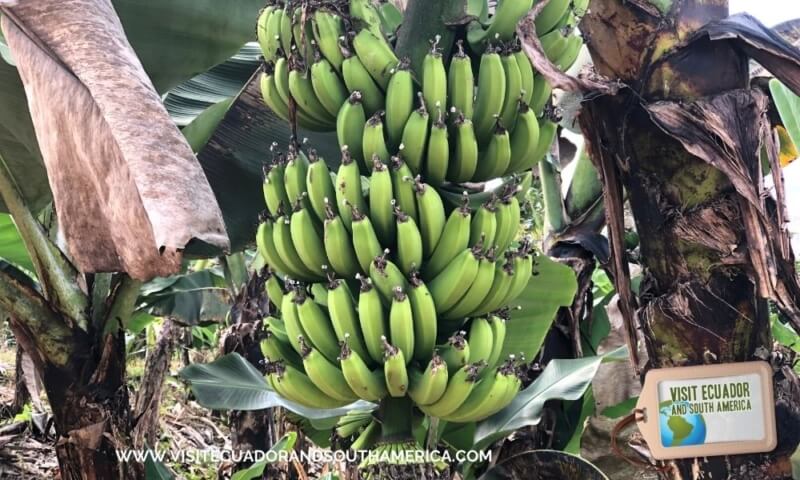 Today we have decided to write a post solely about banana, a fruit that Ecuador produces and exports worldwide.
Where do bananas grow?
Although it looks like a tree, bananas actually grow on a plant that grows up to 15 meters and belongs to the same family as the lily and orchid. The fruits grow in clusters hanging from the top of the plant.
The scientific names of most cultivated bananas are Musa acuminata, Musa balbisiana, and Musa × paradisiaca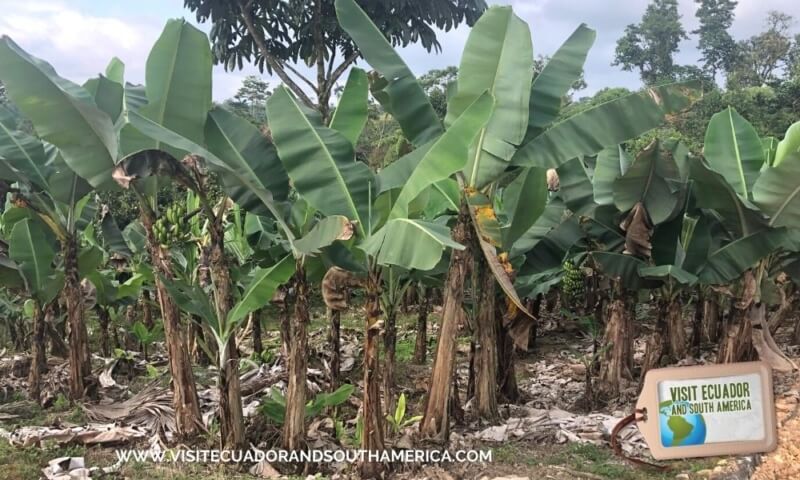 If you are in South America, I would love to see your pictures.
Bananas and more bananas
There are different banana types in Ecuador. We have:
Bananas, the most popular type and known worldwide.
Sweet baby bananas, known as oritos that are eaten fresh.
Red banana, which has creamy flesh inside and is also eaten fresh.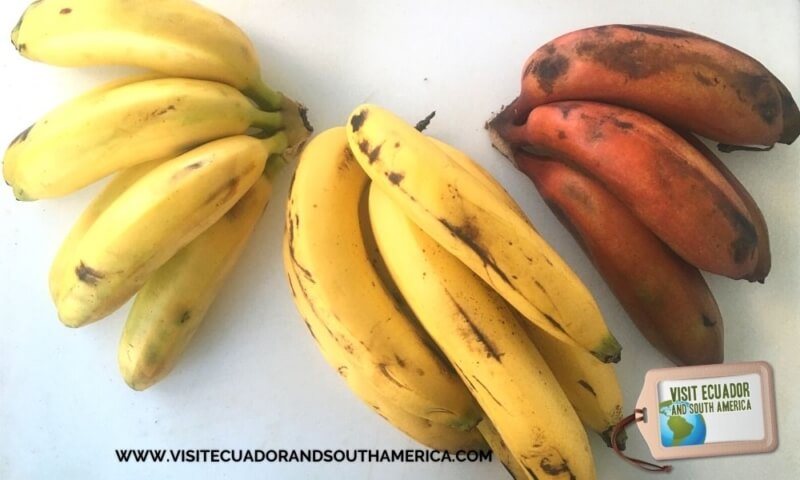 Banana
Bananas(Musa sapienta) are the most popular type of banana. They have yellow smooth skin and a distinct large shape. Once you open or peel the banana, you find the firm but creamy, sweet flesh.
Like most fruits in Ecuador, bananas are eaten raw or fresh and used to make a wealth of other recipes and especially desserts.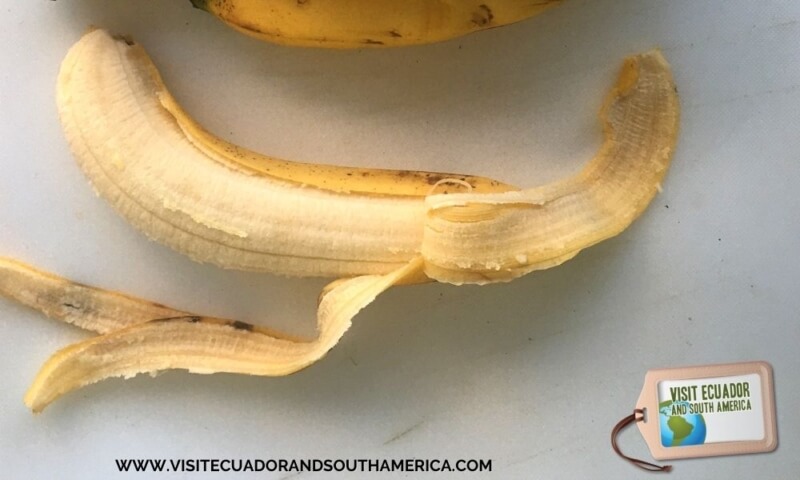 Red banana
A red banana has creamy sweet flesh and is rich in vitamin C and beta carotene, two antioxidants that help boost the immune system and makes it easier for your body to stay healthy.
Due to its high content on fiber, eating red bananas can also help with digestion,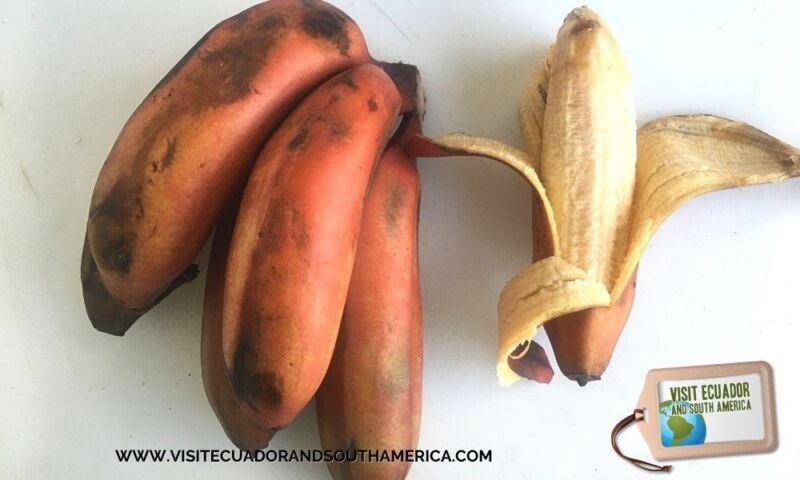 Baby Banana or orito
An orito is a smaller type of banana of approximately 12 cm and a sweeter flavor.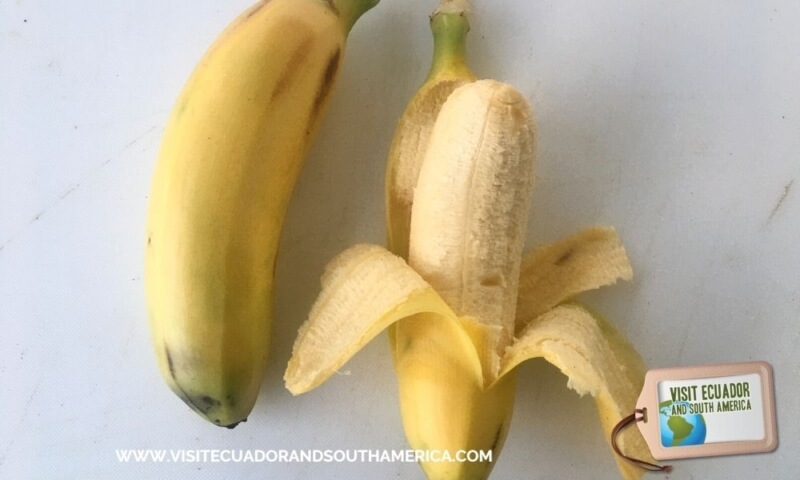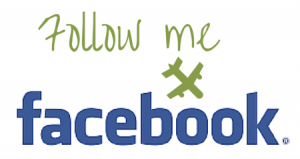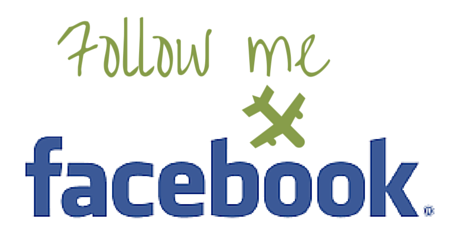 How and where to eat a banana
If you are in Ecuador, you can find bananas for sale on local markets, small tiendas, or small fruterias (fruit shops).
When buying bananas, choose those with skins that are yellow and not too brown. Bananas can be eaten fresh and added to your cereal, smoothies, desserts, or used to prepare banana pancakes with no gluten. Here is the recipe.
Frozen bananas can be blended to make dairy-free ice cream or a nice dessert.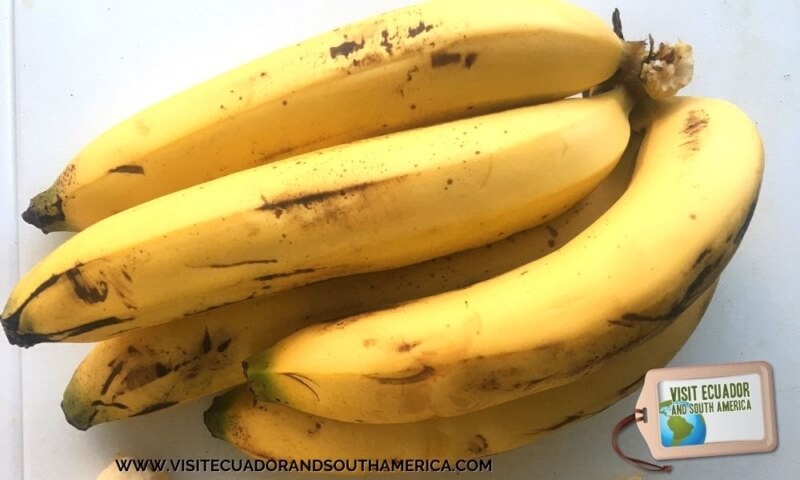 You can find more facts and statistics about bananas as an important export for Ecuador here: https://visitecuadorandsouthamerica.com/en/ecuador-top-banana-exporter-worldwide/.
While doing research for this blog, we found out that a medium-sized banana will provide around 320-400 mg of potassium, which meets about 10% of your daily potassium needs. Bananas are also rich in magnesium and vitamins B and C.
Have you tasted the red or baby banana varieties before? Let us know here!
If you found this post inspiring and helpful, We would appreciate it if you would pin, share or tweet this page on any social media platforms you use!
Every little bit will help us fund our travels to continue bringing great content to our site.
PIN IT FOR LATER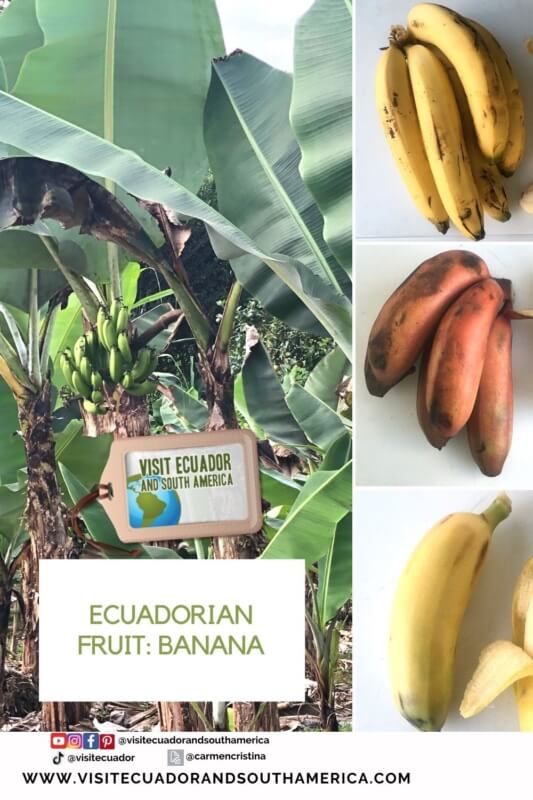 Want to Learn to make some Latin American dishes? This book: Gran Cocina Latina: The Food of Latin America, comprises 500 well-written recipes from all Spanish-speaking countries in Latin America, providing great information and recipes of the exciting food you can prepare at home. At the same time, you plan your visit to South America.
Don´t just dream it. Make it happen. Plan your South American trip with a local!
Take a look at this list of travel resources to plan your trip and travel in South America.
Daydreaming about your trip to South America? Order here your Free Ebook. I share with you some useful tips & resources for a memorable trip!
I invite you to follow me on Facebook, Twitter, Pinterest, and Instagram. In addition, you can subscribe on YouTube. You can also send me an email to get more information or help planning your trip: info(at) visitecuadorandsouthamerica(dot)com.