Piedra de Agua – Luxury Thermal baths and Spa, perfect for a relaxing retreat in Cuenca
Cuenca is the 3rd largest city in the country, due to its population. The city is located in a valley by the rivers Tarqui, Tomebamba, Yanuncay and Machangara and is known for its art, culture and history.  In 1999 its charming colonial center was declared a World Heritage site by UNESCO due to its predominant colonial houses, rich history and unchanged urban plan. There are a wide range of sightseeing and cultural options available for tourists. 
In 2016, after a stressful year and a wet autumn abroad, I was in much need of some time to relax.  I knew I had to book a spa circuit at Piedra de Agua, Fuente Termal & Spa, during my time in Cuenca. I had heard wonderful comments about the place both online and from my family. 
After I arrived to Quito, I embarked on a memorable road trip to Cuenca together with my parents.
Once in Cuenca, I had the opportunity of going to Piedra de Agua with my cousin. I had not seen her in many years and I was excited to have her join mein this Spa day.
Having been to several spas in Ecuador and abroad, never had I seen such impeccable service. I loved getting pampered at a luxurious spa offering outstanding service, it allowed me to recover from stress related to aches and to boost my mood.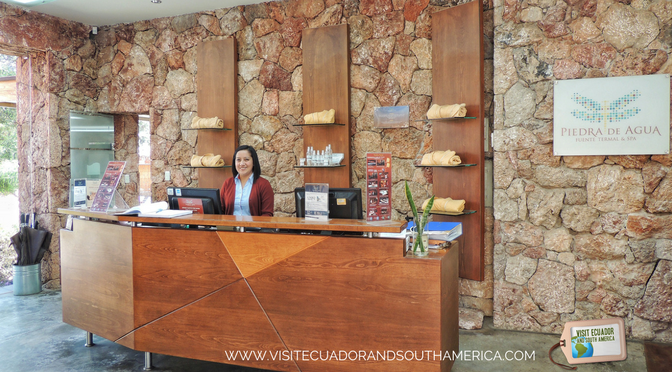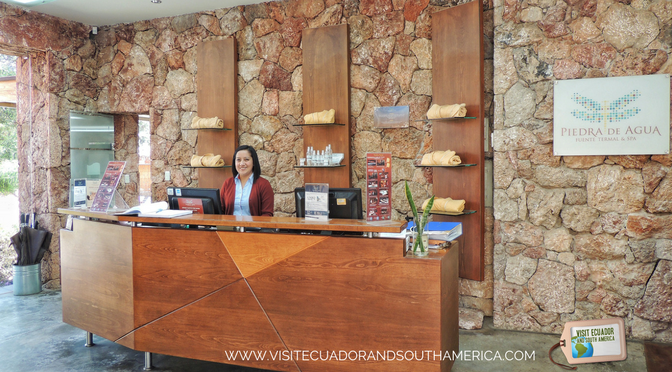 Location
The small pretty town of Baños is located 8 km from the city of Cuenca, and is a hotspot for locals as well as for tourists for its thermal waters.
There are several spas that offer visitors the possibility to fully rest and recharge,  but I believe this is the best one.

About Piedra de Agua, Thermal Baths and Spa
I immediately felt recharged after my day spa circuit at Piedra de Agua. The  mineral-rich water supply to the thermal baths rise up from beneath the ground and provides a wealth of therapeutic properties.  
The Spa is built using natural rocks from the volcanic mountain below,  blending perfectly with the surroundings and creating a harmonious space ideal for wellbeing and relaxation.
Service was outstanding and all details were taken care of to a tee. We had staff ready to guide and to help us along every step of the circuit.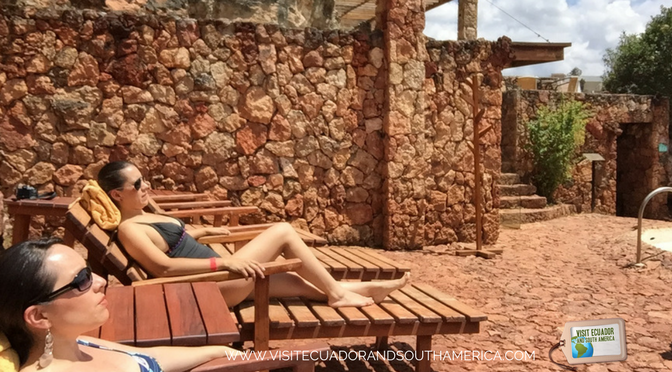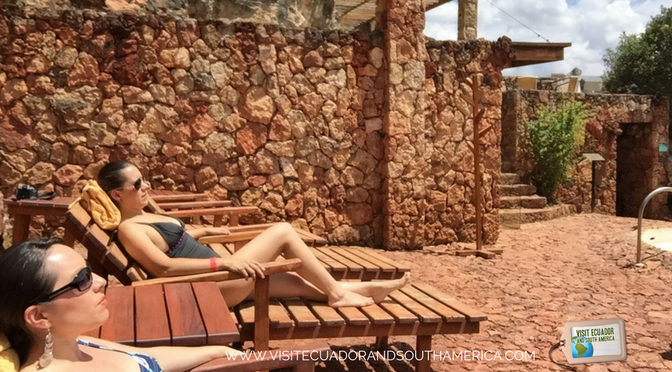 The Circuit spa experience
Due to geological conditions, the high temperature of the water together with its composition  result in a wealth of benefits to receive throughout the spa circuit.
The experience began the minute we sat foot at the ample and lovely lobby. After a warm welcome at the reception, we took our robes and followed an attendant who informed us about the premises and the benefits of each part of the circuit.
First we took a shower and then sat in the Turkish bath in order to clean the pores and detoxify.  A short cold shower afterwards allowed our pores to close and we were ready to be guided to the mud pools outside.
I enjoyed covering my whole body with natural mud extracted from deep beneath. The red volcanic thermal mud contains zinc, calcium and other minerals which help improve circulation, as well as with exfoliation.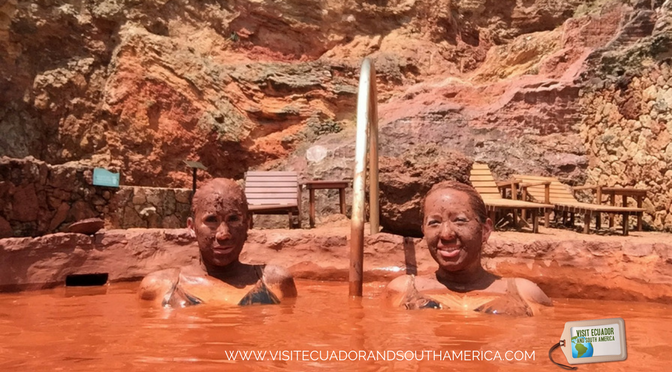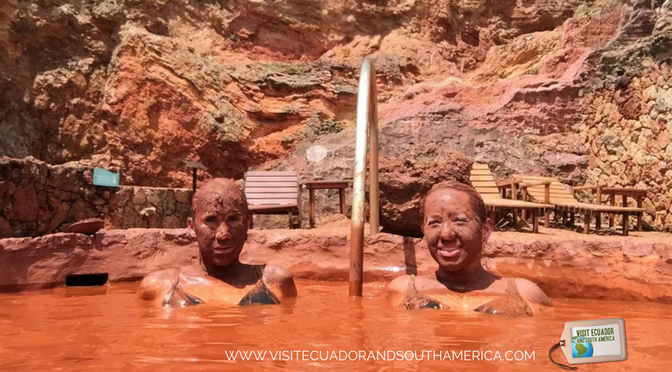 After having mud covering us from head to toe, we got out of the pool to relax under the bright Ecuadorian sun waiting for the mud to dry. We then showered and proceeded to enjoy the properties of the blue mud pool.
Extracted also locally, I felt this was the highlight of the spa circuit. I slathered my whole body with mud containing quartz, gold and copper. Then relaxed by the pool while taking in the hydration, anti-aging and energy balancing properties of the mud.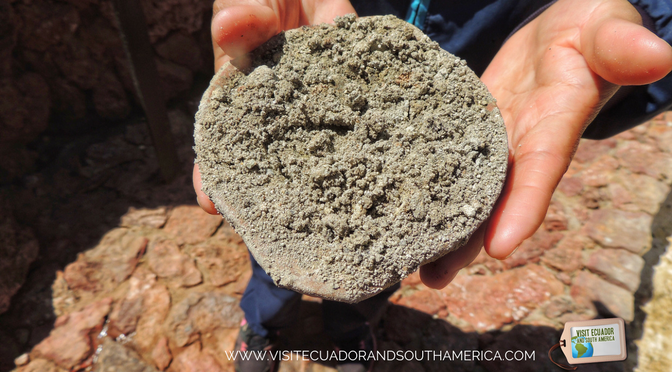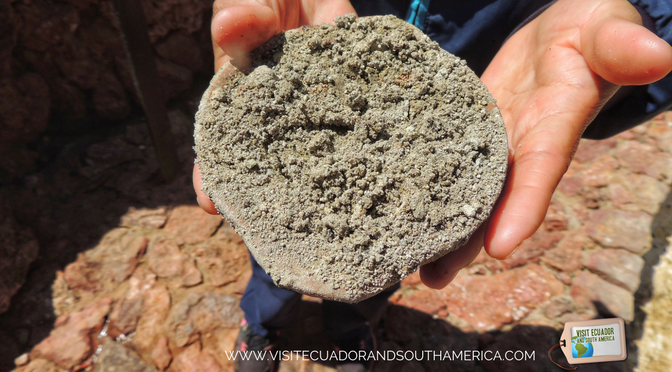 We showered in volcanic showers conveniently located by the mud pools and continued to enjoy the underground pools, where the experience was enhanced with aromatherapy, music and candles. The thermal shock produced from the alternation of a 40 C pool to a 8 C one, allows to improve the immune system and circulation.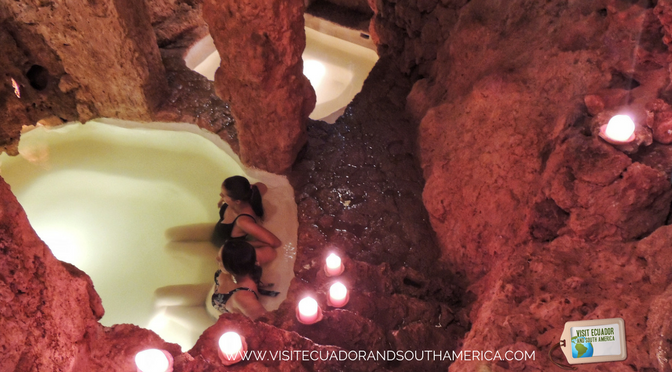 At the steam boxes we got to relax and detoxify, which was then followed by a cold shower.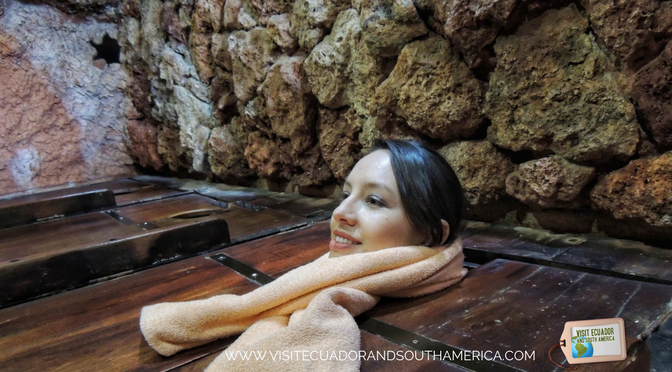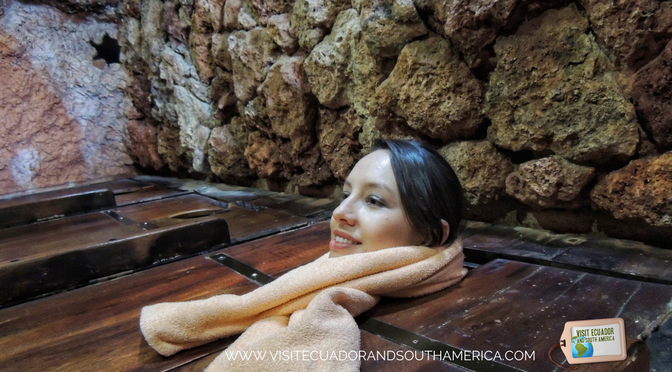 The circuit ends at the Japanese pool inspired in this culture´s consideration of thermal baths as quintessential for mind and body health.
If you are in South America I would love to see your pictures.
A spa circuit and additional services are perfect to improve your wellbeing and for healthcare. Once you end the circuit you can enjoy one of the 3 large mineral pools and float warmly while you take in the peaceful surroundings.  Piedra de Agua has 5 caves for massages, a beauty room, barber shop and a Geological Museum.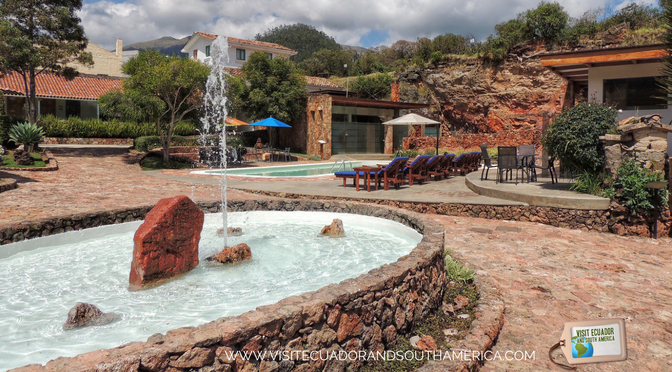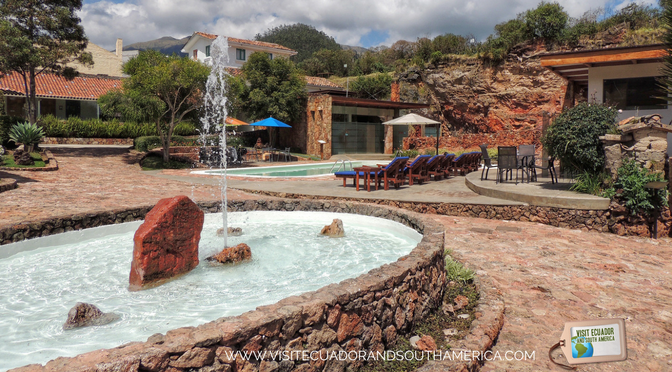 The Museum´s aim is to provide geological explanation of the area as well as of the origin of Piedra de Agua.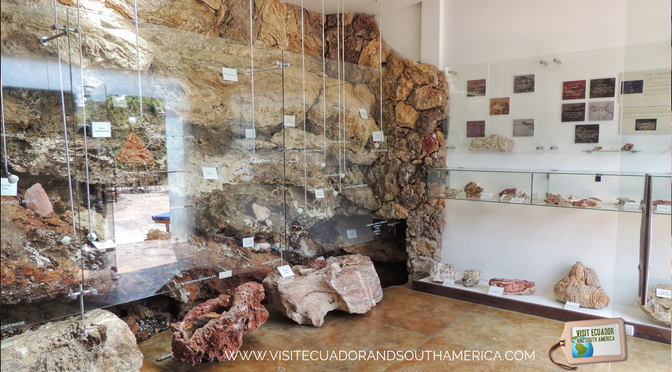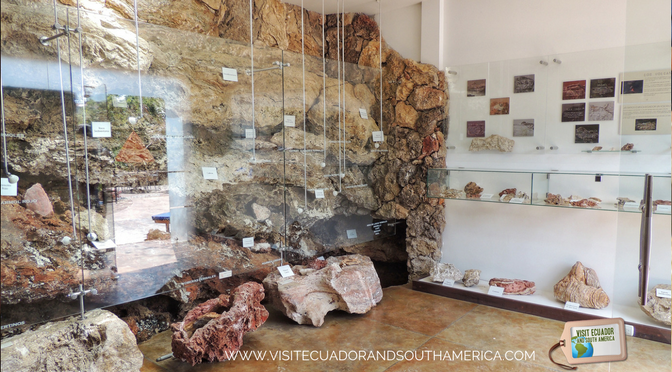 We couldn´t have left without enjoying some of the Ecuadorian and International dishes available at their restaurant.  I personally recommend you try the empanada de viento or empanada de verde and a local dish called huevos morlacos.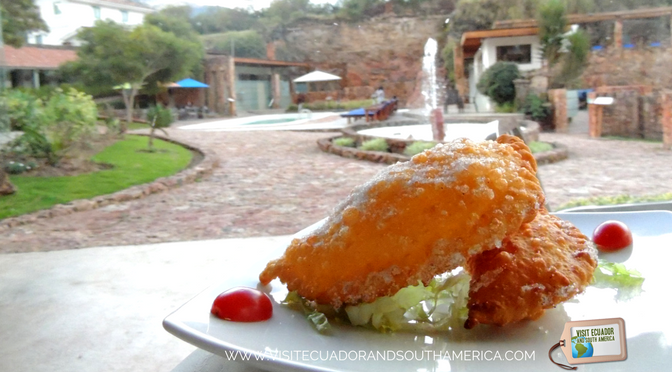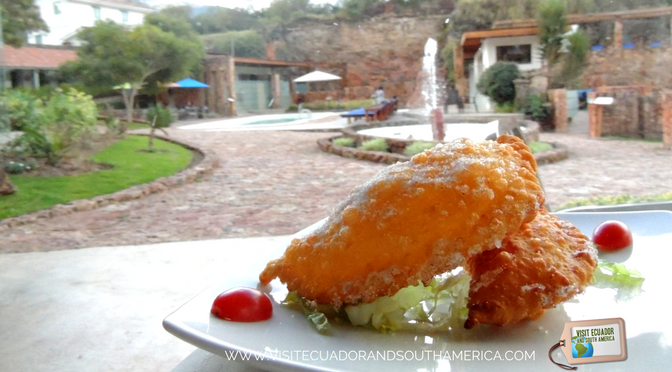 If you arrive early you can start by ordering breakfast, and it is also possible to order beverages inside the Japanese pool.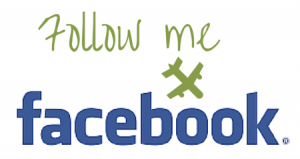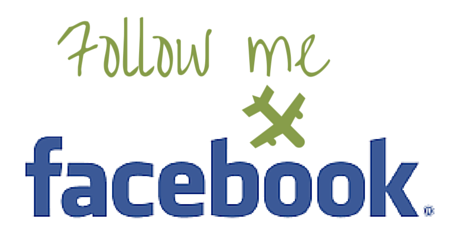 Conclusion:
You will surely feel recharged and relaxed after a spa circuit at Piedra de Agua. It is the perfect escape from routine or a deluxe activity near Cuenca. 
My advice is for you to arrive early in order to take advantage of the complete experience in a leisurely and relaxed way. 
I can highly recommend you treat yourself to a magnificent spa experience at Piedra de Agua, Fuente Termal & Spa, in Cuenca, Ecuador.  
Editors Disclosure: I was a guest at Piedra de Agua, however, all opinions expressed here are entirely my own and based on my personal experience.
If you found this page helpful, I would appreciate it if you would pin, share or tweet it on any social media platforms you use! Every little bit will help fund our travels and continue to bring great content to our site!
Planning a trip soon?  Comment below or send me an email, I can help you with more tips to plan your memorable trip.
PIN IT FOR LATER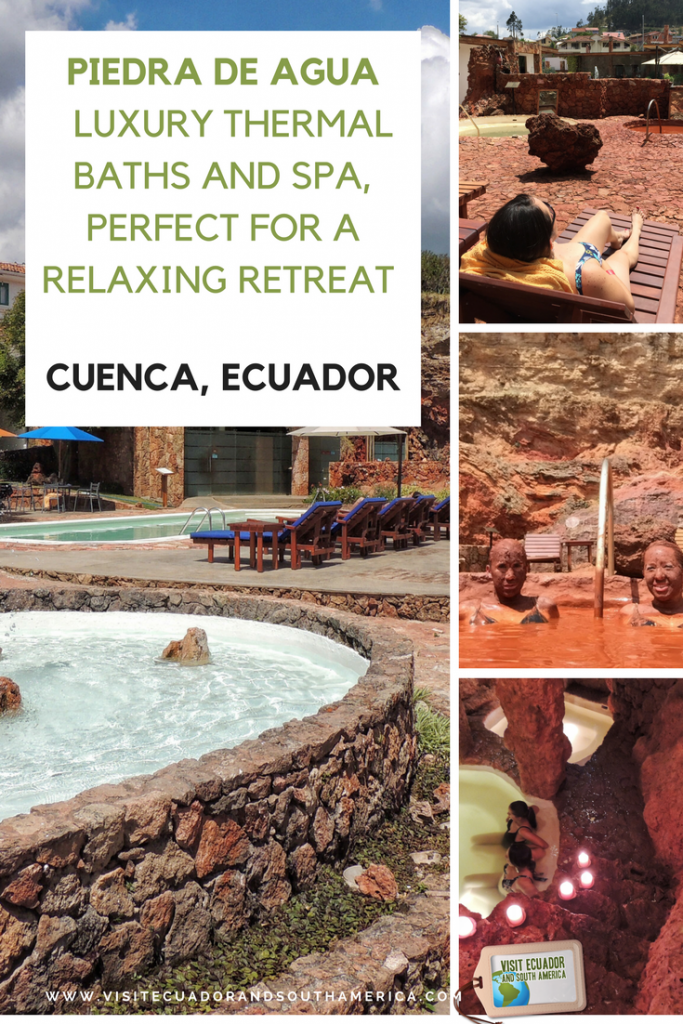 If you want more in-depth information and also a guide that you can bring along during your trip, I recommend the travel guide Lonely Planet Ecuador & the Galapagos Islands
.
This is a great source of information and tips, maps and all you need if you plan on visiting Ecuador. I personally like the option of having a hard copy version where I can take notes and have at hand.
Don´t just dream it, make it happen. Plan your South American trip with a local!
Take a look at this list of travel resources to plan your trip and travel in South America.
Day dreaming about your trip to South America? Order here your Free Ebook, I share with you some useful tips & resources for a memorable trip!
I invite you to follow me on Facebook, Twitter, Pinterest and Instagram. In addition you can subscribe on YouTube.
You can also send an email to get help planning your trip: info(at) visitecuadorandsouthamerica(dot)com