Mesmerizing vistas await you at Foz do Iguaçu.

One of the top attractions in South America is Iguazú. These amazing waterfalls are located in the Iguazu River and are part of Paraguay, Argentina, and Brazil. You can see the waterfalls from the Brazilian as well as from the Argentinian side.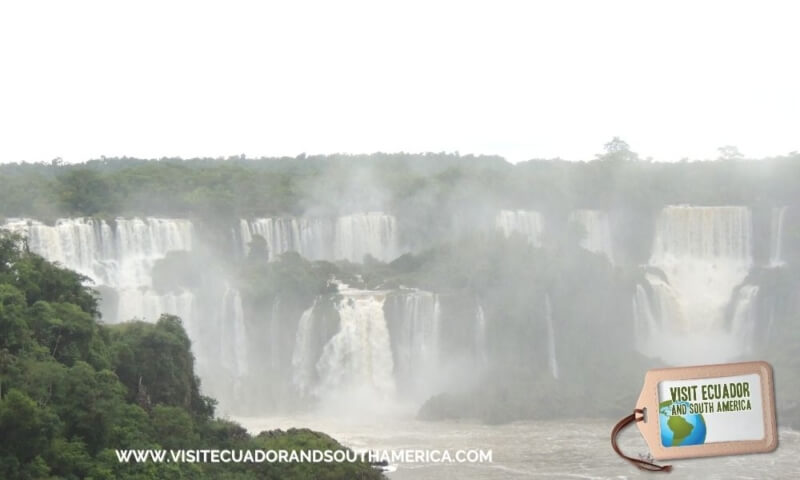 Once we arrived, I was utterly amazed by the size of this striking natural beauty. The biodiversity in Iguazú is also worth noting.  There are 2,000 plant species and 450 bird species in the park. Furthermore, you will be rendered speechless by the impressive views! The falls are twice as wide and taller than Niagara Falls and offer its visitors a myriad of spectacular sights.
If you are in South America, I would love to see your pictures.
Why choose the Brazilian side, Foz do Iguaçu.

Both sides are awe-inspiring and will allow you to admire one of the new seven natural wonders of the world.
The Brazilian side of Iguazu is easier to visit as it is relatively shorter. From this side you get a better overview of the falls despite them being farther away from you. Take your time to enjoy the gorgeous panoramic views from the different lookout points.
Where to stay
I loved staying at Hotel Saint George in Puerto Iguazu in Argentina. The rooms are clean and spacious. Besides, the staff is friendly, the hotel provides transportation for free from the airport, and it has a lovely pool area that was perfect for the warm sunny days of my visit. Moreover, the hotel is located within walking distance to restaurants and stores in Puerto Iguazu.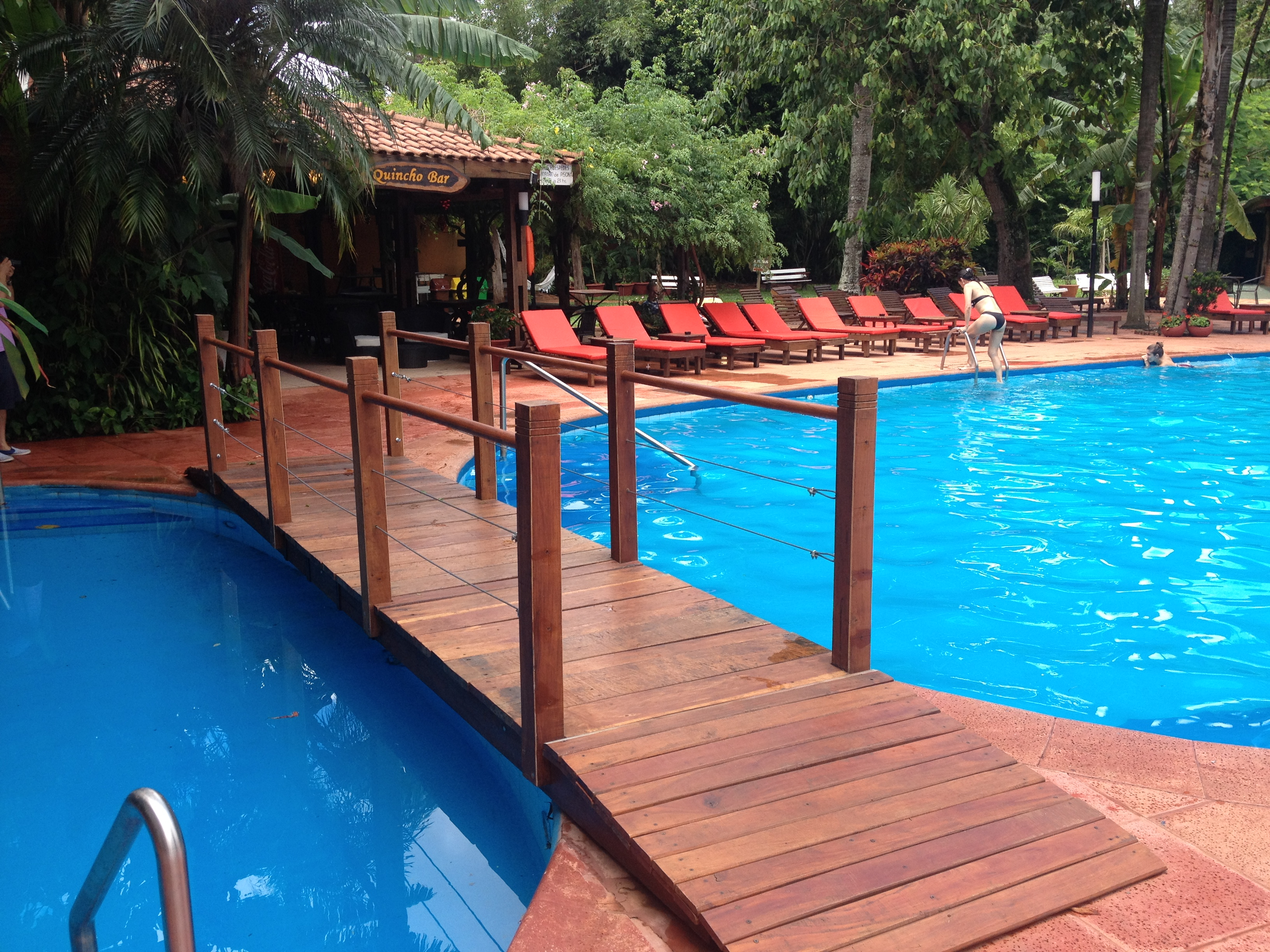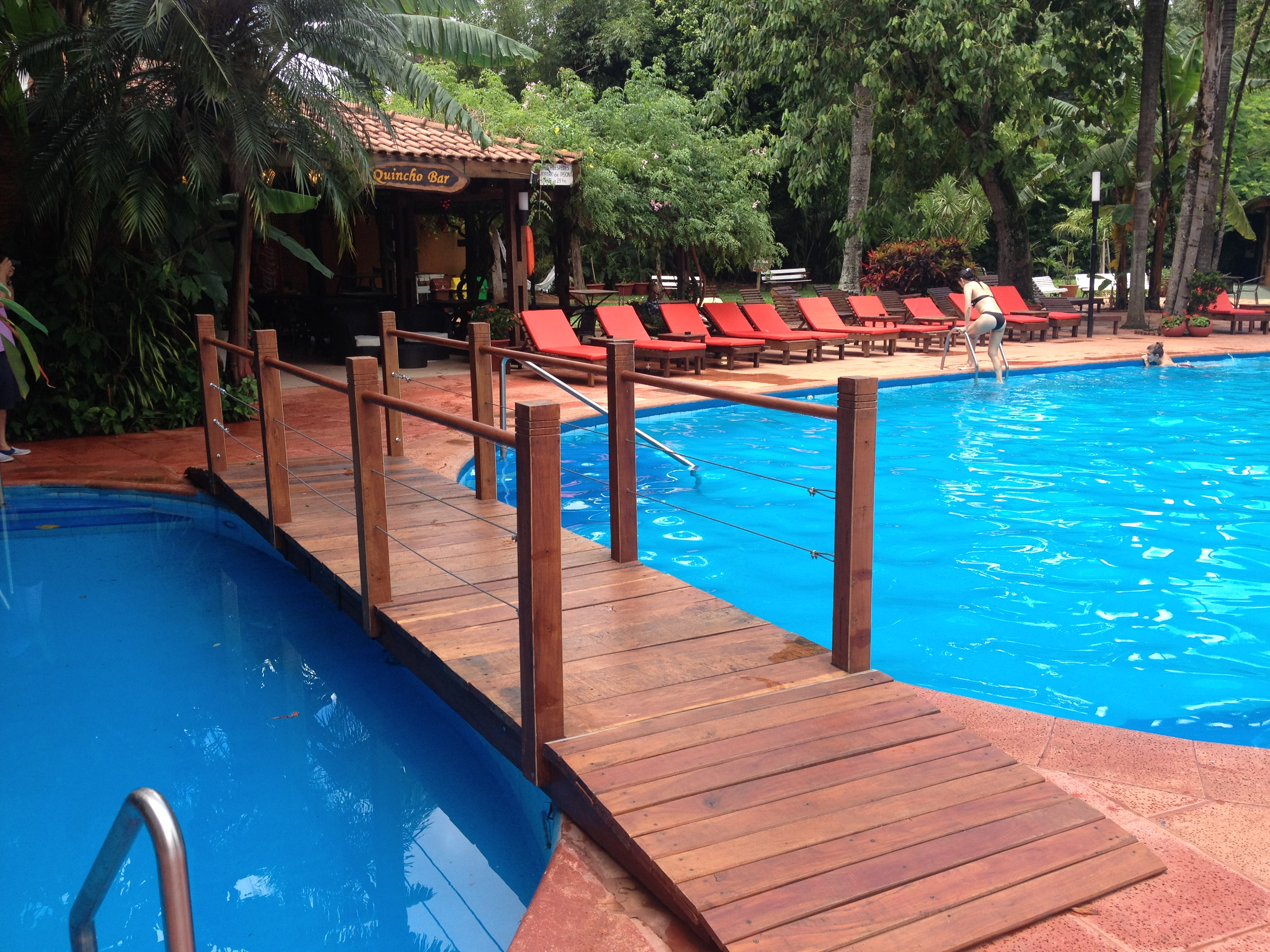 Here you can find other great options of places to stay at Puerto Iguazu in Argentina.
If you want to stay in the park and enjoy the waterfalls from your hotel, there are two options: Sheraton in Argentina and Hotel das Cataratas in Brazil. Otherwise, take a look at some places to stay in Brazil at Foz do Iguaçu here. 
How to get to Foz do Iguaçu.

To get to the Brazilian Cataratas do Iguaçu, you need to take a bus that will take you 10 km. Through the rainforest. The first bus leaves from the visitors center at 9 am.
If you have enough time, you might want to consider other options available in the area, such as kayaking, rappelling, helicopter sightseeing ride, biking, a 3 km safari on a car in the jungle, a motorboat ride to the falls, and canyoning.
Once the bus stops, you won't need to walk too far to encounter one of the many viewpoints offering a very scenic view of part of the Brazilian waterfalls.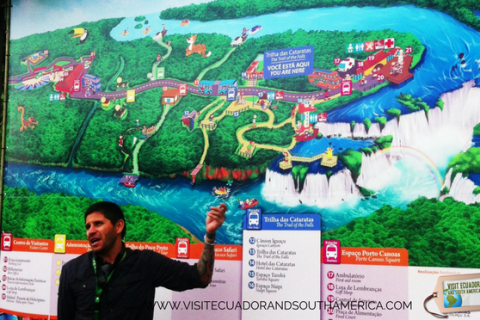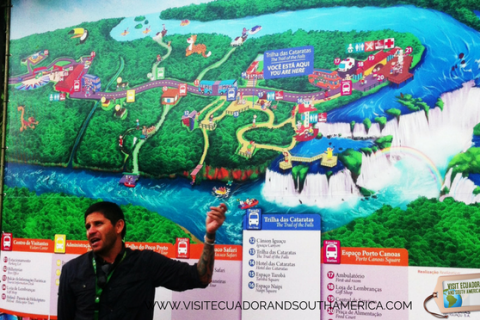 Foz do Iguaçu
There are railings all along the trail that are easy to follow and even give you perfect spots or balconies to take some breathtaking shots. The Parks protect the biodiversity, and you may encounter some friendly species during your hike.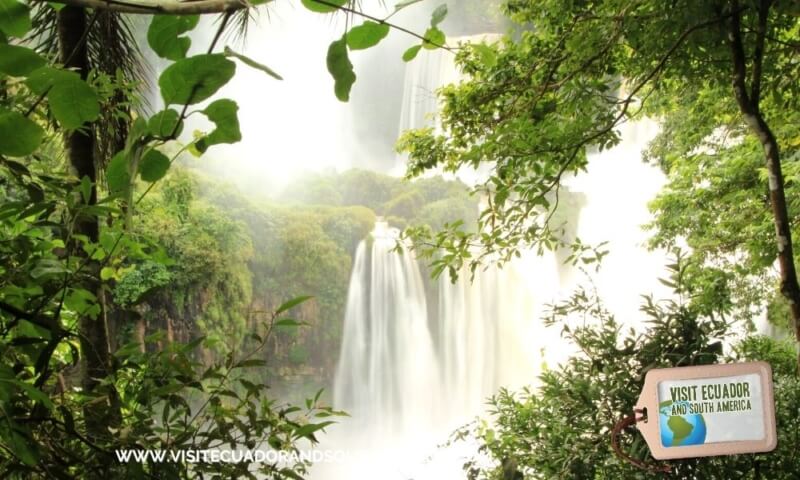 At the end of the trail, you get to stand at the same level as the base of the first fall. This is the Devil's Throat Balcony. Here, besides the view of the biggest waterfall (90 m height), you can feel all the energy of the waterfalls, get wet, and have some fun.
On the way up, at Naipi spot, you get to enjoy a 27m ride on an elevator offering yet another amazing view of the waterfalls. Here you find a small shop, restrooms, and view balconies.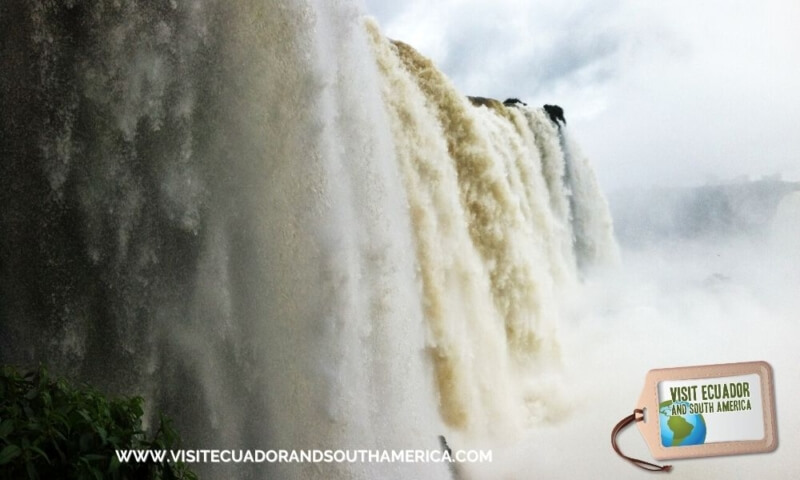 What to bring to Foz do Iguaçu.

Due to the location of Iguazu, the weather is moist, and there is often some rain. Bring a poncho and rain/water gear, and some dry clothes. You might get wet at some point. It is also a good idea to bring something to drink and sunscreen. It can get pretty warm. Despite the warmth and vegetation, there are almost no bugs.
Suppose you have an SLR camera with you on this trip and want to protect your camera while getting some awesome pictures! Then I would recommend that you get the Professional Rain Cover for Large DSLR Cameras.

Don't miss out on this amazing place in South America!
Leave a comment about this post or ask Cristina something you want to know about South America.
Other recommendations
Are you planning on visiting Foz do Iguaçu, and you are a US citizen? Then you need to have a Visa, which you need to order before your trip. It can´t be done on-site.
PIN IT FOR LATER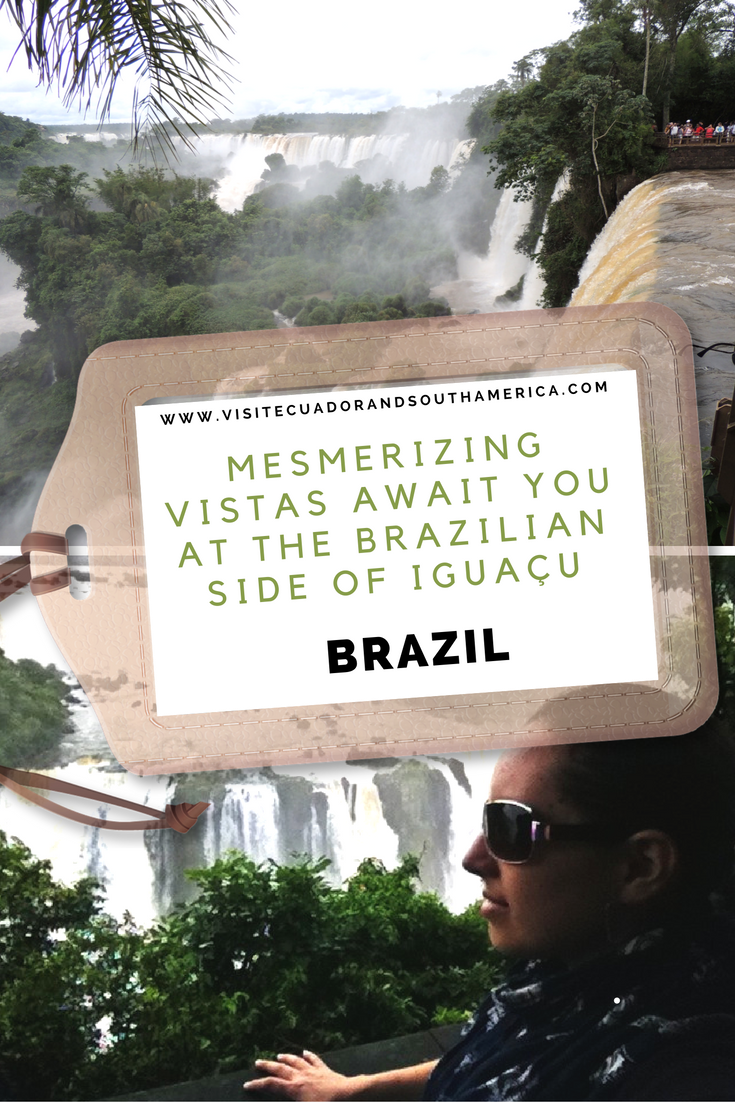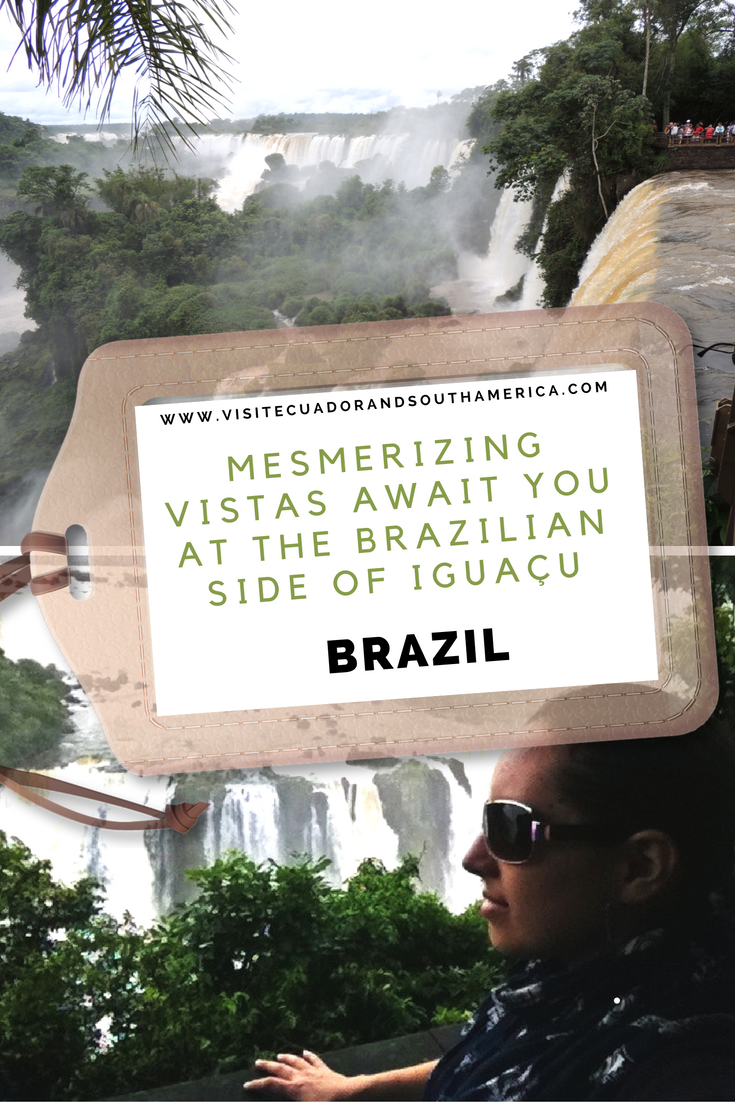 If you need additional and in-depth information from a reliable, well-written travel guide regarding main attractions to visit, tips, maps, and more in this amazing South American country.  Then, this is the guide I would recommend that you read: The Rough Guide to Argentina.
Don´t just dream it. Make it happen. Plan your South American trip with a local!
Take a look at this list of travel resources to plan your trip and travel in South America.
Daydreaming about your trip to South America? Order here your Free Ebook. I share with you some useful tips & resources for a memorable trip!
I invite you to follow me on Facebook, Twitter, Pinterest, and Instagram. Also, you can subscribe to YouTube. You can also send me an email to get more information or help planning your trip: info(at) visitecuadorandsouthamerica(dot)com.
Save
Save
Save
Save
Save