Hotel Puerto Gaviota is the perfect place to connect with nature and bask in the equatorial sun in Ecuador.
This past week we had an amazing experience at Hotel Puerto Gaviota in Tonsupa, one of the most sought-after beaches in the Northern part of Ecuador.
About Tonsupa beach
Tonsupa beach is a beautiful golden sand beach located 26 km southwest of the provincial capital of Esmeraldas in Ecuador. The location makes it a perfect destination for those who are in Quito and want to enjoy the sun and the beach.
In addition, the wonderful climate between 28° and 36° Celsius makes it almost a 365-day destination.
About Hotel Puerto Gaviota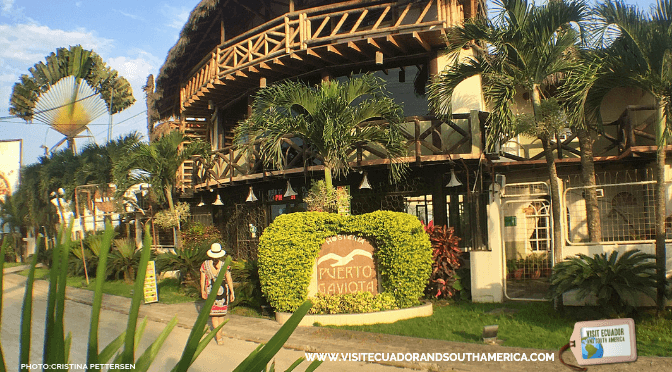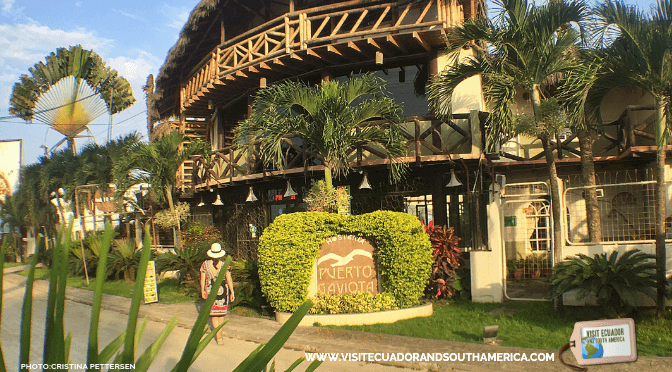 Highlighting the vegetation of the province of Esmeraldas, called the green province, Hotel Puerto Gaviota clearly differs from the buildings and the surrounding where concrete is the predominant material, creating a little oasis where visitors of Tonsupa can fully immerse themselves in nature.
This hotel with 30 rooms and 3000 m2 manages to offer peace and an opportunity to connect not only with your loved ones but with nature as well.
The swimming pool
One of the features of the hotel is its large swimming pool that provides an inviting view from every room to the pool area.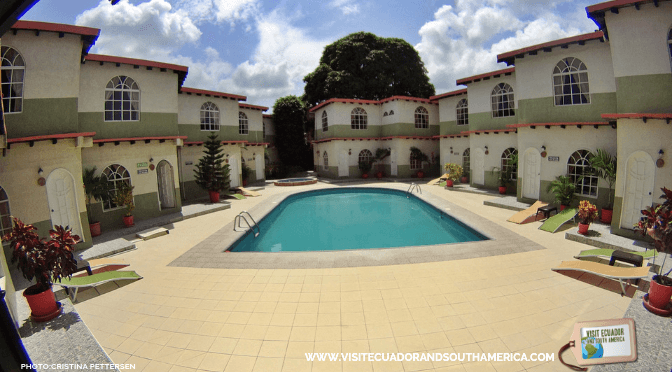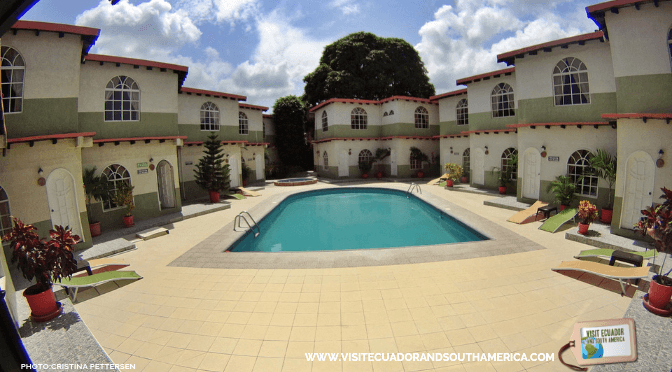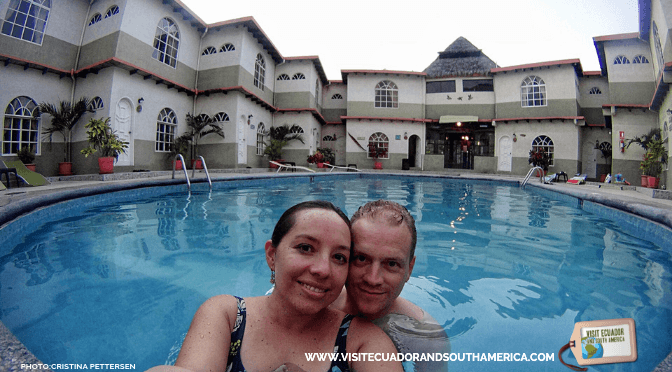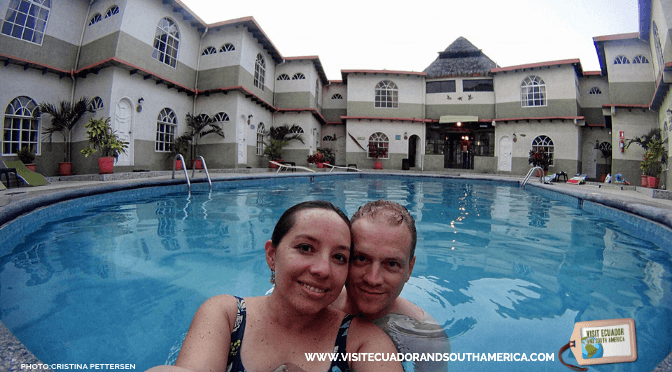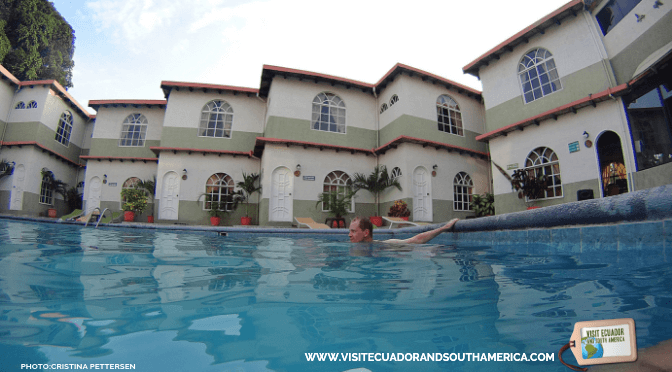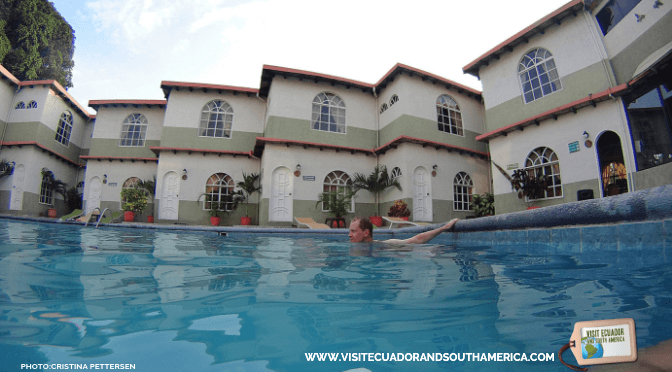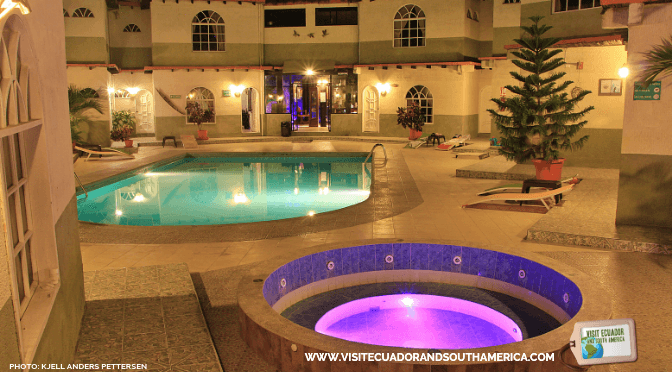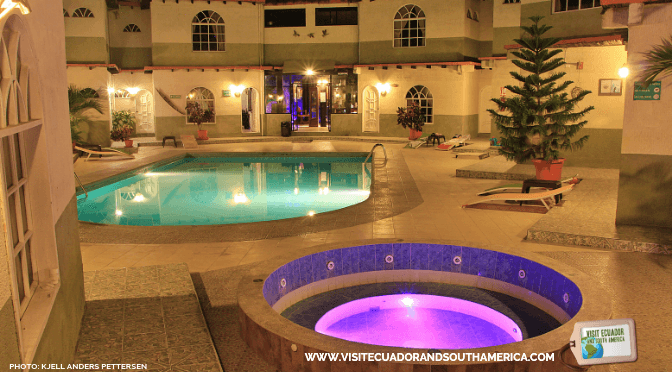 The Rooms
The rooms can be described as comfortable, elegant, and modern. It is the texture and the colors of the wooden elements in the rooms that bring a warm atmosphere to them.
In addition, the rooms are clean and equipped with a TV with Directv, Airconditioning, fridge, wifi, and a bathroom.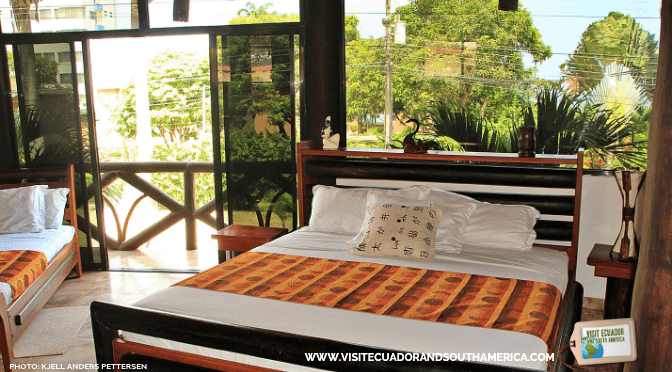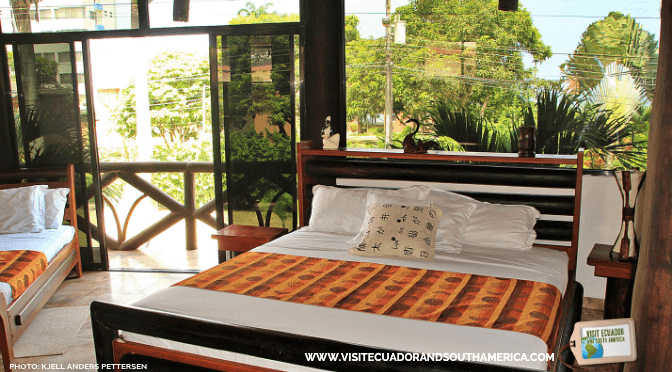 All bedrooms have their own private bathroom, with a modern design, clean and practical.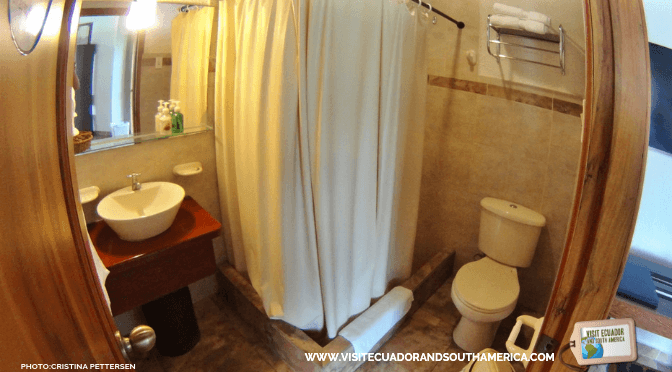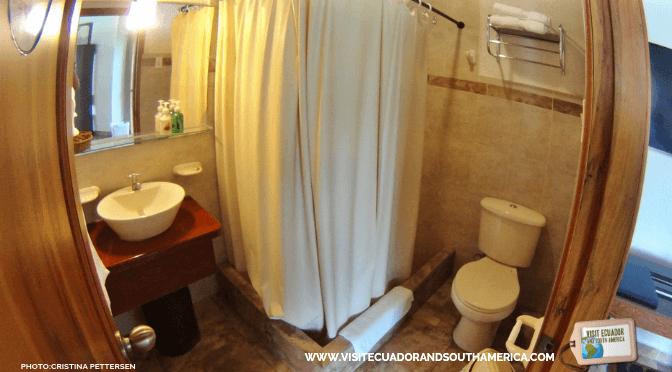 For us, it was a great plus to know that the hotel offers free private parking inside the property.
RESTAURANT 7 MARES
Another feature of the hotel is that it has its own restaurant, with a wide variety of dishes including local and international options.
We opted for the traditional dishes from Esmeraldas, including bolones and empanadas de verde.
All the food was delicious and our breakfasts were excellent. I will describe them below.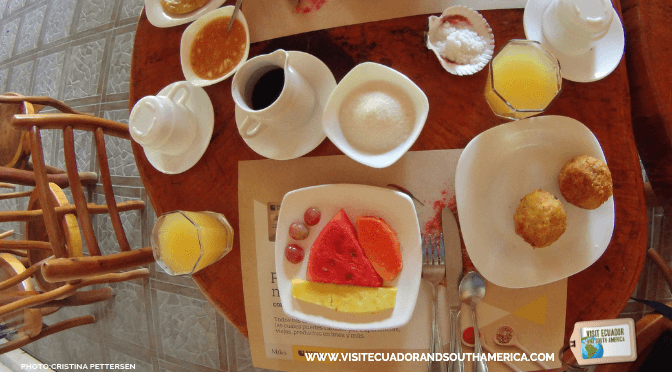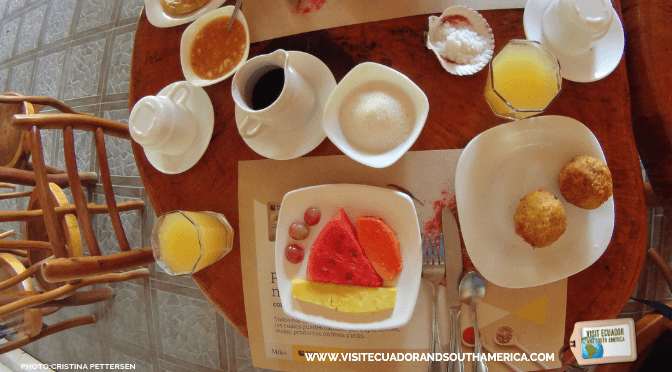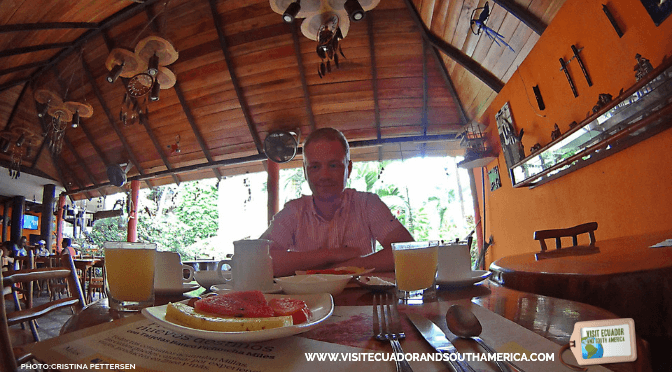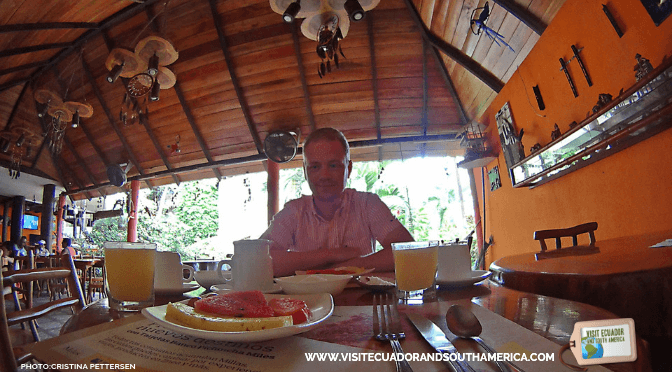 Our wonderful breakfast included fresh fruit and fruit juice, coffee, eggs made to your taste, butter, and jam. In addition, we could choose between fresh bread, bolones, empanadas de verde and cheese sandwich. We enjoyed all our meals in a peaceful place surrounded by nature.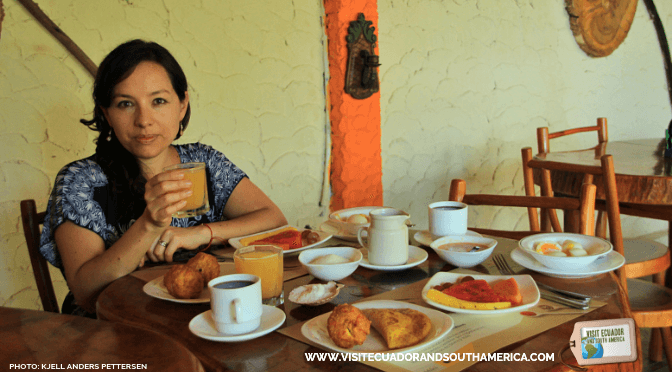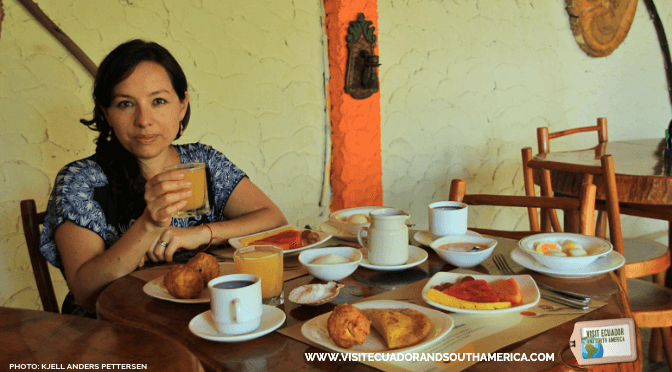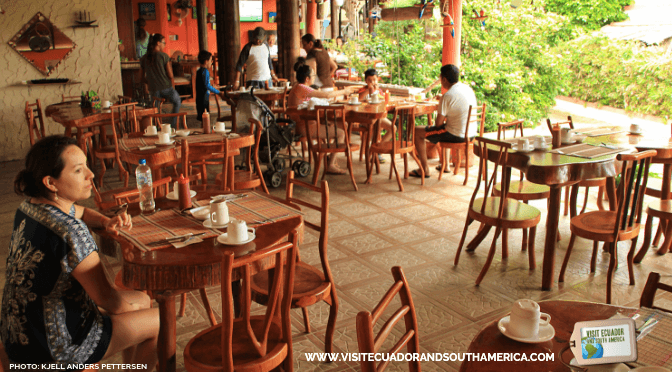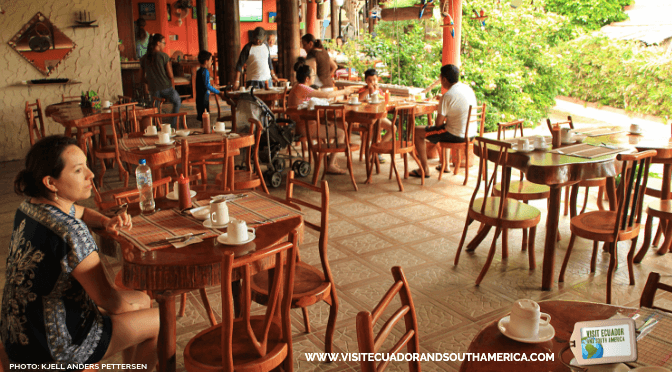 Activities at the hotel
Time to unwind
For those who are looking for a place to unwind and recharge, there are these comfy hammocks and a delicious warm jacuzzi that is as always meant for adults only. Here are two features that made this hotel a great choice for a romantic getaway for us.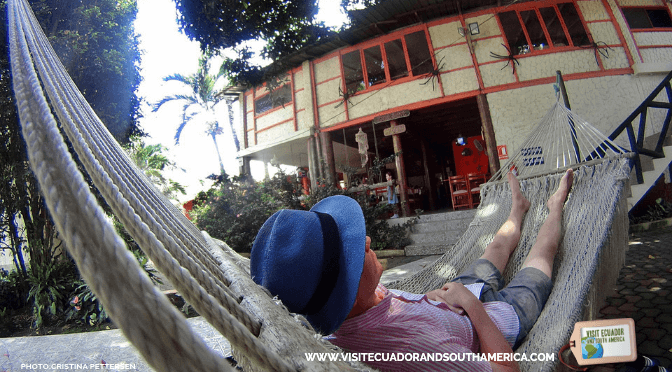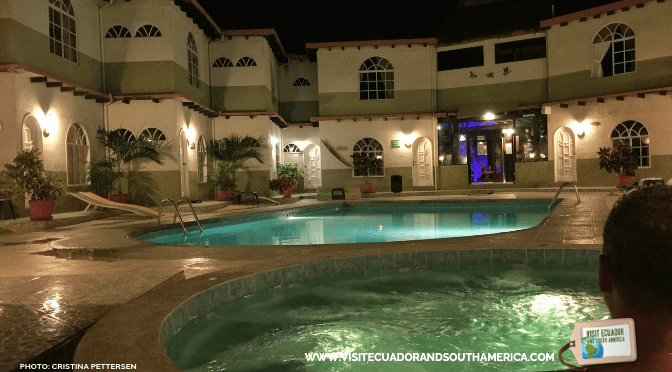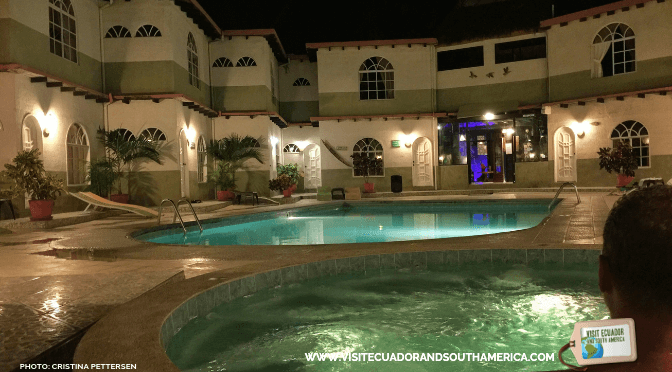 Night
Walking upstairs from the restaurant we found the area for social events and activities of the hotel. With a ping-pong table and a pool table, it is perfect for those celebrating birthdays, anniversaries, and weddings.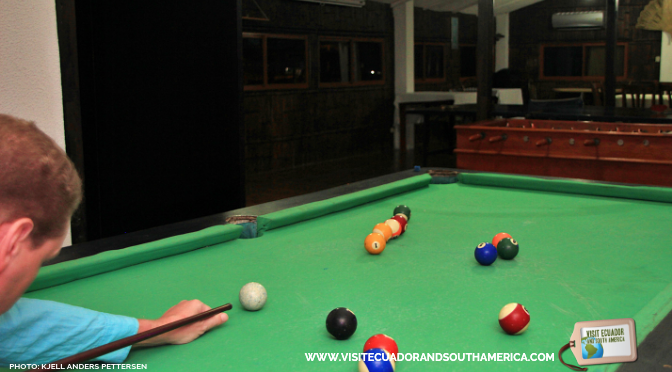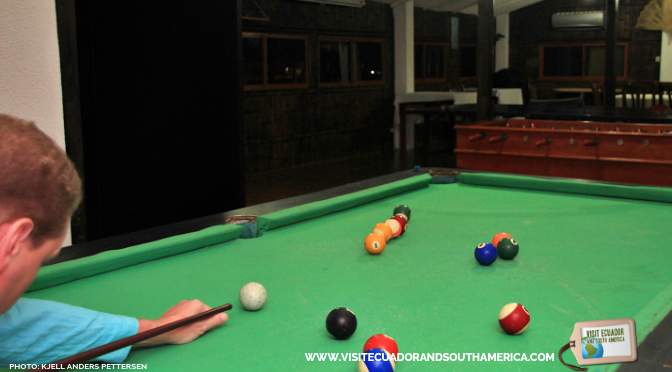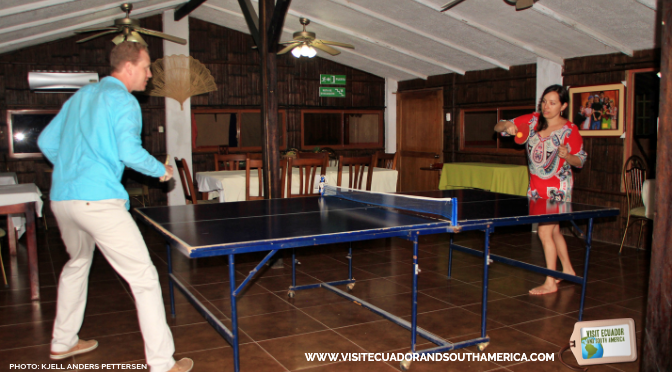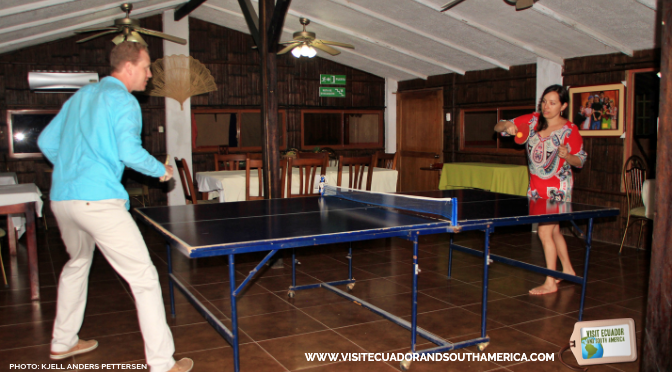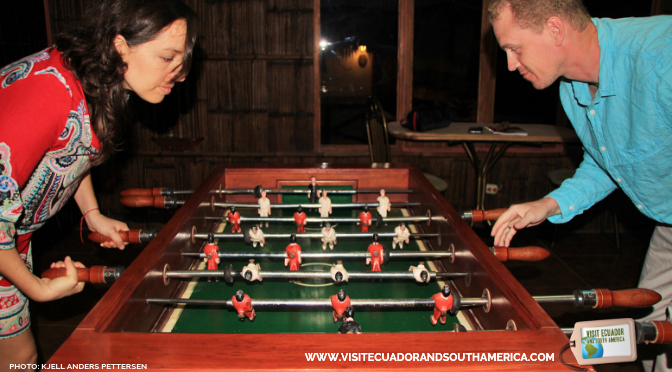 Love nature?
Their focus on preserving their natural surroundings and a love for nature were easy to see, feel, and witness once we arrived. Knowing that the owners of the hotel consider the nature and the vegetation that is part of this region highly important for their hotel, made us cherish the experience even more.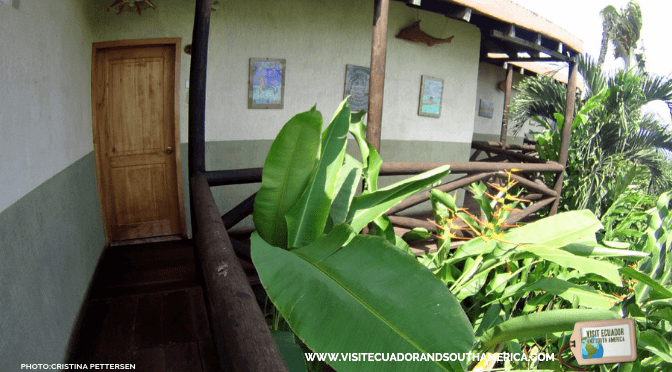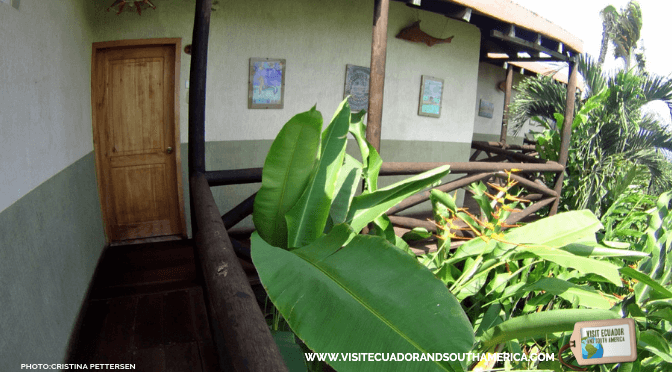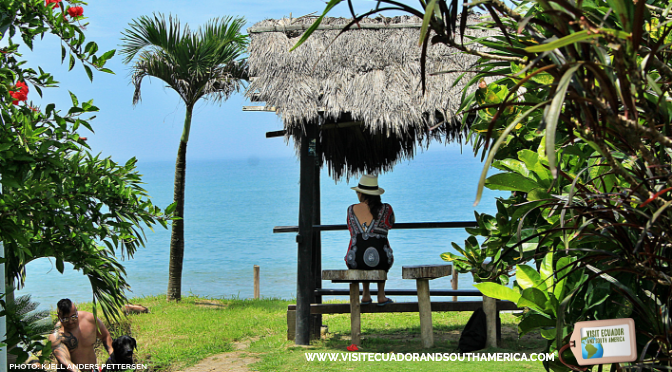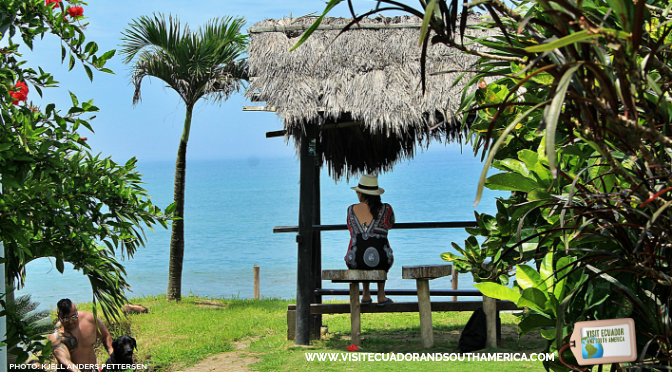 Upon arriving at the beach, we found this cozy sitting area perfect to admire the sea, feel the breeze and relax.
The beach
A short walk from the hotel's door brings you to a passageway full of flora from the province. A botanical garden that is a donation from the hotel to Tonsupa, and it becomes a tranquil and awe-inspiring walk to the beach. Yet another place to connect with nature that we loved.
As birds and butterflies accompanied our steps, we arrived at the pergola which is the property of the hotel for the use of its guests, facing the sea.
Perfect to admire the golden sand on the beach, the calming waves of the Pacific Ocean, and some stunning landscapes like the one in the picture below.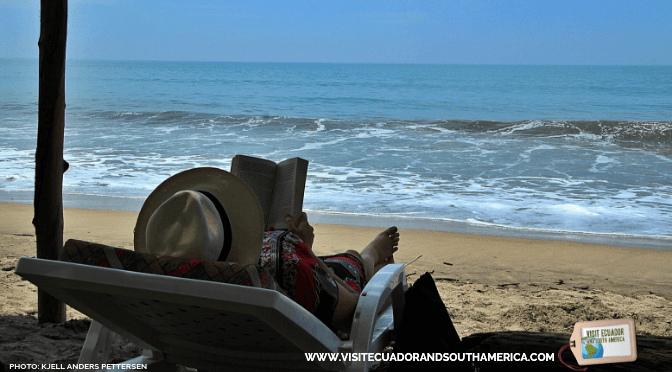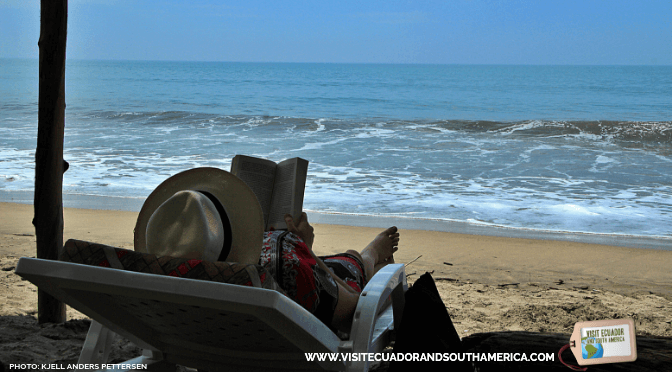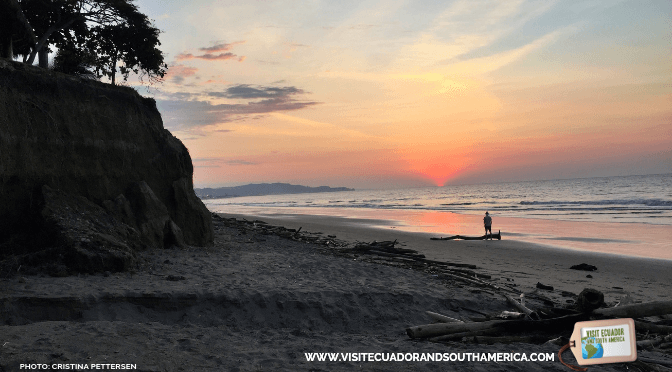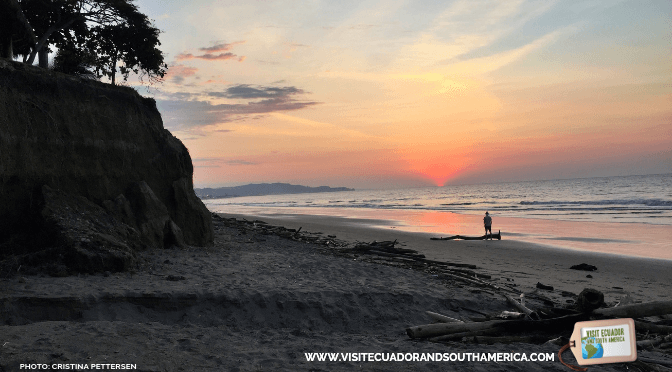 How to get there
To arrive at the hotel, take the highway to Tonsupa beach, on km 19.  From there, follow the signs that guide you to Hotel Puerto Gaviota. Here is a link to the hotel.
Activities nearby

If you have the time and want to go out to the town, we suggest that you visit the Park in neighboring Atacames.
This was our choice, as we wanted to get a feel of the town and the main park to enjoy some food from the province.
There aren't many options of restaurants here, maybe because parking is not so easy, but if you decide to go I would recommend the restaurant Brisas de Mercedes. They had delicious dishes, including ceviche.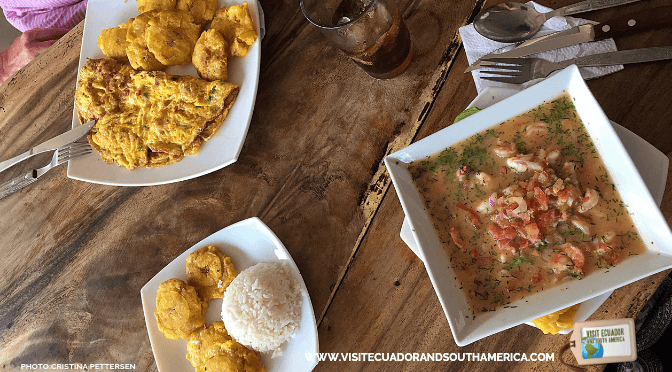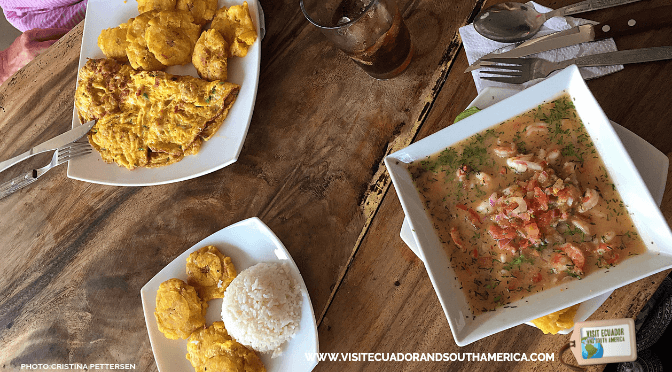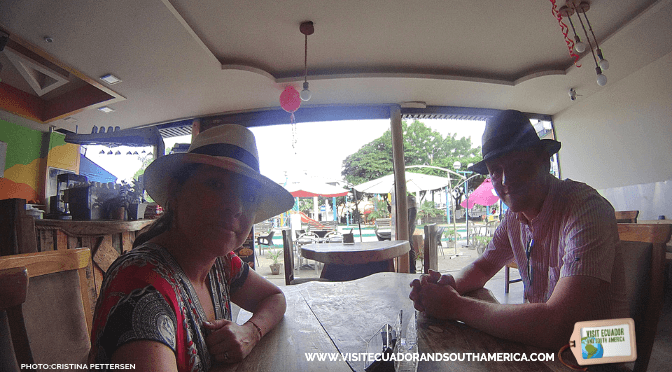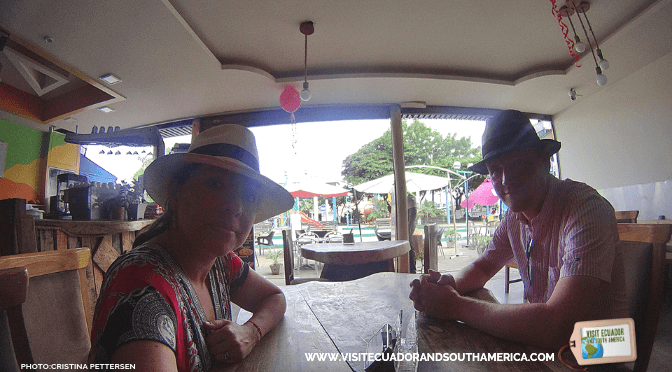 What to bring
In order to fully enjoy your stay:
Make sure to book before you go, to do so click here.
Bring a couple of bathing suits for the beach, pool, and jacuzzi. (jacuzzi for adults only)
Bring sunglasses, sunblock, and a hat if you are planning on staying outdoors for long periods of time, the equatorial sun is strong. I would also recommend bringing insect repellent for the evenings (although, we did not see any insects roaming around the lights in this place).
Important: The area is peaceful and safe. I just have to tell you that the small passageway made as a botanical garden leading to the beach is not part of the hotel per se, but a donation by them. It is better not to walk across it after dusk, or do so in a larger group. In low season it is best to leave your valuables at the hotel.

Conclusion:
Hotel Puerto Gaviota is a nice in Tonsupa for visitors from Ecuador and abroad who cherish nature, and who want to stay at a place that combines comfort with excellent customer service.
Hotel Puerto Gaviota is my top recommendation of places to stay in Tonsupa beach. Located just a few steps from the beach, you get to enjoy the beach atmosphere, all while being in a place that is in harmony with nature.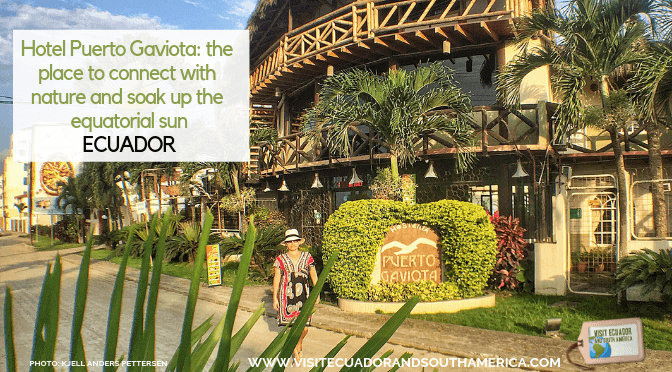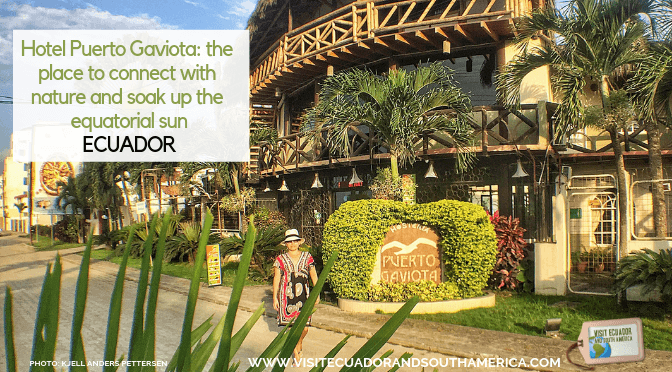 We had a replenishing night of sleep and an unforgettable experience and would not hesitate to recommend Hotel Puerto Gaviota.
Editors Disclosure: I was a guest of Hotel Puerto Gaviota. As always, all opinions expressed here are entirely my own and based on my personal experience.
If you found this page helpful, I would appreciate it if you would pin, share or tweet it on any social media platforms you use! Every little bit will help fund our travels and continue to bring great content to our site!
Planning a trip soon?  Comment below or send me an email, I can help you plan your trip.
PIN IT FOR LATER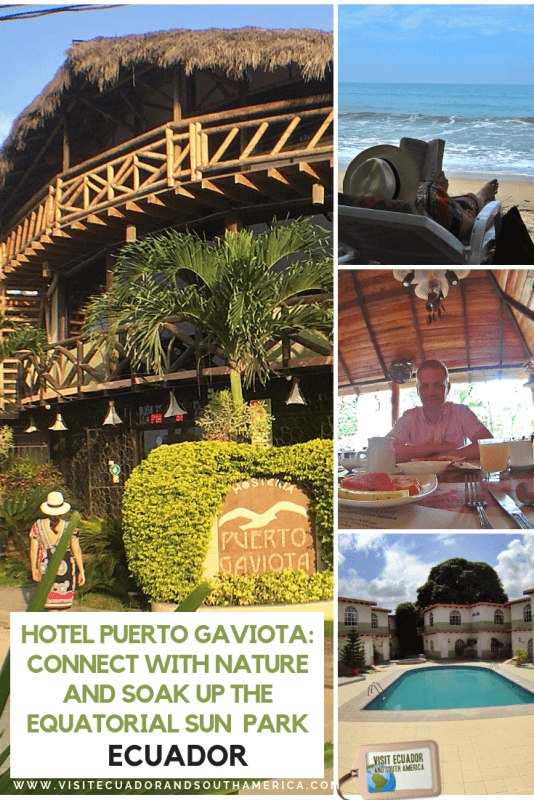 If you want more in-depth information and also a guide that you can bring along during your trip, I recommend the travel guide Lonely Planet Ecuador & the Galapagos Islands. This is a great source of information and tips, maps, and all you need if you plan on visiting Ecuador. I personally like the option of having a hard copy version where I can take notes and have at hand.
Don´t just dream it, make it happen. Plan your South American trip with a local!
Take a look at this list of travel resources to plan your trip and travel in South America. Daydreaming about your trip to South America? Order here your Free Ebook, I share with you some useful tips & resources for a memorable trip! I invite you to follow me on Facebook, Twitter, Pinterest, and Instagram. In addition, you can subscribe on YouTube. You can also send an email to get help planning your trip: info(at) visitecuadorandsouthamerica(dot)com