Hotel Puerto Gaviota er det perfekte stedet for å oppleve naturen og føle varmen fra den ekvatoriale solen i Ecuador.
Vi hadde en fantastisk opplevelse på Hotel Puerto Gaviota i Tonsupa, en av de mest etterspurte strendene i den nordlige delen av Ecuador.
Om Tonsupa beach
Tonsupa beach er en nydelig gyllen sandstrand som ligger 26 kilometer sørvest for provinshovedstaden i Esmeraldas, Ecuador. Beliggenheten gjør den til en perfekt destinasjon for de som befinner seg i Quito og ønsker å nyte sol og strand.
I tillegg gjør det deilige klimaet på mellom 28° og 36° Celsius stedet nesten til en 365-dager-i-året-destinajon.
Om Hotel Puerto Gaviota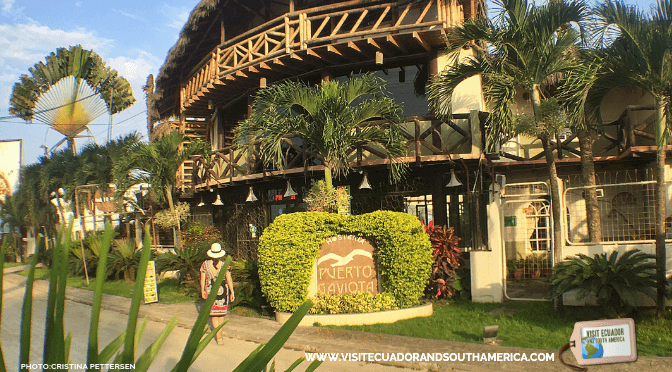 Ved å framheve den typiske vegetasjonen i Esmeraldas-provinsen, også kalt Den grønne provinsen, skiller Hotel Puerto Gaviota seg fra bygningene og omgivelsene hvor cement er det foretrukne materialet. Dette gjør hotellet til en liten oase hvor besøkende til Tonsupa kan nyte selve naturen.
Hotellet, som består av 30 rom og 3000 m2, kan tilby ro og en mulighet til å sette av tid til å være sammen med sine kjære, og også med naturen.
Bassenget
Et av særtrekkene ved hotellet er det store svømmebassenget som kan ses fra hvert av rommene, som inviterer besøkende til å nyte dagene i solen og det deilige varme vannet.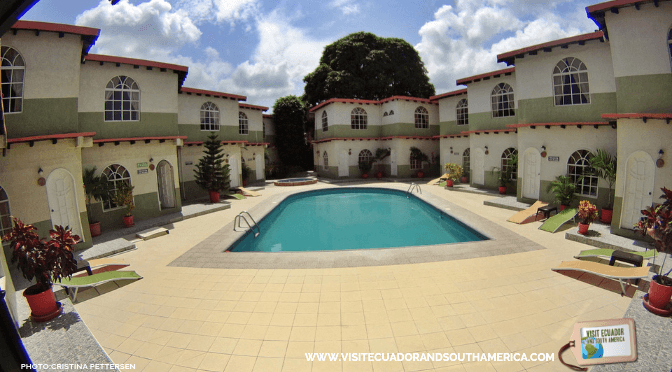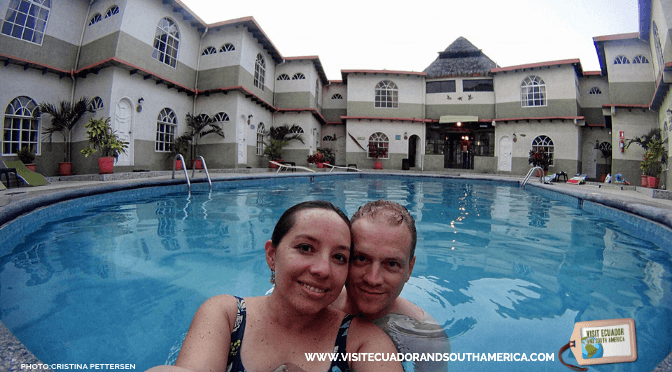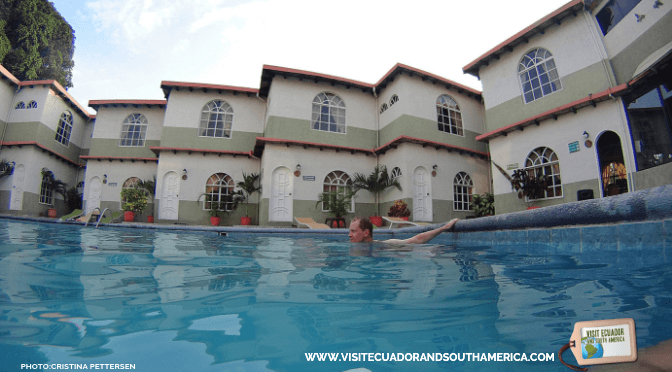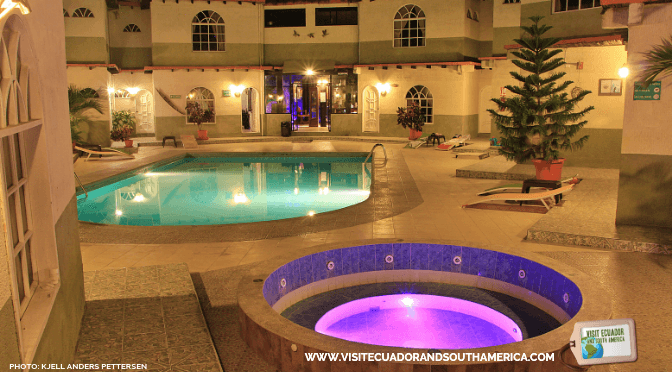 Rommene
Rommene kan beskrives som komfortable, elegante og moderne. Teksturen og fargene i treelementene i rommene gir dem en varm atmosfære.
Rommene er også rene, og utstyrt med TV (DirecTv), aircondition, kjøleskap, wifi og bad.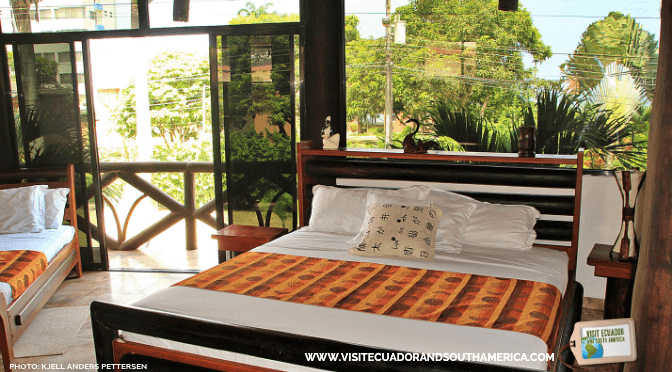 Alle rommene har eget bad med moderne design, rent og praktisk.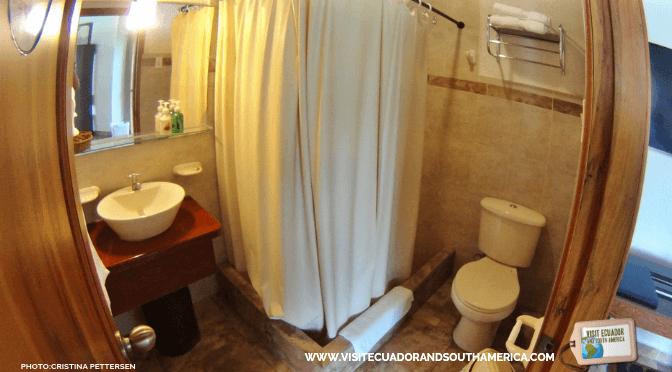 For oss var det et stort pluss at hotellet tilbyr gratis parkering på deres eget område.
RESTAURANT 7 MARES
Hotellet har også sin egen restaurant med et stort utvalg av retter, både lokale og internasjonale.
Vi gitt for de tradisjonelle rettene fra Esmeraldas, inkludert bolones (frityrstekte boller av grønn banan og ost) og empanadas de verde (en type frityrstekt pai av grønn banan fylt med ost).
Alle rettene smakte utmerket, og frokosten var fabelaktig. Jeg beskriver dem nedenfor.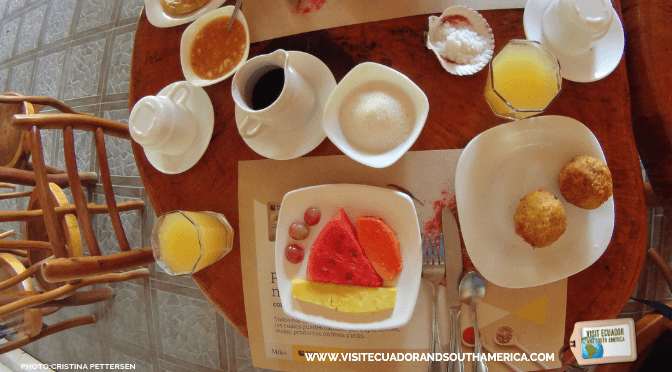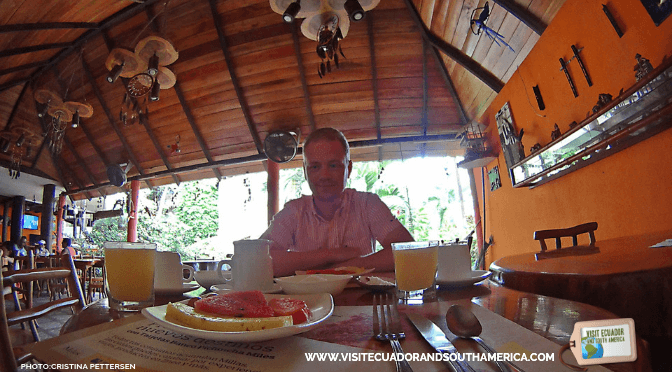 Vår deilige frokost inkluderte fersk frukt og fruktjuice, kaffe, egg tilberedt slik du ønsker, smør og syltetøy. I tillegg kunne vi velge mellom fersk brød, bolones, empanadas de verde og ostesmørbrød. Vi nøt alle måltidene på et fredelig sted omgitt av natur.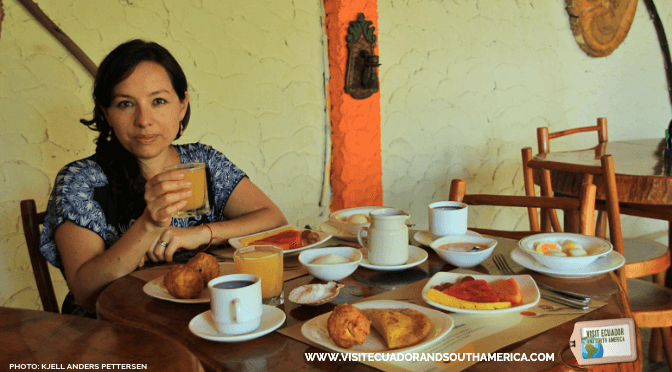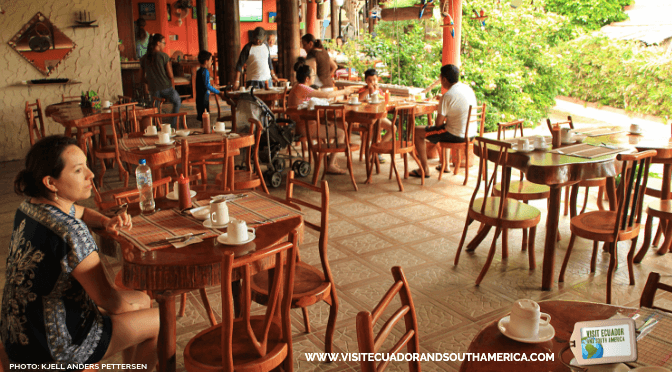 Aktiviteter på hotellet
Tid for å koble av
For de som ser etter et sted å koble av og lade opp finnes disse komfortable hengekøyene og et deilig varmt boblebad, som kun kan benyttes av voksne. Dette er to trekk som gjorde dette hotellet til et utmerket valg for en romatisk utflukt for oss.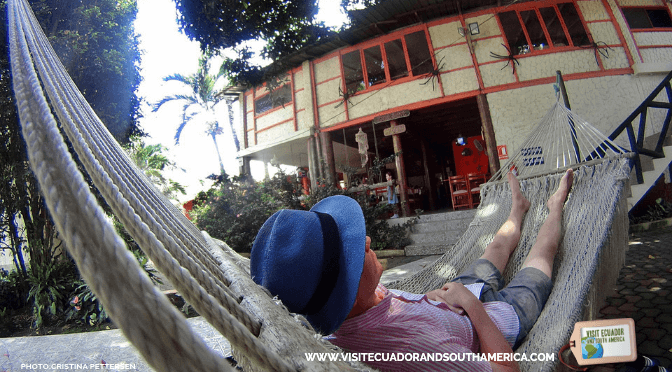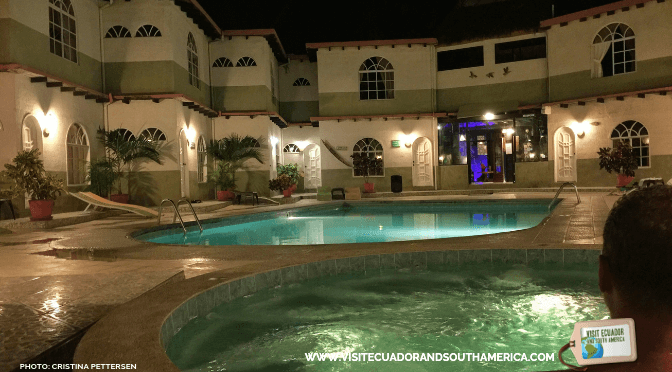 Natt
Over restauranten fant vi et område for sosiale sammenkomster og aktiviteter ved hotellet. Her finner du bordtennisbord og biljardbord, og rommet er perfekt for de som ønsker feire bursdager, jubileer og brylluper.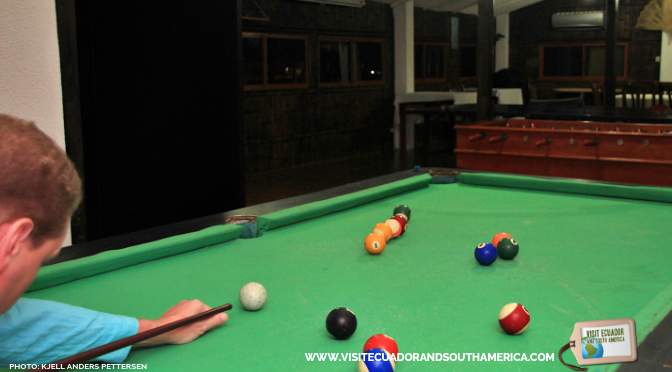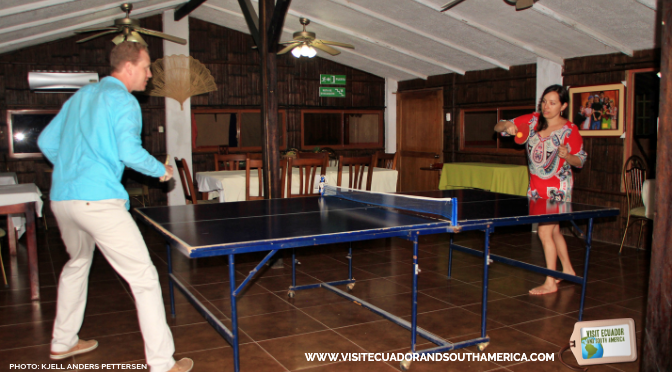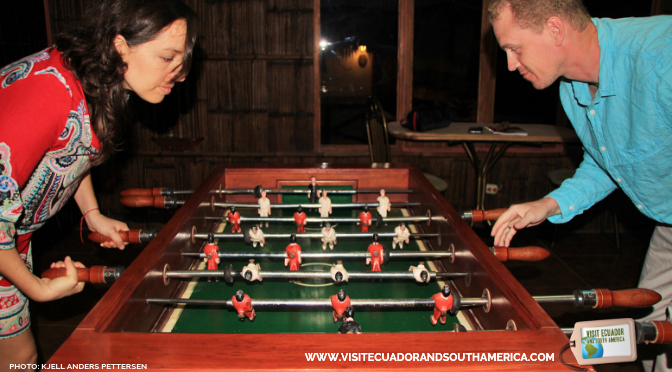 Elsker du naturen?
Det var lett å se, følge og være vitne til eiernes forkjærlighet for naturen, og deres fokus på bevaring av de naturlige omgivelsene. Det at eierne av hotellet tar hensyn til naturen og vegetasjonen som er en del av denne regionen gjorde at vi elsket opplevelsen enda høyere.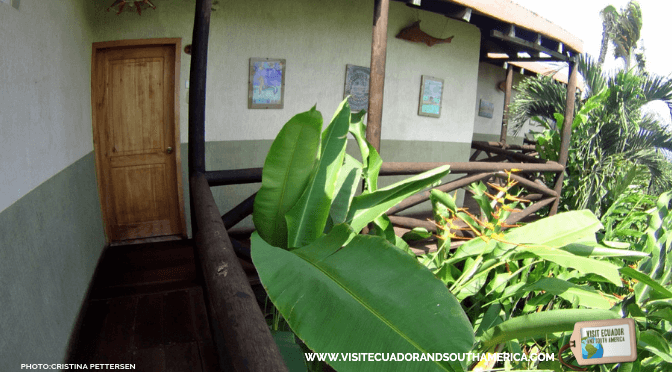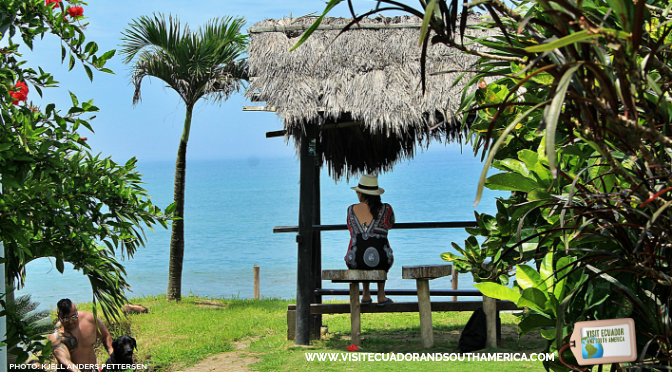 Ved ankomst til stranden fant vi dette koselige området for å sitte og nyte havet, føle havbrisen og slappe av.
Stranden
En kort spasertur fra hotellet finner du en passasje full av planter fra provinsen. En botanisk hage som hotellet har donert til Tonsupa som gir deg en rolig og imponerende spasertur til stranden. Enda et sted å omgi seg med natur som vi elsket.
Idet fugler og sommerfugler fulgte våre steg endte vi opp ved en pergola på stranden som hotellets gjester kan benytte seg av.
Perfekt for å nyte den gyldne sanden, de avslappende bølgene fra Stillehavet og slående landskaper som i bildene nedenfor.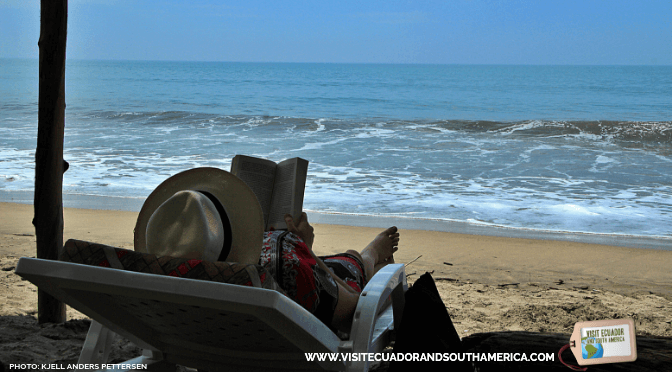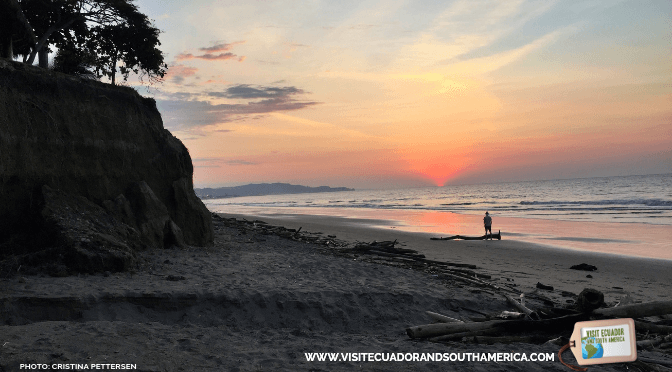 Hvordan finne fram
For å komme til hotellet, ta motorveien til Tonsupa beach, ved kilometer 19. Derfra følger du skiltene som guider deg til Hotel Puerto Gaviota. Her er en link til hotellet.
Aktiviteter i nærheten

Hvis du har tid og ønsker en tur til sentrum så anbefaler vi at du besøker parken i Atacames. Dette var vårt valg fordi vi ønsket å bli litt kjent med byen og hovedparken for å nyte mat fra provinsen.
Det er ikke veldig mange valg når det kommer til restauranter her, kanskje fordi parkeringsplasser er mangelvare, men hvis du ønsker å ta en tur så anbefaler jeg restauranten Brisas de Mercedes. De hadde nydelige retter, inkludert ceviche.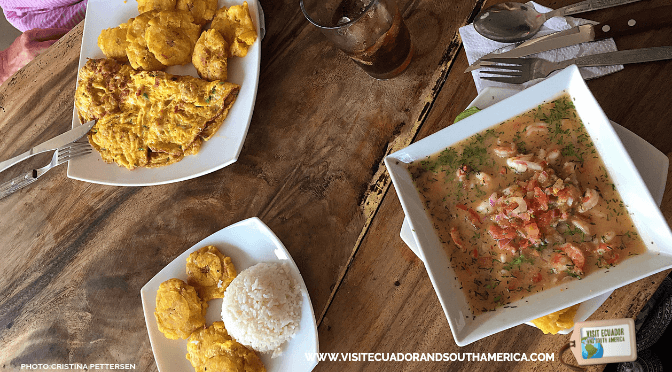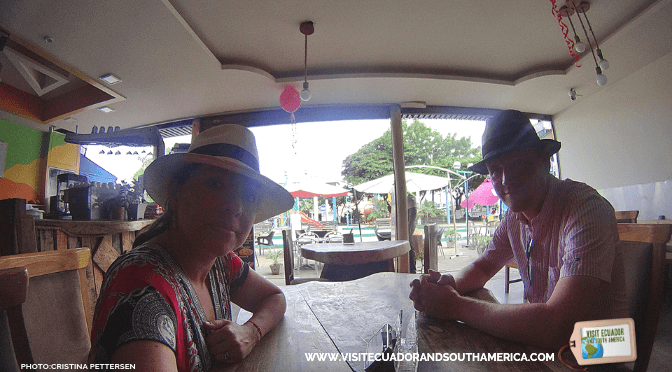 Hva bør du ta med deg
For å nyte oppholdet fullt ut:
Husk å bestille rom før du drar. Du kan gjøre det her.
Ta med badetøy for stranden, bassenget og boblebadet. (Boblebadet er kun for voksne)
Ta med solbriller, solkrem og en hatt hvis du planlegger å være utendørs i lengre perioder, solen over ekvator er sterk. Jeg vil også anbefale myggspray for kveldene (selv om vi ikke så noen insekter danse rundt lysene her).
Viktig – Området er rolig og trygt. Jeg må bare fortelle at den korte passasjen/botaniske hagen som leder ned til stranden ikke er en del av hotellet som sådan men en donasjon fra dem til byen. Det er bedre å ikke benytte denne passasjen etter solnedgang, eller gjør det i en større gruppe. I lavsesongen er det tryggest å legge igjen verdigjenstander på hotellet.

Konklusjon:
Hotel Puerto Gaviota er det beste stedet i Tonsupa for besøkende fra Ecuador og utlandet som elsker natur og som ønsker å bo på et sted som kombinerer komfort med utmerket kundeservice.
Hotel Puerto Gaviota er min topp anbefaling av steder å bo i Tonsupa beach. Beliggenheten bare noe få skritt fra stranden gir deg muligheten for å nyte strandatmosfæren samtidig som du befinner deg på et sted som er i harmoni med naturen.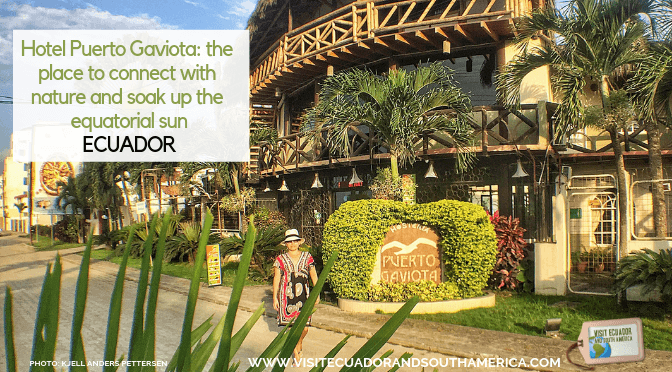 Vi hadde en behagelig natts søvn og en uforglemmelig opplevelse, og vil ikke nøle med å anbefale Hotel Puerto Gaviota
Redaktørs merknad: Jeg var invitert gjest hos Hotel Puerto Gaviota. Som alltid er alle meninger uttrykt her mine egne og basert på min personlige opplevelse.
Dersom du syns denne siden var hjelpsom og informativ så setter jeg pris på om du vil lagre, dele eller tvitre den i dine sosiale mediekanaler! Alt hjelper for å støtte våre reiser slik at vi kan fortsett å tilby godt innhold til vår nettside!

Planlegger du en reise snart? Kommenter nedenfor eller send meg en e-post. Jeg kan hjelpe deg med planleggingen av turen din.

PIN FOR SENERE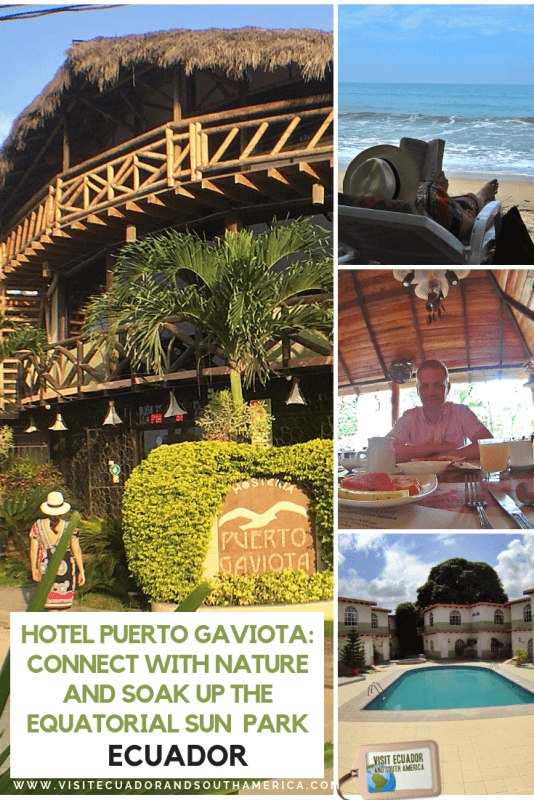 Om du ønsker mer dyptpløyende informasjon og en guidebok som du kan ta med deg på turen så anbefaler jeg reiseguiden Lonely Planet Ecuador & the Galapagos Islands.
Dette er en flott kilde til informasjon om tips, kart og alt du trenger for å planlegge en tur til Ecuador. Personlig liker jeg å ha en bok som jeg kan notere i og ha tilgjengelig.
Ikke bare drøm, gjør drømmen til virkelighet. Planlegg Sør-Amerika-turen sammen med en lokal!
Ta en kikk på denne listen over reiseressurser for å planlegge din reise og besøk i Sør-Amerika.
Dagdrømmer du om din reise til Sør-Amerika? Her kan du bestille ditt eksemplar av vår Gratis Ebok (engelsk), hvor jeg deler mine nyttige tips og resurrser for en minnerik reise!
Jeg vil også gjerne invitere deg til å følge med på Facebook, Twitter, Pinterest og Instagram. I tillegg kan du abonnere på min YouTube-kanal
Du kan også alltids sende meg en e-post for å få hjelp med planleggingen av din reise: info(at) visitecuadorandsouthamerica(dot)com