Guayaquil travel: the rainbow is in Guayaquil
Everybody has a favorite color, unless me. Do you know why? Because I am from Guayaquil a colorful city in Ecuador in the middle of the world. And it is that position that gives Guayaquil the tropical taste that coats the people, the food, the streets and everything around.  
Guayaquil is the second most important city in Ecuador, what locals use to call, "the commercial capital".  That title has been earned because of the  condition of port city that Guayaquil has. From all my years living in this city, everytime I go all over Guayaquil, I look at it with a different prism.
The colors in Guayaquil:
The first color to appear is the light brown of the Guayas river which is the soul of the city. The Guayas is the beginning and the end of Guayaquil. At the foot of this water body is seated the Malecón 2000, an esplanade full of life, food and La Noria, a viewpoint from where the Guayas river can be seen at all it splendour.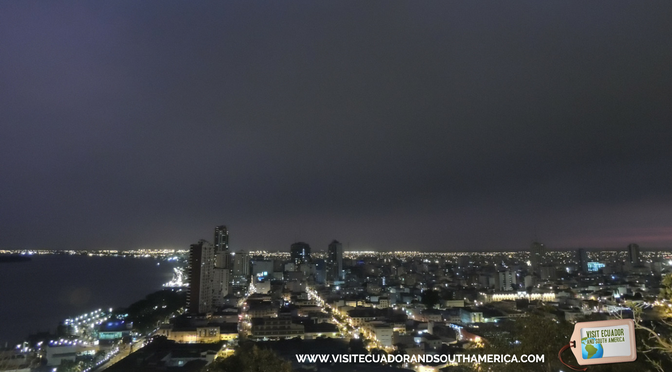 Another color that perfect matches with the light brown of the river, is the green. That deep green which belongs to the iguanas that I love to stare at the Seminario park. Iguanas in Guayaquil? Yes, you do not need to go to the Galapagos Islands to have a pinch of it. I also feed them and love the elegance with which they model for me, pretty, calm and kind.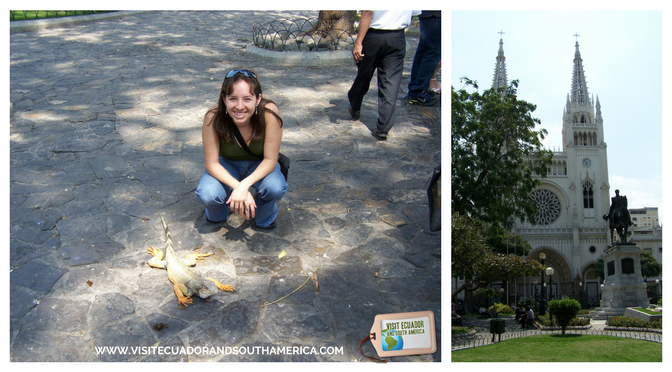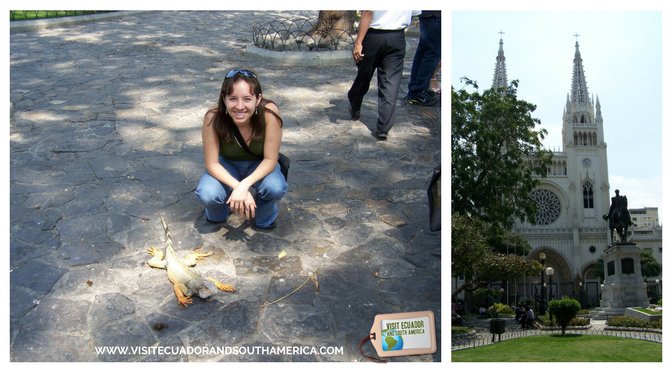 Another colors in Guayaquil are the red, orange, yellow and purple.  I rediscover them every time I have an "encebollado" what in english might be "onionly". But to be honest it just has a little to do with onions. It is a very flavory hot fish broth full of albacore chunks and yucca, topped with a few slices of onion and cilantro, something to come out  from the grave if you are hangover.  Just for you to know, a friend of mine, Lara, the night before she left Guayaquil she had 3 encebollados. She just loved it.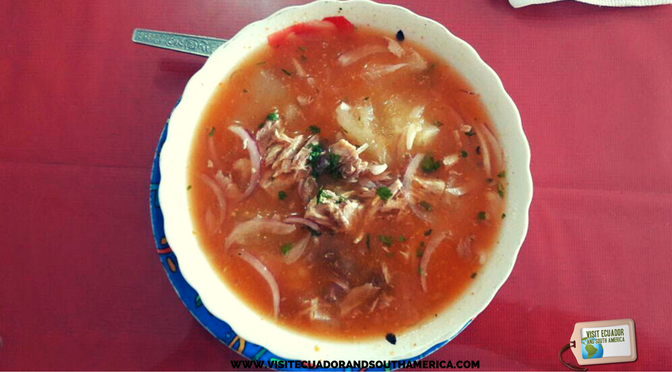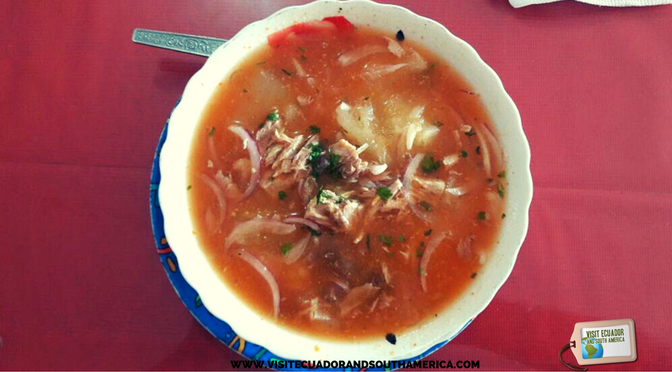 I know you are about to buy tickets to come, but first let me explain two things:
How to get here:
The only mean of transportation to come to Guayaquil is by plane and you will arrive to the eleven times awarded José Joaquín de Olmedo International Airport, for being the best airport from Latin America and the Caribbean in the 2-5 million passenger category. You will have to do a connection flight through Madrid, Amsterdam or Miami.
What to bring:
You will be light of lugagge. You just need fresh clothing (cotton, linen), a cap, sunblock, mosquito repellent and of course a good camera or cell phone to grab the best moments.
Now that you have decide to come I  must say that the rainbow is found through the people. We are easy going, direct, relaxed. We enjoy having a good time with friends, family, and you people from all around the world, always will find a sincere gesture from us.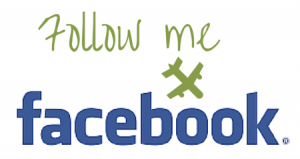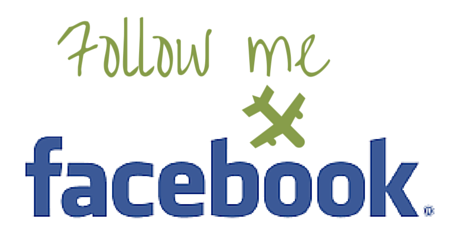 Conclusion
To sum up, Guayaquil is where the rainbow starts and also ends. So tell me,  what is your favorite color?
If you found this page helpful, I would appreciate it if you would pin, share or tweet it on any social media platforms you use! Every little bit will help fund our travels and continue to bring great content to our site!
PIN IT FOR LATER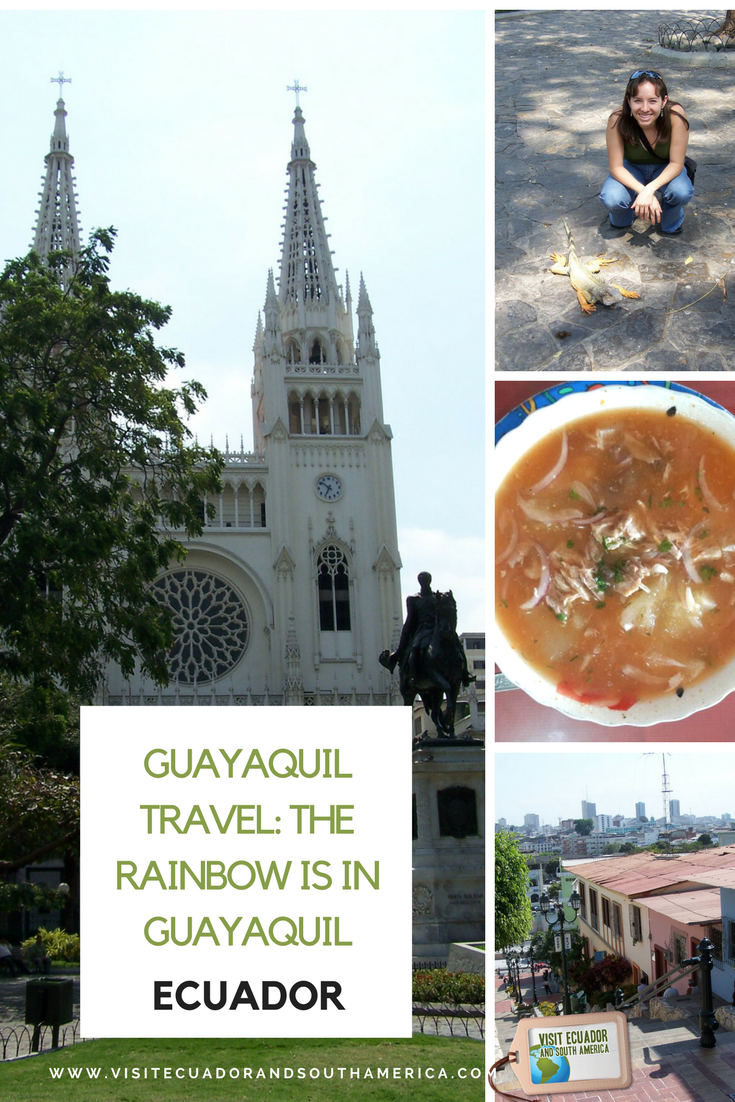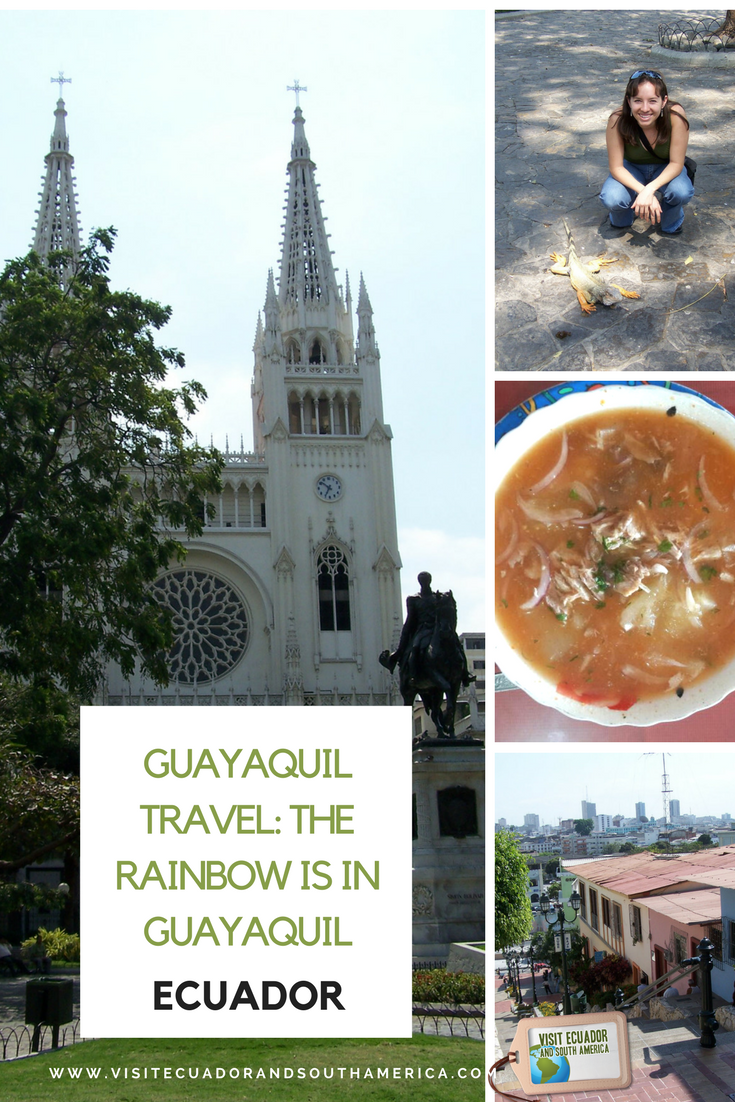 If you want more in-depth information and also a guide that you can bring along during your trip, I recommend the travel guide Lonely Planet Ecuador & the Galapagos Islands
.
This is a great source of information and tips, maps and all you need if you plan on visiting Ecuador. I personally like the option of having a hard copy version where I can take notes and have at hand.
Planning a trip soon?  Comment below or send us an email, We can help you with more tips to save money or to plan your trip.
Don´t just dream it, make it happen. Plan your South American trip with a local!
Take a look at this list of travel resources to plan your trip and travel in South America.
Finally, I would like to invite you to follow us on Facebook, Twitter, Pinterest and Instagram. In addition, you can subscribe on YouTube.
Send us an email for help planning your trip: info(at) visitecuadorandsouthamerica(dot)com