Paris: A Getaway of Culture and Romance – Unveiling the Charm of the City of Love
Come along as we share how you can Discover Paris: A Cultural and Romantic Getaway. Paris, the epitome of romance and culture, beckons with its enchanting allure. In this guide, we unveil the secrets of the City of Love, blending its rich history, delectable cuisine, and captivating attractions.
With only 2 carry-ons, lots of memory disks for our cameras, and good walking shoes, we embark on a fascinating journey with Paris as our first stop, including visiting family, good old friends, mouth-watering world-class food, and much more!
Mona Lisa, Eiffel Tower looking forward to seeing you again!
Why Visit Paris:
Paris, a city that breathes history and romance, captivates with its iconic landmarks and vibrant atmosphere. Every cobblestone street whispers tales of the past, inviting you to immerse yourself in its unparalleled charm.
Facts about Paris:
Known as the "City of Light," Paris boasts a rich history dating back centuries. From the Louvre's art treasures to Notre Dame's Gothic beauty, each corner reveals a story waiting to be discovered.
How to Move Around in Paris:
Navigate effortlessly through Paris using its efficient metro system or take a leisurely stroll along the Seine River. Embrace the city's beauty as you move from one enchanting site to another.
Our anecdotes… We had a short walk in nice weather to Rue de Clery where our hostess Cyrienne C had our room waiting with a nice view of the top of the Eiffel Tower.
Why Visit the Louvre: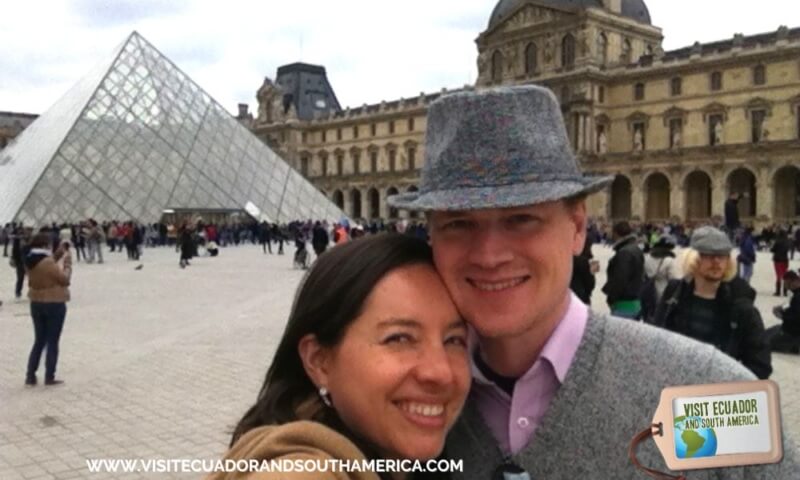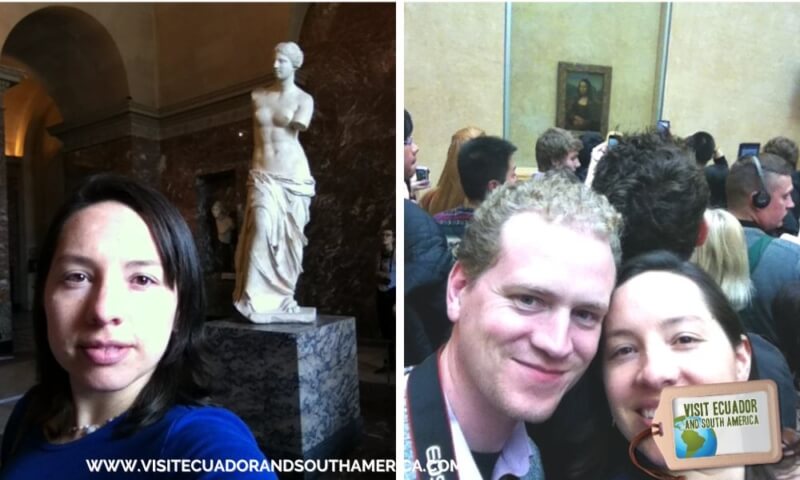 Explore the Louvre, a treasure trove of culture, showcasing art spanning diverse eras. Delve into its extensive collection, from the enigmatic smile of the Mona Lisa to ancient Egyptian artifacts, including Hammurabi's code—the foundation of modern law.
Capture a moment with the timeless Venus de Milo, a Greek sculpture that epitomizes classical beauty. Marvel at 15th-century Italian paintings, showcasing the mastery of the fresco technique. Our visit to Le Louvre wouldn't be complete without a selfie alongside the iconic Mona Lisa—a social media trend I couldn't resist, considering it aligns with my expertise and passion.
We bought tickets in a Tabac store to avoid the queues. 12:00 pm we enter the Louvre, to admire some of the most impressive works of art in history.
Video: http://instagram.com/p/mxs2m3Kq2z/
Video http://instagram.com/p/mvdiKyKq5q/
http://instagram.com/p/mvdqhiqq6R/
Why Explore Montmartre:
Montmartre, an artistic enclave, captivates with its bohemian charm and breathtaking views. Wander through cobbled streets, discover cozy cafes, and absorb the creative energy that once inspired artists like Picasso and Van Gogh. Montmartre is a canvas of inspiration and an escape into Parisian artistic history.
Our anecdotes.. Time for dinner, we enjoyed a salade niçoise and à quiche au saumon (salmon) we chose a restaurant at the base of Sacre- Cœur in Montmartre and enjoyed the view while we ate.
The weather was gorgeous and we walked to the top which not only allowed us to take an up-close look at Sacre- Cœur, but also to enjoy the spectacular view of the Parisian skyline.
After this we strolled along the bohemian area to finish at a kind of red district area, to see the famous Moulin Rouge.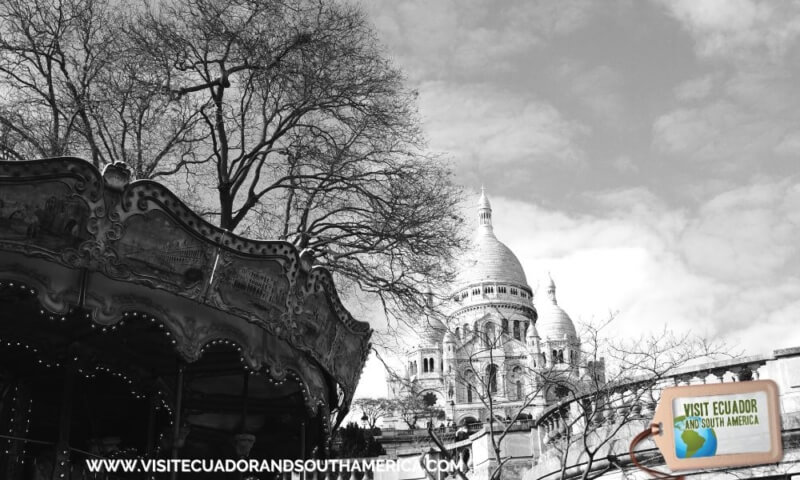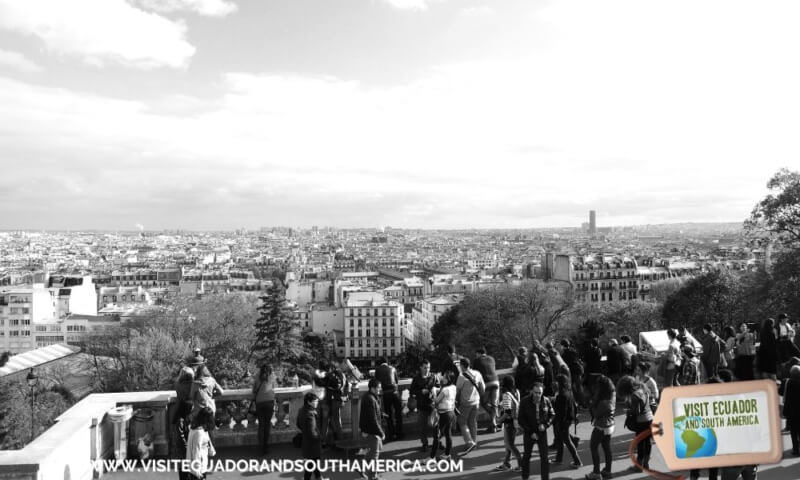 Why Visit Notre Dame:
Notre Dame, a Gothic masterpiece, stands as a testament to architectural brilliance and spiritual significance. Explore its awe-inspiring interior, climb its towers for panoramic views, and feel the history embedded in its stone walls. If your goal is to discover Paris: A Cultural and Romantic Getaway, Notre Dame is a poetic journey into France's cultural and religious heritage.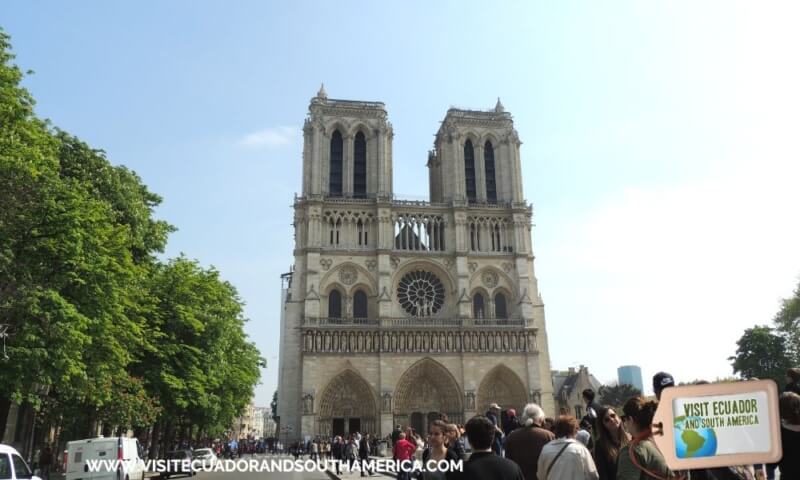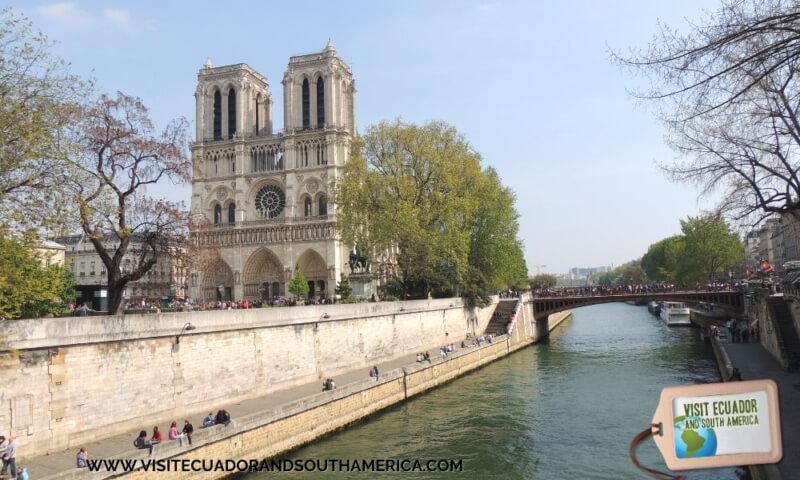 Why Visit the Pantheon:
The Pantheon, a neoclassical marvel, invites visitors to discover the final resting place of France's distinguished figures. From Voltaire to Marie Curie, it's a mausoleum of greatness. The Pantheon's stunning dome and captivating history make it a must-visit for those seeking intellectual and artistic inspiration.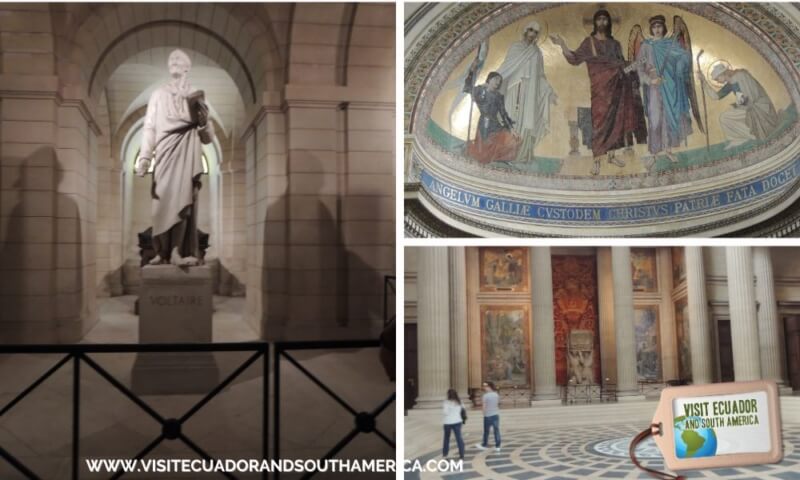 Tombs of important figures in the history of France are found here and this time it was not possible to see the Focaults pendulum, as it was being repaired.
http://instagram.com/p/mtRrEJqq2M/
Why Stroll Along the Gardens of Luxembourg:
The Gardens of Luxembourg offer a serene escape in the heart of Paris. From lush greenery to tranquil fountains, it's a picturesque retreat. Embrace the beauty as you stroll through carefully manicured landscapes, finding solace away from the bustling city—a perfect blend of nature and elegance.
And here we are at Pompidou Library, an impressive building showcasing modern architecture and a plethora of resources for all the citizens.
We then crossed the Seine with all the imposing architecture and breathtaking sights of Paris.
Afternoon stroll along the gardens of Luxembourg, with lovely landscapes and we were lucky to sit and enjoy some music.  http://instagram.com/p/mtRqswKq2I/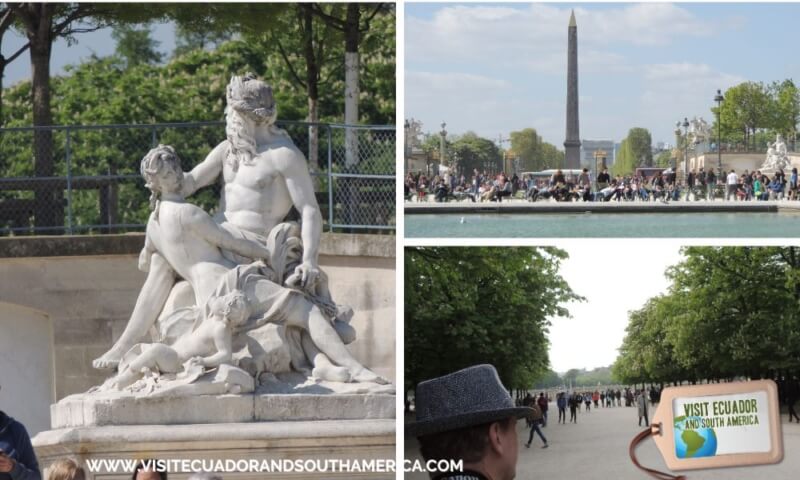 Why Ascend the Eiffel Tower:
The Eiffel Tower, an iconic symbol of Paris, offers unparalleled views of the city. Ascend its heights to witness the beauty of Paris laid out beneath you. Whether by day or illuminated at night, the Eiffel Tower is an essential experience, providing a panoramic perspective on the City of Love.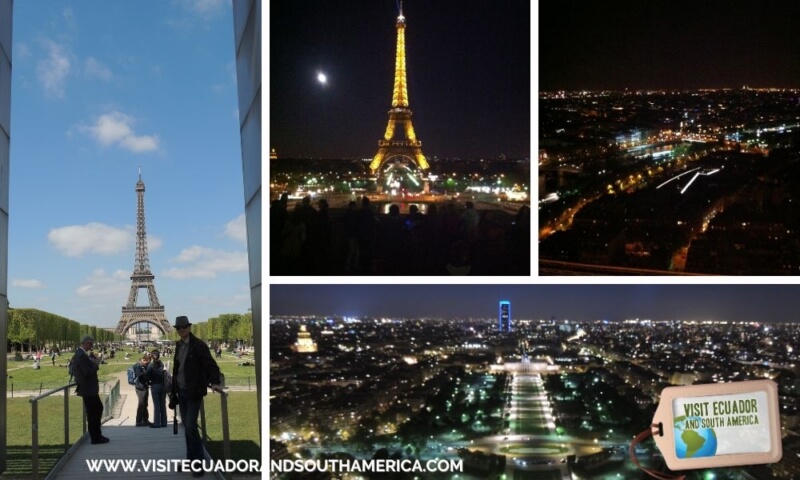 Musée d'Orsay was our next stop, we did not check it out, so we found out on-site that it is closed on Mondays. 
Why Visit Les Champs-Élysées:
Les Champs-Élysées, a grand boulevard, is synonymous with elegance and luxury shopping. Lined with theaters, cafes, and boutiques, it's a celebration of Parisian glamour. Stroll along this iconic avenue, soak in the atmosphere, and indulge in a quintessential Parisian experience.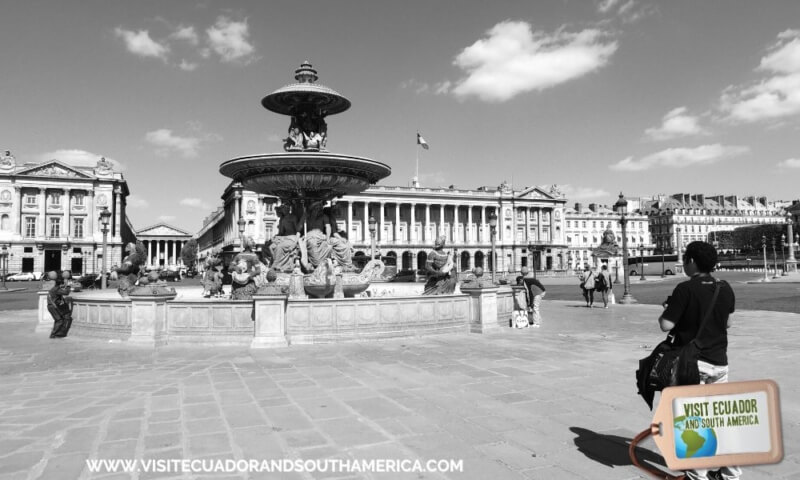 We then crossed a nice pedestrian bridge on the Seine towards Les Champs Elysées.
Here is a video: http://instagram.com/p/mxkqtSqq5T/
Why Visit Pompidou Centre:
The Pompidou Centre, a modern architectural marvel, challenges artistic norms. With its inside-out design, it houses a diverse collection of contemporary art. Dive into a world where creativity knows no bounds, and each exhibit pushes the boundaries of artistic expression.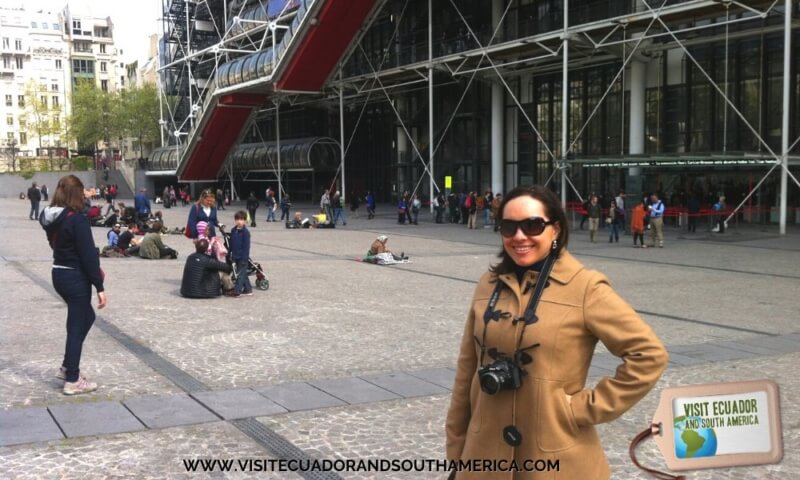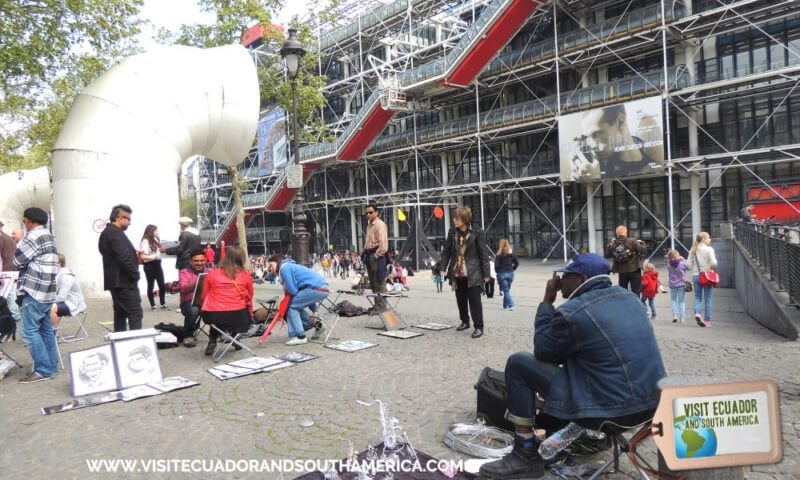 Why Experience the Opera:
The Opera Garnier, a masterpiece of architecture and opulence, invites you into a world of grandeur. Beyond its stunning facade lies a venue that has hosted countless cultural performances. From ballet to opera, the Opera Garnier promises an evening of artistic excellence in a setting of unmatched beauty.
Top Tours from Paris:
Versailles Palace Tour: Unveil the splendor of Versailles, a royal masterpiece. Wander through the Hall of Mirrors, explore opulent gardens, and step back in time to the grandeur of French royalty.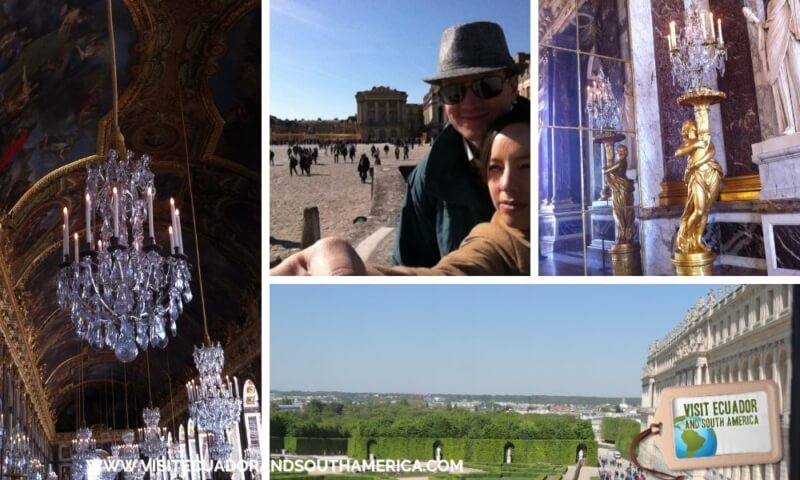 Seine River Cruise: Embark on a Seine River Cruise for a romantic perspective of Paris. Glide past iconic landmarks illuminated at night, creating memories against the backdrop of the city's glittering lights.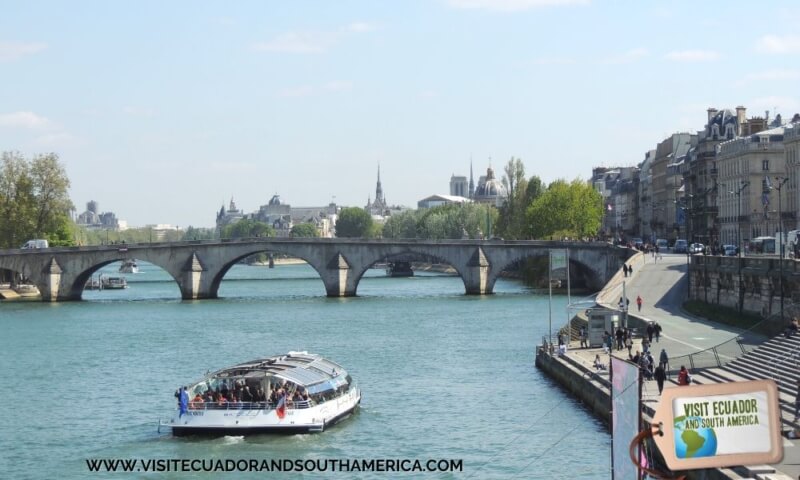 Book a tour of Paris
Booking a tour in Paris will make it a much stress-free experience. It will ease communication barriers and avoid the hassles of planning and logistics in the cosmopolitan city of Paris.  Visit the Louvre with a knowledgeable guide and skip the queues, the Palace of Versailles, or the Opera.
Getting around Paris
Since we were going to make several trips throughout the day with the metro today, we got good advice at the metro Station and bought a day pass for € 6,80 which includes all means of transportation in the area of Paris. Each ticket is €1,70 (2014)
What to eat in Paris
One of my favorite French foods, in the making:
There are vendors all around the city, selling delicious traditional crêpes.
Our anecdotes… At around 16:30 pm we went back to the place where we were staying and decided to try to reserve a table at the restaurant Frenchie. The day before we decided to find out if there was an episode of the programme No Reservations by Anthony Bourdain in Paris. And as a matter of fact, there was one. Therefore we chose this restaurant.
This is what this creative chef had created, we delighted our taste buds with the following dishes: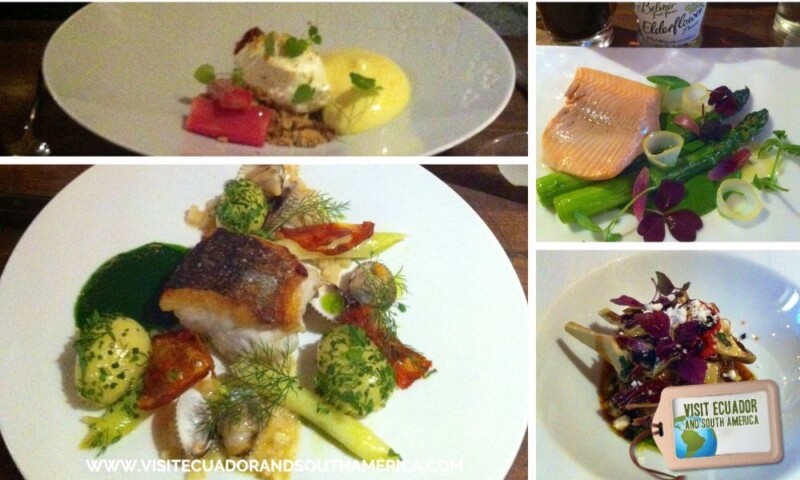 Lamb shoulders, artichokes, feta, green mango.

Trout, asparagus, cedrot and mandarins 

Pollock, celery, white garlic and chorizo 

Duck from Challand, kumquat, seasonal vegetables

Rhubarb, verbena, oat crumble 

Bread and butter pudding, bacon icecream 

Where to Stay in Paris
Top 5 Hotels in Paris:
Our anecdotes…
We started a bit late due to our late night at the Eiffel Tower the previous night. So, after buying a day pass that included the train to Versailles, we took the train that lasted 30 min. We arrived at 12:15 pm at the entrance of the castle to find a huge line waiting for us.
The excitement increases after an hour in the line.
I was there 18 years before and was looking forward to seeing this imposing palace again with a new perspective.
We bought tickets in advance when at the Louvre, so that saved us from going to a 1-hour line today in order to buy them.
After two hours in the line from -12:15 pm to 14:15 pm, we finally entered. So if you are planning on going there, take that waiting time into consideration and take sunblock, some snacks, and drinks with you.
At night we went to St Germaine to have dinner with friends! We met with Sofia at the French Institute – Alliance Française à Quito, and it was very nice to see her. We had 14 years without seeing each other!
We had a bit of time to go home relax, change, and leave some of our things, to then take the metro to Abbasses stop where our friends from Ecuador (Sofia) and Paris (Pierre Phillipe) waited for us. So they took us to a quite special and original place, where we enjoyed our wines on a baby bottle and some delicious cheese fondue in the Montmartre area. 
Something funny that happened to us is that we ended up running a bit with our carry-ons along the streets of the 2eme arr. as we realized that maybe we should have walked faster on the way back from Marais. We ran even faster to the metro station almost took the wrong metro, and arrived just a couple of min. before the train was meant to depart, luckily it was 20 min. delayed.
Conclusion:
Paris, a city that seamlessly blends culture and romance, invites you to create lasting memories. Immerse yourself in its beauty, savor its culinary delights, and let the magic of the City of Love unfold before you.
PIN IT FOR LATER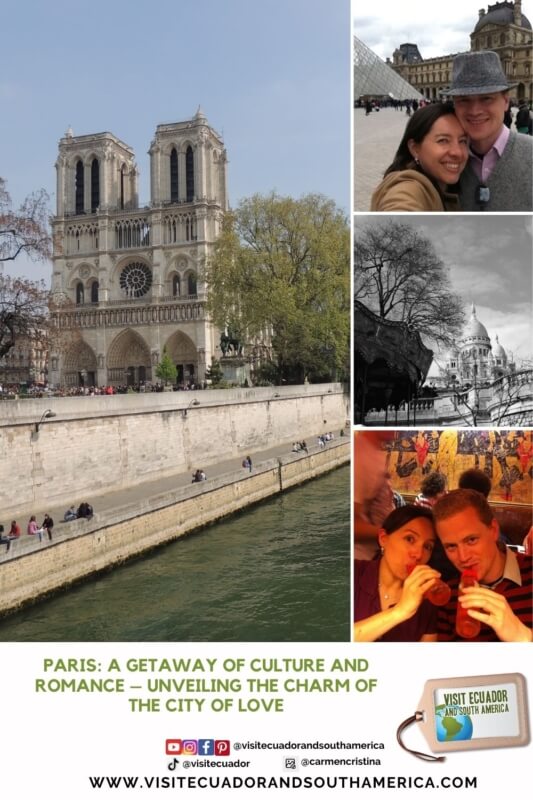 I also inspire travelers to visit South America: www.visitecuadorandsouthamerica.com
And share my passion for traveling the world: http://passiontotraveltheworld.blogspot.no
Like Visit Ecuador and South America on Facebook, follow the blog on Twitter, Pinterest, and Instagram, and subscribe on YouTube. Send us an email to get more information or help planning your trip: info(at) visitecuadorandsouthamerica(dot)com
FREE EBOOK:
I have written an E-book to help you plan your memorable trip to South America.
How to decide the best places to visit in South America, where to stay, and what to bring?
Download your Free E-book: Travel to South America, highlighting Ecuador and the Galápagos Islands.
Discover Paris: A Cultural and Romantic Getaway for Food and Travel Enthusiasts
TRAVEL RESOURCES
Take a look at this list of travel resources to plan your trip and travel.